What do you do when you first start creating your customer satisfaction survey? You'd probably just google it and see the top questions and add them to your survey. That's where I'd like to stop you and ask you to first answer the question - why are you conducting a Customer Satisfaction Survey? I am sure for most of you; the answer would be to know whether your customers are satisfied or not with your products and services.
Measure Customer Satisfaction and Improve Customer Experience🔥
Create customized surveys and feedback forms and take real-time feedback from your customers at all touchpoints.
Every business wants to keep a pulse on their customers for their success. But you don't have to wait for them to contact you and share their feedback. Instead, grab the opportunity and reach out to them by conducting a survey. In my opinion, this is the best technique to engage and delight your customers.
Importance of Customer Satisfaction Surveys
I don't have to convince you why Customer Satisfaction is important. We all know happy customers mean more revenue and business growth. Isn't it?
So, now you must be thinking why CSAT (Customer Satisfaction) surveys when so many other options are available to engage with your customers. Ok, engaging is one part, but how would you keep track of their responses? How would you compare CSAT scores? This is why you need systematic and centralized Customer Satisfaction Software. The idea behind surveys is to capture every single detail about your products and services that goes into your customer's mind.
Customers are asked to rate their satisfaction level with your products or services or brand on a scale of 1-10. The rating will be used to enhance overall customer experience that can otherwise affect your brand's image.
Mistakes to Avoid in Customer Satisfaction Surveys
What is the one thing that sets you apart from your competitors? It's about how you craft your CSAT surveys.
I know creating a Customer Satisfaction Survey can be a tedious process. It involves lots of brainstorming and points to keep in mind to avoid any mistakes. For instance, a poorly written survey can alter your customer's perspective about an issue, and that might even force them to give an inaccurate answer to the question. You will never be able to achieve the desired output and will distort the CSAT scores.
To design and deploy an error-free survey, it's essential to know the most common Customer Satisfaction Surveys mistakes that should be avoided.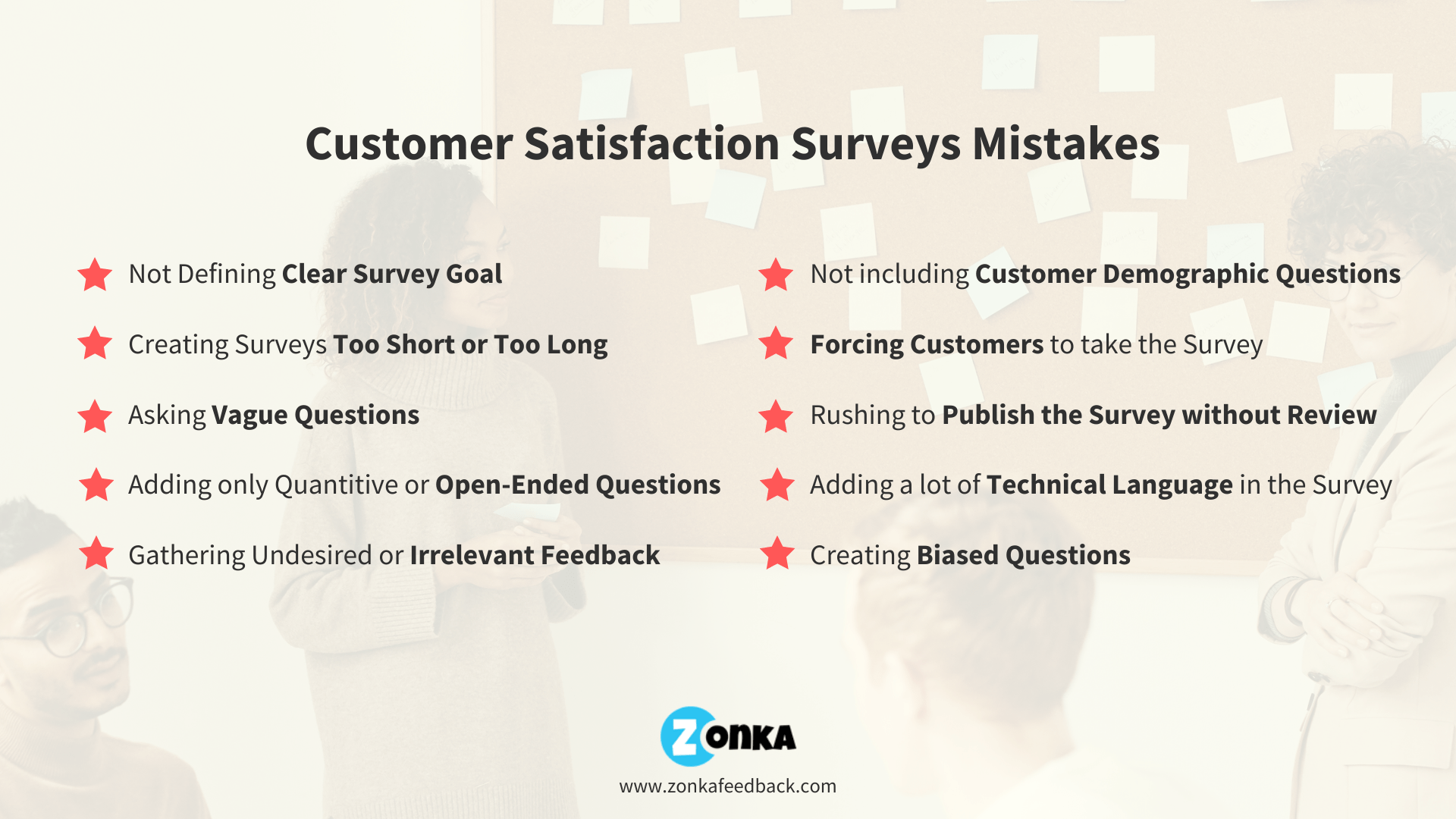 1. Survey Goal is not clear
Most of us start creating a survey without even knowing the end goal. Do you think it's the right approach? I don't think so. You first need to understand why you need a CSAT survey? Do you want to gauge overall satisfaction, or do you just want to know the reasons behind dissatisfaction?
Before creating a survey, it's vital to understand the objective and craft the questions accordingly. For instance, different types of questions would be asked in two different scenarios- understanding the reasons behind decreased subscriptions and gathering feedback for a newly added product feature.
2. Avoid asking Vague Questions
Who would like to answer vague questions? No one. Why? Such questions often lead to confusion. If you want your customers to answer your questions correctly, then you need to be precise and ask specific questions.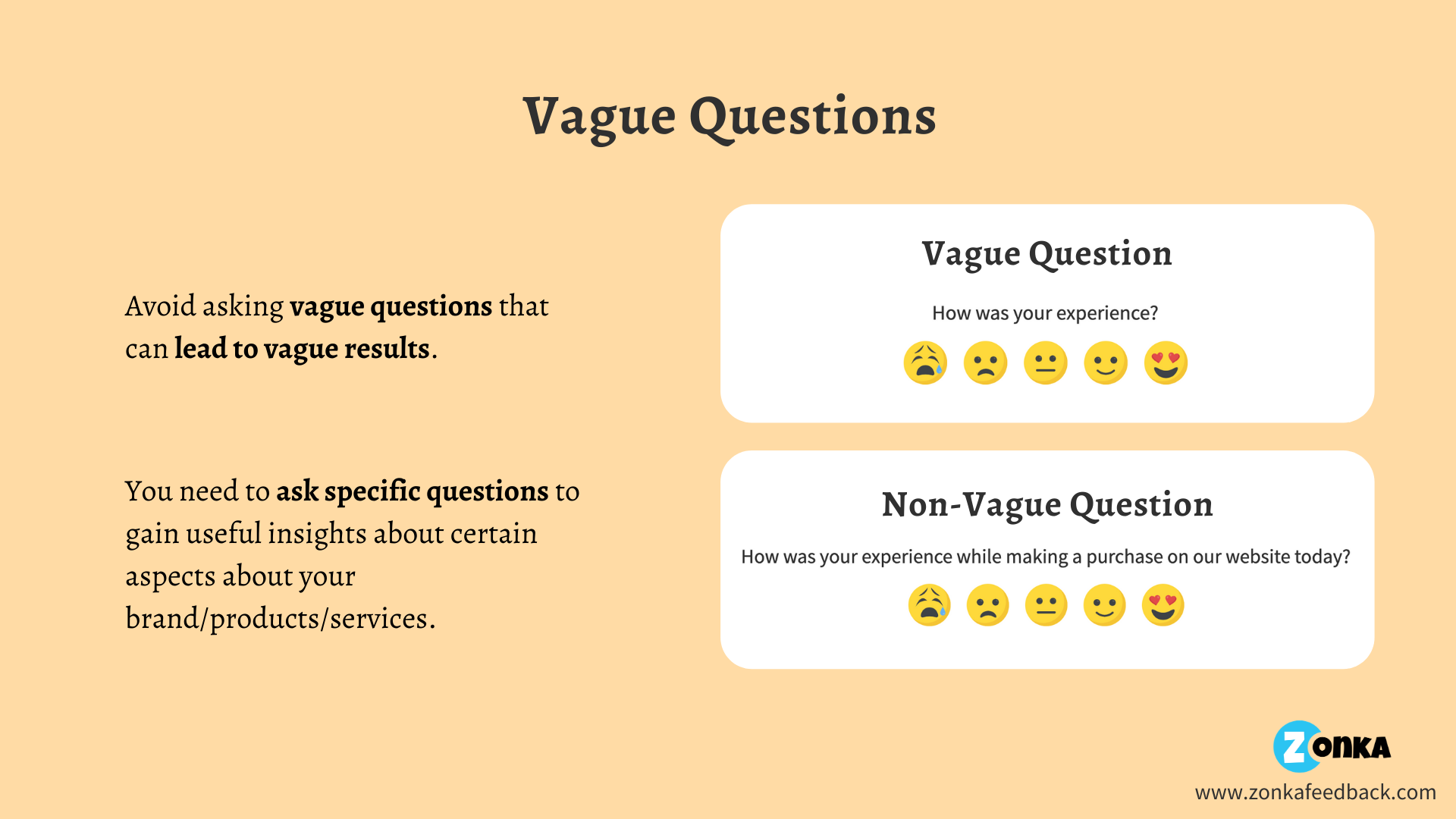 For instance, asking a vague question like "How satisfied are you?" might confuse your customers, whether it is pointing towards a particular product or service or brand. Asking a question like "How satisfied are you with our services today?" or "Would you like to recommend our services to your friends and family" would make more sense.
3. Including only Quantitative or Open-ended Questions
I have seen that people often get confused about whether to include only quantitative or open-ended questions. You can't decide till the time you don't know the difference between both the terms.
Do you just want to keep a pulse on your customers? Or Do you want to capture comprehensive insights?
If you want to dig deeper into your customer's issues, then you need to include both quantitative and open-ended questions. Including just one will not help you capture comprehensive insights.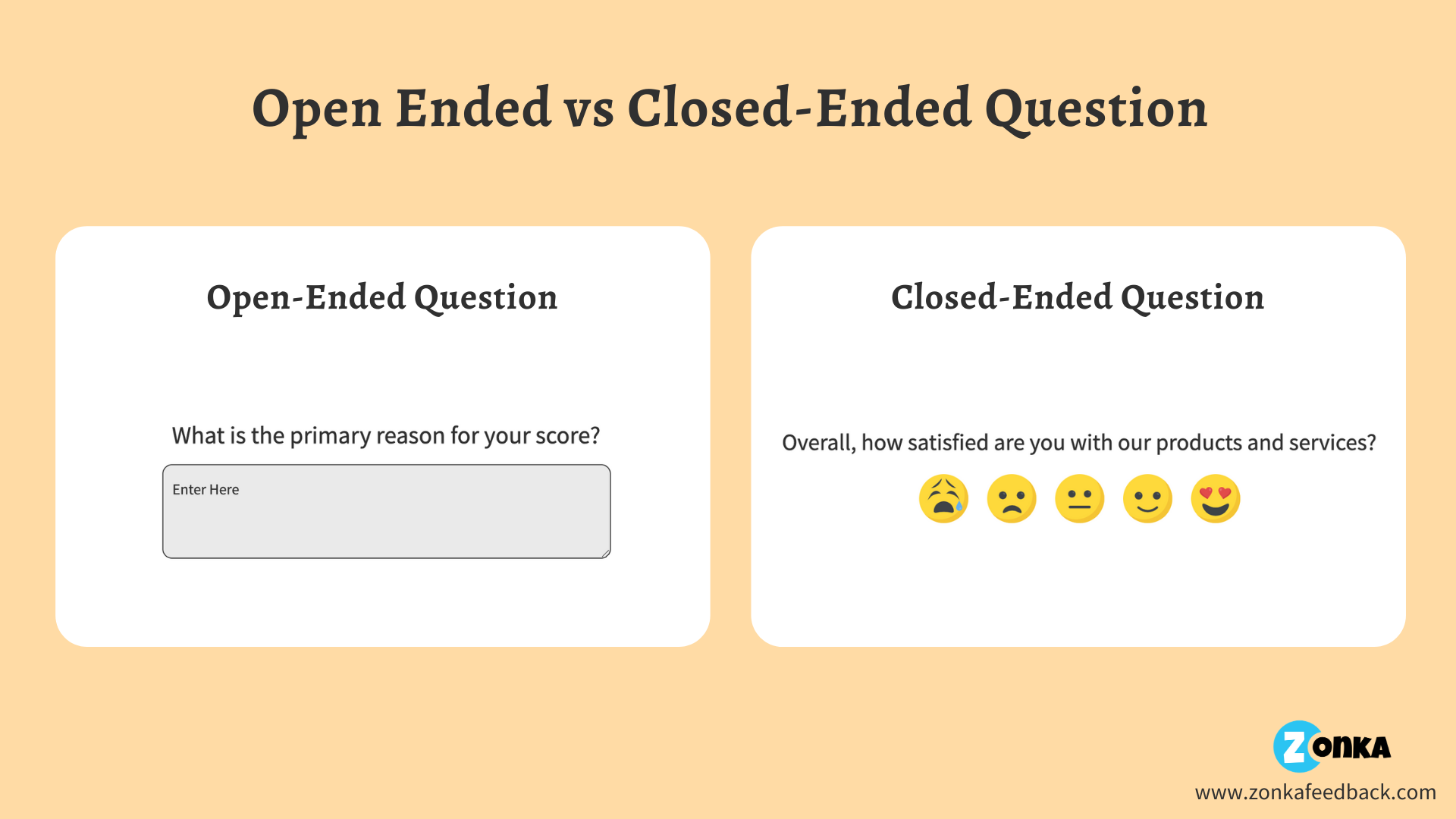 Asking your customers to rate their satisfaction on a scale of 1-10 will help you get only qualitative results. But what if you want to know the exact reasons behind the satisfaction or dissatisfaction? Adding an open-ended question will give space to your customers to share both their incredible experience as well as complaints with your products or services.
4. Creating Satisfaction Surveys too short or too long
Do you often get confused about whether to keep your surveys short or long? Many of you often get tempted to ask respondents a lot of questions. But, you need to understand there's a drawback of creating too short or too long surveys.
If the survey consists of very less questions, then you might not be able to capture in-depth customer insights and would not be able to reach some conclusion. On the other hand, creating a long survey will make consumers leave them in between or might not give accurate answers.
The best practice is to maintain a balance and create a survey that is neither too long that attracts poor participation nor too short of making the wrong decision. According to a research done by OpinionLab, 52% of customers said that they would not spend more than 3 minutes filling out a feedback form.
5. Gathering Undesired Feedback
Would you like if you receive a survey from your favorite brand, but don't see them taking any actions to improve their products and services? Of course, no one would like it.
What's the point in sending surveys and collecting irrelevant customer feedback?
Both businesses and respondents invest a lot of time and effort in creating and taking part in a survey. It would be a complete wastage of resources if you are conducting surveys as a routine procedure and not going to take any action on it. According to Microsoft, 52% of people around the globe believe that companies need to take action on feedback provided by their customers.
It's advised to plan in advance and conduct surveys only when they are required to collect constructive feedback.
6. Forget to include Customer Demographics Questions
Why miss out on demographic details when creating a CSAT survey?
Understanding your customer's satisfaction levels is important, but it's equally important to gather their demographic details. Including demographic questions related to their age, gender, occupation, nationality, etc. will help you better understand your targeted customers and serve them better.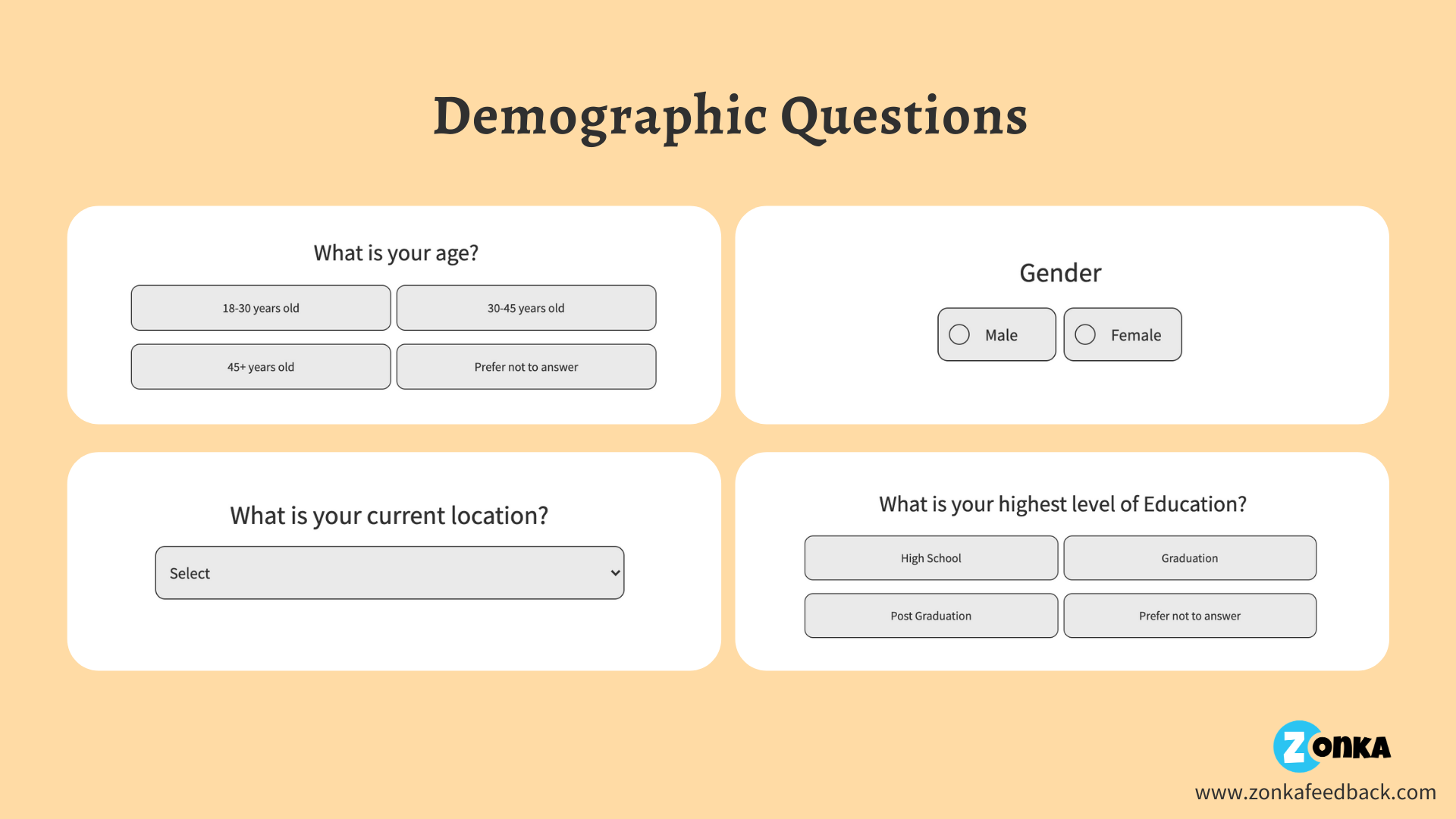 It's also recommended to include answer choices like "Prefer not to say" or "Other." It will show that you give value to their preferences and give them the freedom to select any answer choice.
7. Forcing your Customers to take the Survey
Who would like to receive reminders every day? No-one. Your customers are no different. Treat them the way you would like to be treated.
Sending them a daily reminder is forcing them to take part in surveys is frustrating, and they might stop doing business with you or switch to your competitors.
The good practice is to always inform them in advance before sending a survey directly. For instance, you can send an email and educate them on how their participation and sharing honest feedback can be beneficial for both the parties. It will uncover the problematic areas, and addressing the issues will improve the customer experience.
8. Rush to publish CSAT Surveys
Do you review your surveys thoroughly before publishing them?
Every business works on a deadline, and that's how projects get completed on time. It's essential to complete a survey and publish it on time, but it has to be accurate as one mistake can further increase the workload for the future.
For instance, if you forget to include any answer choice in the question, then the surveyors might even abandon the survey, or the feedback you receive would be inaccurate. It's a bad user experience and tarnishes your brand's image.
It's always better to take time to review your surveys instead of rushing and publishing them.
9. Using Technical Language in Questions
I am sure every business wants to achieve a high survey completion rate than the drop-out rate. But how can you achieve it? Setting up a simple voice of tone for your questions will help you achieve great customer engagement.
Not every customer is same and has the same level of understanding. Some might be able to understand the technical language used in questions while others may not be able to do so.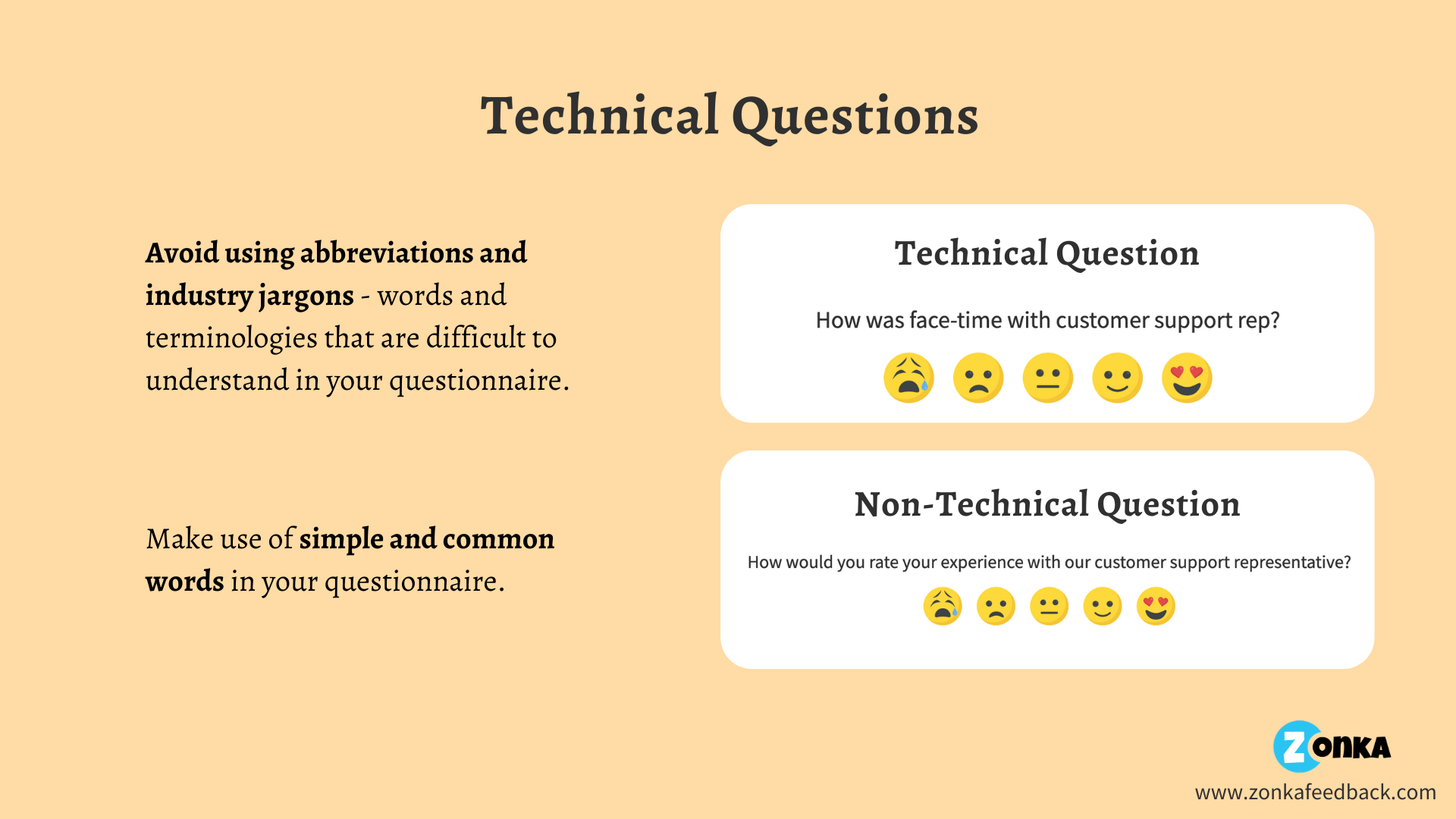 Making use of jargon or complex words in questions will be difficult for your surveyors to understand. To avoid such tricky situations, it's always advised to make use of simple and easy to understand language in questions for creating a user-friendly Customer Satisfaction Survey.
10. Creating Biased Questions or Double-Barred Questions
Have you ever thought what is the main cause of unreliable survey feedback? Asking misleading or biased or double-barreled questions that can confuse your customers.
A biased question is a badly formatted or phrased question that skews people towards a certain answer. In simple terms, these are difficult to understand and obstruct customers from providing honest feedback.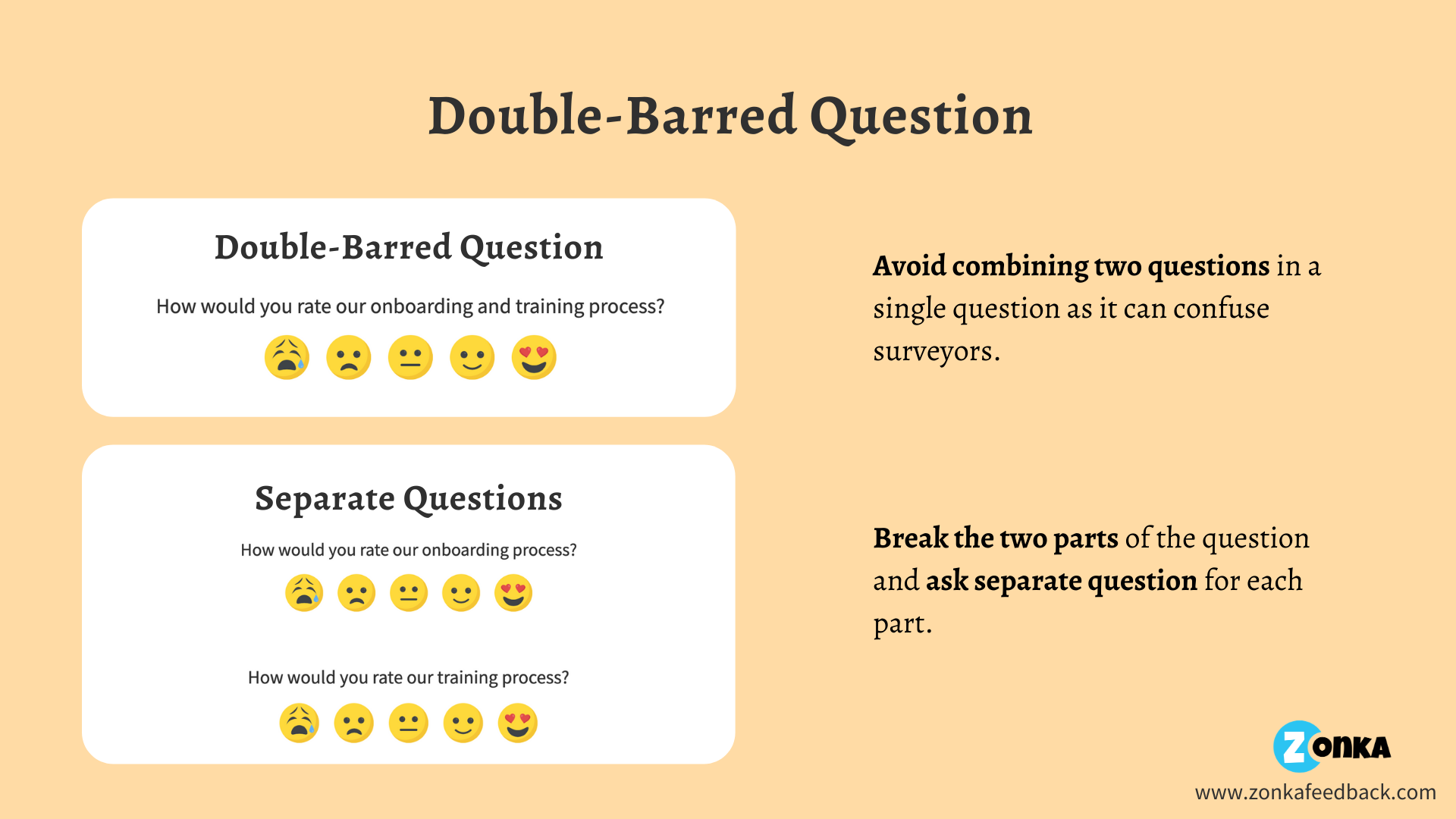 For instance, asking a question like, "How awesome is the product?" It's an example of a biased question that already consists of a judgment. Instead of drafting a question like "How would you rate this product?" is a direct question and not mislead customers.
A double-barreled question is combining two issues into a single question or having multiple parts. For instance, asking, "How satisfied are you with our Customer Feedback App and support team?" is a perfect example of a double-barreled question that is focusing on two different parts – Customer Feedback App and support team. You should avoid using them as surveyors will give one answer, and you will never come to know for which part the surveyor has answered.
Wrap up
Customer Satisfaction Survey is a great tool for your company and customers if used in the right manner. Avoiding the common CSAT survey mistakes will play a vital role in creating an effective survey that will help you gather valuable feedback. You need to listen to the voice of your customers, work on the actionable insights, and measure Customer Satisfaction to make informed business decisions. It will help you strengthen your customer support team and simply your products and services.
Learn more about Customer Satisfaction (CSAT)