Discover various types of popup surveys and the essential popup survey questions you should be asking your customers.
When it comes to gathering customer feedback, there are various methods to choose from. However, it is crucial to have a way that lets you capture their feedback in the moment while they are exploring your product, app, or website.
And that's where popup surveys shine out.
From capturing preferences to uncovering pain points, popup surveys can help connect, understand, and elevate the customer experience. They are an effective way to gauge customer feedback or ask quick questions while customers browse or interact on websites, within apps, and within your product.
Measure Feedback With Popup Survey
Collect in-moment feedback on your website, product, or in-app using effective popup surveys to understand what users need and learn ways to delight your customers.
A type of feedback widget, popup surveys help businesses capture real-time website feedback or product feedback from users in an unobtrusive manner. Want to learn more about popup surveys.
In this article, we learn about the different use cases of Popup Surveys, the top popup survey questions, and some best practices to make your surveys unmissable by the audiences, visitors, and users.
Table of Contents
2. Popup Survey Questions For Different Use Cases
3. Best Practices to create and use Popup Feedback Surveys
4. Conclusion
What is a Popup Survey?
A Popup Survey is an overlay that appears as an interactive window on your website, product, or app while your visitors or users are exploring or interacting with your website or product. This survey appears on screen as per triggers set by you and is designed to collect customers' feedback, opinions, and valuable insights that contribute to the growth of your business.
A Popup Survey appears in the middle of the screen and is capable of capturing customers' attention while they are interacting with your website or product.
With the help of powerful Customer Feedback Software, you can choose how and when to display a Popup Survey as per your business requirements.
You can use time-based popup surveys, which appear after your visitors spend a specific time on your web or product page, like 10 seconds or 30 seconds.
You can also set triggers to display a Popup survey when the visitor has scrolled a certain percentage of your website as per your choice, like 10% or 50%.
You can also choose to display a popup survey based on customers' actions like a purchase transaction or after they reach a certain touchpoint of their user journey.
Let's explore some effective Popup Survey Questions that you can use.
Popup Survey Questions For Different Use Cases
Post Purchase Popup Survey Questions
Cart Abandonment Feedback Questions
Exit Intent Questions
Demographic Survey Questions
Product Market Fit Questions
Content Feedback Questions
Bug Reporting Questions
Overall Experience Questions
1. Post-purchase Popup Survey Questions
Purchase is a major touchpoint that creates a considerable experience for your visitors and app users. It is the culmination of their journey and the moment when they decide to convert into customers.
Post-purchase survey questions serve as a way to gather valuable feedback from your customers.
The Post-purchase Feedback Questions below will help you serve the purpose. You can also use a Post-purchase Survey Template to get started with creating your own popup surveys.
How satisfied are you with your recent purchase experience with us?
How would you rate the overall shopping experience with us?
Did you face any issues or challenges while making purchases with us?
How would you rate the availability of payment options with us?
How likely are you to make another purchase in the future?
Based on your recent purchase experience, how likely are you to recommend us to your friends and known ones on a scale of 0 to 10?
We would like to know the reason for your rating.
Would you like to share any special experience or concerns?
By including a Popup Survey Question, you can make it easy for your customers to share their thoughts and opinions. The Popup Survey Question can be strategically placed within your website survey or product feedback survey, appearing at the right moment when customers have completed their purchase. This immediate feedback allows you to address any concerns or issues promptly, ensuring a smooth and satisfactory experience for your customers.
A well-timed popup survey can provide insights on:
The satisfaction levels of the customer
Their overall shopping experience
Any issues or challenges they encountered during the purchasing process
Satisfaction with the payment options
Likelihood of making future purchases or recommending your business to others
Remember, the goal of the post-purchase survey is to gather insights that will help you improve your purchase process and enhance the overall customer experience. By listening to your customers' feedback and addressing any issues or concerns they have, you can create a loyal customer base and drive repeat purchases.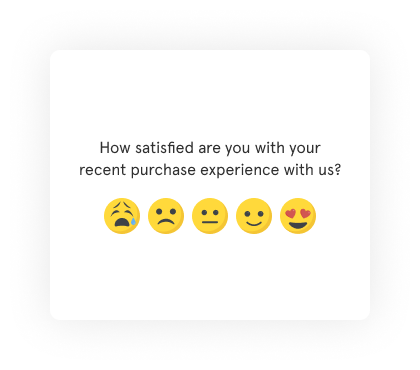 2. Cart Abandonment Popup Survey Questions
Cart Abandonment is when your website or app users add products to their carts but drop out before making the final purchase. Studies suggest that around 69% of online shopping carts, on average, are abandoned by users.
Cart Abandonment Survey Questions are an essential tool for businesses to understand why customers abandon their carts and gather valuable insights to optimize the checkout process. By asking these questions as part of a popup survey, businesses can gather feedback right before the customer is about to exit without hampering their experience.
What prevented you from completing your purchase today?
Did you encounter any issues during the checkout process?
Did you find any hidden costs applied to your purchase?
Did you find the payment options convenient and secure?
Is there anything we can help you with completing your purchase?
We would like to know your experience and issues that stopped you from buying today.
These survey questions help identify the pain points that customers may encounter during the checkout process and uncover the reason behind cart abandonment. They allow businesses to address concerns and make necessary improvements to enhance the overall customer experience.
By understanding the specific reasons for cart abandonment, businesses can:
Optimize the checkout process
Remove any barriers that may be preventing customers from completing their purchases
Improve conversion rates
Including cart abandonment survey questions in a popup survey is a strategic approach. You can also use a Cart Abandonment Survey Template to quickly create your survey in a pop-up format and start implementing it on your website or in the product. By timing the survey right before the customer exits, businesses can capture accurate and timely feedback. Armed with this information, businesses can make data-driven decisions and implement changes to create a more seamless and trustworthy shopping experience.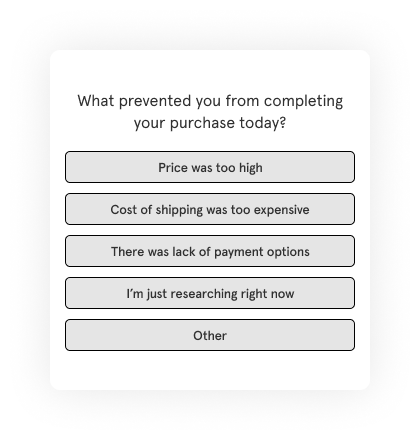 The benefits of incorporating cart abandonment survey questions into a popup survey are numerous. Not only do businesses gather valuable insights to improve their checkout process, but they also show customers that their feedback is valued. By actively seeking feedback, businesses demonstrate their commitment to providing exceptional customer service and are more likely to retain and convert customers.
3. Exit Intent Popup Survey Questions
Exit Intent Surveys are effective in capturing feedback from website visitors and product users who are about to leave your website or exit the app. These questions aim to understand the reasons behind their leaving, address any issues or concerns, and know their likelihood of returning.
Users' valuable insights help you to improve your website or product and thus enhance their overall Customer Experience. Here are the Exit Intent Survey Questions that you can use.
Is there any specific reason for your leaving today?
Were you able to find what you were looking for?
Were you able to achieve your objectives on our website/product?
Is there anything we can do to convince you to stay or complete your desired action?
How likely are you to login again in the near future?
Based on your recent experience with us, how likely are you to recommend this website/app to your friends and colleagues?
By asking targeted questions in an exit intent popup survey, businesses can gather valuable insights that can inform improvements to their website or product. A popup survey asked during exit intent can offer different benefits, including:
Reduced exit rates
Great response rate and context around reasons for exit
Offer insights that can help improve conversions
To make the most of exit intent surveys, it's important to time them right before the user exits, ensuring that feedback is captured accurately and in a timely manner. Businesses can also use an Exit Intent Survey Template to quickly create their exit intent survey in a pop-up format and easily implement it on their website or app.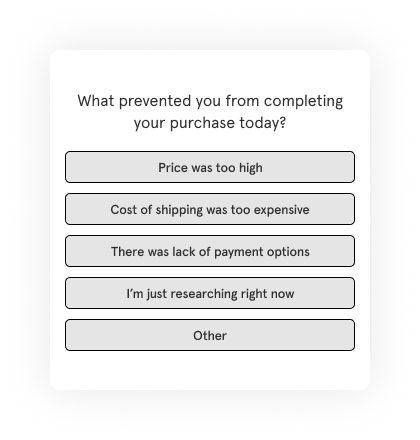 So, if you're looking to understand why users are leaving your website or app and how to improve their experience, consider incorporating exit intent survey questions into your feedback strategy. The valuable insights you gather can make a significant impact on your business and help you create a better overall customer experience.
4. Demographic Survey Questions
The Demographic Survey Questions can help you gain insights into the characteristics and preferences of your audience. This information can be valuable for targeting your marketing efforts, personalizing your offerings, and understanding your customer base better. It's important to keep these questions optional and ensure data privacy and anonymity.
Remember that you should not ask for all details from your registered members every time. If the registered users have not signed in to your app or website, you just need to confirm one unique detail like email address and then your website or product interface should pick the other information automatically.
What is your age group?
Select your gender
Are you a registered member?
Enter your email address.
How often do you visit our website?
How often do you use our products and services?
How often do you use our app?
Including demographic survey questions as part of a popup survey allows businesses to trigger them at specific actions or after a certain time lapse, ensuring that the timing is right for gathering this important data. By keeping these questions optional, businesses respect data privacy and anonymity, giving customers the choice to share as much or as little information as they feel comfortable with.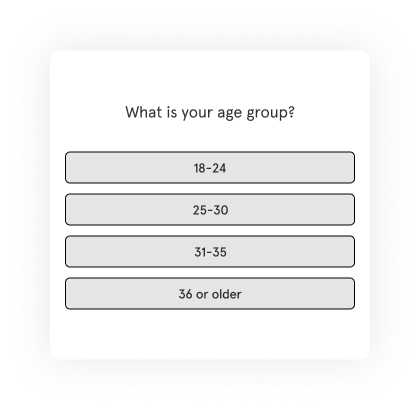 The insights gathered from demographic survey questions can inform businesses' strategies and help them tailor their offerings to meet the specific needs and preferences of their audience. By understanding the demographics of their customer base, businesses can create targeted marketing campaigns, develop products and services that resonate with their target audience, and ultimately improve customer satisfaction and loyalty.
5. Product Market Fit Survey Questions
A Product Market Fit Survey enables you to know how your product is able to satisfy the customers in a competitive market. Product Market Fit questions help you know the value of your product or website, customers' likeliness to recommend it to others, and their satisfaction with your product. Here are the questions you can use in your Popup Survey.
Here are some examples of Product Market Fit Survey questions that can be included in a Popup Survey:
How did you discover the product?

Would you be disappointed if you can no longer use our product/website?

How would you rate the overall satisfaction with our product/website?

Based on your recent experience of using our product/website/app, how likely are you to recommend it to your friends and known ones?

How essential do you consider our product/app/website for your regular routine?
By incorporating these Product Market Fit Survey questions into a Popup Survey, businesses can gather valuable insights and make informed decisions to improve their product or website. The feedback received can guide businesses in enhancing their offerings, increasing customer satisfaction, and ultimately achieving success in a competitive market.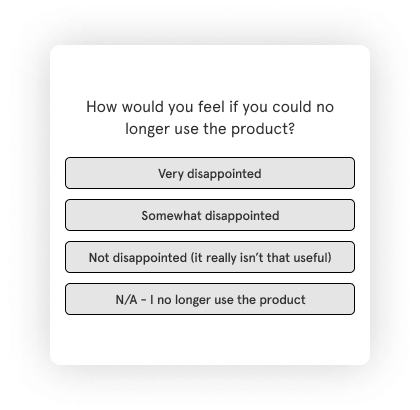 By asking specific questions, businesses can gain insights into the value of their product or website, the likelihood of customers recommending it to others, and overall customer satisfaction. These questions can also be essentially used in a popup survey to current users, recent unsubscribed users, and more.
By taking a Product Market Fit Survey Template as the base, one can easily get a grasp of the key questions that should be asked in a survey and add other questions to gauge crucial information regarding how fit the product is for the market.
6. Content Feedback Popup Survey Questions
Content Feedback Questions can help you evaluate the effectiveness of your content in terms of information, quality, clarity, engagement, and relevance. The feedback gathered can guide you in improving your content strategy, make your content more engaging for the readers, and ensure that it aligns with the needs and preferences of your audience.
Here are the Content Feedback Questions that you can include in your Popup Survey.
How would you rate the quality of this content?
Did you find this content informative and helpful?
Did you find the content easy to understand?
How did you find the length of this content?
Is there any additional information or topic you think should be included in this content?
The best approach to ask for Content Feedback is through a popup survey. Once the user has scrolled through your content or has spent a considerable amount of time on the page, you can set triggers to show the Popup Survey Question and gauge feedback for your content. You can also customize your popup surveys by taking this Article & Content Feedback Template as the base for it. You can add more questions to make it extensive or customize the existing ones to ask specific questions.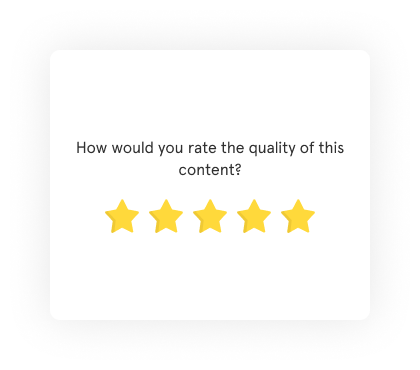 7. Bug Reporting Questions
A Bug Reporting Survey helps your website visitors and product or app users to report a bug and share their experience regarding it. Bug Reporting Questions help you collect information about the issue or bug encountered by the users, identify the reasons for the bug, make improvements, and thus avoid any such bugs in the future.
Please describe the bug or issue encountered.
Have you encountered this bug in the past too?
Have you tried the troubleshooting steps to resolve the issue?
Would you like to be contacted for further follow-up regarding this bug?
A bug reporting survey template can be used to quickly create the survey and get started with capturing user insights regarding any bug or issue they witness with your product or website. However, it should be very smartly timed as a part of the popup survey.
You can ask this Popup Survey Question after a user has spent considerable time using a new or existing feature. It can also be used as a part of the exit intent in case a user suddenly leaves after using a certain feature.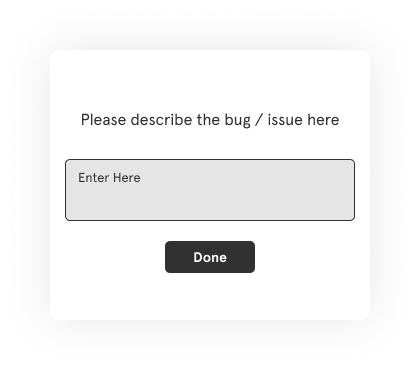 8. Overall Experience Survey Questions
The Overall Experience Questions help you gauge Customer Satisfaction and loyalty based on their overall experience with your website, app, or product. These questions help you identify the areas of improvement in your website or product, take action, and improve overall Customer Satisfaction.
How would you rate your overall experience with us?
How well were we able to meet your needs and expectations?
Did you face any issues or difficulties while navigating our website?
Is there anything specific that you would like to appreciate about our website/product?
Would you like to suggest any improvements or changes?
Based on your overall experience with us, how likely would you recommend us to your friends and known ones?
Understanding the overall experience of customers is crucial for businesses as it helps them identify pain points, address issues, and make improvements that can lead to increased customer satisfaction and loyalty. By regularly assessing the overall experience, businesses can ensure that their website, app, or product meets the needs and expectations of their customers.
For instance, you can use a Product Experience Survey Template to create a popup survey that captures customer feedback in terms of the experience they've had with the product. It can ask all types of Popup Survey Questions in terms of satisfaction with the product, meeting expectations, duration of usage, rating of different features, and much more.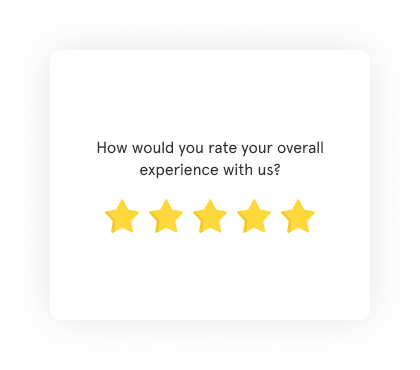 Additionally, the Overall Experience Popup Survey Questions allow businesses to appreciate any positive aspects of their website, app, or product that customers may have noticed. This feedback not only provides motivation to the team but also helps businesses understand what aspects of their offerings are resonating with their customers.
Lastly, the Overall Experience Questions give customers the opportunity to suggest any improvements or changes they would like to see. This open-ended survey question can provide businesses with valuable insights and ideas for future enhancements.
Let's learn some best practices for creating and using Feedback Popups.
Best Practices to Create and use Popup Feedback Surveys
Include a few and targeted questions
Don't frustrate the customers with too many popups
Use CX metrics
Target the right audiences
Include open-ended questions if necessary
Make it mobile-responsive
Present Surveys in real-time
Don't ask questions you know the answers to
Use a good Survey Software
Let's learn how to follow these tips to create and make the best use of Feedback Popup Surveys.
1. Include Few and Targeted Questions
Keep your Popup Surveys concise and focused by including only a small number of questions that target specific aspects. This increases the likelihood of participation and completion as it ensures that customers can provide feedback quickly and easily.
The best way is to use Microsurveys for this purpose. Microsurveys are short surveys that include only one or a couple of questions that are very specific and target the core touchpoint for which the feedback is being collected.
2. Don't Frustrate the Customers with too many Pop-ups
Avoid overwhelming the customers with excessive popups. Strategically determine the right moments or triggers to display the feedback popups, such as after a specific action or at appropriate intervals.
Use Event-based survey popups that are triggered based on events like a purchase transaction, a ticket resolution, or reaching a particular webpage or touchpoint.
You can also use time-based surveys that appear after the customers have spent some time on a product or web page. For instance, you can trigger a Content Feedback Survey after the customers have spent two minutes on the web page containing a blog or an article.
3. Use CX metrics
CX metrics surveys are a great way to collect feedback through survey popups with a couple of questions. Incorporate metrics like Net Promoter Score (NPS) or Customer Satisfaction (CSAT), within your feedback popups.
CX Metric surveys are short surveys that contain only a couple of questions. The first question is the primary question that asks the customers to rate their experience, and the next question asks the reason for the rating given by the customers. The surveys allow you to quantitatively measure customer sentiment and gauge the overall satisfaction levels.
4. Target the right audiences
Tailor your feedback popups to specific customer segments or target audiences for which your surveys are truly relevant. Set triggers to send the survey as per the touchpoints at which your customers are.
For instance, you should send post-purchase popup surveys only to the customers who have just made a purchase.
Similarly, you should send Cart Abandonment Surveys to the questions who have dropped out from their filled carts without making the final purchase.
Likewise, Exit Intent Surveys can be sent only to the customers who are exiting your website, product, or app.
By aligning the questions and content with the relevant audience, you can gather more meaningful insights and ensure the feedback is applicable to the intended group.
5. Include Open-ended Questions if Necessary
It is good to include open-ended questions in your feedback popups if you need deeper customer insights but you should not include them in every survey. Include only one question in your survey if you feel the need to do so. Including more open-ended questions is like forcing your customers to spend time thinking and writing answers in detail, which will cause them to abandon the survey in between and will ultimately reduce your survey response rate.
6. Make it Mobile-Responsive
Ensure that your feedback popups are optimized for mobile devices. Studies suggest that over 55% of the traffic on the internet comes through mobile devices with the increasing use of smartphones. A mobile-responsive design ensures a seamless and user-friendly experience for customers accessing your website or app from their mobile devices.
7. Present Surveys in Real-time
Displaying targeted feedback popups in real-time is a crucial strategy for capturing the most authentic and valuable customer experiences.
Real-time surveys have several advantages over delayed or retrospective surveys.
Firstly, they allow customers to provide feedback when their emotions and thoughts about the experience are still fresh, ensuring that their responses are genuine and not influenced by time or other factors.
Using popup surveys in real time demonstrate a commitment to customer satisfaction and engagement. This proactive approach fosters a sense of trust and loyalty, as customers feel heard and appreciated.
Asking popup survey questions in real-time helps craft a more accurate and comprehensive picture of the customer journey. By capturing feedback at the exact moment of interaction, businesses gain insights into the specific touchpoints and pain points that customers encounter.
To effectively implement real-time surveys, businesses should leverage technology and automation tools. By integrating survey software into their website or app, they can trigger popups based on specific events or actions, ensuring that surveys are presented at the most opportune moments. This strategic timing minimizes disruption to the customer experience while maximizing the likelihood of participation and completion.
8. Don't ask questions you know the Answers to
Don't ask questions from the customers which you already know, like transaction ID or order number. Customers expect some information to be handy with you and expect not to be asked for that information again. Leverage the existing customer information by pre-filling the forms or passing the information using a website, in-app or in-product tool. This streamlines the feedback process and makes it more relevant and convenient for the customer.
9. Use a Good Survey Software
Utilize a reliable and user-friendly survey software or tool to create and manage your feedback widgets like popups. A good survey software offers customization options, reporting capabilities, and integration possibilities to effectively collect and analyze feedback data. Some of the best survey apps can also empower you with the same capabilities.
By implementing these best practices, you can create and use feedback popups that are targeted, non-intrusive, and provide valuable insights for improving your products, services, and Customer Experience.
Conclusion
Popup Surveys are a valuable tool for collecting in-moment Customer Feedback and insights. They offer a quick and smooth way to engage with customers while they interact with your website, app, or product.
By strategically using the right Survey Questions, you can gather valuable feedback and make informed improvements to enhance the overall Customer Experience. With the right approach and by using an effective Survey Software, you can use Popup Surveys to drive Customer Satisfaction and contribute to the growth of your business.
Zonka Feedback is one such reliable Customer Feedback Software that you can use not only to create and share Popup Surveys to collect Customer Feedback, but also to take instant action and close the feedback loop effectively to improve experiences of your website visitors and product or app users.
It also offers a free trial. Try Zonka Feedback for free for 7 days and see how it works for your business.