Surveys are a vital part of our daily lives. They get used in restaurants, schools, hospitals, hotels, and more.
Take Feedback & Gather Data anywhere with the Offline Survey App🔥
Run surveys on any device in offline mode, even in remote locations and get real-time alerts, responses and insights.
And imagine you are hosting an event attracting more than 10,000 participants. The best way to conduct the research would be via offline surveys. And with Zonka Feedback, you can get feedback anywhere you want without an internet connection.
Please don't confuse it with traditional surveys. Offline surveys are the upgraded and technical version of traditional surveys that even online surveys can't offer.
In short, you don't have wi-fi connectivity? No problem. Offline survey apps like Zonka Feedback will help you in field surveys.
Offline surveys on tablets can reach where web surveys can't.
Differences Between Offline and Online Surveys
| | |
| --- | --- |
| Offline Survey | Online Survey |
| 1. Works only on the internet. | 1. Works both offline and online. |
| 2. Can promote sample frame error. | 2. Minimise sample frame error. |
| 3. There can be a loss of data on the network loss. | 3. Data auto-syncs without any loss. |
| 4. Can't rule out survey fatigue. | 4. Manages survey fatigue nicely. |
| 5. Have a medium to low response rate. | 5. Have a high response rate. |
| 6. Can't determine the authenticity of the user | 6. You know the person that is responding. |
Let's take a detailed look at the advantages of the offline survey.
Advantages of Offline Survey
#1. Offline surveys on mobiles are also the online surveys
The best thing about in-person offline surveys is that they act as online surveys. They are the same as browsing Youtube in offline mode. No fuss and to the point.

Whether the survey gets connected to the internet or not, the offline survey tool captures and stores the data in real-time and syncs all your field data when an active connection gets paired.

You can use the offline survey app to conduct web-based surveys as well. Not all web-based surveys have offline features, but all offline survey apps have web-based features.

#2. Allows to gather in-person and remote evaluation

Offline survey apps have excellent methodologies. With plenty of features in it, you can collect data in person or even in a remote location.

If your sample frame has no internet connection, you need to download the survey app on your phone or tablet and reach the location where you want to collect the responses. You can conduct your valuable face-to-face survey with the diversified advantage of the offline survey app.

#3. Minimises sample frame error

Does your survey cover the total sample size? Not when you use web-based surveys. You are going to miss the ones who don't have any internet connectivity. In contrast, an in-person offline survey minimizes coverage error and allows you to research with a broader audience.

For instance, a flaky network doesn't allow you to collect customer responses in the mall. It will result in a bunch of un-pleased customers leaving without an answer. In-person surveys help to manage your data without waiting for the internet to show up.

#4. No loss of data. Each response is safe and secure

You might feel tempted to believe that your data might disappear while syncing with the database. But that's not the case with offline survey apps. It automatically syncs your users' responses without any data loss.

So, even if you are collecting offline data, your data is safe and waiting for the internet connectivity to sync all of them automatically. It acts as a backup that an in-person app provides to have a smooth feedback experience.

#5. Run these surveys in kiosk booths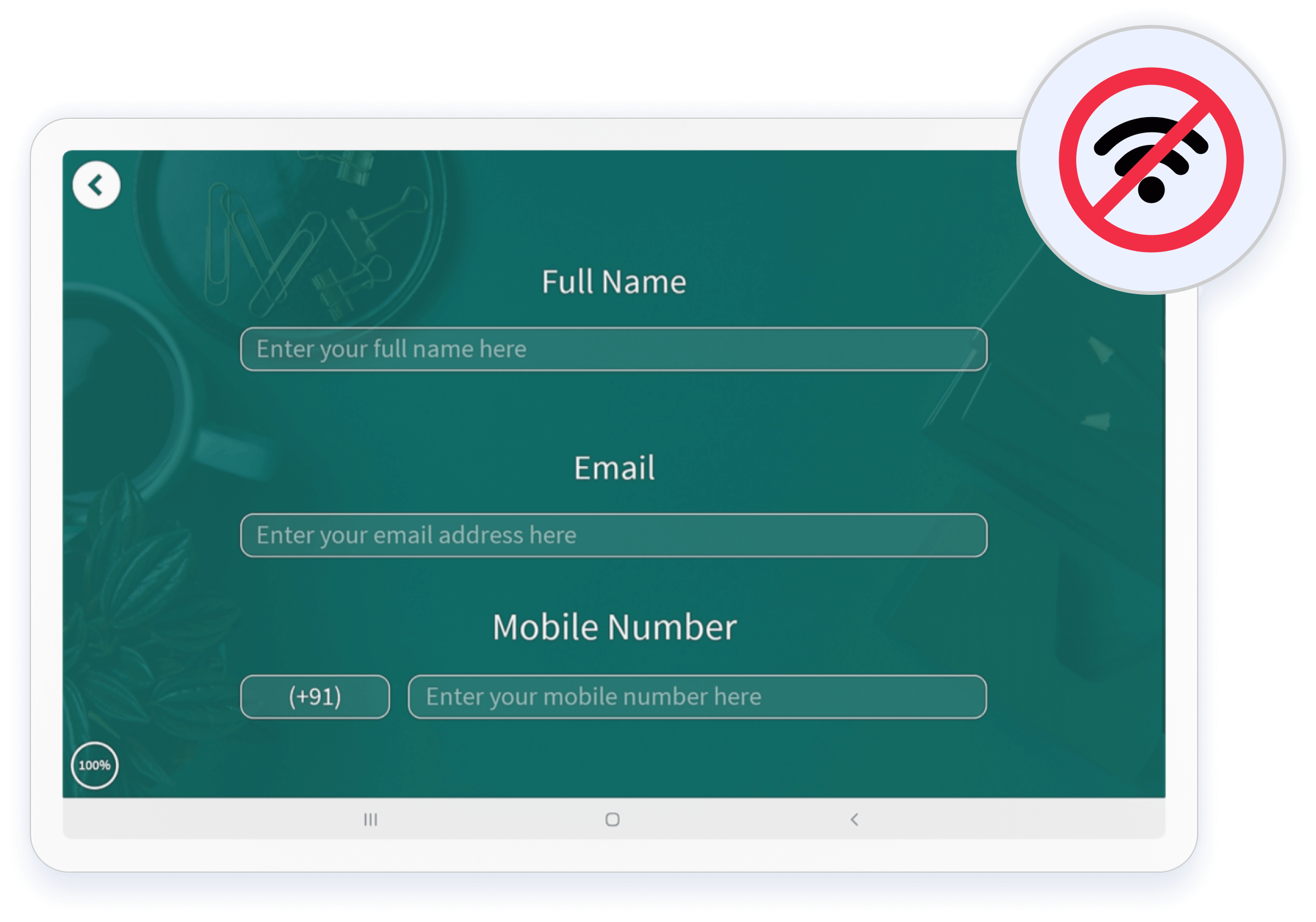 You and your enumerators can't be present everywhere. But you want to have as many respondents as you can. Internet-free apps are an ideal fit for this scenario. They need not necessarily be face-to-face. You can load offline questionnaires on kiosks, even in places without internet connectivity.

Here's a pro tip:

Lock your device in the kiosk.

Put your survey in auto-pilot.

Have your answers ready without hovering around respondents.

#6. It eliminates survey fatigue

People tend to be skeptical when you request them to complete your questionnaire. Ask yourself, Why should anyone fill out your survey forms? Some don't care to respond, and sometimes your surveys don't give a hassle-free experience.

There are plenty of letdowns when you collect surveys on the field. Offline survey apps eliminate survey fatigue and give your respondents enough reasons without inconvenience.

#7. Face to face offline surveys are less annoying

Non-engaging surveys seem like poking your respondents. And no customer likes getting poked. If your studies don't take care of the feedback experience, the customer will immediately ignore or delete the survey. But face to face offline surveys can advocate more responses.

#8. You get a higher response rate

What would you prefer when taking a survey? 90 out of 100 respondents responding or 500 out of 1000? Surely you'll choose the first one. The first case showcases the power of offline surveys, and the second shows where the online/web-based survey lacks.

It is the reason why a lot of respondents don't participate in web-based surveys. They either feel disinterested, or survey forms are too hard to understand, as no one can guide them.

Another problem with online surveys is that even if you get a high response, participants are less likely to stay fully engaged for more than 5-7 minutes - why surveys get deserted.

Conclusion

Previously, organizations had to use either paper or web-based surveys or spend extra money to combine both methodologies with meeting their potential target specifications.

An internet-free survey app like Zonka Feedback combines the benefits of traditional and web-based surveys into a helpful alternative that can meet your business and research objectives. Offline mobile apps have undoubtedly evolved into one-tool-fits-all survey solutions.