The success of the customer feedback survey also depends on the survey distribution channel. Earlier, conventional survey distribution methods were not only time consuming and costly, but also slow on the part of respondents. So, businesses have started using Email as a distribution channel.
Conventionally, email survey has been achieved by linking the survey into email and distributed it manually to the respondents. But now Email Survey Tools are equipped with a plethora of features that have made customer feedback survey collection and analysis quick, easy, and cost-effective.
Effectiveness of Email Surveys
Choosing email as a survey channel is the best choice for businesses, especially when your customers are not on the premises and you want to send user-friendly surveys. Embedded questions in the surveys are just a great add on to that and make email surveys even more effective.
There are other compelling reasons that can help you to understand the significance of making Email Survey a part of your marketing strategies:
1. Improves Survey Response Rate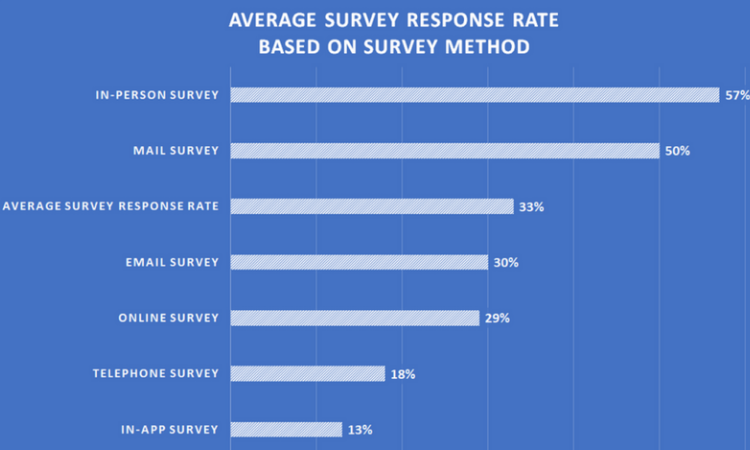 After in-person and mail surveys, the Email Survey is the third most popular channel having an average response rate of 30%.
2. Follows Respondent Quickly
Entrepreneurs usually follow emails regularly. According to the Small Business Trends, 85% of the respondents said they check their emails before they go to work and close to a quarter look at their email before they even get out of bed in the morning. This insight amplifies the scope to get a quick response to an email survey.
3. Delivers Personalized Survey Experience
Today's customers are tech-savvy and thus expect better customer experience. Email surveys with a personalized tone cannot only improve your response rate but also deliver 6 times higher transaction rates.
4. Provides Better Response
There is a lot of difference between opening email and opening survey. If your respondents are opening your email it is not necessary that they'll fill your survey. Usually, respondents avoid the mess of opening the survey in the other browser and then filling it. As a result, either they ignore the email or spam it. So, with embedded surveys, respondents can answer the first question from within the email itself. This improves the survey response rate significantly.
5. Ensures Easy and Quick Way to Respond
If you're sending a single question survey and the question is already embedded in the email - imagine how easy that would make for customers and respondents to click on an answer and respond. Even for multiple question surveys, having the first question embedded in the survey removes the barrier for the customer of having to click on the button and open the survey.