To raise your Net Promoter Score you need to keep checking on your promoters, detractors, and passives. If you could able to maintain your rating across each segment (promoters, detractors, and passives) you can easily improve your net promoter score.
Another factor that improves your net promoter score is 'How do you use your NPS data? There are various innovative ways to use your NPS data to serve best to your customers and improve your score.
Let's help you get started with 5 practical strategies to improve your NPS.
Find why your Detractors are unhappy
Before interacting with your detractors, you need to find the reason why they are unhappy and unsatisfied with your product/service. Either you read their feedback thoroughly and understand their requirements or else ask them directly the reasons for less Net Promoter Score. You could also use a Net Promoter Score Survey Software that gives you logic-based questions. By using skip logic and branching in your survey, customers view only questions relevant to them and have a better experience while giving feedback.
Strategize smartly to Close the Feedback Loop
If you are attempting to close the loop with your detractors, then your focus should be on strengthening the relationship with your grumpy customers. Thus, design your closed-loop feedback strategies in such a way that it delivers a positive impression to detractors that you have read their feedback and you want to improve their experience. If you can convince your detractors that you'll deliver them with the amazing customer experience in the future, they can become your biggest promoters. NPS Survey Tool enables you to strategize action for closing the feedback loop
Automate Your Responses – Backed by robust functionality and high-level automation, the NPS tool helps you to not only detecting negative feedback quickly but also provides you with the advanced framework, where you can respond to your detractors automatically. Automated response workflow helps you get information about your detractors and their concerns. The automated response system helps you to reduce your resources, time and effort with an individualized response.
Do Personalized Follow-Ups – It is essential for you to follow-up with your grumpy customers to convert them into promoters. When it comes to interacting with detractors, there are two ways to approach them, either create an automated response workflow or dive straight into a phone call. Address their concern and assure your detractors that you are here to help them again.
Address concerns without being defensive
Open your conversation with your introduction; give a light introduction to you and your company. You can also begin with the apology note and assure your detractors that you are here to help them again. Your detractors may take this situation as that you are trying to hard-sell them. So, in this scenario, you need to patiently address their concerns without being defensive.
Choose a knowledgeable Representative
During the survey of customers in the U.S. and worldwide in 2018, 39% of respondents from the United States stated that a good customer service experience would be one with a knowledgeable representative. So, always choose experienced and knowledgeable representatives who have a better understanding of dealing with grumpy customers and have the potential to convert them to promoters.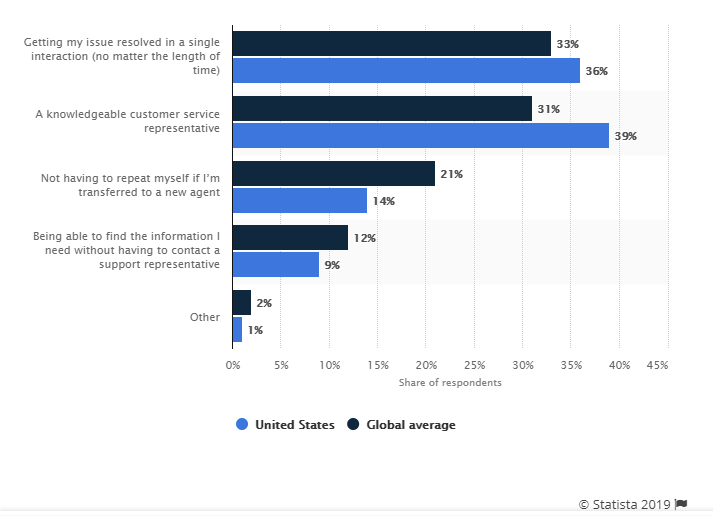 Don't make any false promises to your customers: You cannot rectify the errors or find the solutions right on the call. In this case, it's better to follow them later, but don't make any false promises. False commitments will irritate your detractors and they will start spreading bad word of mouth. This, in turn, will tarnish your brand reputation in the market. So, actively follow your detractors and deliver them with the impeccable solutions within the specified time frame.