One of the best ways to measure Net Promoter Score for your company, from customers as well as employees, is to use a Net Promoter Score Survey Tool. A good NPS Survey Software comes with features to customize your NPS Surveys, measure NPS across various channels like tablets and kiosks, via SMS Surveys, email Surveys, online Surveys and more, and get real-time Net Promoter Score Survey reports.
Zonka Feedback is one of the top Net Promoter Score Survey Software that you could use to conduct NPS Surveys and measure loyalty.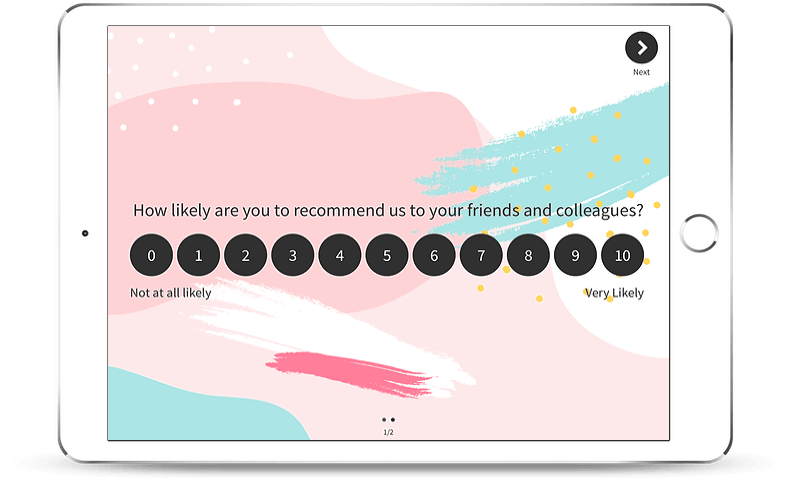 Some key features that make Zonka Feedback one of the best apps to capture Net Promoter Score:
Customized NPS Survey Templates - Zonka Feedback Tool enables you to fully customize your NPS Surveys by choosing from any 30+ survey questions. These questions help you to capture customer data for calculating the Net Promoter Score, Customer Satisfaction Score, and Customer Effort Score.
Logic-based NPS Survey - To get better and more actionable NPS feedback and data, you can use the Logic-based NPS Survey at Zonka Feedback. Using this feature you can hide screen & branching and show only those questions to respondents that they need to answer based on their previous response.
Conduct NPS Surveys for all Channels using One Platform - Zonka Feedback has simplified the process of measuring and analyzing the Net Promoter Score. With the Net Promoter Score Survey Software, you can easily conduct Android Tablets & Smartphones NPS Survey, iPads & iPhones NPS Survey, Offline Surveys, Online NPS Surveys, SMS NPS Surveys, and Email NPS Surveys. Zonka Feedback enables you to conduct NPS Surveys through QR Code as well.
Net Promoter Score Survey Reports & Analysis - Zonka Feedback Net Promoter Score Survey Software offers you with the advanced and real-time feedback report and analysis feature. With this feature, you can monitor every feedback and get an in-depth analysis of all NPS responses. This helps you to take action on NPS feedback to swiftly resolve issues and convert your detractors into the promoters.