CES Question
CES stands for Customer Effort Score. This market standard is very important in order to reveal the effort applied by the customer while dealing with your company. It is a type of customer satisfaction measurement that measures how much effort your customers have to put in getting their issues solved.
Adding the CES Question
Follow these steps to add this question type:
Click on Rating Scale drop-down from the Questions window on the left side of the survey builder.
Now select the CES Question, a pop-up to choose answer button type will appear you can choose from button or smiley type.
After this, the question will immediately be added in the survey and appear in the WYSIWYG tablet preview on your screen.
Customizing the Question
To edit the CES Question you can hover over the question and click on the edit icon. A customization window will get opened on the right-hand side of the survey builder wherein you can move forward with the further question customizations.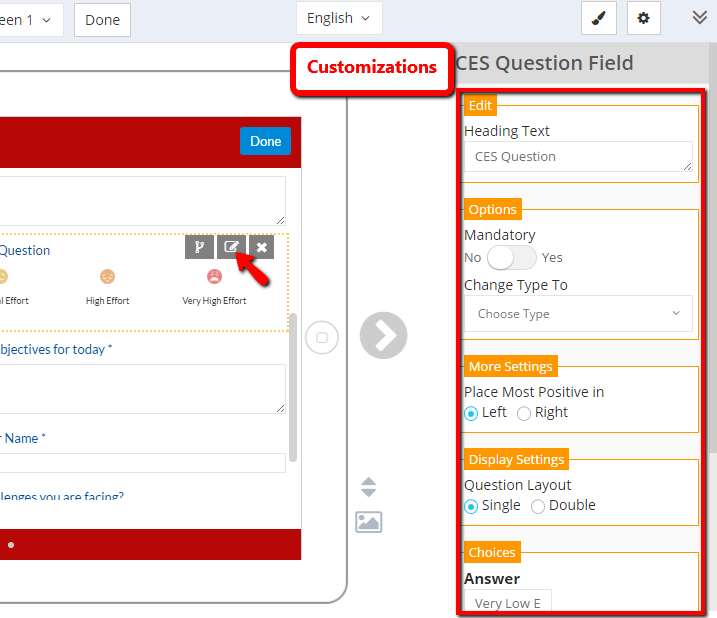 The following customizations can be made:
Edit
| | |
| --- | --- |
| Option | Description |
| Heading Text | Enter the Heading Text for your CES question from here. |
Options
Option
Description
Mandatory
Select whether you want to make the CES question mandatory to answer for your respondents or not.
Change Type To

You can switch between Star or Smiley Type of CES question from this drop down.
Star: Asking respondents to evaluate the CES on a visual scale of stars.

Smiley: Asking respondents to evaluate the CES on a visual scale of smilies
More Settings
| | |
| --- | --- |
| Option | Description |
| Place Most Positive In | You can choose from where you want to place the most positive answer choices; left or right. |
Display Settings
| | |
| --- | --- |
| Option | Description |
| Question Layout | Select whether you want a single or double layout display for the question. In single layout, the question will be spread along the full width of the survey screen and in double layout, it will appear only in half the breadth of the survey screen. Use double layout if you want to add two questions alongside in the survey screen. |
Choices
| | |
| --- | --- |
| Option | Description |
| Answer | Enter the text for the answer option placeholders in here. |
How it Works
Ask your customers the CES question to measure the effort applied by them in doing business with your organization, brand, product or service. We will calculate your average Customer Effort Score automatically when you analyze your responses.