Change Outgoing Email Address
With Zonka, you can send plain-text emails to respondents, if you have the email address field in the survey and if the respondent has filled it up. The emails sent to respondents will display the outgoing email address that you verify and set in your Zonka Admin account.
Setup a Sender email id which will be used for sending survey emails to your contacts.
Manage Respondent Reply Email
To set Respondent Reply Email
SelectCompany Settings from settings drop-down on the right top corner.
Now selectOutgoing Email .
In theManage Respondent Reply Email section click Edit
Add the Sender Name andOutgoing Email Address and click Update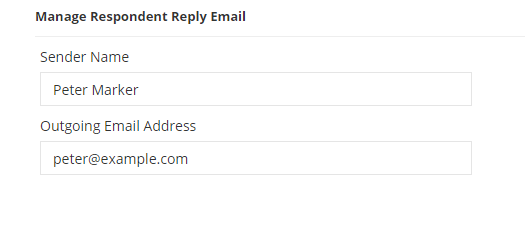 Manage Sender Email
To set Sender Email
SelectCompany Settings from settings drop-down on the right top corner.
Now selectOutgoing Email .
In theManage Sender section click Edit
Add the Sender Name andSender Email Address and click Update
You will be sent a verification email with a unique code on this email
Enter the unique code in the popup and verify your email