Device Settings
To manage the survey device settings follow the given steps:
Select Surveys from Setup drop down menu.
Click on Add new survey if you want to manage the device settings for a new survey or select the survey from the list view whose device settings you want to manage.
Click the Settings from the top right corner.
Click on the Device from the settings box flashed on the screen.
Edit/ manage the device settings as per your requirements from here.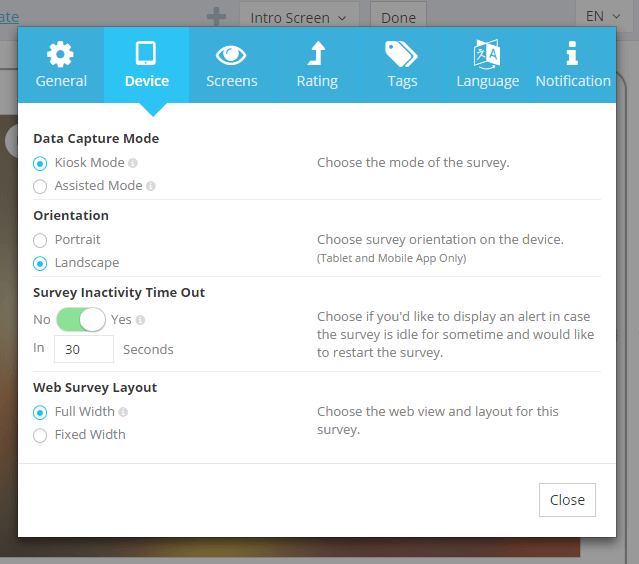 Managing Device Settings
You can manage all the Device related settings from here. Following device settings can be managed:
Data Capture Mode
Survey data can be captured in two modes with Android and iOS devices which are Kiosk Mode and Assisted Mode. Choose Kiosk mode for non-assisted surveys and Assisted mode for hand-held surveys. Kiosk mode should be enabled where the sample size of the surveys is very large and spread over the premises whereas handheld or assisted mode should be enabled where the sample size is limited for example- in a restaurant, a tablet can be handed over for collecting feedbacks with the bill. You can add a pre-capture screen in assisted mode surveys which is only visible to him and where the surveyor can fill in some personal details before taking the survey.
Orientation
You can also choose the survey orientation from Portrait and Landscape on the device. (Tablet and Mobile App Only). For web surveys, only portrait orientation can be enabled.
Survey Inactivity Time Out
Choose if you'd like to display an alert in case the survey is idle for some time and would like to restart the survey. You can further enter the Survey Restart Time in Screen settings. Enabling this option is a must in kiosk mode surveys where there is no assistance to restart a new survey.
Web Survey Layout
Select the web view and layout for your survey form. You can choose between Full-Width Survey layout where the survey will cover the entire screen or Fixed Width layout where the survey will remain in a fixed box in the center.