Languages
You can create multi-lingual surveys in Zonka. Multi-lingual surveys help you to immensely increase your sample size by tapping customers speaking varied languages. Creating surveys in multiple languages also add a personal touch for the native of that particular language. Choose from a pool of 30+ languages. In order to manage/edit the survey language setting follow the given steps:
Select Surveys from Setup drop-down menu.
Click on Add new survey if you want to manage the Language settings for a new survey or select the survey from the list view for which you want to manage the language settings.
Click the Settings from the top right corner.
Click on the Language from the settings box flashed on the screen.
Edit/ manage the Languages as per your requirements.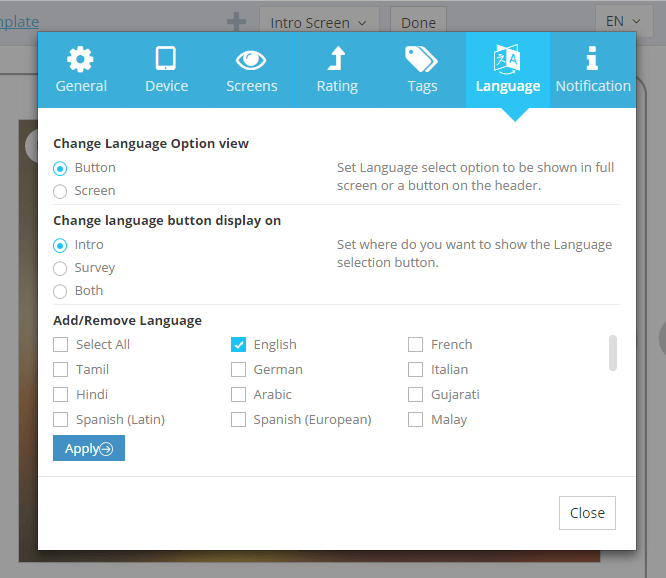 Managing Survey Languages
Following settings can be managed using Languages:
Change Language Option view
Set whether you would like Language selection option to be shown in a full screen before the starting of the survey or as a button on the header. The respondent can easily select the language of his choice from the available languages and then continue the survey in that language.
Change language button display on
Select where do you want to show the Language selection button to your respondents. Choose from the Intro screen, the survey or both.
Add/Remove Language
Add/remove the survey languages by selecting/ de-selecting from the checkboxes below and then click Apply. We provide 30+ languages to choose from.