Paragraph
Paragraph helps you to insert multiple lines in the survey form. You may use this question field to insert multiple lines or enable the respondent to enter answers in the case of subjective questions such as Comments/Reviews, etc.
Adding Paragraph Question
Follow these steps to add this question type:
Click on General Questions drop-down from the Questions window on the left side of the survey builder.
Now select Paragraph question, the question will immediately be added in the survey and appear in the WYSIWYG tablet preview on your screen.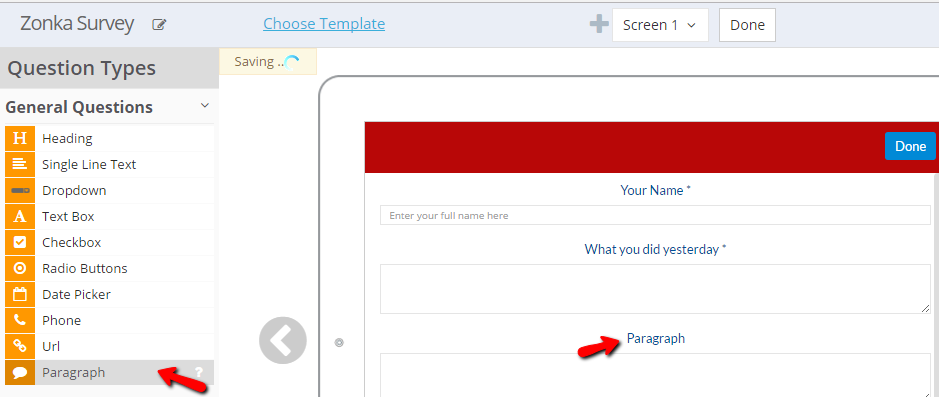 Customizing the Question
After you have added the Paragraph field in your survey form, hover over the question and click the Edit icon to edit the question. A customization window will get opened on the right-hand side of the survey builder wherein you can move forward with the further question customizations.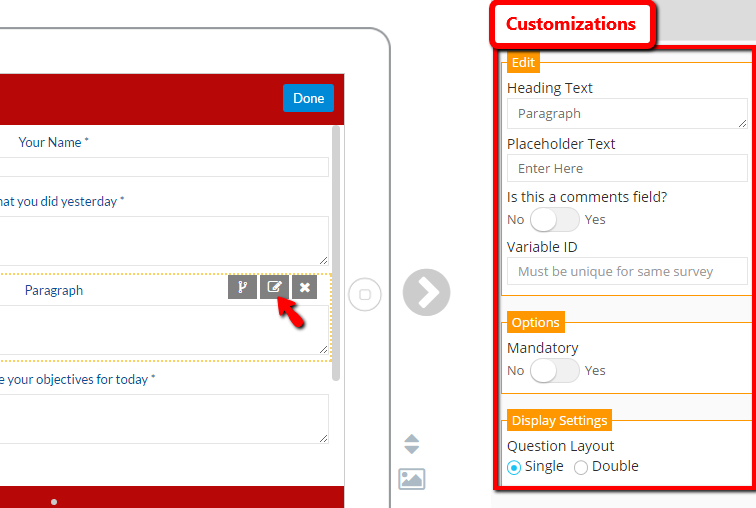 The following customizations can be made:
Edit
| | |
| --- | --- |
| Option | Description |
| Heading Text | Enter the Heading Text for your Paragraph question from here. Eg- Your suggestions are welcome. |
| Placeholder Text: | This is the place where the respondents will enter their answer for the paragraph question. |
| Is this a comments field? | This marks the paragraph question as simple paragraph content or a specific customer comment (which shows up as in response to comments and can be analyzed in reports.) |
| Variable ID: | Variable id is a unique id assigned to text question or drop down fields. This is used to pass data which will be prefilled, via web URLs in web surveys. |
Options
| | |
| --- | --- |
| Option | Description |
| Mandatory | Select whether you want to make the Paragraph question mandatory to answer for your respondents or not. |
Display Settings
| | |
| --- | --- |
| Option | Description |
| Question Layout | Select whether you want a single or double layout display for the question. In single layout the question will be spread along the full width of the survey screen and in double layout it will appear only in half the breadth of the survey screen. Use double layout if you want to add two questions alongside in the survey screen. |
How it Works
You can add the Paragraph question for all the open-ended questions. Add this question type for capturing longer responses such as in case of Customer reviews, suggestions or complaints.