Rating Settings
Survey Rating Scale
The survey rating scale defines the scale or range for the rating questions in your survey. You can change the range anytime and this will be reflected in the calculation of all the ratings of the responses in that survey.
To change the rating scale of any survey, do the following:
Select Surveys from Setup drop-down menu.
Click on Add new survey if you want to manage the screen settings for a new survey or select the survey from the list view whose screen settings you want to manage.
Click the Settings from the top right corner.
Click on the Rating icon from the settings box flashed on the screen.
Edit/ manage the Rating Settings as per your requirements from here.
Click on Apply button. This will save the new rating scale.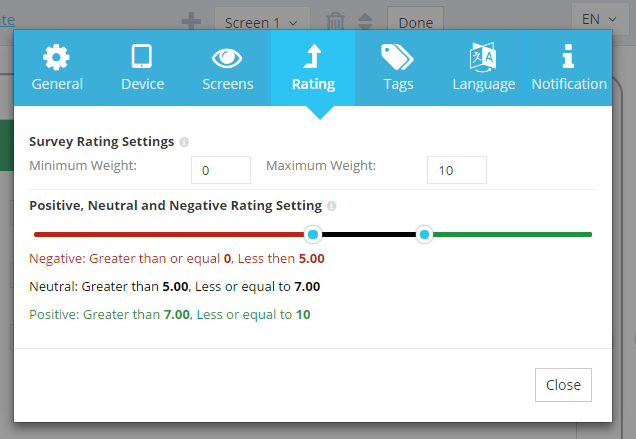 Following Rating settings can be managed from here:
Survey Rating Settings
Define Maximum and Minimum rates for all Rating questions. This is further used in the calculation of the Respondent Tracking. You can select up to two digits for minimum rating weight and three digits for maximum rating weight.
Negative, Positive and Neutral Rating Settings
This setting enables you to set negative, positive and neutral range of your Rating scale. This can be used for viewing rating-based tags in the Response Manager and for setting alerts based on the rating range.
To change the negative, positive and neutral rating settings do the following:
Drag the slider according to the intervals you'd like to have.
You can view the range changing as you drag the sliders right below.
Your settings will be saved in real-time.