Respondent Tracking
Repeat Respondents are the customers who have registered a survey response with you more than once. You can track your Repeat respondents by enabling the Track Respondents option. You can do so by selecting the respondent question fields on basis of which you want to track your repeat respondents. To manage the Respondent Tracking setting follow the given steps:
Select Surveys from Setup drop down menu.
Click on Add new survey if you want to manage the Respondent Tracking settings for a new survey or select the survey from the list view whose Respondent Tracking settings you want to manage.
Click the Settings from the top right corner.
Click on the Tags icon from the settings box flashed on the screen.
Edit/ manage the Respondent Tracking settings from the options given below the Track Respondents heading.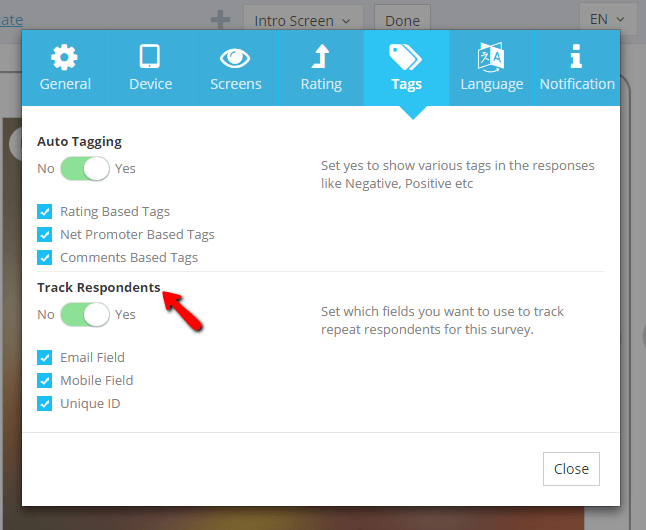 Managing Respondent tracking
Track Respondents
Set the slider to yes to track repeat respondents for this survey or set it to no if you want to disable respondent tracking. You can view the number of Repeat Respondents for all your surveys on the quick widget over the Dashboard. Select which of the following fields amongst these you want to use to track repeat respondents for this survey.
-Email Field
-Mobile Field
-Unique ID