Screen Settings
All the survey screen related settings such as adding introduction/ exit screen, etc. can be managed from here. To edit the survey screen settings follow the given steps:
Select Surveys from Setup drop-down menu.
Click on Add new survey if you want to manage the screen settings for a new survey or select the survey from the list view whose screen settings you want to manage.
Click the Settings from the top right corner.
Click on the Screens icon from the settings box flashed on the screen.
Edit/ manage the Screen Settings as per your requirements from here.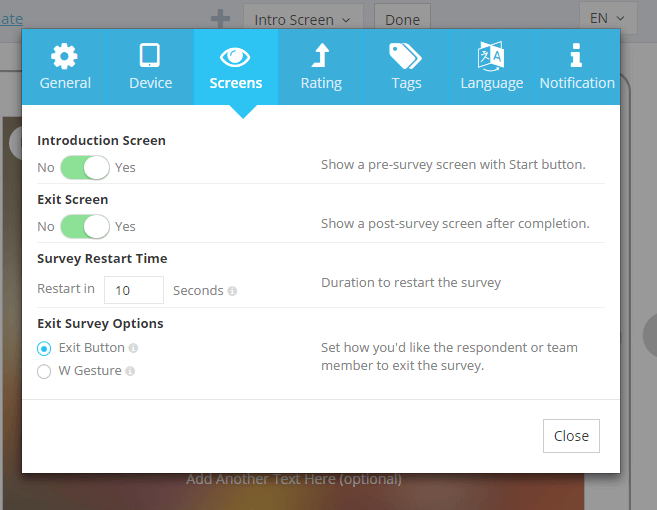 Managing screen settings
You can manage all the Screen related settings from here. Following screen settings can be managed:
Introduction Screen
Choose if would like to add a pre-survey screen with Start button. You can also add a welcome text, image, logo and optional text in the Introduction screen along with the Start Survey button to fully white label your survey form.
Exit/Thank you Screen
Select if you would like to show a post-survey screen to the respondent after completion of the survey.This screen is also known as Thank you screen as you can add a thank you note along with an optional text and logo in this screen.
Survey Restart Time
Survey restart time is the time taken to restart a fresh survey after the survey has been left idle for a selected time period. Enter the Duration (in seconds) to restart the survey after the last survey/ thank you screen. In kiosk mode there is no one to attend to the survey once it is completed or left idle in the middle, thus you can select a survey re-start time so that after some seconds of survey completion or survey being left idle it reaches the introduction screen of a fresh survey for other respondents to fill. Though the survey does not gets restarted on its own after the selected restart time. A pop-up appears asking if the respondent would like to continue the survey or not which is feasible in case of assisted surveys where the respondent may get busy while filling the survey and opt to continue after this pop-up. But if the pop-up is also left unattended for 30 seconds then a fresh survey starts again.
Exit Survey Options
Set how you'd like the respondent or team member to exit the survey. There are two options available for the same which are Exit Button and the W Gesture. If you select the Exit button option here then an Exit button will be added in the survey to allow the Respondent to exit the survey in between. If you select W gesture as exit survey option then the respondent and the staff member would have to draw a 'W' gesture on the survey, Introduction and Thank You screen in order to exit the survey.