Textbox Field
The Textbox Field question allows you to collect short open-ended answers from respondents. For example you can add questions asking for customer's comments/ suggestions using this question field.
Adding the Textbox Question
Follow these steps to add this question type:
Click on General Questions drop-down from the Questions window on the left side of the survey builder.
Now select Text Box Question, the question will immediately be added in the survey and appear in the WYSIWYG tablet preview on your screen.
Customizing the Question
After you have added the Text Box Field question in your survey form, hover over the question and click edit icon to edit the question. A customization window wil get opened on the right hand side of the survey builder wherein you can move forward with the further question customizations.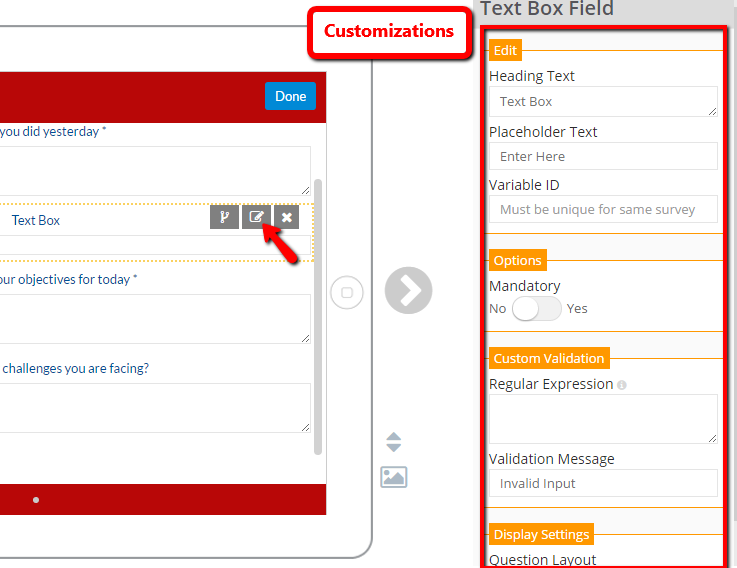 The following customizations can be made:
Edit
| | |
| --- | --- |
| Option | Description |
| Heading Text | Enter the Heading Text for your Textbox question from here. |
| Placeholder Text | This is the place where the respondents will enter their answers in the textbox. |
| Variable ID | Variable id is a unique id assigned to text question or drop down fields. This is used to pass data which will be prefilled, via web urls in web surveys. |
Options
| | |
| --- | --- |
| Option | Description |
| Mandatory | Select whether you want to make the Textbox Question mandatory to answer for your respondents or not. |
Custom Validation
| | |
| --- | --- |
| Option | Description |
| Regular Expression | Custom validation can be added to text input fields to apply custom regular expressions and validations which override the default ones. You can add an expression allowing only text and no numerics or any other expression to be entered in the text box field. |
| Validation Message | You can add a validation message with the question. For eg- Please answer in brief. |
Display Settings
| | |
| --- | --- |
| Option | Description |
| Question Layout | Select whether you want a single or double layout display for the question. In single layout the question will be spread along the full width of the survey screen and in double layout it will appear only in half the breadth of the survey screen. Use double layout if you want to add two questions alongside in the survey screen. |
How it Works
Add a textbox to your survey when you want respondents to answer writing a short text or numerical answer to your question. In the Response Analysis Report, for such subjective questions a word analyisis is also performed which tells the frequency of the most common words used in the answers.