Understanding Ratings and Weights
Survey Rating Scale
The survey rating scale defines the scale/ range for the rating questions in your survey. You can change the range anytime and this will be reflected in the calculation of all the ratings of the responses in that survey. From here you can decide the range of positive neutral and negative responses and also the weight that you want to assign to every answer option. You can select a 2 digit minimum and 4 digits maximum weight for your survey answers.
Survey Rating Settings
Select the minimum and maximum weight that you would like to assign to every survey answer options. To change the rating scale of any survey, do the following:
Go to Survey Builder and click on Settings .
In the Survey Rating Settings, enter Minimum Rating and Maximum Rating in the text boxes.
Click on Apply button. This will save the new rating scale.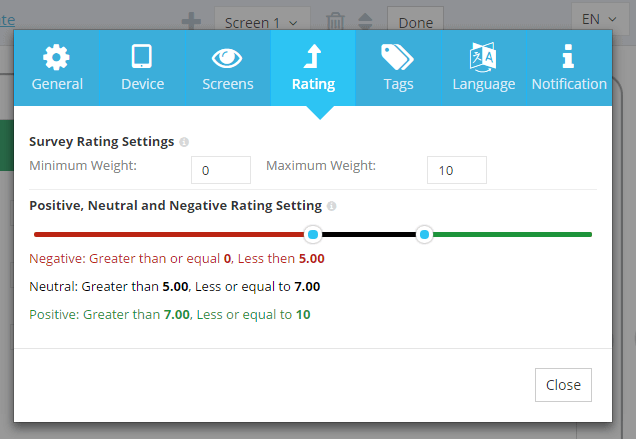 Negative, Positive and Neutral Rating Settings
This setting enables you to set negative, positive and neutral range of your Rating scale. This can be used for viewing rating-based tags in the Response Manager and for setting alerts based on the rating range. To change the negative, positive and neutral rating settings, do the following:
Drag the slider according to the intervals you'd like to have.
You can view the range changing as you drag the sliders right below.
Your settings will be saved in real-time.