When it comes to choosing the right SaaS survey software, there are plenty of things to keep in mind. For starters, you should be able to collect actionable product feedback data from customers, segment the data into categories relevant to your survey goals, and close the loop faster.
It all sounds effortless to be able to collect accurate data, decipher it, and make improvements until it isn't. The reason why these SaaS survey tools exist in the first place is that many businesses still struggle with creating and closing a feedback loop.
Elevate your SaaS Customer Experience⭐
Measure User Feedback at various touchpoints in your product and use the User Insights to delight your customers.
Product-driven companies are especially rendered vulnerable to failure when developing a product roadmap only keeping in mind their own instincts. They forget that every added value, every new feature, and every product journey is for the customers to experience. Maybe this is why over 53% of buyers believe that the feedback they provide doesn't reach the right person, making it ineffective or useless, to be honest.
What is a SaaS Survey Software?

SaaS survey software is a product feedback tool that allow a business to create, run and analyze different types of surveys. These dedicated data collection tools help businesses become customer-centric and drive them to customer-centric feedback-driven success.

The majority of these SaaS survey tools offer an easy-to-use platform where one can create engaging surveys within minutes or even seconds and distribute them through multiple channels.

But before we get into the list, let us first understand each and every aspect in detail so you can make the right choice.
5 Questions to Answer Before Choosing the Best SaaS survey software
The SaaS industry has seen a whopping 500% growth in the past seven years and the space is currently worth well over $170 billion. Any product-driven company would prefer choosing a survey tool that benefits them in the long run and doesn't make them feel like they are stuck with an average one just because they paid for a yearly plan.
So, if you want to avoid such a situation and know how to collect product feedback effectively, let's understand the exact requirements that matter!
1. Does the SaaS Survey Software Support your Survey Goals?
What's your end goal of conducting the survey? It's okay if you're not sure yet. To give you an idea, usually, the goals for SaaS surveys are divided into 4 segments:
Market Research and Concept Testing

Market research surveys analyze the given market to gain valuable insight into the attributes and buying potential of the target audience for their product or service.

This type of survey offers predictive analytics for any new product, concept, or service. It helps brands make strategic changes to their SaaS product before launching it in the market.

Somewhat similar to Market Research, concept testing is a part of the early phase of market research - the ideation phase - that enables a company to explore the viability of the product they are building by listening to the voice of the customer.

One of the well-renowned market research survey examples includes Sean Ellis's Product Market Fit Survey. It's a questionnaire devised by Entrepreneur Sean Ellis himself to measure and test your product's market fit. Here's what it looks like-




Feature Research

No matter how small an upgrade you make in your SaaS, there's always that one feature that takes the crown. Some make you feel later on as if you just dodged a bullet by taking it off. And for others, you actually feel and learn from the burn. All these SaaS experiences are part of every product development cycle.

For example, if you're a SaaS company that provides survey software and with the new update, your customers can integrate survey data with Salesforce, you may want to know answers to the following customer experience and product feedback questions:

If the Salesforce integration was smooth
On a scale of 1-10, based on your experience with our Salesforce Survey Integration, how likely are you to recommend our software to your colleagues?
How do you think we can improve the new Salesforce integration feature?

Based on these answers over a certain period of time from different samples, you can understand what your ideal customers want, and even optimize your overall product development approach.

Pricing Research

There has been, is, and always will be a difference between what the target market is willing to pay and the profit margin expected by the shareholders.

Therefore, striking the right balance between business profitability and the value for money of SaaS products can make it or break it for you.

SaaS product feedback is essential to ensure that you're pricing your products correctly. For SaaS, it can be an opportunity to optimize a pricing strategy that goes more in line with the market value of the product. A survey like this may ask questions like:

How satisfied are you with the product's pricing in this category?
How expensive is this product compared to similar software?
According to you, what is the ideal price for this type of product?

Bug Report

Having a buggy product in the market can bring down your reputation, deflect interested users, and overall do more harm than good. If your goal is to figure out possible bugs in your product and get a clear insight into customer experience, bug report surveys can be the way to go.

The product feedback tool enables you to find any bugs in your software as they outline specific problems that need to be fixed. These reports give you and your product teams actionable insights and feedback so that you can avoid dragging buggy software into the market.

A bug report survey questionnaire may look something like this:

On what page did you encounter the problem?
Please describe your issue in brief.
Could you add a screenshot to illustrate the problem?
2. Consider What Stage Your Company is At
Another thing to consider before going for SaaS survey software is to understand what stage your company is at. That will give you a better idea about the kind of survey you want to run. Usually, the stages of Saas business models are divided into the following stages:
Early Stage

If your SaaS company is at an early stage, you'd be doing a lot of A/B testing and Beta-test to find out the viability and usability of your product in the market. Since it requires split testing, you'd be conducting surveys on specific channels like in-product, website, and so on before the final product roll-out. Moreover, you can also use our system usability survey template for both external and internal product feedback.

There are plenty of Saas survey tools that allow for survey targeting according to specific channels.
If you need help structuring your surveys, you can check out our detailed article on website usability survey questions.

Growth Stage

During the growth stage, businesses are more focused on customer acquisition. This asks for feature testing and bug testing. Running surveys during this stage requires companies to cover multiple channels like emails, SMS, website/in-app/in-product pop-ups, pop-overs, and more.

The feedback data collected during the growth stage can help define the product roadmap that improves the overall customer experience. Choosing SaaS survey software that gives you multi-channel coverage can be beneficial during a stage like this as it will help you improve the customer experience.

Maturity Stage

Your product is out there maybe in the pockets of your customers or on their laptop screens. Now all you need is to ensure that it remains that way and even becomes your customers' favorite. The Maturity stage of a SaaS company asks for customer retention which can be done by measuring the CX metrics like Net Promoter Score, Customer Effort Score, and Customer Satisfaction Score.


In this stage, your product or in-app feedback tools should be able to provide you with an omnichannel presence where you can take customer feedback at multiple touchpoints during their journey with your product.
3. The Types of Surveys You Want To Run Makes All the Difference
While researching the target market, businesses can break up surveys into three broad categories - Ad-hoc surveys, transactional surveys, and relational surveys.
Ad-hoc Surveys

Ad-hoc surveys are online surveys that are conducted occasionally. To conduct ad-hoc surveys, businesses take a selection of customers and conduct surveys at any particular point. These surveys help marketers take specific business actions based on the findings of the survey results.

The Ad-hoc survey triggers usually rely on integrations for example, by integration with HubSpot, you can conduct surveys before or after your product demo meetings. Apart from before and after, you can also conduct in-meeting surveys via integrations with teams, Webex, etc.

These surveys can also be utilized during the A/B testing stage and for moment marketing change. So businesses looking for a survey tool can go for the one that allows them to integrate with their business intelligence tools and easily capture in-product or in-app user feedback.

One of the best examples of moment marketing change is Ukraine. The ongoing war in Ukraine witnessed a massive change in the marketing strategies of brands. From strengthening cyber-security to applying social sensitivity and adjusting ad strategies, the majority of brands made significant adjustments to their product roadmap that align more with the current situation of their target customers.

Transactional Surveys

Do you want to trigger surveys after specific customer interactions with your business? Well, Transactional surveys offer you just that. A trigger-based survey allows you to capture customer feedback as they glide through your product and interact with different segments and features, giving you real-time insights into your customer's experience.


One of the product feedback examples of transactional surveys would be Customer Service surveys where the customer will be greeted with a feedback form as soon as their interaction with your customer service has been completed, thus helping you measure CX metrics like NPS, CSAT, and CES.




A survey trigger like such might ask them insightful questions such as:

"How would you rate your experience with our customer support team?"
"Do you agree that we were able to solve your problem?"
"How likely are you to recommend us to your friends and colleagues based on our recent feature updates?"

These surveys can help you tap into the customer's psyche at a particular point during their journey. The spontaneity of such surveys ensures that the feedback data you have collected is accurate and fresh. If you're a B2C company, ensure yourSaaS survey software enables you to distribute surveys through email, SMS, web, and even offline. And if you're B2B, the feedback tool should enable you to distribute surveys through channels like mobile app, product, website, email, and so on.

Relational Surveys

Relational surveys exist somewhere between ad-hoc and transactional. These types of surveys measure the overall status of your business relationship with your customers. Relationship surveys focus on quantifying customer loyalty on a scale of 1-10.

Unlike transactional surveys, businesses can engage more customers with these surveys and expect a high response rate. These surveys are conducted for the entire customer base based on where they are in the customer journey to gauge the overall customer perception of your brand.

If you want to run such kinds of surveys, ensure that your survey tool allows user segmentation for creating and closing customer feedback loops effectively.




One of the examples of relationship surveys would be setting up time-bound workflows. Let's say you are offering a free trial to users and some customers have extended their free trial period more than 2 times, you can run relational surveys to target such users at intervals to get their input on why they haven't made a purchase yet and similar questions to improve the balance between paid subscribers and free-trial customers, along with getting crucial insights on the customer experience with your product.

Although most companies conduct surveys combining these three groups, some of the survey mechanisms require the business to follow up with the respondents to close the feedback loop. There are plenty of survey tools available in the market that offer you all these capabilities in the form of Customer Satisfaction Software and Survey tool.
4. Does the Survey Tool Offer Analytics and Reporting to Take Action on Responses?
No matter what type of data you collect, how many customers you reach out to, or the channels you are tapping, if you can't analyze the data properly and get actionable insights, it's just another useless piece of information.
Much like the fact that from 1 to 999 numbers, no number has the word "a" in its word form. It's information, yes, but there's hardly anything you can do about it.
For any survey mechanism to run its full circle, data analytics and reporting are important aspects. Ensure that your SaaS survey tool enables you to view survey responses, average completion time, and overall completion rate along with the overview of survey data. It should also give you a summary and analysis of responses, especially CX metrics reports which can help you assess the NPS, CES, and CSAT scores.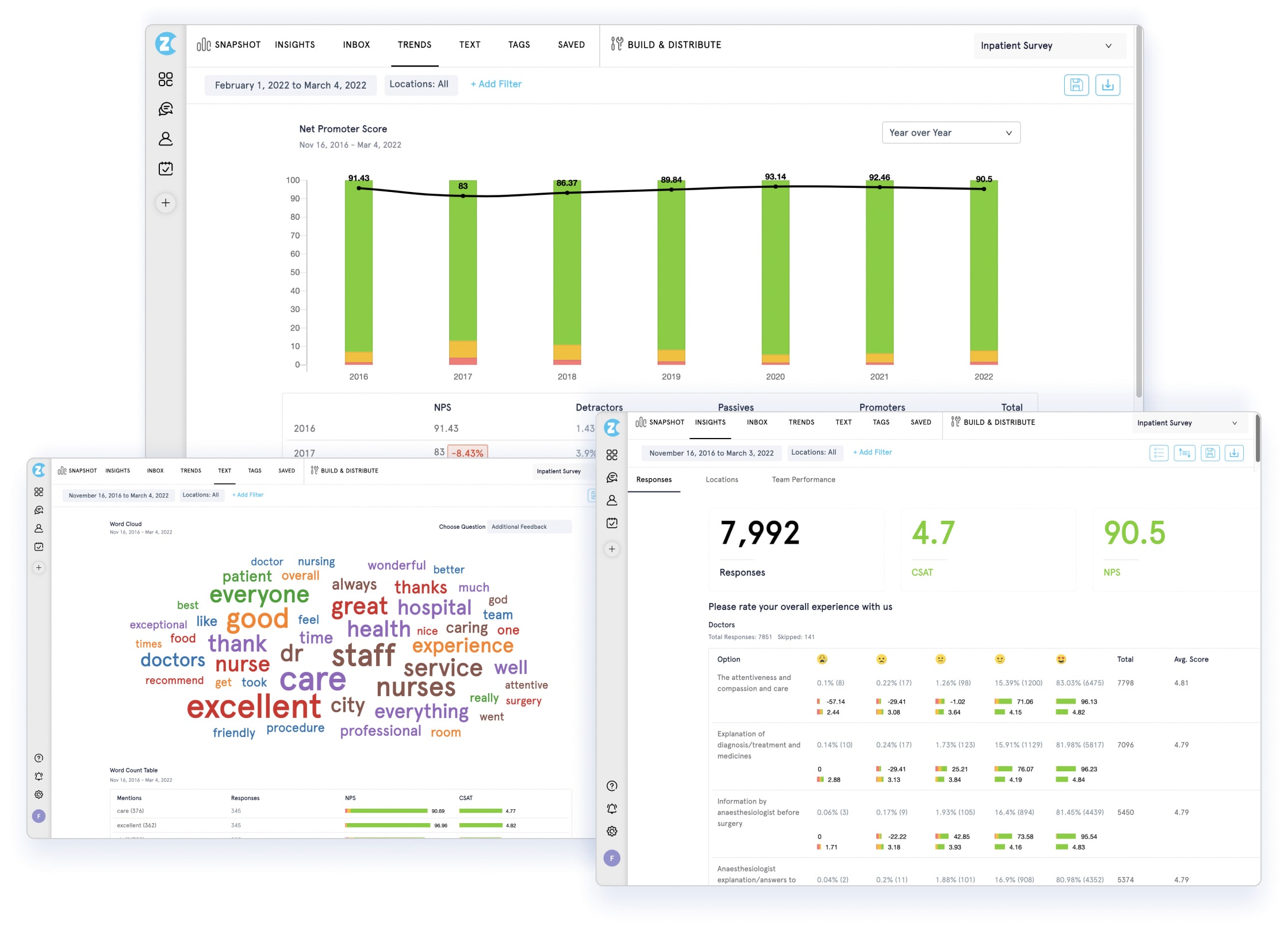 Based on these CX metrics reports, businesses can even access reports on teams' performance and get heatmaps for them. This team feedback can be useful for the Account Managers to review the performance of specific team members.
For B2C businesses, the chosen survey tool should be able to curate multi-location and multi-lingual reports. This also goes without saying that the tool should have the capabilities of creating such surveys in the first place.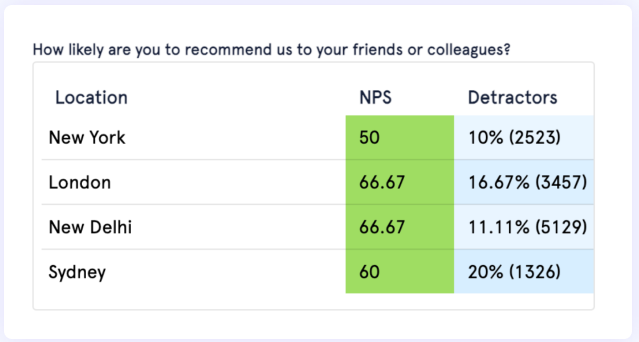 5. Is the SaaS survey tool capable of creating engaging survey designs?
Timing plays a huge role in customer service. The overall percentage of customers switching to a different brand after one bad experience is around 61%. So, in order to create effective customer surveys, you will inevitably need to be fast.
The surveys have to be engaging and yet ready-to-go for all your marketing efforts. Although there are plenty of survey tools that allow you to create your own surveys, not many promise you the desired response. And creating a new survey every time you introduce a new product or interact with a customer can be rather time-taking.
It's best to opt for a tool that offers you ready-to-use templates for a faster go-to-market. On top of that, the survey tool should allow you to customize the templates, questions, themes, and logo as per your needs.

While choosing the best SaaS survey software, keep in mind the goals of your survey and what capabilities you want in it. The end goal will help you decide whether you should go for a simple survey tool or a complex one that offers elaborate CX automation workflows to add logic, auto-tagging, auto-response, real-time, alerts, and multi-channel & multi-lingual surveys.
What is the Best SaaS Survey Software?
Now that you know a bit about choosing the right SaaS feedback tools, it's time to introduce you to our top picks for the best SaaS survey software.
1. Zonka Feedback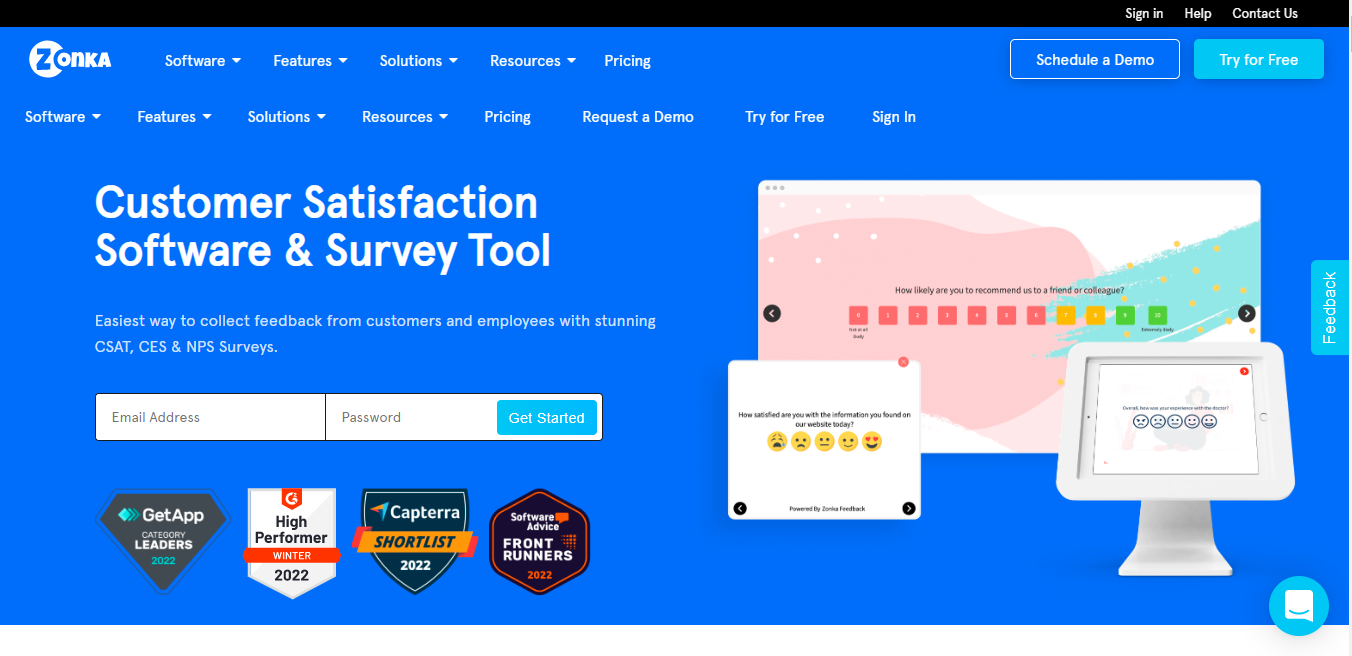 Zonka Feedback is a customer experience management and SaaS survey tool that enables businesses to create different types of surveys to analyze and improve customer experience across various touchpoints and channels, including website, mobile, email, SMS, QR codes, and more.
The platform is equipped with 500+ industry-specific ready-to-use survey templates to help fastrack the feedback collection process. SaaS businesses can easily measure CX metrics like NPS, CSAT, and CES using the platform's survey. The survey builder allows for intelligent survey making that includes features like skip logic, personalization, hide logic, white labeling, etc.
Its reporting and analysis feature offers detailed reports for identifying and acting on business trends and the collected customer feedback.
What sets the platform apart from other SaaS feedback tools is its in-built automated workflows. With real-time alerts and auto-tagging responses, you can easily keep your team members in the loop to close the feedback loop faster. It also allows for the integration of business tools for efficient data management. For example, Zonka Feedback's integration with Salesforce enables you to automatically sync your data for centralization.
Features:
500+ pre-built customizable survey templates with 25+ survey question types
In-app feedback widget and embedded surveys
Real-time notifications
Report analysis with response comparison and filters
NPS, CES, and CSAT tracker
Feedback tagging, segmentation, and custom reports & dashboards
Survey logic, survey branding, and white labeling
Integration with business tools
Automated workflows
Response-based actions
Rating: 4.7/5
2. QuestionPro
QuestionPro is a great SaaS survey software that provides a wide range of solutions to evaluate and manage customer experience and employee engagement. With 40+ question types customizable design themes and read-made survey templates, you can distribute faster surveys.
One of the pros of this software is that it allows customization of questions and format. Overall the platform is easy to use and set up. Although they have a free version available for non-profits, if you want to access features like enhanced support or multilingual surveys, you will have to pay a higher price. The only downside would be segmentation and filtration of data based on demographics and forced reporting style which can be a bit of an overkill.
Features:
Survey builder
Survey distribution
Template management
Branching/skip logic
Branding
Multilingual surveys
Reporting & analytics
BI tools integration
Data exporting
Rating: 4.5/5
3. SurveySparrow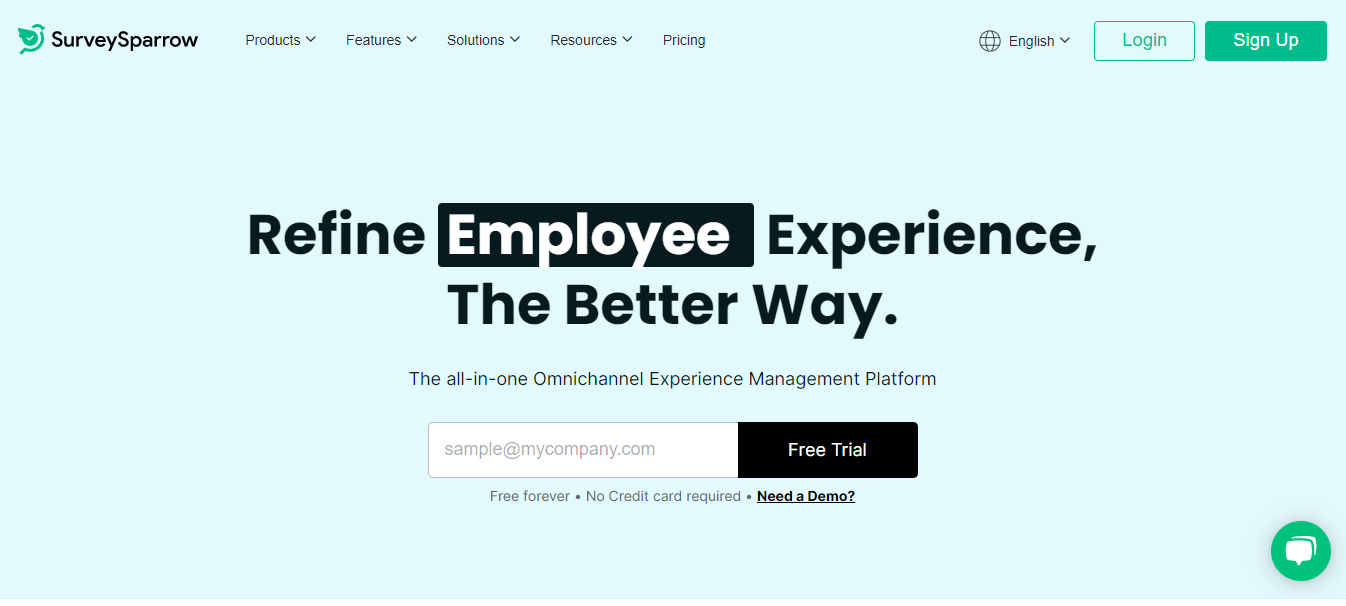 SurveySparrow is another SaaS survey software that enables businesses to create engaging surveys. With a conversational interface, the platform lets you send out surveys at frequent intervals. It offers easy sharing options so that you can share your surveys across mobile, web, social media channels, and email to collect insights and feedback from your customers.
The only downside is that the tool has a lot of dependence on developers and doesn't allow proper handling of bulk data like copying or deleting audience lists. Also, the platform lacks email marketing features which limit user segmentation and offer no way to send quick reminders.
Features:
Multi-channel distribution and data collection
Negative feedback management
NPS survey structure
Reporting/Analytics
Progress tracking
Pulse surveys
Third-party integrations
Skip logic
Question branching
Rating: 4.4/5
4. Typeform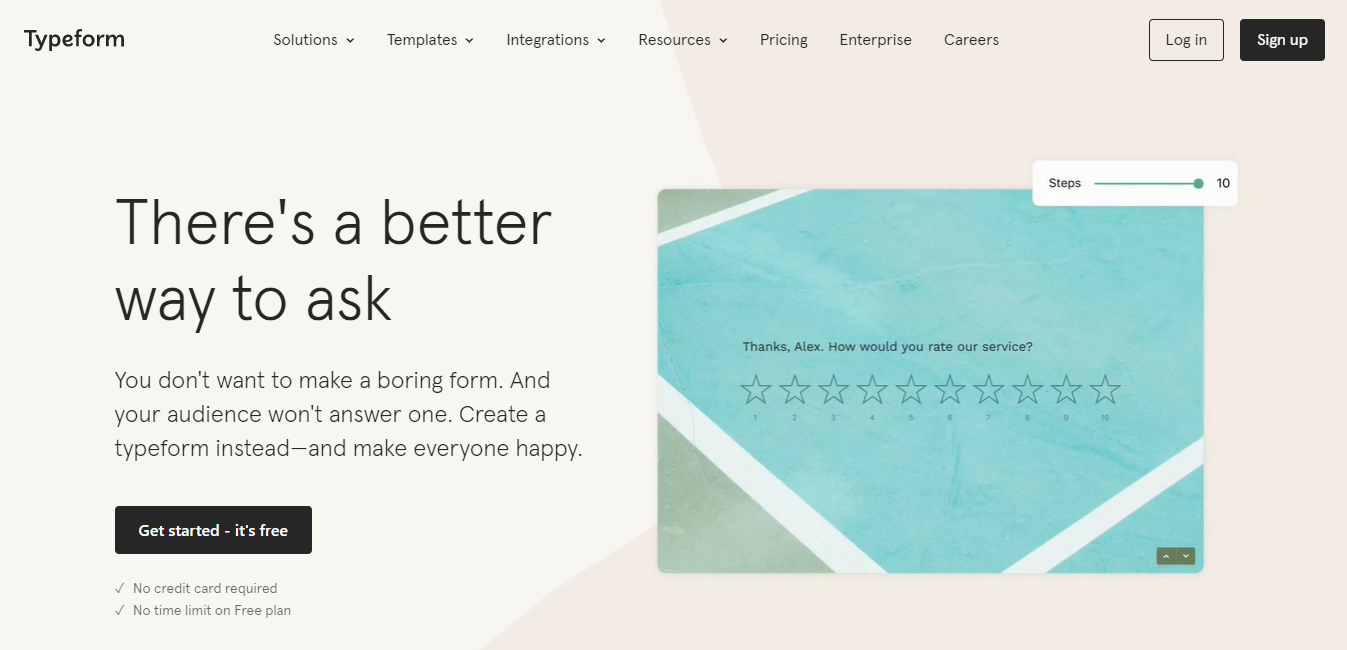 Typeform is another easy-to-use SaaS survey software that enables businesses to create a personalized experience for the customers, help them build brand identity, and enhance brand loyalty.
It offers over 120+ integration and ensures that your data plugs into your workflows to conduct surveys at scale. Although the platform does not have a multi-language option, it does offer an attractive collection of user-friendly and engaging templates.
Then there's the issue with the survey load time which can deflect the customer from the survey itself. It's a great tool for those working in the education industry or eCommerce but for SaaS, there are alternatives that can be considered over this tool if your goal is to manage customer feedback on a large scale.
Features:
Survey builder
Survey distribution
Question types and templates management
Conditional logic and branching/skip logic
Multi-page forms
Reporting & analysis
BI tool integration
Webhooks
500+ integrations
Rating: 4.5/5
5. Form.io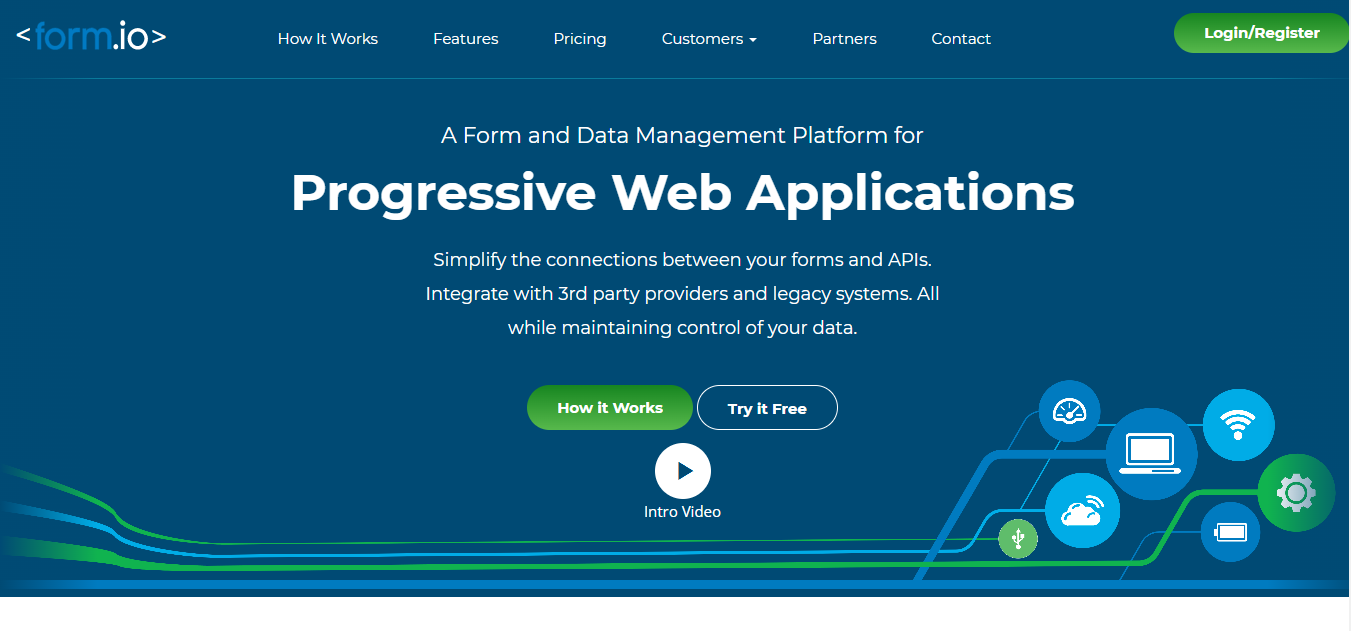 Form.io is a popular survey form builder software that enables businesses to create unlimited responsive forms with ease. The platform offers customizable built-in templates and integrated payment networks for easy form creation and payment collection. Other than giving a drag-and-drop form builder, Form.io allows companies to manage, filter, and export form responses with a single click.
It also features integrations with tools like AgileCRM, Hubspot, Pipedrive, Salesforce, and more. Although it's a great tool for developers building survey forms for data collection and mobilized business processing applications, it does provide non-developers with easy form-builder, fillable PDF forms, offline mode, validations, and complex conditional logic.
Businesses can also deploy API servers right into the customer's private cloud or on-premise environment (read more on cloud vs nas), giving those businesses full control over the form collected data. The downsides of this feedback tool are that its form editor is not so user-friendly, lacks documentation for complex use-cases, and bug resolution can be time taking.
Features:
Form builder with drag & drop interface
Data management with a complete API platform
Dynamic forms and offline forms
On-site or private cloud
Application embedding
Webhooks and integration
Multi-lingual surveys
Customizable form-builder interface
Rating: 4.3/5
6. Hotjar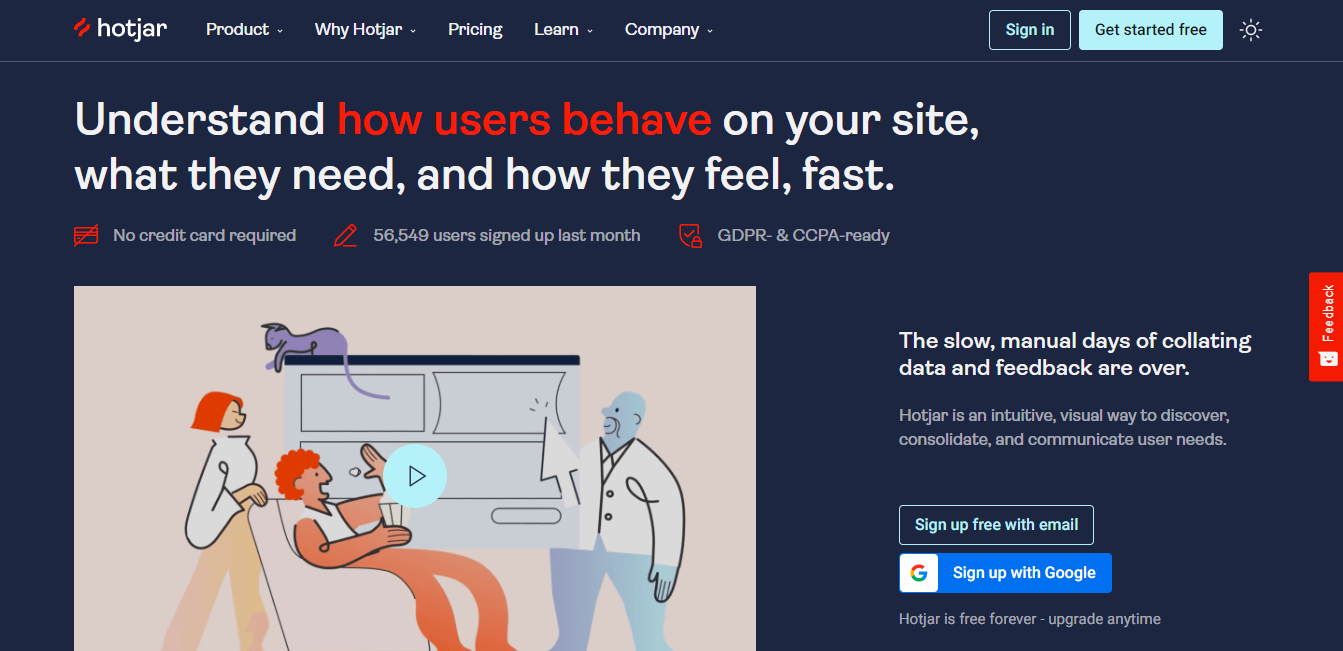 Hotjar is another powerful Saas feedback tool that discloses the online behavior of customers. The software combines analysis and feedback tools to give you a broader picture of ways to improve your product's user experience and conversion rates.
As we said, this product experience insight tool offers behavior analytics and data of customers so that you can understand your customer's behavior through heatmaps, surveys, session recordings, and feedback widgets.
The platform is easy-to-use and brings you closer to your customers. Using Hotjar, you can analyze your user's behavior and figure out the opportunities for growth and possible improvements in your product.
The only downside of the platform is that it doesn't offer automated workflows of its own. But you can always use integrations with Hotjar to sync your data or create workflows. Another thing about Hotjar is that its heatmap feature is not so user-friendly and there's the possibility of data loss post 30 days.
Features:
Customizable survey templates
NPS tracker
Multilingual surveys
Heatmaps
Session recordings
Survey builder
Positive and negative feedback management
Integrations
Data protection
Rating: 4.5/5
7. Google Forms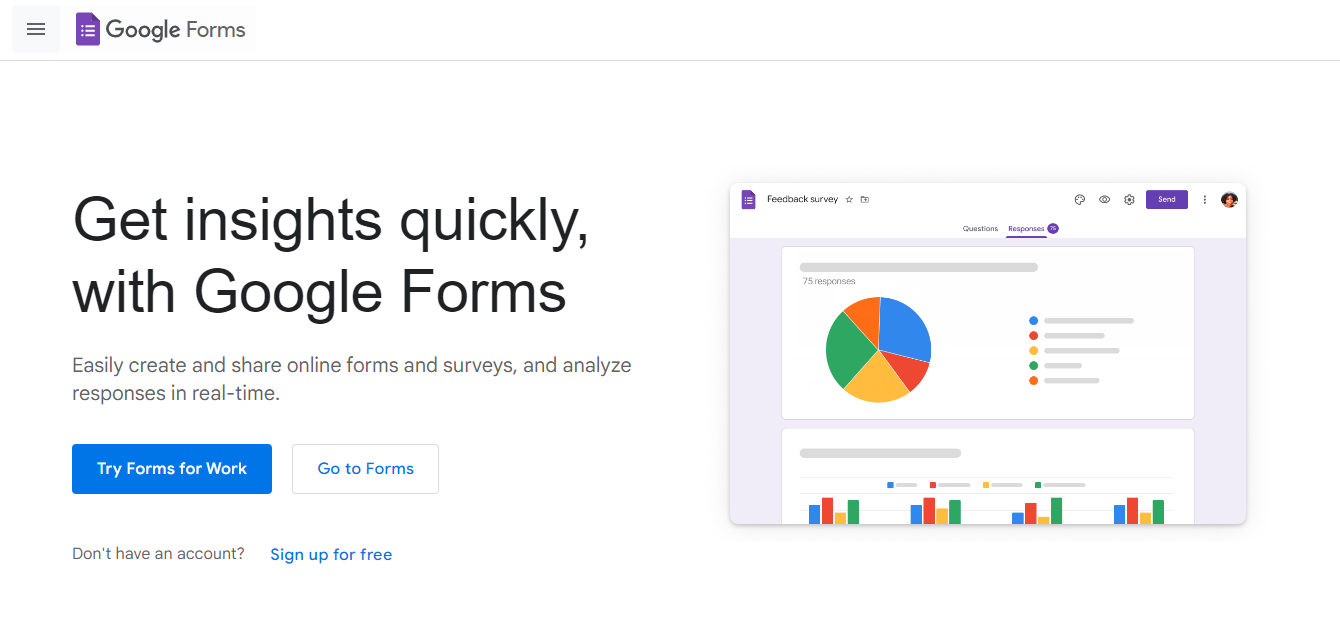 Google Forms is one of those names that instantly clicks whenever someone says "data collection." It's an easy-to-use platform where businesses can create and share survey forms online. It also provides analytics of responses in real-time.
With google forms, you can add collaborators for building the questions and performing analysis without having to send out different versions of the file. Businesses can set response validation rules by using the built-in intelligence of the platform. One of the limitations of Google forms is that one can only share these forms by embedding them on the website or by sharing survey links.
Features:
Survey builder with drag n drop interface
Customization of colors and fonts
Custom logic
Report and analysis
Sharing via email, link, or website
Pre-built templates
Rating: N/A
8. SurveyLegend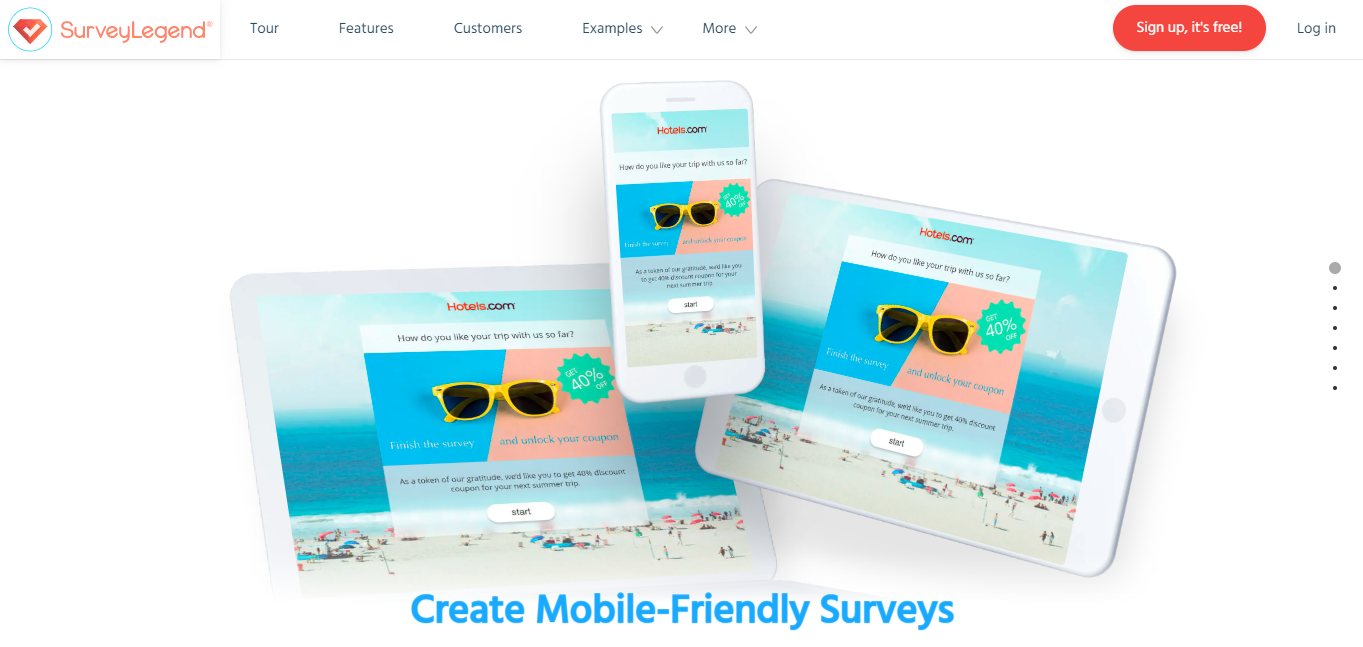 SurveyLegend is a feature-rich SaaS survey software with a straightforward interface. It's known for offering an eclectic and engaging survey maker that is easy to use and includes a drag-and-drop interface for faster survey creation.
Surveys created via SurveyLegend are highly customizable and one can choose from a plethora of templates. Once created, businesses can share them with a single click through multiple channels like SMS, social media, email, etc.
The platform also offers a robust real-time data analytics feature that is fairly easy to use and enables you to collect customer insights effortlessly.
Features:
Survey builder
Survey distribution
Template management
Branching/skip logic
Multilingual surveys
Branding (Cust. Logos)
Reporting & analytics
BI tools integration
Data exporting
Rating: 4.4/5
9. Hubspot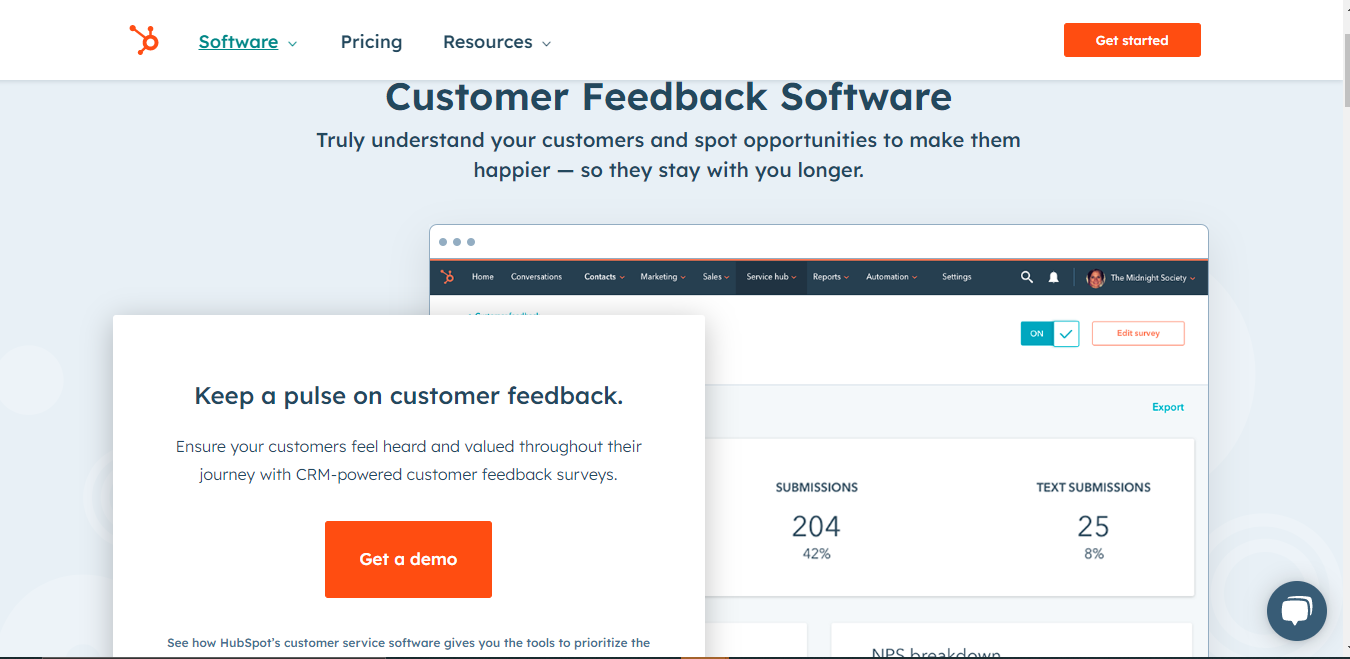 Hubspot is another great example of SaaS survey software that enables you to collect customer feedback. It expands your outreach by delivering customer feedback surveys via emails and website embeds.
The platform allows you to measure the CX metrics like Net Promoter Score, Customer Effort Score, and Customer Satisfaction so that you can develop a better understanding of your customers. Hubspot Customer Service Software's dashboard is user-friendly and lets you track the responses of customers in one place.
The best part about Hubspot CMS is that you can add custom images to your surveys, trigger follow-up questions, and customize the 'Thank You' message based on the survey responses of users.
Features:
CX metrics analysis
Easy survey builder
User segmentation
Automation and Workflows
Distribution through email and survey links
Integrations
Rating: 4.4/5
10. Jotform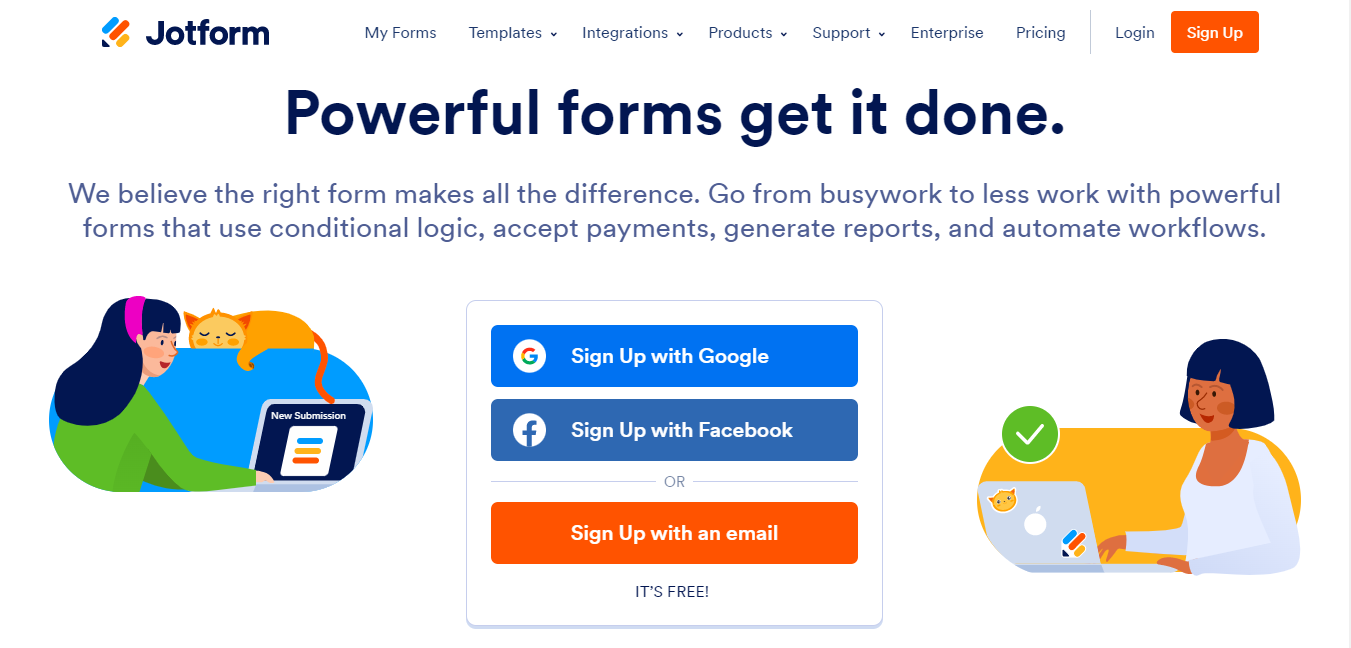 Last in our list of SaaS survey software is Jotform. It's an intuitive and user-friendly online form builder that allows for the quick creation of online forms using the drag-and-drop mechanism. The platform offers decent analytics features and 150+ integrations with 3rd party platforms like Slack, Dropbox, WordPress, MailChimp, and more.
Jotform also provides encryption to secure your data so you can use the platform to generate leads, distribute your surveys on various platforms, and collect payments directly through the forms.
In fact, it's a fairly popular tool used for creating payment forms, registration forms, contact forms, lead generation forms, application forms, and much more. Although it's a good tool to create engaging surveys, the customization options come with limitations and logic branching lacks in handling complex requirements of your survey goals.
Features:
Survey builder
Question & template management
Survey distribution
Branching/skip logic
Branding
Reporting and analytics
Data exporting
Notifications
Conditional logic
Rating: 4.7/5
Final Verdict
There are plenty of SaaS survey tools available in the market. Now that you know what to keep in mind while choosing the right one that accomplishes goals, you can go ahead and try them yourself. Here are our two cents on what survey tool to opt for depending on your requirements and the specs of tools mentioned in our list.
1. Best SaaS Survey Tool if Your Survey Goals are - Market Research, Feature Research, Price Research, and Bug Report
- Zonka Feedback
- Hotjar
- Survey Sparrow
2. Best SaaS Survey Tool if Your Company is At:
2.1. Early Stage
- Zonka Feedback
- QuestionPro
- SurveySparrow
- Hubspot
2.2. Growth Stage
- Zonka Feedback
- Hotjar
- SurveyLegend
2.3. Maturity Stage
- Zonka Feedback
- Hotjar
- SurveyLegend
3. Best SaaS Survey Tool for Types of Surveys
3.1. Ad-hoc Surveys
- Zonka Feedback
- SurveySparrow
- QuestionPro
3.2. Transactional Surveys
- Zonka Feedback
- Hotjar
- Typeform
3.3. Relational Surveys
- Zonka Feedback
- Form.io
- SurveyLegend
4. Best SaaS Survey Tool for Reporting and Analytics
- Zonka Feedback
- Hotjar
- Hubspot
5. Best SaaS Survey Tool for Survey Creation
- Zonka Feedback
- Hotjar
- SurveyLegend
- Google Forms
- Form.io