Deliver Surveys to the right audiences, power your product feedback like never before and get the data that really matters.
At Zonka Feedback, we really stand by Michael Lopp's (Head of Engineering at Apple) words, "Feedback is only valuable if it's directed at the right audience and is actionable." Because honestly, what good is it to ask the right questions to the wrong people?
When it comes to products, apps and website, understanding your users and customers, their previous interactions and their activities becomes crucial overall, but specifically also when you're interacting with them and actively seeking feedback. Targeting the right audience is crucial is when you're measuring and improving customer experience.
Measure Product Feedback & User Insights 💻
With Product Feedback Surveys, understand what users need and learn ways to delight your customers.
To reach the right audiences, at Zonka Feedback you could already create dynamic lists using contact attributes, but so often it is necessary to slice and dice your audiences based on their their source of visit, their interaction with previous surveys, their customer experience metrics and scores, how many times they visited a page, how many pages they visited, and so on. And now you can do that with Zonka Feedback.
Introducing Advanced User Segmentation.
With Advanced User Segmentation create dynamic segments and groups using powerful filters, deliver the right surveys at the right time to the right audiences and get analytics that really matter.
User Segmentation offers a deep level of granularity that was not possible earlier. You can create Static Segments that essentially work as static lists. But what we really are bringing to the table is Dynamic Segments - a way for you to pick filters and conditions and create dynamic lists for focussed targeting.
Applying User Segmentation in real-life
Let's take an example, say you're trying to get feedback from active free trial customers who signed up in January and are looking to upgrade. What would you need for this - customer sign up date, have used a few features on the platform and have looked at the pricing page.
Here's what you do in Zonka Feedback — you add two custom attributes to your platform, Customer Sign Up Date, Features Used (with options of A, B, C, D). Next you create a Dynamic Segment for Logged In Users, where you select filters where the customer sign up date is between January 1 to January 31, and if they have used either Feature A or B or C or D and have looked at the pricing page. And voila, you get a completely dynamic list. So anytime another user who signed up in January uses the features or looks at the pricing page, they would automatically be added to the list and can be delivered the survey in the product or in-app.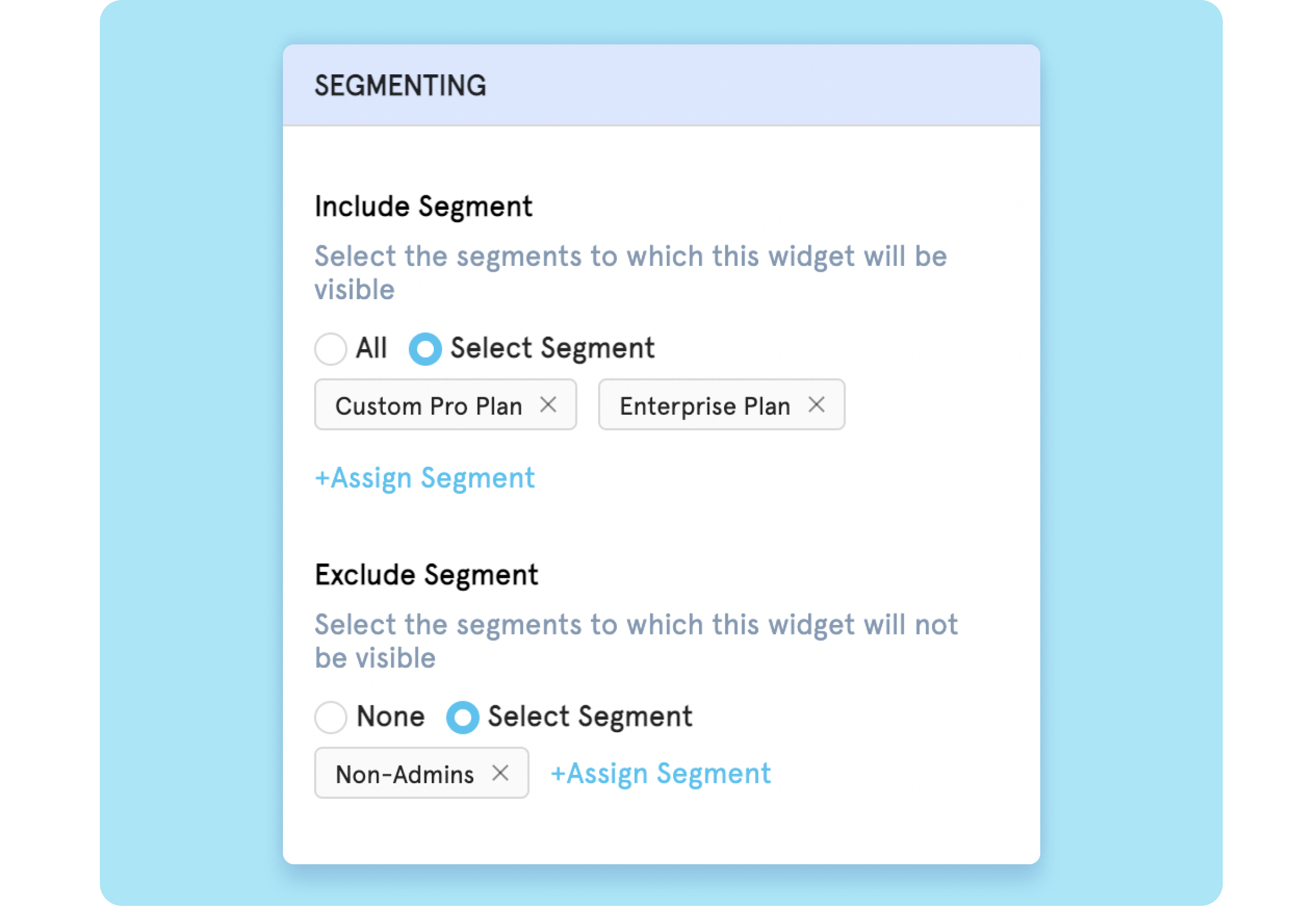 Advanced User Segmentation Filters
Segments can be created using filters like:
Contact Attributes: Standard and Custom Attributes like Name, Email, Language, Time Zone, Gender, Plan and so on.
Visit Analytics: First Seen Date, Last Seen Date, Pages Visited, Number of Pages Visited, Number of Sessions, First Source Visited
Scores: Average NPS, CES and CSAT or the latest NPS, CES and CSAT
Survey Interactions: Survey was partially answered, answered, not answered, viewed or not viewed and by different channels
Beyond Product Feedback
Besides displaying in-app and in-product surveys via web widgets, popups and popovers, User Segmentation also works as lists for Email Surveys and SMS Surveys, and can be used from the platform as well as from the APIs and integrations. This makes it easy for businesses to reach out to their audience and gather feedback through various channels.
The dynamic nature of segments ensures that the contact list is updated in real-time, making it easy for businesses to track customer behavior and target surveys accordingly.
Segmentation also offers an opportunity for businesses to improve customer satisfaction and loyalty. By targeting surveys to specific audiences, businesses can address the specific needs and pain points of their customers. This personalized approach can help build a stronger relationship with customers and increase customer loyalty. Moreover, by analyzing the feedback obtained from customer surveys targeted to specific segments, businesses can identify trends and insights that can inform future sales tactics and strategies outlined in the sales playbook.
Furthermore, by targeting the right audience with surveys, businesses can gather more meaningful data and insights. This can lead to more effective decision-making and ultimately improve the overall customer experience.
Note: Data for Survey Interactions and Contact Activity is available from April 7, 12 AM GMT.
For questions, contact your Account Manager or reach out to the Team Zonka at hello@zonkafeedback.com.