Net Promoter Score
Introduction
The Net Promoter Score (NPS) is the proven metric that helps you to determine the loyalty of a firm's customer relationships. It ranges from -100 to 100 and measures the willingness of customers to recommend a company, it's products or services to others. Thus, the Net Promoter Score enables you to benchmark the satisfaction level of your customers and predict their purchase and referral behavior.
NPS measures customer perception based on one simple question:
How likely is it that you would recommend [Organization/Product/Service] to a friend or colleague?
Brief History of Net Promoter Score
Net Promoter Score metric was introduced in the year 2003 by Fred Reichheld of Bain & Company through his best-selling book named "The Ultimate Question: Driving Good Profits and True Growth".
Over the years, we have seen an unprecedented level of the growth in the Net Promoter Score metric users. More than two-thirds of the Fortune 1000 list currently use Net Promoter Score to determine the loyalty of a firm's customer relationships. Thousands of leading brands such as Apple, Intuit, G.E., and American Express began using NPS to measure customer loyalty and engagement. With such growing popularity, Net Promoter Score has become the gold standard customer experience metric.
Why Measure Net Promoter Score?
Net Promoter Score not only tells you about your happy and unhappy customers, but also provides you with the actionable data. Acting on the data can provide you with opportunity to improve the level of your products/services. This in turn improves the user-experience of your customers. Thus, with NPS any organisation can now effectively monitor the impact of their customer experience strategies.
There are thousands of companies who have experienced the positive impact of making Net Promoter Score a part of their marketing strategy. There are some other compelling reasons that can help you to understand the importance of Net Promoter Score:
1. Ensures Sustainable Business Growth
Various companies and business units have indicated NPS as a leading indicator of business growth. Based on the net promoter score, companies begin to streamline their marketing strategies along with the customer service efforts. This in turn augment the sustainable growth of the business by saving resources and increasing the productivity level of the team.
2. Improve Interaction with Both Existing & Prospective Customers
Net Promoter Score is committed to delivering better customer experience by constantly augmenting the interaction between the brand and the existing & new customers. As NPS easily tracks the perception of the customers towards the brand, so this provides business with the opportunity to improve the product/service and make the business culture more customer-driven. Thus, NPS has also lower the customer acquisition costs.
3. Reduce Customer Churn Rate
Customer Churn Rate refers to the percentage of customers that stopped using the product/service of the customer during a certain period. It is important for you to understand why your customer didn't recommend your product. Here, NPS provides customer perception in the form of actionable data. Based on the score, you can easily upgrade and do value addition in your product/service to enhance the CX. This in turn helps you to reduce the customer churn rate and boost your business growth.
4. Upgrade or Develop New Products/Services
NPS provides actionable data that give you a detailed insight into your customer preference and purchase behavior. Ignoring these data won't do much, but if you strive to improve customer experience, these data can convert your simple business to a customer-driven organization. Thus, NPS helps improving customer experience by widening the scope of product/service improvement.
5. Quick & Result-Driven Decision Making Ability
NPS enables entrepreneurs to solely focus on both their happy & unhappy customers. Calculating NPS is like keeping an eye on every customized requirement of customers. NPS Data helps you to track the bespoke requirements of your customers and fulfill them quickly without any delay. Based on the quick analyses through the NPS, you can take quick and precise business decisions without investing more resources and time.
Net Promoter Score System
The Net Promoter System, according to Bain & Company, is a business philosophy that commits to and employees alike.
With regards to explaining the Net Promoter Score System, We have covered different topics including the Net Promoter Score Scale, Classification of Respondents, and 3 essential components of the Net Promoter Score System.
Net Promoter Score Scale
The Net Promoter Score comes from the simple NPS question -"How likely would you be to recommend our products/services to a friend?" Customers range their willingness of recommendation on the scale of 0-10. Based on their responses, customers will be segregated into three categories.
Promoters - 9-10 Score
Detractors - 0-6 Score
Passives - 7-8 Score
Classification of Respondents
Promoters
They are those customers who range their willingness of recommendation to 9 or 10 and very satisfied with the kind of customer experience you are offering them. They are the repeat buyers, who recommend you as a brand and your product/service to other potential buyers. They are far more likely than others to remain customers and to increase their purchases over time. Promoters also account for more than 80 percent of referrals in most businesses.
Detractors
They are those customers who range their willingness of recommendation from 0 to 6 and considered to be very unsatisfied. They are less likely to remain for long and denied to recommend you as a brand and your product/service to other potential buyers. They are more likely to criticize your brand and tarnish your brand's reputation. Left unaddressed, it would be highly unlikely that they would even return as customers again.
Passives
They are those customers whose behavior falls between promoters and detractors. They range their willingness of recommendation to 7 or 8 and moderately satisfied with the kind of customer experience you are offering them. These kinds of customers never spread any negative word-of-mouth, but are not enthusiastic enough to promote your product/service. They may have had a moderate experience with your brand but they are 'passively satisfied.' They may bring referrals, but may quickly switch to a competitor if needed.
Components of The Net Promoter Score System
In the book, "The Ultimate Question 2.0: How Net Promoter Companies Thrive in a Customer-Driven World", Fred Reichheld and Rob Markey have explained 3 elemental components of the Net Promoter Score System to thrive in a customer-driven world:
1. Strong Leadership Commitment
It is being suggested that rather than focusing solely on the revenue and profit, leadership and executive teams of the companies should target on augmenting customer engagement and loyalty.
2. Use NPS as Your Reliable Metric
Net Promoter Score is a rigorously tested & scrutinized metric that enables you to check the performance of your product/service and position of your brand in the market.
3. Deliver Platform For Improvement
Data collected from the Net Promoter Score are actionable insights that provide you with the complete system to improve the way you work. NPS enables you to immediately address the problems of customers and close the feedback. This, in turn, improves your customer retention rate.
Net Promoter Score Benchmark
Many industry leaders conduct surveys regularly to evaluate the NPS for their business. This enables them to establish a Benchmark to figure out their performance in the market and improve the loyalty of their customers towards brand.
On another hand, benchmarks also provide you with a clear insight into how the other organizations or leaders delivering the best customer experiences in each industry. These NPS standards help you to prioritize your customer experience strategies and tailor your business to your customer needs.
Net Promoter Score Benchmark By Industry
There are a lot of industries currently using the Net Promoter Score. What can be considered as an "ideal" NPS score depends on the industry type, and the products or services provided by your company.
The average Net Promoter Score for different industries can be diverse. Thus, qualifying NPS scores for individual organizations as good or bad would depend on the different industries themselves based on the ongoing industry trend.
Factors Affecting Net Promoter Score Benchmark
Your Average Net Promoter Score never remains constant, it varies between industries and countries. That's why it is being suggested that you should gain extensive knowledge and detailed understandability of NPS Benchmark. In one of his interviews, Rob Markey listed 3 factors that influence the Net Promoter Score Benchmark:
1. Expanded Experience & Skill in Industry
With the passage of time, companies and industry leaders always look for new changes and innovations to redefine the customer experience. Thus, to achieve this, they expand their capabilities by expanding skills in their team. Accumulation of skills and experience plays a major role in NPS Benchmark. Top-notch level of expertise and extensive experience enable the industry leaders to make a breakthrough in their product/service. Thus, expansion in skills & experience in the industry not only takes industry leaders a level ahead of their competitors but also enables them to set a new NPS Benchmark.
2. External Forces
As we are all aware that there are some business factors that are completely out of our control. These factors are basically External Forces that affect the Net Promoter Score. Various external forces including economic, political, and eventual factors influence the NPS Benchmark.
For Instance, There is a decline in the NPS Benchmark of the investment management firm when the stock market drops.
3. Demand & Supply
Demand and Supply are the two elemental factors that play a crucial role in NPS. Sometimes lots of competitors target the same types of customers. In this scenario, they give more priorities to customer relationships rather than revenue and profit.
How to Calculate Net Promoter Score
The Net Promoter Score is calculated by subtracting the percentage of detractors from the percentage of promoters.
Theoretically, it can range from -100 to +100. Practically, it is most likely to hover around 15 for most businesses in a competitive space. An NPS above 40, in fact, is considered exceedingly rare and is regarded as the benchmark for top players of any industry.
3 Methods to Calculate Net Promoter Score
Here we will cover 3 main methods for calculating your NPS:
Excel Method
Online Calculator
NPS Survey Tool
1. Excel Method
Say, you've sent NPS Survey with the NPS questions and you've received 200 responses from your customers. To calculate Net Promoter Score in Excel follow the below steps:
Step 1 - Enter all of the survey responses into an Excel spreadsheet.
Step 2 - Based on their scale of willingness, segregate the responses into three categories. Promoters (9-10), Detractors (0-6), and Passives(7-8).
Step 3 - Now add up the total responses from each group and get the percentage by dividing total number of group from total number of survey responses.
Step 4 - Now, get your NPS score by subtracting the percentage total of Detractors from the percentage total of Promoters.
For Instance: Say if you received 200 responses to your NPS survey:
20 responses were in the 0–6 range (Detractors)
140 responses were in the 9–10 range (Promoters)
40 responses were in the 7–8 range (Passives)
When you calculate the percentages for each group, you get 10%, 70%, and 20% respectively.
Net Promoter Score = % of Promoters - % of Detractors
NPS = 70% - 10% = 60
So, Your Net Promoter Score is 60
Note - Net Promoter Score is always shown as just an integer and not a percentage.
2. Online Calculator
3. NPS Survey Tool
If you collect your NPS data through a survey tool, it might already have an auto-calculate function built in that lets you get your NPS in one click—for example, Zonka Feedback features NPS Software.
5 Strategies To Improve Net Promoter Score
1. Find Why Your Detractors Are Unhappy
Before interacting with your detractors, you need to find the reason why they are unhappy and unsatisfied with your product/service. Either you read their feedback thoroughly and understand their requirements or else ask them directly the reasons for less Net Promoter Score. You could also use a Net Promoter Score Survey Software that gives you logic-based questions. By using skip logic and branching in the survey, customers view only questions relevant to them and have a better experience while giving feedback. Here are some best ways in which you could use Survey Logic and Branching in your feedback forms.
2. Strategize smartly to Close the Loop
If you are attempting to close the loop with your detractors, then your focus should be on strengthening the relationship with your grumpy customers. Thus, design your closed-loop feedback strategies in such a way that it delivers a positive impression to detractors that you have read their feedback and you want to improve their experience. If you can convince your detractors that you'll deliver them with the amazing customer experience in the future, they can become your biggest promoters.
How NPS Survey Tool enables you to strategize action for closing the feedback loop:
Automate Your Responses – Backed by robust functionality and high-level automation, the NPS tool helps you to not only detecting negative feedback quickly but also provides you with the advanced framework, where you can respond to your detractors automatically. Automated response workflow helps you get information about your detractors and their concerns. The automated response system helps you to reduce your resources, time and effort with an individualized response.
Do Personalized Follow-Ups – It is essential for you to follow-up with your grumpy customers to convert them into promoters. When it comes to interacting with detractors, there are two ways to approach them, either create an automated response workflow or dive straight into a phone call. Address their concern and assure your detractors that you are here to help them again.
3. Address Their Concerns Without Being Defensive
Open your conversation with your introduction; give a light introduction to you and your company. You can also begin with the apology note and assure your detractors that you are here to help them again. Your detractors may take this situation as that you are trying to hard-sell them. So, in this scenario, you need to patiently address their concerns without being defensive.
4. Choose a knowledgeable Representative
During the survey of customers in the U.S. and worldwide in 2018, 39% of respondents from the United States stated that a good customer service experience would be one with a knowledgeable representative. So, always choose experienced and knowledgeable representatives who have a better understanding of dealing with grumpy customers and have the potential to convert them to promoters.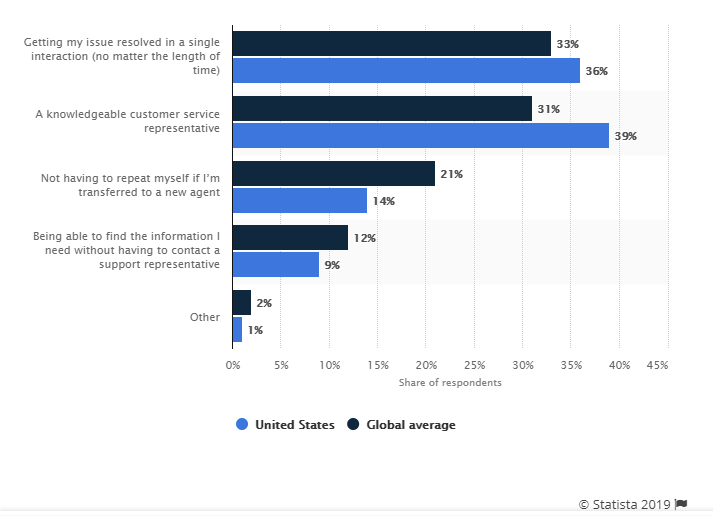 5. Don't Make Any Kind of False Promises to Your customers
You cannot rectify the errors or find the solutions right on the call. In this case, it's better to follow them later, but don't make any false promises. False commitments will irritate your detractors and they will start spreading bad word of mouth. This, in turn, will tarnish your brand reputation in the market. So, actively follow your detractors and deliver them with the impeccable solutions within the specified time frame.
Net Promoter Score Survey
NPS Survey questions play a crucial role in the customer feedback process. It is important for you to adopt a suitable approach to get actionable feedback. This approach includes the selection of the right NPS questions. Appropriate NPS survey questions enable you to track customer satisfaction. It also provides you with detailed insights about your business, product, and services.
Types of Net Promoter Score Survey
Zonka Feedback enables you to run 2 types of NPS Survey:
Transactional NPS Survey
Relationship NPS Survey
1. Transactional NPS Survey
A Transactional survey is intended to find out about a customer's involvement with a particular process or interaction, also called a touch-point. The objective is not to gauge customer loyalty, but to discover how satisfied customers are with a specific segment.
A basic Transactional NPS survey focuses on a specific transaction, such as:
Based on your recent shopping experience, how likely are you to recommend us to a friend or colleague on a scale of 0 to 10?
Mostly, a Transactional NPS survey is conducted only if you have a Relationship Survey ready. This is because the results of the latter will enable companies to understand which processes and interactions require further examination. The primary purpose is to figure out which touch-point is recognized more when customers provide justifications for their score.
Where You Can Use Transactional NPS Surveys
Taking feedback from customers after specific interactions will enable you to comprehend what the reason for their assessment was after a particular experience.
These are some touch-points where a Transactional survey can be used:
A. Post-Service Feedback
Send your customer a Transactional NPS survey to understand whether the customer service agent was able to resolve the issue of a customer. Due to the huge influx of customer service requests, many times. they are disregarded, forgotten or a proposed solution does not help. It is best to connect with your customers to get an idea about their post-service satisfaction with the customer service agent and make improvements in the process if necessary.
B. After New Business Interaction
Asking your customers how satisfied they are with your service after a new transaction is critical since such Transactional interactions are often identified with some issues like an unsatisfactory installment procedure, a wrongly delivered/damaged shipment, etc.
By using an NPS Survey Software to create a Transactional survey in this specific situation, the data collected will provide insight into possible solutions and help in improving the process in the long run.
C. Important Product Update
Asking for customer feedback after a major product update can spare you from potential blunders, highlight successful interactions and suggest improvements. If you wish to understand audience reaction to a new product, creating a Transactional survey with an NPS Survey Software will do wonders.
2. Relationship NPS Survey
A Relationship Survey is a conventional NPS survey where you attempt to decide how loyal customers are. The idea is to ask customers about their whole experience of being associated with your organization. These surveys are done regularly like bi-annually, or quarterly.
The survey question is straightforward like:
How likely are you to recommend us to a friend or family on a scale of 0 to 10?
A Relationship Survey is the first step to measuring Net Promoter Score. They help you make sense of which aspect of the customer experience must be improved. Using these surveys involves deciding when to conduct them and who will be the respondents.
Transactional or Relationship Surveys?
Relationship Surveys give data to help CXOs strategize on business improvement, while Transactional surveys produce data to help implement those improvements.
Transactional NPS input is perfect for finding out how a customer's perception of your business can change dependent on a particular experience or interaction.
Since Transactional NPS information is always focused on a particular item, or interaction, taking action becomes easy. The information collected is huge; you can identify pitfalls, and make quick upgrades based on customer feedback.
Transactional NPS data is completely instantaneous. Without waiting to survey customers and analyzing changes in their experience, you can get important insights enabling you to make improvements quickly.
There are some drawbacks to Transactional NPS. Since it's focused on a particular issue, it's very tedious without automation. Fortunately, NPS Survey Software send interaction-based surveys to customers making feedback collection quick and simple.
Relationship NPS is great for investigating how your customers see your business for the long-term. Since multiple data points are available, you can track long-term changes and effects. Both Transactional and Relationship Surveys have their pros and cons. The nature of your business and goals decides which one works best.
6 Best Net Promoter Score Survey Questions Ideas
Close-Ended NPS Survey Questions
1. Ask Your Customer for Ratings
It is important to analyze the overall performance in the market and the best way to analyze it is by tracking customer perception towards the brand.
This question works as a platform where organizations cannot only collect a genuine overview of the company and its reputation in the market but also enable them to develop a strong foundation for customer communication. So, if it is your first NPS survey, then you should include this question to acquire actionable data.
Benefits of Asking Your Customers to Rate Your Business
Ensure long-term customer relationships.
Provide you with the opportunity to understand your customer psychology.
Help you to track your customer loyalty and sentiments towards your brand.
Help you to identify the individual issues across the company.
2. Ask Your Customer to Rate Your Product/Service
The success rate of the product/service depends on the customers' satisfaction rate. Thus, every business needs to track the performance of products/services in the market. This question helps the organization to bring out the real insights about the product/service performance in the market.
When it comes to improving the product/service, these valuable insights provide the product manager of the company with the possibilities to improve the products/services to its extent. This NPS survey question helps you to understand the correlation between the product/service and customers' sentiment and develop result-driven product strategies.
Benefits of Asking Your Customers to Rate Your Product/Service
Helps to improve the product/services along with the customer experience
Provides actionable data that can quicken up your decision-making process
Helps to build customer loyalty and reduce Churn
Helps to identify, fix, and improve product features
Open-Ended NPS Survey Questions
3. Ask Your Customer that Where You Lag in Serving Them
This question offers you the opportunity to interact with your customers and knows their opinion about your product. Usually, negative customer feedback is constructive criticism that provides you with the opportunity to revamp your product and add value to your business. If you are following-up with your customers who have provided you with a negative score, this will give a nice impression on them that you care for them and want to provide them with improved customer experience. This type of interaction with your customers can help you identify the flaws in the product and improve it.
Benefits for Asking the Reason for Your Score
Helps to identify the flaws in the newly developed product
Provides you the scope to revamp your product and value to it
Helps to improve the user experience of the customers
Helps to improve brand and customer relationship
4. Welcome the Product Improvement Suggestions of Customers
When you will follow-up with your detractors and ask them lagging, they will help you out to know all the points where you can improve your product. In the follow-up question, they let you know about your competitors and what they are providing to the customers. So, your detractors will provide you with pragmatic suggestions on the product enhancement and help you to improve your product/services and take your business a level ahead of your competitors. Thus, based on the feedback of your detractors you can easily fix errors and enhance your product and deliver customers with the improved version of the product/services.
Benefits for Asking the Suggestions from Customers
Helps you convert your detractors to promoters
Provides you with real-world suggestions to improve product
Helps to expand the brand awareness across both existing and new customer base.
5. Ask Your Promoters What They Liked Most About Your Product
Asking this question can be beneficial for the product manager and their team. Data collected based on this question can help them to make that specific feature of the product more enhancing. This, in turn, helps them to improve their customer retention rate and augment their business growth.
According to Frederick Reichheld (inventor of NPS), a 5% rise in customer retention rate increases by 25% to 95% profits.
Benefits for Asking the Customers About What They Liked Most in Your Product
Thus, actionable insights collected from this question help you to understand customer behavior along with their custom requirements. Based on this understandability, you can easily strategize your product enhancement accordingly.
6. Ask the Reason for The Score
This question could be determined in the situation when organizations are dealing with their detractors. The NPS survey enables the businesses to close their feedback loop quickly and easily on a positive note. It works best to express that you are concerned and care about their experience. Thus, this NPS Survey Question cannot only help you to establish a long-term relationship with the existing/new customers but can also turn your detractors into promoters.
Benefits of Asking the Reason for The Score
It helps you to follow-up with your detractors and convinces them to be your promoter.
It helps you to close the customer feedback loop quickly and easily.
It helps to build customer loyalty and reduce churn.
Net Promoter Score and Zonka Feedback
Zonka – Tailor made for NPS Surveys
Zonka has many nitty gritty features to offer when it comes to creating/capturing NPS surveys.
The best part about building up a NPS survey with Zonka is that, it can be done in less than 5 minutes! All you have to do is pick up a template from the extensive template library and tweak the same according to your requirements, and ta-da you are good to go!
To make your NPS survey more effective and actionable, you can leverage the underlying Zonka features –
Create Bespoke NPS Survey With Survey Logic
With Zonka you can build intelligent forms with survey logic. Survey logic sends the respondents to a future question or page in the survey based on their answer to a previous close-ended question.
For example – If the respondent has selected a 9/10 score in the NPS question, he/she will be sent to a different screen in the survey and if the respondent has chosen any score between 0-6 in the NPS question then he/she will be sent to a different screen in the same survey. In this way, the respondent only gets to answer the questions that are most relevant to them by skipping the ones that are irrelevant.
Follow Up With Your Customers and Close The Feedback Loop
No matter how well thought, carefully implemented and beautifully designed your surveys are but these efforts will go in vain if you do not act on the responses received. Responses coming in should not get lost in the black hole and must be first acknowledged and then thoroughly probed in for a solution in order to close the feedback loop. Dig deeper by asking a follow-up question after the NPS question asking your customers – "What is the reason for their score?" This would make the feedbacks more actionable will open up a scope for following up with the customer. Closing the feedback loop will always have a positive effect on the relationship with your customers. Even if customer concerns do not get fixed, they will at least feel that the feedback they gave was worth their time because someone was listening.
Setting up your first NPS survey with Zonka
Create intelligent NPS surveys for all industry types under 5 minutes!
Zonka's NPS surveys are super easy to customize and setup. All you need is literally just 5 minutes and you can get going with your survey.
Follow these easy steps to create a crisp NPS survey with Zonka:
1. Choose a Template
Pick a NPS Survey Design Template from the Template Gallery. Pick up the survey that suits your requirement the most. Zonka has different NPS survey templates as per various situations and requirements. You can choose between a regular NPS survey or a NPS survey with customer information and even NPS survey with reasoning, choice is yours.
2. Edit & Customize
Edit the Survey with your company branding such as logo, color schemes, and
taglines. You can customize the NPS survey template completely and switch survey screens, edit questions, change images, fonts, backgrounds and almost everything.
3. Take/Distribute NPS Survey
With Zonka, you can distribute and effectively implement the NPS surveys in many ways. You can also conduct offline NPS surveys on your premises with Zonka.
Net Promoter Score in Action
Where To Take Surveys - Channels
Zonka feedback app allows response collection from multiple channels. This enables you to listen to all your customer voices coming in from all the channels possible.
You can conduct NPS surveys through the following channels using Zonka:
Tablet
Online
SMS
Email
Embed
QR Code
1. Tablet
NPS surveys can be collected on tablets from customers that are on your business premises. Collect real-time NPS surveys while your customer's encounter with your brand is still fresh in their minds. With Zonka on tablet, you can hand it over to your guests for filling NPS surveys or set it up as a kiosk anywhere you like. It can work without WiFi, can be locked to prevent tablet misuse and syncs all your data securely.
As per the demand of the place, tablets can be implemented in the following two modes:
Assisted/ Hand-held
Hand-over the tablets to customers for filling out NPS surveys at places where staff assistance can be provided. For example, Hand over white-labelled NPS surveys on tablets to guests in fine dining restaurants to share their NPS scores. Assisted/hand held mode is also apt for implementation in hospitals where the staff members can carry a tablet and hand it over to the patient post discharge for filling an NPS survey.
2. Kiosk
Setting up tablets as kiosks is a popular mode of conducting NPS surveys. Personal assistance cannot be provided at all the places, this is where kiosk surveying comes in. Visually appealing NPS surveys displayed on an iPad or Android tablet mounted on a kiosk stand can entice more respondents.
The greatest advantage of collecting NPS survey results on the tablet kiosk at Zonka is that you don't need an internet connection for the same. The survey results get saved in the device itself and can later be synced.
The results of NPS surveys taken on Kiosks can be considered most trustworthy as the customer fills them up voluntarily. While kiosks can be installed by any industry with high customer footfall, NPS surveys on Kiosks are most ideal for Retail, Hospitality, Healthcare and Airport environments. For maximum response rates, kiosk surveys can be implemented in various ways.
3. Online
Online surveys are the most convenient and cost-effective channels for conducting NPS surveys or any time of surveys for that matter. You can survey your customers at their convenience with online surveys. Also, online surveys are pretty innovative when it comes to their distribution. Create an online NPS survey with Zonka Online survey tool under 5 minutes and generate a survey link there and then. Now this link can be distributed to customers in a lot of ways. You can share this web survey link over email, SMS, or even generate a QR code leading to this online survey.
4. SMS
Surveys sent on SMSes are the easiest and fastest way to reach out to your customers. Distributing NPS Surveys on SMS will lead to better response rates and quick results. Moreover, NPS surveys on SMS is an excellent way of gauging customer satisfaction post service.
Zonka allows you to send SMS to your customers from within the system. Send bulk SMS with Zonka globally. Doesn't matter where you customers are, Zonka enables multi-location, global SMS campaigns so your feedbacks are well distributed.
5. Email
Emails are still the most used and efficient tools when it comes to surveying customers for NPS ratings. It is less intrusive than a SMS and also cheaper. Delivering surveys through email is quick and easy.
With Zonka, directly embed online surveys inside email using Zonka's survey embedding feature. Zonka has a lot of nitty gritty features in store for Email Surveys. Make taking and receiving surveys easier.
6. Embed
Embeddable NPS surveys are ideal for Food ordering websites, Ecommerce websites, Banking websites, etc. NPS surveys also go well when visitor website feedbacks have to be collected. You can capture the level of satisfaction of your online visitors by conducting NPS surveys Retail establishments can print the QR codes and paste it at highly visible areas within their premises for maximum response rates.
7. QR Code
You can get really creative with executing the NPS survey once you generate a QR code for it. QR codes can be put up on premises in printable format or can be sent online through different mediums. QR codes are super useful if you want to distribute the surveys non-digitally too.
Timing and Frequency of Surveys
After deciding on a channel for distributing NPS survey. There is no denying that NPS surveys are the most effective and quickest tool for evaluating customer satisfaction and loyalty. However, it does not mean that you can bombard your customers with a NPS survey whenever you feel like. With surveys in general and specially NPS surveys, timing is everything.
Timing for sending NPS surveys varies by business type. But remember, The survey should only be sent to the customers after they have experienced enough of your product or service so that they are able to confidently recommend it, or not.
Frequency of NPS Survey = Ability to Respond
Designing Advanced NPS Surveys
Logic Based NPS Survey
With Zonka, create customized NPS surveys with the Logic and Branching cater to all the customers with a single survey. Logic and conditional Branching based survey enables you to create divergent paths from a question. You can ask questions tailored to the issue you want feedback on, the type of customer you want feedback from, and more.
For example, if you ask customers if they've eaten at your restaurant, and they respond with a yes, you could create a series of questions asking for their feedback on food quality, service, and more.
Advantages of using Survey logic for NPS Surveys
Survey logic gets more actionable data by showing respondents the questions they need to answer.
Cater to all the three segments (Promoters, Passives and Detractors) with one single survey).
Adding logic makes survey more relevant and quicker to complete.
Helps in achieving higher completion rates.
Aids in gathering relevant results for more accurate analysis.
Segmenting Your Customers on The Basis of NPS Data
In the Net Promoter Score, we usually segment the customers on the basis of their responses. We categorized responses into 3 broad categories:
Promoters - 9-10 Score
Detractors - 0-6 Score
Passives - 7-8 Score
But is this score trustworthy? Can you lay your future follow-up procedure and strategies on them?
Obviously not!
Though segmenting customers based on the NPS ratings (Promoters, Passives, Detractors) is a result-driven practice, but the true results can only be uncovered from additional segmentation by metrics that are important to your business.
However, different industries can set their own custom customer segments (Non-customers, Prospect, Freemium & Paying) the bottom line is grouping the homogeneous customer segment together so that similar kind of follow up plans can be formulated for one customer segment.
Case Study: How SaaS Companies Segment Customers
A SaaS based company can segment various people taking their surveys by capturing relevant customer information, such as type of customer. For example
Non-customer: A non customer for a SaaS company can be a person who has enquired about their product and filled his contact details in the website contact form long time back but hasn't taken action since then.
Prospective customer: The one who has recently registered for a free trial / demo with the company can be considered as prospect for them.
Freemium customer: A freemium customer could be the one who is currently using the free version / free trial of the product.
Paying customer: A person who is paying for using the software.
The Zonka dashboard will automatically calculate your NPS score from the collective NPS scores that you receive from your customers. With Zonka, customer segmentation is somewhat more filtered.
Whether your NPS will be as actionable as you would want it to be is depends solely upon how organization implementing the NPS survey.
We at Zonka think that an action oriented approach is more important for a business rather than the choice of metric to be used. What really matters is the number of alterations made by a business based on what they learned from using the metric. The NPS calculation would mean absolutely nothing unless you decide to do something with it.
The first step towards making the NPS survey actionable would be by simply adding a question directly asking the customer 'the reason for their score' post the NPS question. The NPS score in the end is just a score and you will never be able to figure out what could probably be the difference between a 6 and 8 score. It will be this question that will help you decipher the actual reason behind the score. Not only this, the reason provided by the customer will then become the basis of your follow-up action plan.