chapter 1
Introduction
Great products are not developed in isolation. When you are dealing with software tools and apps, it becomes necessary that you develop products that satisfy your product users and fulfill their needs and expectations with your product. But how will you know what your customers and product users want? What makes them happy and what ruins their experience?
The way to get answers to the above questions is by collecting Product Feedback. Product Feedback helps you know what users feel about their experience with your product and how they think an ideal product would be. It ensures that the products you create are in syn with the users' needs and expectations.
So we have put together a comprehensive guide that would help you know all about Product Feedback, its various types, ways to collect it, and how you can leverage Product Feedback to develop products that your customers love. We will cover different topics step-by-step and help you understand everything there is about Product Feedback and how it can help you create amazing products!
Let's get started by understanding what Product Feedback is all about.
chapter 2
What is Product Feedback?
Product feedback is the information shared by your customers about their experiences, needs and preferences. It can be captured through different mediums, such as a product feedback survey, interviews, forums, etc.
Product feedback is critical whether your product is in the development stage or mature stage. It's just the feedback objectives that change with the stage of the product. It allows both your internal teams and end users to share their suggestions, complaints, and experiences with the product so that you can put a finger on what needs to be done to create a user-centric product.
Chapter 3
Product Feedback Types
There are various types of product feedback. Let's check out the main categories.
1. Transactional Feedback
Transactional product feedback helps businesses understand users' interaction with the product at different touchpoints. A transactional product feedback survey enables capturing the most specific feedback, thereby helping brands improve each interaction with the product or app based on user feedback.
Let's take the example of a food delivery app to understand transactional feedback. As soon as an order is delivered, the app triggers a push notification that the customers can click to rate the delivery or food quality. The user can share feedback on a 5-star rating scale as well as share what they liked or disliked about their recent experience with the product.
2. Free Trial Feedback
Free trial feedback is taken towards the end of the free trial of your product or mobile app to gauge users' experiences. This helps in understanding what users like or dislike about the product, which, in turn, helps increase conversions, i.e., subscriptions.
Let's look at it this way. A CRM software user who has decided to discontinue using the product after the free trial ends can share the reason for the same through a product feedback form. The brand can then reach out to the customer to learn more about the challenges and offer a resolution. This gives businesses a chance to retain users and resolve the repeating issues that may be driving potential customers away.
Here's an interesting example of a Zapier product feedback form for the purpose of improving the product for current and future users.
3. Onboarding Feedback
Onboarding feedback is critical in order to address customer challenges right from the beginning. This not only helps improve the onboarding process but also positions them as customer-centric businesses.
An onboarding feedback survey is triggered right after a user is onboarded. Here's an example of an onboarding survey by HubSpot which aims at understanding and improving the onboarding experiences of users.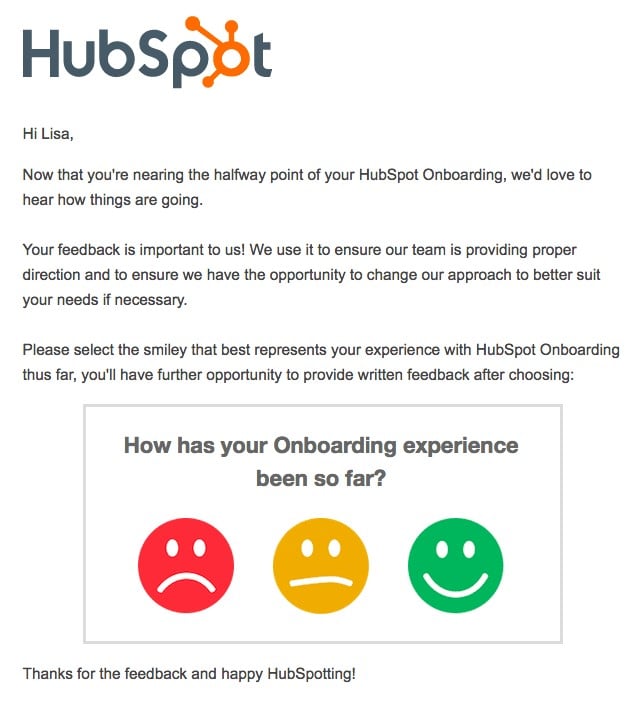 4. Subscription Feedback
Subscription feedback is super critical for understanding your subscribers' experiences with the product. It enables you to understand how the product is perceived and whether or not it meets the expectations of the users. This helps brands capitalize on experiences that sell and eliminate challenges that may eventually lead to customer churn.
You can send your customers a subscription feedback survey 5 to 10 days after the user subscribes to your app or product. The key is to give users enough time to actually experience the product and share genuine feedback.
5. Cancellation Feedback
Cancellation feedback is collected on the subscription cancellation page. The idea is to understand why users tend to unsubscribe and what can be improved to retain them.
This can be done in two ways. You can add a cancellation survey or have a survey pop up the moment a user lands on the cancellation page. This allows for instantly capturing feedback right on the cancellation page where the users are more likely to answer your questions.
The other way is to send users, who have already unsubscribed, a cancellation survey via email or SMS. Email and SMS surveys can also be automated for unsubscribers the moment they click on the 'Cancel/Unsubscribe' button. However, there is always a chance of your email or SMS survey request going unnoticed.
Tip: You can combine the two approaches and send email or SMS survey requests to people who haven't already shared their feedback on the cancellation page.
You can also check out our subscription cancellation survey template which uses both open-ended and closed-ended questions to help you understand why users unsubscribe. Here's a sample question from the template:
6. Feature Satisfaction Feedback
Often the overall product feedback from customers may not highlight the underlying problems or challenges leading to customer churn. But with specific feedback on the product features, you can identify what's working for the customers and what's not. For example, Facebook collects its users' feedback on different features of the product via a product feedback form to ensure that there aren't any roadblocks while users are trying to enjoy the app.
This not only helps Facebook capture the most specific feedback but also makes way for innovation based on end-user preferences. Feature satisfaction feedback is critical if you're looking to stay relevant in the pool of quickly-evolving products.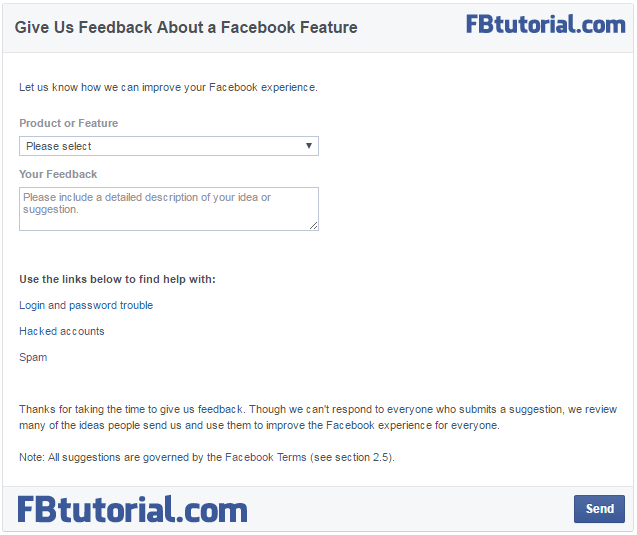 You can collect feature satisfaction feedback via two types of surveys:
CSAT Survey
A CSAT survey is used to measure customer satisfaction and calculate the CSAT score, a global metric for customer experience. CSAT surveys can be shared via email and can also be embedded directly in the app or website so users can share their feedback while using the product.
A CSAT survey prompts the user to share their experience on a seven-rating scale and can be configured to collect feature-specific feedback, for example, feedback on
The performance of new features or launches
The new concepts or ideas for innovation
Pricing and packages
Suggestions for product improvement
The overall satisfaction with the product and its functionalities
Here is an example of CSAT survey question:

CES Survey
A CES survey is used to measure customers' effort in using your product or mobile app. This often includes in-app support via live chat or a knowledge base. The Customer Effort Score helps determine how brands can make their product or app easier to use and provide perfect user experiences.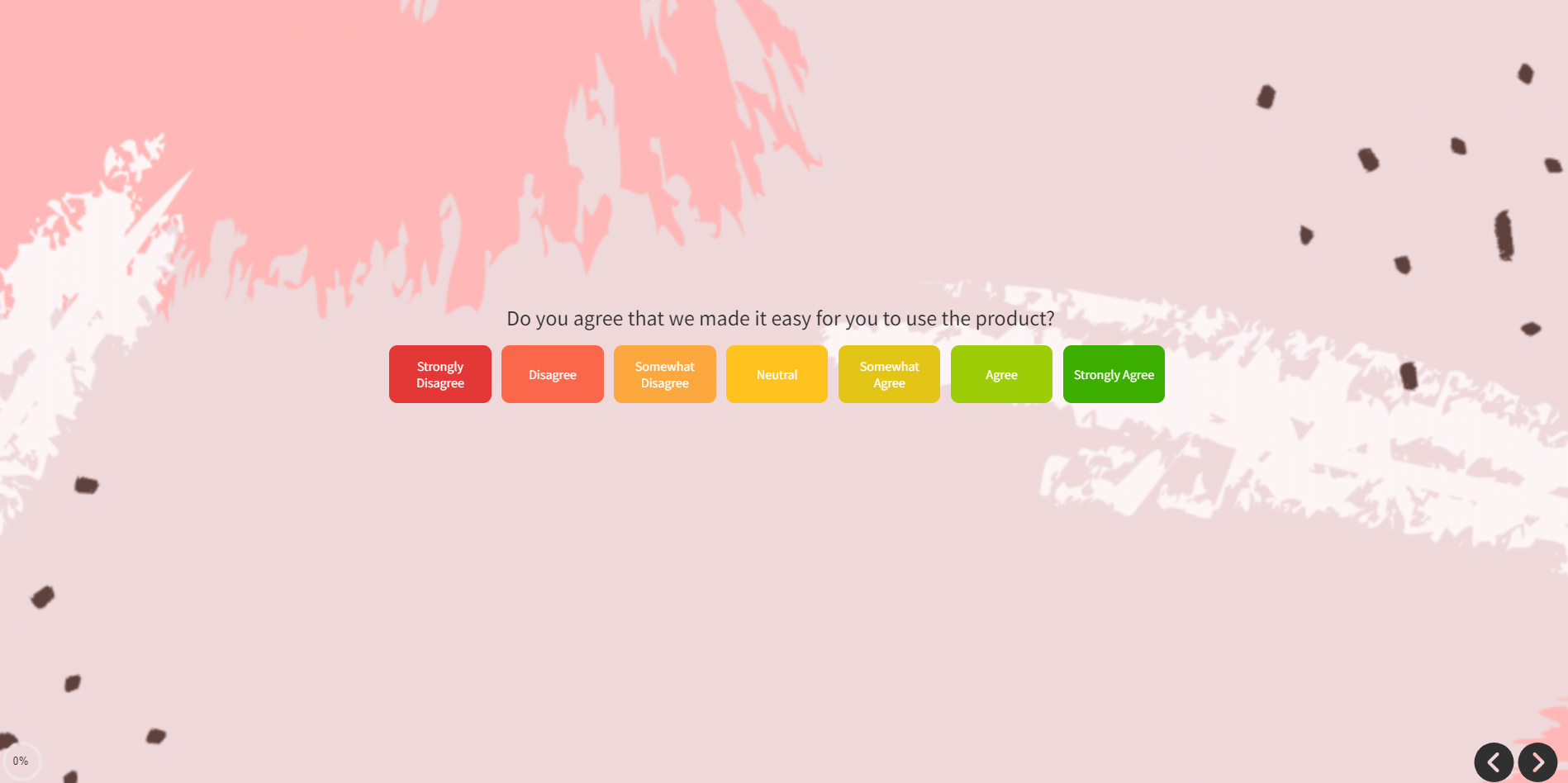 With the help of CSAT, CES, and open-ended survey questions, you can ask your users to evaluate product features in terms of:
Ease of Use: A simple CSAT question can prompt users to rate the ease of use on a 5-star scale or 1-7 rating scale.
Innovation & Suggestions: You can add open-ended product feedback survey questions to your survey to get suggestions that can help you with innovation and new product features.
Value for Money: You can use a simple rating scale to measure feedback on value for money
Similarly, you can capture feature-specific feedback based on the unique functioning and objectives of your product features.
7. Market Research Feedback
Market research can be done both before the product is launched as well as after the product is launched. When you're trying to understand if your product or app is the right market fit, you can capture feedback on aspects like your target audiences' needs, value for money, innovation, the first reaction to the product, and the probability of your audience recommending the product to others.
Here's what your
market research product survey questionnaire
before the production stage may look like:
8.
Lead Generation and Attribution
Lead generation and attribution feedback surveys are tremendously helpful in marketing your product to qualified leads. For example, if you add a lead capture survey to your website, you can get details like the customer's name, email address, contact number, company name, and even details like when they might need your product. Now, when visitors share their personal information via a feedback form, it is considered a qualified lead that you can directly remarket your product to.
If you're looking to get started right away, you can use this detailed lead capture form template that not only captures personal information like name, company name, contact number, email address, etc. but also improves lead quality with information on their budget, timeline, requirement, etc.
Similarly, an attribution survey helps in understanding how visitors come to your website, i.e., the path they followed to land on your website. For example, if you are able to find out that most users reach your website through an organic campaign, you can increase your ad budget and reach out to more potential users with your campaign.
Thus, the information captured via lead generation and attribution product feedback forms can help you target users most specifically and increase conversions, downloads, and subscriptions.
9. Product Usability Feedback
Product usability feedback is users' feedback on the various aspects of your product like navigation, ease of use, the overall user experience, etc. Usability feedback is sought in the early stages of your product development or launch and involves understanding from the experiences of end users if the product is in line with the expectations or market standards.
You can also capture usability feedback from your team members to get internal product feedback to get a deeper understanding of the product and improve it further before the final launch.
Here's a system usability survey template that you can try out to understand how usability feedback works.
You can always customize this template as per your product or app. You can also check out our article on website usability survey questions for ideas and inspiration to create an all-encompassing product usability survey.
chapter 4
Top Methods to Capture Product Feedback
These are the primary survey types if you're wondering how to collect product feedback:
1. In-Product or In-App Survey
Whether you're looking to collect feature-specific product feedback, crowdsource ideas for product innovation, or capture event or action-specific feedback, in-product or in-app user feedback surveys can serve multiple purposes. Moreover, in-app surveys can be taken instantly while on the app; the users need not open their emails or SMSs to open the survey in the browser. And this can positively affect the survey participation rate.
You can also add a feedback survey to different pages or touchpoints in your app. For example, in a hotel app like Stay, users can rate a particular aspect of their stay booked through the app via an in-app feedback survey. Now, let's say a guest orders room service. Once the service is completed, the app automatically notifies the guest to share feedback on the service quality.
2. Email Survey
With email surveys, you can send out both short and detailed questionnaires. Whether you're looking to measure the overall loyalty of users to the brand or collect feature-specific feedback, email surveys can be used in different ways to ensure both.
You can use the two most important types of email surveys:
Email Embedded Survey: An email embedded survey allows adding the first question of your survey directly to the email body. This way the recipient knows what the survey is all about and is more likely to respond since the first question can be answered right in the email body. To fill out the rest of the survey, the users would be redirected to a browser page.
In this case, even if the user chooses not to answer all the questions, you can still manage to gauge the overall satisfaction with primary CSAT, NPS, or CES questions in the email body.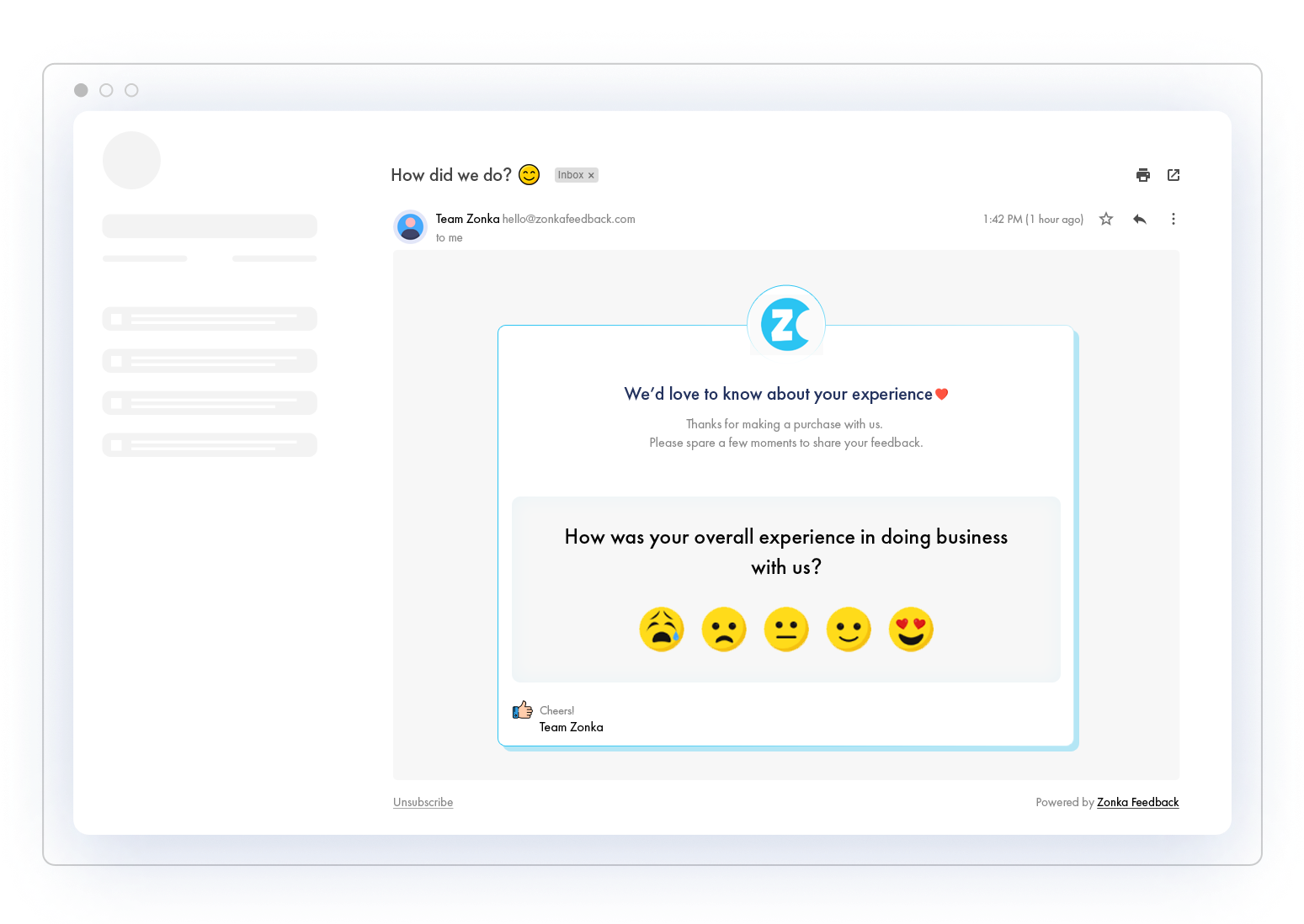 Email Signature Survey: An email signature survey is embedded in the signature of the email and is primarily used to collect customer service feedback. This allows sending customers a survey with every interaction, which enables the support agents to have customers rate each interaction, answer, or resolution.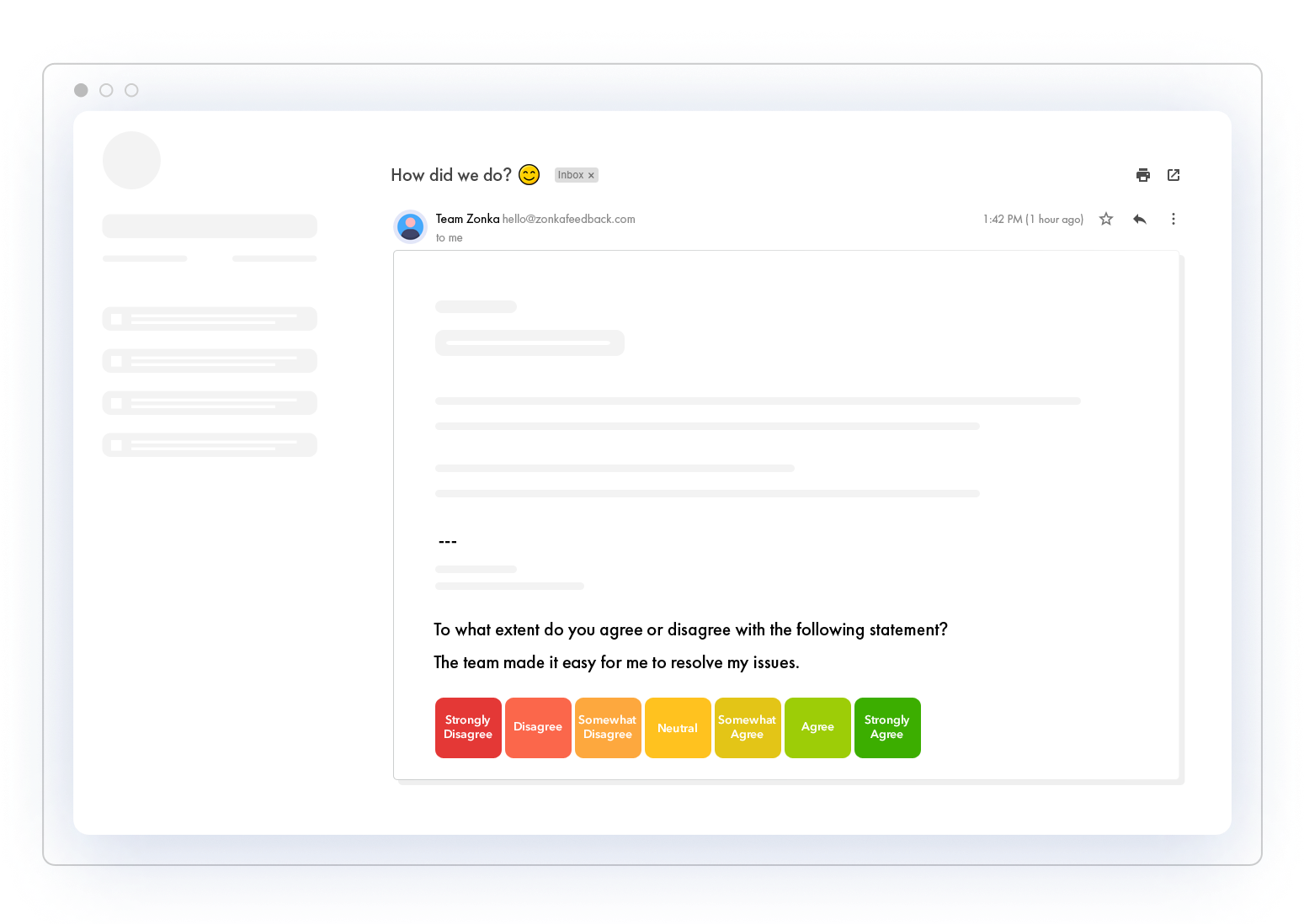 You can also check out our article to read in detail about in-signature vs. email embedded surveys.
3. Helpdesk Survey
If you use helpdesk software as a one-stop point of contact for your product or mobile app users, you can survey them directly in the tool.
We will take the example of the Zonka Feedback survey tool to understand this. If a user is facing difficulty in integrating the tool with certain business software, they raise a ticket using helpdesk software through the support link shared with them at the time of onboarding. Right after raising the ticket, they would see a 'thank you' message. And on the 'thank you' screen, they would also see the helpdesk product feedback survey where they can rate their experience of reaching out to us.
This is important since customer service and support accessibility contributes to the overall success of the product or app.
4. Live Chat Survey
Product feedback through live chat is advantageous in almost every sense of the word because people on the internet expect everything to be quick. So, inside the product or mobile app, brands should not only offer support via live chat but must also collect feedback.
For example, if a product user reaches out to your support team via chat, the support agent can send a survey at the end of the chat to seek feedback on the resolution provided. You can also pin a product feedback survey in the live chat window so that users can instantly share feedback in terms of the product features and share their challenges.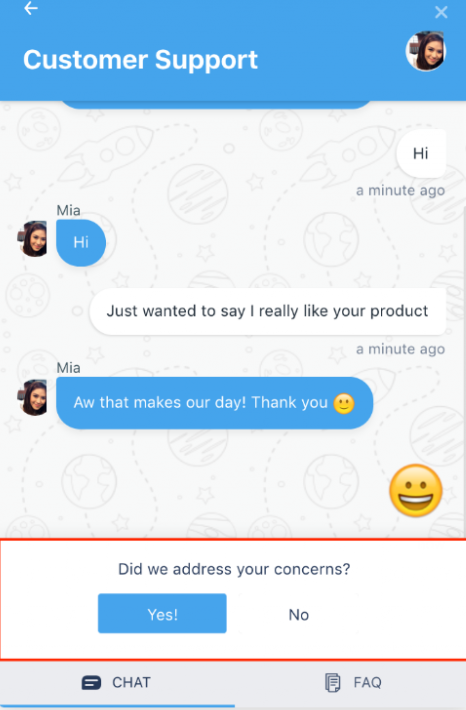 Chapter 5
Other Methods to Collect Product Feedback
Here are the other methods to capture omnichannel product feedback:
1. Product Website Survey
When you're looking to collect feedback, the focus should be on making feedback-sharing as easy for users as possible. And when we talk about product feedback, it doesn't only mean feedback on the product features and usability; you may need to understand:
What path do users take to land on the product download or subscription page
If the potential users are able to download the product or buy a subscription easily
If users clearly understood the pricing and packages, etc.
You can collect feedback on all these aspects directly on your website even before people start using your product.
2. SMS Survey
What happens when your emails land in the spam folder of your customers' inboxes or get lost among a pile of other emails? You can always opt for SMS surveys to capture product feedback. This is because 97 out of 100 messages are opened within 15 minutes of being delivered. So, this may increase your survey's participation rate.
An SMS survey request consists of a survey link that your customers or users can click to be redirected to the survey page. However, it is recommended to collect product feedback across the primary CX metrics like NPS, CSAT, and CES.
To capture detailed, feature-specific feedback, it is best to go for in-app surveys.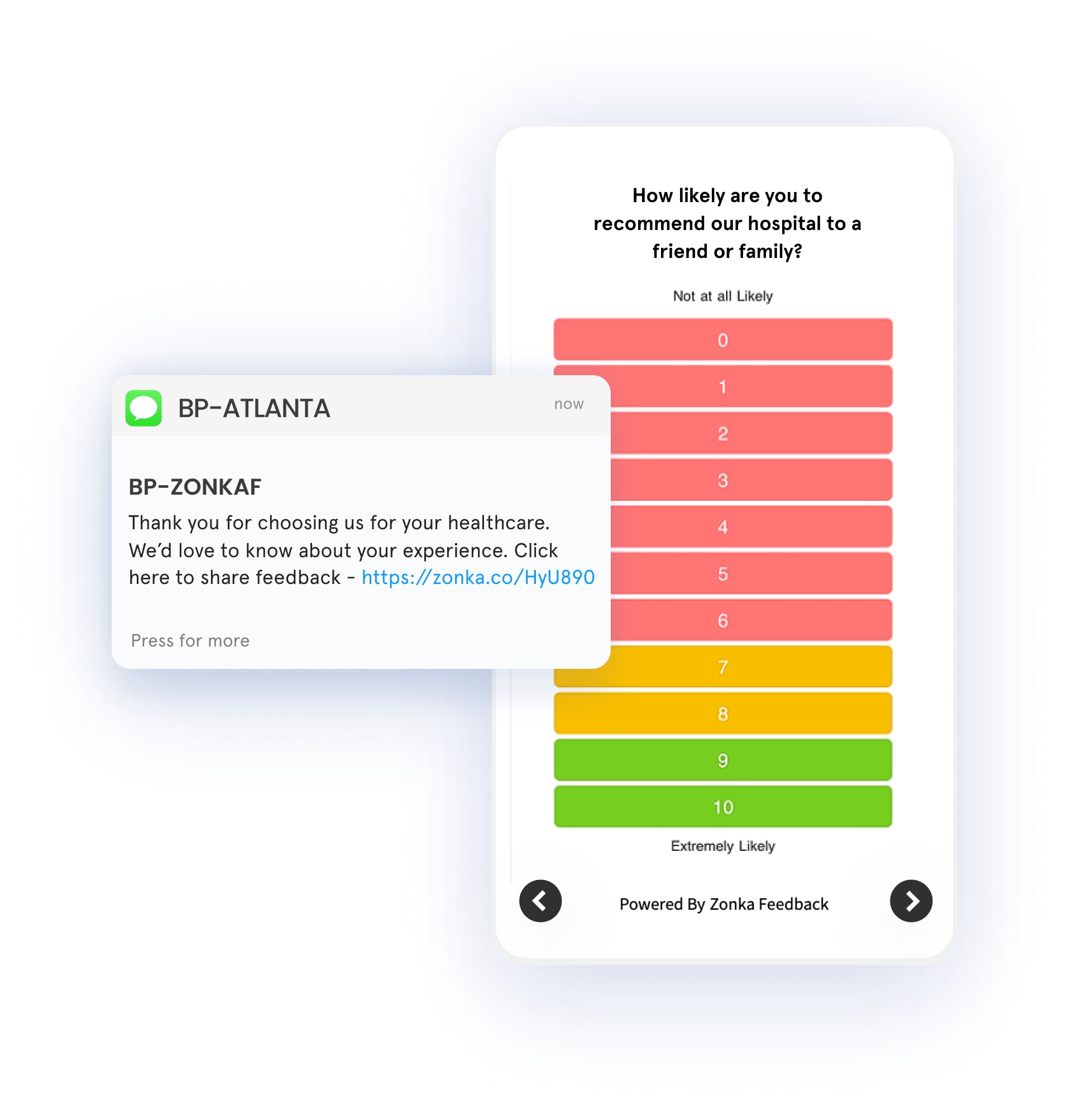 Chapter 6
Collecting Product Feedback
At every stage of the product, your feedback objectives, feedback methods, and survey questions change dramatically. But before we understand each product stage and relevant product feedback types in detail, let's look at the two primary product categories.
1. SaaS Product
If you're selling a SaaS product, your audience is other businesses. So, you would need to collect feedback on aspects like product features, customer loyalty to the product, product adaptation, etc. Basically, the focus should be on improving the product to ensure excellent experiences, increase customer loyalty, and expand the user base.
2. B2C Platforms
When you're looking to sell a product or mobile app designed for customers, your focus should be on transactional feedback in addition to feedback on product usability. Moreover, you can also use in-app feedback tools to gauge users' loyalty to the brand as a whole.
For example, if your brand has an eCommerce app, you can collect feedback from customers after every purchase, exchange, return, etc.
You can also collect feedback on aspects like ease of use, availability of products, pricing, etc.
Chapter 7
Feedback Strategies for Product Development Stages
Depending on what stage of product development you are at, you can use different product feedback surveys. Let's understand each stage and its feedback requirements in detail.
Before Launch (Alpha Testing Stage)
Before the launch, the focus should be on eliminating all the possible challenges with the product that the user may come across. Here are the different use cases of product feedback surveys at this stage of product development:
1. Market Research: Market research surveys are exactly what you need to understand the market requirements and buying potential of your customers. With predictive analytics in terms of demand, market fit, competitiveness, etc., you can make important strategic changes before the product is rolled out.
To collect market research feedback you can use our readymade survey, Sean Ellis's Product Market Fit Survey, a questionnaire devised by Entrepreneur Sean Ellis himself to understand if your product or app is the right market fit.
2. Feature Research: It's always better to align the features with user requirements and usability expectations as early as possible. This way, you can minimize the number of iterations and give your users a near-perfect product right from the start.
So, for effective feature research, you can sample your target audiences as well as internal team members to understand how the product may be received once it's launched. Both external and internal product feedback help you take a better development approach and create a product that your users would be excited to use.
3. Pricing Research: One of the most important factors, when you're looking to sell your product or mobile app, is the value for money. Therefore, you can survey your target audience to capture app or SaaS product feedback in terms of:
Satisfaction with the pricing strategy
Product pricing compared to your competitors
Ideal price for the product according to the users
4. Concept Testing: Feedback on the concept of the product helps in understanding whether the product is designed keeping in mind the outcomes expected. So, your product feedback questions at the development stage must include one or more questions on whether the product is correctly conceptualized to help users achieve their end goals.
Early Stage
Though you cannot use your SaaS survey software as an alternative to A/B testing usually done in the early stages of product release, you can definitely use it to get additional insights directly from your actual users.
Here's what product feedback at an early stage can help you discover:
1. AHA Moments: Feedback at an early stage helps in understanding the users better in terms of behaviour, moments of friction, patterns of usability, etc. All this helps in understanding how your product or mobile app is being received, which further enables making changes early on.
For example, we discovered that most Promoters of our survey software brand had been using readymade survey templates. We capitalized on this information and enhanced the free template library to expand our customer base.
2. Early Product Adaptation: Product feedback surveys at an early stage after launch help in understanding if the users can adapt to the product. You can use the usability survey template in this case.
Product Maturity Stage
The maturity stage of a product is all about making consistent efforts to align the product with users' changing requirements and staying in demand. You can use product feedback surveys at the maturity stage to retain customers by measuring their feedback in terms of
1. Product Loyalty: Product feedback at the maturity stage helps you understand the general sentiment or loyalty to the brand as a whole using the Net Promoter Score surveys. You can send out NPS surveys at fixed intervals during the customer lifecycle and also use them to gauge loyalty based on certain aspects, for example, the customer service standards of the brand.
You can also measure where you stand in the market by using our competitive NPS survey template, which consists of questions to help brands understand their major competitors, their service quality compared to yours, and other factors that encourage users to recommend a competitor brand to others. This information further helps in taking measures that directly increase customer loyalty.
2. Detailed Feature Feedback: You can use product surveys at the maturity stage to get feedback in terms of specific features or transactions. For example, in hotel management software, you can collect feedback on different features like Channel Manager, Booking Engine, Property Management System, etc., individually as they are used.
3. Product Roadmaps: Annual and half-yearly product feedback surveys help in understanding the overall satisfaction of users with the product. In this case, you can use the Customer Satisfaction Score CX metric to measure the overall satisfaction of users with the product or app and identify challenges that may be hindering product growth.
chapter 8
Product Feedback Automation Checklist
Irrespective of the type of SaaS product or mobile app you are looking to sell, the success formula always boils down to this: Achieve more with less effort and time.
This is where the role of automation comes into play. Product feedback automation allows you to:
Ensure consistent feedback collection
Streamline task management
Close the feedback loop
Reduce customer churn
Zonka Feedback is designed keeping in mind the automation needs in terms of surveying users as well as closing the negative and positive feedback loop.
Here are some must-have automation features offered by Zonka Feedback that you must look for in your product feedback tool:
1. User Segmentation
Your product feedback software should allow making data analysis effortless. It must go beyond just feedback collection and cater to efficient feedback management. This ensures that you're not just sitting on the feedback but using it methodically to further different business functions.
At the top of the feedback automation checklist, we have:
Auto Tagging
: All the responses are tagged automatically, so you can understand customer feedback at a glance and be able to segment contacts based on responses without any manual work.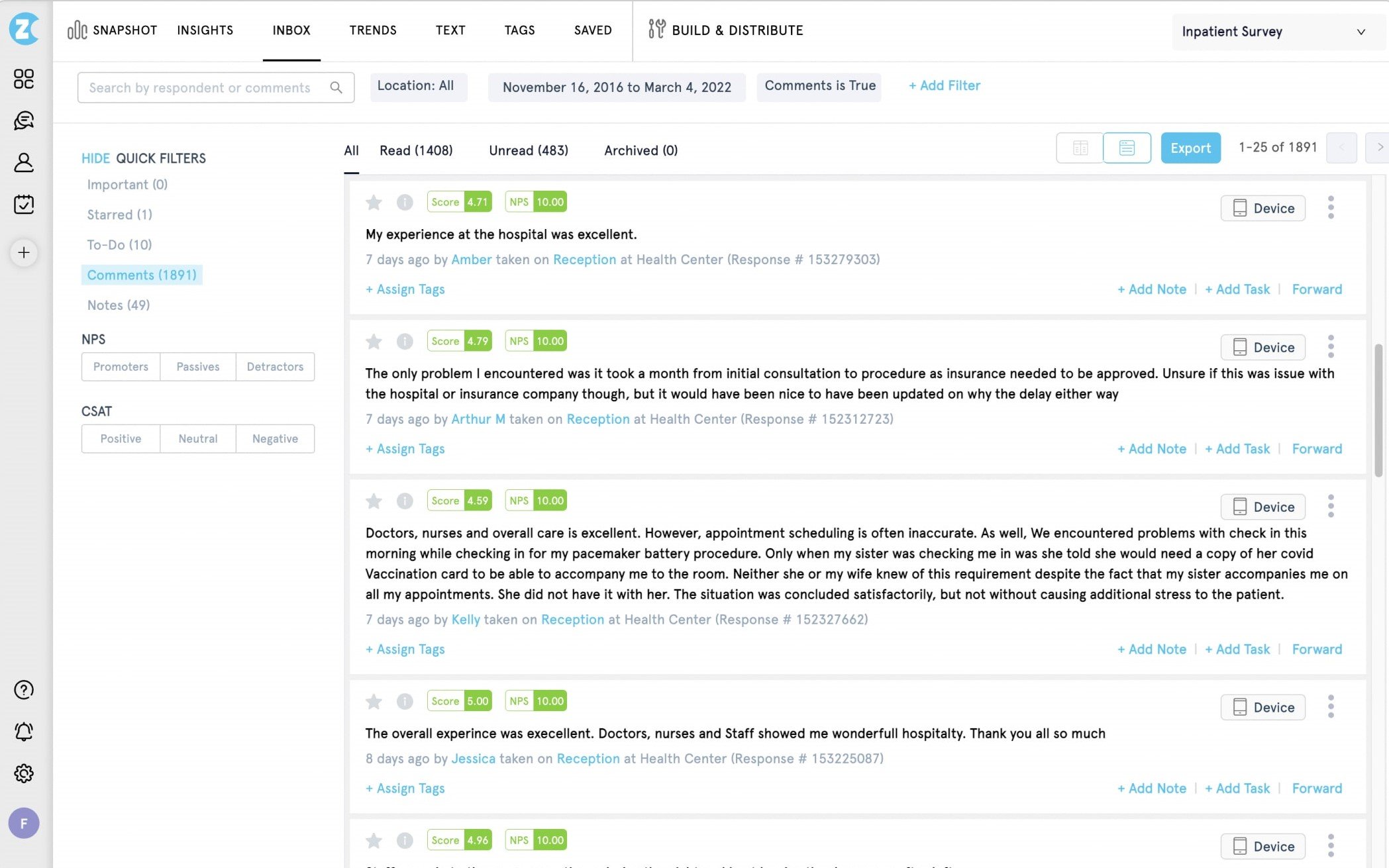 Active Contact List
: You can view the active contact list and create correctly targeted campaigns. For example, with access to a dedicated list of Promoters, you can efficiently run your referral marketing campaign.
2. Website Intercept
An intercept survey is the most perfect way to capture in-the-moment feedback. It is shown to your mobile app or product users with specific interactions they have with it. For example, you can use an intercept survey to capture action-specific feedback like post-purchase feedback, sign-up feedback, post-event feedback, etc.
Here are the website or product intercept feedback survey features that you need to look for in your product feedback tool:
Popup Survey: Product or website popup surveys trigger automatically when a product user performs a pre-specified action. For example, if you have introduced a new app or software feature, you can have a popup survey trigger as soon as the user finishes using that feature. Similarly, you can collect feedback with intercept surveys in events like purchase, order placement, etc.
The users can share their feedback right within the popup window since popup surveys are usually short; they may consist of one or two questions – one with an emoji scale, star-rating scale, Likert scale, etc., and the other an open-ended question so users can share descriptive feedback.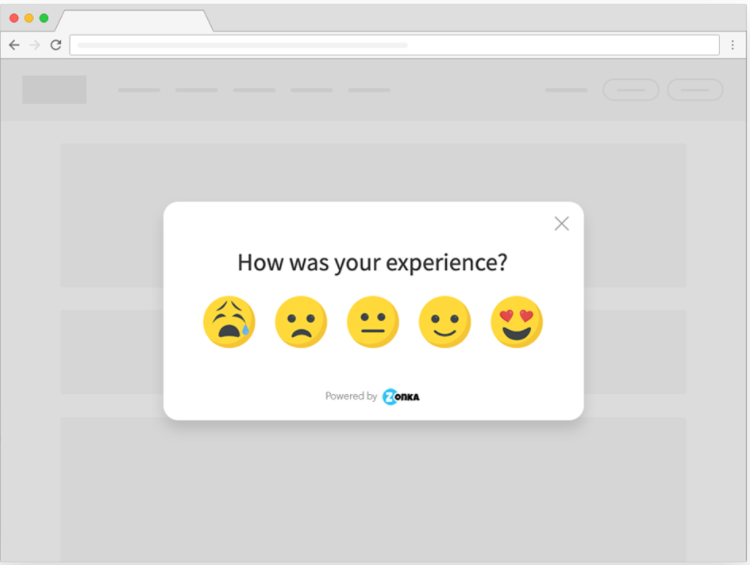 Selective Targeting: Your product feedback software should be able to fetch you user data that is actually relevant and useful. For example, an online grocery app looking to offer a monthly subscription of select items' delivery can target specifically the users that frequently order those items. It can insert a poll survey with the question "Would you be interested in a monthly subscription of 'XYZ' items?" within a popup survey and show it to frequent buyers the next time they add the pre-specified items to their cart.
You can create your target survey audience based on:
Attributes like demographics, age, current plan, position, language, etc.
The device, for example, mobile, tablet, Android, iOS, etc.
Response tags, for example, dissatisfied users according to a previous survey
Specific page visits or feature usage
Source (target users only if they come from a pre-specified source)
Targeting N% of Users for A/B Testing: Your product feedback tool should allow randomly sampling users to conduct A/B testing. For example, if you're looking to revamp your brand identity, you can survey a certain percentage of people, including internal team members as well as end users. You can collect product design feedback with questions like 'which logo better represents [brand name]'?
3. Multichannel Feedback Triggers
Product feedback shouldn't only be limited to running surveys within the product environment. Feedback automation should allow consistently surveying users across multiple channels so you can have a 360-degree view of customer insights.
To ensure this, here are the primary features we offer to generate multichannel responses as per user preference:
Feedback Widget: A product or website feedback widget is a piece of code added to your product that allows collecting feedback on specific pages and specific events. The feedback widget must include:
Popover Survey: To collect event or action-specific feedback
Feedback Button/Side Tab Survey: To collect continuous (24x7) or unsolicited feedback on or more pages
Embedded Surveys: Dedicated page surveys or polls embedded into the product or mobile app page; for example thumbs up/thumbs down survey at the end of an article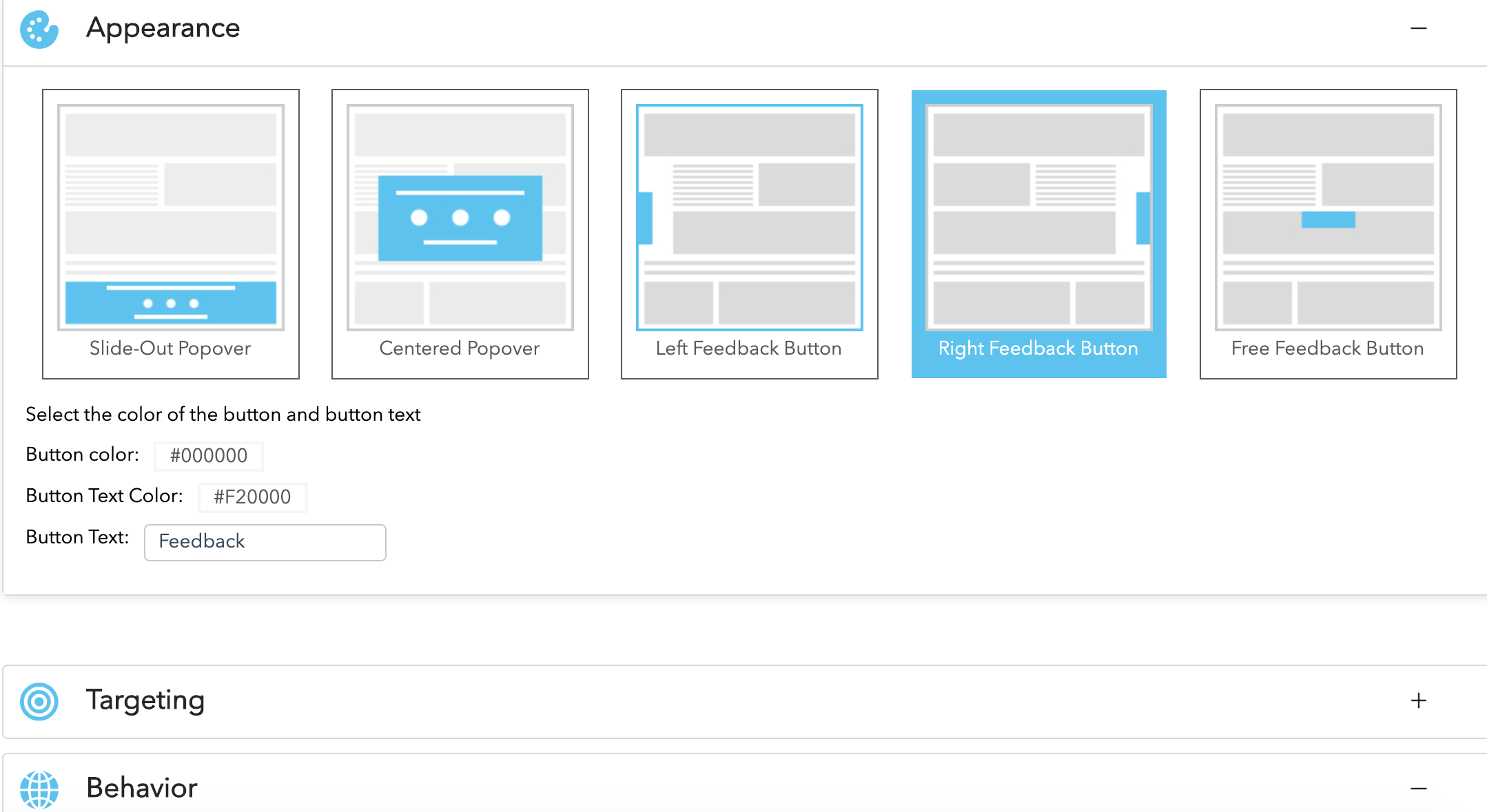 Automated Email Surveys: Product feedback tools should ideally allow automating email surveys based on triggers, such as a customer service call, ticket resolution, subscription milestone, etc. Moreover, automated email in-signature surveys are also a must-have to collect feedback on every response to customer queries.
Automated SMS Surveys: Your product feedback tool must have an automated SMS survey feature so surveys via SMS can be triggered on certain actions, for example, query resolution or ticket closure.
Integrations: Your customer feedback tools must allow integration with communication channels so you can collect feedback in real-time feedback while the users are still on the app. Moreover, business tool integration renders several other benefits that you can better understand with these another set of must-have features:
Live Chat Feedback

- Live chat surveys allow collecting user feedback in the chat window. You can either pin a feedback survey to the chat window or trigger automatic surveys as soon as a chat ends. You can measure and calculate Customer Effort Score as well as agent performance.

In-Meeting & Post-Meeting Feedback

- Your survey tool should integrate with business communication software so you can also measure internal feedback in chat channels or meetings. For example, if you use Slack for internal communication, you can trigger surveys during and after meetings with Zonka Feedback integration. Let's say all team members are required to vote during a meeting to come to a conclusion, you can add a survey to the meeting that all the participants can take directly in the Slack window.
4. Workflows
Before you decide on a product feedback tool, you must check if it enables efficiently closing the feedback loop while making the whole feedback management process more streamlined.
Here are the top workflow automation features that you absolutely need if you're a feedback-driven company.
Response-Based Actions: As the name suggests, you can respond to customer feedback based on what their responses are. And user feedback is mainly segmented into these two categories:
Feature-Based Feedback

- This is one of the interesting product feedback examples. Let's say a user reports a bug in your product. The feedback from this user would automatically be shared with the developer or the team responsible. Similarly, if an e-commerce app receives feedback on the availability of certain products, the inventory personnel would be looped in. This ensures that users are offered quick resolutions and that the feedback loop is closed immediately so the customers don't churn.

Positive & Negative Feedback

- A pre-specified action is performed automatically based on positive or negative feedback. For example, if some users give your product a 5-star rating, an automated survey would be triggered thanking them for their great feedback. Similarly, a negative rating from the customer would be followed by an apology email or a follow-up call from the support agent who can resolve the dissatisfied customer's complaints.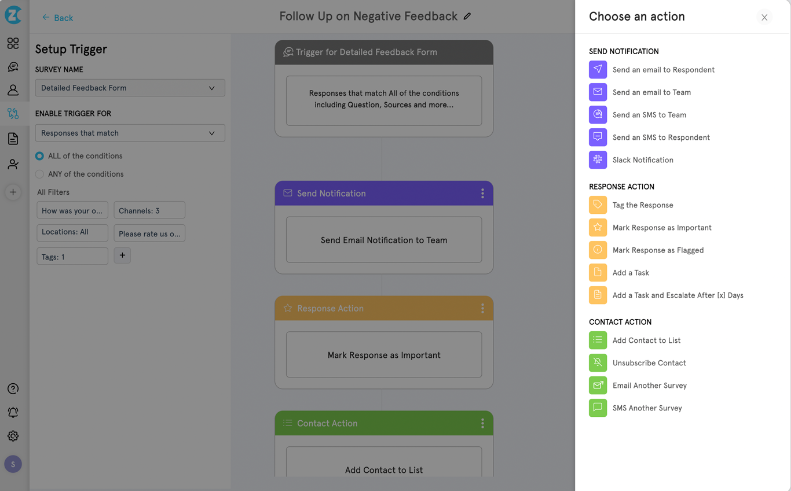 Escalations for High-Value Clients: To ensure priority-based resolution, your product feedback survey tool must allow escalating feedback from high-value users or clients. This is an important survey feature that is critical for effective relationship management with your network of users.
Notification to Relevant Teams: User feedback, especially in the case of a product, can benefit several departments. Therefore, your product feedback tool should allow closing the feedback loop quickly by looping in the relevant teams or members right from the very beginning. This ensures that complaints or open tickets are not passed on from department to department but are instead assigned directly to personnel who can provide the correct resolutions.
For example, during Beta testing, if the user shares feedback on the product design or feature, the product manager must be notified so the feedback can be acted upon. Similarly, if the feedback is production-related, the customer retention or customer success team should be looped in.
5. Survey Throttling
One of the most important rules of surveying customers is to not overwhelm them with survey requests. Therefore, when you're looking to collect product feedback, avoid sending too many survey requests to stop users from unsubscribing to your emails; you may even increase the response rate with this strategy.
But you shouldn't have to worry about this because your product feedback tool should be able to take care of it.
Survey throttling in survey software ensures that the same user isn't sent surveys more than once in the time period set by you. You can schedule the surveys to be sent quarterly, yearly, or on specific dates or events.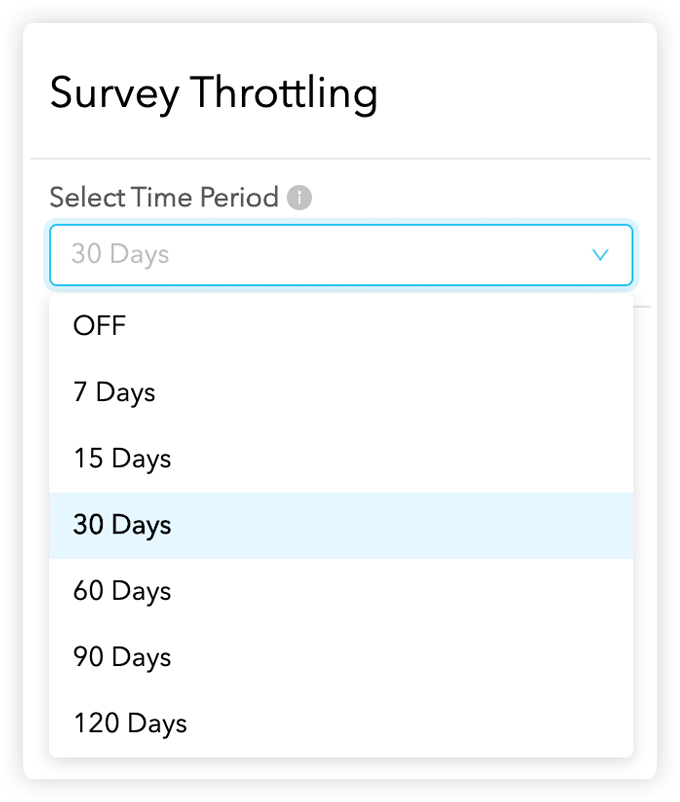 Tip: For transactions or interactions within the app or product like chat with a support agent, purchase, subscription renewal, etc., you can use quick in-app surveys, to get fresh in-the-moment feedback. And for overall feedback on the brand or to gauge the loyalty of customers, you can send CSAT and NPS surveys at fixed intervals during the customer lifecycle.
6. Integrations
This has to be one of the most important prerequisites of investing in product feedback software. Integrations are your best friend whether you want to create a comprehensive feedback system, automate tasks, centralize feedback data, or improve customer service experience.
So, make sure that your survey tool seamlessly integrates with your business tools like CRMs, communication tools, marketing tools, etc. We have talked about survey tool integration with some examples below.
A. CRMs
The purpose of integrating your product feedback tool with your CRM is to centralize feedback data in one place so that it is more accessible and actionable. Not only does this make the product manager's life easier, but it ties together the entire system so user feedback can render company-wise enhancement while also ensuring an enhanced product.
Let's understand how product feedback works in integration with the most popular CRMs.
Salesforce: Salesforce integration with a survey tool requires you to set up feedback mapping so that all the survey scores and responses are synced back to the CRM. You can identify a good product feedback tool by how easily you can set this up and get started. And it doesn't end at feedback syncing; you can optimize feedback management so user data is worth its weight in gold!
Here's what you can do with Salesforce surveys and centralized customer data in Salesforce:
Create workflows so repetitive tasks are automatically taken care of while you focus on improving customer experiences
Segment contacts based on response and set trigger-based actions so you can survey the right customers at the right time
Create automatic tasks based on incoming responses and set up alerts or real-time notifications for team members
View actionable reports with in-depth analysis, trends, and data comparison, all through a single dashboard
Send automatic follow-up or response emails to close the product feedback loop with users
Set up automatic actions like creating a new contact
All of this helps create a user data inventory that can help you build personalized experiences. For example, with a preference survey, your app or product users can share what they are using your SaaS tool for. You can then use this information to create audience sets and specific marketing campaigns to run relevant ads and send the right recommendations.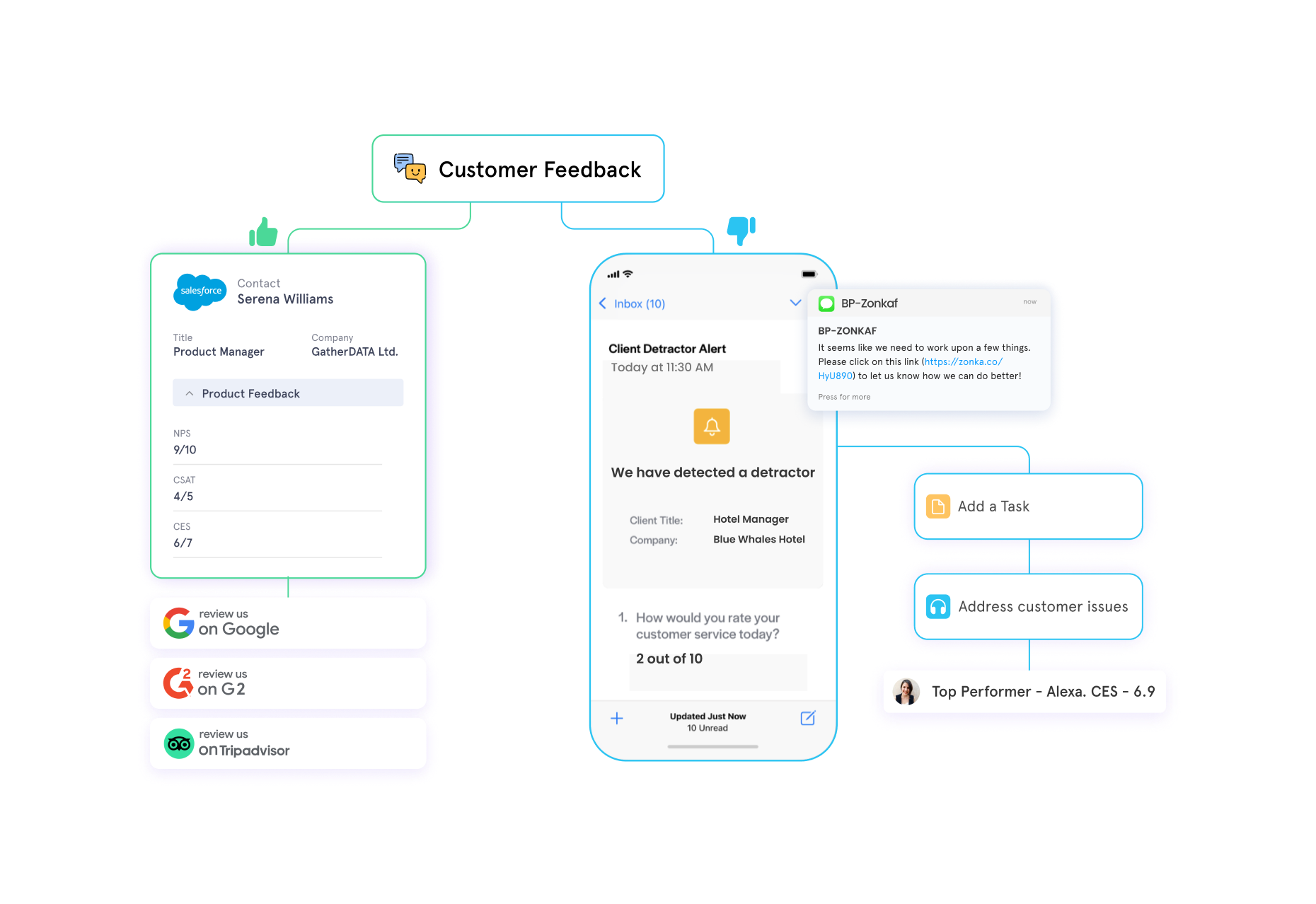 HubSpot: Just like Salesforce integration, you can also sync back and manage user data in HubSpot with product feedback integration. You can choose which responses need to be synced and when the data sync must trigger. HubSpot integration gives you complete control of data without the stress of handling each field and file manually which can suck the life out of the whole feedback strategy.
You should also be able to create new contacts automatically, edit mappings whenever you want, and give data access to other team members.
Pipedrive: If your focus is sales and you use Pipedrive, you can measure user feedback at every touchpoint of the sales cycle with survey software integration. A reliable product feedback tool should allow you to send personalized surveys and automated follow-ups once you edit or change customer data in Pipedrive. For example, if you close or renew a user's subscription, a feedback survey should automatically be sent to them to measure their recent experience. Similarly, you can set a survey to be sent to all the new contacts as soon as they are added to Pipedrive.
Some of the other fantastic things that you can do with the integration of survey software with Pipedrive include:
Syncing all or selected responses back to Pipedrive based on pre-defined triggers
Creating new deals in Pipedrive automatically based on survey responses
Scheduling surveys strategically to prevent survey throttling
Sending surveys based on deal status
ActiveCampaign: A survey tool with ActiveCampaign CRM can do wonderful things as we discussed above. Not only can you centralize feedback data, but you can define actions to put feedback to great use. You can automatically create new contacts, sync user responses with those contacts, automate ActiveCampaign emails and follow-up surveys, and a lot more.
B. Helpdesks
Product feedback tools' integration with helpdesks is highly important in this checklist because customer service excellence is something that can make and even break your brand. Look at it this way. A user shares feedback about how your app keeps freezing and the product feedback tool automatically creates a ticket based on this response so the issue is worked upon instead of being added to the pile of complaints.
Survey software integration with your helpdesk software streamlines all customer feedback and complaints so you can efficiently use data and take customer service experiences a notch higher.
Here are some super important helpdesk tools that your feedback tool should integrate with:
Zendesk: Helpdesk software like Zendesk must be easily integrated with your survey tool if you place a high value on customer service and experience. With this integration, you can add or embed surveys directly into your Zendesk emails for customers. For example, if you're responding to a customer query, you can add a survey in your email signature so the users can rate the response they received. Or, if you wish to measure customer satisfaction in Zendesk, you can set feedback surveys to be sent at fixed intervals or events like the closure of a longstanding issue.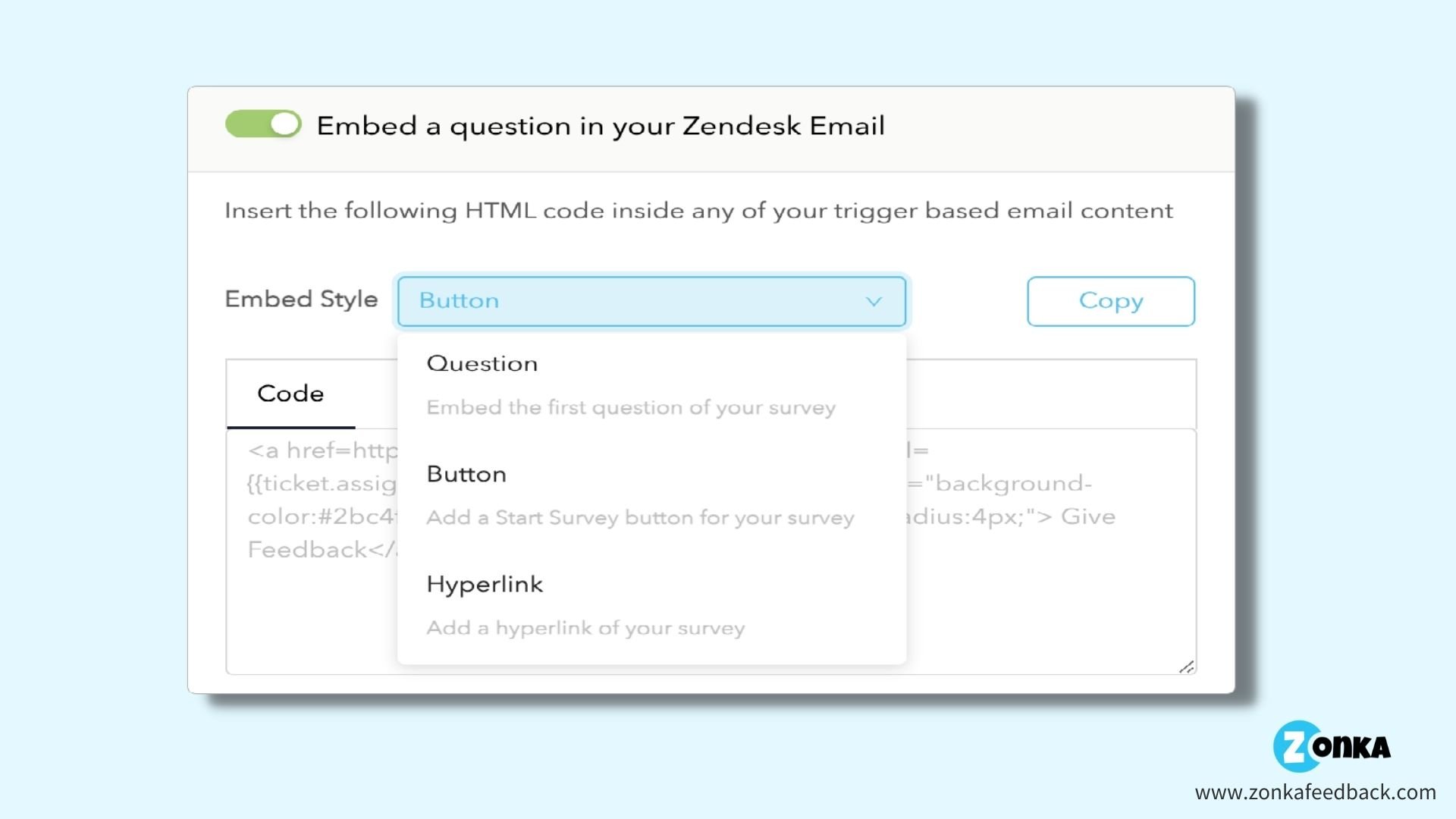 In addition, you can do other things like:
Automatically trigger a product feedback survey request after a ticket is closed
Automatically sync survey responses or scores back to Zendesk
Create tickets automatically based on survey responses or feedback score
Intercom: Most businesses use Intercom today for customer communication in the product or in the mobile app, which makes Intercom integration a must-have in popular and reliable product feedback tools.
With this integration, you can pin a survey to the chat window, automatically trigger a survey in the chat as soon as it ends, and also collect individual agent scores to measure internal performance. Chatbots and live chat surveys are primarily used for measuring CES in Intercom since it provides quick insight into the effort users had to make in getting an issue resolved.
Moreover, your agents can see survey responses in the inbox so the next time they are talking to a customer, they know what their previous experiences have been like and offer resolutions accordingly and quickly.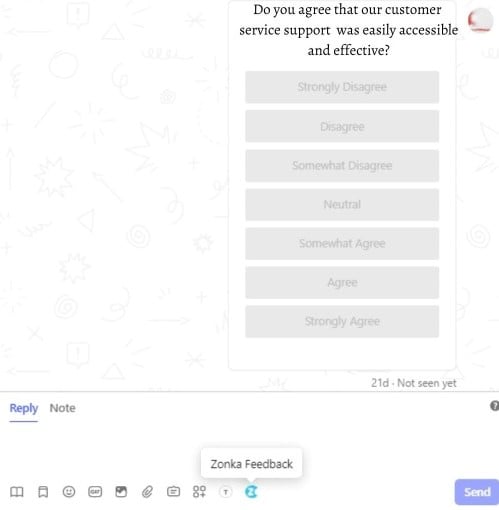 Freshdesk: By connecting your Freshdesk and survey tool accounts, you can automate email and SMS surveys to your app or product users when a ticket is closed – just like what you can do with other helpdesk software. You can also set triggers to correctly time the surveys, for example, you can set how long after a ticket is closed that you want to send a feedback form.
In addition to triggering surveys automatically, your product feedback tool should also create new tickets based on the incoming responses. For example, if it is a Detractor a ticket will be created automatically.

HelpScout: If you primarily use email for customer communication, you can integrate your HelpScout software with your product feedback tool. This way, you can send your survey in your customer emails and also embed them into your email signature so customers can share feedback right within the email body.
This can get you a higher response rate and super useful responses coming from fresh service experiences.
C. Marketing
We have talked a little about the use of a product feedback tool in marketing above. Let's talk about its role in detail here.
Let's say you have an eCommerce app where you run surveys to understand customers' preferences, for example, sportswear, kids' wear, etc. Now all this feedback, when synced back to your marketing tool, creates a huge data inventory about your customers with insights that can help you create the most targeted marketing campaigns.
You can create unique user personas to send newsletters and marketing emails that hit the sweet spot and increase conversions.
Two of the primarily used marketing tools that your feedback software must be integrated with include:
Mailchimp: The survey tool and Mailchimp integration enables you to:
Automate adding respondents as contacts to the contact or audience lists

Create audiences based on responses using filters and conditions
If the response of a user matches the conditions you have set, it will automatically start adding to Mailchimp. This means you can cut out the manual work and focus on improving marketing efforts where human intervention is required.
AirTable: If you're using a super-flexible database like AirTable to connect your information and create workflows, integration with a survey tool makes your job even easier. You can send user survey feedback and responses automatically to tables and consolidate all of them in a single view. This way you can have everything in your AirTable account which can prevent a whole lot of back and forth.
You can also:
Send new Survey Responses to multiple bases

Map questions in the survey to specific table fields
D. Collaboration Tools
For internal communication and collaboration, integration with a survey tool is super important for product or SaaS-based companies. Let's understand with the examples of top collaboration tools:
Slack: With feedback tool integration, you can send surveys to your team members and in meeting that they can take within the Slack window. Moreover, whenever you receive responses to your surveys, you can forward them to others on Slack so the relevant personnel can take action.
Moreover, this is also great for internal product feedback. Let's say you add a new feature to your photo editing app. You can ask the internal members to try out the feature and then collect their detailed feedback with Slack surveys.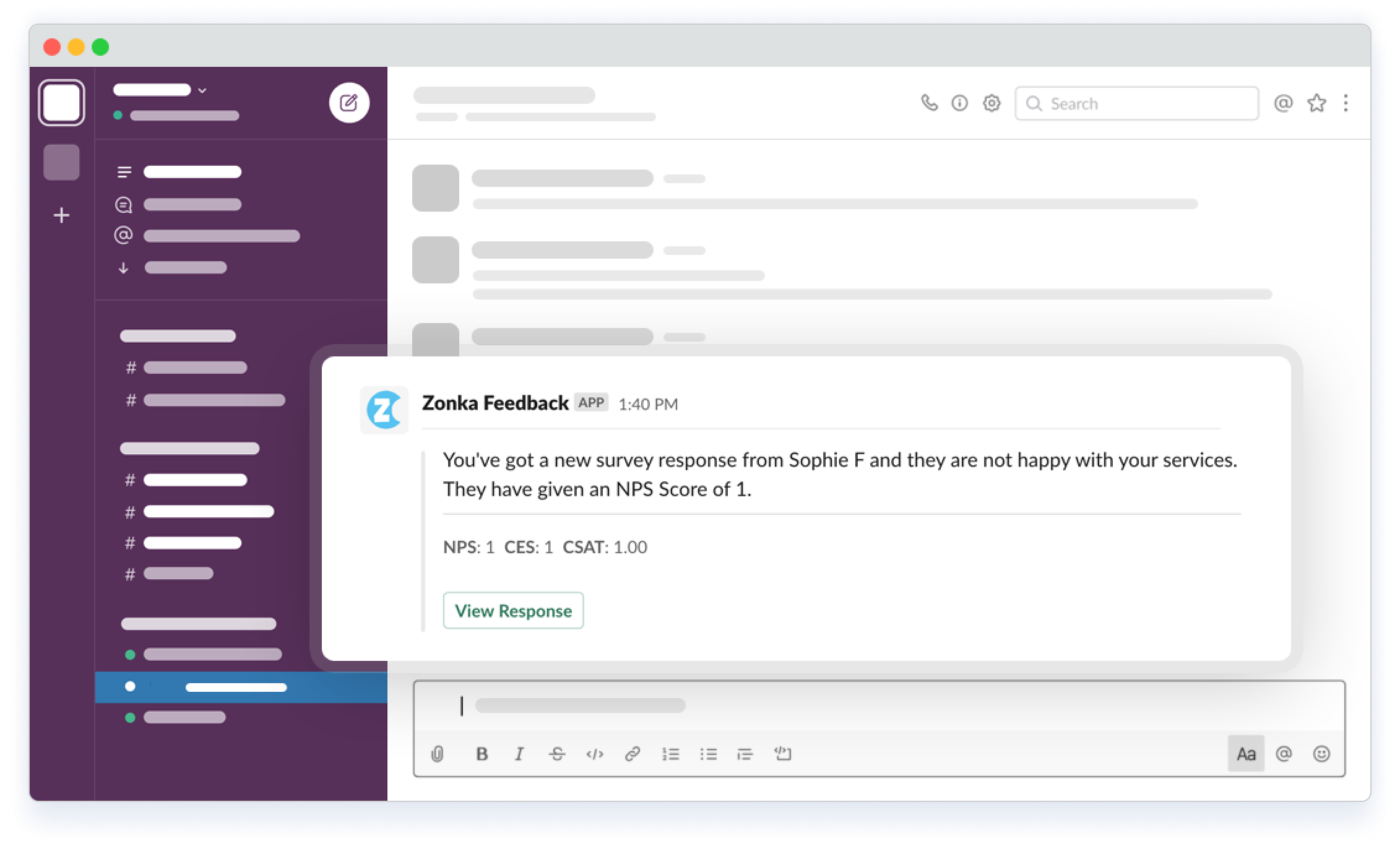 Webex: You can make your meetings interesting and much more engaging with Webex surveys with simple integration. For example, if you're rebranding and want feedback from the team on the logo design options, you can quickly trigger an in-meeting poll survey and the participants can quickly share their preferences.
Similarly, you can conduct quizzes, collect ideas, etc. And the best part is that you can analyze all the feedback in real-time.

Zoom: Just like in Webex, you can collect feedback in meetings from customers and internal team members alike. For example, a SaaS product user in a product setup meeting with the customer support professional can share feedback via a survey that would be triggered automatically after the meeting.

Google Sheets: Google sheets are popular irrespective of the size of the company. And imagine how amazing it would be to save hours of feedback entry in your sheets. With a simple integration with a survey tool, you can make feedback management hassle-free.
You can also filter, sort, and analyze survey feedback before collaborating with your team.
E. Automation Software
Automation tools like Zapier, Make, Integrately, etc., when integrated with a product feedback tool, can make feedback management a breeze. All the data would be automatically synced so your tools like Intercom, Zendesk, Freshdesk, etc. can perform the correct action.
If you use Zapier, you can practically hook any of your business tools with a product management tool that supports Zapier integration.
If you happen to use Integrately, you can integrate the survey tool with a single click, provided the tool supports Integrately.
Make sure your product tool supports Make (Integromat) if you use this platform for integrations.
Integration of your product tool with these software ensures that all the data syncs back to other apps or services that you may be using.
Conclusion
When you're selecting product feedback software, the goal is to ensure that the feedback data supports and empowers all business functions. With the right tool, you can understand why your product users behave the way they do.
By defining requirements like:
Business functions where feedback can facilitate improvement
Integration needs as per other software you're using
Multichannel feedback needs
Your product stage, etc.
The above article will not only help as a checklist for selecting the right product feedback tool but would also help you understand your requirements better, especially if you're just starting to survey your users.