When it comes to gathering customer feedback, there are various methods to choose from. However, it is crucial to have a way that lets you capture their feedback in the moment while they are exploring your product, app, or website.
And that's where popup surveys stand out!
From capturing customer preferences to uncovering their pain points, popup surveys can help connect, understand, and elevate the customer experience. They are an effective way to gauge customer feedback or ask quick questions while customers explore websites, navigate apps, or engage with your product.
In this blog, we'll delve into the world of popup surveys, uncovering their definition, examples, effective survey questions, best practices, and beyond. Let's dive in.
TL;DR
Popup surveys appear in a pop-up window or overlay on a website or within a mobile application. These surveys are designed to capture feedback, opinions, or information from users while they are actively engaging with the site or app.

They can vary in their purpose, ranging from collecting feedback on customer satisfaction, understanding user preferences, evaluating customer experience, or conducting market research.

Using popup surveys, you can perform targeted triggers, avoid sampling bias, create a clutter-free website, collect customer data without contact details, and more.

Google Meet, Urban Outfitters, and MailTag are some of the popup survey examples that use subtle yet effective popup survey approaches to collect valuable feedback.

Popup survey questions can be used to collect post-purchase feedback, cart abandonment, exit intent feedback, product-market fit, and more.

Zonka Feedback is an effective online survey tool that you can utilize to create engaging survey pop ups, share with users, analyze reports for insights, and take action to close the feedback loop. Sign up for a free trial or schedule a demo to create surveys.
Measure Feedback With Popup Survey
Collect in-moment feedback on your website, product, or in-app using effective popup surveys to understand what users need and learn ways to delight your customers.
What is a Popup Survey?
Popup surveys, also referred to as on-page surveys, on-site surveys, or survey widgets, trigger automatically for all or specific groups of visitors based on their interaction with the website. They appear at the center of the screen or at the bottom while sliding.
Popup surveys allow visitors to share feedback right within the popup window without leaving the website and, thus, are excellent when looking to capture short feedback. They usually consist of one or two questions. The first question may be a multiple-choice question, such as a Likert scale question, a smiley face survey question, a yes or no survey question, etc. The second question is usually an open-ended question for visitors to share the reason for their previous answer.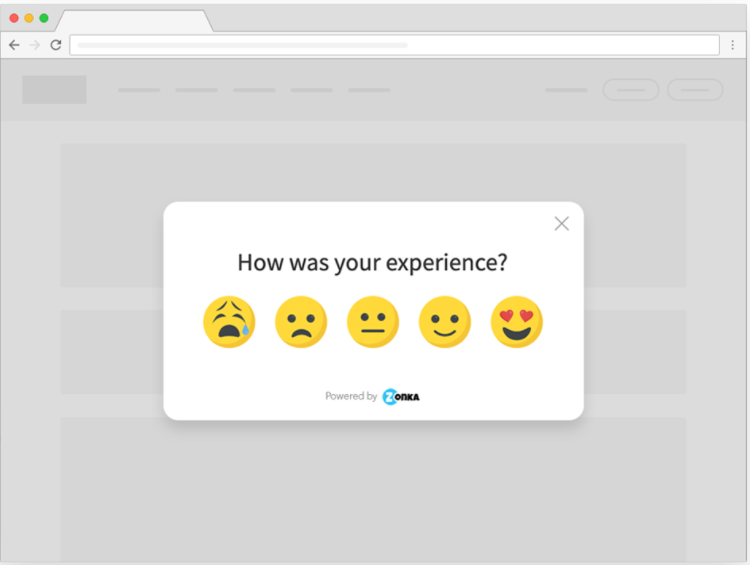 Ways to Share Survey Pop Up on Website
With the help of powerful customer satisfaction software, you can choose how and when to display a website pop up survey as per your online business requirements.
You can use time-based popup surveys, which appear after your visitors spend a specific time on your web or product page, like 10 seconds or 30 seconds.

You can also set triggers to display a website popup survey when the visitor has scrolled a certain percentage of your website as per your choice, like 10% or 50%.

You can also choose to display a website popup survey based on customers' actions like a purchase transaction or after they reach a certain touchpoint of their user journey.
Benefits of Popup Surveys
Pop up surveys are one the most preferred ways to collect website feedback. Let us look at the reasons that make survey popups so popular and the benefits they have.
1. Various Touchpoint Triggers
Pop up surveys can be triggered at multiple touchpoints to help brands collect feedback data across the customer journey. For example, you can trigger popups for website surveys to collect website design feedback once a visitor scrolls through 70% of the landing page.
Similarly, you can set a popup survey to be triggered on the order confirmation page to get an insight into customers' shopping experiences with your brand. You can add as many pop up surveys to the website as you want to measure customer satisfaction and identify challenges with each interaction.
2. No Sampling Bias
Pop-up surveys eliminate sampling bias by directly targeting specific user groups. Unlike traditional sampling methods, these online surveys reach out to all relevant users, ensuring feedback isn't missed. For instance, an exit intent popup survey engages visitors who are leaving a website without a transaction, allowing every user to share insights on improvement without bias.
3. Reduced Website Clutter
Unlike website embedded surveys that can clutter a website, popup surveys maintain a clean website appearance. While embedded surveys add to the design elements, pop up surveys require no dedicated space until triggered, preserving the website's minimalist aesthetics.
By appearing inside a popup window once website visitors meet the specific criteria, popup surveys keep the website clutter-free while capturing feedback.
4. Feedback Collection without Contact Details
Unlike email surveys that require contact information, use popup surveys to gather feedback directly from website visitors without the need for personal details. This approach enables businesses to collect feedback without constraints, encouraging higher response rates for customer surveys as visitors aren't obligated to share contact information.
By hosting surveys on the website, popup surveys facilitate open feedback without reliance on the contact details of the target audience.
5. More Targeted Feedback
Compared to other methods of collecting feedback on website, such as website embed surveys, effective popup surveys enable more targeted feedback. Leveraging data analytics like Google Analytics, these surveys can be tailored to specific visitor segments—for instance, presenting marketing-related surveys to users arriving from Google ads or social media.
This precision allows businesses to gather highly accurate and in depth feedback, empowering informed improvements in marketing strategies based on insights from target audience segments.
Pop up Survey Examples
Let us look at some popup survey examples that can help you conduct surveys smoothly and get more responses.
1. Google Meet's Post-Meeting Popup Survey
Google Meet strategically presents an NPS survey immediately after users exit a meeting. This timing capitalizes on the moment when individuals are most engaged, making it convenient for them to provide feedback. The survey's simplicity allows users to swiftly rank their experience, offering a quick gauge of sentiments toward the service or platform.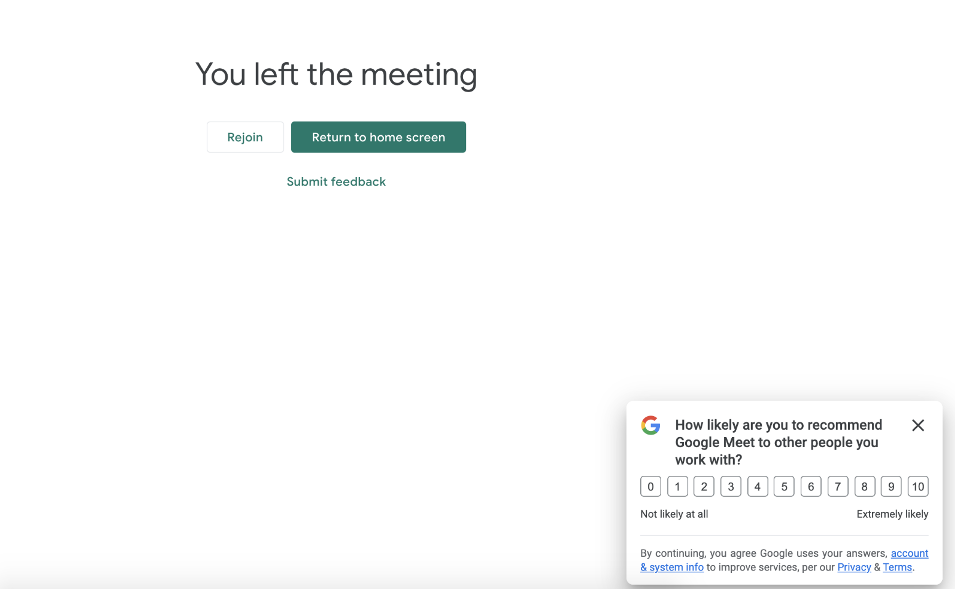 2. Urban Outfitters' Feedback Request Website Popup Survey
Urban Outfitters' approach to collect quick feedback is subtle yet visible, respecting the visitor's browsing experience while remaining easily noticeable without causing irritation. The popup displayed in their website survey respectfully requests permission to gather feedback, granting visitors a sense of control in deciding whether to participate.
This strategy aligns with a psychological need for autonomy, potentially enhancing customer relationships by acknowledging and respecting their choices in providing feedback.
3. MailTag's Customer Survey Popup
MailTag's survey popup stands out as a popup survey example due to its simplicity. The net promoter score survey features a concise design with a straightforward rating system and a small text box, encouraging swift feedback from visitors. The color scheme, using a pleasing combination of blue and white, adds to its uncluttered appeal, making it a standout example of effective user feedback popup design.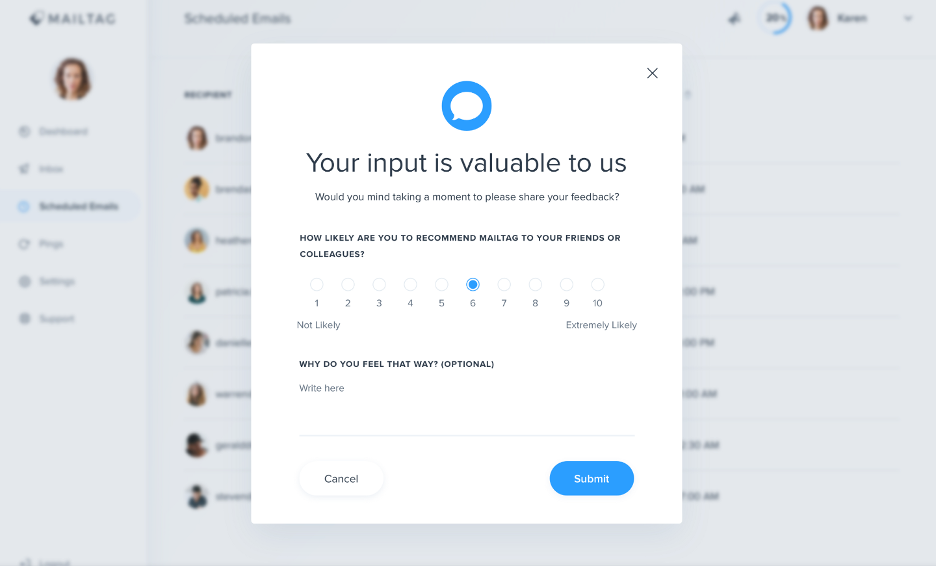 Popup Survey Questions for Collecting Customer Feedback
Let's explore some effective popup survey questions that you can use to collect customer feedback.
1. Post-Purchase Popup Survey Questions
After a customer completes a purchase, their feedback becomes invaluable in understanding their journey and satisfaction levels. Post-purchase survey questions offer a direct channel to gather immediate insights from customers, pinpointing their satisfaction, shopping experience, encountered challenges, and preferences.
Placed strategically at the completion of the purchase process, these survey questions aim to swiftly address any concerns and enhance future interactions, encouraging a more satisfying customer experience and loyalty. You can also use a post-purchase survey template to get started with creating your own popup surveys.
How would you rate the overall shopping experience with us?

Did you face any issues or challenges while making purchases with us?

How would you rate the availability of payment options with us?

How likely are you to make another purchase in the future?

Based on your recent purchase experience, how likely are you to recommend us to your friends and known ones on a scale of 0 to 10?

We would like to know the reason for your rating.

Would you like to share any special experience or concerns?
2. Cart Abandonment Popup Survey Questions
When shoppers abandon carts, cart abandonment surveys, strategically timed as pop-ups before exit, uncover important insights into checkout concerns. These survey questions help identify the pain points that customers may encounter during the checkout process and uncover the reason behind cart abandonment.
It also helps you to refine processes, boost conversions, and enhance overall shopping experiences, showcasing a commitment to customer satisfaction. You can also use a cart abandonment survey template to quickly create your survey in a pop-up format and start implementing it on your website or in the product.
Did you encounter any issues during the checkout process?

Did you find any hidden costs applied to your purchase?

Did you find the payment options convenient and secure?

Is there anything we can help you with completing your purchase?

We would like to know your experience and the issues that stopped you from buying today.
3. Product Market Fit Survey Questions
A product market fit survey gauges customer satisfaction and the competitive edge of a product. By integrating these questions into a popup survey, you can gain actionable insights to refine your offerings and boost satisfaction. These targeted pop up questions assess product value, customer's likelihood of recommendations, and overall satisfaction, guiding your businesses towards success in a competitive market.
By using a product market fit survey template as the base, you can easily leverage key popup questions and perform customization for essential product feedback insights into market suitability.
How did you discover the product?

Would you be disappointed if you can no longer use our product/website?

Based on your recent experience of using our product/website/app, how likely are you to recommend it to your friends and known ones?

How essential do you consider our product/app/website for your regular routine?
4. Exit Intent Popup Survey Questions
Exit intent surveys capture insights from a departing website visitor, uncovering reasons for leaving and potential areas for improvement. These targeted exit intent questions that are strategically timed before exit, reduce churn rates, offer valuable context, and pave the way for enhanced conversions.
Incorporating this pop up survey allows you to swiftly gather crucial feedback, refining customer experiences and facilitating improved customer satisfaction. You can also use an exit intent survey template to quickly create an exit intent survey in a pop-up format and easily implement it on your website or app.
Is there any specific reason for your leaving today?

Were you able to find what you were looking for?

Were you able to achieve your objectives on our website/product?

Is there anything we can do to convince you to stay or complete your desired action?

How likely are you to login again in the near future?

Based on your recent experience with us, how likely are you to recommend this website/app to your friends and colleagues?
5. Content Feedback Popup Survey Questions
Content feedback popup surveys assess content effectiveness in terms of information, quality, and engagement. Triggered strategically after user interaction or time spent on a page, these feedback questions gather valuable insights to refine content strategy and cater to audience preferences.
You can also customize your popup surveys by taking this article and content feedback template as the base. Add more questions to make it extensive or customize the existing ones if you wan to ask specific questions.
How would you rate the quality of this content?

Did you find this content informative and helpful?

Did you find the content easy to understand?

How did you find the length of this content?

Is there any additional information or topic you think should be included in this content?
6. Demographic Pop Up Survey Questions
Demographic survey questions offer insights into audience characteristics and preferences, helping you to perform targeted marketing and give personalized experiences. Integrating these pop up questions within a popup survey allows for strategic timing, and respecting customer data privacy while gathering crucial data.
The insights gathered from demographic popup question informs tailored strategies, enabling you to create a targeted marketing strategy and enhance customer satisfaction.
What is your age group?

Select your gender

Are you a registered member?

Enter your email address.

How often do you visit our website?

How often do you use our products and services?

How often do you use our app?
7. Bug Reporting Questions
Bug report form questions allow users to report issues and share their experiences regarding them, thereby helping in bug identification and improvement efforts. These questions gather crucial information about encountered bugs, their reasons, and suggestions for enhancements.
Strategically timed as a part of a survey pop up, they capture user insights post-feature usage or during exit intent, enabling effective bug resolution and future prevention. You can use a bug reporting survey template to capture customer insights regarding any bug or issue they witness with your product or website.
Please describe the bug or issue encountered.

Have you encountered this bug in the past too?

Have you tried the troubleshooting steps to resolve the issue?

Would you like to be contacted for further follow-up regarding this bug?
8. Overall Experience Survey Questions
Overall experience survey questions gauge customer satisfaction and loyalty, based on their overall experience with your website, app, or product, highlighting areas for improvement. Assessing this feedback consistently allows you to address customer pain points, enhance satisfaction, and align your offerings with customer needs.
For instance, you can use a Product Experience Survey Template to create a popup survey that captures customer feedback in terms of the experience they've had with the product. It can ask all types of popup survey questions in terms of satisfaction with the product, meeting expectations, duration of usage, rating of different features, and much more.
How well were we able to meet your needs and expectations?

Did you face any issues or difficulties while navigating our website?

Is there anything specific that you would like to appreciate about our website/product?

Would you like to suggest any improvements or changes?

Based on your overall experience with us, how likely would you recommend us to your friends and known ones?
Best Practices to Create Popup Surveys
Let us look at some of the best practices to create pop up surveys that can fetch you high response rate and get valuable customer feedback.
1. Include Few & Targeted Questions
Keep your popup surveys concise and focused by including only a small number of questions that target specific aspects. Using microsurveys that has brief and specific questions, ensures quick and focused feedback, boosting participation and completion rates.
2. Manage Popup Frequency for Customer Convenience
Avoid customer frustration by managing popup frequency thoughtfully. Strategically trigger feedback popups after specific actions or at appropriate intervals.
Implement event-based survey popups triggered by significant events like a purchase, issue resolution, or specific web page interactions.

Utilize time-based surveys that appear after the customers have spent some time on a product or relevant landing page of the website, like triggering a Content Feedback Survey after two minutes on a blog or article page.
3. Use CX Metrics
CX metrics surveys are a great way to collect feedback through survey popups with a couple of questions. Incorporate metrics like Net Promoter Score (NPS), Customer Satisfaction (CSAT), or Customer Effort Score (CES) within your feedback popups.
These brief surveys typically include a primary question in a rating scale survey format followed by an open ended question seeking the reason for the rating given by the customers. They quantitatively measure customer sentiment, providing insights into overall satisfaction levels.
4. Target the Right Audiences
Customize feedback popups for specific customer segments using strategic triggers. For instance:
Send post-purchase surveys to recent buyers.

Target cart abandonment surveys to users leaving filled carts.

Direct exit intent survey questions to customers exiting your platform.
Aligning questions with the right audience ensures more valuable insights tailored to the intended group.
5. Opt for a Reliable Survey Software
Utilize good and user-friendly survey tools to create and manage your feedback widgets like popups. Reliable survey software offers customization options, reporting capabilities, and integration possibilities to effectively collect and analyze quantitative and qualitative data. Some of the best survey apps can also empower you with the same capabilities.
How to Create Popup Surveys Using Zonka Feedback?
A good survey tool would allow configuring your survey pop ups to cater to unique, defined groups of visitors at the right place and the right time.
Zonka Feedback enables you to use website feedback widgets and create popup surveys with a personalized appearance, visitor targeting, and customized behavior. Let's understand how.
1. Create the Pop up Survey
Step 1: Register and login to your Zonka Feedback account and click on the 'Add Survey' option.
Step 2: Select the template of your choice from the option provided or click on 'Start from Scratch' if you want to create your own survey.
Step 3: A preview of the selected survey template will appear. On the left-hand side, click on 'Website and In-product' on the left-hand side as the survey collection channel. By default 'Popup' will be selected within it.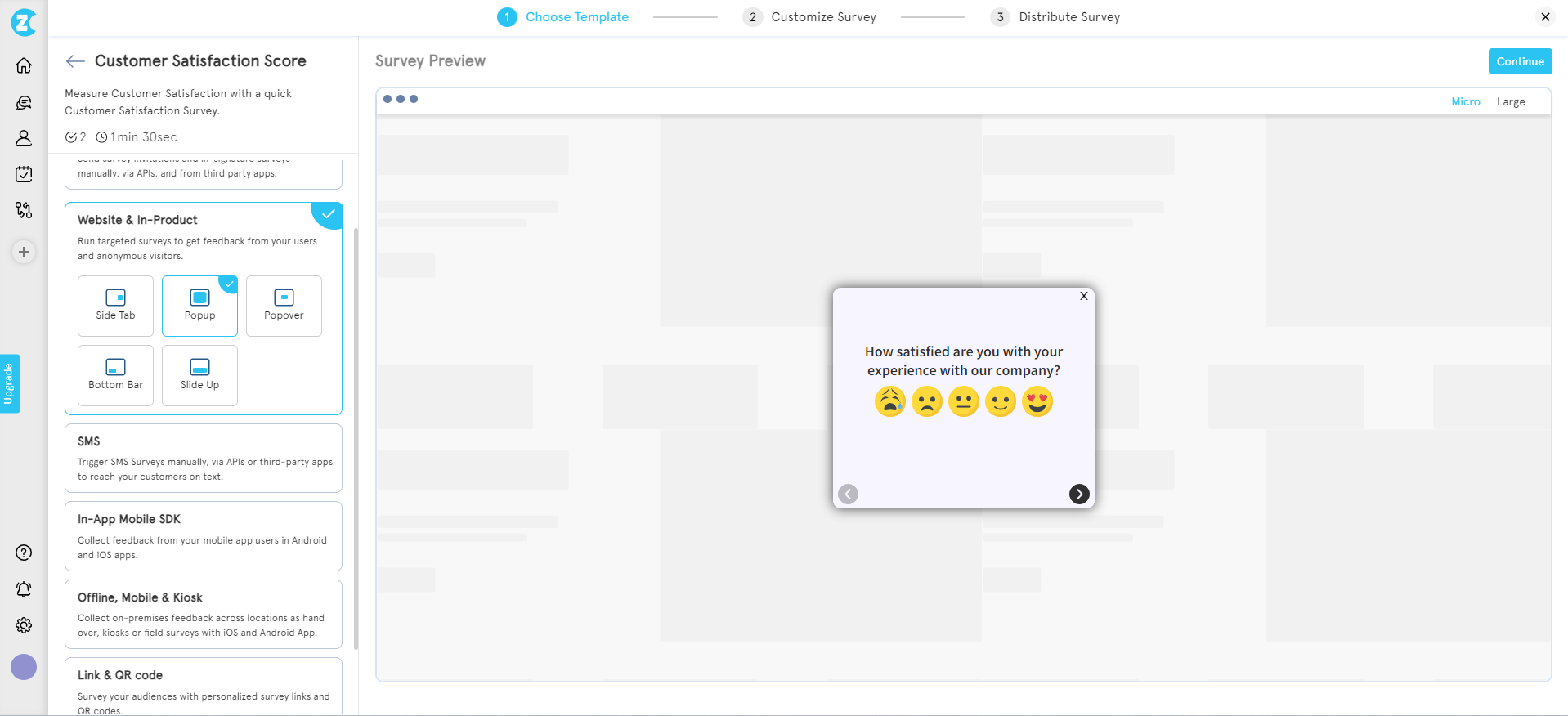 2. Customize your Pop up Survey
Edit the popup survey questions with features like adding a question, repositioning it, choosing rating and scales, and contact information to your survey in the editor.
Explore additional functionalities including:
Survey Logic: Implement survey logic and branching for personalized popup survey experiences.

Design: Modify the appearance using themes, logos, backgrounds, and welcome screens to align with your website's aesthetics.

Variables: Enhance surveys by including pre-filled data and enriching report insights with additional information.

Languages: Select preferred survey pop up languages for wider accessibility and accurate data collection.

Settings: Configure survey types (survey, poll, quiz), display preferences, and Google Analytics tracking for comprehensive insights.
3. Perform Popup Survey Configuration
Once you click on 'Next', you will be taken to the popup configuration page. Here you will have a few functionalities that you can perform which include:
a. Change Pop up Survey Appearance
You can change the appearance of the survey by performing these functions.
Adjust the survey size to your preference, opting for a larger or smaller display.

Choose to display a welcome screen to greet users.

Opt for automatic closure upon submission.

Select to show or hide the dismiss button for user convenience.
b. Enable Visitor Targeting
By setting up specific targeting, you can ensure that your surveys pop up to the relevant visitors who can give you appropriate and helpful feedback. Here are a few things you can customize -
You can choose from these three options.
Device Selection: Choose display compatibility by selecting devices—desktop, mobile, or tablet—ensuring optimal survey visibility across different screens.

Page Settings: Specify survey placement across the entire website or on selected web pages for targeted insights.

Targeted Users: Determine survey visibility to all users or a specific percentage of your audience, ensuring strategic reach for feedback collection.
c. Manage Behavior of your Popup Survey
You can customize the behavior of your popup survey using these options:
Launch Timing: Configure when your popup survey appears:

Immediate Load: Display the survey right after the website completely loads using Zonka Feedback's HTML source code.

Delayed Launch: Set a specific delay (in seconds) after the website loads before triggering the survey.

Scroll Trigger: Prompt the popup once visitors scroll a designated percentage of the page.

Widget Visibility: You can set up your popups for website surveys or mobile apps to on the screen based on these parameters:

Until they submit a response.

Only once, even if the visitor does not respond.

Over and over until the visitor submits a response.
d. Segmenting your Users
Involves categorizing your audience into specific groups or segments based on shared characteristics or behaviors for targeted enagegment. When setting up a popup survey, you can use user segmentation for the these purpose:
Include Segment: Choose the specific groups or segments of users to whom you want the popup survey to be visible. This could include demographics (like age, gender), behaviors (frequent buyers, first-time visitors), or other identifiable characteristics.

Exclude Segment: Decide which groups or segments of users you don't want the popup survey to appear for. This could involve excluding certain demographics, users with specific behaviors, or any other identifiable groups that you don't want to target with the survey.
Once you have performed these functions, simply insert the JS client code to add popup surveys to your website or product and click on 'Finish' to launch your pop up survey campaign.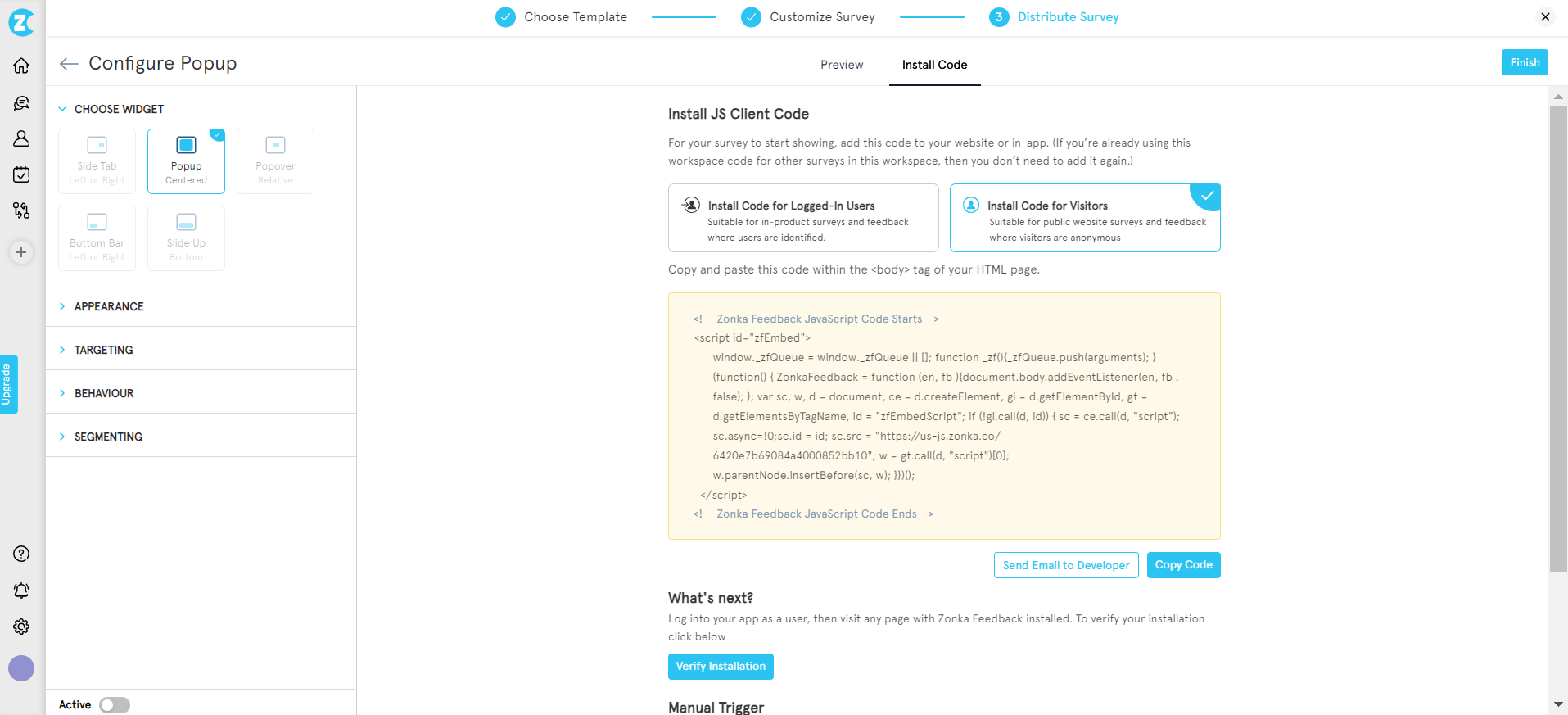 Conclusion
Popup Surveys are a valuable tool for collecting in-moment customer feedback and insights. Whether you want create a quick welcome survey, or gauge customer experience, they offer a quick and smooth way to engage with customers while they interact with your website, app, or product. By strategically using the right survey questions, you can gather valuable feedback and make informed improvements to enhance the overall customer experience.
Leveraging an effective survey software like Zonka Feedback that has features like user segmentation, workflow automation, behavior and targeting, and more, you can easily conduct popup surveys, analyze results, take instant action and close the feedback loop effectively.
Try Zonka Feedback for free for 7 days and see how it works for your business!