GetFeedback is a well-known customer experience management platform that empowers teams to quickly analyze feedback captured wherever their customers are—across traditional and digital communication channels.
But, no matter how popular GetFeedback is, it is not for every enterprise.
The platform might be weighed down by features that you might not use. Moreover, its focus on integrating with Salesforce might hamper its integration with other business tools.
If you're looking for the top GetFeedback alternatives or tools that share a similar purpose and functionality but offer a distinct user-friendly experience, here is the list for you.
TL;DR
GetFeedback's complicated UI, limited integration options, steeper learning curve, and higher costs might compel businesses to switch to its alternatives.
We have crafted a list of 8 top GetFeedback alternatives through set parameters based on their unique features for enterprises, and price models.
Some of our top alternatives to GetFeedback are Zonka Feedback, Medallia, Qualtrics, AskNicely, and more.
Apart from GetFeedback, we have also curated lists of other platforms and their alternatives like Medallia alternatives, Hotjar alternatives, SurveySparrow alternatives, SurveyMonkey alternatives, Qualtrics alternatives, and Typeform alternatives.
To see how Zonka Feedback can be the best fit as a GetFeedback alternative, sign up for its 7-day free trial or book a demo!
Measure Customer Feedback & User Insights
Try the best GetFeedback alternative & competitor to understand what users need and learn ways to delight your customers.
#1. Zonka Feedback
As a GetFeedback alternative, Zonka Feedback is an ideal tool for enterprises seeking a streamlined and all-encompassing customer experience approach to gauge customer satisfaction and boost their business expansion.
Known as an all-in-one enterprise feedback management software, Zonka Feedback enables enterprises to get a 360-degree view and listen to the Voice Of Customer to gain richer insights from unhappy customers by capturing their user feedback and insights.
As a market-leading survey platform, it allows enterprises to get precise feedback using a professional survey or a form and track their ratings through CX metrics like Net Promoter Score, Customer Satisfaction Score, and Customer Effort Score. Users can also customize surveys, craft the appropriate questionnaires, personalize SMS surveys to elicit specific responses, and receive individualized survey responses via mobile-friendly email notifications.
Businesses can also use Zonka Feedback to strengthen customer relationships by taking instant actions and closing the feedback loop. Data security is one of the major features you get with Zonka Feedback enabling you to securely sync customer data between different devices within a centralized database.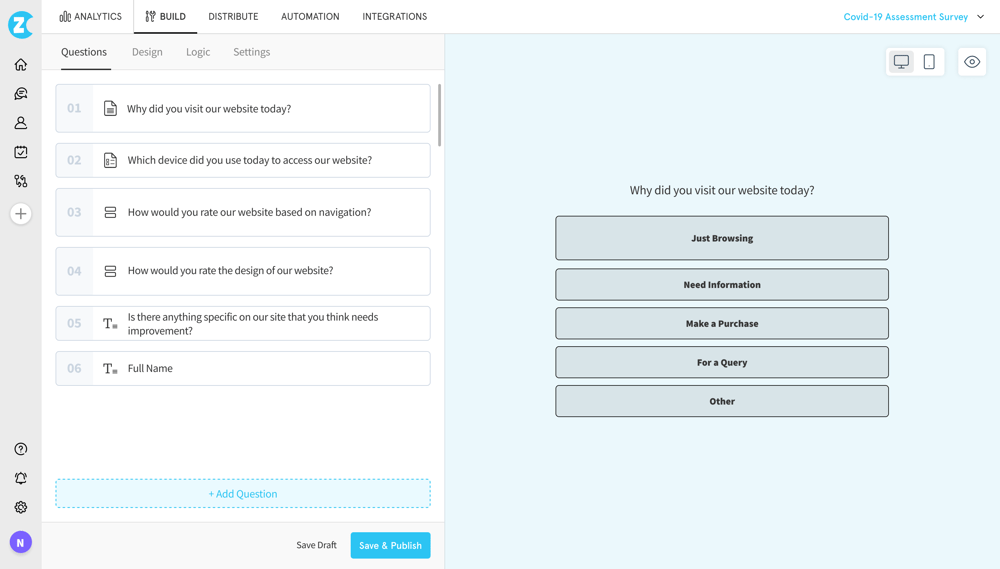 Zonka Feedback Features
Easily measure, track, and improve customer feedback trends and grow your business
Hear the voice of your customers from wherever they are and at every touchpoint
Use the right customer satisfaction metrics to measure customer happiness, loyalty, and effort
User Segmentation to analyze the different groups and identify opportunities
Securely sync data between different devices within a centralized database
Integrate with many CRMs, Point of Sales, SMS Gateways, and more
Easy to close the feedback loop with real-time feedback alerts
Omnichannel signal collection to get a 360-degree view
Get and create custom reports in a single click
Setup your brand through multiple channels
Get enhanced security features
Get custom billing and payment options or choose your own billing cycle
Pricing:

Custom plans for enterprise users with Growth Features+. Works on all survey channels - Website Feedback, email surveys, SMS, survey responses, In-app surveys, mobile app surveys, and Offline surveys.

You can also try Zonka Feedback for free for 7 days.
#2. Medallia
Medallia is an award-winning customer experience management platform and software tool that enables enterprises to drive loyalty at every point of the customer journey. The platform is equipped with the most comprehensive capabilities for capturing feedback and analyzing experience signals that enable users to know their customers better.
This omnichannel market research platform uses a highly engaging survey or a form to capture responses combining experience data, and operational data. The online survey tool also goes beyond traditional surveys to fully understand the customers.
Medallia Features
Drive loyalty at every point along the customer journey
Quickly capture and analyze user feedback, predict behavior, and create experiences
Capture the Voice of the customer and capture suggestions on the customer experience
Create a rich experience profile for every customer to gain a 360° view
Apply AI and machine learning to predict customer behavior
Get real-time reporting and analytics
Capture systemic root cause issues across different channels
Pricing: You can schedule a consultation or request a demo to learn about pricing plans for enterprises.
Medallia can be complex in terms of its implementation and offers limited customization. You can check out the list of our top Medallia competitors that offer similar capabilities.
#3. Qualtrics
Qualtrics is a renowned player when it comes to GetFeedback alternatives, providing customer satisfaction surveys and experience analysis tools for enterprises. Trusted by some of the world's largest brands, the platform is known for its ability to continuously improve experiences to meet ever-changing customer expectations.
Qualtrics' software works with data collection through customized surveys, a prominent feature in promoting omnichannel communication to collect customer data effectively.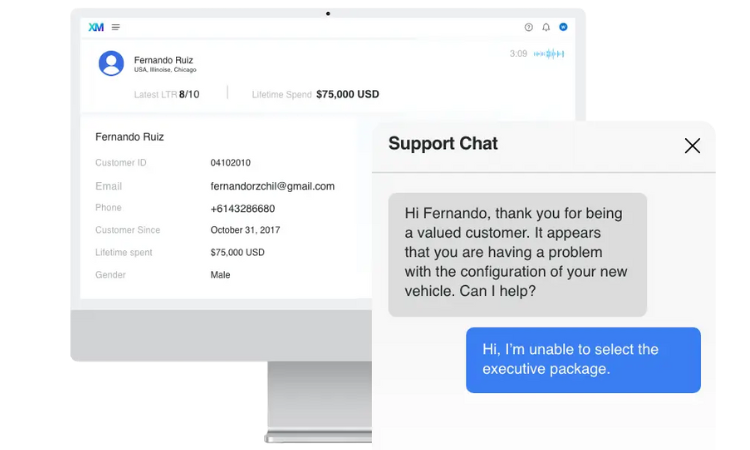 Qualtrics Features:
Deliver the right experiences at the right time through its online surveys
Identify what's stopping clientele from reaching their desired destination
Use advanced digital analytics, and behavioral heuristics to develop a deeper understanding
Deliver better customer experiences across every digital touchpoint
Improve the cross-channel experience with all feedback data in one place
Pricing: You can contact the Qualtrics support team to get custom pricing plans based on your requirements.
Qualtrics has become too complex with a lengthy onboarding process, even for certain enterprises. Why not check out some of the top Qualtrics competitors that you can switch to for quicker implementation?
#4. InMoment
Being one of the leaders in customer experience, InMoment enables enterprises to drive high value, make better business decisions, and enhance relationships with both customers and employees. The platform is powered by business intelligence features to deliver more actionable insights and a comprehensive solution for the clients.
With its AI-powered survey approach, users can eliminate data silos and leverage intelligence to prioritize action for unhappy customers and take informed decisions.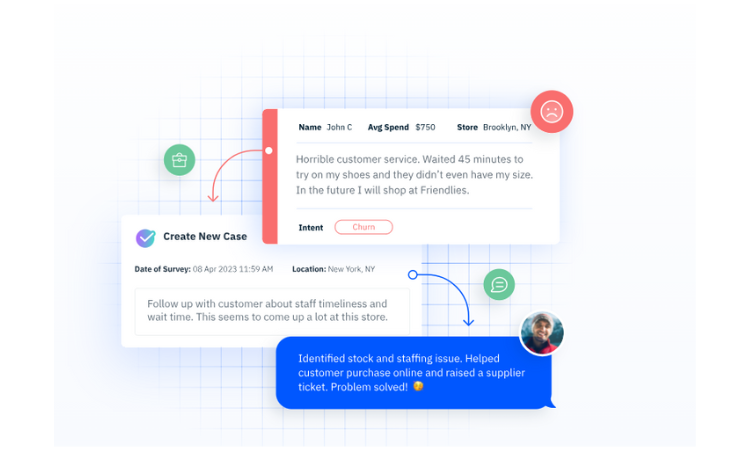 InMoment Features
Integrate the voice of the customer and their journey with you
Integrate CX technology to reduce customer churn, acquire new customers, and grow relationships
An integrated AI-powered approach to eliminating data silos
Ensuring service-lapse recovery – fixing problems so they don't recur
Driving consistency across the organization by sharing results in multiple languages
Pricing: You need to book a demo with the InMoment team to learn pricing for their enterprise package.
#5. SurveyMonkey Enterprises
SurveyMonkey Enterprise is an AI-powered customer feedback survey platform that seamlessly integrates with 150+ applications, providing customer satisfaction, better insights, and an intuitive survey experience for users.
The platform enables users to make data-driven business decisions from real-time reports using its business intelligence features. Thanks to its insightful dashboard segment, and an excellent suite of advanced features, the platform is one of the best GetFeedback alternatives.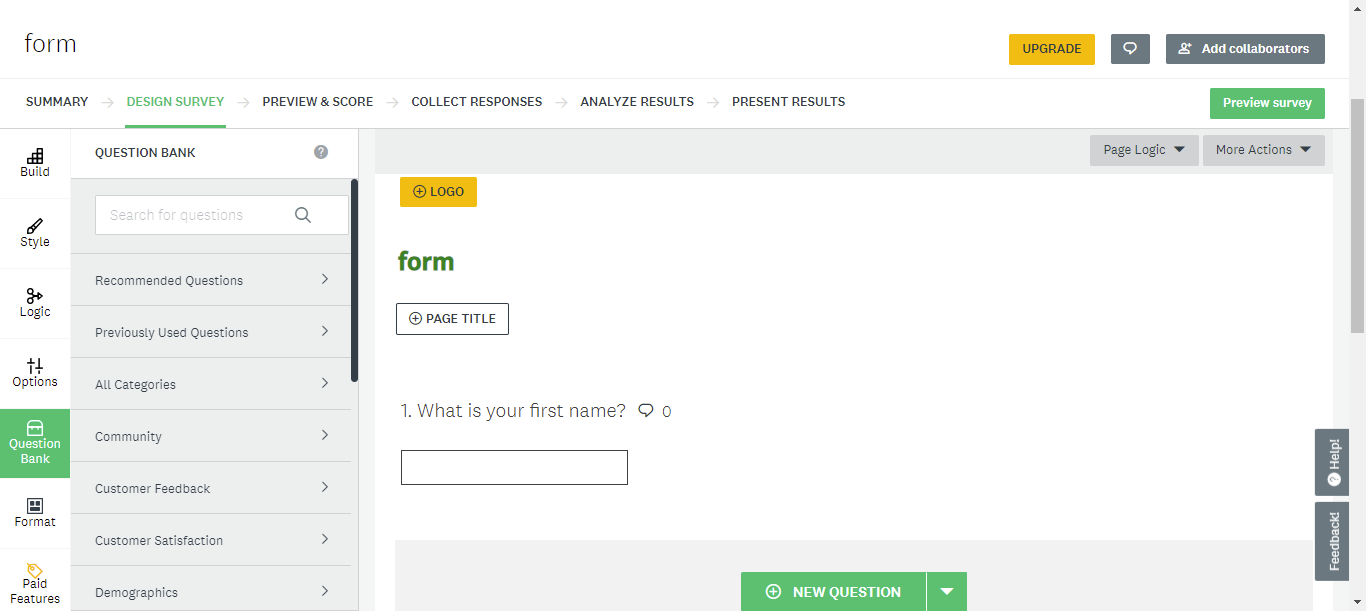 SurveyMonkey Enterprises Feature
Full understanding of user, and continue to sharpen ideal customer profiles
Automatically respond to the in-app user feedback with a relevant response
Uncover marketing insights using AI
Secure sensitive data collection with SSO, data encryption, and governance capabilities
Conduct market research to receive insightful analytical reports
Pricing: To unlock powerful admin tools and collaboration features of SurveyMonkey Enterprise, you can contact their sales team.
SurveyMonkey does not offer the advanced level of focus on CX metrics or customer journeys that many enterprises might look for. Check out the SurveyMonkey competitors that can meet your requirements.
#6. AskNicely
Another top player for GetFeedback alternatives is AskNicely. It aims to measure customer satisfaction and enables marketing and branding campaigns through its response collection tools, personalized surveys, and forms.
The platform enables users to configure feedback forms, send surveys, and study customers' perceptions through actionable data.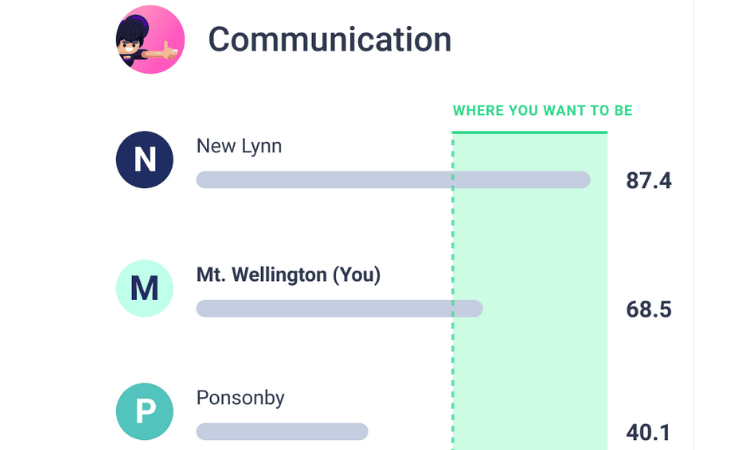 AskNicely Features
Collect feedback, measure NPS, and leverage workflows
Share feedback across the organization in real-time
Share out-of-the-box reports to the CEO
Integrate feedback into the CRM and business intelligence tools
Close the loop effortlessly
Pricing: To get tailored options for enterprises, you can get in touch with the sales team or book a demo.
#7. Forsta
When it comes to top customer satisfaction and experience survey tools for enterprises, Forsta is a top GetFeedback alternative. Its interactive dashboards analyze data and text analytics, giving you more insights from the survey responses and a customer's eye view of every contact.
The platform delivers an upgradable end-to-end feature that enables users to gather and analyze data anywhere, create and integrate seamlessly mobile apps, and act on data collected from any audience, be it from small teams to global ones.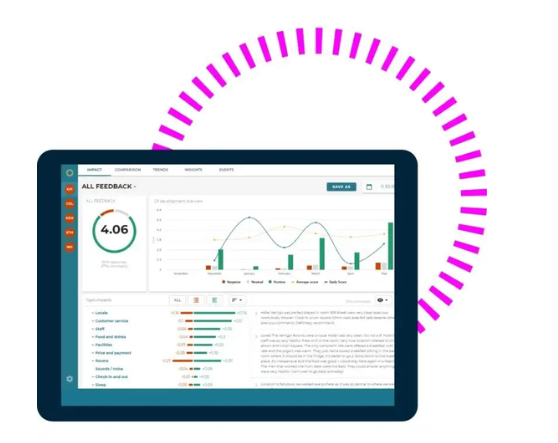 Forsta Features
Enables users to collect all data in one place
Use advanced analytics to deep dive into your enterprise feedback management software
Use customizable alerts and template emails to get the right insights
Track your performance by a line of business, product, region, or any other category.
Pricing: You need to contact the sales team.
#8.Cisco Webex Experience Management (formerly CloudCherry)
Cisco Webex is a customer experience management platform that helps its users understand Voice of Customers through omnichannel customer feedback from across the customer's journey.
It aims to empower every single person within the enterprise by providing them with data-driven insights and real-time actionability as a key driver of customer satisfaction, growth, and profitability.

Cisco Webex Experience Management Features
Make informed decisions through data capture feedback on CX
Empower your contact center agents with full visibility of CX journey experiences
Understand the full customer journey by breaking down data silos
Close the feedback loop with real-time alerts to notify frontline employees and stakeholders
Pricing: You need to contact the sales team.
Why are People Switching to GetFeedback Alternatives?
GetFeedback is a powerful customer experience (CX) software that helps businesses understand unhappy customers and their sentiments; however, it still lacks certain advanced features for enterprises.
There are numerous factors that are driving the shift towards GetFeedback competitors, with enterprises seeking comprehensive solutions that align more closely with their needs. Here are some of the reasons to look for GetFeedback alternatives.
Feature Set: Users might require specific features or functionalities that GetFeedback does not offer, or they may find that competing platforms provide more advanced capabilities.

Integration: Integration capabilities with other software and tools are crucial for many users. If an alternative provides better integrations with their existing tech stack, they may choose to switch.

User Experience: User-friendliness and ease of use are vital considerations. If an alternative offers a more intuitive interface or a better overall user experience, users may switch for this reason.

Pricing: GetFeedback's pricing model may not align with a user's budget or pricing expectations. They might find alternatives that offer similar features at a more competitive price point.
Conclusion
By now, you should have a better understanding of all the options that GetFeedback alternatives can offer. Each of these highlighted alternatives offers its own strengths, addressing specific enterprise requirements, ensuring smooth integration, and producing meaningful outcomes.
As we conclude this in-depth piece, we hope this article has provided you with ample information to select the GetFeedback alternative that best aligns with the specific requirements of your business.
If you're still unsure which platform to choose, you can take Zonka Feedback's 7-day free trial. Take advantage of this cost-effective platform, gather user feedback, and get started today!