Ensuring a great healthcare service is essential for the success of any healthcare business be it a hospital, a clinic, or a healthcare center. For doing this, it is necessary to get insights into patients' well being as well as their experiences with your healthcare system. But getting all insights is not possible in casual conversations and lab tests. Here comes the need for healthcare surveys!
Effective healthcare surveys are a great way to bridge the gap between healthcare service providers and patients and reveal valuable information about several aspects of patients' health and experience with the healthcare facility. And to create effective surveys, it is crucial to use the right questions.
In this article, we will explore top 30 patient feedback and healthcare assessment questions that you can use in your health surveys to fetch meaningful patient insights. We will also explore where you can leverage these surveys and some important aspects to consider while creating these surveys. Let's start with exploring what healthcare survey questions are.
TL;DR
Health survey questions enable you to collect data and information from the patients regarding their health conditions and feedback about their experiences with your hospital, clinic, or healthcare center.

You can include a variety of questions in your healthcare surveys like basic healthcare questions, health assessment questions, physical health survey questions, medical survey questions, and patient feedback questions about several aspects like health and hygiene survey questions, facilities feedback questions, doctors feedback questions, and questions to know experiences with care from medical staff.

To create effective health surveys, you should consider some crucial aspects - your survey objectives, your target audience, privacy, duration of the survey, and some ethical considerations.

You can use health survey questions for remote health monitoring and to measure and improve patient experience.

You can send health surveys at various touchpoints like post-consultation, post-discharge, after patients booked an appointment, and more.

You should use a good patient feedback survey tool to create effective surveys. Zonka Feedback is one of the best healthcare survey tools empowered with features like 30+ survey questions type and ready-to-use templates, skip logic & question branching to help you create effective surveys. It also offers a free trial for 7 days.
Assess your Patients' Health and Collect Patient Feedback
With Healthcare Surveys, understand what patients need and expect and learn ways to satisfy them.
What are the Health Survey Questions?
Health survey questions or a healthcare survey questionnaire comprise a group of questions that enables you to collect patient information about their health conditions and their feedback about their experience with the overall care and treatment provided to them.
These health questionnaires help you measure patients' satisfaction and help your doctors and medical staff understand better about the patients' health conditions. Choosing the right health survey questions enables you to leverage the power of health surveys.
Let's review some sample healthcare surveys to understand how these surveys look like.
Sample Healthcare Survey Questionnaires
Here are some samples healthcare assessment surveys to explore. You can use these survey templates straightaway as health surveys and also edit or modify them as per you survey needs. These healthcare survey example questionnaires can be edited, modified, and customized as per your survey needs.
30 Best Healthcare Survey Questions you should ask
There are several types of questions that you can include in your health surveys. We are sharing some of the best healthcare survey questions here that will help you find meaningful patient insights about their well being as well as their opinions about your healthcare services.
You don't need to use all the questions in your survey, your can choose the best healthcare survey questions that suit your survey requirements. We have divided these questions into various categories to make it easier for you to choose the right ones as per your survey needs.
Basic Healthcare Assessment Questions
Basic health assessment questions help you to know the basic health conditions of your patients and their mindset about their health. The health assessment survey with these healthcare survey questions let you know the health status of your patients and how much they are aware and conscious about their health. Here are some healthcare assessment example questions:
1. How healthy do you consider yourself on a scale of 1 to 10?
2. How often do you get a health checkup?
Once in 3 months

Once in 6 months

Once a year

Only when needed

Never get it done

Other
3. What do you say about your overall health?
Having Good Physical Health

Moderately physically impaired

Severely physically impaired

Totally physically impaired

General Patient Feedback Questions
General Patient Feedback Questions help you collect patients' opinions about their experiences with general aspects of the hospital or healthcare center like appointment booking, pharmacy staff conduct, hygiene and cleanliness of the hospital premises and more.
4. How easy was it to schedule an appointment at our facility?
5. How long did you wait beyond your appointment time to be seen by a provider?
6. How well do you feel the provider listened to your health concerns?
7. Please rate how thorough you feel the provider's instructions for care were
8. How well do you feel the provider answered your questions?
9. How was our pharmacy staff?
10. How satisfied are you with the cleanliness of our facility?
11. How would you rate the overall care you received from your provider?
12. How likely are you to recommend our facility to your friends and family?

Health Questionnaire with Core Healthcare Assessment Questions
These are the questions that primarily focus on assessing the health conditions and the overall well being of the patients. The response data so collected from these general health assessment questionnaire helps doctors to give the right treatment and medical care that the patients should receive.
13. Do you have any chronic diseases?

14. Do you have any hereditary conditions/diseases?

High blood pressure

Diabetes

Hemophilia

Thalassemia

Huntington

Other (Please specify)
15. Are you habitual to drugs and alcohol?

Yes to both

Only to drugs

Only to alcohol

I am not habituated to either
16. Over the past 2 weeks, how often have you felt nervous, anxious, or on edge?

Not all

Several days

More days than not

Nearly every day
17. Over the past 2 weeks, how often have you felt down, depressed, or hopeless?

Not all

Several days

More days than not

Nearly every day
18. Over the past 2 weeks, how often have you felt little interest or pleasure in doing things?

Not all

Several days

More days than not

Nearly every day
19. How would you describe the condition of your mouth and teeth, including false teeth or dentures?

Excellent

Good

Average

Poor
20. How often do you have trouble taking medicines the way you have been told to take them?

I do not have to take medicine

I always take them as prescribed

Sometimes I take them as prescribed

I seldom take them as prescribed
21. On how many of the last 7 days did you engage in moderate to strenuous exercise (like a brisk walk)?

0 Day

1 Day

2 Days

3 Days

4 Days

5 Days

6 Days

7 Days
22. In general, would you say your health is:

Questionnaire on Health Care Facilities and Hospital Feedback
Hospital feedback questions ask the patients to share feedback about their experiences with your hospital and the healthcare facilities and services the hospital provides. The responses to these questions also help you track your hospital's performance as compared to other hospitals in the industry.
23. How would you rate the diagnosis process that you experienced?
Excellent

Above average

Average

Below average

Very poor
24. What is the difference in the care provided by the hospitals available in your area?
25. Overall, how do you rate us as compared to other local hospitals in your area?
Excellent

Above average

Average

Below average

Very poor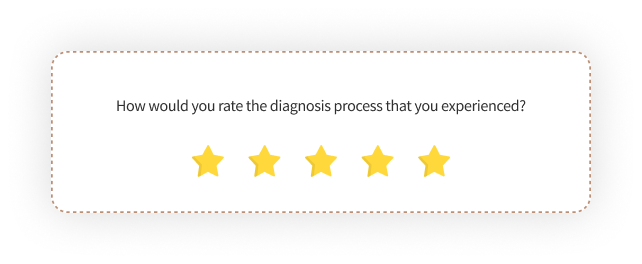 Primary Care Provider Feedback Question
Your doctors and physicians are the primary health care providers in your hospital or clinic, and thus impacts patient experience the most. This patient feedback question help you assess how well your doctors or physicians are able to diagnose your patients' health problems and prescribe medication and treatment accordingly.
26. Is your primary health care physician able to conduct a swift diagnosis and prescribe medication?

Secondary Care Provider Feedback Questions
Apart from the doctors, there are some secondly medical staff and services that also play a great impact on the overall patient experience. These questions help you gather patient feedback about those services.
27. Did the pharmacy staff collect the right deductible from you for your medicines?
28. How would you rate our ambulance service?
Excellent

Good

Average

Poor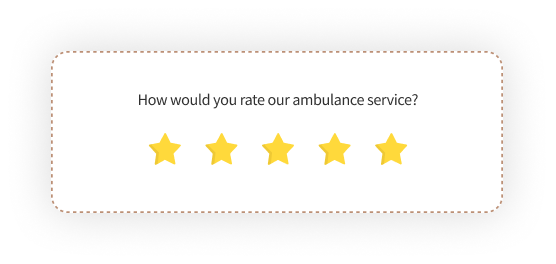 Questions about Health Insurance
Healthcare insurance is an important part when it comes to healthcare industry. Questions about healthcare insurance help you know whether your patients are insured with a good health insurance package or not. Here are some questions about the health insurance of the patients.
29. Please state your level of agreement to the statement: Health insurance is affordable to you.
30. Has any of your family members been dropped out of coverage after a diagnosis of any illness?
Let's explore some important aspects to consider while designing a healthcare and patient satisfaction survey questionnaire.
What to Consider While Designing a Health Survey Questionnaire?
While designing a health survey and patient feedback questionnaire, there are some crucial factors that are responsible for driving a higher number of responses. Let's explore the aspects you must consider when designing a healthcare survey questionnaire.
1. Survey Goals - Before designing your questionnaire or choosing survey questions, always keep your survey goals in your mind. Determine what answers you intend to derive from your patients. A well-defined survey goal leads to better planning and good planning will help you to position your survey in a better way to collect valuable and actionable patient feedback.
2. Respondents - Identifying your target audience will not help you to streamline your health survey but also provides you with a great understanding of choosing valuable questions. Always keep the respondent's place, age, maturity and cognition in mind while designing health questionnaires for your patients.
For example, a thorough study about your targeted patients (respondents), their cultural or educational background would help you to create accurate questions that are easy to understand and respond to. Say if the question is difficult, there you can provide them with memory aids in the form of options, radio buttons, or checkboxes to help you patients provide accurate answers.
3. Duration - Besides survey questions, survey duration is also a game-changer, when it comes to driving quality responses. Usually, respondents are likely to abandon the long and time-consuming health questionnaires. So, always keep your patient feedback survey form or health survey form simple and crisp.
4. Privacy and Anonymity - Ensuring respondents' privacy and anonymity is paramount when designing healthcare survey questionnaires. Patients may be more inclined to provide honest and accurate feedback if they are confident that their responses will be kept confidential and anonymous. This assurance fosters trust between the survey administrator and the participants.
5. Ethical Considerations - Adhere to ethical guidelines, including informed consent and institutional review board (IRB) approval if required, especially if your survey involves sensitive or vulnerable populations and ensure the patient health data collected remains confidential.
6. Open-ended Question - Include an open-ended question or option for respondents to provide additional comments or suggestions at the end of the survey. This will let them better explain their situation and experience. This rich data will help you make better decisions for your healthcare business.
Let's explore some instances where you can ask your patients these healthcare assessment questions.
Where can you ask Health Survey Questions?
Here are some purposes, use cases, and touchpoints where you can conduct healthcare assessment surveys and use healthcare survey questions.
Remote Health Monitoring - You can share your health survey questionnaire to the patients when you are doing remote health monitoring at patients' homes or in some remote areas like villages.

To Improve Patient Satisfaction - Healthcare and patient feedback surveys improve healthcare by helping you make patient experiences better. When you feel there is a need to gauge and improve satisfaction of your patients, you can ask them healthcare feedback questions. This will help you know their concerns with your patient care facilities and you will be able to take the right action on them to improve patient experience.
Her are some touchpoints to share health questionnaires.
Post Discharge - You can share feedback and healthcare assessment surveys with your inpatients post discharge to gather data about their overall experience of their treatment and stay at your hospital.

Post Consultation - You can share your survey with your outpatients just after they have interacted with or taken any consultation or treatment from the doctor to collect feedback about the doctors and their diagnosis and overall treatment.

Post Appointment Booking - You can also share online surveys with your patients on your website when they book an appointment online to gauge their appointment booking experience with your website or app.
Transform your Health Surveys with Zonka Feedback
Zonka Feedback provides you with the automated feedback system that not only captures inpatient & outpatient feedback on iPad, Android Tablets, through the website, email, and SMS but also enables you to analyze, manage and close the feedback loop in a jiffy.
Apart from capturing, analyzing, and managing patient feedback, there are other various exciting features that can make Zonka Feedback your ultimate feedback partner:
30+ Types of Survey Questions - Zonka Feedback offers you to choose from over 30+ survey questions to create healthcare assessment surveys. Choose Zonka Feedback to capture the CAST of patients, Net Promoter Score, Customer Effort Score, comments and much more.

Pre-built Survey Templates - Zonka Feedback has a lot of expert Patient Feedback Form & healthcare survey templatesthat can be used right out-of-the-box or can be customized to your needs.

White-Labeled Surveys - Zonka Feedback offers you complete control over the look and feel of your survey form. Here you get everything to white-label your healthcare assessment surveys and represent your brand while patients give you feedback and fill out surveys.

Skip Logic & Branching-Skip Logic & Branching feature enables you to make your health surveys dynamic in nature i.e. they change as per respondents' previous responses to provide customized survey experiences to the respondents. With this feature, you can skip or hide a few screens of the survey based on respondents' answers.

For example, If the patients had a bad experience, they could continue to the next screen where you ask them questions about how you can improve. Whereas for the patients who had a good experience you can skip the screen or take them a different screen thanking them to appreciate your efforts and asking them what they liked the most.

Real-Time Feedback Report & Analysis - With Zonka Feedback's real-time reporting & analysis feature, you can monitor every feedback and get an in-depth analysis of all responses. Take action on negative patient feedback to swiftly resolve issues and improve the patient experiences.

Close Patient Feedback Loop - Zonka Feedback enables you to track real-time patients' responses and immediately notify you about negative patient feedback. These real time feedback alerts help you to quickly act on the negative feedback and address the concerns to improve the patient experiences.
A well-structured patient feedback software like Zonka Feedback packed with the above features cannot only contribute to enhancing the level of the care and treatment but also helps you to ensure patient retention and attract new patients.
You can try Zonka Feedback for free for 7 days and see how it works for your healthcare business.