"There are hundreds of languages around the world, but a smile speaks them all." Although this quote is for a real person smiling, however, in today's scenario, it fits well when we talk about using smileys and emojis digitally for various purposes, including business perspectives.
Build and send a survey today 🔥
Choose from over 30+ question types, add your own themes and create amazing surveys that people love answering.
Researches suggest that around 46% of young adults believe that it's acceptable to use smileys in emails and other communications. When we talk about sending surveys and collecting feedback, Smiley Face Surveys are a type of Customer Satisfaction Surveys that is ideal to capture customers' true expressions and feelings. Let's know more about Smiley Face Surveys.
What is a Smiley Face Survey?
Smiley Face Surveys are a type of Customer Feedback Surveys in which emoji faces are provided to the customers as answer options to share their feedback. The customers can choose among the available options ranging from smiling or happy faces to sad and angry faces to express their feedback.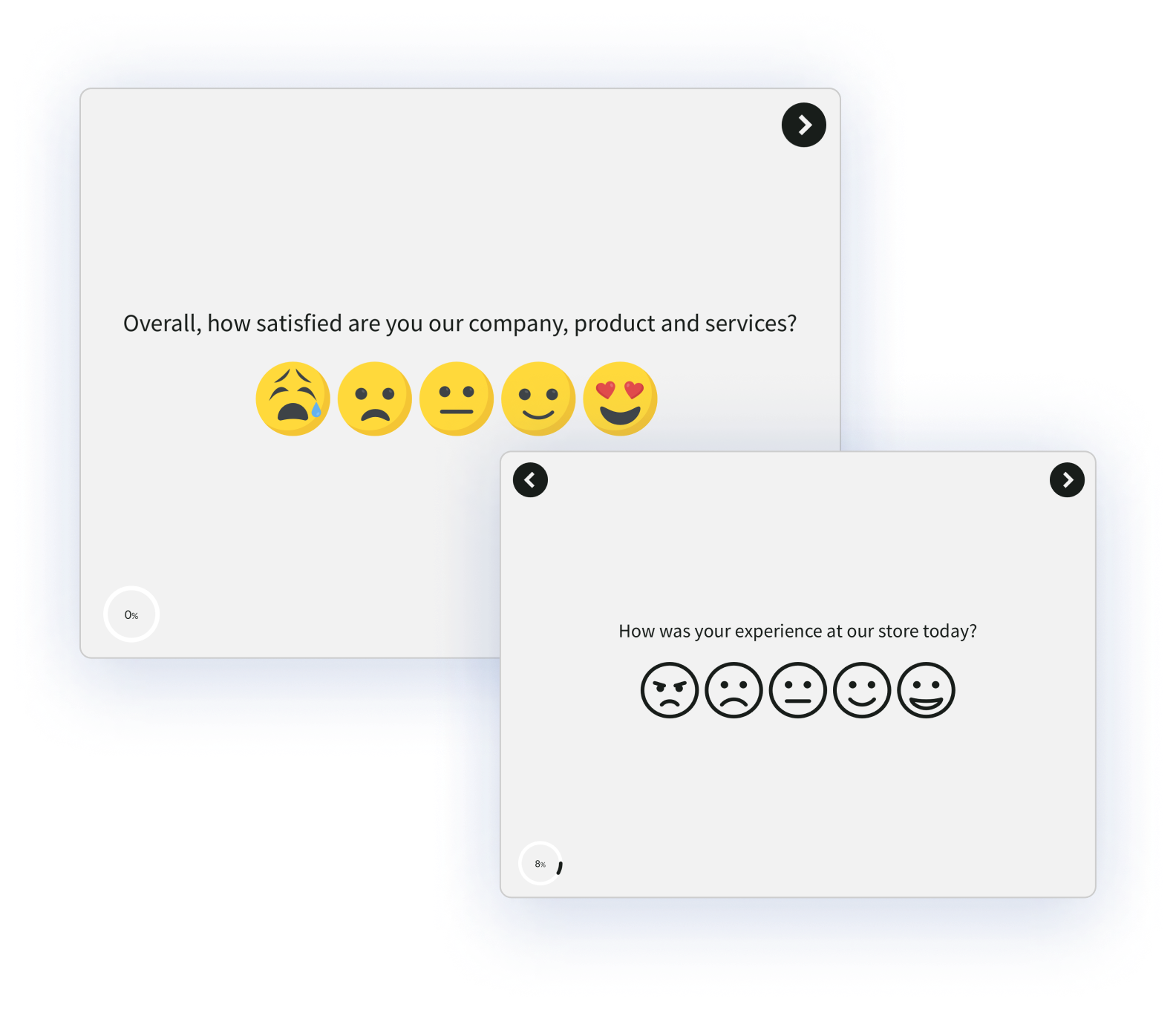 Smiley faces are universally accepted. Studies suggest that around 92% of people on online channels use emojis daily. Emojis serve as an efficient method for conveying emotions and ideas quickly and easily, as you can simply just copy and paste them in your surveys using a free tool. Using Smiley face options in your surveys helps you capture customer insights in a quick and visual way.
Types of Smiley Face Survey Questions
There can be multiple types of smiley face survey questions that you can create with Zonka Feedback.
Design of your Smiley Face Survey
While designing your survey, you can choose from two different looks of your Smiley Face Survey Question. You can make it emoji-style or choose it to be outlined. Zonka feedback offers pre-built Customer satisfaction survey templates with smiley faces.
Scale of your Smiley Face Survey Question
Depending on what you're measuring, you can choose your Smiley Face Survey Question to be having 2-5 scale of response options, i.e., to show just a happy and unhappy smiley face on a 2-scale survey, and to show a range of emotions in the 5-scale survey options ranging from unhappy to neutral to very happy.
Benefits of Smiley Face Survey Questions
Here is how using Smiley Surveys is beneficial for your business.

1. Quick Way of Collecting Feedback
Because Smiley Face Surveys have more to see and less to read, they are a quick and easy way for both the surveyors to collect feedback and the respondents to share feedback.
2. Easy to Understand
Smiley Face Surveys are globally accepted. As smileys are self-explanatory visuals and multilingual in nature, they are easily understood by anybody. Even kids can understand these surveys and respond to them.
3. More Accurate and Honest Feedback
Smiley Face Surveys derive more accurate data with honest feedback from the customers. People are sometimes reluctant to give negative feedback in words, but they click on smileys without much hesitation, thus sharing their real feelings and more accurate feedback.
4. Higher Response Rate
Taking a Smiley Face Survey is an enjoyable experience for the respondents. Moreover, being a quick way, it doesn't consume much of the precious time of the customers. This leads to a higher response rate as compared to other methods of collecting responses.
5. Increase in Customer Satisfaction and Loyalty
When you receive more feedback with higher accuracy, you are in a better position to work on it and improve customer experience. When you take the right actions to improve the experience, it enhances customer satisfaction. Also, it creates more loyalty among your customers as their feedback is getting heard and worked upon. For example, after buying a new mountain bike, a customer can give their feedback after using it & from the given feedback, the seller company can take more necessary actions to increase customer satisfaction.
When to use Smiley Face Survey Questions?
At Fast Moving Locations
In-Signature Surveys
Popup Surveys
With Young Customers
When Language is a Barrier
Smiley Face Surveys are best used when you want to capture quick feedback from your customers. You can use Smiley Surveys when:
1. At Fast Moving Locations
Smiley Face Surveys are perfect for fast locations like airports, banks, etc. where people cannot afford to spend much time filling out surveys to give detailed feedback. In such locations, a quick method like Smiley Face Surveys helps capture feedback within seconds.
2. In-Signature Surveys
Signature Survey is itself a quick way to gather customer feedback while carrying on regular activities in an email. In such a scenario, the survey embedded as an email signature should also be short and easy-going. It should be something that attracts the customers to participate.
Smiley face surveys fulfill all these criteria and are best to use in Email Signature Surveys so that your customers quickly click on the emojis displayed in the embedded survey and are done with sharing feedback.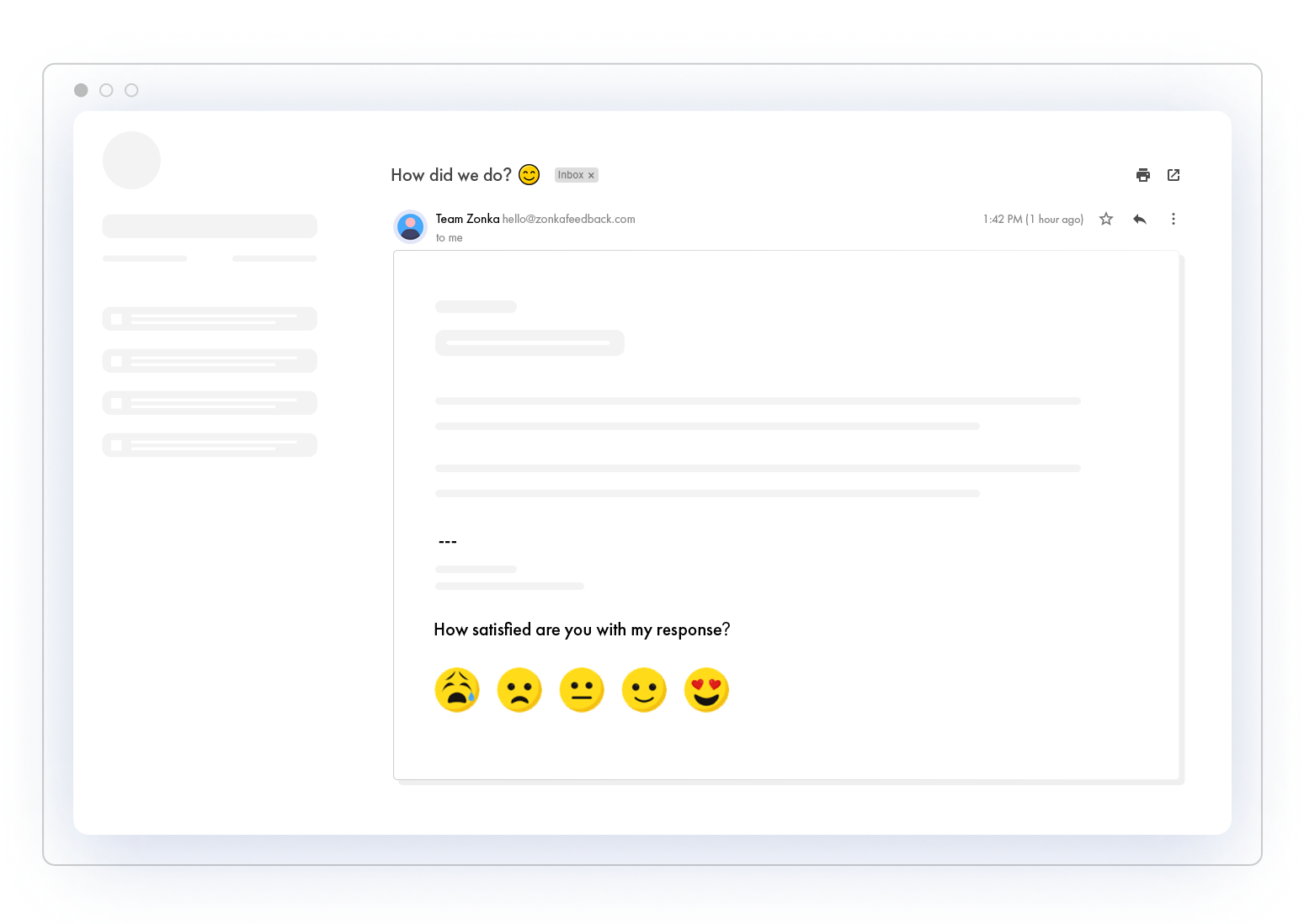 3. Popup Surveys
When you are using popups to present your feedback surveys on your website, smiley faces surveys are an excellent option to use. Sometimes, a popup can appear as a disturbing element for your website visitors, but when it shows smiley faces and has less content to read, it can evoke the visitors to share their thoughts and feelings quickly through the survey.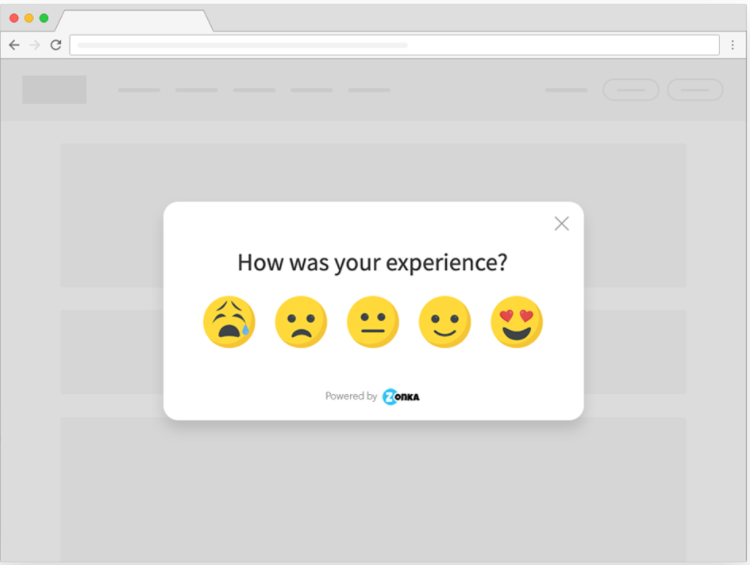 4. With Young Customers
Young minds are primarily attracted to visual content than readable content. So when your target customers are young people or millennials, it is an excellent idea to use Smiley Face Surveys to gather feedback. When creating feedback surveys for educational institutes, schools, colleges, or any institution with a young audience, always prefer Smiley Face Surveys over others.
5. When Language is a Barrier
While you use multilingual surveys for customers of diverse backgrounds, adding smiley face surveys is also helpful to capture feedback. As everybody can understand the facial expressions depicted in the smileys, these surveys are multilingual in nature and anybody of any language can respond to them easily.
For instance, if you are running a business at a popular tourist destination where people from various states and countries visit, you can easily collect feedback with smiley face surveys from your customers of any language or background.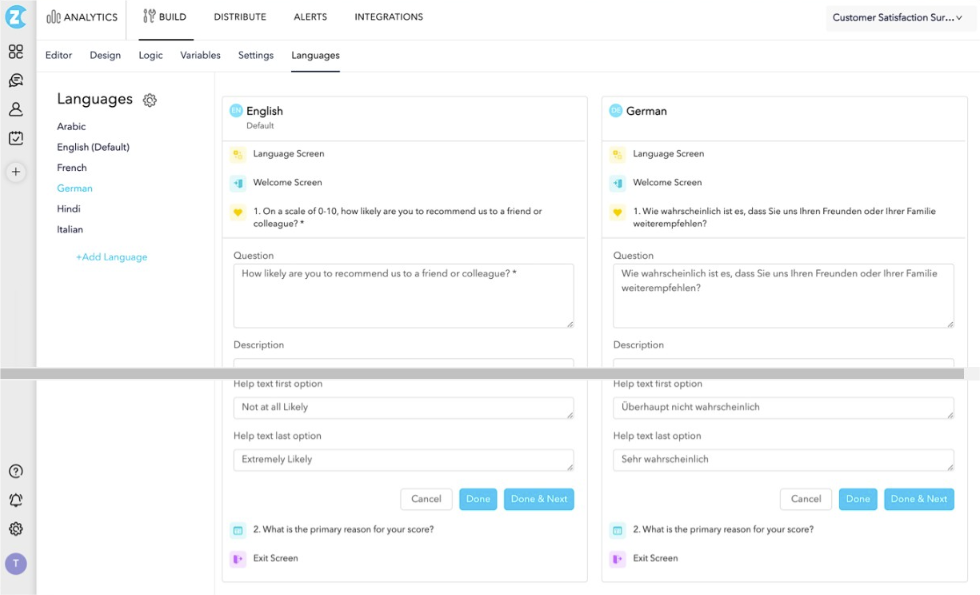 Use Cases of Smiley Surveys for Multiple Channels
Here are some use cases for Smiley Face Surveys for various channels:
1. Website Surveys
Website surveys enable you to measure product feedback across the website to measure customer satisfaction, and user experience. There are multiple types of website feedback surveys you can conduct, including:
- User Experience Surveys
- Cart Abandonment Surveys
- Post Transaction Surveys
- NPS Surveys
- Lead Capture Surveys
- Web Feedback Forms
Measuring Website Experience helps to know how satisfied are your website visitors with the information on your website, whether they found what they were looking for, and how was the waiting time of opening new web pages. Using Smiley Surveys is an easy and quick way to gather this feedback from the visitors.
2. Email Surveys
Customer Service is an important aspect of the business that affects Customer Satisfaction. With Smiley Surveys, your customers can express their feelings and let you know whether and how much they liked your services. You can send smiley email surveys to your customers through emails in two ways.
Signature Email Surveys - Smiley Surveys are perfect to be included in the signature of your emails as Signature Email Surveys. You can send these surveys with email communication during service interactions with your customers and get feedback at every touchpoint of the survey.
Embedded Email Surveys - You can also send Embedded Email Surveys to your customers where you can embed these Smiley Surveys in the email body asking customers for service feedback.
3. On-Premises or Offline Surveys
Offline smiley survey app from Zonka Feedback allows you to take feedback on iPads and tablets without the need for the internet. All the feedback is stored in the app for weeks and syncs automatically once the internet is connected.
Offline surveys cut down the internet reliability for feedback collection, implying that you can capture all the data in real-time by setting up your tablet as a feedback kiosk or handing them over to the customers.
4. SMS Surveys
SMS Surveys are among the most effective and convenient ways of distributing surveys to your customers and collecting feedback without an internet connection. SMS surveys provide a high response rate and provide more actionable data from the customers.
Zonka Feedback's sms survey tool enables you to view logs of survey deliveries and the date & time when survey was answered or opened to track your survey report in real-time.
5. Product Surveys
For developing a customer-centric product, targeted product feedback can play a major role in providing valuable insight; the insight that can be used in shaping the roadmap of product with a customer-centric approach. This feedback ensures that product-driven companies have a clear sight of what they must build to maximize their user satisfaction. Now there are multiple ways of conducting product surveys, including:
- In-Product Surveys
By positioning surveys at specific parts of the product in the form of a feedback button, you can take targeted feedback. This makes the surveys a part of your product experience and encourages the customers to participate.
- In-Website Surveys
These surveys provide an opportunity to understand the website user experience. Product-driven businesses can benefit from in-website smiley surveys due to their high engagement percentage and based on the collected data, businesses can improve the website experience. These surveys can be conducted in the form of pop-ups, exit surveys, embed & links, and slide outs.
- In-App Surveys
In–app feedback surveys are another way of product feedback collection. It enables you to get detailed feedback from your mobile app users and make targeted improvements to their in-app experience. Apart from these surveys, there are other effective ways including email, SMS, and integrations.
Industry-Specific Use Case of Smiley Face Surveys
Customer Satisfaction is a common denominator across industries. Efficient feedback collection not only helps businesses in making improvements to their product or service but also ensures that the customers feel seen.
Here are some of the industry-specific use cases of smiley face surveys:
1. Restaurants
Since smiley surveys are more engaging, these systems can be set up at all restaurant locations. Zonka Feedback enables you to communicate with the customers and gather their feedback with a restaurant dine-in survey. Since the platform offers multi-channel and multilingual feedback collection, restaurants can use Kiosks or Tablets for in-restaurant feedback or send SMS or email surveys post delivery.
Smiley face surveys offer a remarkable way to analyze the experience of each customer by getting their feedback. It can be done for food, service, ambiance, and more. Since smiley face surveys are easy-to-use and engaging, it allows the customers to give their feedback easily.
2. Hospitals & Healthcare
For the healthcare industry, factors like understanding the needs of patients, measuring their satisfaction, and refining the quality of care can lead to improved patient experience. In order to measure all these indicators, a simple smiley survey can do wonders.
Whether your aim is to conduct inpatient, outpatient, hospital, or COVID surveys, you can reach and measure patient satisfaction at every touchpoint. There are various kinds of surveys that a healthcare provider may conduct in order to understand the needs of the patients, measure their satisfaction, refine the quality of patient care and improve the patient experience.
Some of the common healthcare industry surveys include:
Inpatient Satisfaction Surveys
Outpatient Satisfaction Surveys
Health Risk Assessment Surveys
Coronavirus COVID 19 Surveys
Patient Registration Forms
With multi-channel patient feedback software, you can reach your patients and collect their feedback on every touchpoint via various channels. The platform also allows you to track survey responses and feedback in real time.
3. Hotels & Resorts
Capture the feedback of guests on premises with engaging smiley surveys through email, SMS, and mobile/tablet app. Hotels and resorts can utilize surveys to get guest feedback at multiple touchpoints like check-in, check-out, in-hotel restaurants, spas, gyms, and banquets.
This can help the establishments in improving Hotel guest satisfaction and experience. Zonka Feedback's survey collection not only helps in measuring the hotel guest experience but also provides you insight on staff behavior on various parameters.
4. Retail
For supermarkets and retail stores, surveys can open doors to measure the shopper's experience, perform a staff behavior analysis, and perform comparative reports. Zonka Feedback survey tool can be used for the following types of retail outlets:

- Retail stores and Factory Outlets
Deploy feedback collection using tablets across the premises of the store and collect shoppers' feedback with or without internet.

- Departmental Stores
Departmental stores can capture the buyer sentiments arising out of their frequent store visits. The data can be utilized to make the required improvements in the store.

- eCommerce Websites
eCommerce websites can conduct web surveys through emails, SMS, and QR Codes. With Zonka Feedback integration, you can collect the feedback from within your eCommerce app or website. Using surveys like Net Promoter Score, Customer Effort Score, and Rating Score, you can measure customer loyalty, satisfaction, and their likeliness to recommend your brand.
5. Banks & Financial Sector
Financial institutions like banks & insurance companies can especially take advantage of smiley surveys as these surveys will open doors to understanding the customer's experience and opinion about the services and overall efficiency of the operations in real-time.
Financial institutions can use the feedback mechanism of Zonka feedback to enable the staff and other key team members to collect instant feedback alerts via SMS and Emails, facilitating faster problem solving and boosting customer satisfaction.
Zonka Feedback survey forms effectively provide Customer feedback Analysis, Staff Analysis, Comparative Reports, and Summary Digests in your Inbox. Financial Institutions can set up customer feedback surveys through multiple channels like Kiosk setup, email invites, SMS, and web surveys.
6. Airports
Airports can utilize surveys to get feedback from airline passengers by taking their feedback at various touch points at the airport and during & after their flight. Using feedback software, you can understand the customer experience with airport staff, amenities, and overall perception about their experience with the airlines.
That way, you can recognize key trends, track any repetitive issues, and enable faster issues resolution. Implementing survey software at the airport not only allows you to measure passenger satisfaction but also set up a system to cater to passenger complaints with instant alerts, and take feedback at multiple touchpoints like boarding gates, check-in counters, security & immigration, lounge area, retail stores, washroom experience, and post-flight experience via email or SMS.
7. Events & Exhibitions
Zonka Feedback survey management tool enables trade shows, events, and exhibitions to capture leads with its Event and Lead Capture feedback form. Since the app works offline, you can get the lead data without the need for the internet and collect data using iPads, Kiosks, and Android Tablets.
An event survey enables you to measure the satisfaction of the attendees, and provide valuable insights about making the event more audience-centric.
8. Education & Academics
Education institutions like schools, universities and colleges can create engaging surveys and take feedback from students, teachers, and even parents to get real-time actionable feedback. These institutions can capture feedback to measure the quality & effectiveness of the education/lectures, services & food in the cafeteria, satisfaction levels from courses, efficiency of teachers, and much more.
Since picture-based surveys are more attractive, it will automatically capture the interest of students, teachers, and parents who can give their feedback through web surveys and kiosks.
9. Automobile Sector
For the automobile sector, surveys are a great way to understand the needs of each customer and collect their feedback on your product, staff, and service at your automobile service centers and showrooms in real-time.
Custom smiley surveys are not only engaging but a time-saver which promote the customers to give their feedback. There are multiple touchpoints where the automobile sector can utilize survey software and evaluate the customer experience. Some of them include:

- At Showroom Feedback
Take feedback from customers at automobile showrooms about key concern areas like ambience, product display, staff behavior, and service.

- Post Test Drive Feedback
Take feedback on the product's performance, staff's helpfulness, and post-drive services.

- Service Centre Feedback
Take feedback post delivery or post service of cars and electric trikes to measure customer satisfaction with the service centers and effectively manage & address the complaints.

- Lead Capture at Automobile Shows
Capture leads during events and gather crucial customer information like name, email address, mobile number, interests, and more with kiosk setup and online surveys.

- Staff Performance Feedback
Surveys with questions related to staff's performance can help in analyzing the services provided by staff to make the required improvements.
10. Spas & Salons
Wellness industries like spas and salons can also incorporate smiley surveys in their day-to-day operations to to collect customer feedback and measure their satisfaction level with your business.
Zonka Feedback's customer feedback management system improves team collaborations, provide real-time feedbacks, and automates workflows by auto-tagging the responses with labels and send auto-alerts to the response managers at the salon to take quick corrective actions to close the feedback loop.
Turning Smiley Face Surveys into Valuable Business Insights
Improving customer experience and retaining their interest requires in-depth analysis of their experience with your business. Zonka Feedback's smiley satisfaction surveys make it simple for the businesses to gather valuable insights from the feedback data and make the required improvements or quickly close the feedback loop. The features of survey reporting with Zonka Feedback include:
- Real-time reports
The platform allows you to capture all the customer feedback in real-time. The reports get automatically updated as soon as a response is captured by the system.
- NPS, CES & CSAT Reports
Get detailed analysis of CX metrics like customer satisfaction, loyalty, and the ease of doing business with you using NPS, CES, and CSAT reports.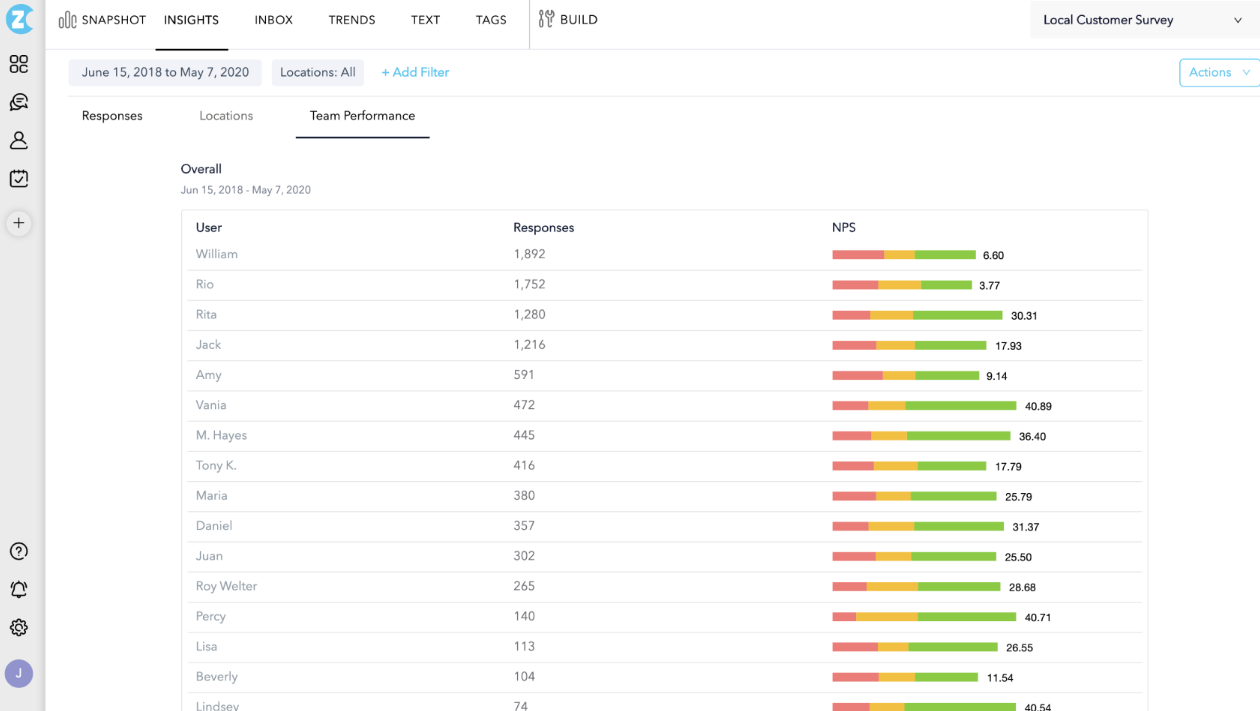 - Graphical survey Reporting
To easily decipher data and trends, Zonka Feedback reporting provides graphical representations of large datasets.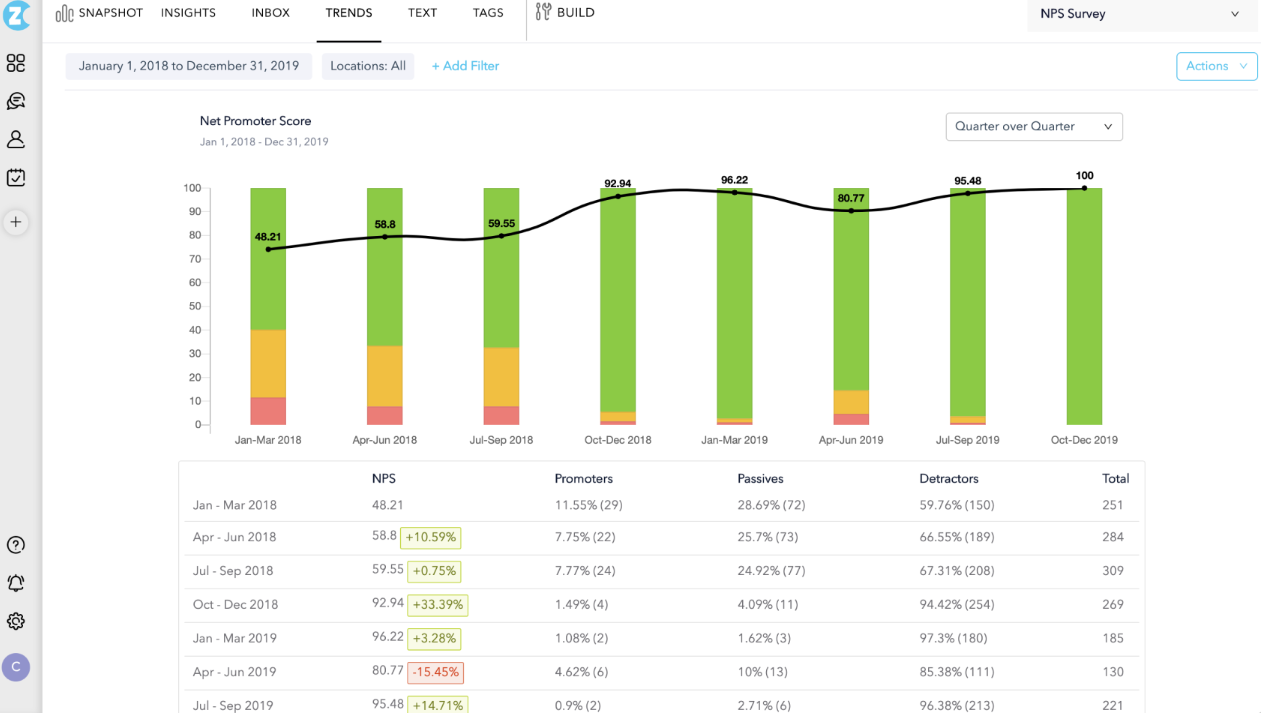 - Custom Filters
Manage and access the reports effortlessly by adding custom filters to the response data like questions, date, locations, attributes, tags, variables, and more.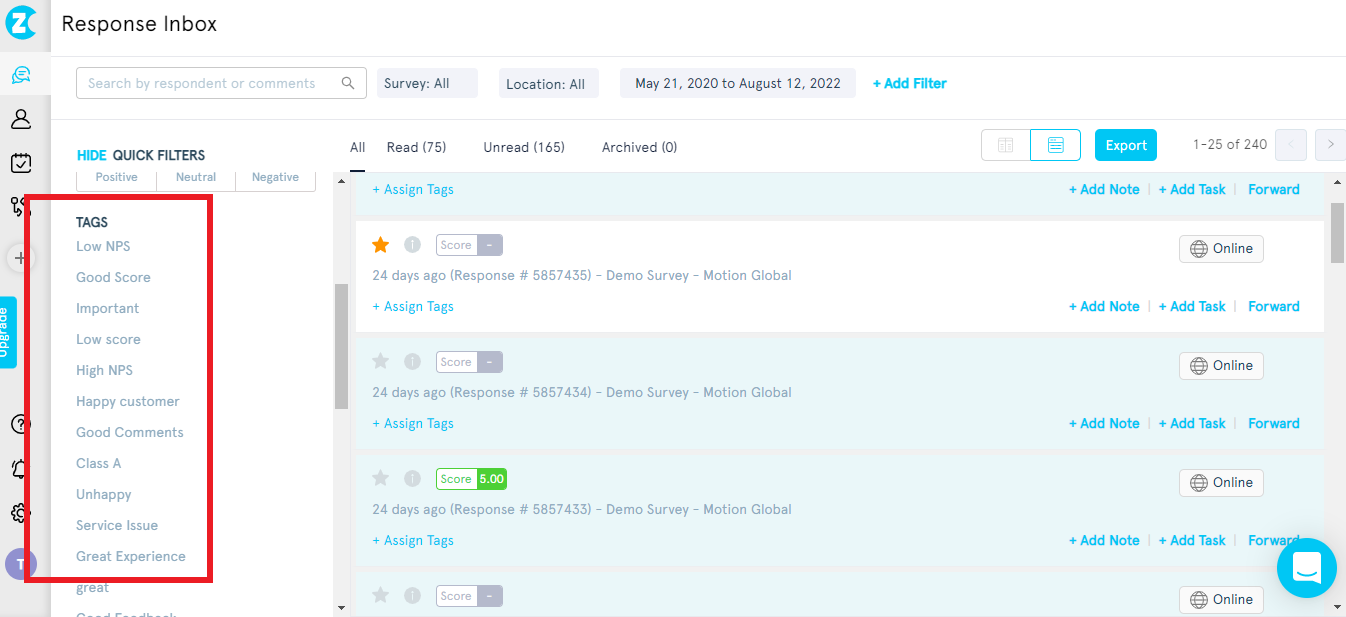 - Export Reports
Easily export survey reports in desired format and share them with your peers or use them to analyze the data when offline.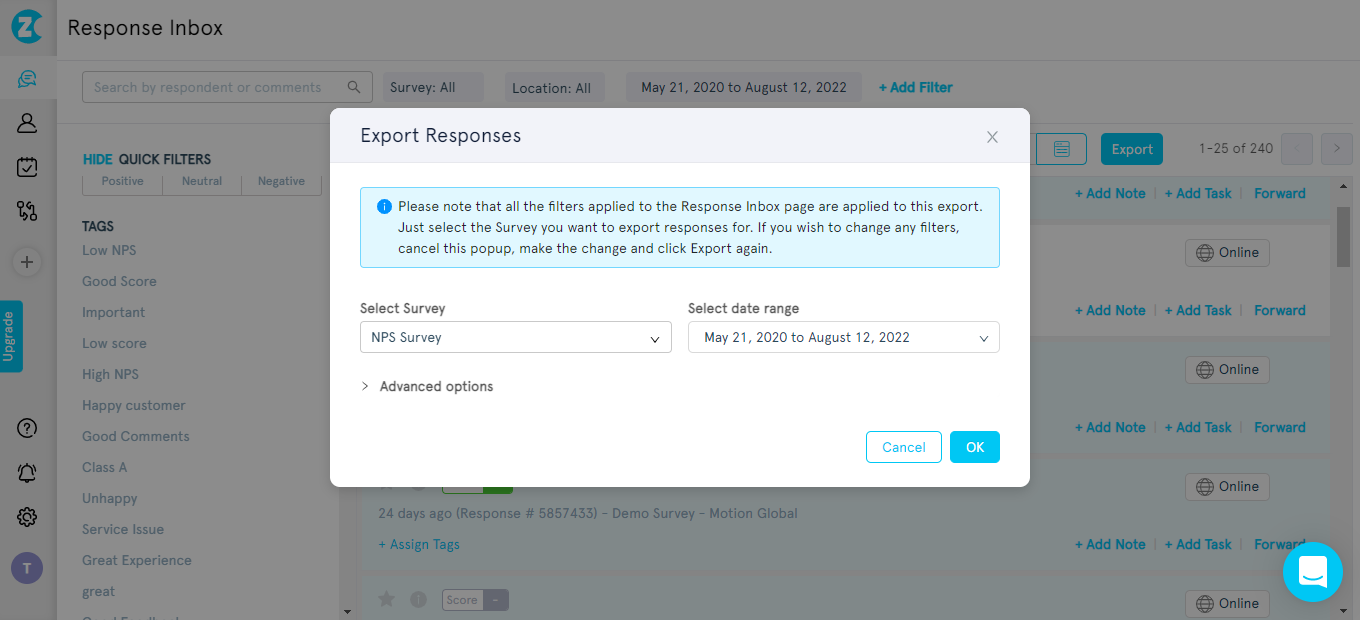 - Scheduling of Survey Reports
Get automatically generated reports delivered to your inbox by scheduling them on daily, weekly or monthly basis.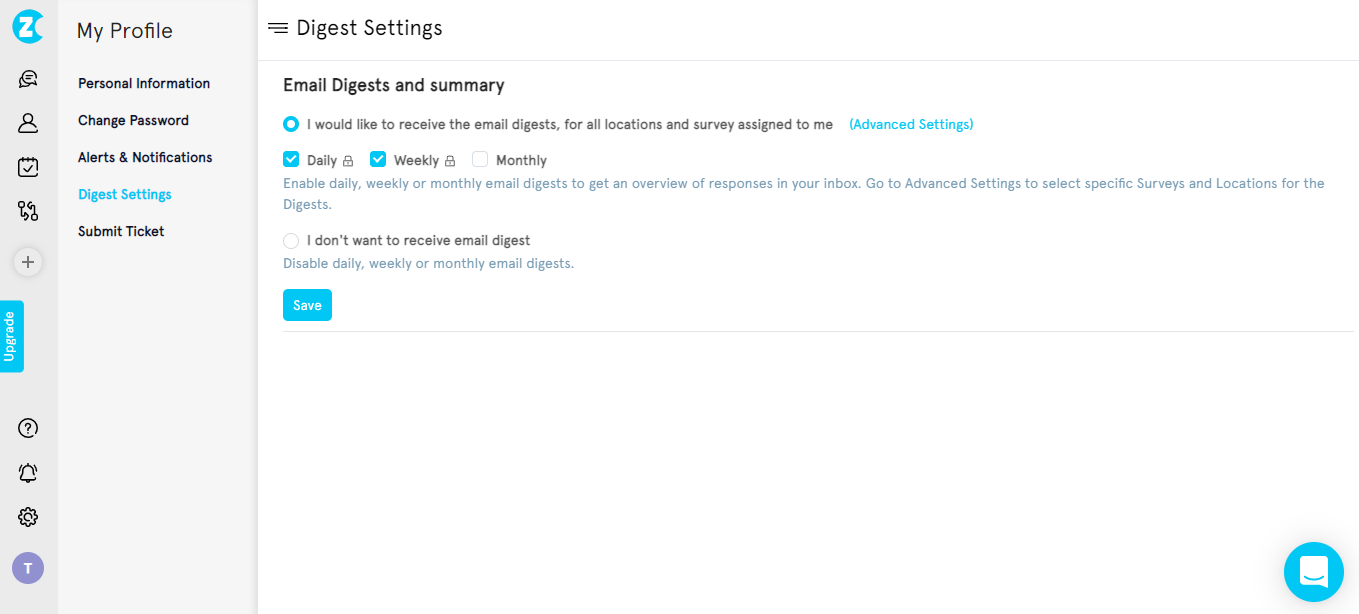 - Drill-down Reports
Drill-down reports enables you to access information in real-time so you can pinpoint the reasons for the numbers.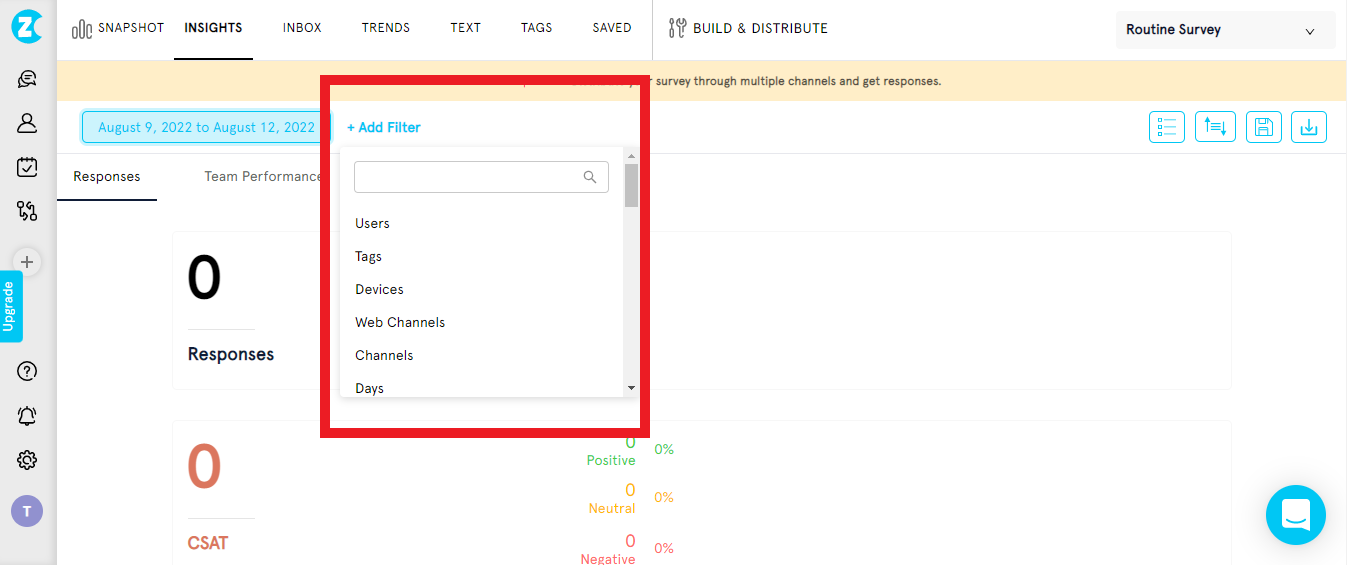 - Save Reports
Using the address filters and themes, you can generate custom reports and save them for easy future access.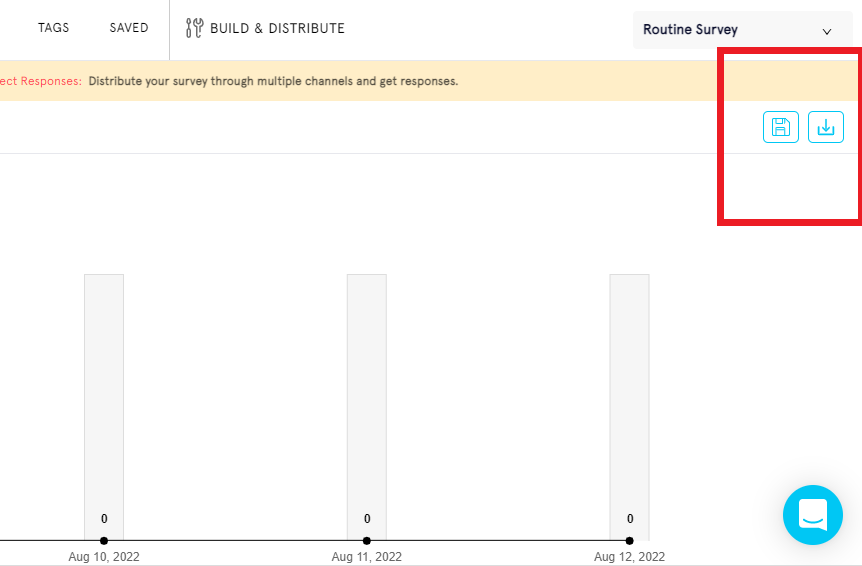 Leverage Workflows Automation with Smiley Face Surveys
Along with the ability to set up smiley face surveys, Zonka Feedback also offers automation of workflows. It enables notification triggers on your preferred channels, automates the labeling of survey responses for documentation, auto-create and assign new tasks and send follow-up surveys.
Some of the many benefits of this feature include:

1. Build Processes to Automate Repetitive Tasks
Build customized processes to efficiently manage incoming feedback using Zonka Feedback's workflows. It enhances cross-team cooperation and ensures that the required personnel or survey respondents are in the loop.
2. Focus on Customer Engagement
Automation eliminates any chances of human-error and manages tasks such as manual data entries, creating tickers, and status updates so that your team can focus on building strategies to engage customers.
3. Automate CX
Optimize CX operations like measure NPS, CES, and CSAT by customizing the workflows and let the software help you improve customer satisfaction and close the feedback loop faster.
4. Save Time with Auto-Notifications
With Zonka Feedback's automation, build workflows to automate the follow-ups, email responses, and notifications. It allows for easy designing, execution, and managing of tasks.
Using Smiley Face Surveys to measure Customer Satisfaction
While setting up your surveys, you can use Smiley Face Surveys in your Zonka Feedback CSAT Survey Tool.
Get into your account


Log in to your account or create your free trial account with Zonka Feedback.


Create your CSAT Smiley Face Survey
Once in, create a new survey. You can choose from existing CSAT Survey Templates with Smiley Face Questions or start from scratch and build your own survey.


Edit your Survey
You can customize the survey as per your requirements — add more survey questions, edit the questions, design your survey to match your company brand, add survey logic, and more.


Share your Survey
Once your survey is ready, choose from different surveys channels to measure customer satisfaction and sentiment — set up your survey on your website, in-app, send email surveys, SMS Surveys, or set up them on your premises using Survey App on iPads and Android devices.