Whether you're a business owner trying to grow your business or a Customer Support Executive trying to help out your customers - there are a few tips that can help you and your entire team improve Customer Satisfaction.
And while at it, also help improve customer experience and grow your business with happier customers. According to the Temkin Group, a moderate increase in Customer Experience generates an average revenue increase of $823 million over three years for a company with $1 billion in annual revenues. 84% of companies that work to improve their customer experience report an increase in their revenue.
Measure Customer Satisfaction and Improve Customer Experience🔥
Create customized surveys and feedback forms and take real-time feedback from your customers at all touchpoints.
You can do a lot to make customer satisfaction a priority and you can also do a lot to improve it over time. This comprehensive guide of top ways to improve Customer Satisfaction comes from our team's experience in ensuring and improving Customer Satisfaction.
37 Actionable Ways to Improve Customer Satisfaction
Ensure a memorable customer experience
A level ahead customer experience is the surefire way to attract consumers to your business. It helps you to build trust for your brand in the market. According to the Temkin Group, a moderate increase in Customer Experience generates an average revenue increase of $823 million over three years for a company with $1 billion in annual revenues. 84% of companies that work to improve their customer experience report an increase in their revenue. It is no surprise that Customer Experience has become a top priority for your business in the next 5 years.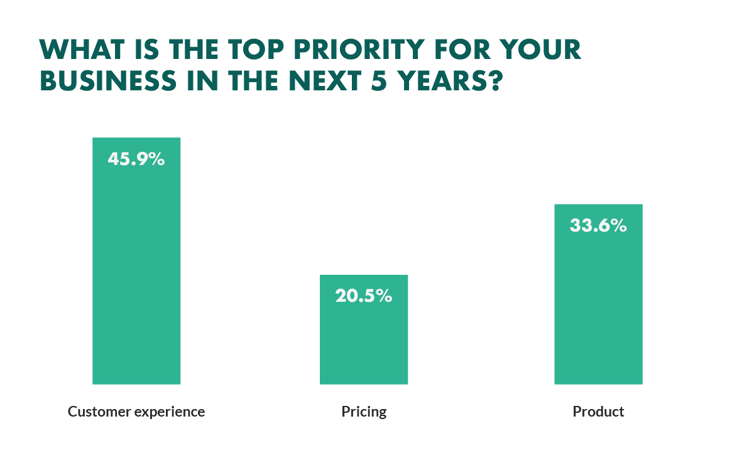 Image Source - Superoffice
So, let's see how you can ensure an amazing customer experience that leaves a long-lasting impact on customers.
1. Address Customers by Name
79% of customers expect brands to get to know them on a deeper level and provide tailored offers and experiences . One of the best ways to personalize the experience of customers is by using the customer's name. This not only makes your customers happy but also connects them emotionally to you and your brand. So, if you are communicating to your customer be it via SMS, Email, or personal call, always address them with their name.
2. Send personalized messages/replies
Investing in personalization efforts to build relationships and create better experiences can pay off with serious rewards for brands. In a customer journey, there are different touchpoints where you can interact with your customers and connect them to yourself and your brand effortlessly. Personalized Emails or SMSes have high open and click rates. Make your interaction personal through:
Do reach out to your customers when they sign up for your free trial or purchases any product. Ask about their onboarding experience.

Ask them how you can help them.

To make your interaction more realistic and personalized you can use a friendly, informal, or familiar tone and style of writing message.
Even if customers don't take your help, they'll for sure appreciate this positive gesture and create a positive impression of your business in their minds.
3. Identify the Potential Churn
Negative feedback never comes alone, it brings a risk of bad word of mouth advertising with it. Your unhappy customers will not only leave your business for a competitor who serves them better than you but also spread negative word-of-mouth for your brand among their relatives and friends.
According to Invespcro.com, 95% of the sample admitted that they would rather share negative reviews, 54% shared these negative stories with more than 5 people. The study also revealed that 66% of the customers refuse to make another purchase after these negative experiences. Thus, you need to introspect the touchpoints or events that lead to churn. How?
Using surveys like NPS and CSAT, you can identify unhappy customers and label them as potential churns

Do competitor analysis - check what else they are providing that attracts your customers, like some high-quality products or services, exceptional customer services, or best pricing, and so on. Another way to find out potential churn in your business is to refer to the positive feedback of your competitors. Check what USP their customers have mentioned.
In the competitor analysis you could come across various touchpoints or events that lead to churn:
4. Contact customers personally
60% of businesses lose a customer because he/she felt the brand was too "indifferent". Just having satisfied customers is not enough to boom your business. You need raving fans who remain loyal to your brand and do positive word-of-mouth marketing for your brand.
Besides business, connect your customers personally to know about their well-being, wish them on their birthdays, and very importantly don' forget to thanks them for their reply or feedback. You can also delight your customers with small interactions like letters, holiday cards, and so on.
Thank-you note helps you to express to your customers or clients that how much you value them and concern about their experience. So, you can also automate the trigger of Thank-you note by integrating your system with third-party apps like Zapier, Slack, Google Sheets, Mailchimp, Zendesk, Freshdesk, Hubspot, Salesforce, Pipedrive, and more.
5. Turn Customer Mistakes Into Unforgettable Experiences
Not every time a business makes mistake, sometimes customers also do mistakes. In this case, you need to come up with the solution without being offensive or making them realize that it is their mistake. This expression will not only delight your customers but also helps you to create an exceptional space for your brand among customers.
Dominos is a great example of turning a customer mistake into a great customer success story. When customers give their order at the counter, the staff always give suggestions that benefit the customers and ensure value to the money. As result, customers share positive reviews and recommend to others. So, you should never miss the opportunity to improve the company's image by fixing customers' mistakes.
6. Reward Loyal Customers
79% of retailers are investing in loyalty programs to offer a high degree of personalization. According to a study, 42% of consumers said incentives sometimes sway consumers to choose one brand over another, even if they are loyal to the brand without rewards. Thus, to create a memorable customer experience, you need to run a loyalty program for your customers like - gifts or rewards.
These loyalty programs help brands in building long-term and concrete relationships. You can offer cumulative discounts or coupons when consumers reach specified targets, give away free e-gift vouchers with multiple purchases, invite consumers to try new products and services for free, offer reward points for recommending to your friends, and even give custom merchandise like all over print hoodies or t-shirts.
Improve your Customer Services
Customer service plays a crucial role when it comes to ensuring a high level of customer satisfaction. According to Salesforce, if the company's customer service is excellent, 78% of consumers will do business with a company again after a mistake.
If you want to keep yourself ahead of your competitors, you need to quickly identify the needs and expectations of your customers. The best way to achieve this is by improving your Customer Service. interacting with them regularly. For this, you can establish a strong customer service community in your company. This customer service team will stay in touch with your customers through Customer Feedback and help them to discover ideas and suggestions to generate a new product.
7. Make Your Customers a Priority
No matter how the business is big or small, Customer Loyalty is incredibly important. The major focus needs to be creating loyal consumers that don't come under the influence of your competitors. If you want to know how to make your customers love you and stay loyal to you, then you can read a book by Jeffery Gitomer, "King of Sales", Customer Satisfaction is Worthless, Customer Loyalty is Priceless.
Some simple things which can be done to build customer loyalty would be remembering consumer's special occasions such as birthdays or sending them personalized promotions, monthly newsletters, and discounts.
8. Develop Customer Service Communities
To ensure better customer experience and satisfaction companies have started developing customer service communities. These communities are developed with the motive to interact with customers, listen to their issues, and take customer feedback. According to a study, 67% use Customer Service Communities to collect ideas for new products or features from customers. Based on the responses you can make changes and improve your products or services.
9. Maintain customer service etiquette
How you communicate or interact with your customers will also put an impact on your customer services. To establish healthy and transparent customer communication, you should set specific rules ad workflow to communicate with their customers. For this, educate your customer support staff with the latest trends and train them with a few important customer service etiquettes. This further helps you to ensure complete customer satisfaction and develop a long-term customer relationship.
10. Reduce Wait Times
Waiting Time is the biggest hindrance in the customer relationship. In today's time, your customers are busy, they can't sit for long hours and listen to you. In this scenario, your customers simply churn out of your business and find someone else who is better in terms of ensuring quick customer services. To reduce customer churn, you should eliminate the waiting time. Make your Customer Support process quick and customer-friendly.
11. Maintain transparency in communication
Keep everything as clear as a crystal while interacting with your customers. This in turn puts a positive impact on customer's minds also. Moreover, it highlights your reliable and transparent approach to handle customer's issues. It also bridges the communication gap between businesses and customers. If possible, do in-person communication like On-call or video call to personalized the interaction and build trust and credibility in customers.
12. Leverage 100% of Customer Conversations
If you are a good listener then only you can be a good speaker. To impress your customers or build trust among them, then you should listen to them carefully. Be it written feedback or conversation, listen to your customers carefully without being offensive. Then leverage their conversation. How? Listen to them carefully then note down the points. Take your time and analyze carefully, how you can use those noted points to change the perception of your customers.
Provide Fast, Convenient Customer Support
Your customers are now tech-savvy and using different social modes of communicating like social media, mobile apps, web chat, emails, and so on. 64% of consumers expect to get a response in real-time. That's why you need to develop an omnichannel or multichannel support approach to connect with your customers.
13. Offer Omnichannel Support
Imagine! how frustrating was it for you when you've to wait a long to get connected with your customer support agent? You simply cut the call and leave negative feedback on their website.
Similarly, your customers also get frustrated when they didn't get any proper response to their queries. Always evaluate how easy it is for your customers to connect with you. Here, Multichannel support benefits both businesses and customers. It offers a seamless transition between channels to customers.
Omnichannel Support prevents businesses from delivering repeat information that they may have already provided. Not having omnichannel support means you could lose sales and profits. Need proof? 52% of customers stop buying from the company due to bad customer service experiences
Your omnichannel support options include - In-person interactions, Social media support, Email support, Phone support, and Live chat support.
14. Respond on Social Media
According to Business Insider, "there are currently 2.8 billion social media users worldwide. This means that over a third of the world's population is using some form of social media to communicate."
Nowadays, customers are using social media networking sites to share reviews and feedback. Social media has become a popular platform for word-of-mouth marketing. Thus, social media can offer deep insights into ways that can help you improve Customer Satisfaction.
It not only keep you updated about both positive and negative reviews but also help you take appropriate measures to resolve customer issues. Make sure you are active and respond to your customers within 24 hours. Hold frequent Q & A sessions and live chats.
Also, try to find a way to neutralize a customer's bad review. Make sure to answer the negative feedback promptly and try to offer a solution to fix the customer's problem. Also, don't forget to apologize whenever they are not happy with your response by taking the conversation to a more private place.
15. Use Non-Generic Auto-Replies
Your customers can knock on your door anytime so you should quickly respond to their queries. We know it is not possible to reply quickly, in this case, you can use Non-Generic Auto-Replies. This helps you to automate a quick reply that gives your customers a clear confirmation that you've received their messenger or queries.
Make sure that your auto-reply should be interesting and engaging. For this, you can give a personal touch by addressing the customer's name. Auto-Replies doesn't mean that you'll give set the automated reply once and sit. Ask your team to follow up with customers.
16. Provide Self-Help Options
You can also opt for Self Service system - round a clock customer support service Feedback mechanism, where customers can themselves learn about product upgrades, and receive upgrades or newer versions without waiting for the support team. Get yourself available at different mediums like - Knowledge Base, Help Desk, FAQs, video tutorials, chatbox, Agents, etc so that customers actively seek out the specific information they need without having to wait for long.
17. Offer 24/7 Customer Support
If you have a large customer base, you can deliver dedicated customer service through 24/7 Customer Support Service. Stay connected with your customers via chatbot, Knowledge Base, and FAQs. Besides these, you can also use Live Chat to connect with your customers as it has the potential to increase 4.5 times more company's revenue. Companies having customers from around the Globe use VoIP technology systems. Virtual Phone Numbers are the most cost-effective and a strong method of vocal interaction with customers. VoIP is cost effective compared to traditional PSTN phones and with a large array of features, it's a no brainer to use this tech in your business. This type of service allows businesses to manage calls, texts, and customer information in one place, which can lead to faster response times and better customer experiences. Additionally, with features like call routing and customizable greetings, a voip phone system, such as ULTATEL, can help businesses project a professional image and improve overall customer satisfaction. There are many providers in the market, and businesses can do research to find one that fits their needs and budget.
Make an Irresistible Offer
Always give strong reasons like USP or any irresistible offers like Free guide, bonus, heavy discounts that not only entice your customers to buy your product but also motivate them to become loyal customers. These irresistible offers reduce purchasing anxiety of customers by focusing their attention on offers. Moreover, it helps customers to trust your brand.
18. Offer a Lenient, Straightforward Refund Policy
While shopping online, your customers also visit the Refund Policy page. It means customers expect flexibility in the Refund Policy. The best way to lure your customers towards your brand is by ensuring a money-back guarantee to the consumers. This expression will help the customers to minimize the risk related to purchase and enjoy a purchase experience. Make sure your refund policy should be easy to understand.
19. Offer a bulletproof guarantee
If you think that customers will not buy products or services then eliminate the risk element through more guarantee. This guarantee strengthens the customer's trust in the brand. This kind of assurance you required when you are selling a physical product. When your customers feel that they are protected with the guarantee they likely to purchase the product from your brand.
20. Provide a Trial Period
Over the years, various SaaS and product-based companies are providing Free Trials to give detailed insight into a product or service. But nowadays customers already know that everyone is providing Free Trials. So, now they are more focused on the period of free trials. Give your customers Free Trials either according to days - like 20 Days Free Trial or you can offer like 50 Trials.
There are few other important things that you should consider while providing a free trial are:
Never ask for credit card details when registering a trial account.

Allow consumers to use any account (even social media accounts)
21. Try to Offer Free Return Shipping
Retailers usually ignore this way as they feel it is very expensive to cover or refund shipping costs for the customer. But 88% of consumers claim that free return shipping has a big influence on their purchase decisions. In a survey, 67% of respondents said that free returns would encourage them to purchase more online. If you have a shoestring budget then you can offer free return shipping on limited products.
Make Feedback Part of Your Brand
If customers don't find any value in your products, services, or brand, they quickly switch to a brand that ensures better value. So, you need to find this missing value in your brand and experience that failed to delight them.
For this, introspect why or which needs of your customers you are failing to fulfill. Listen to their feedback, find what they are exactly looking for or what are features they are expecting to have in your product or services.
When your customers find that you have considered their suggestions and ideas and made changes in your business or added those specific features in your products or services which they are looking for, they will quickly come back to your business and quickly connect themselves to your brand at the personal level.
22. Actively Ask for Feedback across all touchpoints
It is crucial to identify what your customers want from your business. The answer is Customer Feedback. You can actively interact with your customers and encouraging them to share their feedback about your products, services, or brand. This opens your customers to share their feedback and suggestions.
23. Ask the Follow-up Questions
If your customers are giving you negative feedback or negative NPS Scores, in this scenario, approach them with the Follow-Up Question - What is the reason for your score? This encourages your customers to share suggestions and ideas that help you to improve product potential along with the relationship with customers.
Sometimes asking this question - what is the reason for the score can be a little risky. Your grumpy customers are already frustrated, so they may ignore your question. Thus, you can ask a clear-cut question like - How can we improve your experience? that leaves no space for neglecting a survey. You can ask follow-up questions in different ways:
What was missing or disappointing in your experience with us?

What is the one thing we could do to make you happier?
24. Schedule your Survey Smartly
Besides choosing the right survey channels, scheduling surveys at an accurate time help you to drive accurate customer data. While customer satisfaction metrics data, timing plays a crucial role. One thing is clear that - Customer Satisfaction Survey win three major cases:
Transactional or Event Surveys - To immediately track the pulse of the customers about specific transactions or events like post-purchase, post-order, and post-transaction you can immediately trigger the transactional surveys.

Relationship Surveys - You can gauge the general experience of a customer on associating with the brand or your company through Relationship Surveys. These surveys are conducted regularly like bi-annually or quarterly.

Approaching New customers - You can measure the satisfaction & experience of your new customers with Customer Satisfaction Surveys. You can ideally send the first survey within 7 to 30 days.
When it comes to scheduling surveys either on any of the channels (Email or SMS), avoid sending surveys again and again after every single interaction. This will simply lead to survey fatigue and your audience will simply abundant your survey.
To avoid this, you can deploy the Survey Throttling feature of a survey tool. It is a scheduling system through which you can automate the flow of the surveys to the individual customers like sending surveys in 1 month(30 days), 3 months (90 days), or 6 months (180 days).
25. Deliverability of your Survey
Selection of Survey Distribution channels are also responsible for the successful delivery of your survey, one among them is the selection of the survey channel. The channel you choose to send your surveys will affect the response rate of your surveys.
Before choosing the survey delivery channel, understand your audience in terms of device usability (it means what devices they are using - Mobile, iPad, Android Tablets), internet availability, and so on. Based on these factors, you can choose different channels including, iPad Surveys, Mobile App Surveys, SMS, Emails, feedback form on the Website.
26. Monitoring Industry Relevant Customer Satisfaction Metrics - NPS, CSAT, and CES
73% of companies with above-average Customer Experience (CX) perform better financially than their competitors. Customer Experience or CX Metrics are KPIs that enable you to measure customer loyalty and satisfaction. There are 3 major Customer Experience Metrics available in the market:
Net Promoter Score (NPS) - NPS is a good-to-go indicator when it comes to measuring the loyalty and satisfaction of your customers. NPS provides a simple NPS Question - How likely would you be to recommend our product, service, or brand to a friend? Based on their experience, your customers recommend your brand on an NPS scale of 0-10.

Customer Satisfaction Score (CSAT) - Customer Satisfaction or CSAT is a customer feedback metric that measures the happiness of a customer with your services with the help of a customer satisfaction survey. In this survey, you can ask the customers how satisfied they are with the company or brand and what they feel about your product or brand.

Customer Effort Score (CES) - As the name suggests, it ascertains the effort taken by the customer to interact with the company and get a resolution to his issues and concerns from your organization. Customers rate their experience on a scale of 1 to 7 based on how much effort it required them to make for any issue, transaction, or interaction with the company.
27. Focus on Turning Survey Data into Actions
The significance of collecting customer feedback is zero until and unless its data is not being converted into a proactive approach. To turn your survey data into actions you can deploy a Customer Feedback Tool. This tool helps you to collect on-the-spot customer satisfaction & experience data. If your customers give you a negative response or comment, customer feedback software automatically creates alerts and notifications through Emails or SMSes.
This immediately notifies your team members and they work collaboratively to understand the issues and pain points of customers. Based on their analysis, they can follow up with grumpy customers and act upon their issues. This further helps you to improve their experience and turn them into happy and loyal customers.
28. Get Analytics and Reports
Once you have collected data and captured feedback, it is important to Analyze it and see Trends. The reports and analytics module in Customer Feedback Software helps you do exactly that. It automatically organizes all the collected data and gives you robust reports, graphs, and tablets to extract meaningful insights. The reports and analytics are present response data as graphs, trends, and tables.
29. Focus on Common Complaints & Provide Solutions
After you've received the responses and comments of your customers highlighting the reason for the score, it is ideal to now analyze the responses. When you receive negative responses, the survey tool automatically creates alerts for your team. You can ask your team to analyze the response and segregate customer issues into two categories:
Recurring or Common Issues: These are the general issues that mostly happen with multiple customers. Like in the case of hotel feedback, some recurring issues could be like no clean washroom, unavailability of housekeepers, and so on. So, these issues are to be solved at the business level.

Personal Issues: These are the issues that happen specifically with individuals based on their personal opinion and experience. Like in the case of customer support service feedback, some personal issues could be like delays in response, resolution time is high, and so on. These issues are solved on a personal basis.
Analyzing and categorizing customer issues in different and relevant categories can help categorize issues and analyze how often they are happening, assigning relevant issues to the right teams, quickly tracking the resolution of issues within your team, and conveying the resolution of relevant issues to the customers.
30. Close the Feedback Loop
Closing the customer feedback loop is a crucial step in a Survey Campaign. Closing the feedback loop means settling down things in positive ways and developing a long-term relationship with your passives to improve their experience. While attempting to close the Feedback Loop we need to consider few important things like:
Ensuring that customer feedback is reaching the right ears

Outlining a workflow for your team to address customer issues

Reducing the time it takes for your team to resolve issues
Always follow up with your customers and ask them follow-up questions to understand their pain points. This enables you to quickly act upon the issues and resolve them to change their perception towards your products, services, or business. Thus, you'll be able to close the customer feedback loop on a positive note and improve customer satisfaction.

Focus on Company Culture
Organizational culture is the bedrock on which company policies, decisions, actions, and goals are based. Organizational culture is an ambiguous term, and what exactly makes an organization's culture remains the subject of debate. However, everyone unanimously agrees that it exists and it plays a crucial role in defining behavior in organizations.
Thus, evaluating company culture via culture surveys helps you to discover how employees see themselves and their role within the organization, their sense of ownership, accountability, and more.
31. Make Employee Satisfaction a Priority
A 2017 survey by the Society for Human Resource Management (SHRM) found that employees consider five factors as the leading job satisfaction contributors. These were: respectful treatment of all employees at all levels, compensation/pay, trust between employees and senior management, job security, and opportunities to use their skills and abilities at work. So, while evaluating employee satisfaction consider these five factors.
32. Hold Daily Stand Up Meetings with your Team
Regular team interactions and collaborations can help you to track the workflow of your team. It is the responsibility of the manager to take daily updates about the work. To achieve this, managers can do standup meetings, ask their team members to share their weekly reports, and conduct video conferences among team members to collaborate with team members.
33. Empower your team to go the extra mile to delight customers
Always encourage your team to perform well. For this, you can set a project goal or Key Performance Indicator (KPIs) for an individual team member. This helps the manager of the team to measure the productivity level of each team member and take corrective actions to improve productivity and work well to delight customers.
34. Take Employee Feedback
You can also use Employee Feedback as a key indicator of employees' productivity, and satisfaction. It helps you ensure enhanced production, efficiency, and happiness of employees. Further, it also assists you in improving the work culture.
The best practice to know employee perspective is to conduct regular Employee Feedback Surveys using Employee Feedback Software and get direct insights into the perceptions of employees about work culture, opportunities, facilities, and loyalty.
35. Set Clear Expectations and Exceed Them
You need to lure your unhappy and dissatisfied customers with some extra offerings that not only make them happy and satisfied but also encourage them to change their brand perceptions perceived earlier.
For this, you can provide various support materials like free products & services guides, special discounts on products and services, free trial extensions, some premium features, and so on. This helps you to improve customer satisfaction and brand loyalty.
36. Benchmark Customer Satisfaction
Use the CSAT and CES scores to benchmark customer satisfaction and track changes in overall satisfaction over time. Ask regular Net Promoter Score questions to benchmark customer loyalty over time. You should aim to increase customer satisfaction across the customer journey.
Highly satisfied customers are more likely to become emotionally connected to your brand and company. According to Harvard Business Review, highly engaged customers are 52% more profitable than highly satisfied customers. So, focus on creating highly satisfied customers and convert them into emotionally engaged customers.
37. Website Speed
Modern customers are getting more impatient than ever. Sometimes, the reason your customers are frustrated lies in your website speed. Google recommends no site should load more than 3s. A fast-loading website with a smooth UI/UX considering the differences between UX and UI makes it more rewarding for your customers to browse your products & use cool features, thus, increasing their shopping satisfaction.
Speed optimization is a must for many eCommerce merchants. Besides optimizing your website codes, using AMP (accelerated mobile page) & PWA (Progressive Web App) can be a game changer, too. For example, a headless PWA website is generally 2x-3x faster than a normal Magento site. Many users, therefore, move their stores from Magento to Shopify for better performance that a headless architecture offers.
Conclusion
Improving customer satisfaction helps you to reduce churn and retain your customers. A 5% rise in customer retention rate increases by 25% to 95% profits. When you care about your customers, their needs, experience, or satisfaction, they always show a positive response towards your brand. Thus, it is important to gauge customer satisfaction and experience. Customer Satisfaction Survey enables you to develop a customer-centric mindset that will help you to tailor your business operations and make informed decisions.
Creating, running, and managing Customer Satisfaction Surveys might seem hard nut to crack especially if you don't have any experience. But now no more complicated setups or any technical know-how is required. An automated, fully integrated CX platform - Zonka Feedback helps you to do Customer Satisfaction Feedback management on steroids.
See how Zonka Feedback can help improve your customer service today by scheduling a free trial.
Learn more about the Customer Satisfaction