It's a universal truth that one bad customer experience can spoil a brand's image. Once a brand's image is spoiled, then it's very difficult to regain a good position. Gone are the days when customers used to feel happy just receiving a "thank you" email. Satisfied customers are happy customers. More importantly, satisfied customers can be easily turned into long-term customers. Therefore, it's essential to improve the overall customer experience to keep the customers satisfied, which will ensure a brand's success for a long time to come.
As per a report published by PWC – Customer Experience is everything - 32% of consumers would stop doing business with a brand they loved after one bad experience.
Let's have a look at some of the ways on how to improve Customer Satisfaction and Retention along the way: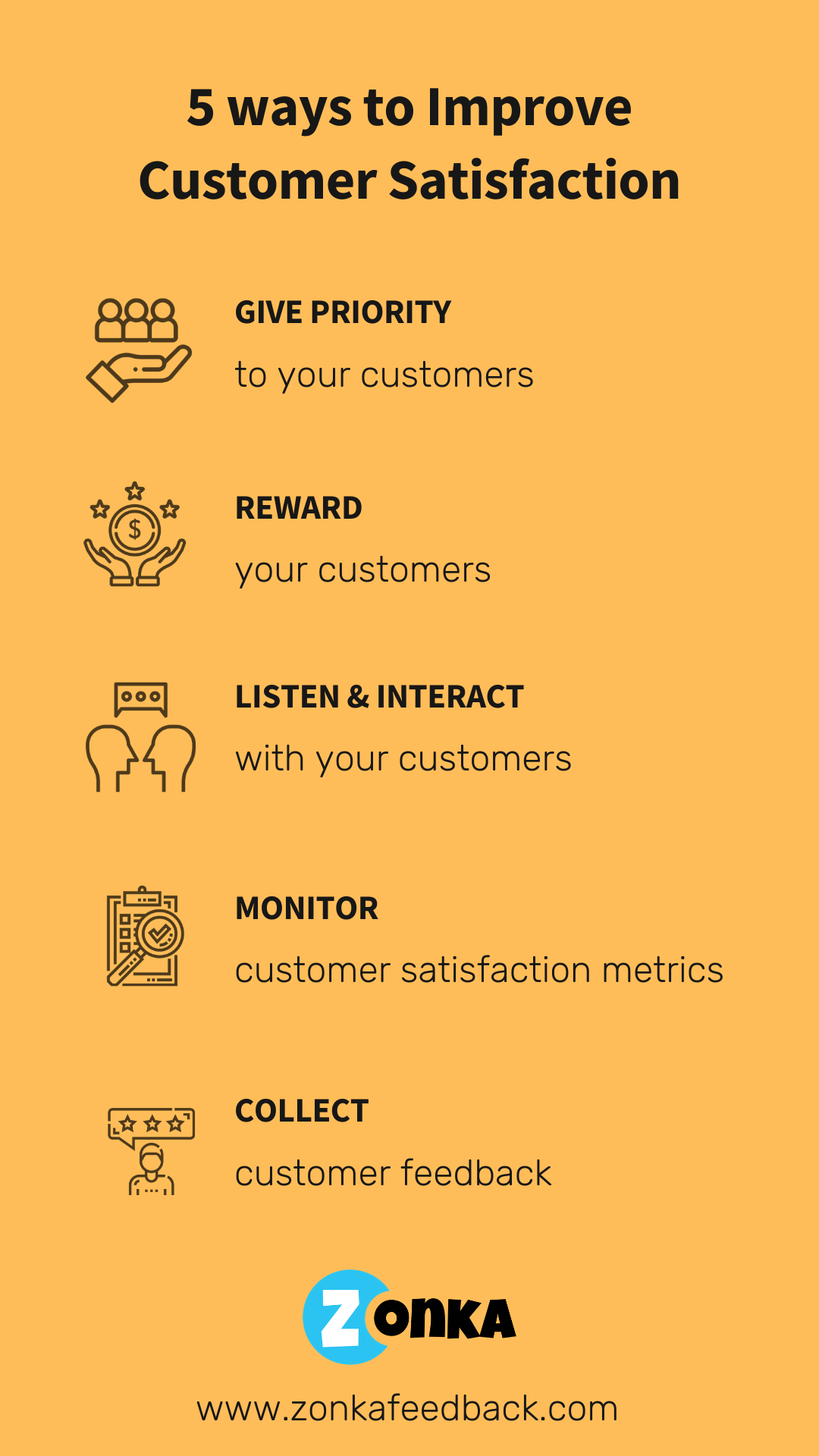 1. Make Your Customers a Priority
No matter how the business is big or small, Customer Loyalty is incredibly important. The major focus needs to be creating loyal consumers that don't come under the influence of your competitors.
If you want to know how to make your customers love you and stay loyal to you, then you can read a book by Jeffery Gitomer, "King of Sales", Customer Satisfaction is Worthless, Customer Loyalty is Priceless.
Key takeaways: Some simple things which can be done to build customer loyalty would be remembering consumer's special occasions such as birthdays or sending them personalized promotions, monthly newsletters, and discounts.
2. Reward your customers
Who doesn't like added benefits or special offers once in a while? Surprising your customers with free gifts or rewards can help brands in building long-term and concrete relationships. Try giving them realistic offers to show your appreciation.
According to a study done by Wirecard, 42% of consumers said incentives sometimes sway consumers to choose one brand over another, even if they are loyal to the brand without rewards.
Key takeaways: Offer cumulative discounts or coupons when consumers reach specified targets, give away free e-gift vouchers with multiple purchases, invite consumers to try new products and services for free, offer reward points for recommending to your friends.
3. Listen and Respond on Social Media Platforms
Social media networking sites can offer deep insights into ways that can help you improve Customer Satisfaction. They are the best platforms to keep you updated about both positive and negative consumer feedback, which will further help you take appropriate measures to resolve them.
Key takeaways: Make sure you are active and respond to your customers within 24 hours. Hold frequent Q & A sessions and live chats. Also, try to find a way to neutralize a customer's bad review. Make sure to answer the negative feedback promptly and try to offer a solution to fix the customer's problem. Also, don't forget to apologize whenever they are not happy with your response by taking the conversation to a more private place.
4. Monitoring Industry Relevant Customer Satisfaction Metrics
One way to increase Customer Satisfaction is by monitoring Customer Satisfaction Metrics like NPS, CSAT, and CES. NPS is used to measure customer loyalty, CSAT is used to measure how happy customers are, and CES will help you comprehend where grievances lie. To get the accurate understanding of your consumers and predict long-term business needs, CSAT, NPS, and CES should be used together.
Key takeaways: There are numerous ways to measure Customer Satisfaction. Measuring it with consumer satisfaction metrics will aid any business understand whether they are meeting customer expectations or not. The best way to do it is by creating a customer satisfaction metrics-driven survey. Make sure to create short customer feedback surveys as they will have a higher survey response rate. Focus on what you want to know regarding your products or services and offer an incentive for it.
5. Collect Customer Feedback
The easiest and straight forward way to seek customer feedback is to ask the consumers. If you won't make an effort to know what your consumers think about your products or services, you will never be able to give them the incredible customer experience. Their opinion about the experience they have with your brand plays an essential role that can be used to alter your business to fit their needs more precisely.
Key takeaways: Customer Feedback can be gathered in numerous ways, and, when used correctly, these tools can be a huge benefit in gaining new costumers and retaining the old ones. Feedback can be captured by using on-premises and web feedback software.
Final Thoughts:
No one can deny the importance of Customer Satisfaction. Constant improvement in customer satisfaction should be the objective of every business. There are immense benefits to it. There will be a reduction in customer churn and increased customer loyalty, which will result in increased profitability. Try to understand your customer's perspective and implement strategies based on what works. Improving Customer Satisfaction is not a difficult procedure yet entails a great deal of effort, which is worth doing.
Learn more about the Customer Satisfaction