Last week we were celebrating my parent's anniversary and instead of our yearly ritual of going out, we stayed in and ordered in due to the pandemic. The food was promptly delivered by a nearby eatery and while the starters and main course were really good, the desserts (Gooey Brownies and Cream Doughnuts) were a complete fail. They weren't fresh and tasted bad. My first response was to leave an online review (a bad one of course) and honestly forgot about it after an hour.

To my surprise, I got a response from the restaurant team within 15 minutes! They calmly addressed my issue and asked for my suggestions for improvement. They also offered to sponsor a dinner for me to make up for my bad experience.

These incidents happen to all of us and our instinctive reaction is to complain as quickly as possible.

What happens when businesses respond back, apologize, and actually fix the issue to close the feedback loop? We change. We feel a sense of loyalty and love and it really makes us want to give them a chance and recommend them. That's the power and that's the beauty of closing the feedback loop.
Take Action and Close the Feedback Loop👩‍💻
Analyze feedback, view insights, collaborate with you team and close the feedback loop to prevent churn with Zonka Feedback.
Look back and remember all the times when a company from whom you had big expectations, failed you, but then found a way to reach out to you. How did that make you feel?
In this article, you'll get to know about customer feedback and how to close the feedback loop to improve Customer Satisfaction. Let's get started.
What is Customer Feedback?
Customer feedback is customers' opinions and perceptions about the business — your products, services, and overall brand. Customer Feedback may not always be right — but it is what customers perceive and think and feel about you and it's always important.
But how do you get feedback?
With social media, feedback will come to you anyway. But a better way to get Customer Feedback is to seek it — ideally by using a Customer Satisfaction software— that helps you customize surveys and get real-time feedback from customers at various touch points.
In cases like mine, it gives a platform to share bad experiences directly with the business.
Imagine in my case, if I had received an SMS survey an hour after my meal was delivered — I would have definitely left feedback there. But when I share my feedback directly with the company, I expect them to respond to me. They asked for it — in my mind, I am assuming that they're actually listening and will take some action. That action would be to close the feedback loop.
What is Closing Feedback Loop?
Closing the Feedback Loop is a process where businesses respond or react to Customer Feedback and directly or indirectly address all the issues or concerns of the customers providing them with solutions to help change their perception. Closing the Feedback Loop is not restricted to just negative feedback; addressing good feedback, and displaying gratitude to happy customers are also a part of effectively closing the Feedback Loop.
By reaching out to customers regarding their feedback, you help change their perception of your company and brand before they churn. Like in my case, I will give the restaurant another try for sure!
Why do you need to Close the Feedback Loop?
Closing the feedback loop is very important from both business growth and customer engagement perspectives because when you close the feedback loop on a positive note it may bring back your dissatisfied customers and may turn them into your most loyal customers. This, in turn, improves your business growth. Let's explore this in detail.
1. Dissatisfied customers speak louder than satisfied customers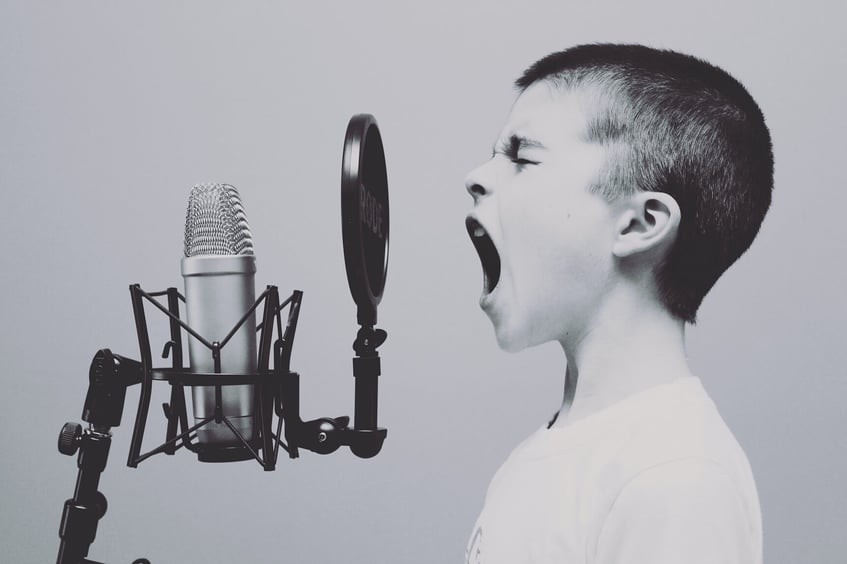 According to the survey published in The Ultimate Question, 80% of the Negative Word of Mouth comments came from dissatisfied customers who didn't get responses to their feedback. So, addressing the concern of the customers and closing the feedback helps you to keep your brand away from defaming.
2. A large number of dissatisfied customers will cut down sales & profit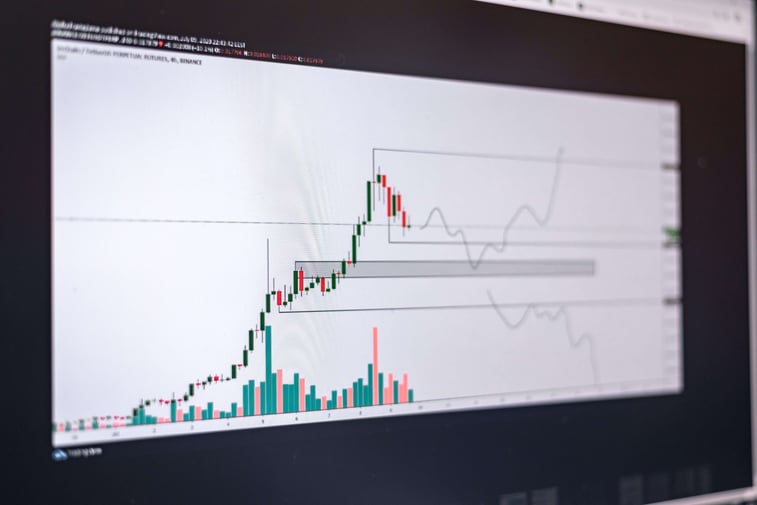 The revenue and profit of your business are correlated to the growth of your business and your business will grow only when you as a brand yield maximum satisfaction to your customers. So, if you ignore your unhappy customers, they will churn out of your business and this can drastically lower your sales and profit.
According to Forbes, 51% of customers will either spend less on your brand or will simply be churned. In this scenario, businesses usually acquire new customers which costs 5 to 25 times more expensive than retaining the existing ones. So, close the feedback loop with dissatisfied customers and retain them to improve business profits.
3. Closing the feedback loop helps convert dissatisfied customers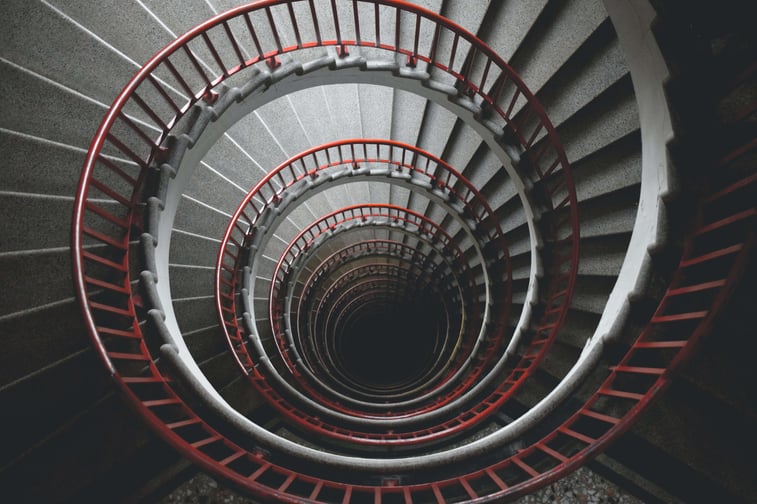 Dissatisfied customers are likely to churn quickly and switch on to the other brand. Not only this, they even spread bad word of mouth for your brand. So, the first step to making your unhappy customers loyal is to keep a check on the Customer Churn Rate of your business.
Customer Churn Rate refers to the percentage of customers that stopped using the product and services of the customer during a certain period. Higher will be the churn rate more will be disloyal and lower will be the business growth. 50% of dissatisfied customers are likely to churn within the next 90 days and 95% of dissatisfied customers will give businesses a second chance and 11% would avoid churning out if they are addressed quickly and provided with the best solutions of the concern.

Taking customer feedback helps you to quickly identify your unhappy customers. But, you can convince those unhappy customers and make them happy by following up with them and ensuring solutions to their concerns. This helps you to close the feedback loop effectively.
The Feedback Loop Structure
Feedback Loop System works efficiently to address every query of the customers, provide them with surefire solutions, and encourage them to become loyal to the brand. So, let's dive into the strategic system of closing the feedback loop.

Image: Complete Customer Feedback Loop
1.
Ask

Ask your customers to give feedback about your products and services. This helps you to quickly identify customer concerns that keep them away from your products and services. Taking Customer Feedback regularly can help you to understand the overall customer satisfaction and experience trends over time.
2. Categorize
Divide customer feedback into different buckets as per their nature. A well synchronized and systematic arrangement of customer feedback can help you to look after every feedback carefully. Further, you can easily distribute the feedback to the team as per their respective nature.

For instance, If you segregate the customer feedback into three different categories:
Product Feedback - This category helps you to look at every aspect of the products like major & minor product bugs.
Customer Service Feedback - This category will look at feedback related to customer experience, satisfaction, and loyalty.
Marketing & Sales Feedback - This category will look at feedback regarding customer support services. Like feedback for gauging the level of customer effort.
Similarly, a great to way segregate your feedback is to look at Positive, Negative, and Neutral feedback and act on each of the feedback types differently.
3. Act
Take action on the feedback quickly. Since you've segregated the customer feedback as per their nature. Now it's time to distribute or share feedback to the teams according to their nature. Like other companies, you can also share customer feedback with your team at set intervals like on a daily, weekly, or monthly basis. Analyze the issues raised by the customers in the feedback and discuss internally to plan follow-up strategies and ensure surefire solutions to their concerns.
4. Follow Up
Follow up with your customer & close the feedback loop. This is the main game-changer that determines whether your customers will stay with your brand or will churn out of your business. If you are getting feedback from your customers, you should quickly give responses to the customers. If they don't get the proper response, they will simply leave your business and defame you.

A UK customer experience group found that 43% of customers don't give feedback because they don't think the business cares. So, tell your team members or customer support representatives to follow up with their customers and close the feedback loop on a positive note.
Also Read: 5 Strategies to Close the Customer Feedback Loop
Closing Feedback Loop for Improving Customer Satisfaction
When it comes to delivering an improved level of customer satisfaction, you need to understand your customers' sentiments. For this, you can ask open-ended survey questions from your customers and continue to implement changes based on the feedback data and solve their issues. To improve customer satisfaction, first segregate your customers into 3 categories - Dissatisfied, Neutral, and Satisfied and then act on each of them differently to close the feedback loop.
So, here we have listed down the ways to follow up with each customer and also outlined the best practices to close the feedback loop.
Dissatisfied Customers: Delight them
70% of dissatisfied customers will do business with you again if you fix an issue they've complained about.
So, to close the feedback loop with your dissatisfied customers:
Connect with them personally — Take your follow-up conversation in an offline mode. You can contact them personally through call or by personal email.
Ask them Follow-Up Questions — Ask them various engaging follow-up questions like what is the thing that they couldn't find in your products and services?
Offer Free Takeaways — Finding solutions for the customers is not enough. You need to delight your unhappy customers with an improved level of customer experience. For this you can provide free takeaways:

Extensive product or service guide
Extension of the free trial
Premium features of products
Neutral Customers: Don't let them churn
Neutral customers are satisfied but have no enthusiasm and loyalty for your brand. They are actually passive in behavior and neither promote your brand nor defame it. So, it is important for a business to turn neutral customers into satisfied customers before they get churned out of the business.
To close the feedback loop with your neutral customers:
Give Discounts & Upgrades — Something that prevents your neutral customers from becoming your happy customers is the activation barrier. To reduce this barrier and engage with your neutral customers, you need to make them settle by luring them with some exclusive offerings like upgrades or exclusive discounts on subscriptions.
Offer other Support Materials — From your end, you can provide your customers with other support materials like extensive product or service guides, an extension of the free trial, and some premium features to change their perspectives.
Satisfied Customers: Show gratitude
Here's how you can close the feedback loop with your Satisfied Customers:
Express your gratitude with a 'thanks' note — A study by Rockefeller Corporation states that 68% of customers turn their backs on companies because they feel unappreciated. So, show the expression of heartfelt personal appreciation to your customers by sending them a personalized "thank you" message or an email. You can also treat your customers with a promotional badge to make them feel special.
Offer personalized takeaways — Happy customer segment is the perfect group where you can fearlessly up-sell or cross-sell your products and services. You can offer them some upcoming premium features of your products and tell them the potential benefits of it.
Ensure Customer Loyalty Programs — Offer customer loyalty programs like Referral Program to appreciate your customers' efforts for sharing positive reviews and recommending your product or services to their friends and family.

For example, as a part of their referral program, Dropbox credited their future payments to referrals. Apart from the referral, it offers free storage when a new customer signs up via a referral link.
So, when you close the feedback loop with the Dissatisfied, Neutral, and Satisfied customers, you can enjoy various business benefits like:
Converting dissatisfied and neutral customers to satisfied customers
Strengthening customer relationships
Improving customer loyalty
Reducing churn rate
Improving business revenue and profit
How to Close the Feedback Loop with Zonka Feedback
There are various features that our survey tool allows you to use so you can effectively close the feedback loop. Let's understand how.
1. Use Tags to Segment and Filter Data: Identify Actionable Insights
Our feedback management system can help you track every minute detail captured in a survey. You can filter feedback based on date, location, comments, CSAT score, Net Promoter Score, Customer Effort Score, and more.
When talking about primary CX metrics, a response management system can help you segment your responses like this:
CSAT Survey - Negative, positive, and neutral
NPS Survey - Promoters, detractors, and passives
CES Survey - High, medium, and low effort
You can tag responses in a response management system to get comprehensive insight. You can tag feedback as complaints, service issues, product issues, and more. Use the data in individual tags to identify trends, issues, and to add tasks to make feedback management more actionable – so you can close the feedback loop more effectively.
For example, you can compare feedback from devices at multiple locations, or filter your reports location-wise, to identify low-performing locations. You can use this data as a starting point to figure out why certain locations are performing poorly, and identify opportunities to improve, including cross-training and collaboration among better-performing locations.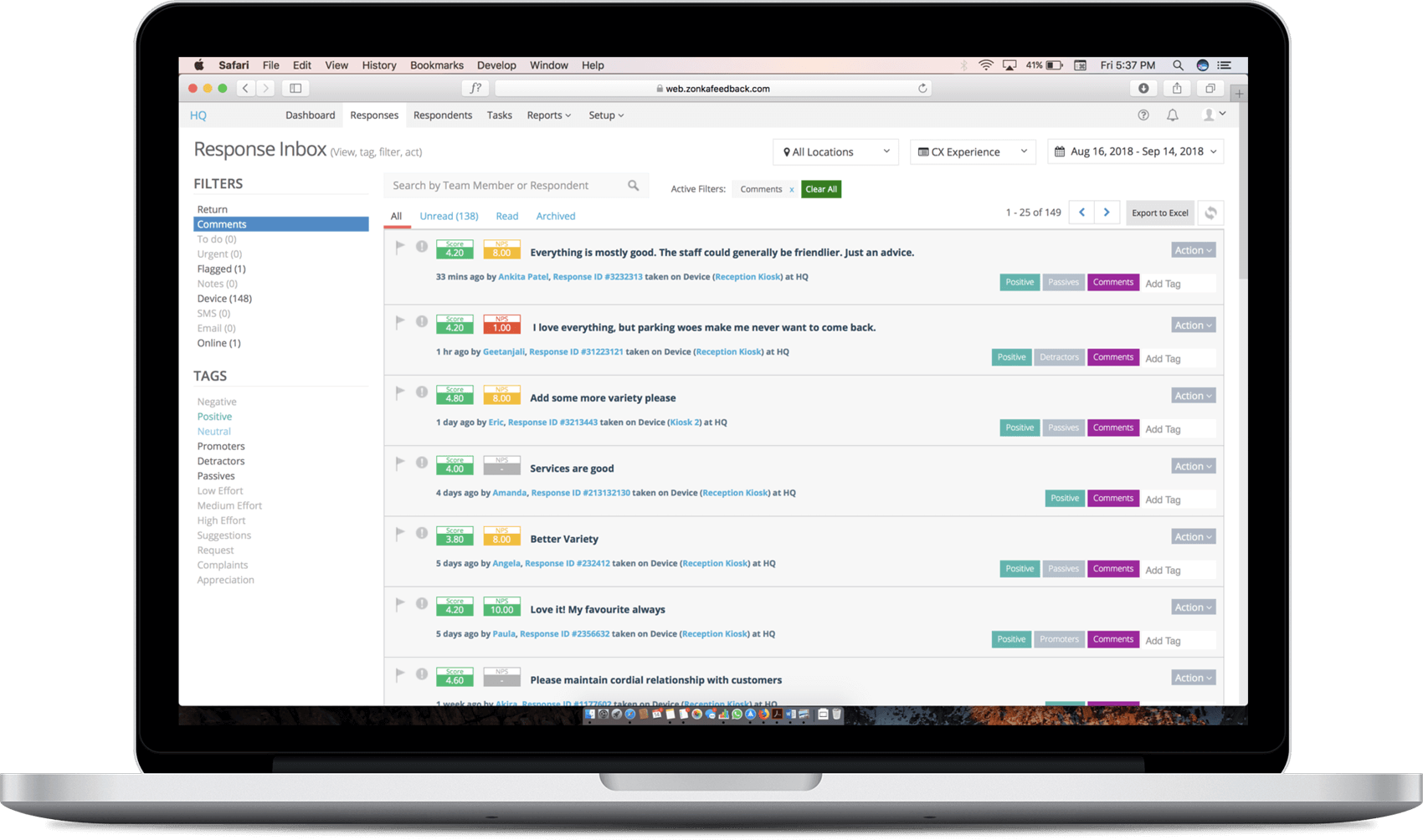 2. Analyze Response Trends to Identify Specific Issues
Instead of manually going through responses, you can use automation to analyze responses in detail.
One particularly interesting way is to analyze responses to every individual question in a survey. This will help you identify response trends for each question. If your survey design touches upon multiple areas of concern through different questions, this is a useful feature for gaining insight into how respondents view particular issues.
For example, if your response analysis report shows that a question about wait times during customer service interactions shows a negative trend, you can use this information as a starting point for your root-cause analysis.
You can also use the time filter to identify periods with the highest customer dissatisfaction. Chances are they correlate to times when agents experience high call volumes.
Use this insight to start the process of improving the customer's experience with that particular issue. Ultimately, you can close the feedback loop on specific issues raised by customers.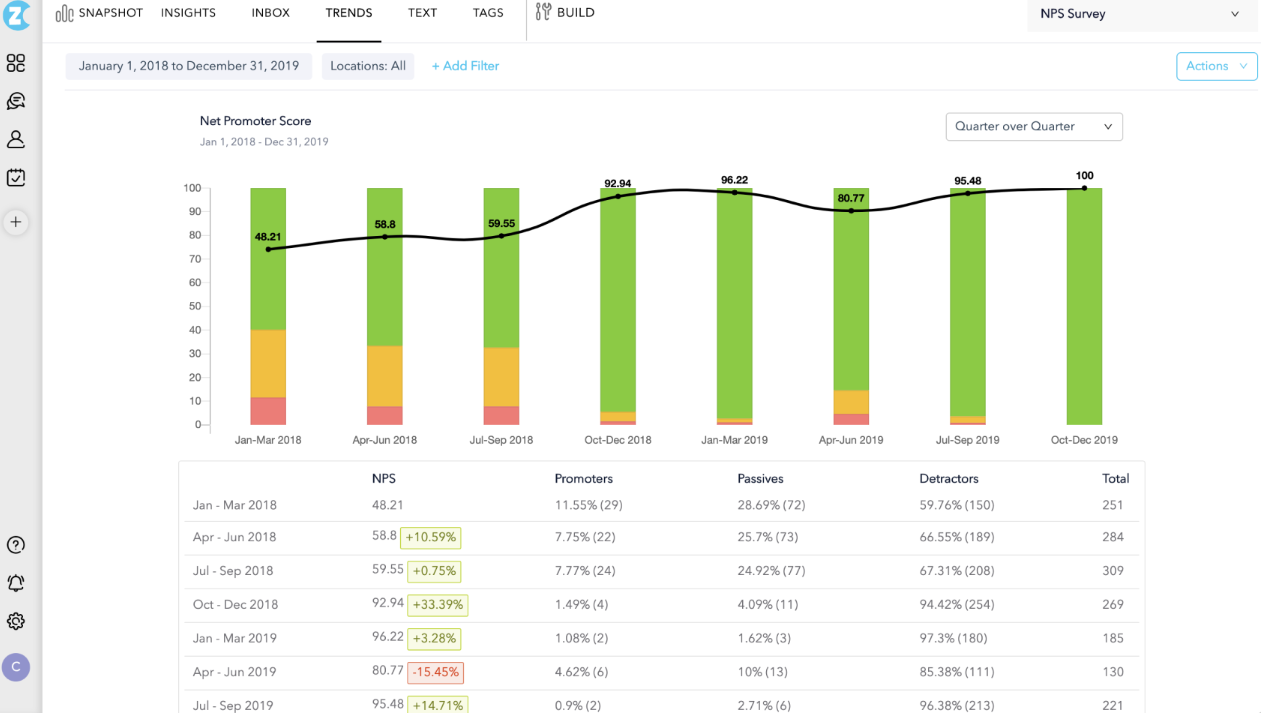 3. View Individual Feedback Forms: Reach Out to Individual Customers
You can also see feedback from each individual respondent – it's almost like seeing an individual feedback form as you would on paper. You can use this information to solve individual customer issues and create closed-loop feedback processes. Your feedback app creates customer profiles and includes demographic and marketing data that you can leverage to better understand your customers and their needs. Just be sure to link this with customer data you've collected from other channels. You can use this insight to focus on satisfying clients that bring in big business – and eventually, create solid client relationships and a customer-centric business focus.
4. Track Repeat Respondents: Anticipate Issues, Customer Engagement Opportunities
You can even track your repeat respondents in a feedback management system, and how their responses have changed over time. You can also use this data gathered over time to identify issues they may face throughout their customer journey. Not only will you be able to implement an effective closed-loop feedback system, you'll also be able to anticipate problems and offer thoughtful solutions to your customers. By using the insight gained from customer feedback to focus on your repeat customers and their journey with your organization, you can increase business growth.
5. Filter Positive and Negative Responses: Reward Promoters and Convert Detractors
A feedback management system can help you filter feedback within a survey by response type and close positive and negative feedback loops. For example, you can use this feature to identify and filter promoters and detractors in Net Promoter Score® and respond accordingly. This means that if a respondent is a Promoter, an automated follow-up survey requesting for a testimonial can be sent out. Similarly, in the case of a Detractor, a task for a support agent can be created to follow up with the Detractor and resolve their issue.
Here's a sample image to show how you can create an automated workflow and assign tasks to your team members so they can act on the feedback: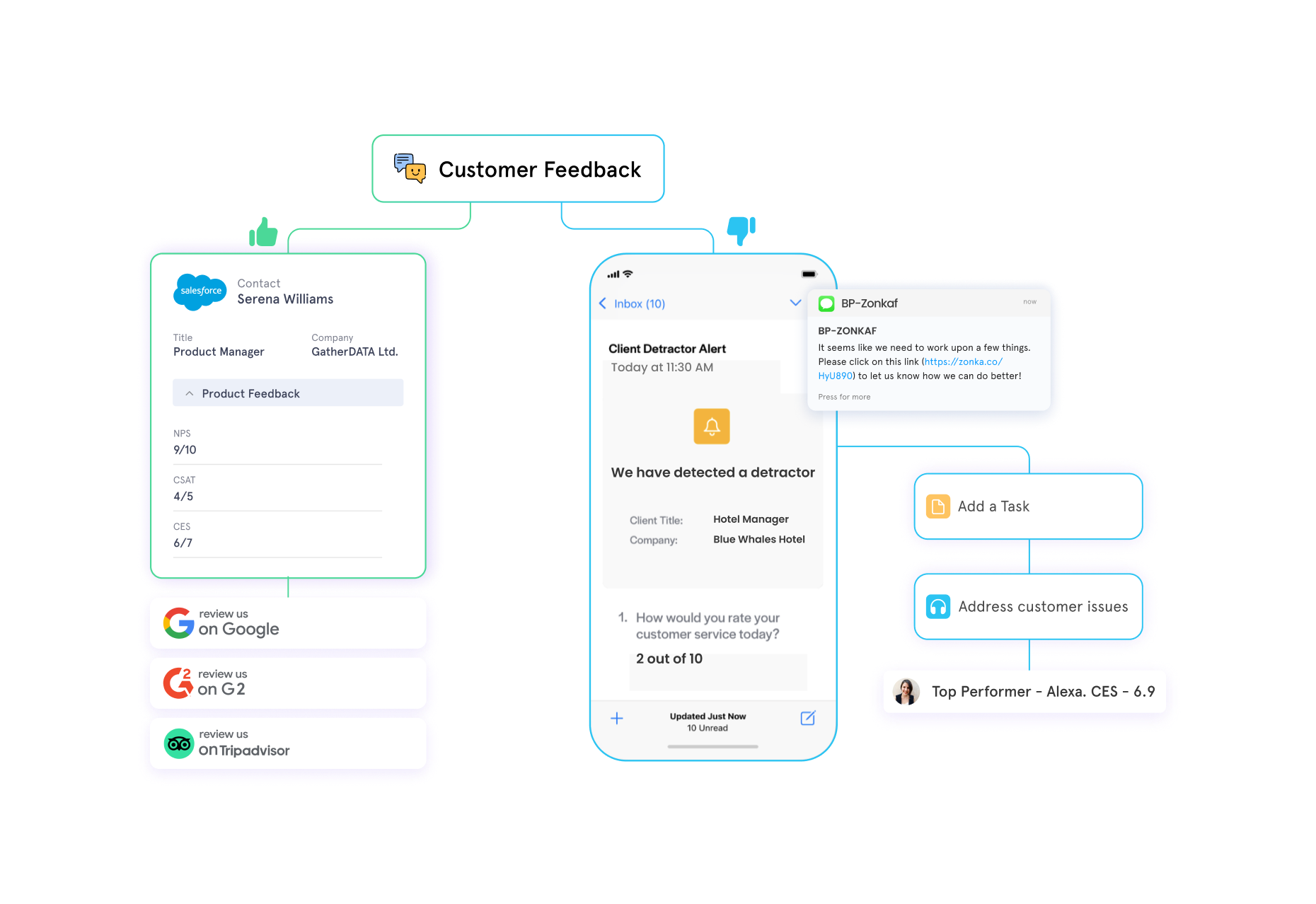 You can also send out rewards like discount coupons to your Promoters as soon as the responses come in. What this will do is strengthen the relationship between your business and promoters and also help you retain Detractors and even convert them into loyal customers by resolving challenges extraordinarily.
6. Use Real-Time Notifications to Close Feedback Loop On-Premises
If you are using on-premises surveys, it's even more important to close the feedback loop as quickly as possible. Your software survey like Zonka Feedback provides real-time notifications through email and SMS. You can use this feature to resolve customer issues on-site, immediately. For complex issues that require more time, you can let the customer know you're working on them. It goes a long way in reassuring them that they've been heard.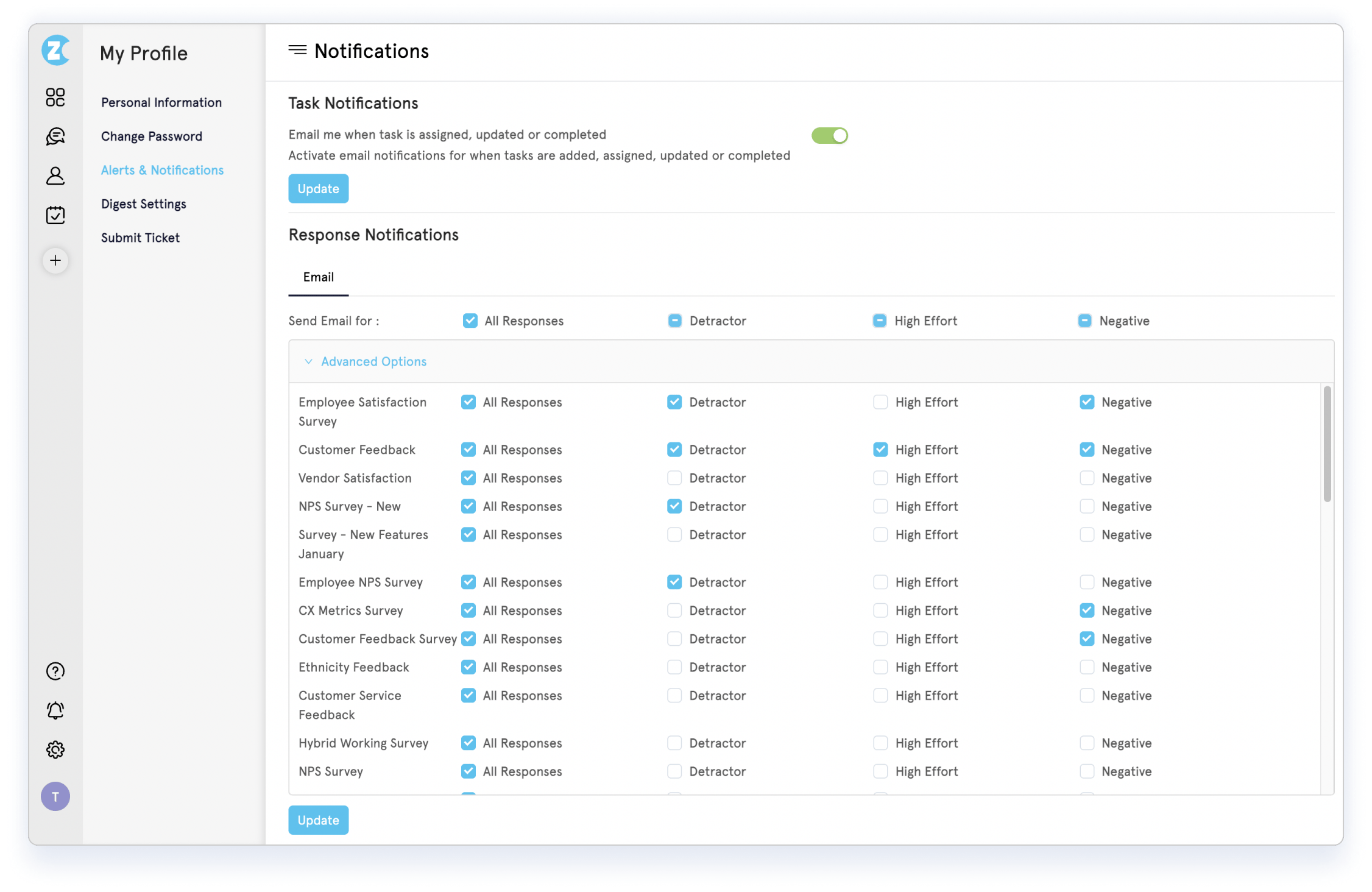 You can use tasks, notes, and emails in the built-in response management system to coordinate with other teams and use feedback app capabilities to share reports and data in real-time. You can also mark feedback received as urgent or flag it off for your team to handle. Further, you can use filter reports to show feedback with pending actions– so the team members can follow up with customers who gave negative feedback.
To respond to customer issues and quickly close the feedback loop, you should integrate insights from real-time customer feedback reports with other data analytics. You can also use social media analytics and predictive analytics with feedback data.
Conclusion
There are endless possible uses for the automation available in feedback apps and management systems. All this technology is available to help you achieve one goal. So you can close the feedback loop quickly and effectively for customers and employees. There are readily available templates to measure Customer Satisfaction that you can choose from. Explore how you can leverage Zonka's feedback app for Android and iPad, as well as online survey software to close the feedback loop easily, while also gaining unexpected insights that keep your customers satisfied in the long run.

Learn more about Customer Satisfaction (CSAT)