Customer Satisfaction is a marketing term that measures whether products and services offered by a company meet or surpass a customer's expectation. Customers obtain satisfaction from a product or a service based on whether their need is met readily, which makes them loyal to the company. Therefore, customer satisfaction is an important factor in gaining customer loyalty.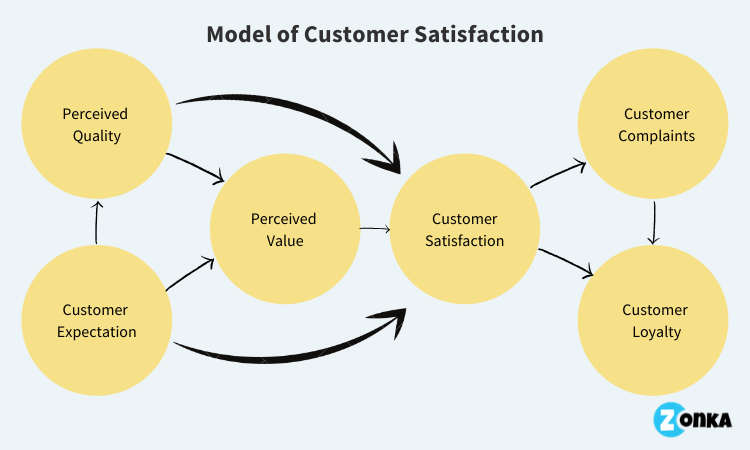 Definition of Customer Satisfaction by Philip Kotler, Father of Modern Marketing
According to Philip Kotler,
Customer Satisfaction can be defined as a 'person's feeling of pleasure or disappointment, which results from comparing a product's perceived performance (or outcome) against their expectations.'
Customer satisfaction = f(perceived performance, buyer's expectations)
In the above formula, customer satisfaction is a function of perceived performance and buyer's expectations. Perceived performance is the consumer's idea about the product or service experience. On the other hand, Buyer's expectations are influenced by numerous factors:
Factors Influencing Buyer's Expectations
Performance of the product in the past
Recommendations, word of mouth, testimonials
Reviews
Competitors views about the product or service
What its marketers promise
Why is Customer Satisfaction Important?
In this competitive age, customer satisfaction is a key component of a good business. Every business needs customers to make them flourish. To keep the customers happy and retain them, customer satisfaction plays an important role.
According to Fred Reichheld, inventor of the Net Promoter Score.
A 5% increase in customer retention results in a 25% to 95% increase in profits.
Importance of Customer Satisfaction
Creating a long-term relationship with your customers
Leads to loyalty
Reduces negative word of mouth
Reduces customer churn
Attract new customers in a competitive business world
How to improve Customer Satisfaction?
If the goal is customer satisfaction, then taking constant customer feedback is the best way to improve over time. There are different ways to measure customer satisfaction, but the most common and effective way is to ask your customers directly. Now the question comes how to capture customer feedback? It can be done with the help of Customer Satisfaction Survey Software. This methods are the fastest ways to collect real-time and offline feedback from your customers.
Customer Feedback Surveys allow organizations to learn and understand exactly how the actual customer is experiencing your business, rather than merely depending on what your subjective eyes and ears tell you.
Customer Satisfaction Surveys come in different shapes and styles, but the two most common types of customer satisfaction surveys are:
Transactional Customer Satisfaction Survey
It is a type of customer satisfaction survey which measures how your customers feel after getting in touch with your business. After every interaction, ask the customer how they felt about the exchange. Are they fully satisfied? Or could you have done more to make them happy?

Relational Customer Satisfaction Survey
Whether you take or don't take feedback from your customers, they will still have an opinion about your company. Measuring satisfaction at constant intervals is essential and not just done after every interaction. Several companies do regular customer satisfaction surveys every year. It's one of the best ways to ask more targeted questions about what impacts their relationship with your company.
Conclusion
Customer Satisfaction should be a priority for every business. Losing one unhappy customer implies losing approximately 20 even more customers (both existing and prospective) due to their bad experience spreading via word of mouth. On the other hand, happy customers will certainly become your brand advocates.