Survicate is a well-known customer survey tool that is specifically designed to enable businesses to collect customer feedback and analyze the results effortlessly.
While Survicate may be a robust customer feedback tool, it's certainly not your only option. The platform doesn't really make it easy to map the entire user journey and target users at each step, reducing the possibility for businesses to collect more granular feedback.
That's when businesses may look for Survicate alternatives that not only let them create the survey but also cut short the feedback analysis time.
In this article, we will discuss the 10 best Survicate alternatives that are perfect for those looking to capture and analyze customer insights and craft compelling experiences.
Let's get started.
TL;DR
Businesses are looking for alternatives to Survicate as the platform offers too generic solutions and is unable to meet the customer feedback needs of certain industries. The monthly cost is also high for small to midsize businesses, and Survicate also lacks some of the enterprise features.
We have gathered a list of top 10 Survicate alternatives with thorough market research, and set parameters, including unique features, and pricing plans.
Some of the popular alternatives are Zonka Feedback, Delighted, Proprofs Survey Maker, SurveySensum, SurveyMonkey, and more.
Apart from Survicate, we have also shared a list of other platforms and their various alternatives like Medallia alternatives, SurveyMonkey alternatives, Hotjar alternatives, Typeform alternatives, GetFeedback alternatives, Cloudcherry alternatives, Jotform alternatives, AskNicely alternatives, InMoment alternatives, Forsta alternatives, Delighted alternatives, Survicate alternatives, Qualtrics alternatives, Uservoice alternatives, Canny alternatives, Nicereply alternatives, Satismeter alternatives, SurveySparrow alternatives, Google forms alternatives, Data collection tools, Forms on fire alternatives, Paperform alternatives, Fulcrum alternatives, and GoCanvas alternatives
To see how Zonka Feedback can be your top choice as a Survicate alternative, sign up for a free 7-day trial or book a demo!


Measure Customer Feedback & User Insights
Try the best Survicate Alternatives to understand what users need and learn ways to delight your customers.
#1. Zonka Feedback
As one of the best Survicate alternatives, Zonka Feedback is the valued customer experience platform that enables users to measure and improve their visitor experience with its website surveys. The platform enables users to build surveys and collect customer feedback that helps them listen to customers and build world-class products, making it a strong competitor to Survicate.
A standout feature that makes Zonka Feedback the best Survicate alternative is its ability to measure website feedback without any technical knowledge. One can quickly measure survey results, collect responses, gain valuable insights into visitor behavior and preferences, and do further analysis to identify areas of improvement to make data-driven decisions.
With its CX automation capabilities and transparent pricing plan, Zonka Feedback provides survey response and feedback widgets to get customer feedback whenever they want.
The platform is built to enable startups and enterprises to improve their experiences and accelerate business growth. Its out-of-the-box survey targeting for products makes it one of the best Survicate alternatives for the target market.
Zonka Feedback Features
Measure and improve visitor experience with a website feedback tool
Gather feedback, identify areas of improvement, and make data-driven decisions
Add a feedback button, and display web widgets like popups, slide-ups, and bottom bars
Choose from 200+ AI Survey Templates, and measure CX Metrics (NPS, CES, or CSAT)
Ask questions in the language your customers speak
Display feedback forms across your website to measure and understand visitors' preferences
Evaluate the relevance and effectiveness of your website content
Quickly measure buyer's loyalty, and reduce buyer's remorse
Use exit intent surveys to recover abandoned opportunities, and insights
Listen to your customers and build world-class products
Improve customer satisfaction and loyalty through in-app surveys
Send real-time alerts to the dedicated teams to improve customer retention
Implement the right type of product feedback and tap every customer touchpoint to get valuable insights
Set up survey targeting and feedback distribution management
Improve process transparency and increase team productivity by automating manual tasks
Integrate with your existing tools for seamless feedback management
Keep every customer satisfied while closing the customer feedback loop
Pricing:

It offers a free plan.

The essential plan starts at $49/month.

You can also try it for 7-days free trial.
#2. Delighted
Another top Survicate alternative is Delighted as the platform enables users to collect website feedback, an email survey, in-app feedback, customer surveys, and more in the fastest and easiest way. The best part about this Survicate alternative is it enables users to set up automated surveys up and running in minutes, not days.
Using its easy-to-use website feedback survey software, you can quickly trigger a survey on just any website page. One can even customize and translate surveys in 30+ languages and also fine-tune survey timing.
The platform also allows you to ask the right in-app questions at the right time. Adding a logo, and customizing in-app surveys just take a fraction of a second. Another added feature you get with Delighted is the built-in survey throttling to prevent over-surveying.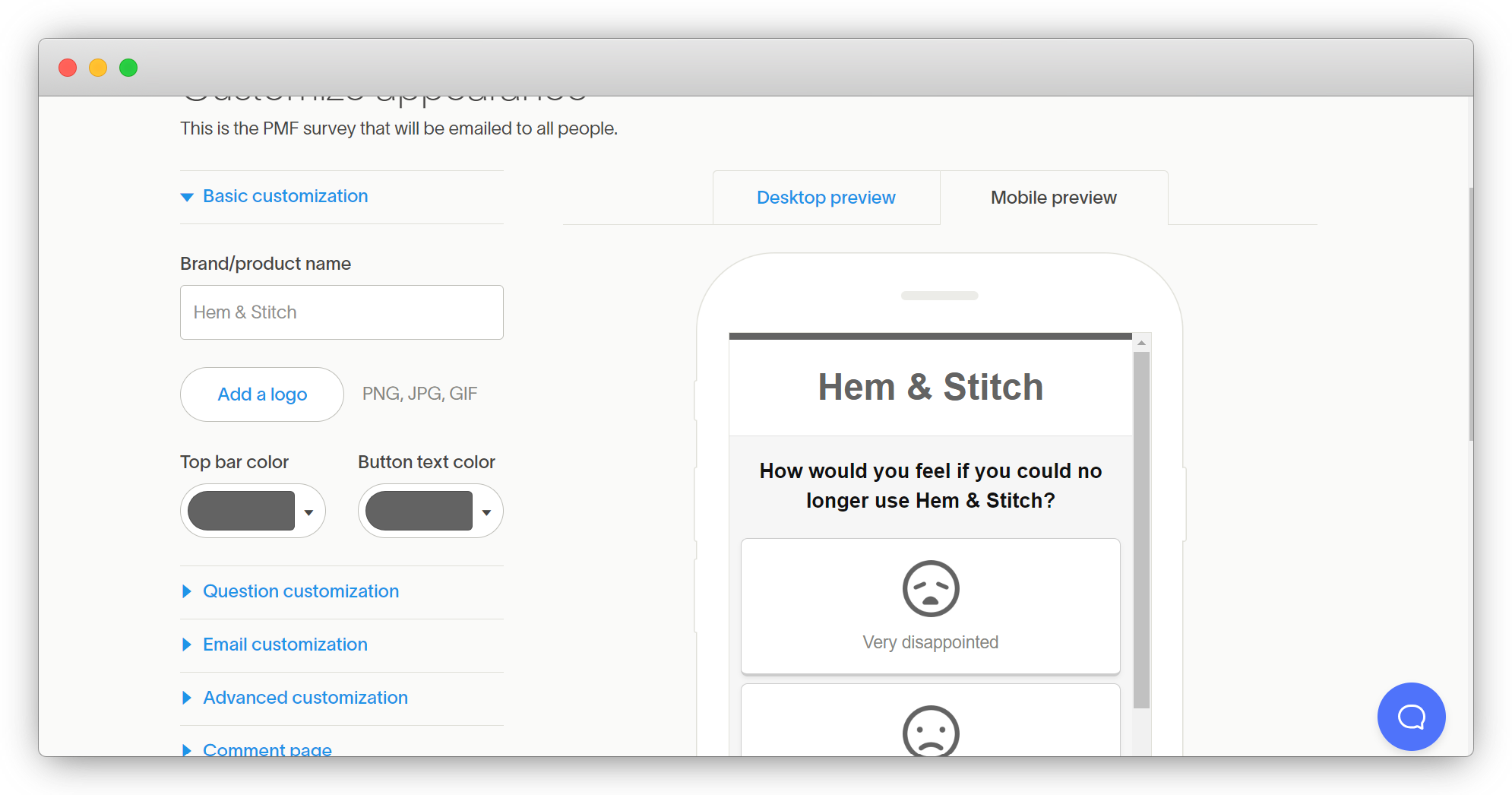 Delighted Features
Easy setup needs as minimal technical knowledge required
Customize and translate your survey to 30+ languages
Send your website feedback surveys to users once, on a recurring basis, or after an interaction
Test your survey before it's live
Ask open-ended questions to uncover crucial insight into customer satisfaction
Customize a Thank You message based on the survey response
Use in combination with other survey methods such as Email, In-app, QR code, and Link surveys
Share takeaways and act on website feedback
Create your own in-app survey- no design resources necessary
Automate survey delivery for actionable feedback
Prevent over-surveying with built-in throttling
Pricing: You can create a free account to get the pricing details.
Delighted is a popular self-serve experience management platform; however, businesses are looking for its alternatives due to its higher cost, follow-up questions, and limited integrations. Here is a blog on Delighted competitors that can be based on your specific requirements, and future goals.
#3. Proprofs Survey Maker
ProProfs Survey Maker is a popular choice when it comes to choosing an online form builder and one of the top Survicate alternatives. The online survey maker allows users to have unlimited questions and create a survey in just 60 seconds! As an alternative to Survicate, ProProfs survey maker provides 100+ pre-designed templates and 100k+ ready-to-use questions.
Proprofs survey maker is a perfect fit for those looking to gather information in the simplest way. You can even create beautiful online surveys with the easiest online survey software, and customize it with your brand and logo.
One of the best parts is the tool allows you to do user research and sentiment analysis and leverage in-app surveys to understand what product features and pages are a hit among the target audience, and what aspects need improvements.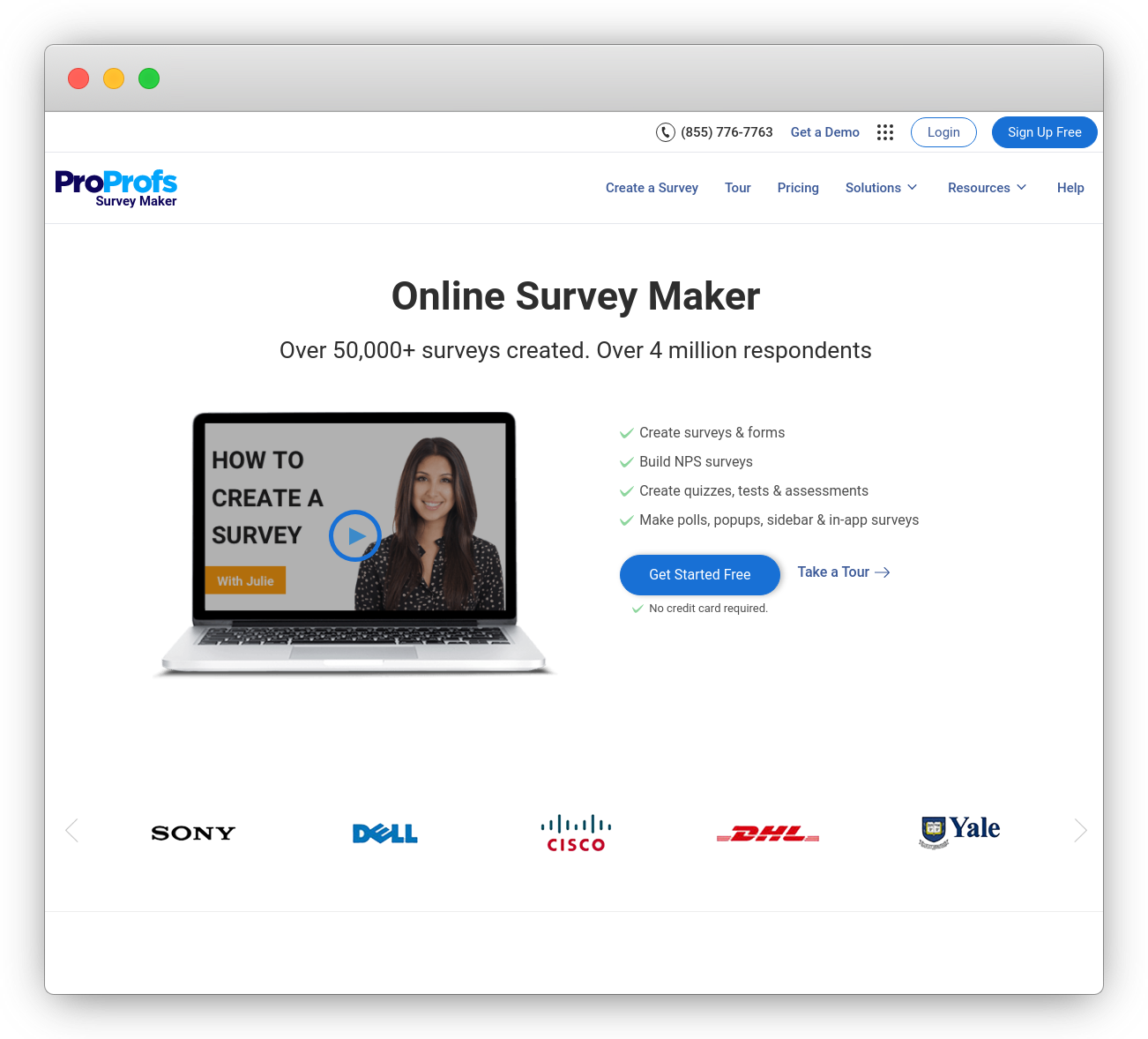 ProProfs Survey Maker Features
Create a survey in under 60 seconds
Pick from 100+ ready-to-use templates
Ask visitors questions without even leaving your website
Easily create beautiful surveys with a free survey maker tool
Customize surveys as per your brand colors and logo, add survey logic and branching, and scores
Get all feedback in one place so as to evaluate, and take action
Select from 15 different question types, add images and videos
Leverage in-app surveys to understand what product features and pages are a hit among customers
Get useful insights with advanced reports and intelligent analytics
Pricing: The initial plan starts at $19/month. You can also try it free for 15 days.
#4. SurveySensum
SurveySensum is an AI-powered customer feedback tool that allows teams to collect feedback from digital channels across various touchpoints in the customer journey. Additionally, the tool enables teams to share feedback from multiple channels as collected in real-time.
The platform is one of the top Survicate alternatives as it helps businesses close the feedback loop and prioritize actions. Being one of the top in-app feedback tools, it also analyzes verbatim feedback using text and sentiment analysis and leverages AI and machine learning technology to provide meaningful insights into the feedback data.
One of its stand-out features is its in-app feedback which offers a comprehensive set of features enabling teams to conduct surveys and gather insights effortlessly. It empowers businesses to extract maximum value from in-app surveys with advanced targeting options, real-time feedback, and competitive analysis.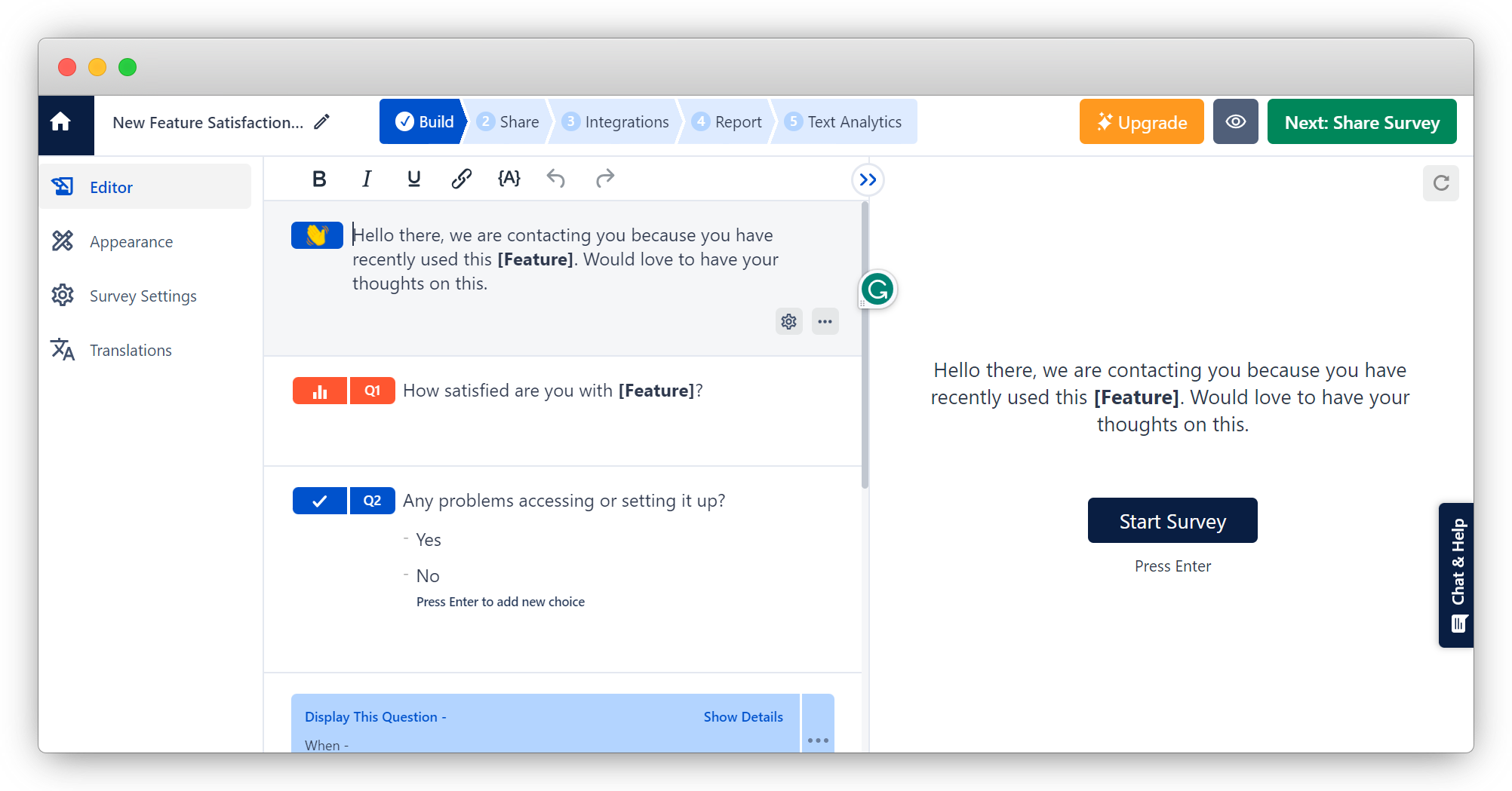 SurveySenum Features
Helps to choose the right survey for the right audience and touchpoints
Get in-built survey templates, and add custom questions depending on the objective
Gather feedback, take action, and close the loop with the help of the CX team
Effortlessly create in-app surveys, ensuring a seamless feedback experience
Tailor surveys based on user responses using skip logic, enhancing the relevance
Choose from an extensive library of templates and themes to customize surveys
Boost response rates with friendly reminders without being intrusive
Pricing: You need to connect with their sales team to learn about the pricing plans. However, you can also start with its free plan after signing up for the SurveySenum account.
#5. SurveyMonkey
One of the most popular Survicate alternatives, SurveyMonkey, is a cloud-based survey platform that offers robust features for collecting customer feedback and analyzing it to yield actionable business insights. Its website feedback and survey software enable users to distribute surveys and get feedback about customers' preferences, and needs.
These real-time insights and advanced analytics can empower the development team to boost the company's effectiveness online. When it comes to in-app feedback, SurveyMonkey is the best alternative to Survicate. The platform integrates surveys right into your mobile app surveys and web forms so as to get more responses by simplifying the experience. You can even activate rewards, offers, or other actions and messages based on survey responses.
SurveyMonkey Features
Survey respondent panels that allow users to target specific demographics
Intuitive experience for admins, users, and survey respondents
Advanced survey creation with AI guidance for creating better questions
250+ survey templates for various use cases
Manage multiple users and gain visibility through data collected across locations
Make feedback automated and actionable by connecting to key business systems
Choose from expert-written sample questions to include in your surveys
Capture feedback when the experience is fresh
Gather real-time data to quickly identify opportunities and make improvements
Create your survey from scratch, and customize it to match your brand
Prompt users to leave reviews in the app store
Set intervals for when in-app surveys are shown
Pricing: The essential plan starts at $55/month.
SurveyMonkey has gained immense popularity when it comes to collecting feedback; however, the platform isn't your only option. Here is a blog on SurveyMonkey competitors to help pick the best one that suits your business needs.
#6. SurveySparrow
SurveySparrow is another popular choice when it comes to choosing a Survicate alternative. The platform is one of the best website survey tools that allows you to obtain insights from website visitors and convert them into customers.
The platform also enables you to take targeted online conversations and surveys to collect attributes and feedback from website visitors, understand their needs, and improve customer experience. With SurveySparrow conversational surveys, you can make your website more user-friendly.
This Survicate alternative elevates data collection at every step. Using its in-app surveys you can collect feedback on the go with ease. The multi-device in-app survey enables users to gain better attention to what customers are looking for in your product and services. The best part is that SurveySparrow in-app surveys instantly capture raw from data collection and store it in its dashboard for detailed analysis and yields rich insights.
SurveySparrow Features
Position website feedback surveys directly on selected web pages
Get valuable information from the website visitors with chat-like website feedback surveys
Acquire data-driven feedback from your website visitors
Get appealing UI to engage the audience better
Multi-device compatibility for in-app surveys
Instantly captures data and stores it in the dashboard
Personalized and customize the surveys as per your needs
Pricing: You can connect with the sales team to learn about their pricing plans.
Looking for easy-to-use and cost-effective alternatives to SurveySparrow? Here is a blog on SurveySparrow competitors where you can look for a better customer experience.
#7. GetFeedback
As one of the top Survicate alternatives, Getfeedback enables its users to use website and app surveys to quickly identify and resolve customer pain points. The platform allows users to launch website surveys faster without any coding knowledge. One can quickly target specific website visitors, identify issues, gain insights about site content, and more.
With GetFeedback you also can capture relevant metadata on websites like browser, device, location, and more. Another interesting feature that you get with GetFeedback is its in-app surveys that help you to get product feedback quickly.
Its mobile app surveys create online feedback and help users create surveys that yield higher response rates through better digital experience, product design, and embedded feedback to gain real-time customer insights.
GetFeedback Features
Set up campaigns to target website visitors based on browsing or usage behaviors
Allow users to provide feedback on specific parts of your website
Capture relevant metadata on website users like browser, device, location, and more
Comply with privacy mandates by filtering personally identifiable information
Design the feedback buttons and surveys to fit your brand
Gain more app users by improving product design and UX
Earn more revenue from your app due to better performance, more app adoption, and less detractors
Increase your mobile app ratings for iOS and Android
Embed conditional surveys automatically to respond to user actions
Add a fully customizable widget to seamlessly blend into your webpage
Allow visitors to give feedback on specific parts of the landing page
Pricing: You need to first sign in to the GetFeedback account, and then connect with the sales team to learn about the pricing plans.
GetFeedback's complicated UI, limited integration options, steeper learning curve, and higher costs might compel businesses to switch to its alternatives. Here is a blog on GetFeedback competitors that share a similar purpose and functionality but offer a distinct user-friendly experience.
#8. Hotjar
As one of the known Survicate alternatives, Hotjar allows users to collect data on customer experiences through website surveys. The platform is popular for heatmaps, and recordings of targeted surveys. The website feedback tool helps you to understand your customers better, and what they are looking for in your product or services.
One of the best parts about Hotjar website surveys is that you can place the survey across an entire website or trigger it so it only pops up on specific pages and/or after specific actions. The tool enables users to customize the brand style and track the progress in a single dashboard.
Hotjar Features
Collect website feedback to quickly grow your business
Place survey across your entire website or trigger pops up on specific pages
Quickly understand your visitors and measure the satisfaction of your customers
Add a free website feedback widget to collect feedback constantly
Ask short or long open-ended questions, have quick yes or no answers or rating scales
Customize Feedback, and Surveys to match the style and personality of your brand
Get all feedback displayed through graphs and bar charts in dashboards
Quickly check what grabs users' attention or frustrates them
Watch the full customer journey to find and fix issues
Pricing: The essential plan starts at $32/month. You may also go for its free plan.
Looking for an alternative to Hotjar? Here are some of the most powerful Hotjar competitors that can help you capture user insights and improve the overall customer experience.
#9. Typeform
As one of the best alternatives to Survicate, Typeform helps users create forms and promotes survey collection into a fun and friendly conversation platform. Whether for feedback, lead generation, surveys, polls, or quizzes, Typeform focuses on providing visually appealing customized surveys.
The best part about this Survicate alternative is that it quickly allows you to create personalized surveys by using its intuitive survey creator and builder. You can create standout surveys for websites and apps in minutes. It also allows you to choose question types to send surveys to help you listen to your customers and take relevant answers.
Typeform Features
Offers more conversational, engaging, and interactive forms
Create payment forms with logic branching, ensuring a personalized experience
Get advanced question types, multiple choice, dropdowns, ratings, and more
Offers a range of pre-designed templates for different use cases
Provides real-time reporting and analytics for better insights and informed decision
Get high-quality feedback on the websites
Add a range of questions, one at a time to keep the audience engaged
Quickly embed surveys into the website either as a popup or a standard embed
Quickly ask for feedback on performance, functionality, and overall user experience
Pricing: The initial plan starts at $25/month.
Typeform helps brands treat people with thoughtfully designed tools like online forms and online surveys. But the platform has its own setbacks like few question types, higher cost, and complicated features. Here is a blog on Typeform competitors for you to help you choose the top alternatives.
#10. InMoment/Wootric
As a leader in employee and customer experience, InMoment is one of the best Survicate alternatives that helps users gain significant insights from customer and employee feedback, to help launch strategic data-driven decisions.
The cloud-based go-centric employee experience platform offers features such as executive dashboards, employee communication tools, indirect feedback, and models for gauging employee engagement and to measure customer loyalty. The platform primarily operates across three distinct domains: Customer Experience (CX) Cloud, Employee Experience Cloud, and Market Experience Cloud. These components synergize with the insights platform and provide businesses with valuable insights and a holistic comprehension of vital variables.
InMoment Features
Provides comprehensive analytics and prescriptive actions to increase retention, acquisition, customer lifetime value, and profitability
Collects CX from every format-social media review, video, web session, or visit to a store
Give your team members the opportunity to delight every customer
Execute data-identified learnings, socialize feedback, track and resolve customer cases
Helps companies continuously improve experiences at the intersection of value
Get mobile-optimized reports for better clarity
Get future-proof customer data and high-security standards
Pricing: You need to get in touch with the sales team.
InMoment is a popular customer experience platform that helps brands continuously improve their experiences with their comprehensive analytics and prescriptive actions. However, businesses are searching for InMoment competitors that suit their brand needs, and also for solutions that share a similar purpose.
Wrapping Up
Now that you have a clear idea about the top Survicate alternatives, you can choose the one that best suits your business in terms of survey types, data required, budget, sample size, and others.
Each of these alternatives highlighted has its own strength, and unique features. As we conclude this in-depth piece, we hope this article has provided you with ample information to select the Survicate alternative that best aligns with the specific requirements of your business.
If you are still not sure which platform to choose, you can take Zonka Feedback's 7-day free trial. Take advantage of this cost-effective platform, gather feedback, and get started today!