Founded in the year 1999, SurveyMonkey has gained immense popularity when it comes to collecting feedback, creating and launching surveys, quizzes, polls, and forms. You can collect real-time feedback at all touchpoints in the customer journey and leverage feedback insights to transform the customer experience.
Although it is one of the most well-known online survey tools, SurveyMonkey isn't your only option.
Fortunately, there are tons of survey software tools that are more robust and powerful in terms of reporting, customization, intuitiveness, and more. And that's what this blog will highlight.
Here, we will be talking about the top free and paid SurveyMonkey alternatives and competitors that you can pick based on your specific requirements, and goals.
TL;DR
Businesses may look for alternatives to SurveyMonkey due to its higher cost, few question types, and limitations in customization.

We have gathered a list of top 14 SurveyMonkey alternatives with thorough market research, and set parameters, including question types, ease of use, and CX metrics to align with your goal.

Some of the popular SurveyMonkey alternatives that you can find in this list are Zonka Feedback, Qualtrics, AskNicely, Jotform, and more.

Check out the other comparison lists that we've covered before Medallia alternatives, SurveySparrow alternatives, Hotjar alternatives, Typeform alternatives, and Qualtrics alternatives.

To see how Zonka Feedback could be used as a SurveyMonkey alternative, sign up for a free 7-day trial or book a demo!
Try the best SurveyMonkey Alternative🔥
Collect real-time, in-moment feedback at all touchpoints in the customer journey and leverage feedback insights to transform the customer experience.
Top 10 SurveyMonkey Alternatives & Competitors
If you're looking for alternatives to SurveyMonkey, you're in luck! We've compiled a list of the top survey tools that can help you create engaging surveys and collect valuable feedback from your customers. Whether you're seeking advanced features, customization options, or seamless integration capabilities, these alternatives are sure to meet your needs.
#1. Zonka Feedback
Zonka Feedback is an intuitive and engaging survey software that not just makes it easier for users to create surveys but also keeps the respondents hooked and engaged throughout the process with fun-to-fill surveys.
As a SurveyMonkey alternative, Zonka Feedback also offers endless customization options for branding, designing, question creation, and more. Its CX automation capabilities also make it stand out and a tough competitor to SurveyMonkey.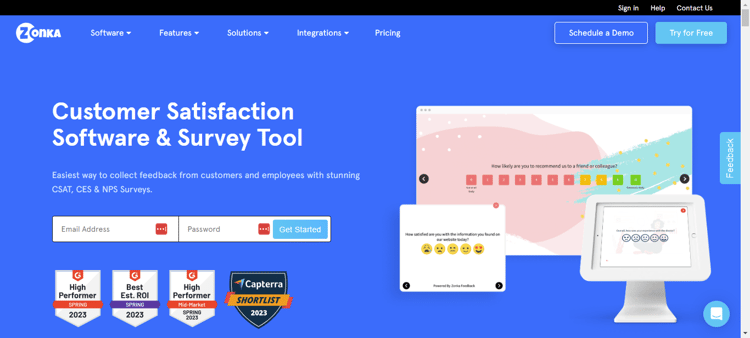 Zonka Feedback Vs SurveyMonkey
Zonka Feedback is the ultimate solution for those seeking modern and advanced survey creation tool that offers unlimited responses per survey - a feature that SurveyMonkey users have longed for.
With its CX automation capabilities users can automatically close the loop, making it one of the best alternatives to SurveyMonkey.
Zonka Feedback's user interface is both easy-to-use, intuitive, and modern. The platform's captivating design extends beyond the customer-facing side, with an internal interface that streamlines survey creation into a fun and speedy process.
Its reporting and analytics capabilities are also quite competitive when compared with SurveyMonkey.
Using this software, one can have a great support team built with an effective cross-team collaborative ecosystem, automated tasks, follow-ups, notifications, branching, white labeling surveys, task assigning, and more.
The feedback automation capability of Zonka Feedback makes it the best SurveyMonkey competitor for those looking to create surveys and a powerful CX and feedback collection tool.
Zonka Feedback Features

Templates: 100+

Multi-lingual: Yes. 37+ languages

Integration: 50+

Use Case: Customer Experience, Product Experience, Website Feedback, Patient Feedback, Employee Engagement, Lead capture

G2 Rating: 4.8

Pricing: The Starter plan with online surveys starts at $49 per month; however the paid plans with offline surveys start at $15 per month.
#2. Typeform
Typeform's online form builder offers more advanced features, like robust customization & branding capabilities, advanced survey logic & branching, and more within its pro plan, which is cheaper than SurveyMonkey.
Users can also insert an image within their survey tool using Typeform. It has a very minimal design that makes it much easier to create CSAT surveys and analyze customer feedback.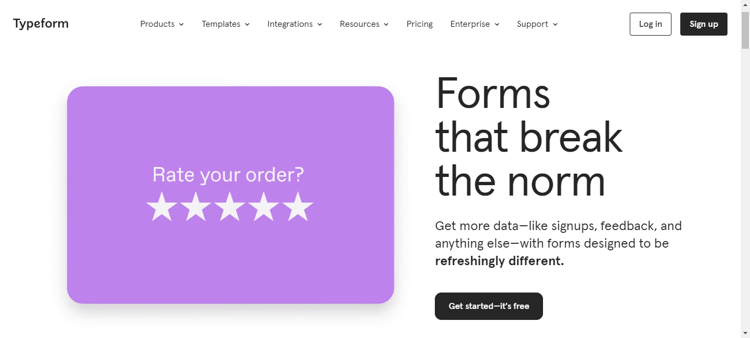 Typeform Vs SurveyMonkey
Typeform offers a visually captivating and interactive approach to market research and feedback collection, making it a popular alternative to SurveyMonkey. The unique design and engaging user interface of this customer feedback tool stand out, providing a simple and intuitive way to turn mundane forms and questions into engaging conversations that yield more responses.
With Typeform's advanced features, you can easily gather feedback, leads, orders, surveys, research, or quizzes in a fun and interactive way.
There are several features offered by Typeform that make it a great SurveyMonkey alternative that includes its conversational and interactive surveys, unlimited survey customization options, collecting feedback with logic surveys, and the advanced question logic that it offers.
Typeform Features

Templates: 100+

Multi-lingual: Yes. 26+ languages

Integration: Multiple

Use Case: Get feedback, research, lead capture

G2 Rating: 4.5

Pricing: The initial plan starts at $25 per month.
#3. Qualtrics CoreXM
If you are looking for an alternative to perform research, especially in the academic field, Qualtrics Core XM is the platform to turn to. It is also powered with predictive intelligence and analytics that offer smarter insights into customer behavior and analyze diverse customer data to effectively close the customer feedback loop.
It also sends recommended actions to the right teams automatically to improve customer satisfaction more effectively. Overall, Qualtrics allows users to maximize impact by taking the right actions through feedback.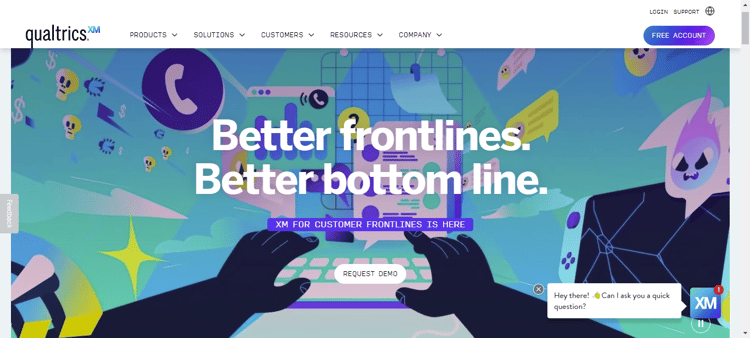 Qualtrics Vs SurveyMonkey
Qualtrics Core XM stands out as one of the most robust survey creation and market research platforms. In addition to offering survey templates, it comes with complete customer experience management capabilities with better in-depth data analysis for businesses.
The platform has become more of a research tool that enables businesses to perform in-depth research and collect responses to their user sentients and customer data.
However, the impressive power that it offers to frontline teams when it comes to boosting customer engagement and increasing customer lifetime value is still unmatched.
Qualtrics Features

Templates: 50+

Multi-lingual: Yes. 86+ languages

Integration: 100+

Use Case: Cases: Experience management, market research, academic research, employee experience

G2 Rating: 4.4

Pricing: One needs to get in touch with the Qualtrics team to discuss the pricing and plans.
#4. SurveySparrow
If you want to send out surveys that look more like conversations than tests, SurveySparrow is the best SurveyMonkey competitor. Its mobile-friendly interface also makes it easier for individuals to use survey templates through their smartphones or tablets.
With so many other customizable surveys and templates in multiple formats and themes, one can easily build personalized surveys, gain actionable insights, and share survey data here on SurveySparrow in no time.
SurveySparrow Vs SurveyMonkey
Promising to offer a higher survey completion rate, SurveySparrow offers one of the most refreshing online survey builders. It comes with an intuitive user-friendly interface and, and survey management experience that helps users share their feedback through conversational forms and chat-like email surveys.
Without any overheads, SurveySparrow allows users to white-label surveys, add their company's domain, and customize everything to make their surveys resonate with their brand image through CSS.
Unlike SurveyMonkey, SurveySparrow is user-friendly. It also offers advanced and unique questions and multiple survey types, like payment collection and constant sum.
One can send the same survey across different countries using multilingual text, support offered by this platform.
SurveySparrow Features

Templates: 100+

Multi-lingual: Multiple

Integration: 200+

Use Case: Customer experience, employee experience, product experience, marketing experience, sales experience

G2 Rating: 4.4

Pricing: The basic plan starts at $19 per month, billed annually.
#5. SurveyKing
SurveyKing offers some of the less-offered question types like MaxDiff and Conjoint for product feedback. It also allows users to use k-anonymity to build and send truly anonymous surveys.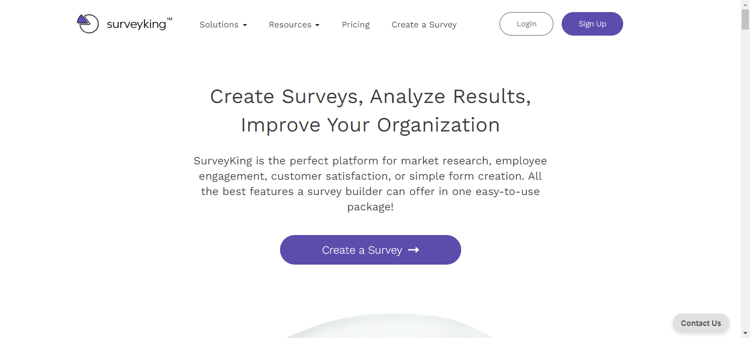 SurveyKing Vs SurveyMonkey
With its advanced survey-building capabilities and a much lower starting plan of $19 per month, SurveyKing is a powerful competitor to SurveyMonkey.
It has a much lower learning curve, and even beginners can build surveys in a matter of minutes using this platform. It allows users to drag and drop questions from documents, making it much simpler to create surveys and share survey data with even unlimited questions.
Being a relatively new platform, it has a majority of advanced features and question types like MaxDiff, Conjoint, and more.
SurveyKing Features

Templates: 10+

Multi-lingual: Not provided

Integration: Not provided

Use Case: Customer surveys, employee surveys, union surveys

G2 Rating: Not available

Pricing: The Pro plan starts at $19 per month per user.
#6. Zoho Survey
Zoho Survey is a more convenient and easier unconnected app that is a part of the Zoho suite. As a stand-alone product, the platform is easy-to-use that helps the user to create NPS surveys, CSAT surveys, personalized surveys, and more.
In terms of cost, the Zoho survey is lower as compared to SurveyMonkey. It can also be translated into 70 languages compared to only 55 offered in SurveyMonkey.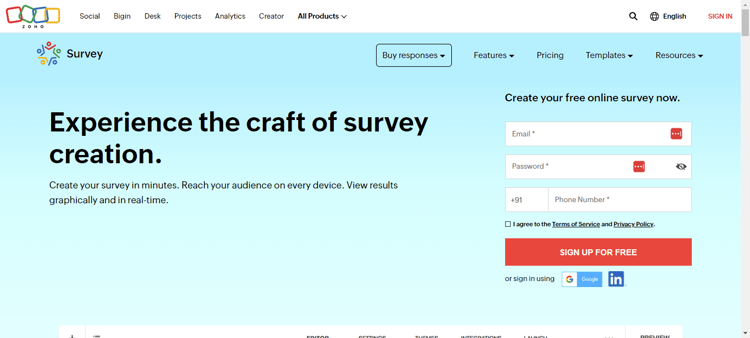 Zoho Survey Vs SurveyMonkey
Businesses already using the Zoho CRM would find it to be the best tool in the market for creating and sending surveys. This CRM survey integration allows users to transfer unlimited surveys, analyze data, and manage customer relationships through a single platform.
The interconnected suite of business apps includes Zoho Survey, Zoho CRM, and other apps for marketing, customer support, collaboration, finance, HR, legal, and more.
Most users working on the platform claim that it enables users to create custom surveys for a plethora of industry verticals at a fraction of the cost charged by SurveyMonkey (30% less as promised by Zoho).
Zoho Survey Features

Templates: 100+

Multi-lingual: Yes. 70 languages

Integration: 100+

Use Case: Customer feedback collection

G2 Rating: 4.4

Pricing: The Plus plan of Zoho Survey starts at $25 per month, billed annually.
#7. Alchemer
Formerly known as SurveyGizmo, Alchemer serves as a popular alternative to SurveyMonkey. The platform offers advanced survey features and design capabilities.
Its real-time data visualization, interactive dashboards, and customizable reports with more advanced reporting and charting options make it a really great alternative SurveyMonkey alternative.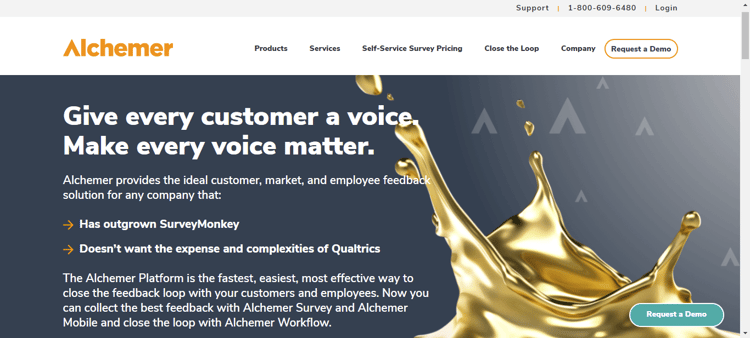 Alchemer Vs SurveyMonkey
Alchemer comes with a wide range of features and functionalities to help design and conduct unlimited surveys, collect data, and analyze survey results further. With a user-friendly and intuitive interface, Alchemer allows users to create custom surveys with over 43 built-in question types, including multiple-choice questions, open-ended survey questions, rating scales, Likert scale questions, and more.
The flexibility offered by Alchemer and its emphasis on data security is what makes it stand out. The platform offers advanced design capabilities with extensive question logic and branching options for personalized survey questions.
Businesses that prioritize maintaining a brand presence also prefer Alchemer as it lets them incorporate their own logos, themes, and branding elements into surveys.
Alchemer Features

Templates: Multiple

Multi-lingual: Manual Translations

Integration: Dozens

Use Case: Survey collection & feedback management

G2 Rating: 4.4

Pricing: The self-service survey pricing of the Collaborator plan starts at $55 per month/per user.
#8. QuestionPro: Ask the right Survey Questions like a Pro
QuestionPro is another survey platform that allows users to send surveys and ask customers the right survey questions like a pro. Its geo-coding survey capabilities, (location fetching) for survey responses are one of the key features that set QuestionPro apart from SurveyMonkey.
The platform creates advanced reports in terms of participant statistics, real-time summaries, and more. In addition to that, QuestionPro acts as a much more cost-effective alternative to SurveyMonkey; several features for which SurveyMonkey charges around $384/year are offered in the Essentials (Free) plan of QuestionPro.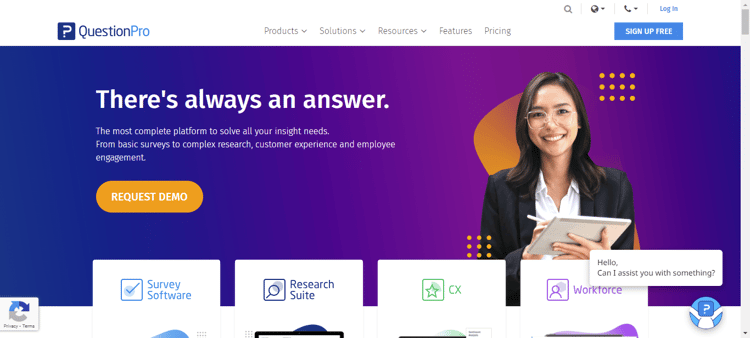 QuestionPro Vs SurveyMonkey
With over 350 free survey templates and 40+ question types, it is one of the survey tools that is certainly leading the race as the best SurveyMonkey alternative.
Compared to SurveyMonkey, QuestionPro has a gentle learning curve and offers 24-hour global support, something that seems to be an issue with a great alternative.
It allows users to create more attractive surveys customized for effective data collection. The platform also provides users with the opportunity to gather more impactful actionable insights with in-depth analysis.
QuestionPro Features

Templates: 100+

Multi-lingual: Yes. 95+ languages

Integration: Multiple

Use Case: NPS, live polls, member experience, research

G2 Rating: 4.5

Pricing: The Advanced plan for QuestionPro starts at $99 per month, billed annually.
#9. AskNicely: Superior Feedback & Unparalleled Insights
The prowess with which AskNicely allows users to collect and decipher NPS data is unmatched. One can easily switch from SurveyMonkey to AskNicely if their main objective is to boost customer loyalty and take customer satisfaction surveys.
AskNicely also comes with advanced automation to automate survey distribution, follow-up actions based on responses, and tracking customer feedback is also pretty impressive.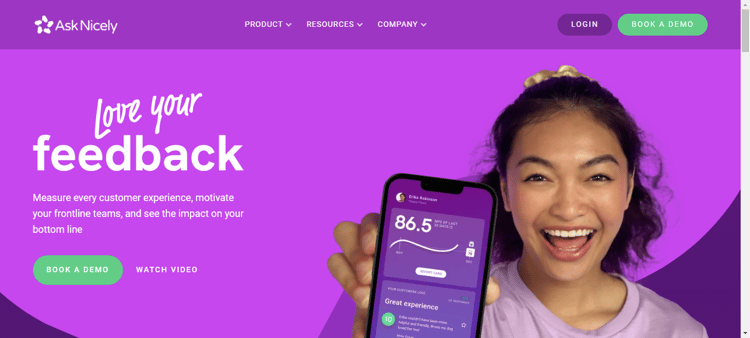 AskNicely Vs SurveyMonkey
The next customer feedback and NPS survey tool used for your marketing research to enhance the overall customer engagement experience is AskNicely. It serves as a viable alternative to SurveyMonkey if you want to do user research and place a strong emphasis on NPS surveys to gauge their loyalty and their likelihood to recommend.
When it comes to enhancing employee satisfaction surveys to boost sales through repeat purchases, AskNicely is one of the best alternatives. The tool offers real-time collaboration and insights. Its data collection strategy helps businesses stand out with each of its offerings.
With simple and basic surveys - NPS surveys with follow-up and CSAT surveys and follow-up, AskNicely is good to use if your work doesn't require complex surveys with deep insights.
Many of its users also appreciated its centralized operations like sending multiple surveys across different locations and use cases using multiple languages even with its mobile surveys.
Moreover, it practically lets users automate almost workflow through different triggers, which makes it even more seamless in effectively collecting data and taking the required action.
AskNicely Features

Templates: Not provided

Multi-lingual: Not provided

Integration: 30

Use Case: Net promoter score, experience management,

G2 Rating: 4.7

Pricing: Need to get in touch with the AskNicely team to get the pricing.
#10. SoGoSurvey (Sogolytics)
The analytics and reporting capabilities of SogoSurvey have always impressed its users. The insights generated by its data and reports can be quickly used to make data-centric business decisions that are more impactful. Moreover, its customer support is top-notch.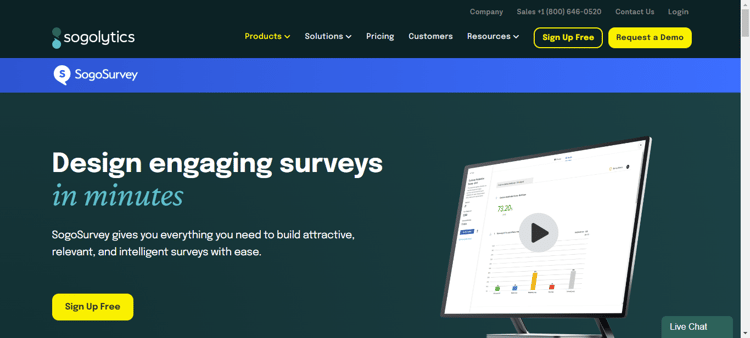 SoGoSurvey Vs SurveyMonkey
SogoSurvey by Sogolytics is an advanced, survey tool and feedback management platform that empowers users with enterprise-level capabilities. Its robust and intuitive data collection detailed analysis, and management capabilities allow users to create, distribute, and embed surveys and collect responses at scale.
Its paid plan also offers much more powerful survey software when it comes to reporting and analytics. It gove beyond basic survey reporting and offers sophisticated data analysis features like sentiment analysis, text mining, predictive analytics, etc.
For larger corporations and enterprises planning to run large-scale surveys and feedback management processes, Sogolytics is the perfect choice.
Another thing that makes SogoSurvey stand out is its customer support. When analyzing as a SurveyMonkey alternative, SogoSurvey offers easily accessible support.
SoGoSurvey Features

Templates: Multiple

Multi-lingual: Yes. 28 languages

Integration: 5000+ with Zapier

Use Case: Enterprise feedback, customer experience, employee experience, helpdesk ticketing

G2 Rating: 4.5

Pricing: The Plus plan of Sogolytics starts at $ 25 per month.
Top Free SurveyMonkey Alternatives & Competitors
On the hunt for free SurveyMonkey alternatives?
Look no further.
We've compiled a selection of top contenders that cater to your need for cost-effective solutions without compromising on quality.
#11. Qualaroo by ProProf
As one of the best SurveyMonkey alternatives, Qualaroo lets you ask the right questions to the customers at the right time and analyze feedback results with its powerful AI analysis without spoiling the user experience.
Qualaroo Vs SurveyMonkey
When it comes to asking just the right questions at the right time, Qualaroo Nudge™ technology is the best SurveyMonkey alternative for websites, mobile sites, and in-app surveys, without being ambiguous.
Built upon extensive market research, predictive analysis, substantial qualitative insights, data collection capabilities, and refined enhancements, the effectiveness of the platform is firmly established.
Being one of the best survey apps, you can also collect in-context feedback and analyze it in real-time with intuitive reporting and IBM Watson-powered Sentiment Analysis.
Qualaroo Free Plan Details

Maximum surveys: Unlimited

Maximum questions per survey: Unspecified

Maximum responses per survey: 10

Use Case: Customer experience, web & app experience, product experience

G2 Rating: 4.4

Pricing: Qualaroo offers free plan.
#12. AhaSlides
Trusted by 100+ academic institutions and companies around the world, AhaSlides is one of the best SurveyMonkey alternatives. With a free plan and unlimited resource access, you are completely free to customize surveys that are ideal for your brand.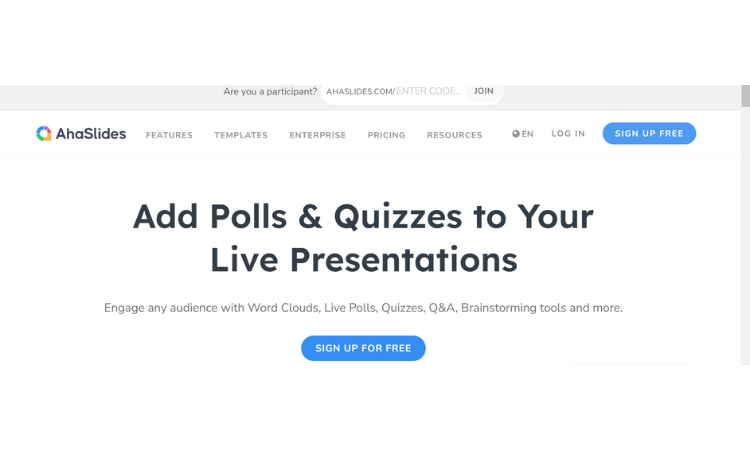 AhaSlides Vs SurveyMonkey
With a 4.3 rating on the G2 platform, AhaSlides is a free online survey tool and data collection tool. The platform's ready-to-use survey templates, a range of suggested questions, and a nice and user-friendly interface make it an effective online survey data collection tool.
The platform also offers novel experience workflows and visualization options to integrate with Youtube and other digital streaming platforms.
It also provides real-time feedback data, a variety of result charts, and an export feature which makes it a gem for collecting data.
AhaSlides Free Plan Details

Maximum of surveys: Unlimited.

Maximum questions per survey: Unlimited.

Maximum responses per survey: Unlimited.

Allow up to 10K participants for conducting large surveys.

Maximum language used per survey: 10

Use Case: Customer experience, web & app experience, product experience

G2 Rating: 4.3

Pricing: AhSlides offers free version plan as an alternative to SurveyMonkey.
#13. Survicate
Survicate stands out as an excellent option for small to medium-sized enterprises across diverse sectors. It provides comprehensive functionalities even within its free plan.
Notably, it empowers brands to continually monitor participants' service interactions, and create personalized satisfaction surveys, emerging as a prominent feature.
Survicate Vs SurveyMonkey
Survicate is smart and organized for each step of choosing templates and questions from their library, distributing via a survey link or through media channels and collecting responses, and investigating completion rates.
The tool also asks follow-up questions and sends calls to action in response to previous answers
Survicate Fee Plan Details

Maximum surveys: Unlimited

Maximum questions per survey: Unlimited

Maximum responses per survey: 100/month

Maximum questions types per survey: 15

Use Cases: Customer experience, web & app experience, product experience

G2 Rating: 4.5

Pricing: Survicate offers free version.
#14. Jotform
As a free SurveyMonkey alternative, Jotform starts with a limited free version that offers a wide range of customization options, allowing you to create custom forms with its branding, styling, and layout preferences.
Jotform Vs SurveyMonkey
With over more than 10,000 customizable templates and hundreds of customizable widgets to choose from, Jotform makes it easy to build and design intuitive user-friendly online forms and mobile app surveys. It also allows users to take accurate surveys, and do offline response collection to multiple question types.
Jotform Free plan details

Maximum surveys: 5/month

Maximum questions per survey: 10

Maximum responses per survey: 100/month

Use Cases: create forms, Polls, and Quizzes, Employee experience

G2 Rating: 4.7

Pricing: Jotform offers a free version.
Why Are Businesses Switching To SurveyMonkey Alternative?
SurveyMonkey is one of the oldest and most popular survey collection tools. However, despite its popularity, businesses, and individuals are still seeking SurveyMonkey alternatives.
The reasons are plenty.
Some consider it an expensive survey software; others feel it lacks the customer service support anyone would expect from such a big brand. Some reviews even point out the complexities in its interface.
After assessing real user reviews of SurveyMonkey from product review sites like Gartner, G2, and Capterra, here are some of the key reasons why businesses are planning or have already switched to SurveyMonkey alternatives.
Pricing: The majority of SurveyMonkey users complained about the high cost charged by the software to implement even some simple capabilities.

Even in the premium plan, there are several limitations that make users switch to SurveyMonkey alternatives.
Limited Question Types: The Free plan has many limitations that seem to agitate the users. There is a cap of a maximum of 10 questions that one can ask in the Free version.
Constraints on Customization: Many users of SurveyMonkey have also claimed that they feel constrained when it comes to adding customizations. There is a lack of flexibility when designing surveys as per one's own branding
Response Limitation: For almost every plan that SurveyMonkey offers, there is a restriction on the number of responses one gets in a year. Also, it charges additional fees for each response once you have reached the limit.
Limited Functionalities in Free Plan: The number of questions, as well as responses in the Free plan, is limited and forces users to make payments as they complete the survey in terms of locked features, added questions, responses, and more.
Logic Limitations: When creating complex surveys, especially with skip logic and branching questions, it can be challenging to create one on SurveyMonkey.
Survey Design Limitation: Compared to other survey software tools in the market, SurveyMonkey needs to work on advanced question logic, branching, and customization options.
Key Factors To Consider When Selecting SurveyMonkey Alternatives
With countless survey software tools in the market, it goes without saying that some lack in areas where others excel.
When it comes to selecting a SurveyMonkey alternative, there are some parameters that one should consider before making a decision.
Pricing Plan & Inclusions: One of the key factors when comparing and choosing between the many SurveyMonkey alternatives is the pricing and what's included in each of the plans.
Integrations: The number of integrations with other CRM, marketing tools, sales tools, collaboration tools, and more is also a crucial factor.

Ease-of-use: A survey software with a steeper learning curve might work for those running large-scale projects. But for individuals, a SurveyMonkey alternative that's easier to use and has a simpler UI, creating survey and feedback collection simpler, something that one should always factor in.

Survey Design: Ensure the alternative provides flexible design options to customize the look and feel of your surveys, aligning with your brand and preferences.

Question Types: The type of questions that are included in your survey should also be considered while looking for the SurveyMonkey alternative.

Channels: One needs to analyze and ensure that the SurveyMonkey alternative they choose offers the right set of channels from where you want to collect feedback.

CX Metrics: Every business wants to measure its customer experience to improve the same. Based on the CX or customer satisfaction metrics, you can choose the right SurveyMonkey alternative. For example, businesses with a focus on NPS can choose AskNicely as it specializes in it.
Conclusion
There are countless survey software tools out there that can work as a powerful alternative to SurveyMonkey. However, while making the switch to the best online survey tools, one should make sure to analyze the various parameters like templates offered, pricing plans & inclusions, limitations, and USPs to make a wise decision.
In this blog, we have covered the top 14 SurveyMonkey alternatives that you can look for to create sophisticated surveys, collect feedback, manage responses, and improve the overall customer experience. Ultimately, the decision is yours to make.
However, with the features, ratings, pricing, limitations, and USPs highlighted in this blog, we aimed to help you get all the information under one roof to make the decision process faster and easier.
You can also sign up with Zonka Feedback for a 7-day free trial to explore the features and functionalities that this platform has to offer.