Online survey tools are software platforms or applications that help you to create, share, collect, and analyze surveys. You can use online survey software to conduct market research, customer feedback, employee feedback, academic research, and more.
With a lot of options available in the market, each claiming to be the best, finding the survey tool that fits your requirements can be challenging. In this blog, we will help you find the best online survey software that you can use to get meaningful insights from your target audience and make data-driven decisions to improve their user experience.
TL;DR
Survey tools are software or online platforms designed to create questionnaires and share them across different channels.

We've listed the top 15 survey tools, considering factors like user interface, templates, question types, integrations, distribution channels, survey reports and analytics, and pricing, to help you find the best fit for your needs.

Some of the leading online survey tools from our list include Zonka Feedback, Qualtrics, SurveyMonkey, Typeform, Hotjar, Zoho Surveys, Google Forms, and many more.

In case you are looking for feedback tools that serve a specific purpose, you can check out our articles on website survey tools, product survey tools, in-app feedback tools, offline survey tools, enterprise feedback management software tools, customer satisfaction tools, email survey software, best NPS software, best survey apps, best SMS survey software.

To create engaging surveys of all types, share with users, analyze reports for insights, and close the feedback loop, you can sign up for a free trial on Zonka Feedback or schedule a demo.
Fuel Business Growth with Customer Feedback 🔥
Collect real-time, in-moment feedback at all touchpoints in customer journey and leverage feedback insights to transform customer experience.
Best Online Survey Software for Collecting Customer Feedback
Let's begin by looking at the best online survey software that can help you collect deeper insights from your customers and increase satisfaction among customers.
1. Zonka Feedback
Popular for: Website surveys, product feedback, offline surveys, email surveys, in-product survey software
Zonka Feedback is an all-in-one, easy-to-use online survey software that offers a wide range of features, including customizable surveys, real-time reports, and robust analytics. It helps you to collect customer feedback through surveys of various types like Likert scales, 1 to 10 opinion survey scale, NPS surveys by sharing them on different survey collection channels both online and offline across the customer journey.
As one of the most effective online survey tools, Zonka Feedback also helps you take instant action to close the feedback loop, improve and automate CX and facilitate improvement in various aspects of your business.
Top Features
100+ customizable ready-to-use survey templates such as customer satisfaction survey templates, product feedback form templates, healthcare patient satisfaction survey templates, and more.

Microsurveys with 30+ question types on CX metrics like Net Promoter Score, Customer Effort Score, and Customer Satisfaction Score can be deployed in-app easily for real-time feedback collection.

Feedback widgets such as feedback buttons, popover surveys, popup surveys, slide out surveys, and bottom bar surveys for engaging feedback collection.

Dynamic survey features like survey logic and branching, hide logic, answer piping, multilingual surveys and survey redirection for efficient data collection.

Real-time feedback alerts and notifications for feedback based on the criteria you set.

Workflow automation for automating processes like response tagging and auto-responding that seamlessly integrate into existing tech stack.

User segmentation and segmenting of feedback data for targeted audience.

Powerful integration with business tools like Salesforce, Zendesk, Freshdesk, Slack, Mailchimp, Webex, Google Analytics, AirTable, Intercom, Zoom, and more.

Advanced reporting and analytics for top primary metrics and detailed response analysis.

White labeling for personalized, relevant, and branded customer feedback surveys.
Pricing
Starts at $49/month.

Customizable plan as per business requirement available.

Free trial for 7 days available
Score On
G2: 4.7/5

Capterra: 4.8/5

GetApp: 4.8/5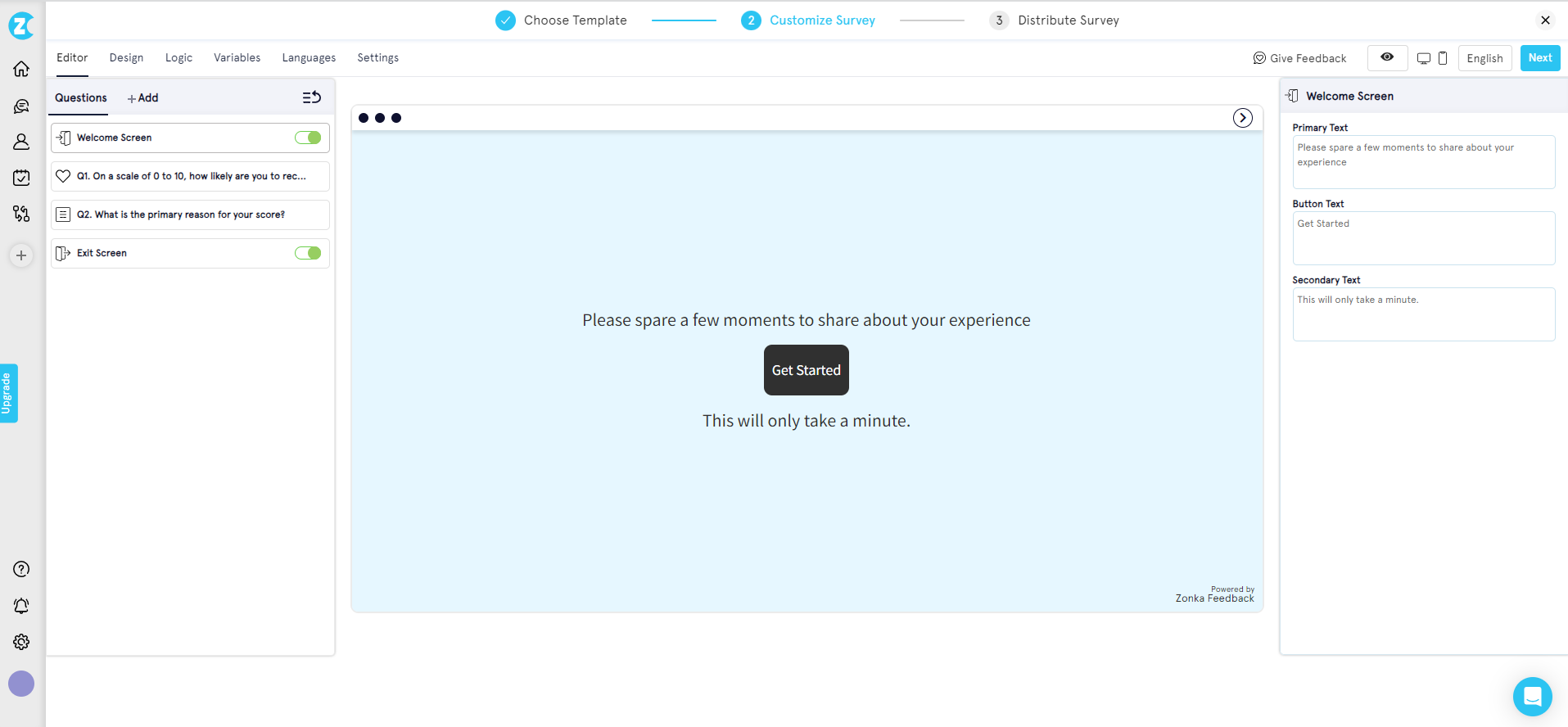 2. Qualtrics
Popular for: Website surveys, in-product survey software, SaaS survey software
Qualtrics is a survey platform known for its advanced survey logic capabilities, comprehensive reporting tools, and user-friendly interface. It offers extensive customization options pushing the boundaries of traditional surveys, making it an effective choice for survey makers for creating surveys and managing feedback.
Top Features
Advanced survey logic and branching capabilities.

Comprehensive reporting and analytics for in-depth response analysis.

User-friendly interface with an intuitive survey-building experience.

50+ survey templates and 100+ question types to create customized online surveys.

Multiple channels for survey distribution like mobile devices, websites, and apps.

Integrations with existing systems like Salesforce, Marketo, and Adobe.

Collaboration on custom online reports that automatically update in real-time.
Pricing
Offers custom plans as per your business needs.

It also offers a free trial.
Score On
G2: 4.4/5

Capterra: 4.8/5

GetApp: 4.8/5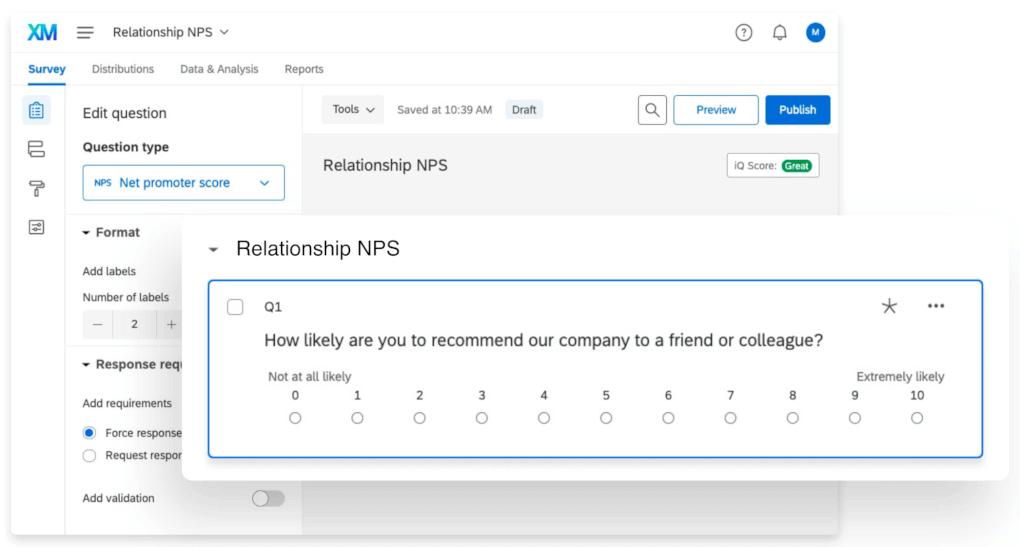 Qualtrics can be expensive and might not fit under the budget of many startups or small businesses looking for a simpler online survey tool. You can check out the top Qualtrics alternatives that we've covered to find more user-friendly and quick-to-start survey tools.
3. Typeform
Popular among: Online website surveys, feedback survey software, SaaS survey software, in-product surveys
Typeform stands out with its visually appealing and interactive surveys. With its easy-to-use interface, extensive question types, and conditional logic, Typeform helps you turn boring surveys into engaging and conversational surveys that captivate respondents.
Top Features
Interactive and engaging way to create survey.

Customizable online survey and form templates.

Over 120+ integrations to conduct surveys at scale.

Conditional logic, skip logic, and question branching.

Brand customization with themes, colors, and logos

Real-time data visualization

Advanced reporting and analytics

Collaborative survey creation

Syncing of online responses to tools Google Sheets and Zapier

Free features like unlimited surveys and data export options
Pricing
Basic plan costs $25/month.

It also offers a free plan for up to 3 surveys with 10 questions per survey
Score On
G2: 4.5/5

Capterra: 4.7/5

GetApp: 4.7/5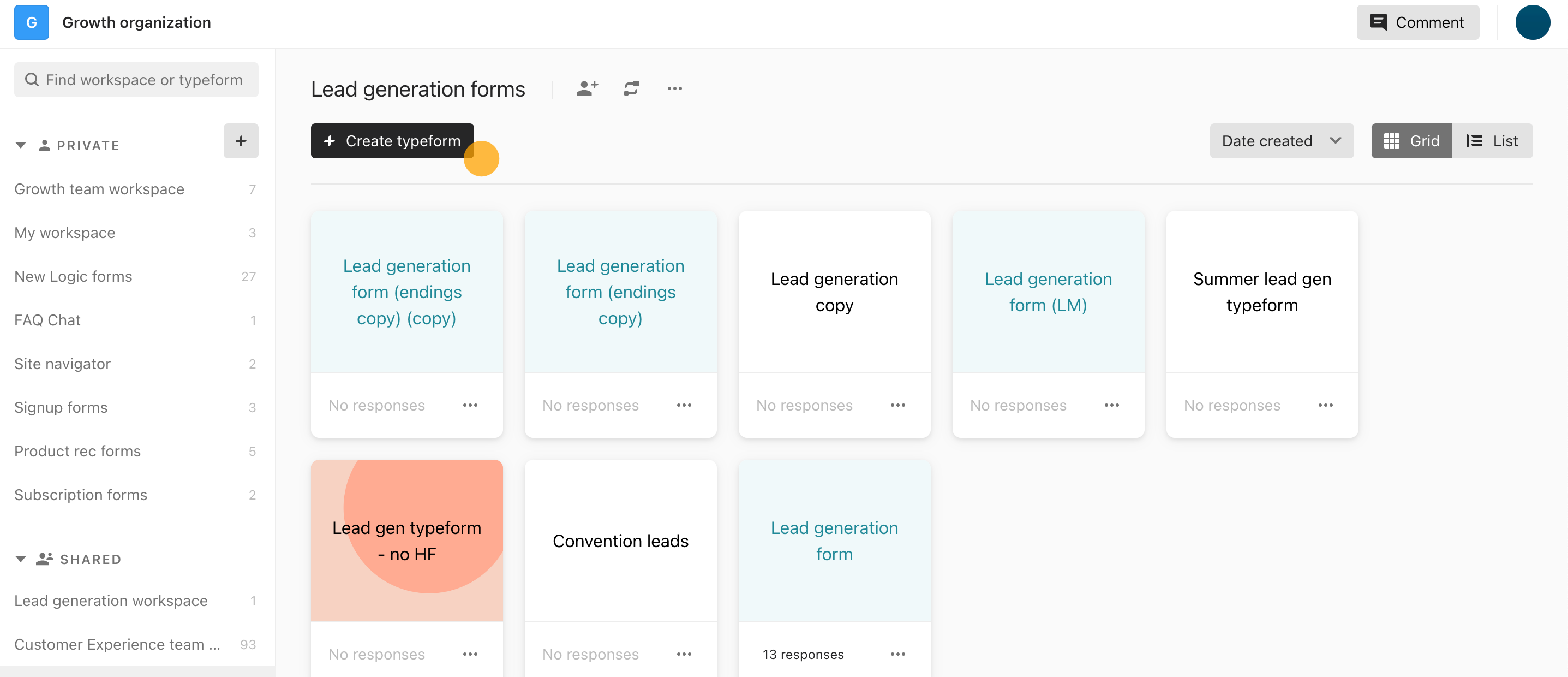 Looking for one of the best online survey tools that come with advanced analytics and more than just an interactive interface? Here are the top Typeform alternatives you can switch to.
4. forms.app
Popular among: Feedback survey software, email surveys
With forms.app, you can create not only surveys but also forms and quizzes in a short time thanks to its 1500+ ready-made templates and its AI form generator feature. It is an easy-to-use survey maker with a user-oriented design and offers almost all advanced features in its free plan.
Top Features
AI form generator

Easy workflow automation with +500 third-party integrations

Conditional logic

Various questions types

25+ form fields

Push notifications

Advanced data analytics
Pricing
Free plan with 5 forms and 100 responses /month

Basic plan starts at $25/month
Score on
G2: 4.5/5

Capterra: 4.6/5

GetApp: 4.6/5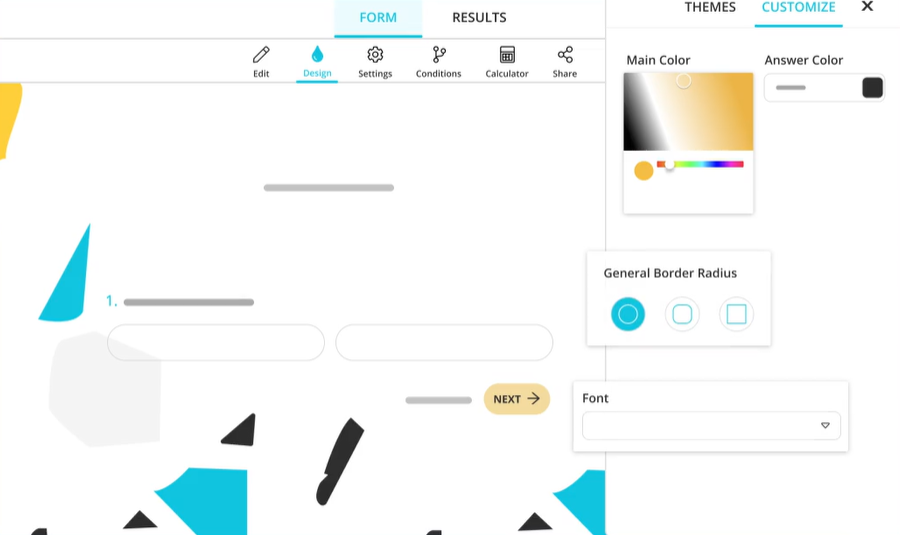 5. Zoho Survey
Popular among: Survey apps, website survey tools, mobile survey tools, in-product survey tools
Zoho Survey offers a range of survey questions and templates, logic, branching, and advanced reporting features. It is a great option if you are looking for AI-infused survey innovations and can be an add-on for your Zoho CRM.
However, when assessed individually, Zoho Surveys isn't as advanced and comprehensive as other survey tools in this list.
Top Features
Free features like unlimited surveys with 10 questions each

15+ question types like multiple choice, star rating, image type, rating scale, and NPS and 200+ templates.

Multilingual surveys.

Collaboration and sharing among the team members.

Reporting and data analysis with visual charts, graphs and filters.

Integration with Zoho Apps and third-party tools.
Pricing
Free for 100 responses per survey and 10 questions per survey

Paid versions start at $25/month per user
Score On
G2: 4.4/5

Capterra: 4.6/5

GetApp: 4.7/5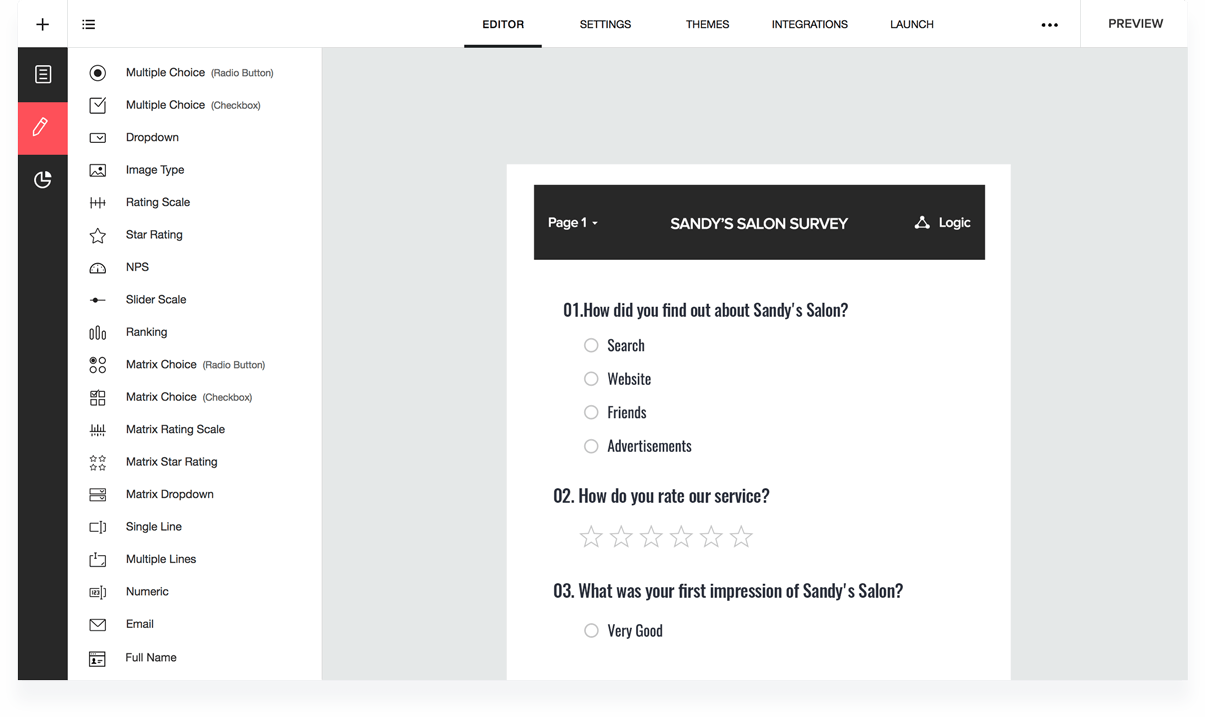 6. Delighted
Popular for: Product feedback, NPS surveys, online website surveys, in-product survey software, SaaS survey software, email survey software
Delighted specializes in creating online forms and sophisticated surveys for collecting Net Promoter Score (NPS) feedback, Customer Satisfaction feedback, and Customer effort score, and is one of the easiest tools to measure customer and employee satisfaction, product feedback, and website feedback.
As one of the popular online survey tools, it offers robust reporting features for text analysis and supports multiple channels to share surveys like email, web links, kiosk surveys, and iOS SKD. It doesn't support Android SDK and SMS Surveys.
Top Features
Net Promoter Score other metric surveys like CSAT, PMF, eNPS, and CES

Customizable surveys with branding elements and themes

Real-time feedback reporting

Feedback trends and analysis

Integration with CRMs and helpdesk systems

Automated workflows and notifications
Pricing
Premium plan costs $224/month.

It also offers a free version plan with a monthly survey send limit of 1,000.
Score On
G2: 4.7/5

Capterra: 4.9/5

GetApp: 4.9/5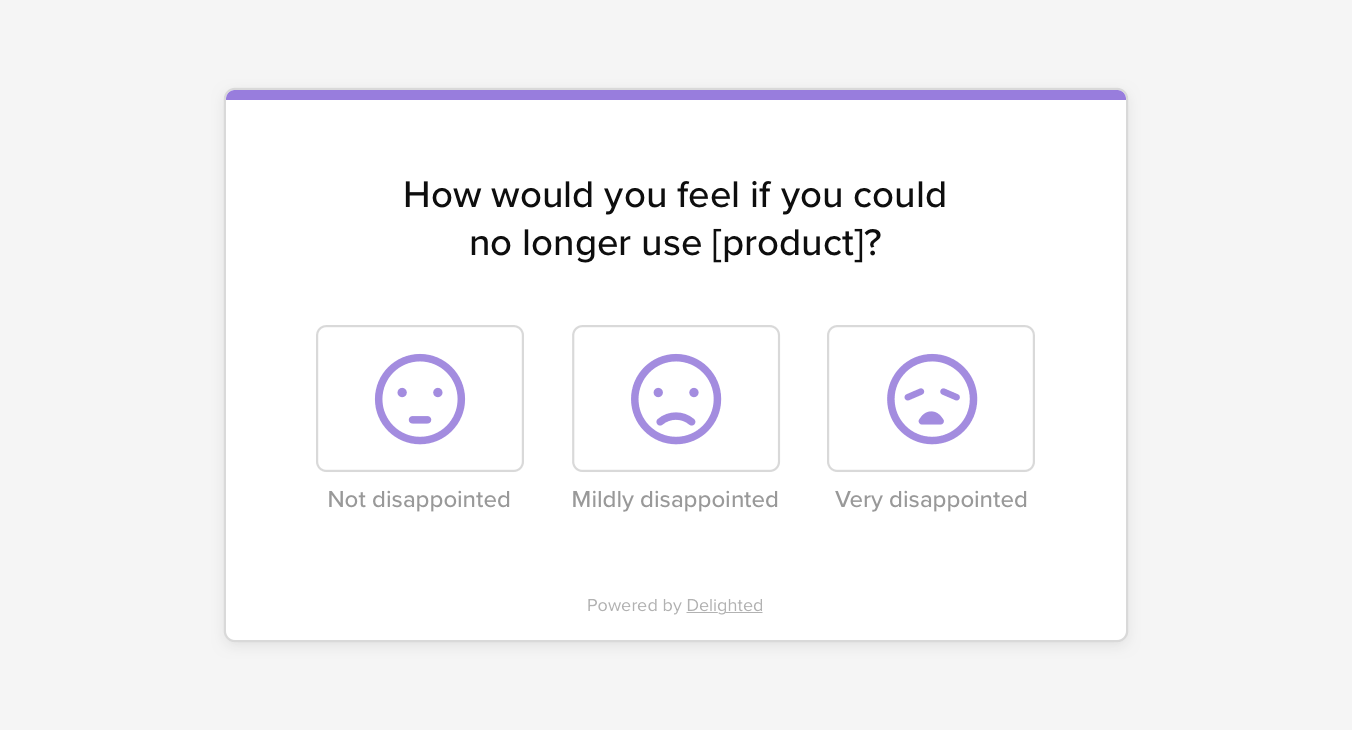 7. SoGoSurvey by Sogolytics
Popular among: Online website surveys, mobile survey tools, offline surveys, SMS surveys
SoGoSurvey offers survey management software for customer and employee experience management, with two product approaches: SoGoCX and SoGoEX, ideal for businesses with diverse survey requirements. It provides feature-rich advanced logic and branching options with customizable templates, while labeling, sentiment analysis, and segment-based analysis with an easy interface.
However, it lacks display logic for questions and once you add logic to a question, you can't change its position, which might make you redo the survey.
Top Features
Pre-designed templates with survey design customization.

Question branching and survey logic to collect data.

Multilingual surveys.

Reporting and analytics.

Collaboration and team management.

Embedding multimedia in the survey software
Pricing
Starts at $25/month.

Free trial for 10 days available.
Score On
G2: 4.5/5

Capterra: 4.7/5

GetApp: 4.7/5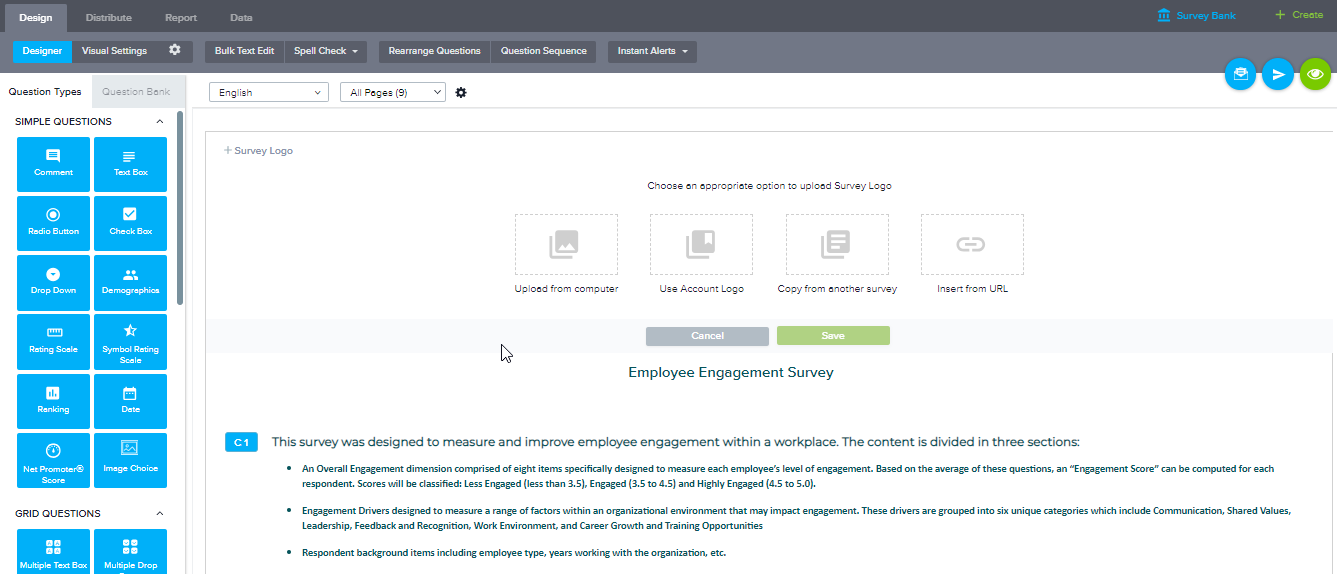 8. Formstack
Popular for: Feedback survey software, online survey builder
Formstack is one of the best questionnaire tools that allows you to create online surveys effortlessly with its drag-and-drop interface and extensive question types. It offers automation and integration capabilities to streamline survey processes and integrate with other applications.
Formstack Forms is ideal for user-friendly feedback forms, but its drag-and-drop builder lacks customization compared to other tools. Reporting options are limited, and pricing might be a concern for some users.
Top Features
Easy form builder with drag-and-drop interface

Advanced question types and conditional logic

Seamless integrations with CRMs and third-party tools and automation

Confidential notifications and workflows

Robust reporting and analysis

Mobile-optimized surveys

Partial survey form submissions

Email confirmation and notifications
Pricing
Starts at $50/month.

Free trial for 14 days available.
Score On
G2: 4.4/5

Capterra: 4.2/5

GetApp: 4.2/5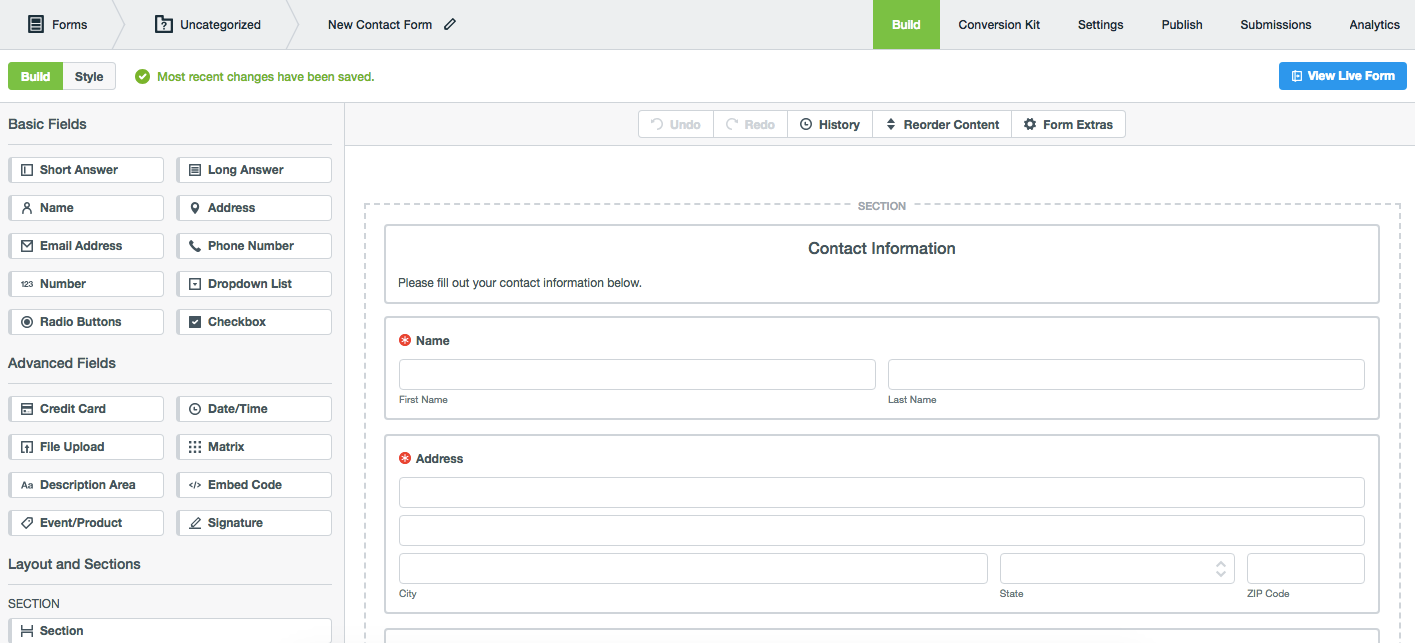 9. Alchemer
Popular for: Online website surveys, mobile survey tools, email survey software, SMS surveys
Alchemer, previously known as SurveyGizmo, is one of the most popular enterprise-level questionnaire tools popularly used by various startups and Fortune 500 companies. SurveyGizmo is known for its high-end automation capabilities and customizations that ensure survey management is on the go.
It offers advanced features like branching logic, data analysis tools, and extensive customization options. Ideal for more complex surveys that require in-depth survey capabilities and robust reporting.
Top Features
User-friendly survey builder with a drag-and-drop interface

43+ question types to include in surveys and create surveys, quizzes, polls, exams, and questionnaires

Advanced Analytics options like Cross-tabulations and Trend Analysis

Real-time and flexible reporting

Collaboration and workflow management

Automate workflow and easy integrations

Advanced survey features like response piping, A/B testing, and more
Pricing
Starts at $55/month per user.

It also offers a free trial.
Score On
Capterra: 4.5/5

GetApp: 4.5/5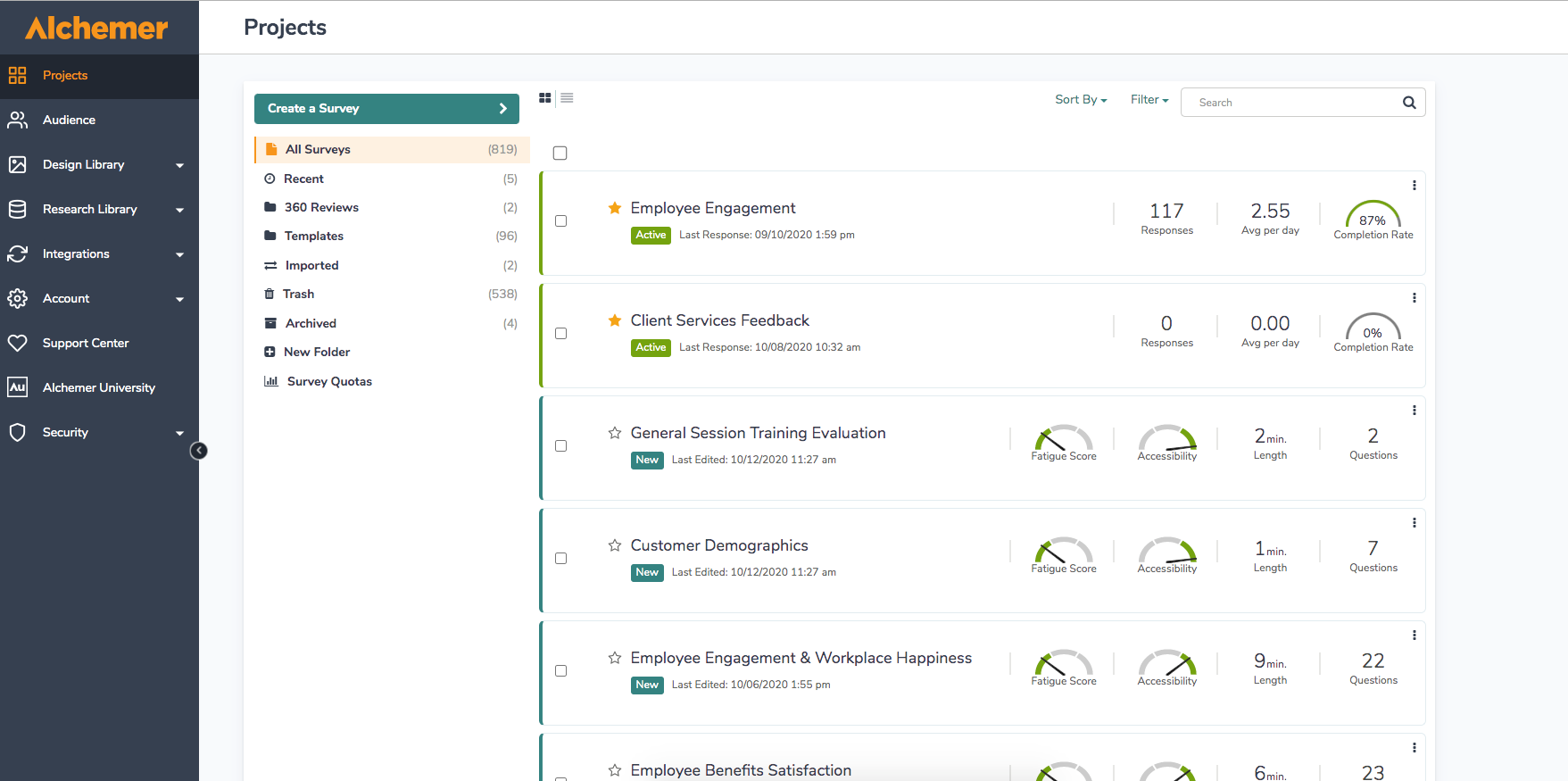 10. Pollfish
Popular for: Mobile survey tools
Pollfish is one of the most popular questionnaire tools that specialize in mobile-focused surveys, allowing you to reach a global audience through its in-app surveys. With its AI-powered survey creation, it takes the hassle out of designing surveys by automatically generating them based on your goals and objectives. However, it may not be as robust in areas such as offline surveying or complex survey logic.
Top Features
Global audience reach by the access of a network of app publishers

Real-time survey results

Advanced targeting and customization

Survey distribution control

Survey compatibility and flexibility in question types and formats

A/B testing
Pricing
Score On
G2: 4.4/5

Capterra: 4.5/5

GetApp: 4.5/5

11. Visitor Analytics (TWIPLA)
Popular for: Online website surveys
Visitor Analytics, now TWIPLA, can be a great tool if you are looking for survey software that focuses primarily on analyzing feedback from website visitors. It allows the creation of simple surveys and real-time reporting, allowing you to gather and monitor website performance simultaneously.
Being one of the best online survey tools, Visitor Analytics allows you to conduct statistical analytics as well as behavioral analytics through its intelligent survey platform.
Top Features
Multiple types of questions, including rating scales, short/long text questions, multiple choice questions, website sliders, and more.

Branding your surveys by choosing their look and feel.

Website analytics, including visitor traffic, bounce rate, page views, and more.

Real-time visitor tracking, conversion tracking, and analysis of the online journey of users.

Heatmaps to track visitor activities like clicking, scrolling, etc.

Advanced response analytics through the number of survey responses, bounce rates, and funnel analysis
Pricing
Free plan supports 400 visits per month.

Basic plan starts at $10.39/month.
Score On
G2: 4.4/5

Capterra: 4.7/5

GetApp: 4.7/5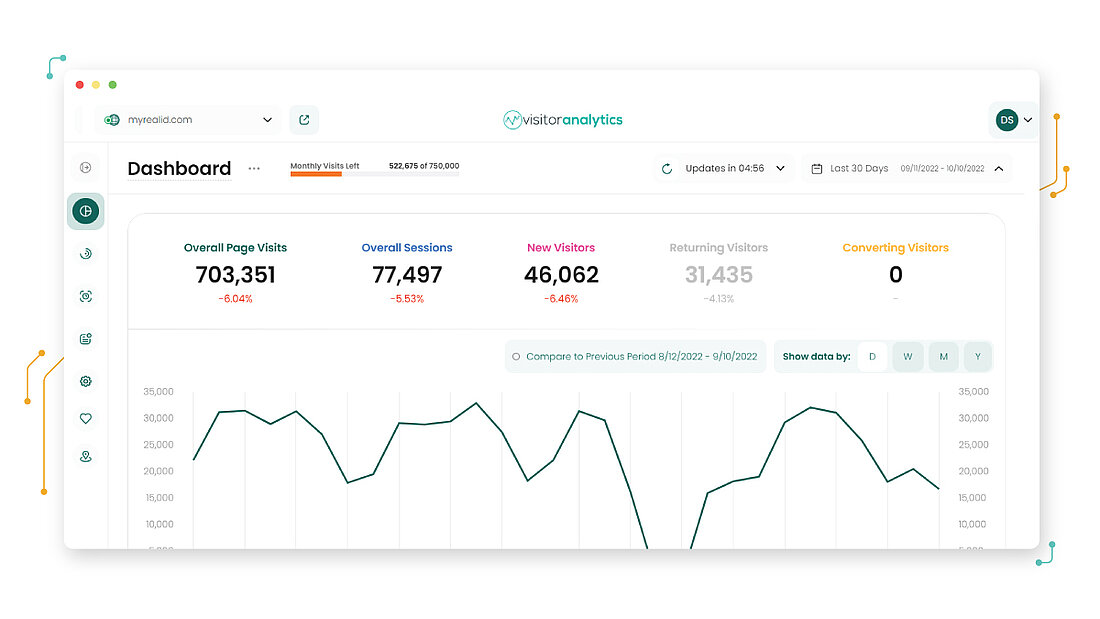 12. Informizely
Popular among: Website survey tools
With its intuitive user interface and comprehensive features, Informizely empowers businesses to understand user behavior, improve customer experience, and drive conversion rates.
Since it focuses exclusively on online website surveys and analytics, it may not be the best choice if you require survey capabilities through other channels.
Top Features
Ability to share surveys through links, emails, and website

Customizable survey designs

Targeted surveys and audience segmentation

Multiple question types like NPS, CES, rating, and multiple choice questions

Survey triggers and display options for website

Real-time feedback and analysis

Management of survey responses

Data export and integrations with customer relationship management software and third-party tools
Pricing
Starts at $85/month.

Free trial available for 14 days.
Score On
G2: 4.6/5

Capterra: 5/5

GetApp: Not Available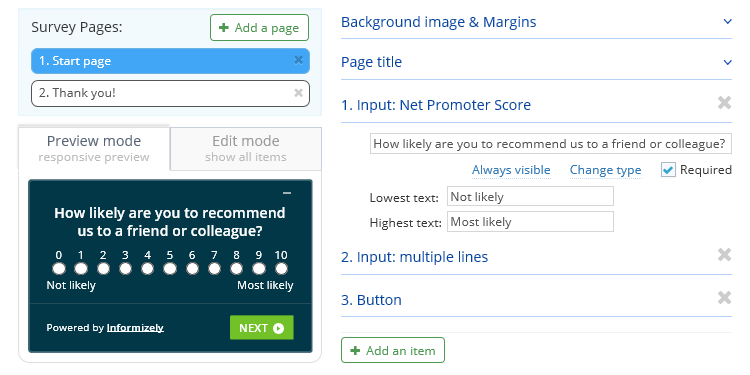 Free Online Survey Tools
If you want to explore the best online survey software without committing to paid versions, free online survey tools can be a great option. However, keep in mind some advanced features might not be accessible in the free version.
Let us look at some options that can help you create customer surveys without spending any dime.
13. Google Forms
Popular among: Best free survey tools, website survey tools, email survey tools, survey app
Google Forms is a free online survey tool that is popular for its simplicity, user-friendliness, and ability to integrate seamlessly with other Google applications. It offers an intuitive interface, along with customizable survey templates, collaboration, and basic reporting features making it an excellent choice for businesses of all sizes.
However, if you need advanced features like sentiment analysis, advanced skip logic, or complex question branching, Google Forms may not suit you.
Top Features
Easy and free survey creation for unlimited surveys with unlimited questions

Custom themes and templates

Collaboration and sharing

Real-time responses and analytics

Conditional logic

Integration with Google Workspace

Offline form completion

Automatic response validation
Pricing
Free of cost but a collective package of Google Workspace starts at $6/month per user.
Score On
G2: 4.5/5

Capterra: 4.7/5

GetApp: 4.7/5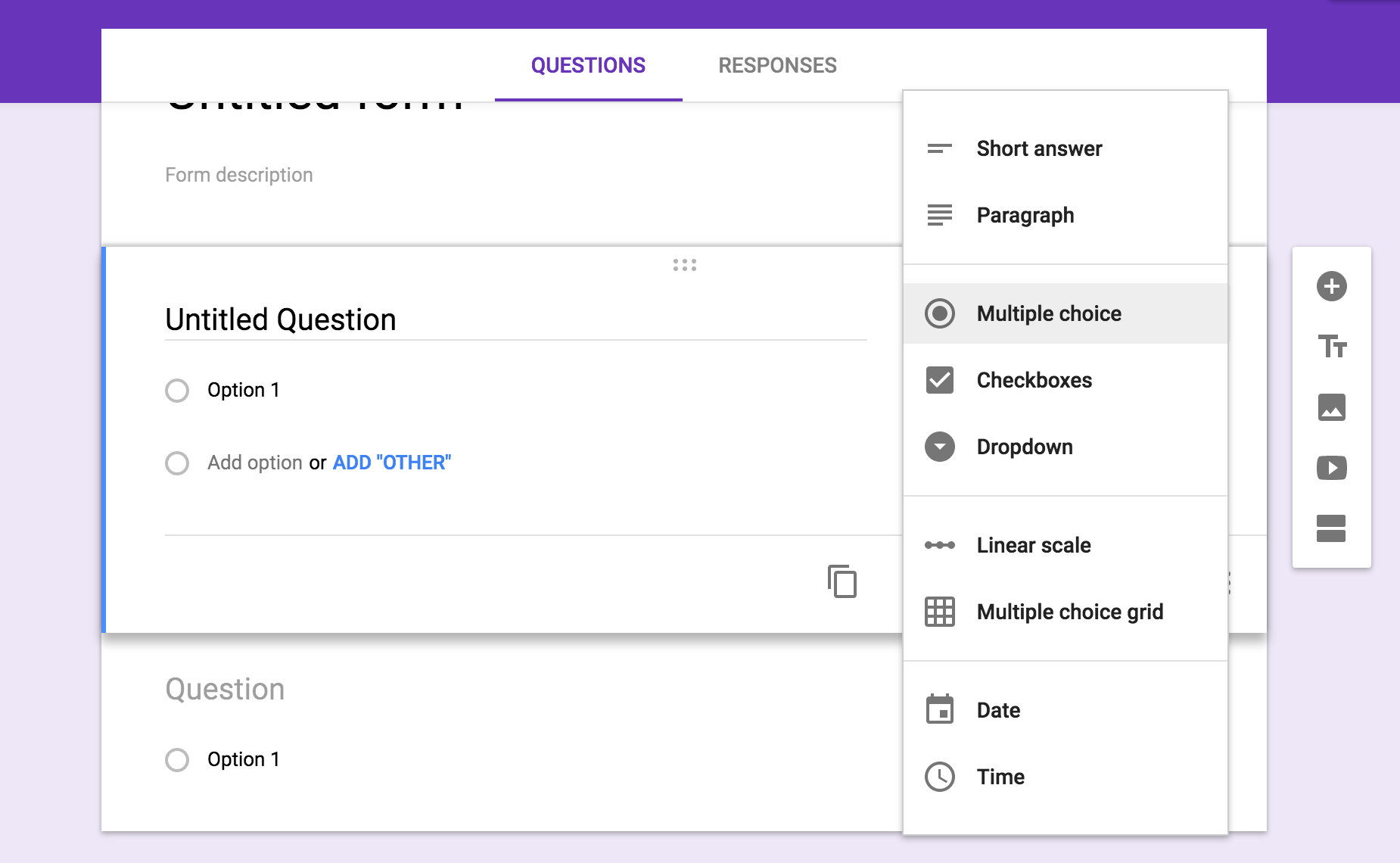 14. SurveyMonkey
Popular among: Website survey tools, in-product survey software, mobile survey tools, SaaS survey software, email survey software
SurveyMonkey is one the most popular free online survey tools that provides a user friendly platform for creating and distributing surveys. It is known for its simplicity, accessibility, and extensive integration options, making it a widely used tool for feedback and survey collection.
If you are looking for great features at a lower price, its lower-pricing plans may not offer many functionalities. You might have to look for SurveyMonkey alternatives to find features like advanced reporting, display logic support, and more at a lower price.
Top Features
User-friendly survey builder with drag and drop operations

Multiple questions types like rating scales, open-ended, multiple choice

Custom survey themes and branding

Survey logic and branching

Advanced reporting and analysis

NPS and CSAT surveys

Collaboration and sharing options

Email invitations and reminders

Real-time response tracking and monitoring

Integrations with 120+business systems, including Salesforce, Tableau, and Marketo
Pricing
Basic plan is a free plan.

Paid plan starts at $25/user/month for a Team Advantage plan or $39/month for individuals
Score On
G2: 4.4/5

Capterra: 4.6/5

GetApp: 4.6/5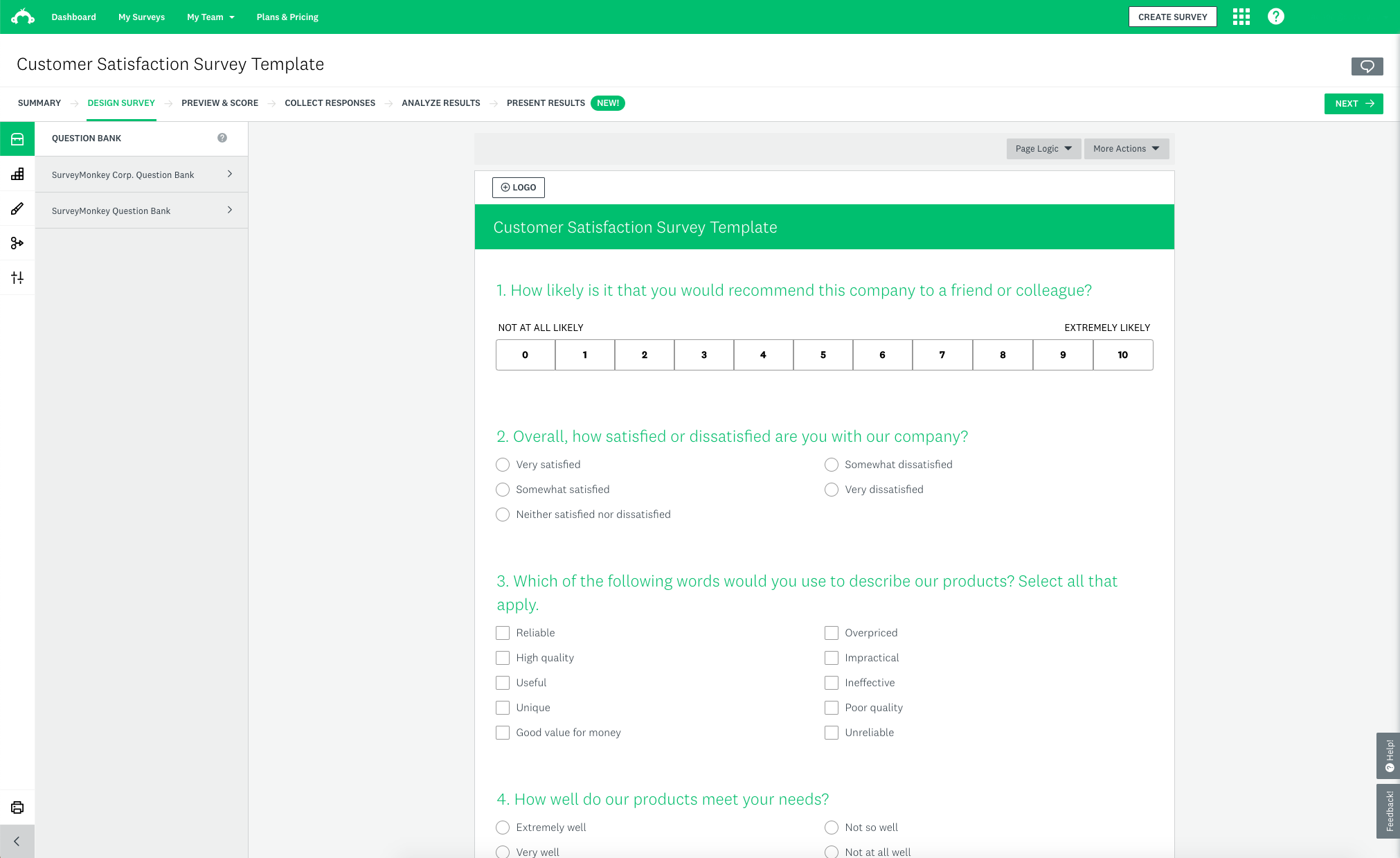 15. Hotjar
Popular among: Website feedback tools, product survey tools, mobile survey tools, SaaS survey software
Hotjar combines surveys with heatmaps and user behavior analytics to provide comprehensive insights into website visitor interactions. It offers visual representations of user behavior, enabling businesses to optimize their website based on real customer feedback.
Hotjar was popular for its free survey builder, but once it began charging, users found it expensive for limited features. If you are looking for survey builder software that supports email surveys or SMS surveys, you can check out Hotjar alternatives as it doesn't offer these.
Top Features
Heatmaps that visually represent user interaction with the website

Session recording to record and play user sessions and navigation

Ability to add different types of questions to the online surveys like radio button, checkbox, text field, NPS, and CSAT questions

User segmentation

Prebuilt survey templates

Logical jumps and question branching

Real time web reports and visitor recordings filtering and insights

Surveys and form analysis

AI-powered surveys (recently introduced)
Pricing
Basic plan is free of cost.

Paid plan starts at $59/month.
Score On
G2: 4.5/5

Capterra: 4.7/5

GetApp: 4.7/5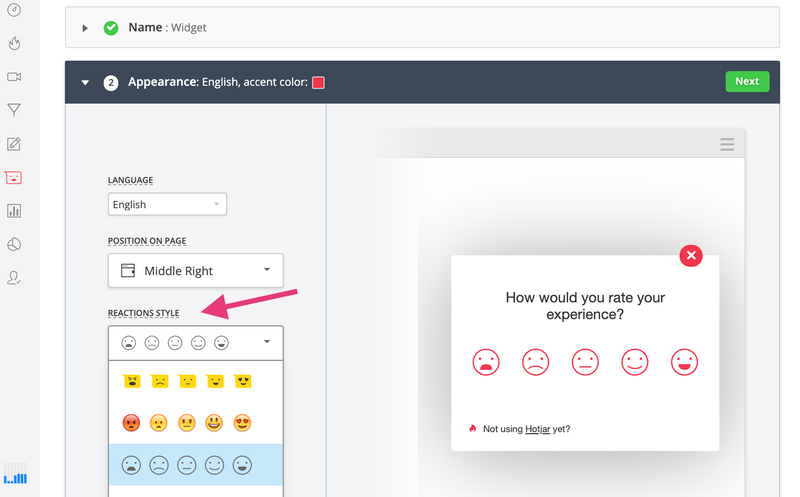 Steps to Choose the Best Online Survey Tools
Here are the steps that can help you choose the best online survey tools.
1. Identify your Specific Survey Requirements & Goals
Before choosing an online survey tool, it is crucial to have a clear understanding of your specific survey requirements and goals. Take the time to ask yourself important questions like:
What type of feedback are you hoping to gather?

Is your goal about measuring customer satisfaction, collecting product feedback, or conducting market research?

Are you planning to conduct surveys through multiple channels like the website, email, sms?
By clarifying your objectives, you will be better equipped to select a survey tool that aligns with your unique needs.
2. Evaluate the Features and Functionalities of Different Survey Tools
When evaluating the features and functionalities of different survey tools, it's important to look at the mentioned factors:
Survey Types: Evaluate whether the tool specializes in specific surveys (e.g., user satisfaction or market research) or offers a broader range of options.

Question Variety: Look for a survey tool that supports various question types, such as multiple-choice, rating scales, short text, and specific survey types like Net Promoter Score survey questions, CSAT survey questions, CES survey questions, or star rating questions.

Customization: Ensure the tool provides customization options to white label surveys for branding, logo inclusion, and color/font selection to match your brand's identity.

Integration: Choose a survey tool capable of integrating with other business tools like CRM tools or email marketing for seamless survey data collection and analysis.

Essential Features: Verify the tool includes vital features like survey logic, advanced reporting, collaboration, and multimedia support for effective survey management and insights gathering.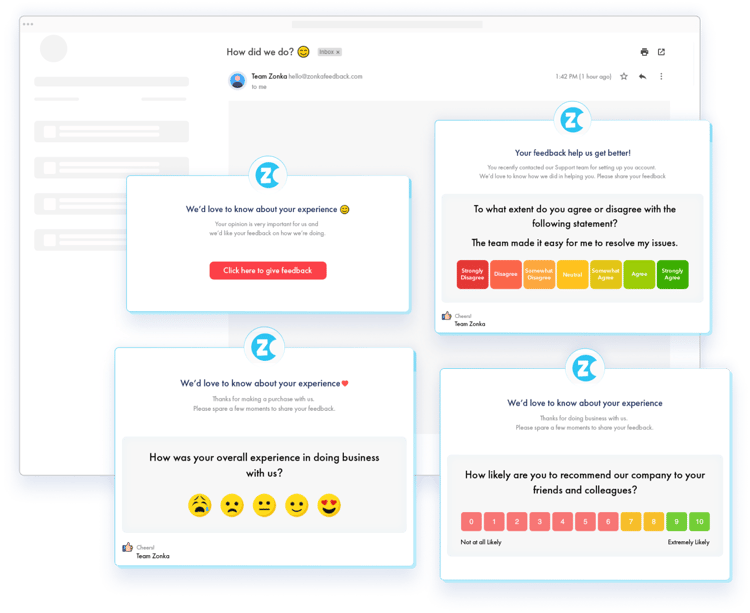 3. Consider & Ensure some Must-have Features
Here are some of the features that should be at the forefront of your mind as you make your decision and select the perfect survey software for your needs:
Powerful Survey Builder - Choose a tool with a user-friendly survey builder for effortless survey creation and brand customization.

Ready-to-use Survey Templates - Save time with tools offering pre-designed survey templates as starting points for your surveys.

Feedback Sharing in Multiple Ways - Ensure that the tool allows you to share feedback in multiple formats, such as charts, graphs, and analytical reports for effective communication.

Real-time Response Notifications - Stay updated with real-time response notifications as they help you to follow up timely and address feedback promptly.

Dynamic Survey Features - To create a personalized and engaging survey experience, choose a survey tool with features like skip logic, question branching, and redirection based on respondents' answers.

Reporting & Analytics: Choose a tool that allows comprehensive reporting and analytics abilities including real-time survey reports, track response rates, analyze survey data, and visualize collected data through charts and graphs.

Collaboration and Workflow Management: Choose a tool with collaborative response inbox and workflow management for role assignments, design collaboration, and streamlined survey review and approval processes.
4. Compare Pricing Plans & Value for Money
When comparing survey tool pricing plans, focus on value for money. Consider the number of surveys, respondents, and any extra costs for advanced features.
Find a tool that balances features and affordability, ensuring you get value without compromising functionality. You should also evaluate the necessity of additional features and their cost before making a decision.
5. Read User Reviews & Testimonials
When selecting an online survey tool, gather information through user reviews and testimonials on platforms like Capterra, G2, and GetApp.
Assess ratings, satisfaction scores, and comments about usability, support, and performance. These insights complement the tool's listed features. Real-world experiences, both positive and constructive, reveal how the tool performs and helps businesses meet survey goals.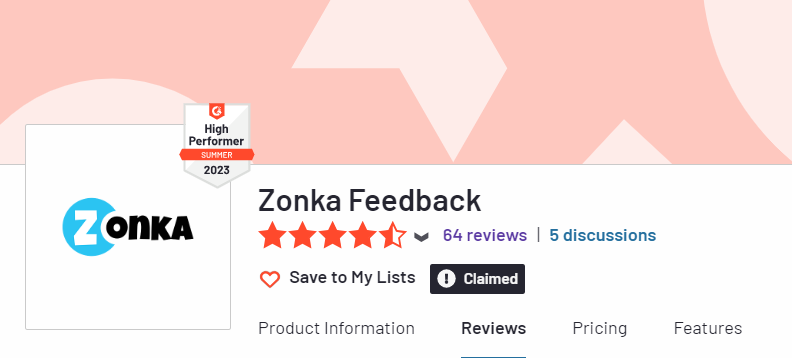 6. Take Advantage of Free Trials or Demos
Taking advantage of free trials or demos is a crucial step in choosing the best online survey tool for your business. These opportunities allow you to test the software firsthand and gain a deeper understanding of its functionality, user interface, and suitability for your specific requirements.
During the trial, explore features, assess ease of use, and evaluate user experience. Interacting with the software helps you determine if it aligns with your goals and provides the necessary functionality to create and manage surveys effectively.
Additionally, testing the software yourself allows you to evaluate its compatibility with your existing systems and workflows. You can assess whether the survey tool integrates seamlessly with other apps or platforms you use, streamlining all the data transfer processes and optimizing your workflow efficiency.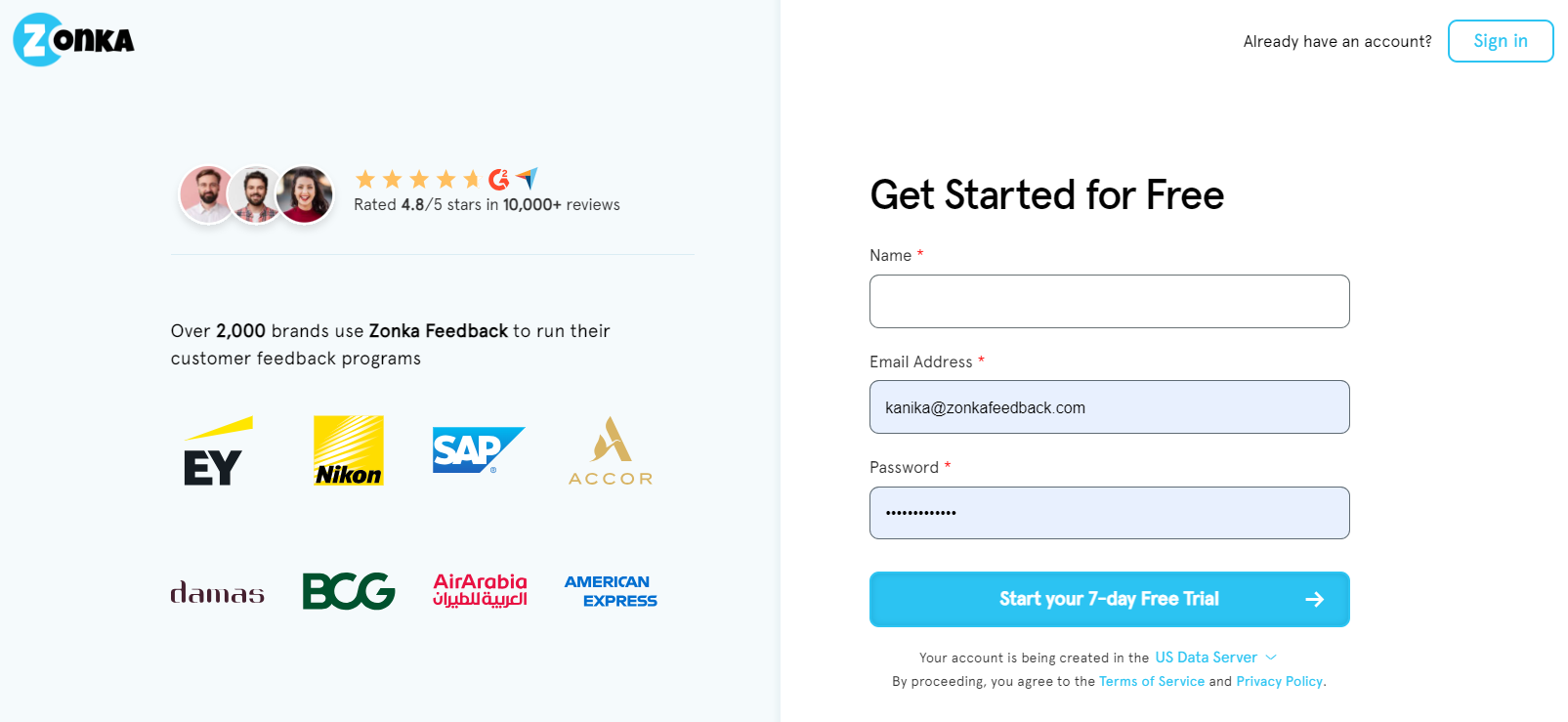 7. Make an Informed Decision based on your Research and Evaluation
After conducting thorough research, evaluating features, comparing pricing, and considering user feedback, make an informed decision. Choose the online survey tool that best aligns with your survey requirements, offers the necessary features, and provides value for money. Remember to consider the long-term scalability and potential for growth as well.
Conclusion
Selecting the right feedback survey software involves identifying your specific requirements, evaluating features, considering pricing, reading user reviews, and making an informed decision. Choose a survey software that aligns with your goals, offers essential features, fits your budget, and has positive user feedback to collect feedback for effective feedback collection and analysis.
Sign up with Zonka Feedback for a 7-day free trial and explore its features like unlimited surveys, custom-designed themes, multilingual support, advanced user segmentation, analytics and reporting, workflow automation, and many more.