Happy and satisfied customers are a growth catalyst for a business .ie. If customers are satisfied with your product or service, they will refer your business to their friends and family. However, unsatisfied customers are likely to spread negative word-of-mouth about your brands or companies. That's why it's important to conduct surveys to gauge customer satisfaction.
Thanks to the CSAT (Customer Satisfaction Score) Survey that allows you to check whether your customers are happy or frustrated with your products or services. The CSAT survey responses help you easily identify those aspects of your business or products that need improvement.
Measure Customer Satisfaction and Improve Customer Experience🔥
Create customized surveys and feedback forms and take real-time feedback from your customers at all touchpoints.
The CSAT survey responses enable you to predict:
Customers' expectations form your business

Customer behavior toward your service and product

Customers buying behavior and habits

New industry trends
How to Collect CSAT Surveys?
CSAT Software helps you to collect CSAT surveys. CSAT tool acts as a comprehensive platform to create, distribute, manage, and analyze CSAT surveys. It also helps you create and collect surveys via email and website. CSAT Software also helps you analyze your survey responses and get insightful survey reports.
How to Choose CSAT Software?
There are tones of features available in a CSAT tool. Subsequently, it creates confusion in your mind, and you cannot make a precise decision. So, to solve this issue, here we've compiled some noticeable features that should be there in your software.
Customize your CSAT surveys - An ideal CSAT software gives you the ability to personalize the look and feel of your CSAT surveys. You can customize and white-label your CSAT Surveys with logo, branding, background, and more questions.

Add Follow-up Questions - Besides asking the CSAT Question, you can also add a follow-up question to your survey to ask why the score is.

Add Logics & Branching - Choose a CSAT tool that enables you to display different questions based on the selected score using Survey Logic in your CSAT Surveys.

Real-time Alerts for Team - Set real-time alerts for the team based on the Customer Satisfaction Score or other custom parameters to keep them updated.

Automated Notifications for Respondents - An ideal CSAT tool lets your team engage with customers with automated notifications based on their scores.

Access in-depth CSAT Reports - Choose a CSAT software that gives you the ability to access real-time, in-depth CSAT Reports like CSAT Meter Report, Trends Report, Location-based CSAT, Text Analytics and more.

APIs & Third-Party Tools Connection - Choose a tool that allows you to trigger CSAT Surveys by integrating your business system APIs to your favorite tools.

Close the Feedback Loop - A good CSAT tool helps you create tasks for your team, take action & close the loop. It further prevents your miffed customers from churning.
Top 11 CSAT Software 2023
1. Zonka Feedback

Zonka Feedback is a multi-channel feedback system having actionable insights, real-time reporting, and a collaborative inbox. You can measure real-time customer satisfaction with CSAT surveys.
Zonka Feedback provides Survey Builder that enables you to customize your survey with logo, theme, brand image, and more. You can also add a follow-up question based on the score that lets your customers share how they feel with comment boxes in their own words.
Zonka Feedback enables you to view & track real-time survey responses. The dashboard comprises different options to filter your responses, add tags to identify themes, search by name, comments, and more.
Zonka Feedback enables you to set automated, personalized messages and emails to customers based on the score to manage the survey responses. Zonka Feedback provides you and your team with a collaborative inbox to reach out and engage with customers to understand their painpoints.
Zonka Feedback gives you the ability to access real-time, in-depth CSAT Reports like CSAT Meter Report, Trends Report, Location-based CSAT, Text Analytics and more. It further helps you proactively engage customers and close the feedback loop.
2. SurveyMonkey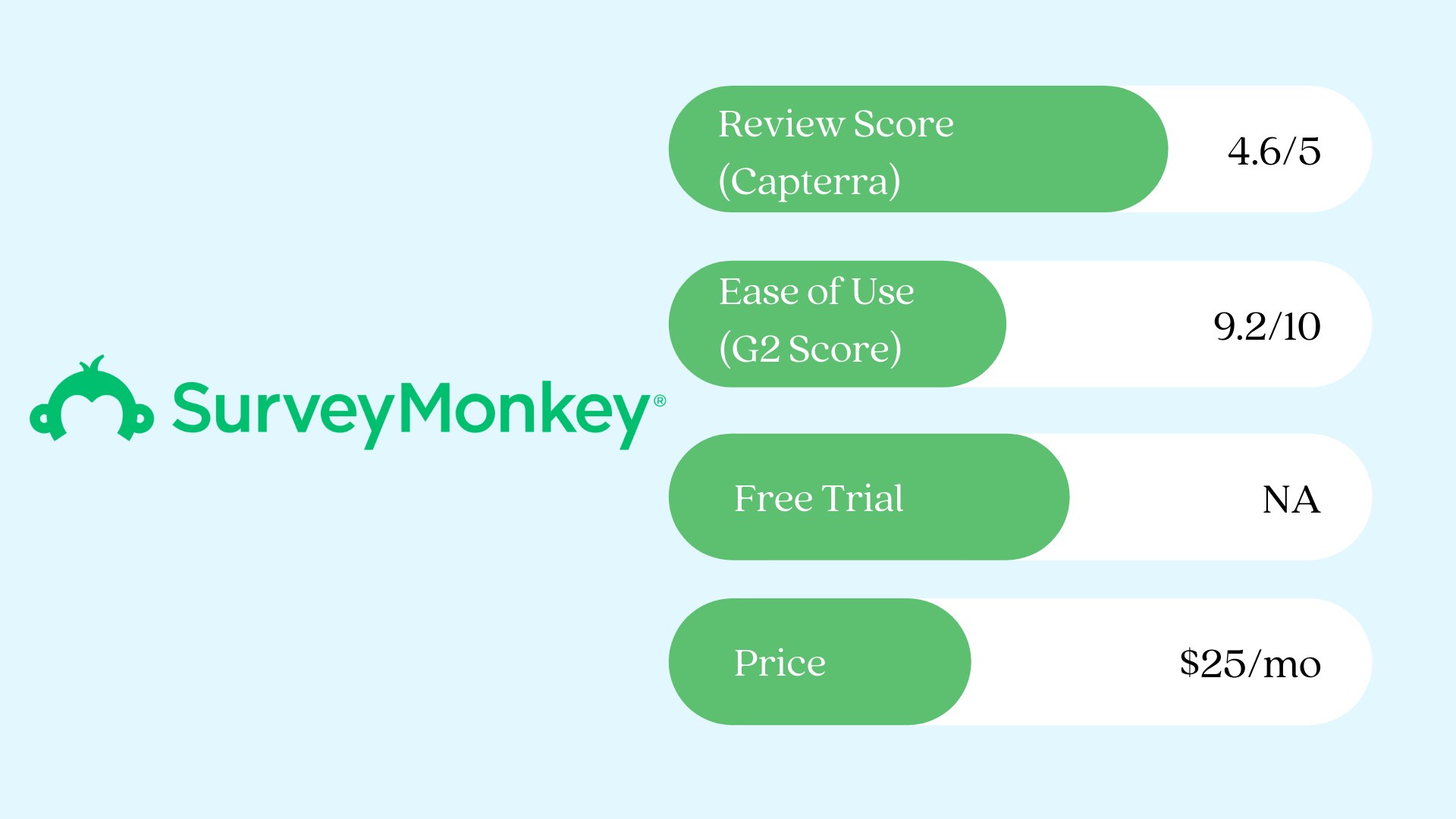 Create polls, quizzes, and surveys to collect feedback from your audiences with SurveyMonkey. It comprises Survey Builder that enables you to create a customized CSAT survey. SurveyMonkey provides you with an extensive array of CSAT questionnaires along with the follow-up questions. With SurveyMonkey, you can distribute your CSAT survey through emails, weblinks, social media, chats, and much more. You can also integrate SurveyMonkey with third-party apps to automate the workflow.
3. Qualtrics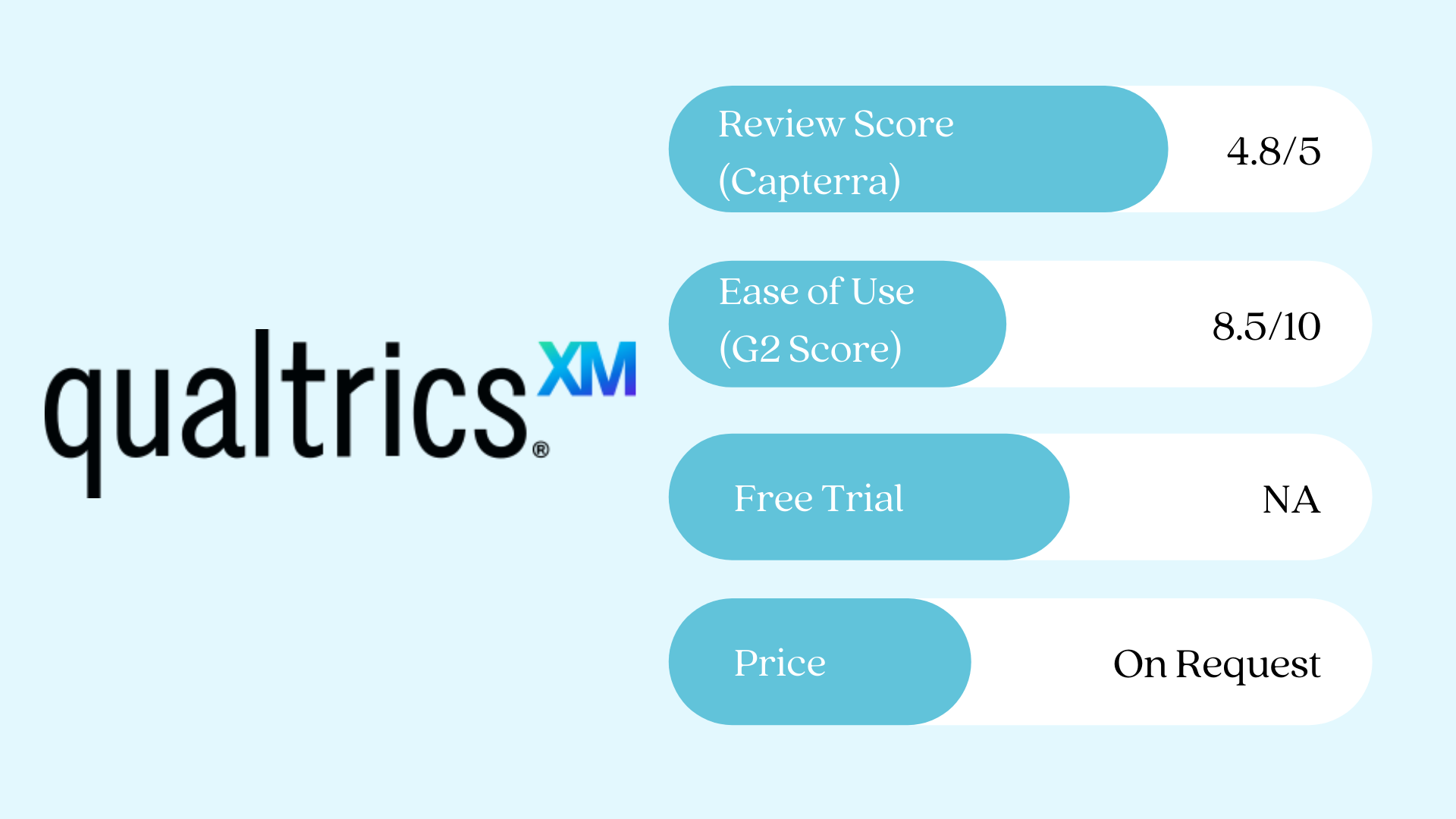 Qualtrics measures and optimizes your customer experience via CSAT surveys. Having multiple features like 50+ survey templates, 100+ survey question types, Qualtrics enables you to create post-transaction or periodic satisfaction surveys. Qualtrics provide core analytics capabilities to analyze the survey responses via a wide range of visual data, including 30+ graph types. It further turns your complex customer data into valuable information.
4. Delighted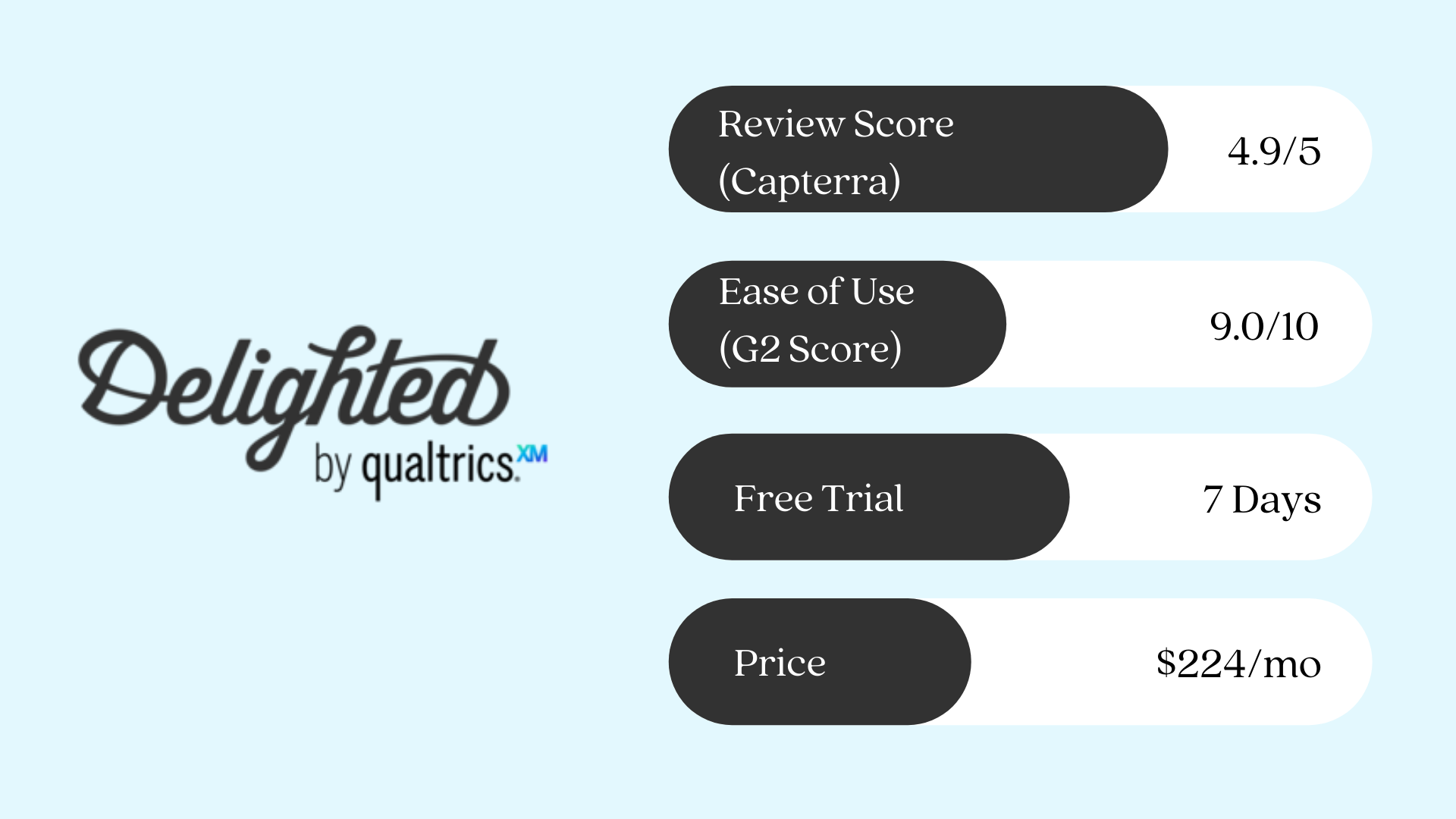 Besides NPS and CES, Delighted provides a user-friendly survey platform that allows you to create beautiful CSAT surveys in 37 different languages. Delighted's survey builder ensures better survey questions like the Likert scale, rating, emoticons, and Thumbs surveys. Delighted software is known for its wide collection of useful integrations.
5. Typeform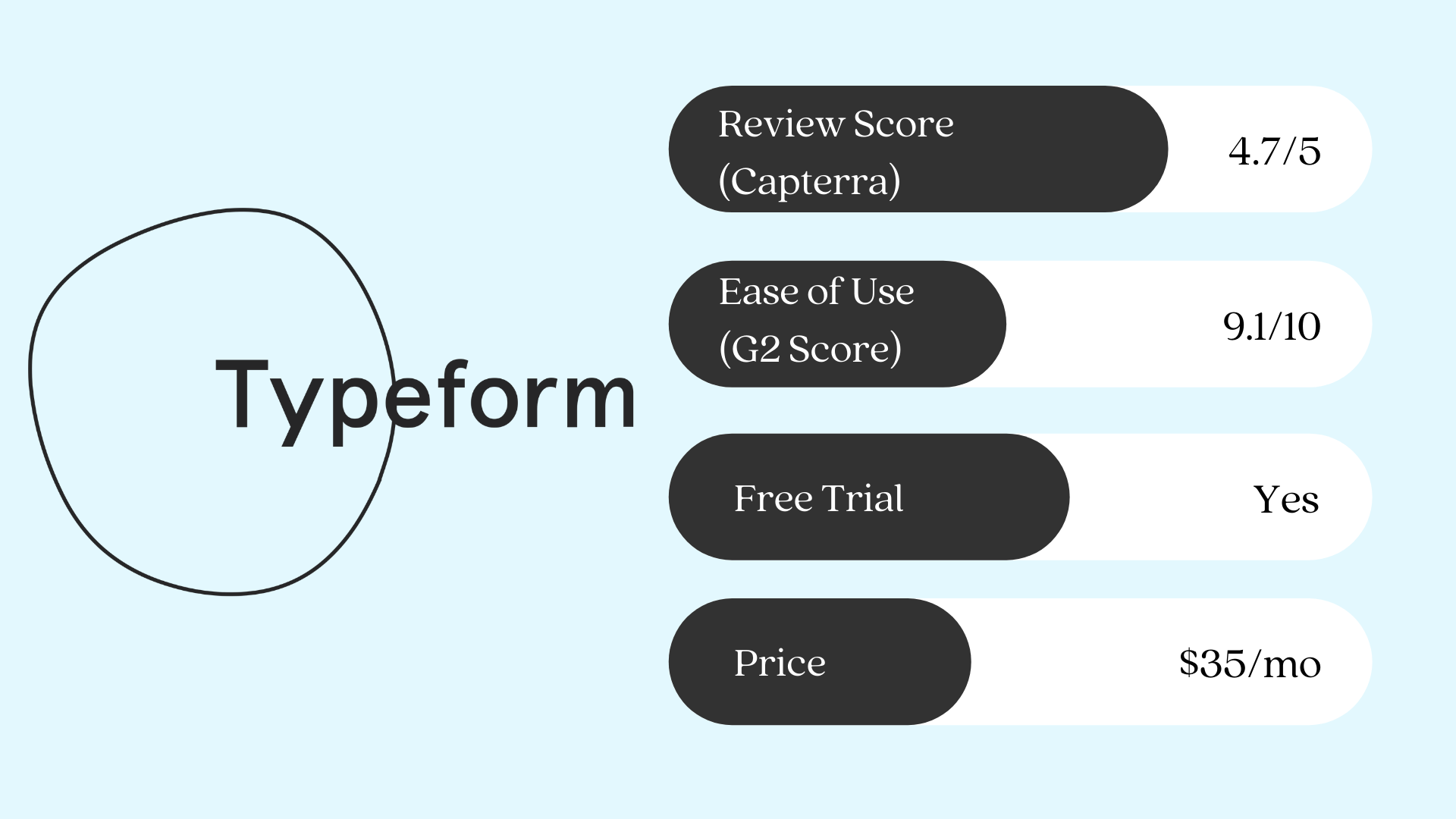 Make your CSAT survey user-friendly and interactive with its drag-and-drop feature through Typeform. You can effectively trigger customer satisfaction survey questions on your website through buttons, on-site pop-ups, and push notifications. Typeform provides a variety of survey question types like MCQs, Likert scale, rating scale, picture-based questions, and more. You can also automate your workflow through powerful integrations with HubSpot, Mailchimp, Google Drive, Slack, and more.
6. QuestionPro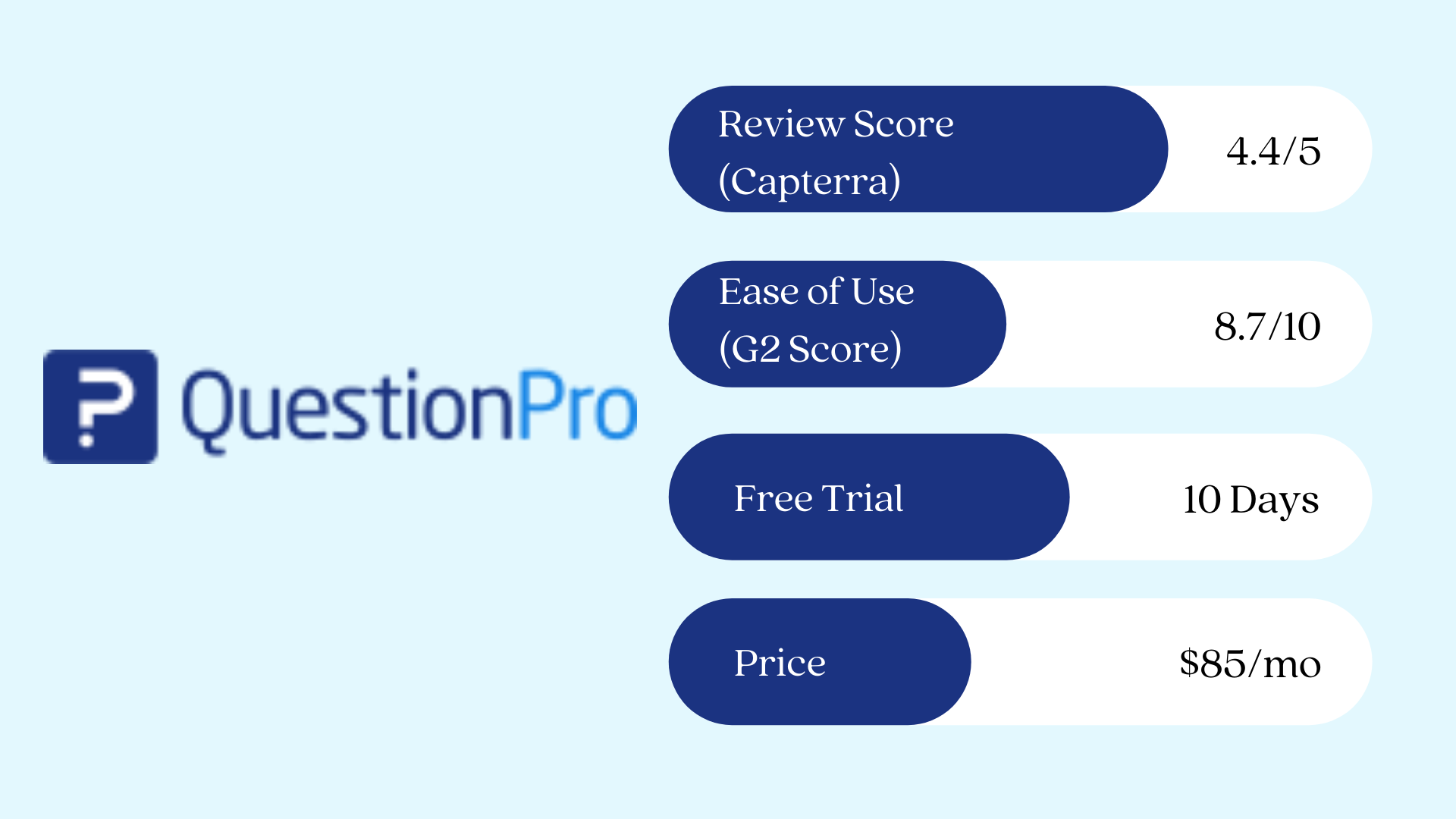 QuestionPro offers 250+ customized survey templates, over 30 question types, 95+ languages to create CSAT surveys, polls, and quizzes. QuestionPro's analytics & reports make analysis simple and insightful and help you turn customer data into actionable information to make informed business decisions. QuestionPro keeps customer data secure through ISO, GDPR, HIPAA, FERPA, and PCI/DSS compliant.
7. Zoho Survey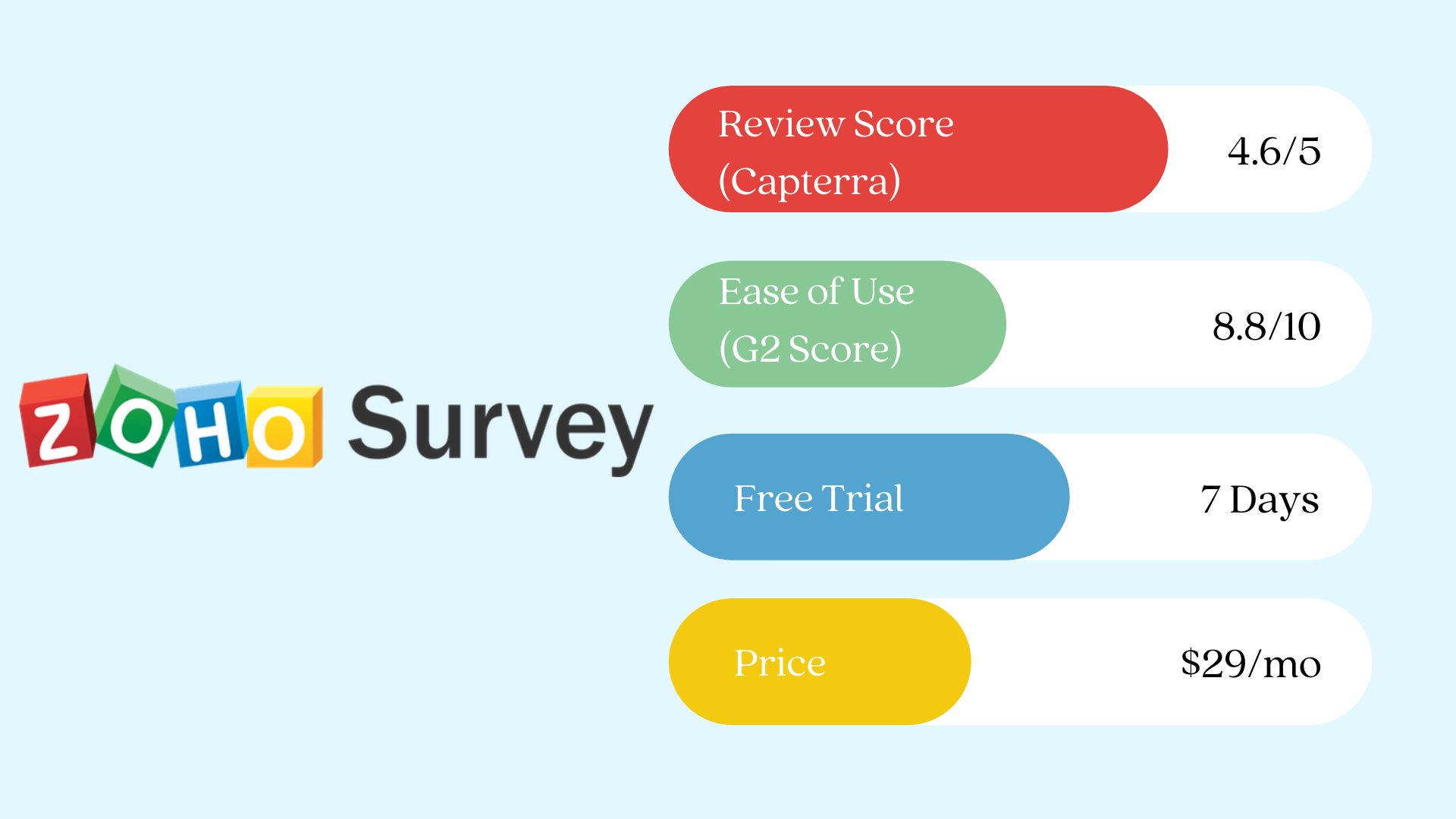 Zoho Survey provides a wide range of survey templates, 200+ customized survey themes, 25+ survey question types, 30+ languages to create audience-appealing CSAT surveys. You can analyze the CSAT survey responses through an extensive array of survey reports that enable you to analyze your survey responses based on Sentiments, TURF, and Word Cloud.
8. Jotform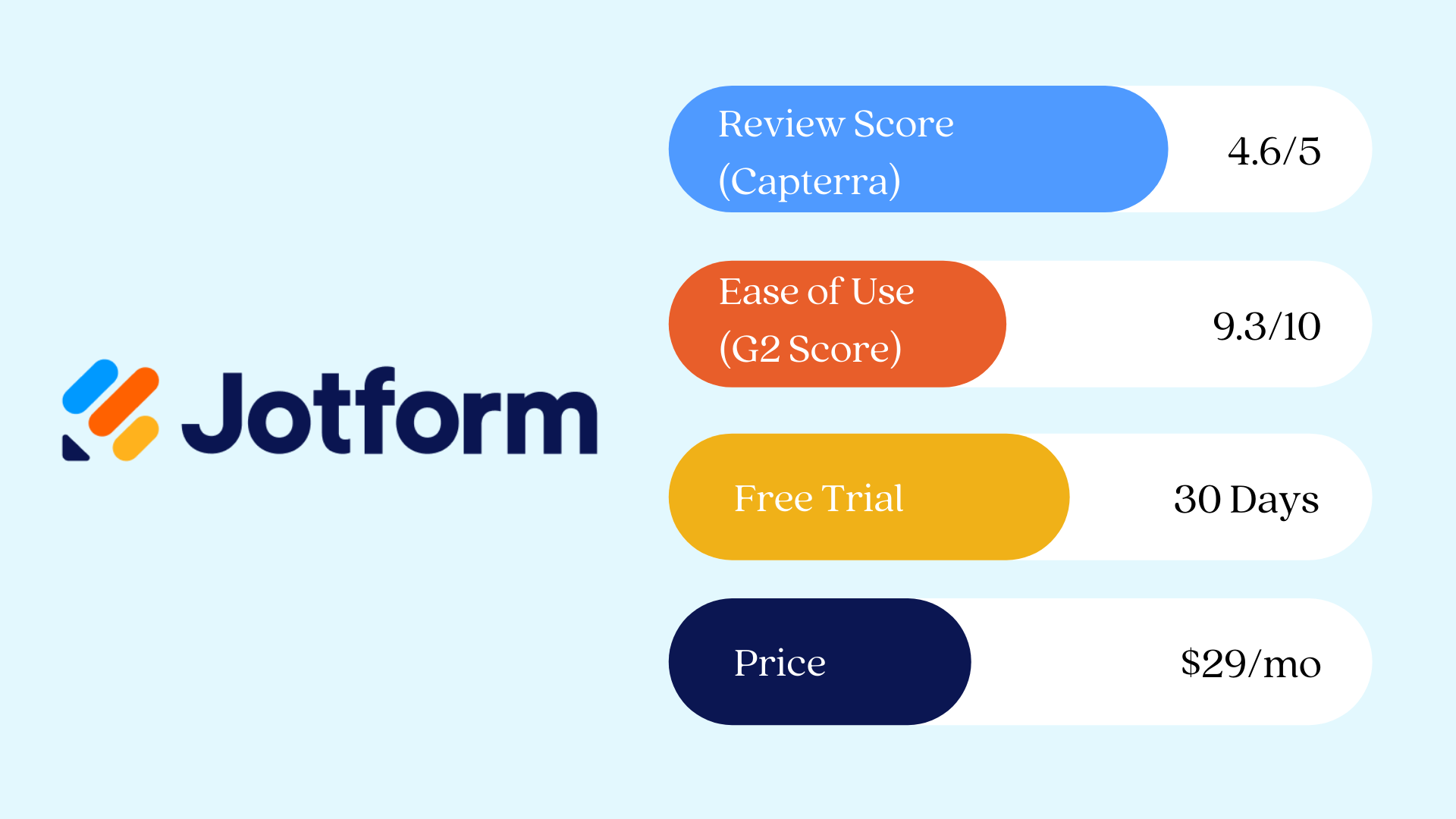 Another powerful survey tool popularly used by educational institutions, nonprofit organizations, and small businesses create CSAT feedback forms. Jotform enables you to share CSAT surveys via links, website embeds, QR codes, and social shares. It provides hundreds of integrations to automate the workflow.
9. NiceReply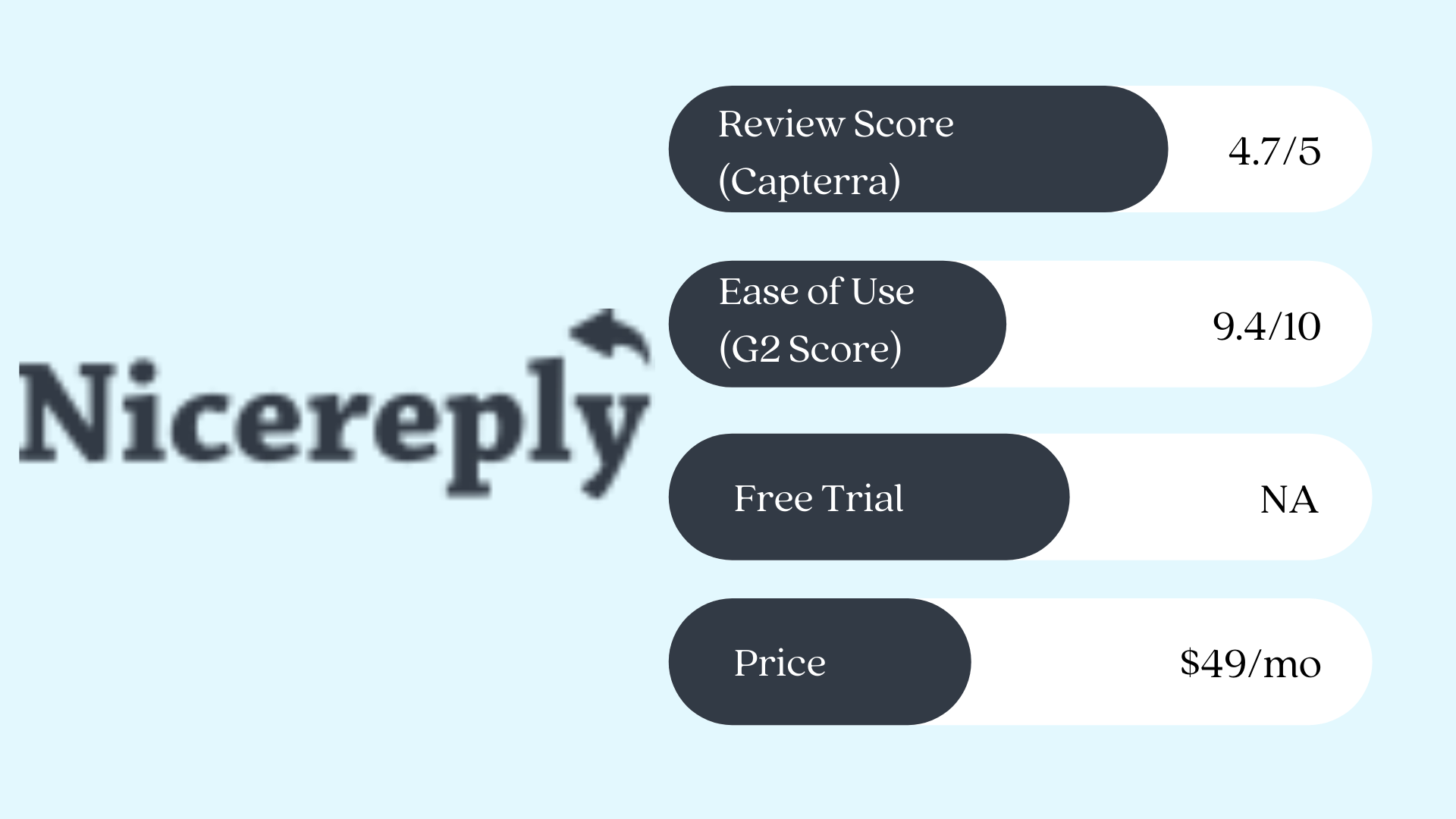 Nice Reply's CSAT tool helps you conduct, distribute, manage, and track the CSAT. Besides all of this, you can also closely monitor feedback and spot dissatisfied customers, view reports with charts, time filters, and comparisons.
10. Qualaroo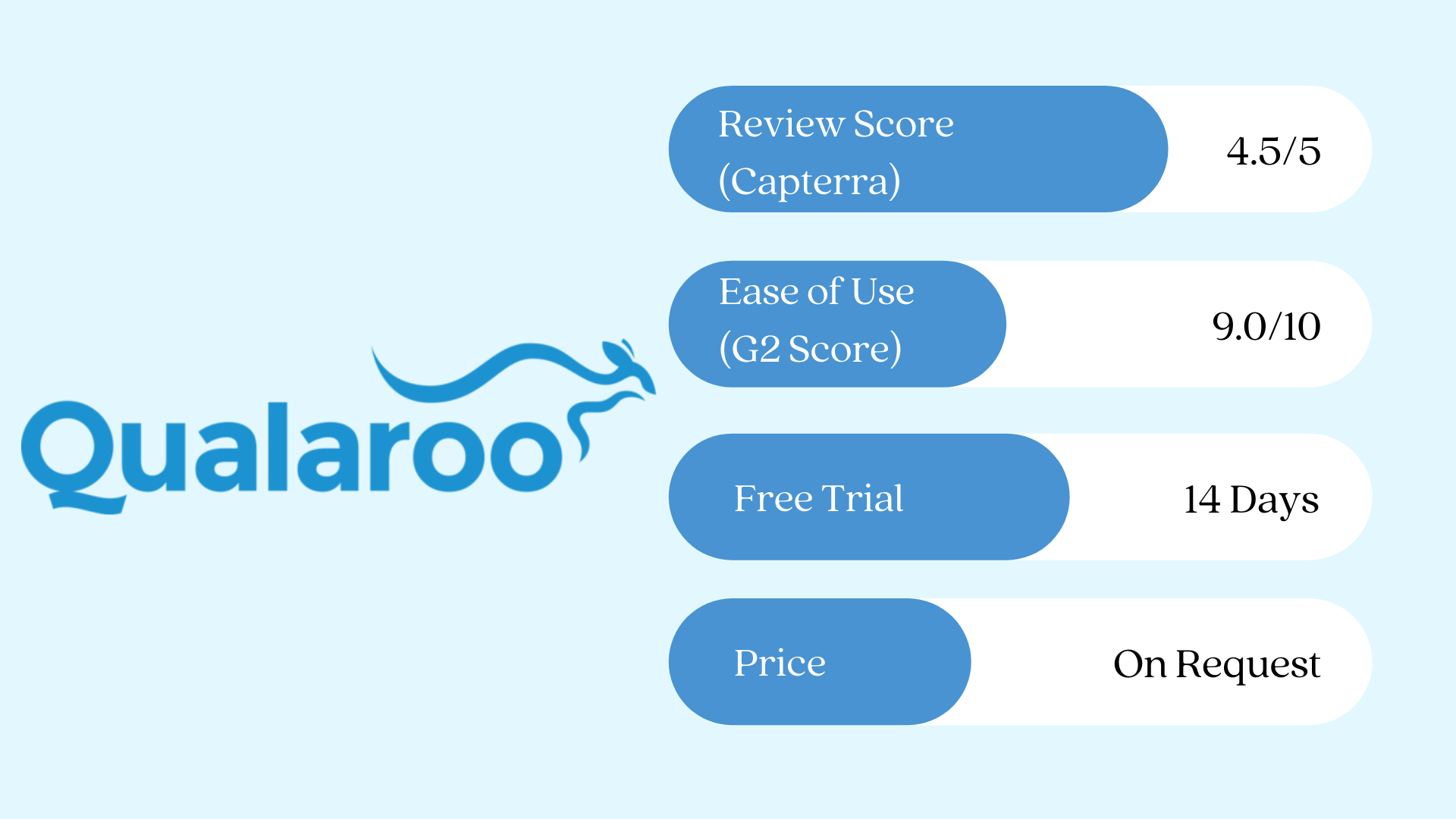 Qualaroo enables you to capture CSAT feedback with Qualaroo-Nudges. Qualaroo helps designers, developers, and project managers quickly conduct CSAT Surveys at a transactional level to gauge real-time customer satisfaction. The tool assists you in performing sentiment analysis based on positive, negative, neutral, and other attribute expressions like anger, disgust, sadness, fear, and joy.
11. forms.app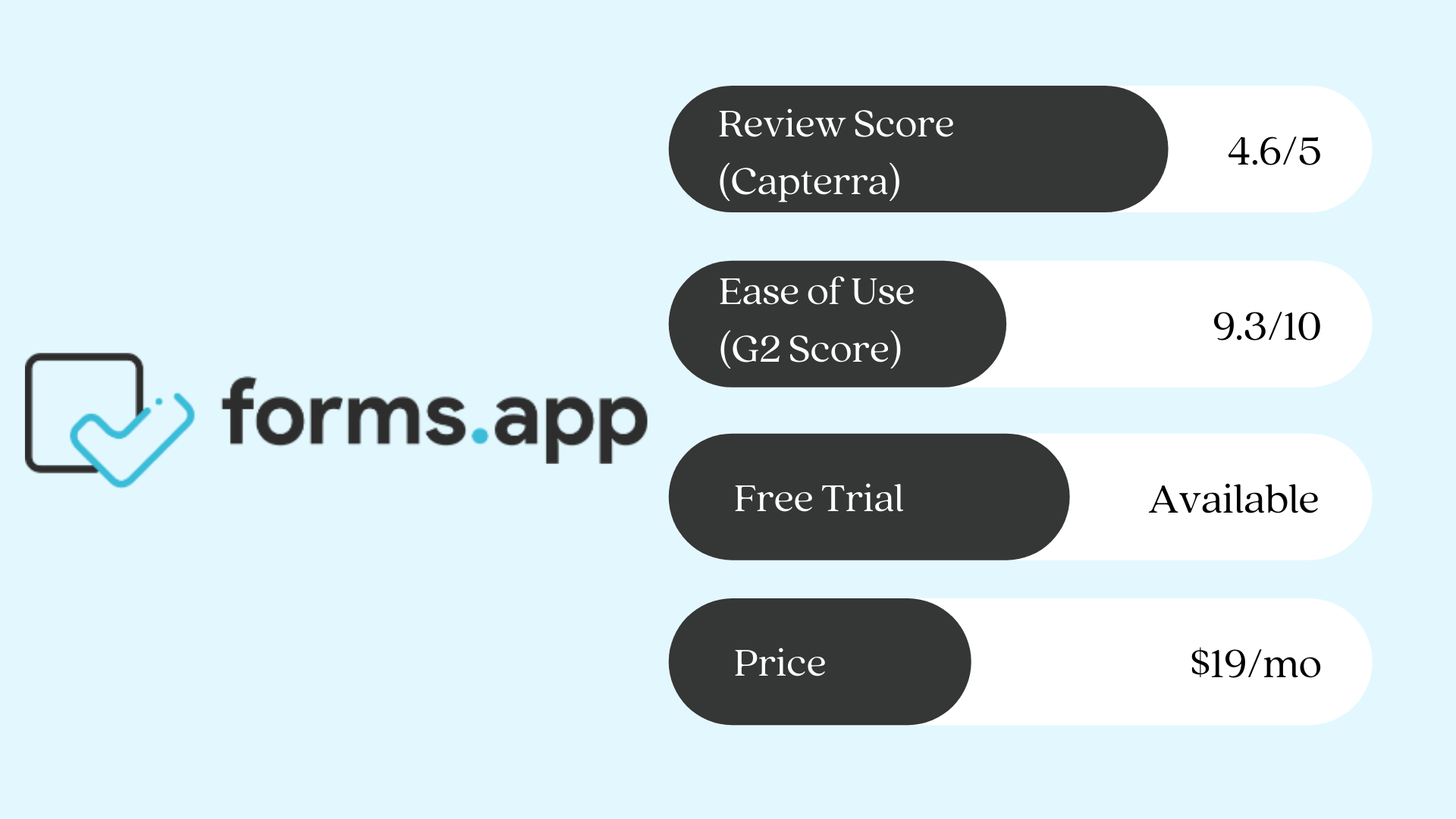 Create CSAT surveys easily and quickly with forms.app's expertly created survey and form templates. From a great number of field types to powerful features, forms.app offers a great experience for its users. You can add star ratings, text fields, choice questions, and more. Plus, you can hide or show some fields according to the answers of the respondents. forms.app has an easy-to-use interface and allows you to easily review the results.
12. SurveySparrow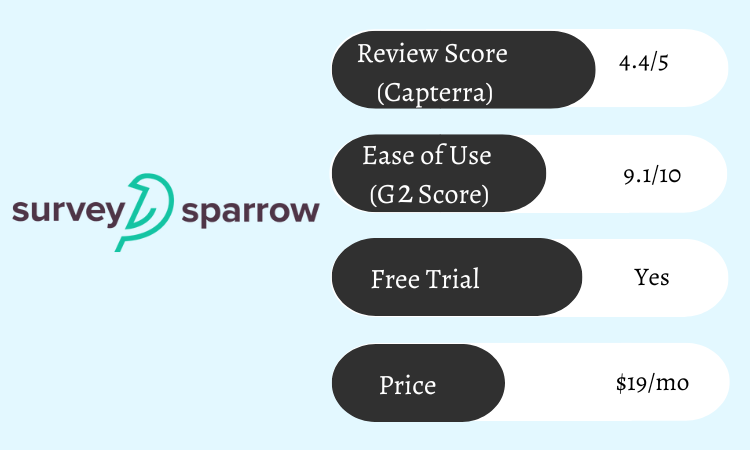 SurveySparrow has a dedicated Customer Experience module to manage CSAT surveys with ease. The conversational form of surveys helps you connect with your customers across the globe, supporting 70+ languages. You can include an instant feedback question based on the CSAT rating. SurveySparrow's CSAT surveys enable you to set up customized follow-up emails to acknowledge your customers. The custom reports and widgets will help you gain rich insights from the collected customer data.