Having a rich customer base, and closing the customer feedback loop are essential but what's more important when it comes to managing your customer database?
An effective CRM tool, such as Salesforce.
While collecting feedback about your brand using surveys is the best way, by integrating your survey tool with Salesforce you can use it to its full potential. It also allows you to send surveys, do follow-ups, add questions to your surveys, and customize them as required.
If you're looking for the best Salesforce survey tools for your business then we have got you covered.
Through our extensive market research, we have curated a list of the 8 best Salesforce survey tools that will enable your team the right information about your customer journey.
Let's get started!
TL;DR
Teams are looking for survey tools to integrate with Salesforce as the platform helps businesses level up and get ahead of the competition by

getting to know their customer better at each touchpoint in the customer journey and offering a better experience.

We have gathered a list of the best 8 Salesforce survey tools to help you strengthen customer relationships, earn loyal customers, improve product experience and employee engagement, ramp up your customer support, and more.
Some of our top Salesforce survey tools are Zonka Feedback, Formstack, Qualtrics, Wootrics, SimpleSurvey, and SurveySparrow.

Apart from this, we have also covered a few platforms and alternatives like Medallia alternatives, SurveyMonkey alternatives, GetFeedback alternatives, AskNicely alternatives, Typeform alternatives, and more.

To see how Zonka Feedback can be your top choice for the Salesforce survey tool, sign up for a free 7-day trial or book a demo!
Measure CX at all touchpoints with Salesforce Surveys
Send surveys and get 360° view of your customers right within Salesforce with Zonka Feedback
Top Tools to Effectively Conduct Salesforce Surveys
When it comes to conducting Salesforce surveys, there are different tools that you can choose from to capture customer feedback. You can integrate these tools seamlessly into your Salesforce account and have the data flow through the two business apps.
With that thought in mind, here are the different Salesforce survey tools that you can choose from.
#1. Zonka Feedback
Delivering a better experience across all customer touch-points has never been easy since Zonka Feedback and Salesforce have combined together.
While Salesforce is a brilliant CRM for managing your business prospects, Zonka Feedback is the perfect feedback solution to transform your business into a feedback-driven, and customer-centric organization.
With this customer feedback solution for Salesforce, you can quickly create surveys, and send them via various channels using customer feedback software. The feedback collected as responses then automatically syncs with Salesforce accounts.
This gives your teams a holistic view of all the customer data of each customer interaction and touchpoint, along with the customer feedback regarding employee experience. With its Salesforce Survey tool, you can trigger automated survey emails to customers at various touchpoints like customer interaction, an issue resolution, or the closure of a ticket.
The best part about the tool is that you can quickly improve your product experience and customer relationship, reduce churn rate, and most importantly increase revenue. You can even map all your feedback data to Salesforce in just a single click.
Zonka Feedback Features
White-labeling and branding for surveys and add your own brand theme to them
Share surveys through multiple survey channels like email, SMS, QR code, mobile, tablet, website, etc.
Get a 360-degree view of the customer and closing of the customer feedback loop
Measure feedback against global standards using Customer satisfaction, Customer effort score, and Net promoter score
Create Dynamic surveys with features like Skip Logic, Hide Logic, and Survey Redirection
Map all survey responses to Salesforce customers' accounts to get a 360-degree view of all the data in one place
Use Managed Mapping to automatically map survey responses to Salesforce accounts
Use Custom Mapping to map survey responses to the Salesforce objects and fields of your choice.
View all metric ratings and reviews in the customers' corresponding accounts
Get detailed survey reports of metric ratings and reviews, multiple locations, and all teams and departments
Track your agents' performance with the feedback linked to every customer interaction and deal with detail
Enjoy survey integration with Salesforce, Slack, Intercom, HubSpot, Webex, and several other business tools to get multichannel feedback
Access 500+ ready-to-use survey templates, and automates CX operations
Deliver world-class experience wherever your customers are
Improve process transparency and increase team productivity with smart workflows
Pricing:

The starting price of Zonka Feedback is $49/month. It offers multiple plans.

The free version is $0/ month; however, you can also try Zonka Feedback for 7 days free trial.

The professional plan costs $99/month

The growth plan costs $199/month and is suitable for Managed Mapping into Salesforce

The enterprise plan costs $499/month
#2. Formstack
Formstack for Salesforce provides a 100% native Salesforce Form Builder that allows you to create powerful forms with customized designs. It is one of the best survey apps, which allows dynamic prefilling of forms, and generating and updating records. It enables you to connect your survey forms to any standard or custom object in Salesforce without needing to leave your Salesforce account.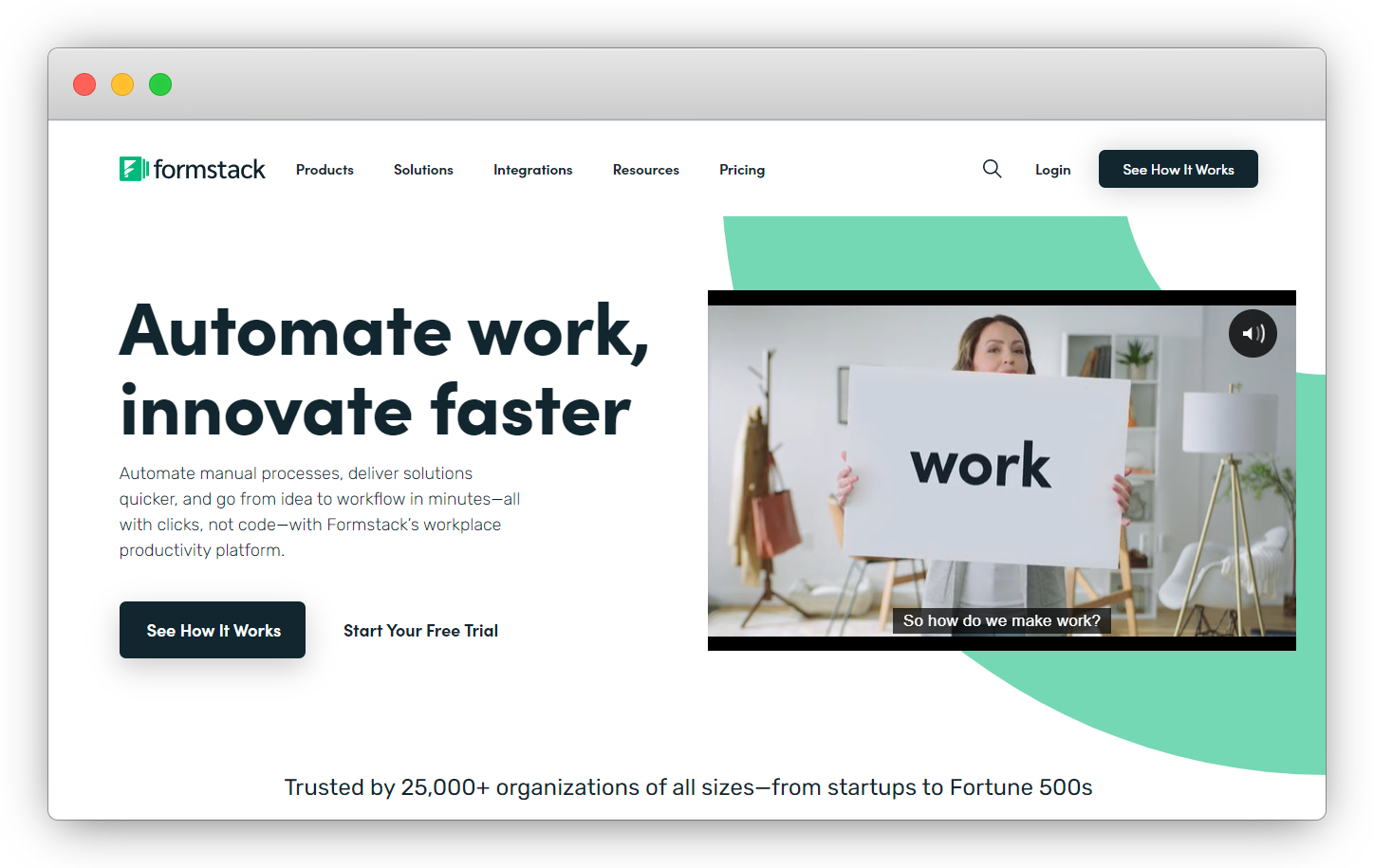 Formstack Features
Experience automated processes from data collection to digital signature

Increase efficiency with automated processes like building digital forms, documentation, and collecting eSignatures without leaving the Salesforce account

Use Native Builder to build forms

Benefit from progressive capturing of data

Automate payment processing

Enjoy robust security of data

Build survey forms quickly and easily with easy-to-use templates

Use a multichannel approach for survey distribution
Pricing:

The started plan for the Salesforce survey app starts at $ 225/month.
The pro plan for the Salesforce survey app is $585/month.
And for the NativeCloud Pro plan, you can connect with their sales team.
Hotjar is popular for analyzing user behavior, and improving the overall user experience on your website; however, it has a few limitations in terms of on-site surveys, link surveys, and feedback forms. If you're looking for Hotjar alternatives to improve your overall customer experience, you can read Hotjar alternatives to learn more
#3. Qualtrics
Qualtrics is another customer experience management tool that helps businesses create and send surveys to customers asking questions to know what their needs are. It then collects real-time data to take action at the right time. With Qualtrics Salesforce Survey tool, businesses can trigger surveys and sync the user response data back to Salesforce. It makes user data sharing faster and easier brings the Voice of Customer into CRM, and helps you share it with your sales support team.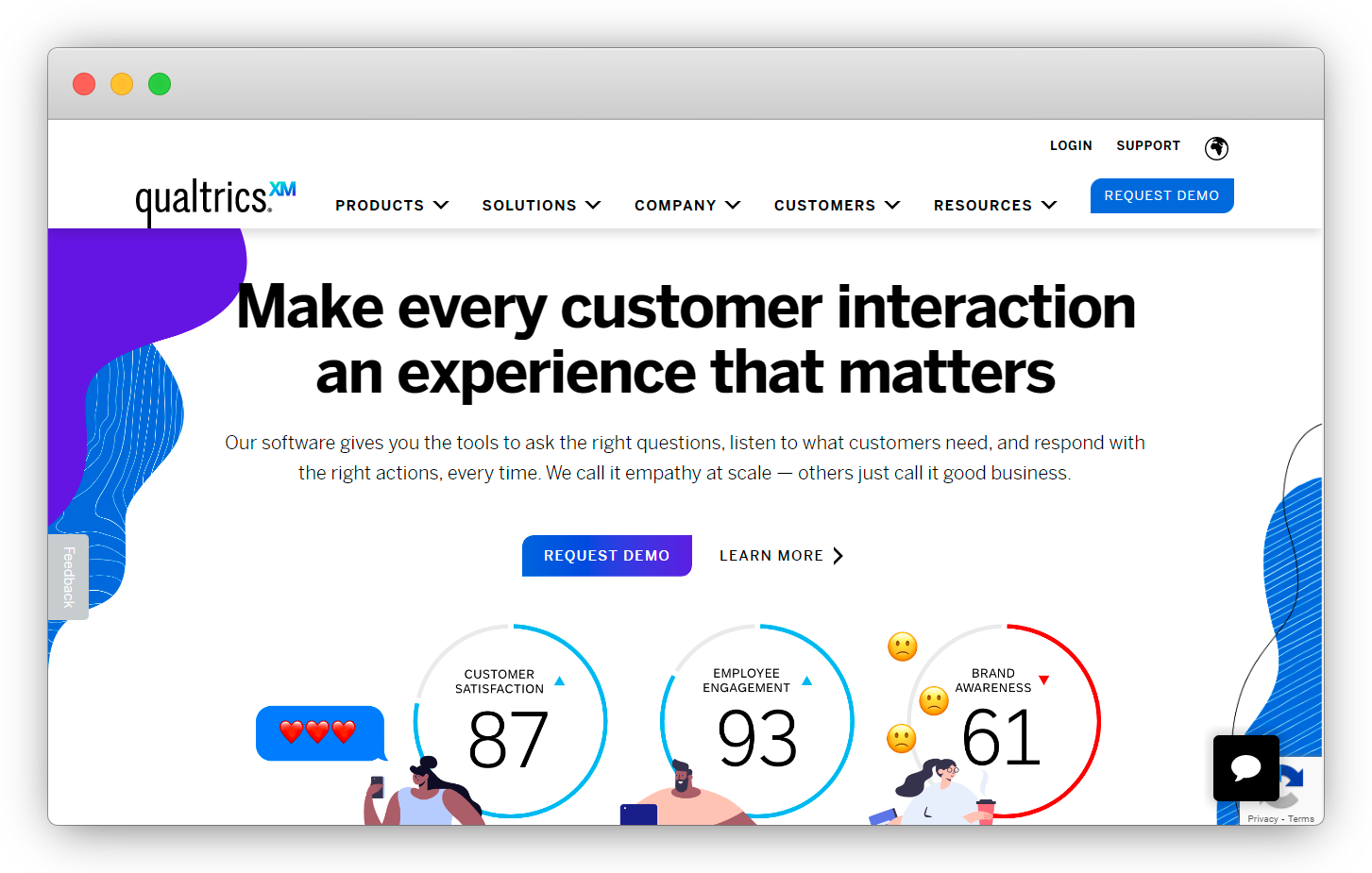 Qualtrics Features
Create new Salesforce leads with Qualtrics survey based on the conditions set by you using advanced logic with survey responses

Trigger email surveys from Salesforce when a specified rule of Workflow object is met in Salesforce

Map survey response information to Salesforce and set customization conditions to update, insert, or delete records with advanced logic

Get alerts for poor customer experience and take action to close the feedback loop
Pricing:

You can request a demo or connect with their sales team for the pricing plans.
Finding Qualtrics too expensive and complex for your customer experience strategy? Read the blog on Qualtrics alternatives for simple UI, advanced analytics, and cost-effective solutions.
#4. Wootric
Wootric, an Inmoment company is another customer experience management platform that integrates with Salesforce to improve customer retention and experience. It enables two-way salesforce integration and enriches Salesforce records with feedback data like CX metric scores with NPS, CSAT, CES, and Voice of the Customer data. The Salesforce survey tool allows you to trigger customer surveys based on Salesforce conditions.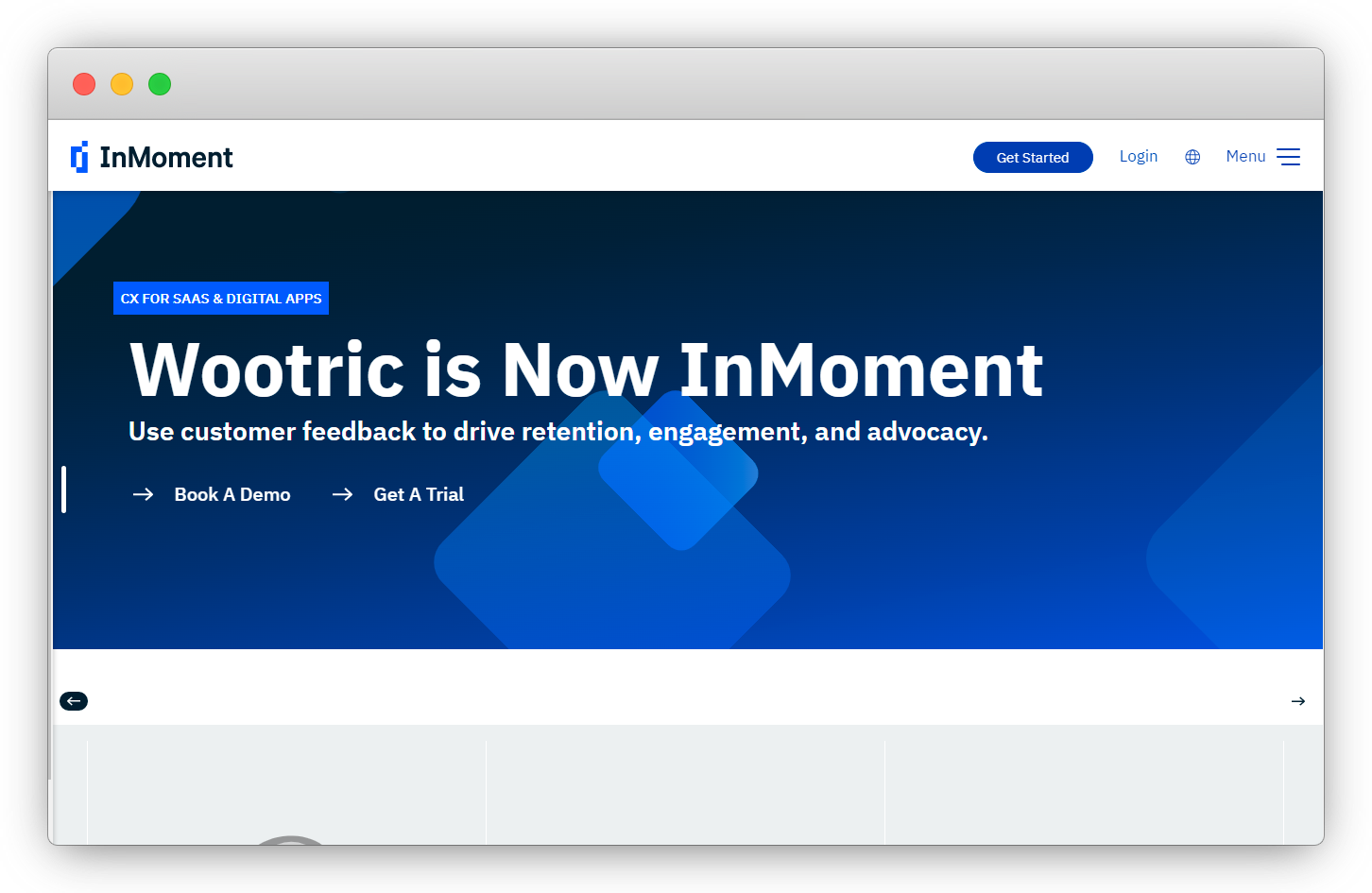 Wootric Features
Multiple channels to survey your customers - SaaS, website, mobile, email, and SMS

Customize surveys as per your needs, including metric surveys NPS, CSAT, and CES surveys

Trigger Surveys from Salesforce based on Salesforce workflows like after closure or 30 days before renewal

Integration with other tools like Intercom, Slack, Zendesk, Hubspot, and more
Pricing:

You can request a demo or connect with their sales team via email to learn about their pricing plans and sales more.
InMoment is a popular customer experience platform; however, the platform lacks advanced security features, reporting capabilities, and system monitoring characteristics. If you're looking for its competitors then read InMoment alternatives to craft compelling experiences.
#5. SimpleSurvey
SimpleSurvey is another easy-to-use Survey Software that offers Native Integration with Salesforce to collect customer data and responses instantly in Salesforce. It facilitates 1-click effortless surveys, and partial responses and syncs them to Salesforce accounts. With Simple Survey, you can measure and improve your CSAT, Net Promoter Score, and other CX metrics scores.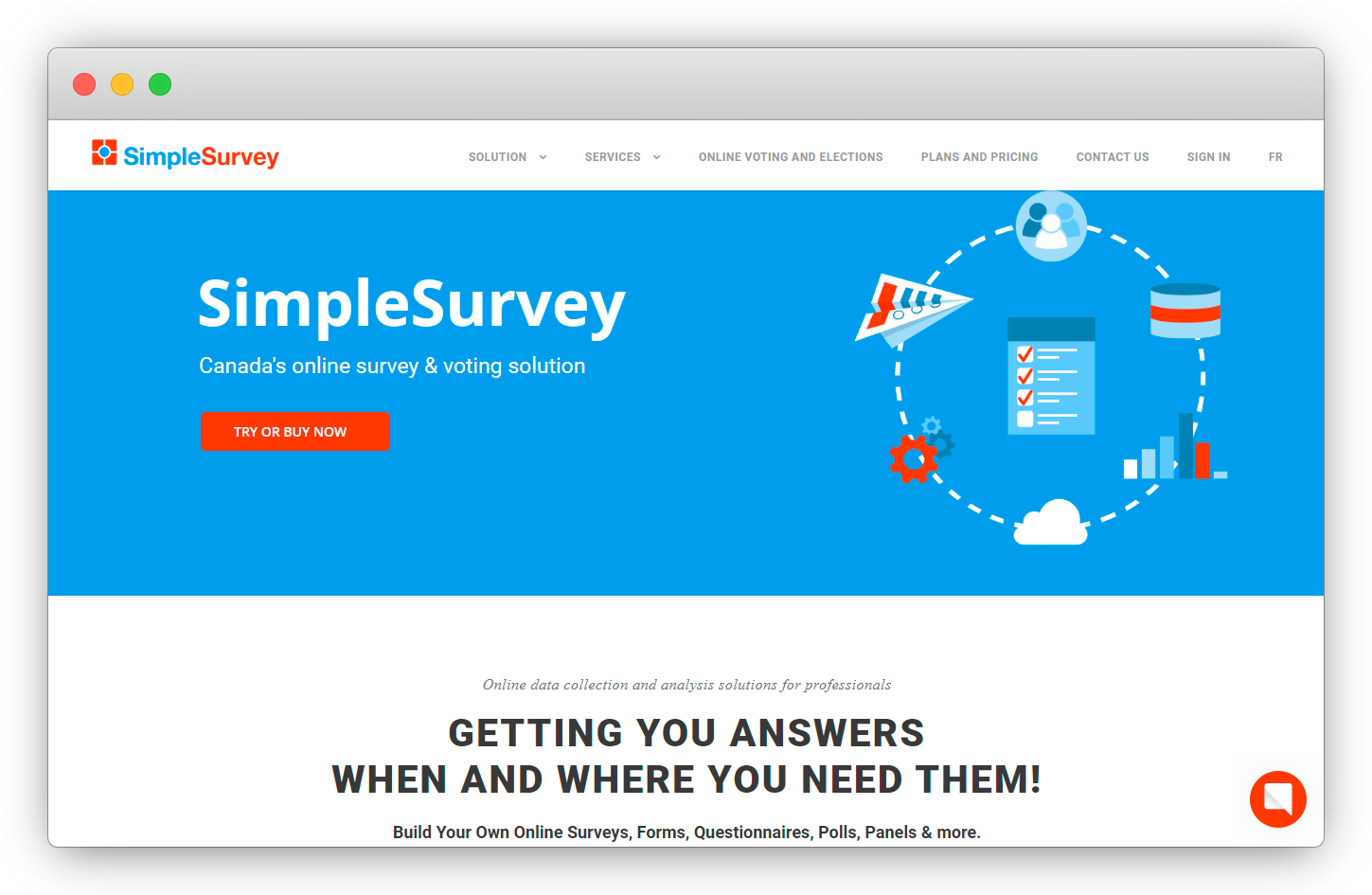 SimpleSurvey Features
Get a 360-degree view of the customer with survey responses in real-time

Select from various rating scales, tailor follow-ups, and customize your surveys with the logo and colors of your choice

Supports automated workflows to trigger surveys based on events like the closure of a ticket, project milestone, or follow-up on responses

Facilitates one-click surveys and also captures partial responses in case of survey abandonment or answers in progress

Analyze survey responses and collect customer feedback
Pricing:

The started plan starts at $27/month.
The Advantage plan starts at $50/month.
The Team plan starts at $75/month.
The Enterprise plan starts at $107/month.
#6. Qualaroo
Qualaroo is another SaaS product that helps businesses collect customer insights through feedback surveys. When integrated with Salesforce, it enables you to streamline the marketing process, and its two-way integration facilitates automated workflows. The Salesforce Survey tool enables better retargeting and leads qualification by bringing survey results and user feedback to one screen with Salesforce data.
With its Salesforce survey software, you can trigger surveys based on events in the customer journey and capture leads and survey response data into Salesforce when your customers respond to your surveys.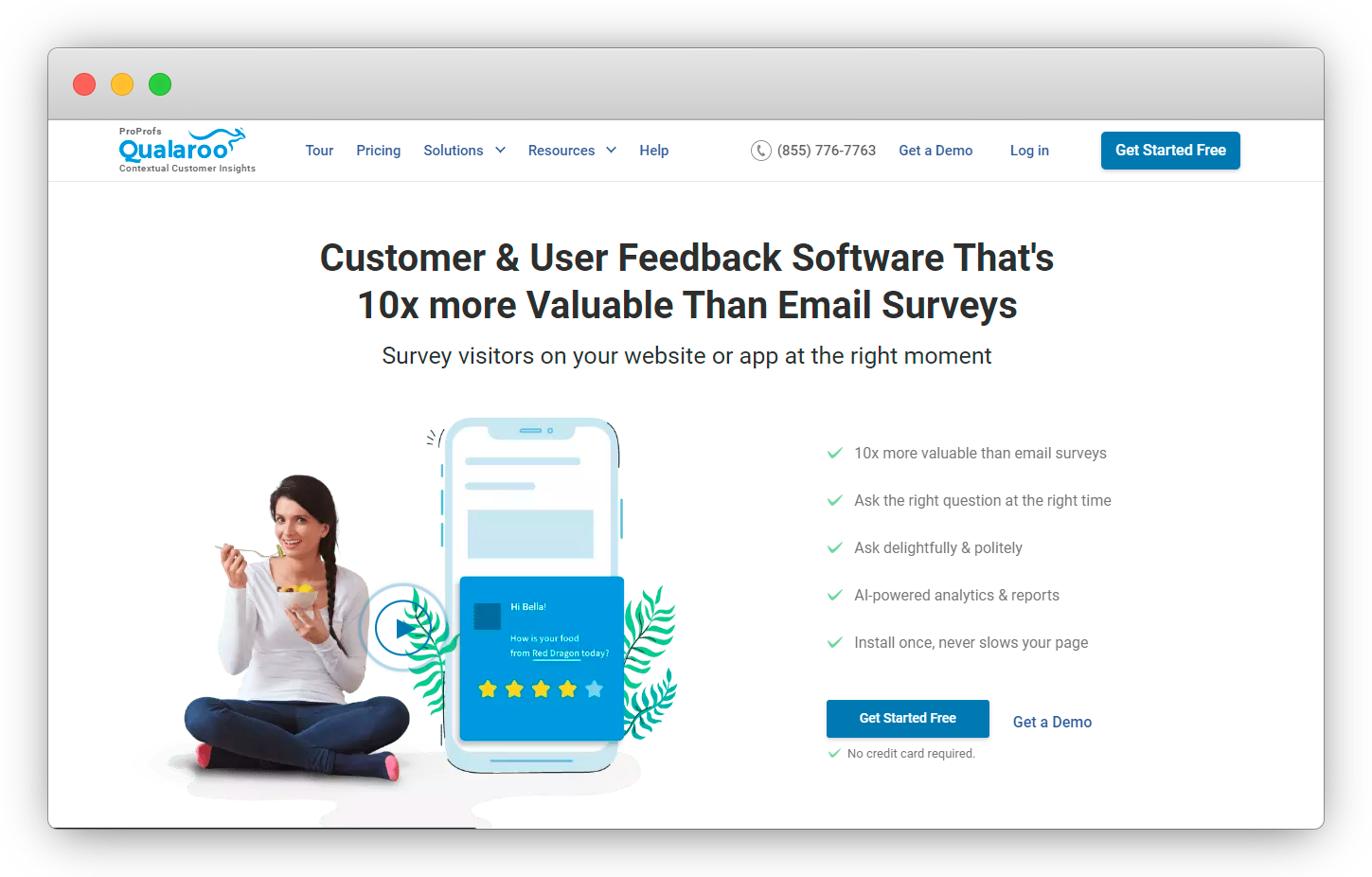 Qualaroo Features
Use various templates and curative questions to create your surveys

Create and insert customizable nudges on your web pages to survey your customers

AI Sentiment Analysis enables you to respond to your customers in real-time by assigning tasks automatically with events, like a task for customer service teams on unhappy feedback

It works through multiple channels - website, iOS, and Android devices

Set trigger events and automated actions like sending a survey automatically with an event

It automatically adds new leads to your Salesforce data with survey responses from new customers or respondents with information like name, contact, and feedback

Automatic update of Salesforce records with survey responses and ratings of metrics like Net Promoter Score through NPS tools for Salesforce
Pricing:

The essential plan starts at $69/month.
The premium plan starts at $149/month.
Its Business plan starts at $299/month.
#7. CVENT (earlier known as Inquisium Surveys)
Inquisium is another Web Survey Software by Cvent that businesses use to build feedback survey programs within minutes without any coding or complex workflows. The platform enables you to manage and store all survey responses directly into your Salesforce database to provide a holistic view of all important business data, including feedback. As one of the top online survey tools, CVENT also helps marketing teams perform their tasks effectively and provide services to their customers.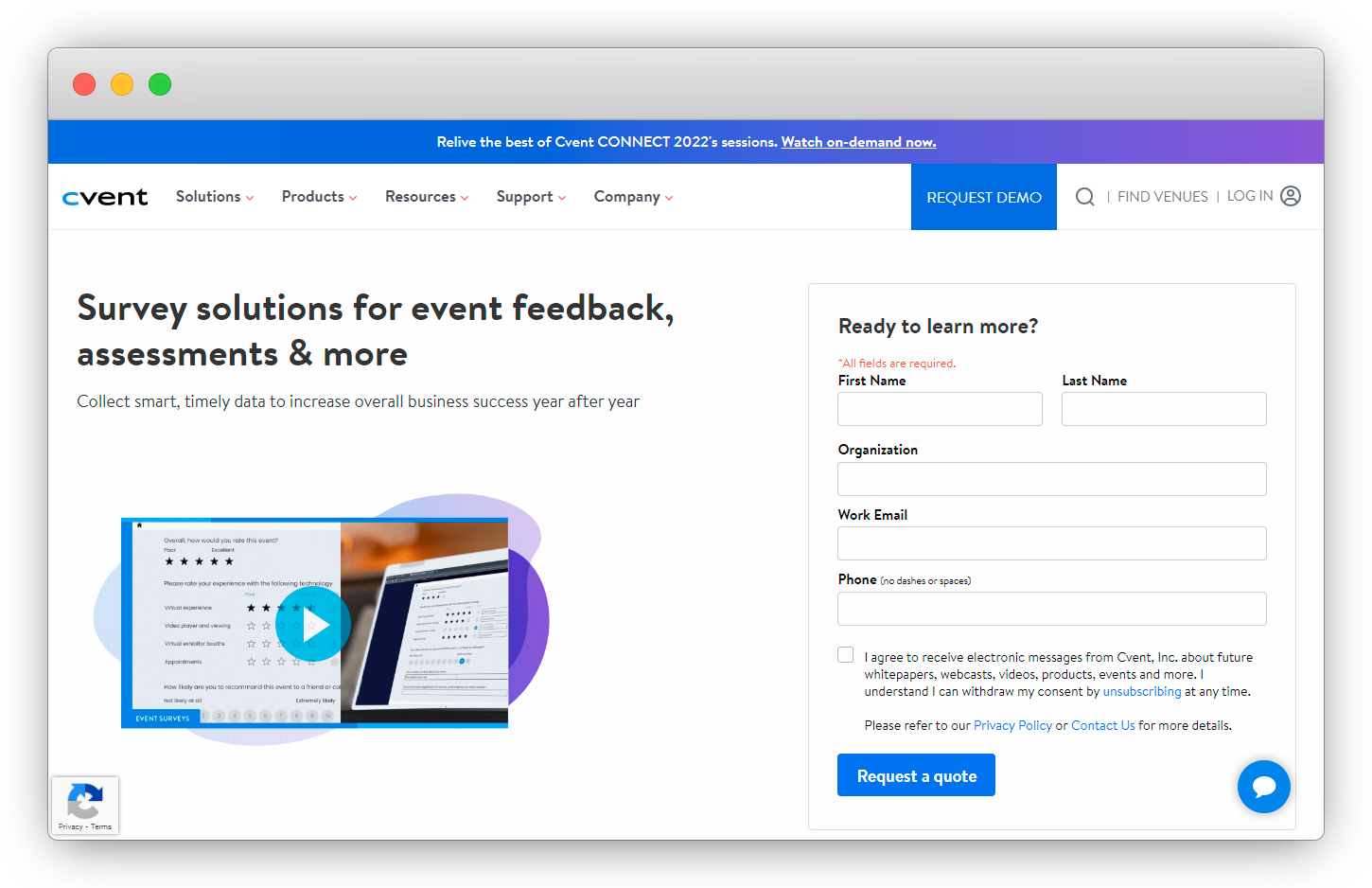 CVENT Features
Easily create various types of surveys, forms, live polls, and sophisticated feedback programs to capture event feedback, hospitality feedback, the voice of customers, employee engagement, and more

Enable your teams to measure how to market, sell, and serve your customers more effectively

Sync all feedback reviews and ratings into Salesforce to enrich your data and provide a 360-degree view to your teams on one platform
Pricing:

You can either request a demo or share your company details to know about their pricing plan.
#8. SurveySparrow
SurveySparrow is another best Salesforce survey tools that lets you capture new leads, trigger personalized surveys to customers whenever an event occurs, and map those responses back to the Salesforce fields.
One of the best parts about SurveySparrow with Salesforce integration is that one can quickly import customer contacts and map them with Salesforce. It makes the process simpler as you can update the contact list on salesforce data on a daily, weekly, or monthly basis.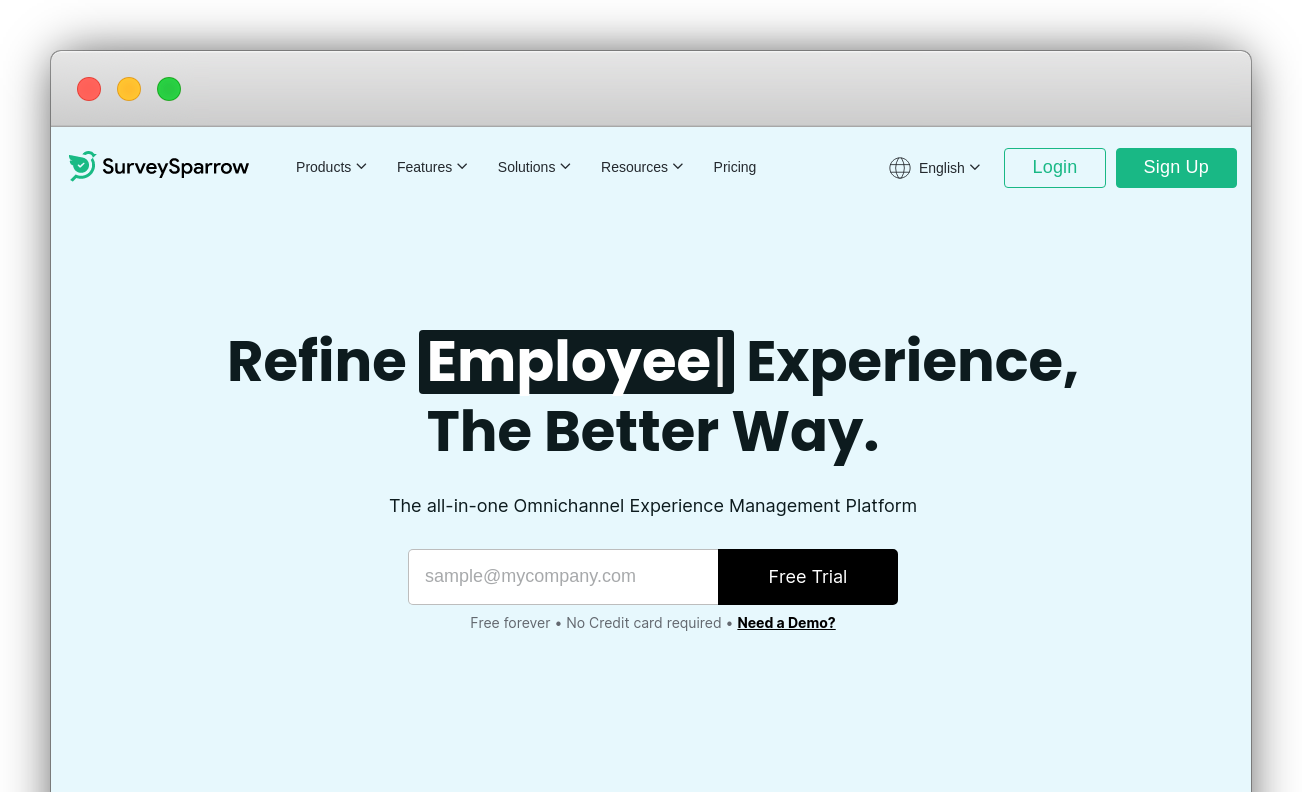 SurveySparrow Features
You can trigger surveys when an event happens in Salesforce

Add survey conditions to have complete control of the respondents

Quickly may survey responses to Salesforce fields and generate new leads

Effortless import of Salesforce contacts to SurveySparrow audience

Easily update the contact list on a daily, weekly, and monthly basis
Pricing:

The starter plan starts at $19/month for individuals; however, for businesses, you can connect with their sales support team.
Looking for easy-to-use and cost-effective alternatives to SurveySparrow? Here are some of the top SurveySparrow alternatives you can switch to.
FAQs on Salesforce Survey Tools
What is a Salesforce Survey tool?
A Salesforce Survey tool is a part of the Salesforce integration that enables businesses to create surveys and get customer feedback as well as produce useful analytics based on the data collection and customer responses through online surveys.
Why do you need a Salesforce Survey tool?
The Salesforce survey tool enables businesses to collect feedback by sending surveys directly from Salesforce. The integration also helps you to export survey data, create reports and dashboards, and share insights with your company. This will help your team get the right information for a seamless customer experience.
What's the Significance of Integrating Customer Feedback Tools for Salesforce Surveys?
Integrating surveys with Salesforce enhances data-driven decision-making, streamlines workflows, and optimizes customer experiences. It allows for a seamless exchange of information between survey tools and Salesforce, creating a more holistic view of customer interactions.
Measure CX at all touchpoints with Salesforce Surveys
Now that you are aware of what Salesforce Survey tools are, and how can they help you to enhance your customer experience, it is better to choose the survey tool that best suits your organization's needs.
If you're still confused about which one can be the right fit for you then why not try Zonka Feedback? Apart from improving your business process, the platform can improve your customer relations, and help increase revenue.
So what are you waiting for?
Try Zonka Feedback for 7-day free trial and get started today!