Most lists of top NPS tools for Salesforce are entirely subjective.
It's one person's biased opinion of what's best and doesn't convey how it'll make your CX strategy with Salesforce more holistic.
That's why it's crucial to find a list that not only talks about the best NPS tools for Salesforce but also conveys how each tool acts as the missing puzzle to complete your CX picture. Hence, we came up with this blog to help you with the following:
A list of well-known NPS tools for Salesforce
USP of each tool in terms of its Salesforce integration
TL;DR
Net Promoter Score (NPS) tools for Salesforce are software solutions that integrate with the Salesforce platform to facilitate the measurement and analysis of Net Promoter Scores.
In this blog, we have covered the top NPS tools for Salesforce, offering insights into each tool's unique value proposition in terms of Salesforce integration.
We have enlisted tools like Zonka Feedback, Survicate, SurveySparrow, Promoter.io, Typeform, Sogolytics, Delighted, and more.
Discover how these tools seamlessly integrate with Salesforce, empowering you to measure Net Promoter Score, boost customer loyalty, and enhance overall customer experience.
Zonka Feedbackk
Measure Net Promoter Score Within Salesforce💻
Find your promoters, neutrals, and detractors to track & boost customer loyalty.
Top NPS Tools for Salesforce
Since its introduction in 2003, NPS (Net Promoter System) has become the predominant customer success framework. As customer experience became integral to business success, NPS rose as a widely used metric to measure customer loyalty and satisfaction. It has consistently enabled brands to turn customers into advocates, automate customer experience (CX) and customer success operations, and boost long-term customer relationships. The question now arises: how to implement NPS in Salesforce?
Implementing NPS (Net Promoter Score) with Salesforce is a process that involves connecting an NPS tool to the Salesforce platform to synchronize data and streamline workflows. As a leading CRM platform, it can provide valuable insights and help businesses make data-driven decisions to enhance their customer-centric strategies. As a vital benchmark for assessing customer satisfaction, data from the NPS survey can add significant value to customer experience & retention and can be seamlessly integrated with Salesforce to gain actionable insights on the improvements and changes that will facilitate retention while eliminating churn.
In this blog, we will showcase some of the top NPS tools for Salesforce. Let's have a look at the list.
1. Zonka Feedback
Zonka Feedback is a cloud-based survey software and feedback management platform that allows businesses to collect and analyze customer feedback across multiple channels. With Zonka Feedback, you can create customized surveys, feedback forms, and polls and collect responses via email, SMS, QR codes, and more.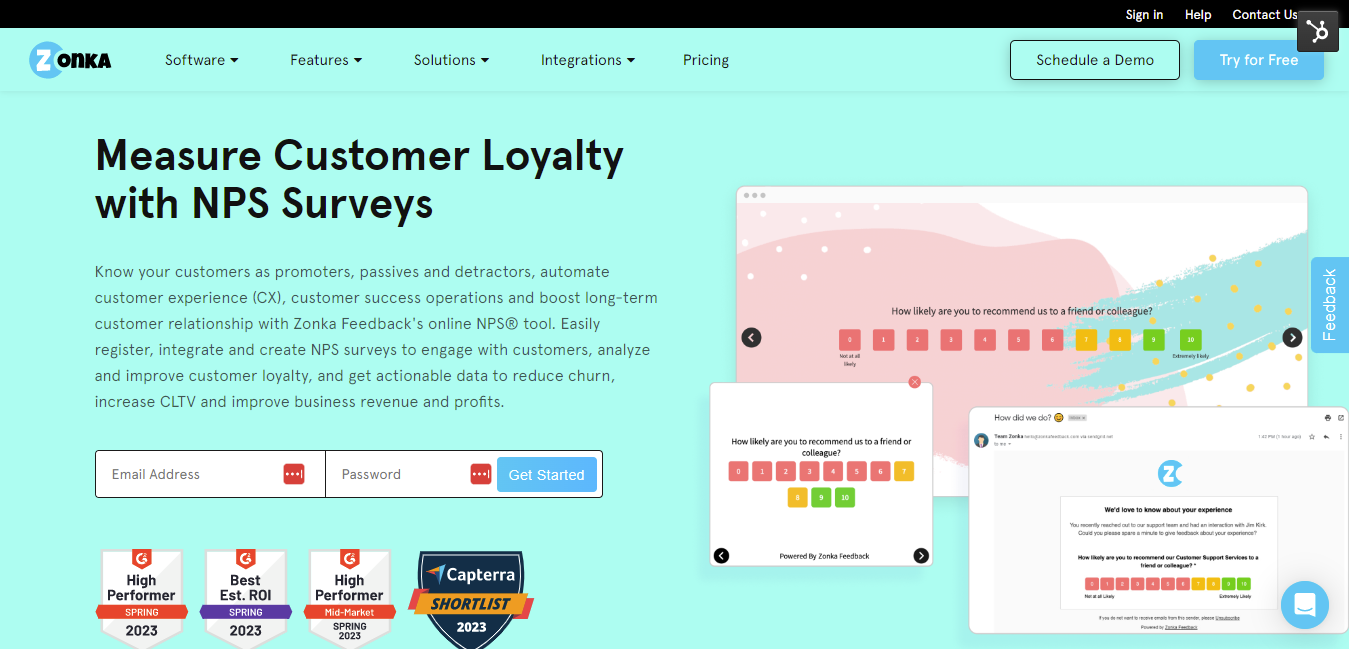 Talking about customer feedback, most businesses use NPS as a significant indicator of their business success. And integrating Zonka Feedback with Salesforce offers a powerful solution for businesses aiming to streamline their customer satisfaction measurement and management processes.
Key Features
Easy and seamless native integration

Leverage the

best NPS tools

to gather valuable data directly within Salesforce

Get a holistic view of customer satisfaction and loyalty

Track real-time NPS data

Identify areas for improvement and drive customer-centric strategies

Customizable survey templates

Robust reporting and analytics

Automated workflows for efficient follow-up actions
Why choose Zonka Feedback as your NPS Tool for Salesforce?
The unique customization options let users tailor surveys to their specifications, while the real-time reporting functionality ensures fast and reliable feedback. The streamlined nature of Zonka Feedback makes it easy to integrate with Salesforce. Apart from this, Zonka Feedback also delivers great performance when it comes to the ability to unify marketing, sales, and service departments.
Pricing: There is a separate paid option for Salesforce surveys in Zonka Feedback; however, the price starts at $499 per month.
G2 Ratings: 4.7 out of 5
2. Survicate
Survicate offers a diverse range of survey options, of which NPS is just one example. With its seamless integration with Salesforce, you can effortlessly conduct surveys using Survicate. There are numerous compelling reasons to use Survicate tools, as it gives access to all 125 survey templates once a user signs up, including the free plan. In addition to NPS tools for Salesforce, Survicate enables businesses to execute surveys like CES survey, CSAT, product-market fit, customer feedback, and a multitude of other survey types.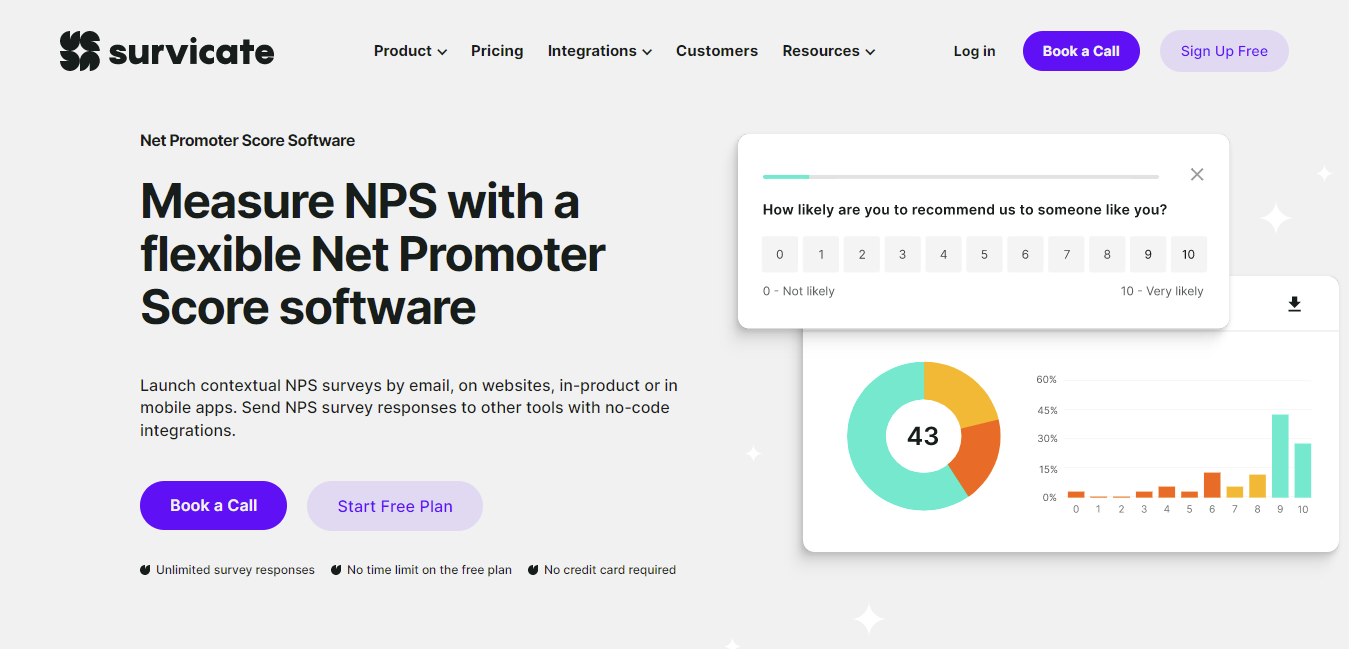 Key Features
Seamless Salesforce integration

Effortlessly identify contacts without the need to request their details

Net Promoter Score survey results are automatically mapped to the appropriate fields within the corresponding Salesforce contacts

Distribute

NPS survey

directly from Salesforce

15 survey types that can be embedded in survey emails

Specific audience segmenting and targeting within Salesforce

Trigger customized workflows based on the type of response
Why choose Survicate as your NPS Tool for Salesforce?
With Salesforce and Survicate, ramping up your CRM initiatives is a breeze. Also, Survicate offers more than 125 survey templates that are responsive and tailored to different purposes. Not many Surviate alternatives offer the converational feel of NPS surveys like Survicate does.
Pricing: The package starts from $89 per month with additional charges for more extra features.
G2 Ratings: 4.7 out of 5
3. SurveySparrow
SurveySparrow has gained significant traction in the enterprise market, positioning itself as a sophisticated solution compared to other alternatives. Its offerings cater to a more advanced audience and provide an array of significant features, making it one of the best NPS tools. In addition to the standard survey creation capabilities, SurveySparrow offers several upscale options tailored to meet specific needs. These include custom domains, the ability to incorporate custom CSS code in surveys, personalized email addresse s for surveys, scheduled survey reports, and SPSS data exports. There are many SurveySparrow alternatives that lack in this forte.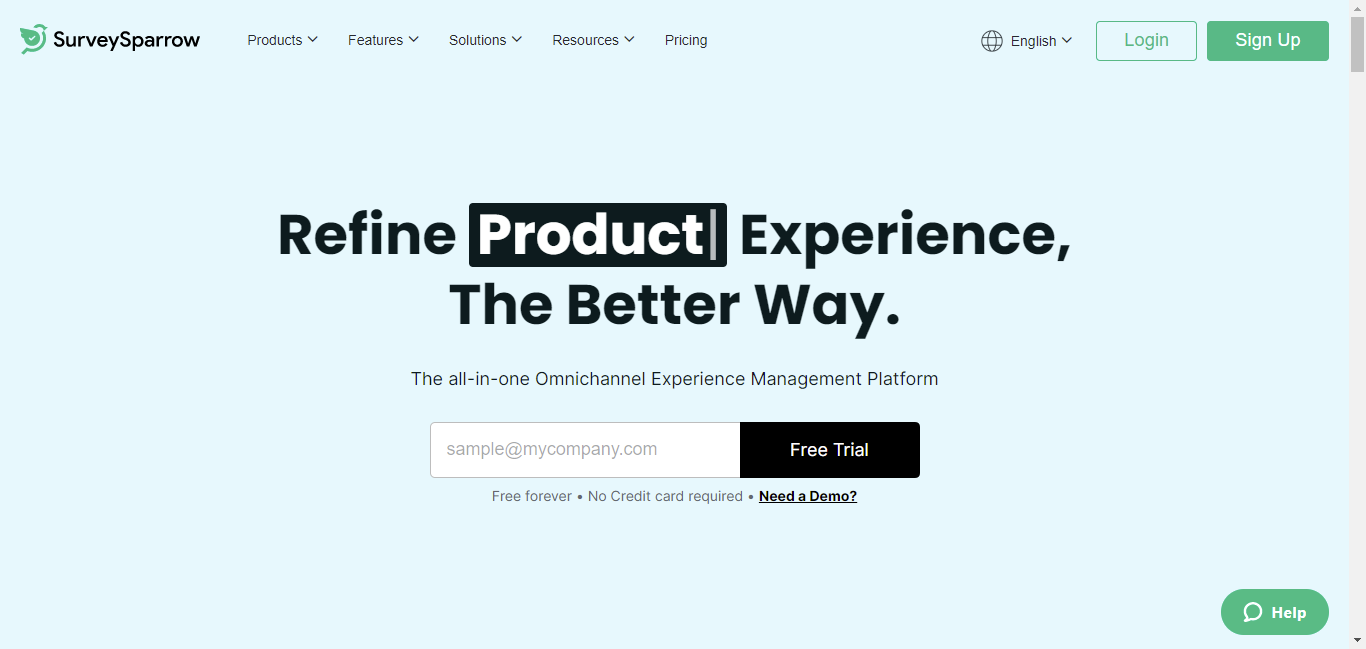 Key Features:
Tool boasts seamless integrations with various marketing and sales tools

Straightforward process for setting up Salesforce integration

Connecting any SurveySparrow poll to the Salesforce account is a matter of minutes

Useful automation features

New survey responses can be automatically added to Salesforce contact fields

Trigger survys based on events occurring in Salesforce
Why choose SurveySparrow as your NPS Tool for Salesforce?
Integrating SurveySparrow NPS with Salesforce enables users to capture new leads, trigger personalized surveys to customers whenever an event occurs, and map those responses back to the Salesforce fields.
Pricing: The package starts from $99 per month, billed annually. While SurveySparrow is an excellent tool, its cost may exceed the budget of certain companies, making it more suitable for larger organizations.
G2 Ratings: 4.4 out of 5
4. Promoter.io
Promoter.io stands out from other tools on this list due to its specific focus on e-commerce stores, particularly within the BigCommerce and Shopify platforms. Specifically designed for e-commerce platforms, Promoter.io allows users to send surveys to their customers seamlessly. The tool offers a multichannel experience, allowing surveys to be sent through website pop-ups, email, and SMS messages.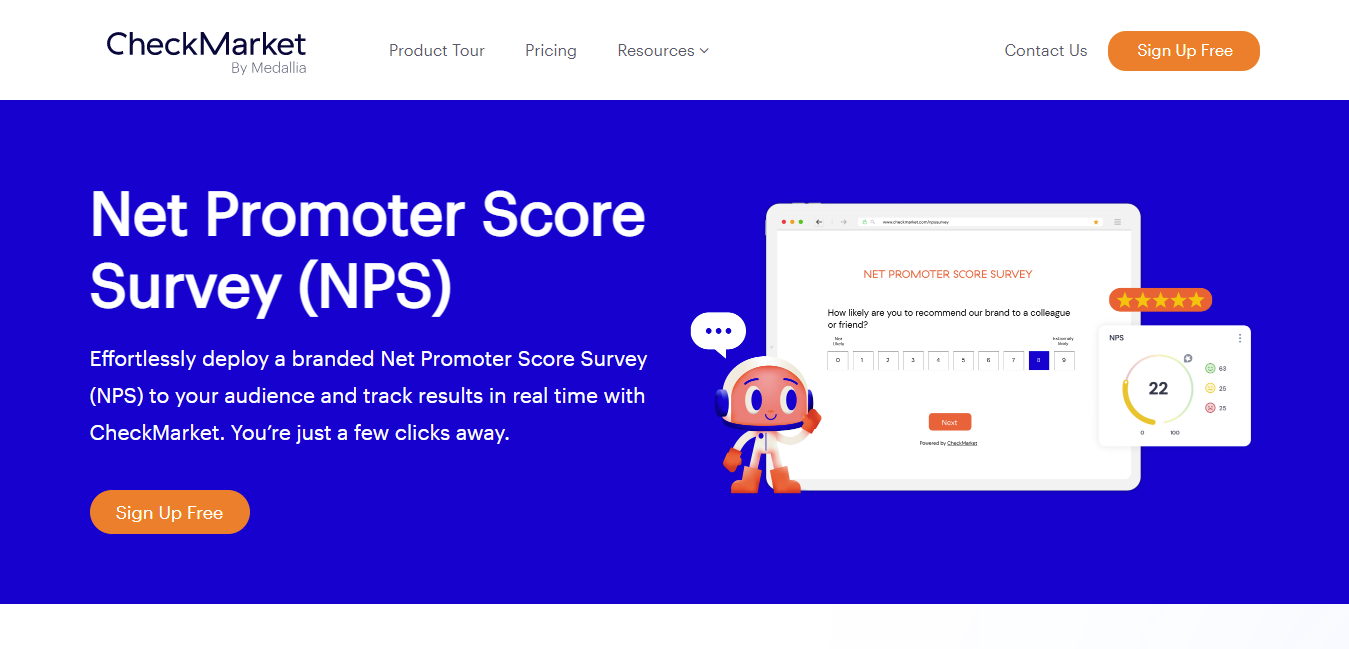 Key Features
Comprehensive help center with detailed guidance on the NPS survey tool
Ability to capture survey results directly in Salesforce contact fields
Track and analyze NPS scores at the individual contact level. Additionally, Promoter.io NPS tools for Salesforce also provide a few other features such as:
Salesforce contact fields allow users to get survey results effortlessly
Users can calculate NPS survey results on the contact level
Users can send surveys from contact records
They can also get trigger notifications when surveys are sent out based on Salesforce responses.
By catering specifically to e-commerce stores and providing seamless integration with platforms like BigCommerce and Shopify, Promoter.io offers a tailored solution for collecting customer feedback and integrating Salesforce to enhance customer loyalty and drive business growth.
Why choose Promoter.io as your NPS Tool for Salesforce?
It is easy to connect CheckMarket with Salesforce without coding knowledge to start creating your own business flow.
Pricing: The package starts at $150 per month and $1440 for a yearly subscription.
G2 Ratings: 4.0 out of 5
5. Typeform
Typeform stands out as a versatile tool that goes beyond just surveys, offering the ability to create forms, quizzes, tests, and more. It provides a wide range of survey templates tailored to different business needs, and customization is made effortless with its intuitive drag-and-drop builder.
However, it does have some limitations in terms of customer feedback analysis that compel a lot of businesses to look for Typeform alternatives.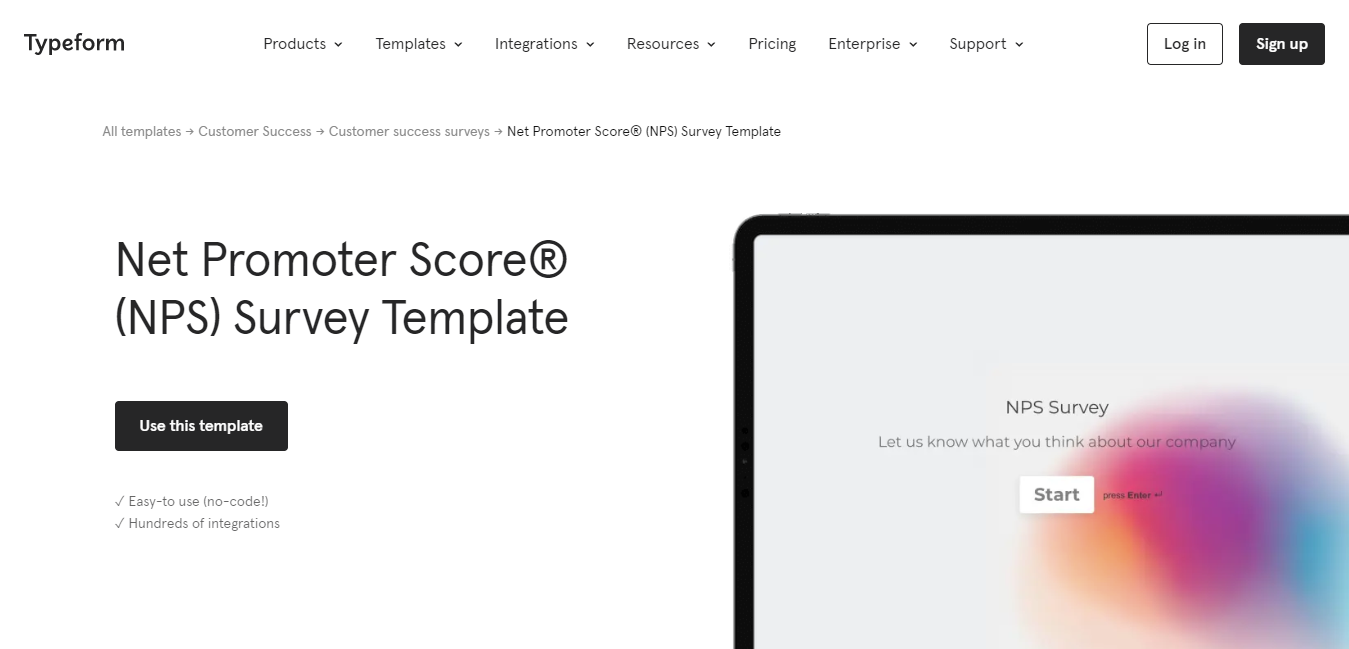 Key Features
Typeform acts as the starting point of the data with its Salesforce NPS integration
Users can collect data through Typeform that is transferred into Salesforce
Create new fields, leads, accounts, opportunities, and other relevant entities within Salesforce
Primary focus on lead generation rather than customer feedback management
Why choose Typeform as your NPS Tool for Salesforce?
Make sales, manage customer support tickets, and run marketing campaigns while making interactive forms, surveys, quizzes, and more.
Pricing: The package for Salesforce integration starts from $99 per month and $83 per month when billed yearly.
G2 Ratings: 4.5 out of 5
6. Sogolytics (SoGoSurvey)
For those seeking a comprehensive customer analytics platform, Sogolytics, along with its dedicated survey builder, is an excellent choice. Although the tool may seem built for enterprise-level users, it is actually suitable for businesses of all sizes.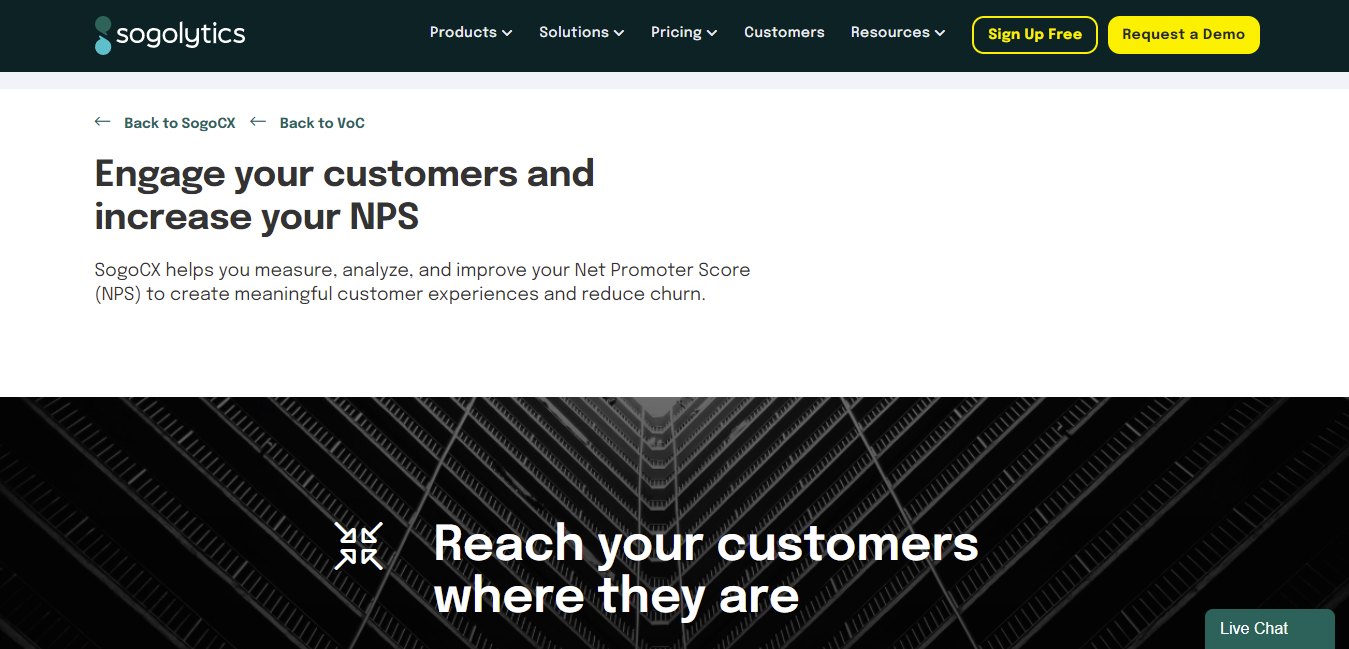 Key Features
Two-way data transfer between the platform and Salesforce

Load survey results directly into Salesforce contacts

Customize survey content based on the data available from your Salesforce contacts

Allows users a seamless alignment between survey responses and Salesforce data
Why choose Sogolytics as your NPS Tool for Salesforce?
Integrating Sogolytics with Salesforce is easy, allowing you to automate your processes and improve the quality of data available for your analysis.
Pricing: You need to connect with their helpdesk to request for quotes for Salesforce integration.
G2 Ratings:4.5 out of 5
7. Delighted
Delighted, developed by Qualtrics, is an omnichannel customer feedback platform that offers a diverse range of feedback collection methods. Whether it's NPS, CES, CSAT survey, star-rating, or product-market fit surveys, Delighted provides various survey types to meet different feedback requirements.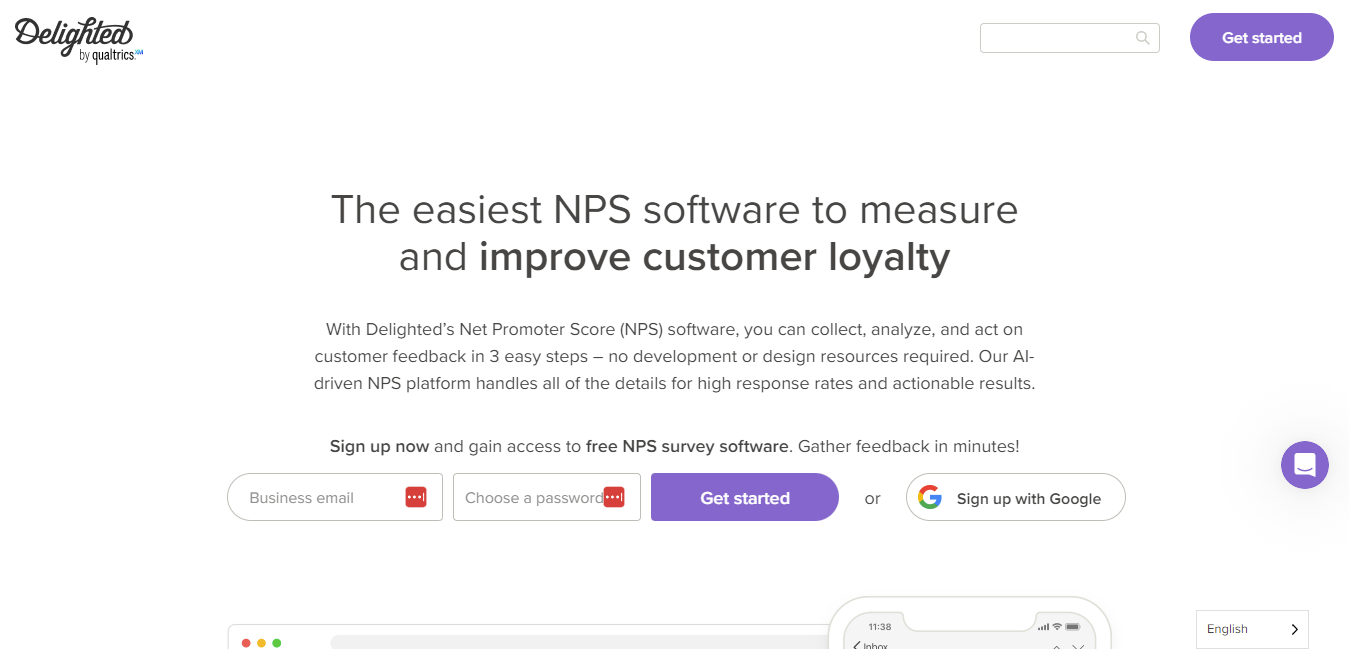 Key Features
Salesforce integration offered by Delighted is robust, enabling businesses to engage with customers throughout their journey
Trigger NPS surveys at different stages of the customer journey based on specific needs

Integrating the NPS tool with Salesforce is effortless and allows users to engage with customers throughout the customer journey. Using the Delighted NPS tool for Salesforce, businesses can use emails to send an automated NPS survey without lifting a finger.
Why choose Delighted as your NPS Tool for Salesforce?
The AI-driven NPS tool can deliver surveys across multiple channels and devices and in 30+ languages.
Pricing: The package starts at $499, billed annually; however, you need to contact their helpdesk for monthly pricing.
G2 Ratings: 4.7 out of 5
8. Alchemer
Alchemer distinguishes itself by catering to those who have "outgrown SurveyMonkey NPS" and seek an alternative to the more expensive Qualtrics platform. Alchemer is a comprehensive customer feedback platform going beyond traditional survey software. It empowers businesses to capture the voice of the customer and execute customer experience automation projects.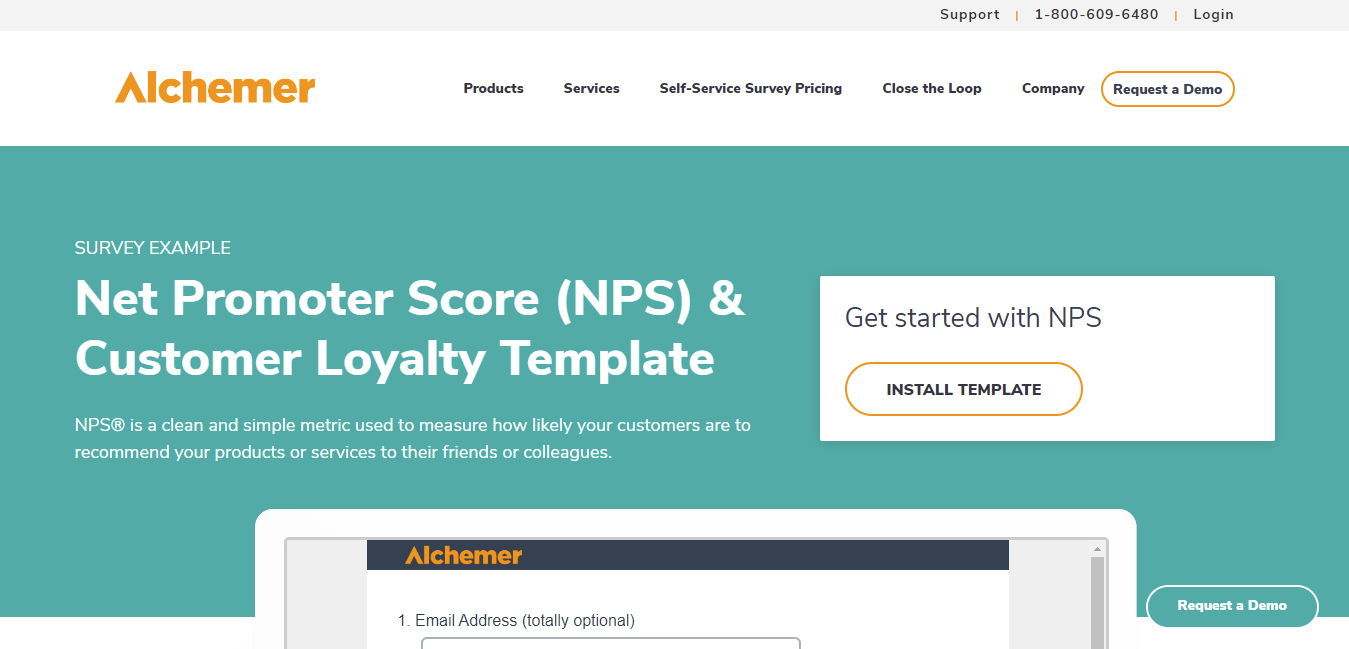 Key Features
Bidirectional data flow, allowing for seamless data exchange between the two platforms

Users can push and pull data from Alchemer and Salesforce

Comprehensive overview of contacts by combining responses with existing Salesforce data
Why choose Alchemer as your NPS Tool for Salesforce?
The Salesforce Integration in Alchemer is an added feature, and you need to get in touch with their team with additional information.
Pricing: Enterprises need to get in touch with their sales team for salesforce integration pricing.
G2 Ratings: 4.4 out of 5
9. QuestionPro
QuestionPro has evolved from a free survey tool into a comprehensive customer and employee experience platform, encompassing NPS tools as part of its offerings. However, its Salesforce integration may not be as user-friendly and intuitive compared to other options on this list. The integration requires mapping each survey with a list of contacts in Salesforce to fully utilize its capabilities.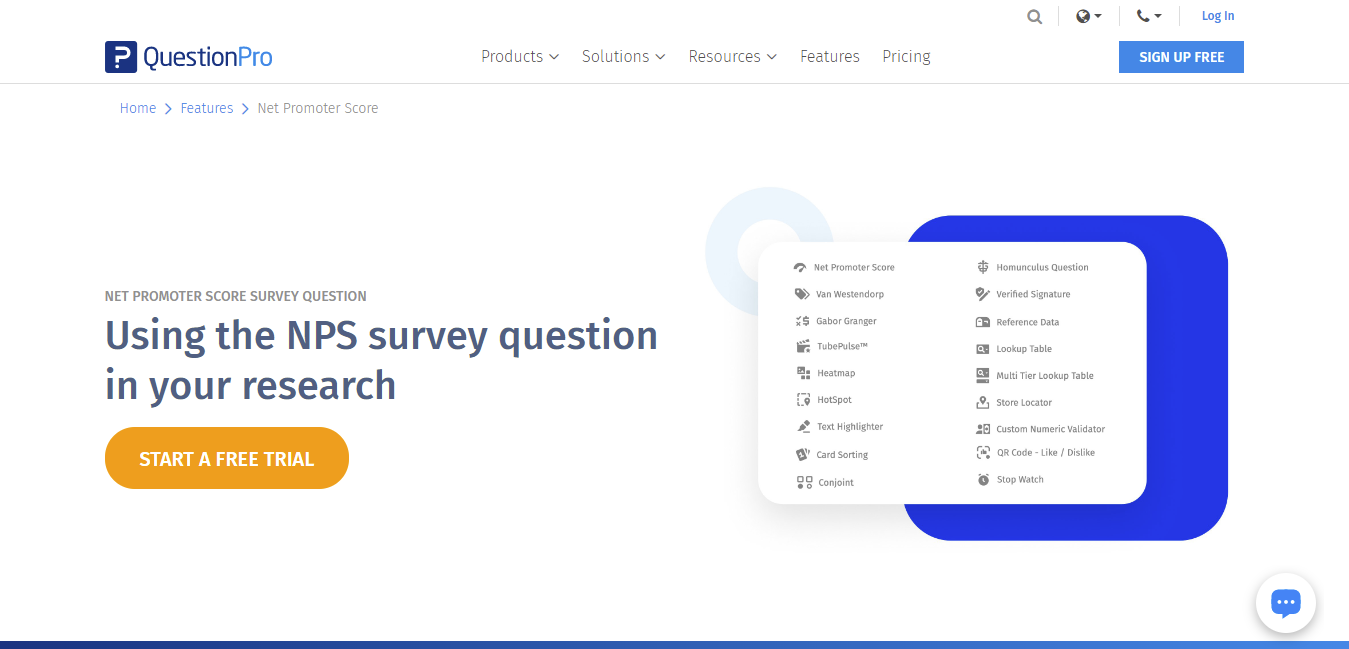 Key Features
Send surveys to specific contact lists within Salesforce

Add the survey responses to corresponding contact data
Why choose QuestionPro as your NPS Tool for Salesforce?
Empowers users by asking the reasons behind the ratings and then allows them to vote for specific feedback from other customers.
Pricing: Contact their sales team for salesforce integration pricing.
G2 Rating: 4.5 out of 5
10. SatisMeter
SatisMeter enables businesses to gain an in-depth understanding of the services and businesses through quick integration of NPS tools for Salesforce. Its long-term customer satisfaction and loyalty give users a strong indicator of growth and product performance.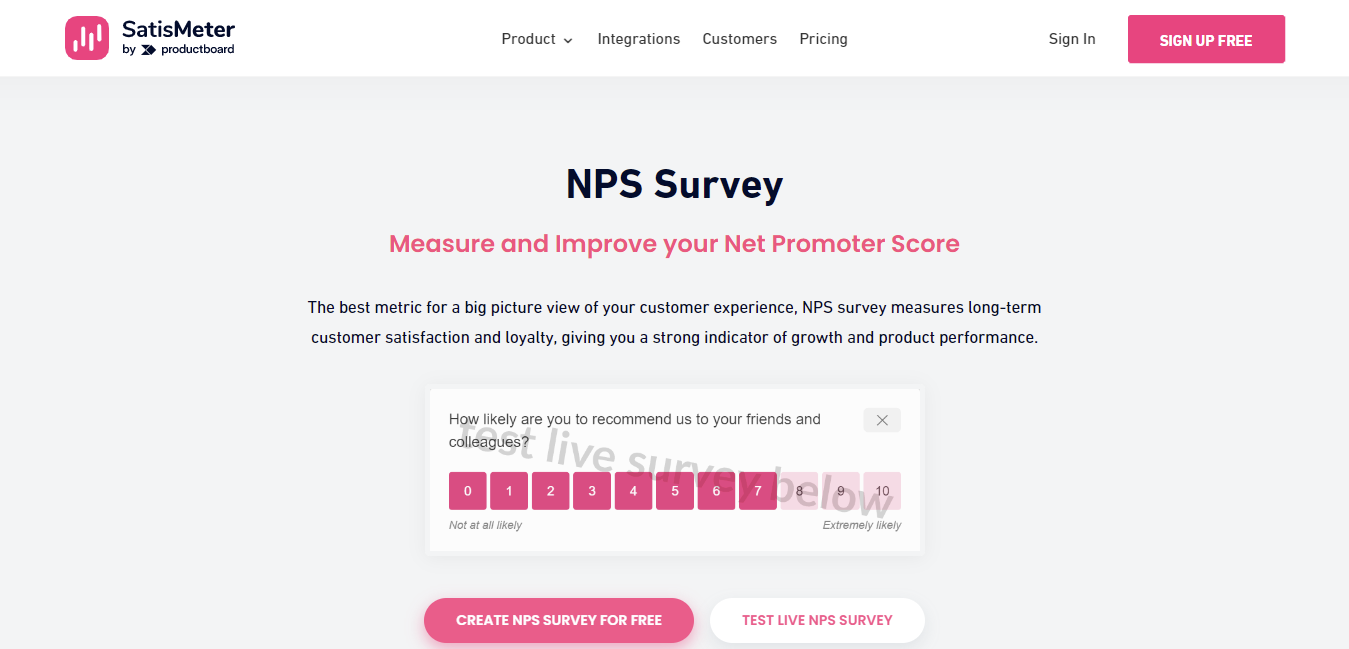 Key Features
Sync NPS data directly into Salesforce

Businesses can automate the collection of

NPS reports

and associate them with specific customer records

Comprehensive analysis and action

Satismeter is the best NPS tool for Salesforce as it can translate the surveys into different languages
Why choose SatisMeter as your NPS Tool for Salesforce?
It provides a wealth of written user feedback that businesses can add to Salesforce as a new case to improve their services and grow.
Pricing: The pricing for Salesforce integration drops under the Enterprise plan; however, users can connect with their sales team for further pricing.
G2 Rating: 4.8 out of 5
Wrapping Up
Salesforce's dominance in the CRM market is undeniable, and its continued growth makes it crucial to select survey software with seamless Salesforce integration. Opting for a comprehensive integration solution in both directions enables businesses to refine their sales, customer experience, and marketing processes. With the best NPS tools mentioned in this article, businesses can effectively identify at-risk customers, prioritize loyal brand advocates, and actively promote their brand. These tools have been meticulously selected after extensive research and analysis, ensuring they meet the criteria of affordability and compatibility with Salesforce. Choose from these options to find the perfect NPS tool for Salesforce that suits your needs without straining your budget.