Founded in 2012, Typeform help brands treat people with thoughtfully-designed tools like online forms and online surveys.
It is an excellent platform for online survey and as an online form building tool - designed to create interactive and engaging surveys, forms, quizzes, and more. But the platform has its own setbacks.
It may be a versatile tool, but you may be looking for its alternatives in terms of branding, better pricing, and ease of use.
Thankfully, there are plenty of platforms available today for businesses looking for alternatives to Typeform. In this blog we have shared the top 10 Typeform alternatives, that will highlight their key features, pros, limitations, and pricing to help you choose the top competitors.
TL;DR
Businesses may look for alternatives to Typeform due to its few question types, higher cost, and complicated features.
We have compiled a list of top 10 Typeform alternatives through set parameters including versatility, user experience, cost optimization, support and scalability to better align with your goals.
Some of our top alternative to Typeform from our list includes Zonka Feedback, Jotform, Zoho Forms, Google Forms, AskNicely, InMoment, and many more.
Apart from that, we have also covered other platforms like Medallia alternatives, Hotjar alternatives, SurveySparrow alternatives, SurveyMonkey alternatives, and Qualtrics alternatives.
As a Typeform alternative, Zonka Feedback provides you with comprehensive feedback solutions, omnichannel collection, enhanced security, customization, employee engagement tracking, and advanced analytics. Sign up for a free trial of Zonka Feedback or book a demo today!
Measure Customer Feedback & User Insights
Try the best Typeform competitors and alternatives to understand what users need and learn ways to delight your customers.
#1. Zonka Feedback Survey And Form Builder
Zonka Feedback is a user-friendly and interactive online survey and form-building platform that not only simplifies survey and form creation but also captivates respondents with enjoyable customer experiences.
Zonka Feedback empowers users with extensive options for white-labeling, branding, design, and question creation, providing a level of control and personalization that goes beyond what Typeform users typically experience.
Typeform allows users to use its pre-built visually engaging and interactive online form submissions and surveys, Zonka Feedback differentiates itself by enabling users to create & customize the online surveys and contact forms.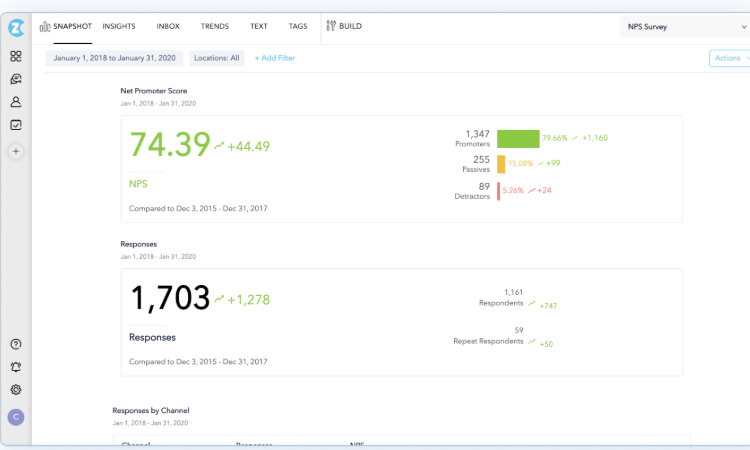 Zonka Feedback Vs. Typeform
Zonka Feedback provides you with a versatile selection of over 30 questions tailored to your specific requirements and preferences; in contrast Typeform's one-question-at-a-time approach can consume more time.
In terms of similarity, both Zonka Feedback and Typeform allow conditional logic feature; however Zonka Feedback logic feature is available in both desktop and mobile. Whereas, Typeform users can only use conditional logic option in desktop.
Zonka Feedback and Typeform both offer pre-built surveys; however, Typeform surveys are more focused on industry-based, whereas Zonka Feedback offers different versatile survey types, including NPS surveys, CSAT surveys and CES surveys.
Being one of the best Typeform alternatives around, Zonka Feedback offers pre-filled survey option to prevents survey fatigue that Typeform users long for.
Ice on the cake is, users can use offline surveys, making it possible to create customizable forms and survey forms, and use it in kiosk mode with Zonka Feedback. Typeform is mainly designed to work only with an internet connection.
Zonka Feedback also gives you a feedback button option to capture customer responses on the website.
With Typeform users can generate reports for surveys and forms with paid plans; whereas Zonka Feedback allows users to generate reports for surveys even with 7 days free trial.
Users seeking a more versatile tool for different types of interactive online forms and surveys, Zonka Feedback is a better option than Typeform.
Zonka Feedback Features

Templates: 100+

Multi-lingual: Yes. 37+ languages

Integration: 50+

Use Case: Customer Experience, Product Experience, Website Feedback, Patient Feedback, Employee Engagement, Lead capture

G2 Rating: 4.8

Pricing: The essential plan for creating offline surveys starts at $15 per device/month, while the starter plan starts at $49 per month.
#2. Fynzo Survey
Fynzo Survey, one of the Typeform alternatives, has a wide range of customization choices, enabling you to design custom and highly personalized surveys.
You have a feature-rich and adaptable online survey builder when you select Fynzo Survey as a Typeform substitute.
Fynzo Survey offers a strong solution to satisfy your survey-building needs, regardless of whether you require dynamic surveys, vast customization possibilities, seamless integrations, embedded forms, or flexibility in sharing the surveys. Using Fynzo Survey, you may communicate with your audience on any device and see the replies in real time.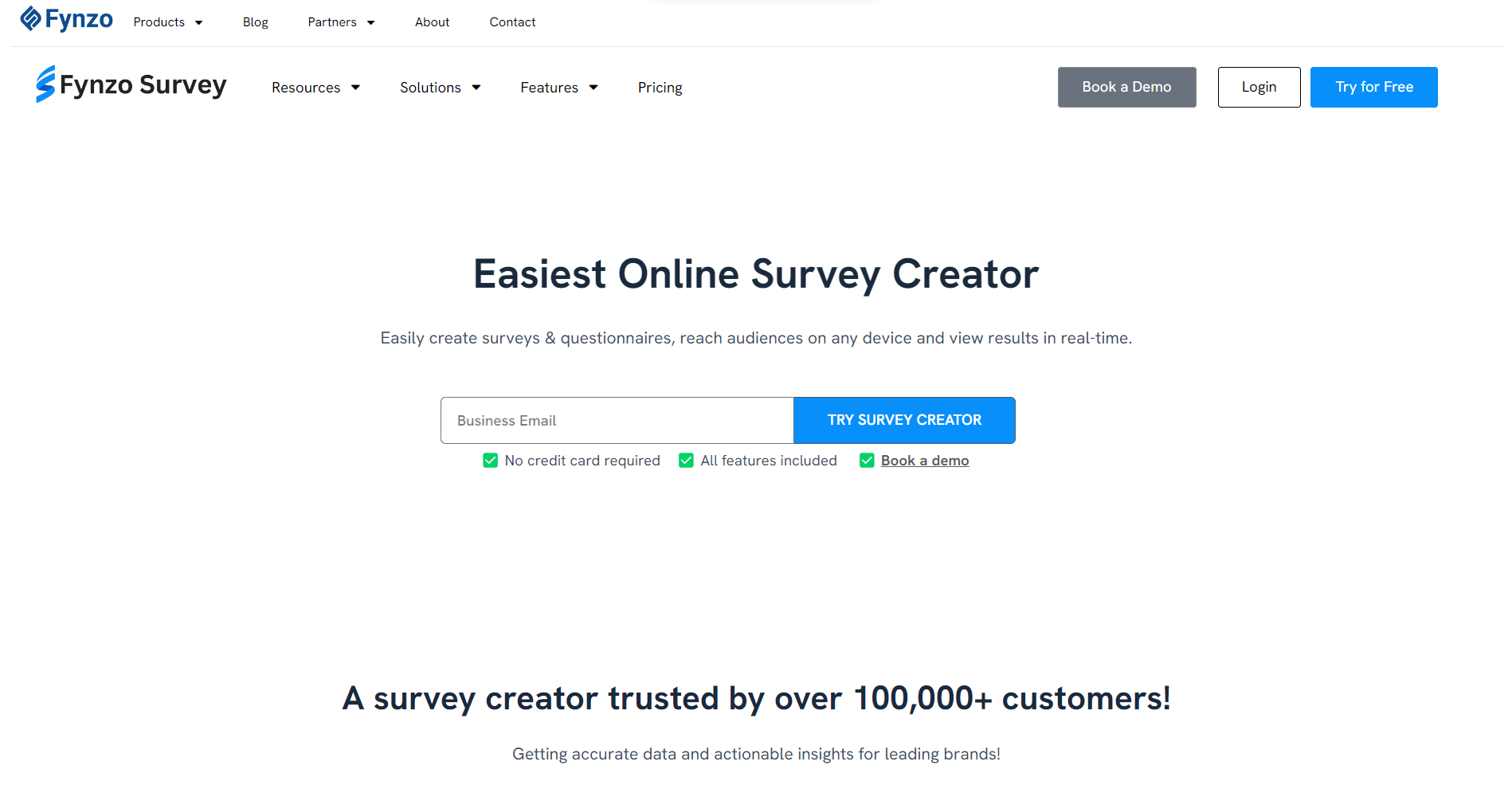 Fynzo Survey Vs. Typeform
You have access to a potent survey creator with Fynzo Survey which is competitive with Typeform in terms of usability and functionality. Fynzo Survey stands out in several ways:
Fynzo Survey offers a number of question formats, including star ratings, smileys, NPS, and Likert scales, which are much easier to use than Typeform.
You can use complex features in Fynzo Survey like piping, branching logic, and adjustable variables, giving you the freedom you need to simplify your surveys, which are quite complicated in Typeform.
With Fynzo Survey, you have a variety of options for disseminating your surveys, including social media, email, website embedding, and QR codes.
Fynzo Survey provides one of the best survey apps that work with both iOS and Android, enabling you to create, distribute, and examine survey results while on the road, even when the internet isn't available, while in Typeform, there is no offline surveys feature.
Fynzo Survey offers you the option to be notified of responses both on your desktop and mobile in real-time, guaranteeing that you keep informed of the replies from your audience as they come in.
Fynzo Survey provides a wide range of customization possibilities, making it a powerful online form maker. These options include personalizing survey templates, customizing survey appearance, and exploring different question types that too in a quite easy way which is simply not available in Typeform.
Fynzo Survey Features

Templates: 500+

Multi-lingual: Yes, 70+ languages

Integrations: 10+

Use Cases: Customer experience, Product experience, Employee experience, Market research, Product Feedback

G2 Rating: 4.4

Pricing: You get a 14-day trial period to check out the features of Fynzo Survey. The starter plan begins at $19, and you have various other plans depending on your requiremen
#3. Jotform
As one of the Typeform alternatives, Jotform offers a wide range of customization options, allowing you to either create custom forms and highly personalized forms with your branding, styling, and layout preferences.
Choosing Jotform as a Typeform alternative provides you with a feature-rich and flexible online form builder option.
Whether you need dynamic forms, extensive customization options, robust forms, seamless integrations, embedded forms, or versatility in form types, Jotform offers a robust solution to meet your form-building needs.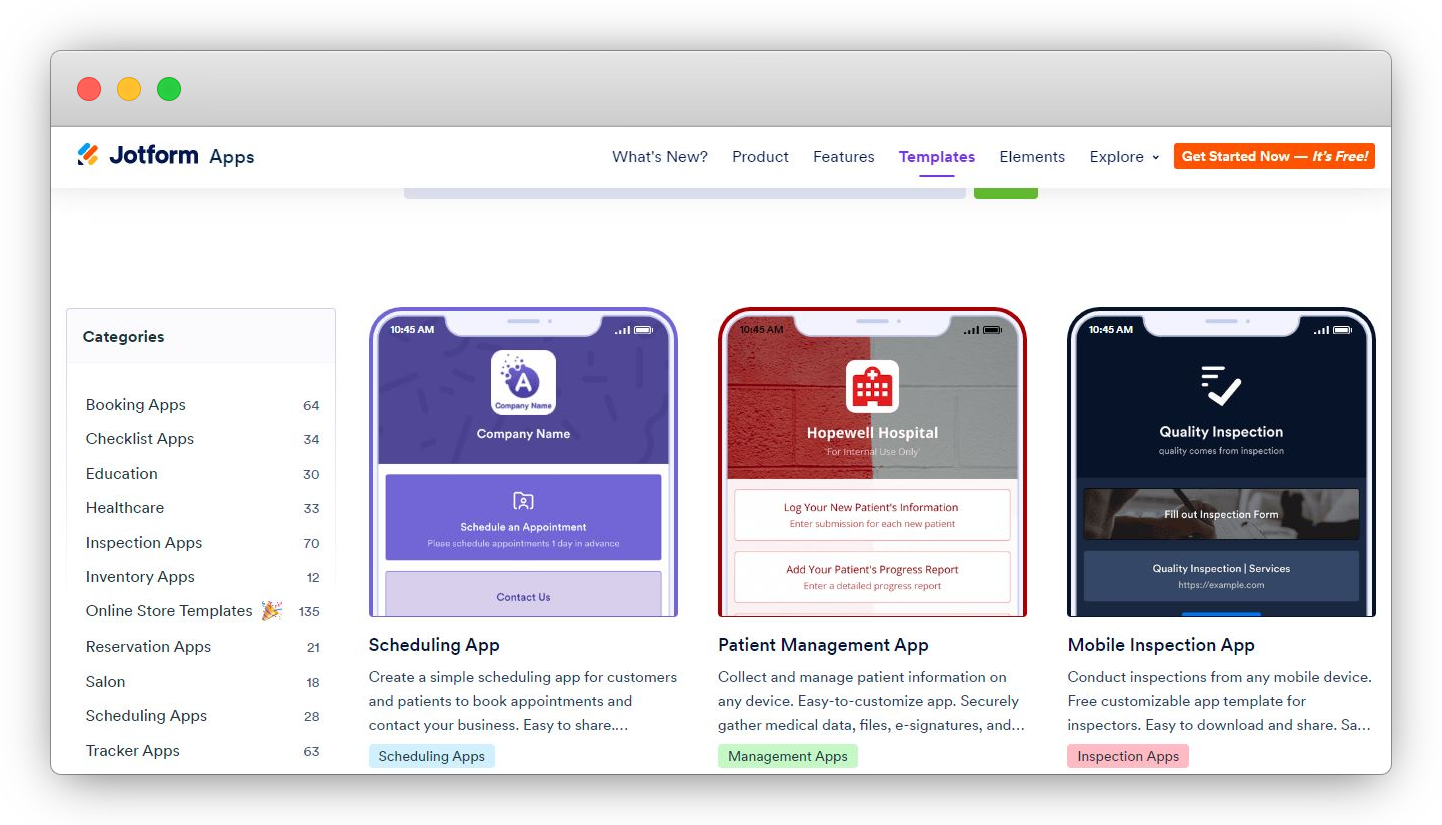 Jotform Vs. Typeform
Unlike Typeform, Jotform offers dynamic forms that automatically adjust condition logic based on user input, enabling the display or hiding of fields, according to respondents' responses.
Typeform, in contrast, provides basic conditional logic functionality with limited options for customizing the form responses based on respondents' answers.
One of the stand-out features of Jotform is its "automated approval processes," which streamlines form management for the entire team. Typeform lacks these approval workflow features as it requires multi-step approval processes.
Since Jotform has a much broader scope, it provides a free online form builder to gather quick customer feedback. You can either create simple forms or complex forms, even add your own questions, set up conditional logic, and share your custom survey online to start collecting responses instantly.
Jotform Features

Templates: 30+

Multi-lingual: Yes, 50+

Integration: 30

Use Case: Customer experience, Employee experience, Market research, Product and Service Feedback

G2 Rating: 4.5

Pricing: To obtain pricing details and information, you can reach out to the dedicated sales team.
#4. HubSpot Form Builder
Compared to Typeform, HubSpot Form Builder provides form builders with a more comprehensive set of features and integrates form builder more seamlessly with HubSpot's marketing and sales tools suite.
With HubSpot's Online Form Builder, users can access advanced customization options for unlimited forms, including progressive profiling of form fields and smart fields, enhancing the form-building experience technical forms, and the form data collection process.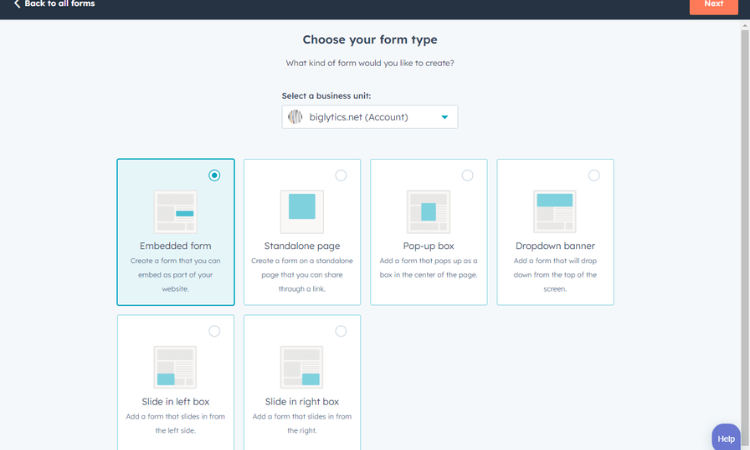 Hubspot Form Builder Vs Typeform
As a custom form builder, Hubspot form builder is one of the suitable alternatives to Typeform as the platform allows users to choose from various other form builder fields and customize them to fit their needs.
It provides advanced customization options, such as progressive profiling and smart fields, whereas, Typeform offers customization features mainly for visually engaging and interactive forms.
Hubspot form builder supports various types of forms, including conversational forms, payment forms, online payments, online payments, lead generation forms, surveys creating forms, and contact forms, tailored to different stages of the customer journey whereas Typeform offers only conversational forms focusing on user engagement and interactivity.
Regarding pricing, Hubspot is more expensive than Typeform. However, its free version is a part of HubSpot's marketing platform that includes all other essential marketing tools and a CRM and email automation system.
Hubspot Form Builder Features

Templates: 100+

Multi-lingual: Yes, 50+

Integration: 100+

Use Case: Customer experience, Lead generation, Surveys and Polls, Product Feedback, Event Feedback

G2 Rating: 4.4

Pricing: The initial plan starts at $18 per month.
#5. Zoho Forms
Zoho Forms is a compelling choice build forms for businesses already utilizing the Zoho Office Suite, offering an affordable and integrated form-building solution.
The feature-rich form builder provides users with 30+ field types, customizable themes, and situation-specific templates to create beautiful forms.
While Zoho Forms may not boast as many templates or advanced customization options as Typeform, it still delivers strong customization capabilities multi-page forms, including advanced branding choices.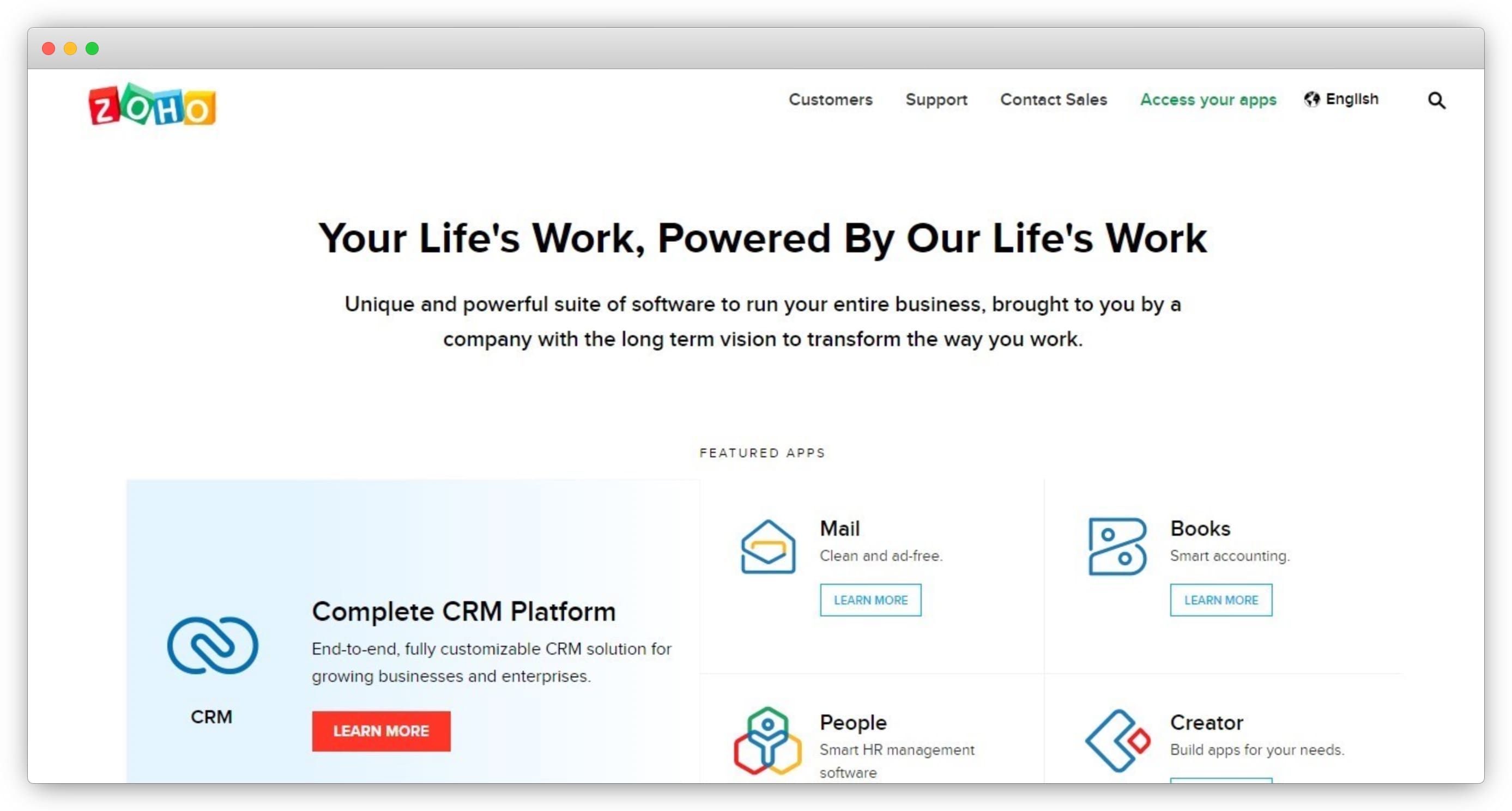 Zoho Forms Vs. Typeform
Zoho Forms offers a variety of collaboration tools that facilitate teamwork and efficient form-building processes in contrast, Typeform offers some basic collaboration features, as it lacks the same level of extensive collaboration.
One of the features that you get with Zoho Form is its "form analytics," which allows users to monitor the performance of their web forms. The platform also allows users to embed their custom web forms anywhere, directly into their websites.
And for those already utilizing Zoho Office Suite, Zoho Forms can be a highly effective and cost-efficient option.
Zoho Forms Features

Templates: 100+

Multi-lingual: Yes, 70+

Integration: 30+

Use Case: Customer experience, Market Research, Employee Engagement, Healthcare and Patient Feedback

G2 Rating: 4.4

Pricing: The initial plan for the Zoho form starts at $18 per month.
#6. WPForms
WPForms is a great option for users seeking a quick and user-friendly alternative to creating customizable website surveys and forms themselves. With its drag-and-drop form builder, WPForms enhances completion rates and strengthens security measures to combat spam and form submissions effectively.
WPforms conversational forms help users make their web forms feel more human, so to improve their conversions.

WPForms Vs. Typeform
WPForms is a WordPress plugin, designed specifically for WordPress users who want to create forms within their websites whereas Typeform is a standalone form builder platform.
The drag-and-drop option in WPForms makes it convenient for users to create forms without coding knowledge. However, with Typeform users can choose from visually engaging and interactive forms to gather feedback.
One of the cool features of WPForms is integrating with marketing email surveys which helps enhance your form functionality.
WPForms Features

Templates: 100+

Multi-lingual: Yes, 100+

Integration: 100+

Use Case: Lead Generation, Customer experience, Quizzes, and polls, Market research

G2 Rating: 4.7

Pricing: The initial plan starts at $49.50 per month.
#7. Google Forms
Google Forms is a versatile and user-friendly online survey and form-building tool provided by Google as a part of its suite of productivity applications. It allows users to create customizable surveys, questionnaires, quizzes, and feedback forms easily and quickly.
With its simplicity and integration with Google Drive, Google Sheets, and other Google Workspace applications, Google Forms has become a popular choice for various purposes, from collecting data to event registrations and customer feedback.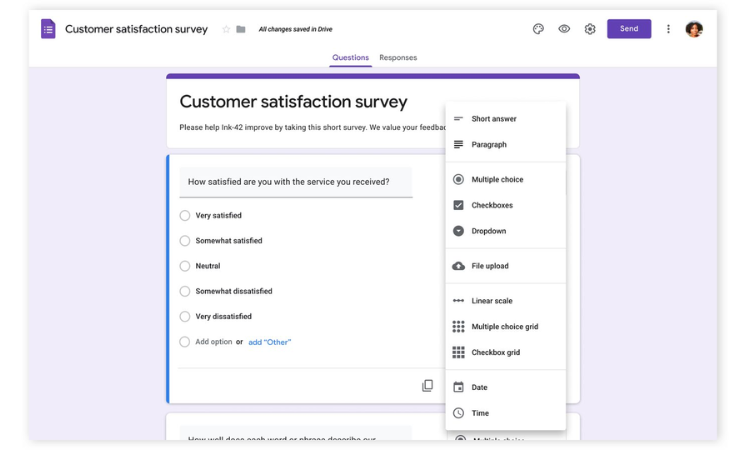 Google Forms Vs Typeform
Both Google Forms and Typeform don't need any coding knowledge to create forms. However, Typeform requires adding elements to the survey. With Google Forms all the essential features like multiple-choice, linear scale, and checkboxes are at the top of the question type menu.
Typeform doesn't have unique and advanced functionality for collaboration. Unlike Typeform, Google Forms is all about collaboration.
You can access Typeforms on Windows and Mac computers with Chrome, Safari, Firefox, Microsoft Edge, and Opera browsers. But Typeform sadly isn't an all-rounder. Whereas Google Forms is available on most browsers, including Chrome, Firefox, and Microsoft Edge.
Google Forms Features

Templates: 20

Multi-lingual: Not provided

Integration: 100+

Use Case: Lead Generation, Customer experience, Market research

G2 Rating: 4.6

Pricing: The initial plan is free. However, the business plan starts at $12 per month.
#8.Medallia
Medallia is an enterprise-level platform enabling businesses to create and deliver brand-building customer experiences. The platform captures data from every customer and employee interaction across every touchpoint, to create actionable insights, and take cations.
Its digitally intuitive drag-and drop builder allows both technical and non-technical users to build quick customized and effective surveys, while supporting changes in real time.
With its advanced tools for sentiment analysis and text analytics, Medallia is trusted by some of the top global brands, like Airbnb, Anaplan, Delta, Equinix, and more, to manage their customer feedback and enhance customer experiences.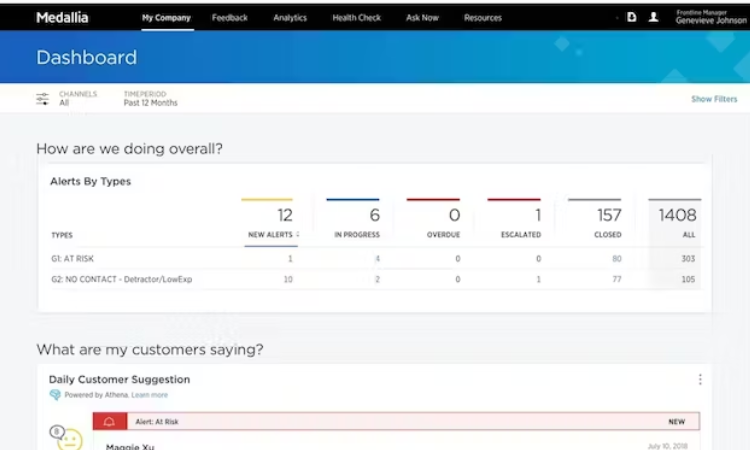 Medallia Vs. Typeform
Medallia and Typeform allow users to collect customer feedback, create surveys and, and insights. However as an alternative to Typeform , Medallia provides 360 degree view of customers, giving users more personalized customer experience.
Although Medallia and Typeform support multichannel feedback collection, Medallia offers advanced feedback analysis tools. Typeform, on the other hand, allows feedback collection only through online forms and surveys.
You can use Medallia NPS platform that enables users to turn detractors into promoters by immediately alerting the right person or team.
One thing that sets Medallia apart from Typeform is its Video option, as it helps businesses to gather feedback from customers through Video to gain deeper insights. Whereas the Typeform VideoAsk feature allows respondents to answer questions through recorded videos, audio, or text.
Another unique feature users get with Medallia is 2-ways integration, helping them to transmit data in real-time to the channel manager, and back again to the PMS.
Medallia Features

Templates: 100+

Multi-lingual: Yes. 30+ languages

Integration: 50+

Use Case: Customer Experience, Employee Experience, Digital Experience, Contact Center, Market Research

G2 Rating: 4.6

Pricing: No pricing is available publicly. You can ask for custom plans.
#9. AskNicely
AskNicely is a customer feedback and experience management platform that empowers businesses to measure customer satisfaction and loyalty through Net Promoter Score (NPS) surveys.
The platform provides comprehensive tools for analyzing customer feedback, tracking NPS trends, and identifying areas for improvement in the customer journey.
Its user-friendly interface and integration capabilities with popular CRMs make the platform a valuable solution for businesses seeking to enhance customer experiences and build customer loyalty.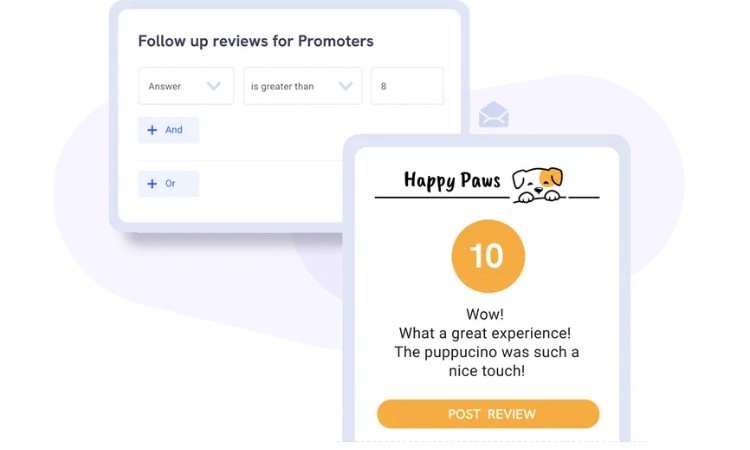 AskNicely Vs. Typeform
As a third alternative to Typeform, AskNicely primarily collects customer responses through NPS, one of the CX metrics. On the other hand, Typeform collects customer responses through pre-build online surveys and forms.
One thing that differentiate AskNicely as the best Typeform alternatives is its different survey types- NPS, CSAT, CES, and more. Unlike convensational surveys, AskNicely's super simple dashboard makes it easy to track customer happiness over time.
Where both tools overlap is the "web-based platform" to integrate the online forms with 100+ popular web applications. However, AskNicely support both iPhone and Android apps.
One of the unique features of AskNicely is "Anonymous Feedback," a feature essential for HR and People functions in any organization.
Although Typeform provides more flexibility in online survey design, AskNicely is overall a much more comprehensive analytics platform for businesses looking to measure and improve customer loyalty along with online surveys.
AskNicely Features

Templates: Not Provided

Multi-lingual: Not Provided

Integration: 30

Use Case: Net promoter score, experience management

G2 Rating: 4.7

Pricing: You have to book a demo to learn more about AskNicely pricing plans.
#10. Forsta
Like Medallia, Forsta is also an enterprise tool that focuses on customer experience management solutions featuring both forms and text analysis to understand the Voice of the Customer.
Formerly known as "ASKI," Forsta is a customer feedback and experience management platform that helps businesses monitor and talk about the user's business – not just through review scores but with written opinion too.
Beyond that, Forsta is trusted by more than 2500 customers in 100+ countries.
Forsta Vs. Typeform
Forsta allows its users to design online forms and surveys through scratch or choose from pre-build form templates. Typeform in contrast primarily allows users to choose pre-build online survey , form templates or online registration forms.
With Typeform it may be time-consuming to create custom forms as it uses one question at a time, however; Forsta allows users to create powerful forms and choose from the wide variety of questions as needed.
Offline mode is another feature you get with Forsta while Typeform only provide online surveys.
You can even design surveys with Forsta as per your need whereas Typeform users need a business plan.
As a Typeform alternative, Forsta also allows users to customize online surveys to collect responses through mobile. You can even generate out of the box report and view the results. but Typeform allows users to generate reports and insights only in the paid version.
Forsta Features

Templates: Not Provided

Multi-lingual: Not Provided

Integration: 30

Use Case: Net promoter score, experience management

G2 Rating: 4.7

Pricing: In terms of pricing, you can book a project with Forsta team as a guest or create an account.
#11. InMoment
The unique selling proposition of InMoment as a Typeform alternative lies in its focus on customer experience intelligence and sophisticated feedback analysis.
While Typeform is a versatile survey platform, InMoment offers specialized capabilities for businesses seeking to drive customer-centric decisions and optimize the customer experience.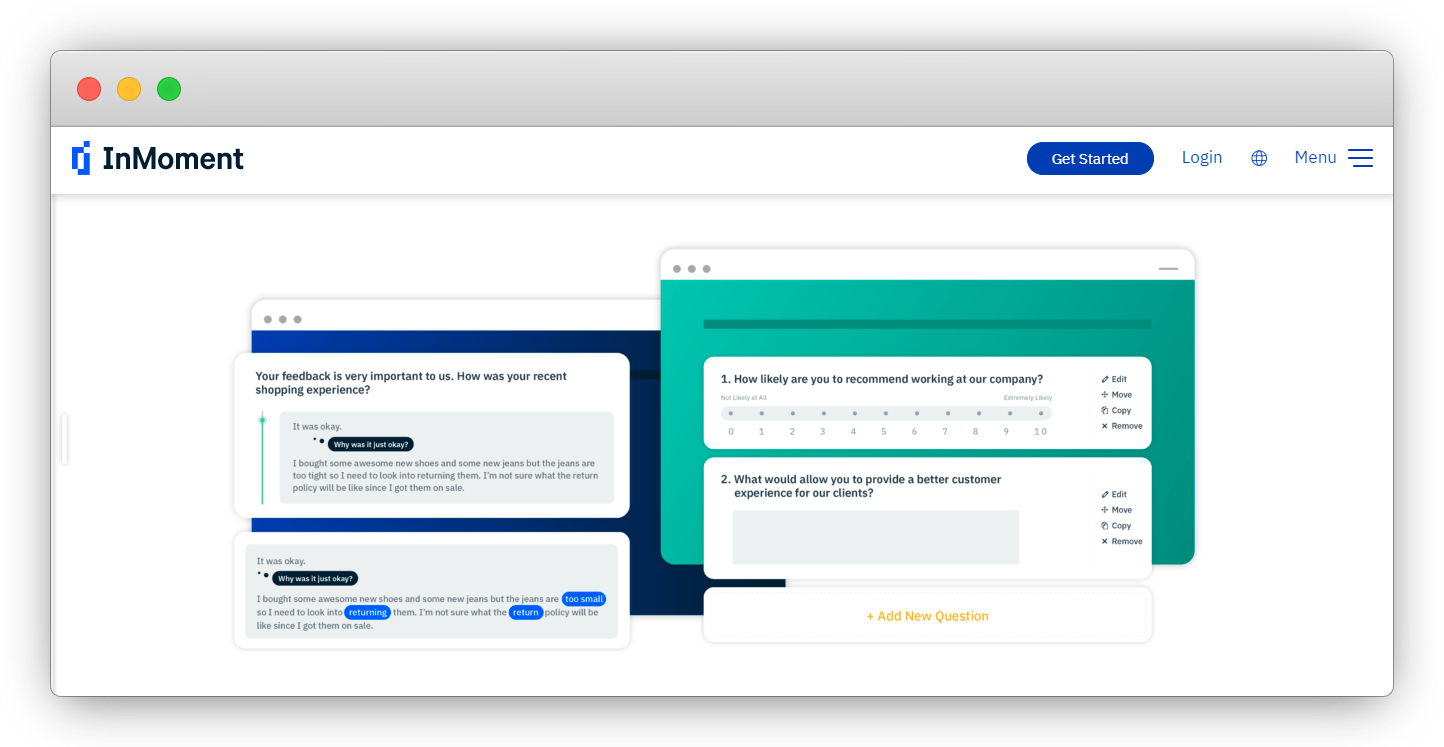 InMoment Vs Typeform
Typeform users can choose InMoment for collecting Voice of the Customer (VoC) as the product enables companies to collect customer feedback through efficient channels like NPS, CSAT, and CES.
Users can also customize themes pattens of form templates and create surveys as needed whereas you need a business plan in Typeform.
The purpose of the InMoment platform is to go beyond traditional surveys and offers sophisticated feedback through multi-channel data collection methods, including Voice-of-the-Customer (VoC) analytics and predictive analytics.
Although Typeform offers similar features but its main goal is to gather customer feedback, market research, or lead generation through visually appealing and interactive surveys.
With InMoment you can even choose the questions needed to collect customer responses. The platform also provide a dashboard to share the results with all its plans.
Apart from the web, SMS, and in-app, InMoment also allows users to customize online surveys for mobile versions without any coding or technical knowledge.
InMoment Features

Templates: Not Provided

Multi-lingual: Yes, 50+

Integration: 30

Use Case: Customer experience, Employee experience, Static services, Market research, Product Intelligence

G2 Rating: 4.7

Pricing: You can schedule a personalized demo to know more about InMoment pricing plans.
#12. GetFeedback
With over 10,000 companies using this tool, it is no surprise that Getfeedback is a strong contender as an alternative to Typeform, offering a wide range of features that provide excellent competition to the latter.
With capabilities like API integration, CRM integration, collaboration tools, customizable branding, email integration, feedback collection, feedback management, text analysis, and more, GetFeedback offers a comprehensive and robust platform for gathering and managing feedback.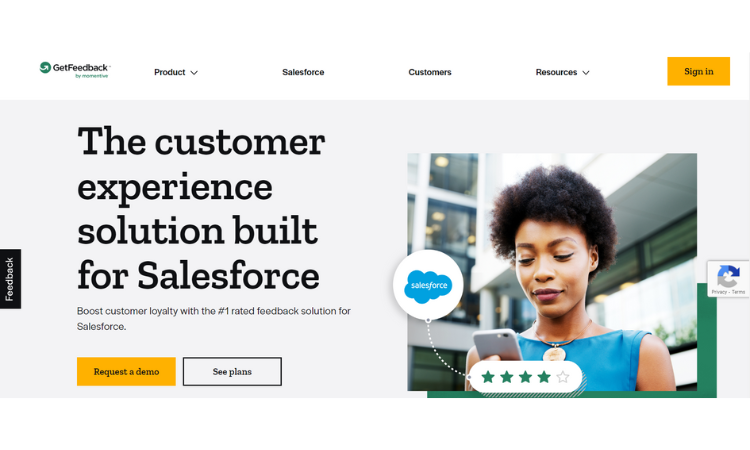 GetFeedback Vs. Typeform
GetFeedback allows a native collection of CX insights within the platform. However, with Typeform you need an added account for Chattermill to collect data and act upon your form responses.
You can use a variety of survey types like NPS, CSAT, CES, and more with GetFeedback to collect customer responses. Whereas Typeform offers only pre-built templates of surveys and forms for response collection.
An interesting feature you get with GetFeedback is "close the loop with real-time feedback" which enables you to listen to your customers wherever they are and act on their feedback in the systems.
Users can also access its offline surveys which allows them to gather feedback even in the field and save it till the response is automatically connected to wifi.
Overall both platforms are easy to use and offer flexible integrations. However, GetFeedback also allows you to add a few lines of HTML to embed a responsive survey on a web page and across all social media channels.
GetFeedback Features

Templates: 30+

Multi-lingual: Yes, 50+

Integration: 30

Use Case: Customer experience, Employee experience, Market research, Product and Service Feedback

G2 Rating: 4.5

Pricing: To obtain pricing details and information, you can reach out to the dedicated sales team.
Not sure if GetFeedback is the right tool for you to create feedback forms? Here are the top GetFeedback alternatives that you can check out.
Why are People Switching to Typeform Competitors?
While Typeform offers many features and form templates, it has some drawbacks. For instance, Typeform is a SaaS tool but it stores data on its external servers.
Another drawback is the cost. The basic plan starts from $25 per month. Plus, you cannot remove the Typeform branding in the basic plan.
There are several reasons that are driving the shift towards Typeform competitors. Some of the common factors that could contribute to this trend include:
Pricing: Typeform's pricing structure may not align with the budget constraints of some users or businesses. Competitors that offer more cost-effective solutions can attract those looking for more affordable options.

Advanced Features: Competing platforms might offer advanced features and functionalities that cater to specific industries or use cases. Users seeking specialized tools, such as advanced reporting, analytics, or automation, might find better matches among Typeform's alternatives.

Customization: Some users might require extensive customization capabilities for branding, design, and user experience. If competitors offer superior customization options that better align with their branding needs, users might be inclined to switch.

Question Types: If users require a broader range of question types or more complex survey structures than what Typeform provides, they might opt for alternatives that better accommodate their survey design requirements.

User Experience: Changes in user experience could influence users to explore alternatives. If a competitor's platform is more intuitive, user-friendly, or aligned with their workflows, it could lead to a switch.

Integration Options: Compatibility with existing software ecosystems can be a crucial factor. Users might switch to platforms that offer better integration options with the tools and systems they use.

Customer Support: Businesses might switch if they experience dissatisfaction with Typeform's customer support or find that competing platforms offer more responsive and helpful customer service.

Data Security: In certain industries data security and compliance might be paramount. If a competitor offers stronger security measures or compliance features, users could opt for their services.

Market Evolution: The landscape of online form and survey tools is ever-evolving, with new players entering the market and existing ones constantly improving. Users might explore alternatives simply to stay up-to-date with the latest technologies and features.

Specific Use Cases: Different survey platforms might excel in specific use cases, industries, or niches. Users with specialized needs might switch to competitors that cater specifically to those areas.

Feedback and Reputation: Positive reviews, recommendations from peers, and word-of-mouth can influence decisions. If competitors garner more positive feedback or have a stronger reputation, users might be motivated to switch.
What Users are looking for in a Typeform Alternative?
Through our extensive evaluation and assessment for each Typeform alternatives and their respective offerings has led us to explore the most suitable competitor for Typeform.
The process involved thorough data analysis and market research, focusing on each Typeform alternative as we aim to identify the top Typeform alternatives that best suits your brand.
If you're planning to switch from Typeform to another survey tool then here are some of the key features to consider.
Customizability: You can look for a great Typeform alternative that allows customize your forms or surveys as per your brand's content like, adding logo, fonts, layout, and more.
Advanced survey feature: Such as branching that allows users to adapt the flow of questions based on user responses.
Question Types: To make your surveys and form engaging, a range of question types, such as multiple-choice, rating scales, and text boxes, can help you.
Easy-to-use survey building tools: Look for a platform with easy-to-use survey building tool without having to learn complicated code.
Functionality and Features: We evaluated the range of features offered by each alternative, assessing their versatility and ability to cater to various survey and form needs.
User Experience: The user interface, ease of use, and overall user experience were crucial factors in determining the alternatives' appeal.
Integrations: Go for a platform that integrates well with most of the CRMs, and helpdesks.
Security and reliability: Look for a platform with strong encryption protocols and data protection measures in place.
Analytics capabilities: Look for unique features like real-time updates, visualizations, and custom reports that you can export and share with your team.
Scalability: The scalability of each alternative was considered, especially for businesses with growing survey and form needs.
Cost-Effectiveness: Look for a solution that offers competitive pricing while delivering comparable features and capabilities.
Customer Support: Prioritize the platforms that provide responsive and knowledgeable customer support.
Training Resources: Opt for tools that offer comprehensive training materials, tutorials, and guides to onboard your team effectively.
Integration Capabilities: We examined the extent to which each alternative can integrate with other tools business processes and systems, enhancing workflow efficiency.
Data Analysis and Insights: The data visualization, analysis, and reporting capabilities of the alternatives were evaluated to determine their effectiveness in using data collected deriving insights.
Innovation and Updates: The frequency of updates, innovation, and adoption of new technologies by the alternatives showcased their commitment to staying current.
User Reviews and Reputation: We considered user reviews, industry and brand recognition alone, and the overall reputation of each alternative in the market.
Conclusion
Through our in-depth evaluation, it is clear that Typeform shines when simple, elegant questionnaires are needed to pose one question at a time. However you can't ignore some glaring Typeform limitations like expensive paid plans, and a complicated user interface.
More and more businesses are prioritizing customer experience metrics, advanced customization, cost-effectiveness, and seamless integration as some of the top features when looking for a Typeform alternative.
Fortunately, Zonka Feedback is a great Typeform alternative since it specializes in online surveys and online forms. Its user-friendly interface and transparent pricing plan allows businesses to tailor the look and feel of feedback platform match their brand.
And that's just the tip of the iceberg because . . .
Zonka Feedback is an all-in-one comprehensive customer feedback and survey platform.
So what are you waiting for?
Try Zonka Feedback for a 7-day free trial before going for a paid version?