Medallia is a well-known name for enterprise customer feedback tools, enjoying a good 5.59% market share in the customer loyalty market. And for a good reason.
It is a brilliant customer experience management platform designed to capture feedback across multiple digital touchpoints and human interactions. But no platform fits all the marks - Medallia isn't for everyone either.
It's a well-rounded tool, but you might be looking to tap certain survey channels or key touchpoints only.
Thankfully, there is a plethora of options available in the market for businesses seeking alternatives to Medallia. In this article, we have compiled a list of the top 8 Medallia competitors and alternatives that are perfect for those looking to capture and analyze customer insights and craft compelling experiences that foster lasting customer engagement.
TL;DR
Teams might look for Medallia alternatives due to its complex learning curve, complicated and clunky features, and high costs for features they will never use.
There are several competitors and alternatives that will fit the feature and price bucket for users. We have compiled a list of the top seven through set parameters including personalization offered, scalability, integrations, CX features, data security & compliances, advanced survey reports, analytics and insights, customer support and training, and last but not least, future readiness.
Our sorted seven Medallia alternatives include Zonka Feedback, Qualtrics, GetFeedback, InMoment, AskNicely, SurveyMonkey Enterprises, and Forsta.
Apart from that, we have also covered other platforms like Typeform alternatives, Hotjar alternatives,

SurveySparrow alternatives,

SurveyMonkey alternatives, and

Qualtrics alternatives.
To see how Zonka Feedback could replace as a Medallia alternative, sign up for a free 7-day trial or book a demo!
Measure Customer Feedback & User Insights
Try the best Medallia competitors and alternatives to understand what users need and learn ways to delight your customers.
#1. Zonka Feedback
Zonka Feedback is a perfect fit for enterprises looking for a simplified and comprehensive customer engagement strategy to measure customer satisfaction and enhance their business growth. That's because Zonka Feedback's all-in-one platform enables you to scale and gather feedback, through multiple channels if you want to.
With more than 200+ global brands and a presence in 30+ countries, the platform is one of the most trusted alternatives for Medallia.
The omnichannel feedback and survey software is designed to hear the voice of customers from wherever they are and at every touchpoint. Data security is one of the major drivers when choosing enterprise survey software and Zonka Feedback's enhanced security features let you securely sync data between different devices within a centralized database.
Besides that, some notable growth+ features of Zonka Feedback include SSO sessions, the ability to designate custom roles & permissions, set custom SMS gateway, custom integrations, NDA, signed agreement, and importing of historical data. It also offers flexible integration options and custom pricing plans- based on the number of sessions or devices you need. You can even choose your own billing software as a service per cycle.
Top Features:
Real-time feedback alerts to quickly close the feedback loop

Multi-location management for your brand to manage customer feedback for your entire organization from one platform

Easy migration from your historical feedback data to Zonka Feedback

Create and add custom reports to access powerful feedback analysis with one click

Get detailed insights and sentiment analysis to drive customer happiness

Give your team advanced roles based on their position in the organization

Track every email/SMS sent, devices accessed, and more within your account

Get personalized and detailed onboarding sessions and training

Reach out to customer support anytime through in-app chat, email, raising tickets, and phone calls

Get a dedicated account manager on call and email to help reach your goals
Pricing
Custom plans for enterprise users supporting custom email or SMS/month, custom sessions or MTUs/month, and custom device licenses. Works on all survey channels - Website, Email, SMS, Link, In-Product, In-App, and Offline.
You can also try Zonka Feedback for a free trial for 7 days
#2. Fynzo Survey
Fynzo Survey is a fantastic replacement for Medallia that provides you with all you need for outstanding research experiences as a top brand in survey tools. You not only receive a robust and feature rich survey creator with Fynzo Survey but also the confidence of over 100,000 happy users.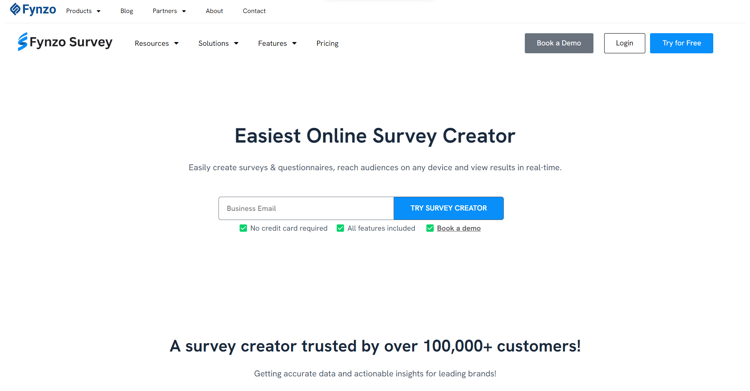 With one comprehensive tool, you can personalize survey templates, interact with your audience on any device, and get real-time results. It offers a wide range of customization options and cutting-edge features including over 20 question types, various customization options including custom CSS, survey distribution across multiple channels and many more, making it a highly robust online form creator. Using Fynzo Survey you may communicate with your audience on any device and see the replies in real-time.
Top Features:
Easy survey generation with an intuitive interface.

Supports a wide variety of question types, including star ratings, smileys, NPS, and Likert scales.

Utilises sophisticated survey features like piping, skip logic, and configurable variables.

There are numerous ways to distribute surveys, such as social media, email, website embedding, and QR codes.

A mobile app that is accessible on both iOS and Android.

On the go, even offline, create, distribute, and view survey findings.
Pricing
Fynzo Survey offers a free Trial of 14 days for you to check out its features. The subscription plans start from as low as $17, depending on your use.
#3. Qualtrics
Qualtrics is a leading name when it comes to enterprise survey software. Trusted by more than 16,000 of the world's biggest brands, it is primarily known for customer experience management, which gives better insights to drive better results for enterprises.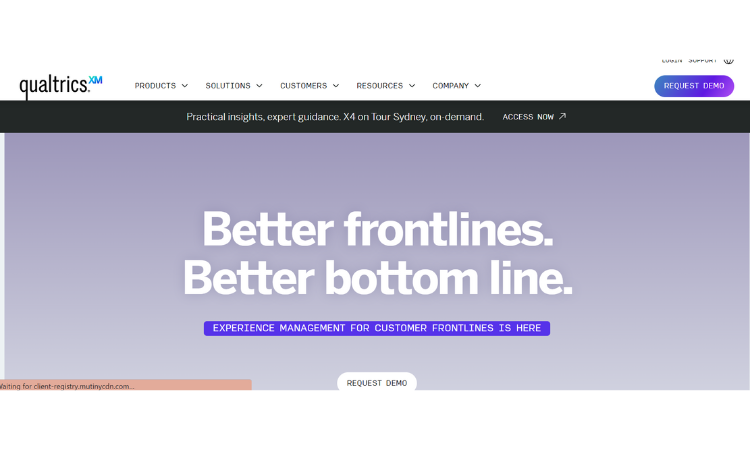 Qualtrics' software works with data collection, a prominent feature in promoting omnichannel communication to collect customer data effectively. Utilizing this information, with real-time insights, Qualtrics employs data models and machine learning to predict and improve customer experience and behavior. Their goal with machine learning and predictive intelligence is to analyze the impact of product changes on customer satisfaction, perception, and sales, identify customers at risk, and transform negative customer experiences further.
Top Features
Get quick and faster insights with enterprise survey software

Control data collection rules like sensitive personal data

Manage data collection rules and permissions with advanced governance and administrative controls

Empower every team-mate to gather insights through a powerful, easy-to-use platform

Discover insights faster through real-time analytics and intelligence features

Integrate your surveys with top CRMs like Salesforce, Marketo, Adobe, and many more

Get role-based security and brand controls

All-in-one platform for every enterprise's needs from product research and employee benefits to the Friday lunch poll

Get Qualtrics iQ as your automated expert to provide recommendations or run analysis

Prevent unauthorized personally identifiable data
Pricing
No pricing is available publicly. You can ask for custom plans.
#4. GetFeedback
GetFeedback is a highly versatile survey collection software that is popular both among mid-size businesses and enterprises. The tool helps you stay updated about your business by providing timely information and insights gathered from the feedback.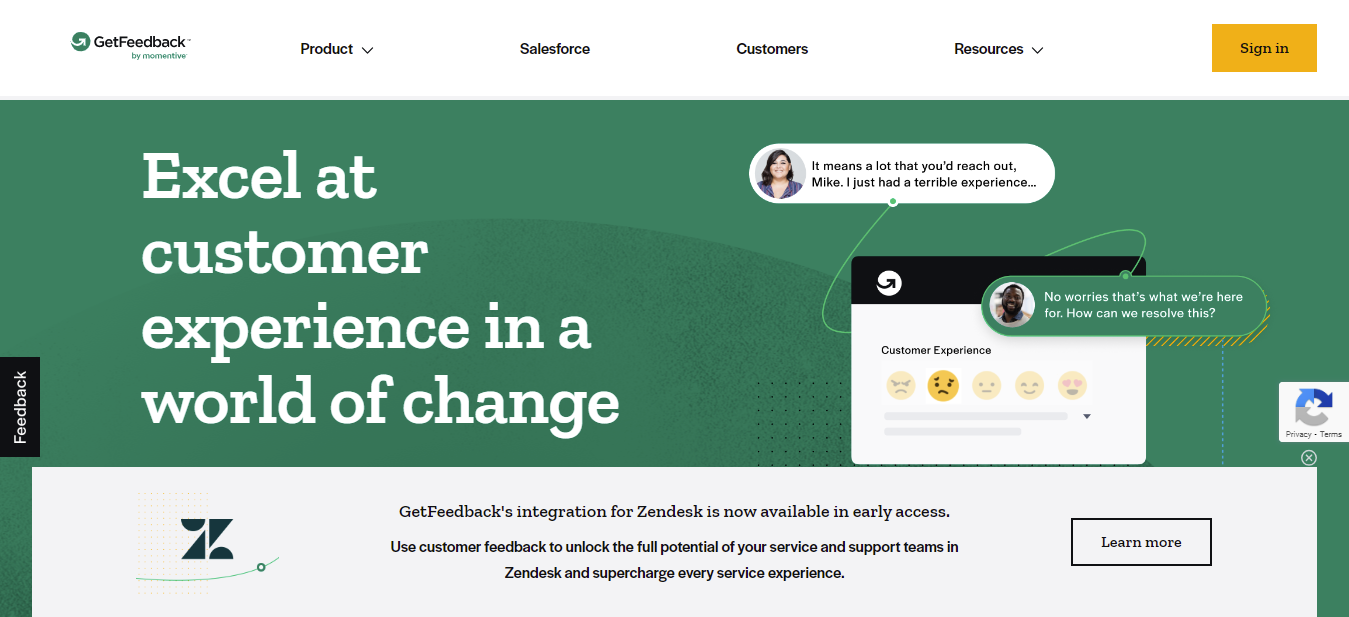 Its motto is to help enterprises scale within days through its popular CX metrics like NPS ®, CES, CSAT, Digital and Purchase Experience, and more. You can access GetFeedback's CX program once you launch the software. That said, even though the platform is one of the best enterprise survey software and can easily outperform its other competitors and alternatives, it can work on enterprise security features.
Top Features
Get feedback anywhere on any device with a mobile-optimized feature

Close the feedback loop faster with real-time alerts

Improve customer retention by taking the right actions

Increase adoption of products or services through the CX program

Win loyalty by actively listening to customers

Turn churned customers into win backs by bringing more value than competitors
Pricing
For an enterprise plan, you need to connect with their sales team.
#5. InMoment
As a leader in employee and customer experience data and intelligence, InMoment helps you gain significant insights from customer and employee feedback, to help launch strategic data-driven decisions. The cloud-based go-centric employee experience platform offers features such as executive dashboards, employee communication tools, indirect feedback, and models for gauging employee engagement and loyalty.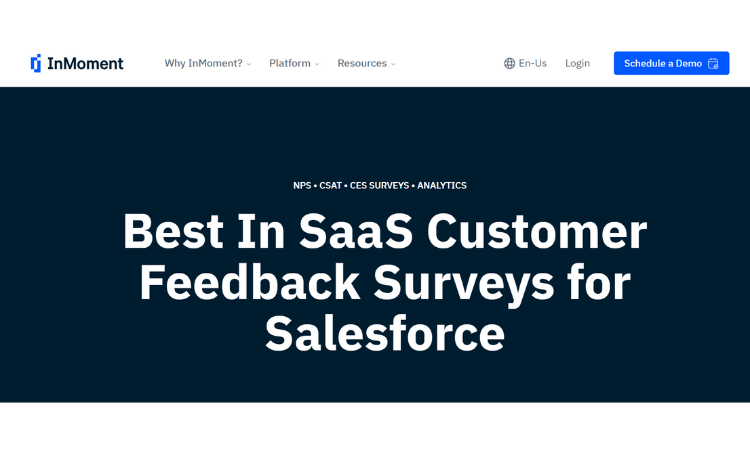 The enterprise software primarily operates across three distinct domains: Customer Experience (CX) Cloud, Employee Experience Cloud, and Market Experience Cloud. These components synergize with the insights platform and provide businesses with valuable insights and a holistic comprehension of vital variables.
Top Features
Helps companies continuously improve experiences at the intersection of value

Provides comprehensive analytics and prescriptive actions to increase retention, acquisition, customer lifetime value, and profitability

Collects CX from every format-social media review, video, web session, or visit to a store

Give your team members the opportunity to delight every customer

Execute data-identified learnings, socialize feedback, track and resolve customer cases

Get mobile-optimized reports for better clarity

Get future-proof customers data and high-security standards
Pricing
You need to get in touch with the sales team.
#6. SurveyMonkey Enterprises
SurveyMonkey is arguably one of the oldest survey platforms today. The best thing about this Medallia competitor is that it provides AI-powered guidance, logic, and many question types in a fast-to-implement platform.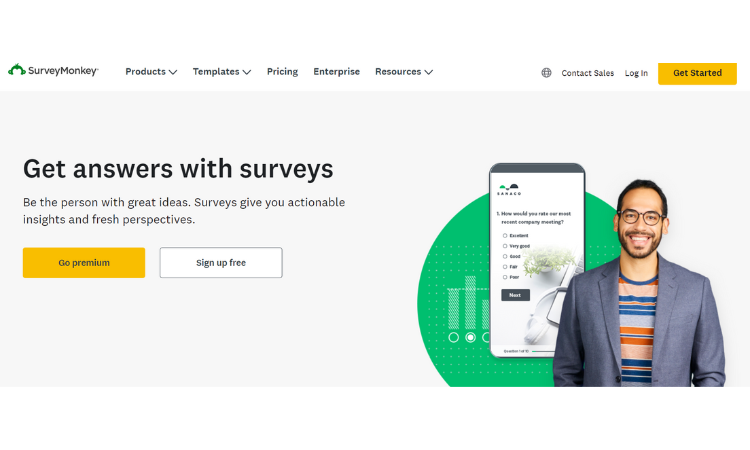 Being one of the top contenders for Medallia alternatives, SurveyMonkey enables you to gather holistic feedback from the right audience at the right time. Enterprises can even secure sensitive data as the platform offers SSO, data encryption, and robust data governance features.
Top Features
Uncover customer insights using AI

Choose from 250+ expert-written survey templates

Gather holistic feedback from the right audience at the right time

Secure sensitive feedback data with SSO, data encryption, and robust data governance capabilities

Connect survey data with your existing workflows

Capture useful feedback from your customers throughout their journey, pinpoint strengths and weaknesses

Conduct market research to identify new areas of growth, and track brand performance to stay ahead
Pricing
For an enterprise plan, you need to contact their sales and customer experience team.
#7. AskNicely
AskNicely aims to measure customer satisfaction with products and services through its data collection tools. The platform is popular among brands that prioritize collecting customer feedback through the NPS methodology.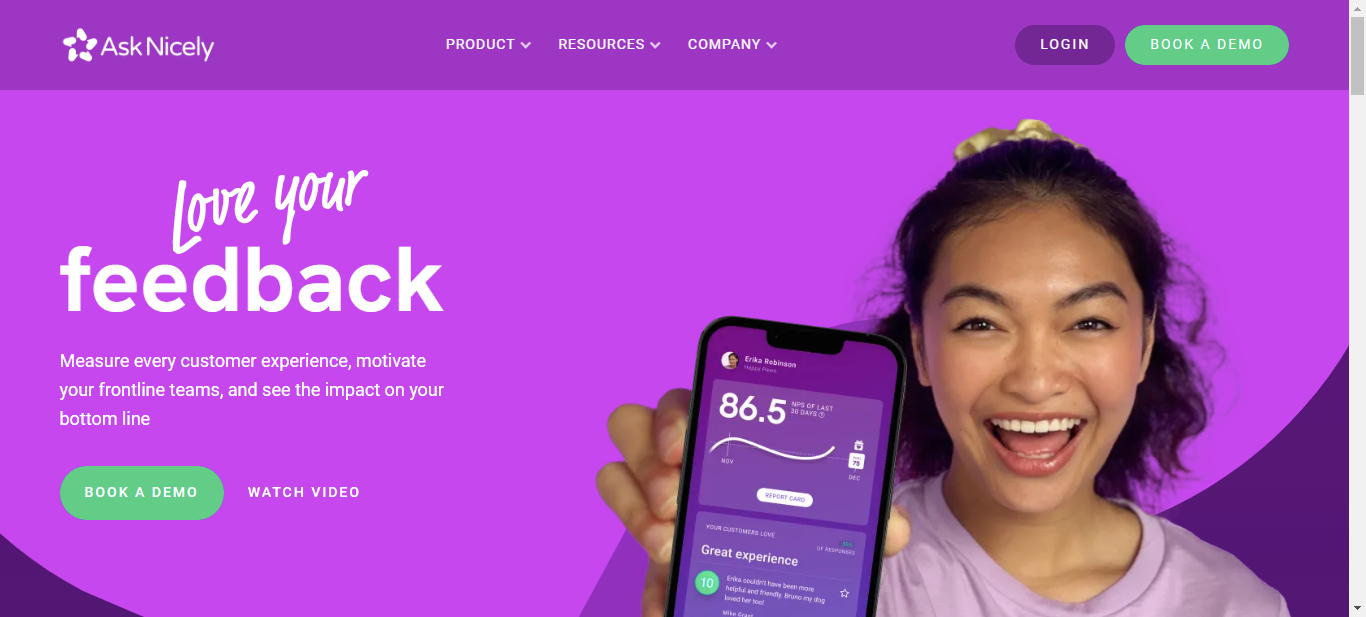 The platform has some advantages over other Medallia competitors. Besides one-off surveys, AskNicely enables users to send surveys and study customer perception through data analysis and survey results. The best part is if you're looking for a more affordable CX platform with fantastic features and a focus on NPS and on the enterprise business segment then Asknicely is one of the top choices.
Top Features
Quickly measure every customer experience and motivate your frontline teams

Leverage workflow automation and integrations to take action on customer feedback

Compare performance across locations for every team member

Suitable for enterprises seeking a more streamlined and user-friendly approach

Offers predictive analytics to some extent, helping businesses anticipate customer behavior based on feedback

Offers features like real-time feedback collection, and specialized in customer loyalty
Pricing
You need to contact their support team for pricing.
#8. Forsta
When it comes to customer and experience management tools and data partnering with big companies, Forsta is one of the popular CX survey software, which collects data that enterprises need to fully understand their customers. The platform delivers an upgradable end-to-end platform that enables users to gather data, integrate seamlessly analyze, visualize, and act on data collected from any audience, be it from small teams to global communities.
Forsta's interactive dashboards and text analytics give you a customer's eye view of every contact as users can manage case resolutions, create surveys, collect feedback, and find the root cause of any problem. Its easy-to-use online survey tool and software weed out underlying problems and force businesses to take quick, actionable insights and build long-term customer relationships.
Top Features
Enables users to collect all data in one place

Use advanced analytics to deep dive into your enterprise data

Use customizable alerts and template emails to get the right insights

Interactive dashboards to give you a customer's eye view of every contact

Track your performance by a line of business, product, region or any other category.
Pricing
You need to contact their sales team.
Why are People Switching to Medallia Competitors?
While Medallia has an extensive base of features that others have yet to evolve in, including a 360-degree view of customers with text and speech analytics, social media, transcripts, speech analytics, ticketing systems, and digital behavior, it is still a very complex tool for the majority.
Numerous factors are driving the shift towards Medallia's competitors, with enterprises seeking comprehensive solutions that align more closely with their needs. From an overwhelming number of functionalities to high costs, it's no wonder that large organizations are exploring alternatives to Medallia that offer a better fit for their business growth strategies.
Some of the limitations that are driving the shift include:
Complex Implementation: Some enterprises find the implementation process of Medallia to be intricate and time-consuming, delaying their ability to harness its benefits fully.

High Learning Curve: Users may encounter challenges in adapting to Medallia's interface and features, potentially impacting the speed of adoption across the organization.

Limited Customization: Medallia's customization options could be restrictive for enterprises requiring highly tailored surveys and reporting structures.

Integration Challenges: Integrating Medallia with existing enterprise systems might pose integration challenges, affecting the overall efficiency of data flows.

Cost Considerations: The cost of Medallia, including potential add-ons and premium features, may not align with the budgetary constraints of some enterprises.

Limited Real-time Analytics: Some enterprises seek more robust real-time analytics capabilities, which Medallia might not offer to the desired extent.

Resource Intensiveness: Operating and maintaining Medallia could require a significant investment of time and resources, impacting overall operational efficiency.

Lack of Personalization: Enterprises aiming for highly personalized customer interactions might find Medallia's features lacking in delivering the desired level of personalization.
More and more organizations jumping ship to Medallia's competitors highlight how the customer experience management scene is always changing. Picking a solution that fits enterprise customer experience intelligence and customer journey and goals perfectly is a big deal!
Parameters we looked at when Compiling this List of Top Medallia Alternatives
Our evaluation of the management capabilities of each Medallia competitor and their optimal solutions has led us to explore the most suitable alternatives. This process involved both data analysis and a thorough marketplace analysis, focusing on each Medallia alternative and peer, as we aimed to identify solutions that can better address enterprise requirements.
Here are the key parameters we worked with:
Functionality and Customization: We examined the depth and breadth of functionalities offered by each alternative, ensuring they align with the intricate requirements of enterprises. A strong emphasis was placed on the customization potential, allowing businesses to tailor the solution to their unique CX strategies.

Scalability: Enterprises require solutions that can evolve seamlessly with their growth. We evaluated the scalability of each alternative, assessing its capacity to accommodate increasing demands while maintaining performance and functionality.

Integration Capabilities: Compatibility with existing systems is crucial for seamless operations. We scrutinized the integration capabilities of these alternatives, ensuring they seamlessly align with various enterprise tech stacks.

Data Security and Compliance: Enterprises demand stringent data security measures. Our evaluation included a thorough examination of the security protocols and compliance standards adhered to by each alternative, guaranteeing the safety of sensitive customer data.

Advanced Analytics and Insights: Robust insights drive informed decision-making. We assessed the analytics and reporting capabilities of each alternative, focusing on the depth of insights and real-time reporting they offer.

Cost-Effectiveness: Enterprises aim for solutions that provide substantial value without breaking the bank. Our analysis included a comprehensive examination of the cost structures and ROI potential, ensuring each alternative offers cost-effectiveness at scale.

Customer Support and Training: The journey towards customer experience excellence requires robust support. We evaluated the quality of customer support, training resources, and onboarding assistance provided by each alternative.

Innovation and Future-Readiness: Most tomorrow-ready organizations seek solutions that align with their long-term vision. We examined the innovation roadmaps and future readiness of each alternative, ensuring they are equipped to adapt to evolving CX trends.
This selection aims to provide businesses with valuable insights to make informed decisions that enhance their overall customer experience and drive exceptional growth.
Conclusion
Through our thorough evaluation, focusing on key aspects like functionality, flexibility, cost-effectiveness, and scalability, it's clear how essential choosing the right platform is for driving customer experience strategies toward success and expansion.

Each of these highlighted alternatives offers its own strengths, addressing specific enterprise requirements, ensuring smooth integration, and producing meaningful outcomes.
As we conclude this in-depth piece, we hope this article has provided you with ample information to select the Medallia alternative that best aligns with the specific requirements of your business. The most important thing to keep in mind while choosing the right Medallia alternative is to make sure it's a smooth fit with your current and future growth plans, and aligns well with your team and industry specifics.
If you're still unsure which platform to choose, you can take Zonka Feedback's 7-day free trial. Take advantage of this cost-effective platform, gather feedback, and get started today!