Customer Satisfaction is the core of any business. So if you are a product-driven company and want to make your product successful, it is essential to develop great products that your customers love. And to develop great products, you have put your customers in the center and develop products which are in line with the customers' feedback.
The way to do is Product Feedback. By collecting Product Feedback, you get to know the likes and dislikes of your customers and make a feedback-driven product roadmap to develop better products and improve your product and product-features and launch better versions of your product.
Let's explore how successful companies collect and utilize Product Feedback to develop world-class product and achieve heights of success. In this article, we will explore top 7 examples of such companies and learn how they go ahead with this.
Measure Product Feedback & User Insights 💻
With Product Feedback Surveys, understand what users need and learn ways to delight your customers.
1. Uber Real-Time Feedback
One of the best examples of product feedback is in-app surveys of Uber. Uber uses real-time surveys in its app where customers and drivers can rate each other.
With this unique ability to capture two-sided perspectives, the platform ensures that all the parties using this app for purpose of business remain fully engaged with the product. The added benefit of capturing real-time feedback is that it reduces the chances of survey fatigue.
Using these in-app surveys helps Uber improve its services using the ratings provided from both ends.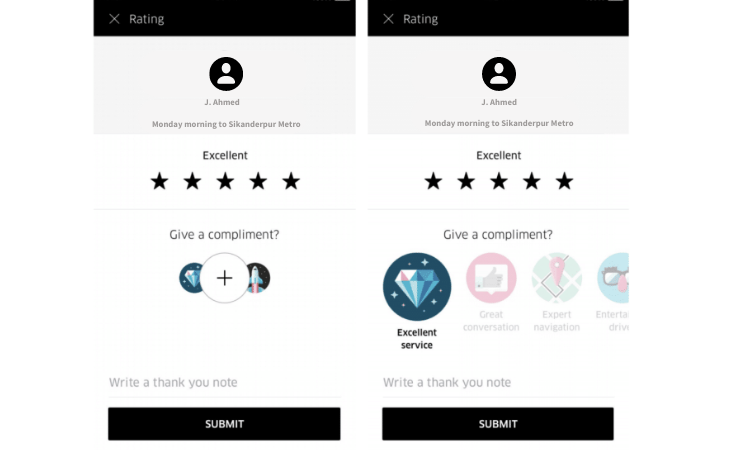 2. YouTube
With over 122 million daily active users, YouTube's feedback mechanism is something to learn from. Unlike Google where the algorithm focuses more on providing the best possible search results to "end" the search of users, YouTube aims at improving the content consumption experience of its users.
The first example of its product feedback mechanism is micro surveys using the "Thumbs up" and "Thumbs down" buttons which help the platform track which content is being liked and disliked by its users.

Another great customer feedback example would be the surveys appearing before starting of a video, encouraging users to rate their satisfaction level with the videos. This enables them to make improvements to their suggestion algorithm and offer tailor-made video suggestions as per the interests of different users.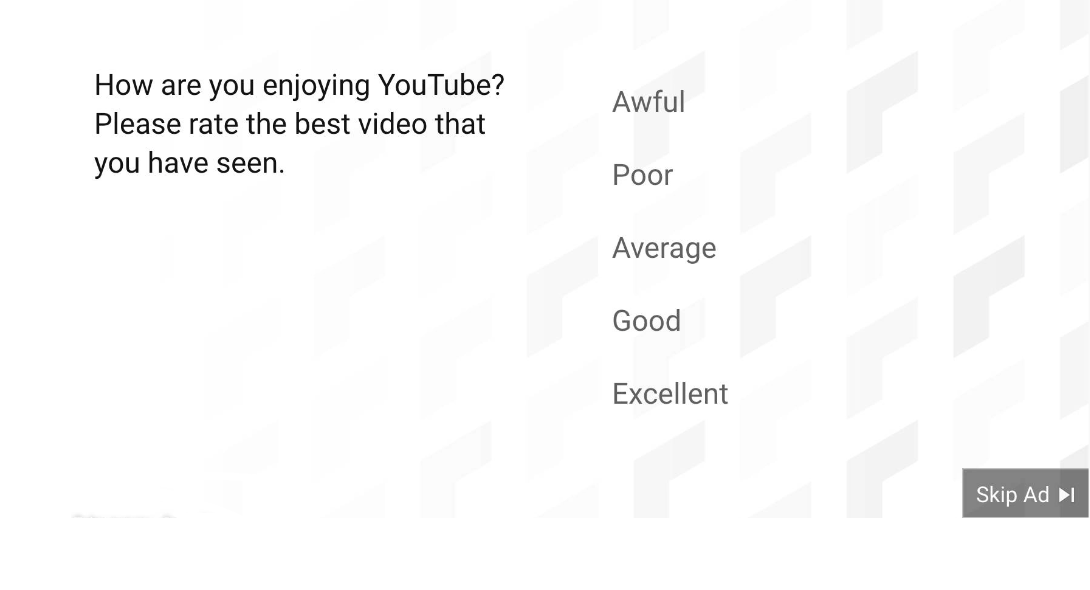 Taking user feedback and comparing it with other metrics like watch time, YouTube video views, and audience retention paves the way for faster feedback loop closure.
3. Slack
Slack is another great example of a company successfully using in-app surveys to gain insights into its users without interrupting the overall product experience.
The platform incorporates micro surveys with multiple choice questions on the form to reduce the customer effort of filling the survey and track Customer Satisfaction with the product effectively.
If you take a look at the Slack survey, you'll notice that their tone is very conversational, making it easy for the users to understand the question as well as provide feedback.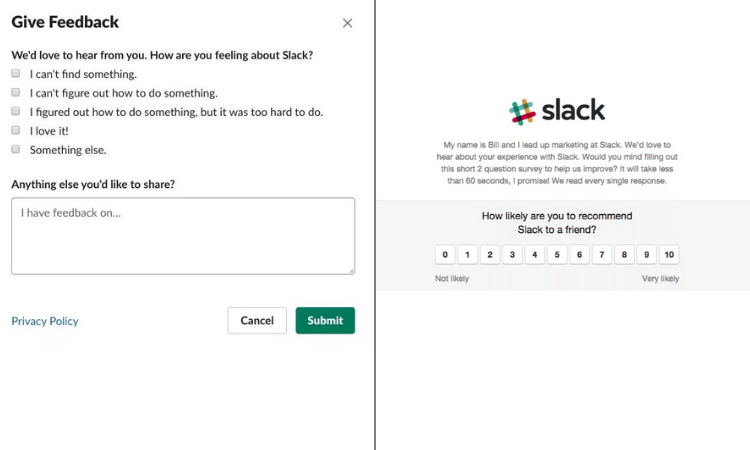 Another example of Slack product feedback is its NPS survey. Although the survey aims to track the loyalty of its users, it also wins at successfully engaging them with a personalized message, as you can see in the image.
4. Amazon
Another example of an effective feedback loop is Amazon's customer service feedback survey. The platform uses the survey to identify the satisfaction of its users with its customer service department. The survey asks simple multiple-choice questions, along with an open-text field for any additional feedback that users want to provide.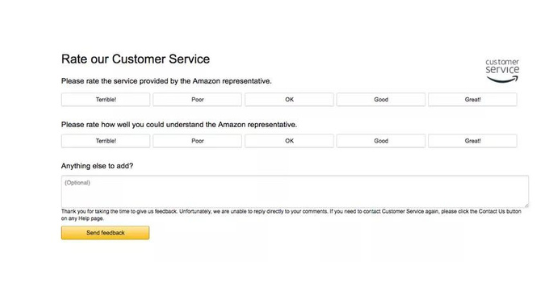 Other than customer service feedback, Amazon also allows product companies to collect customer feedback upon purchase of a product. The buyers get 90 days to provide reviews and ratings for products. There are various parameters such as response speed, product quality, level of communication, etc. that customers can give their feedback on.
On the other hand, sellers can acquire invaluable insights into the performance of their products, including sales data, customer reviews, and suggestions for optimizing keywords by using Amazon seller tools.
All this helps Amazon in improving the search quality and pushing products with high-quality ratings on top and lower ones at the bottom. This product feedback strategy works in favor of Amazon since they don't have direct control over the quality of listed products.
5. Google
Google aims at providing its users with the best possible results for their queries. It lists those results in the order of their relevance. Once the users find the right link, they are taken off the platform.
Here the product that Google offers is its search algorithm. The platform strives to ensure that the users find what they are looking for in a single click.
Here, the quality of the product is measured by the results that are most clicked, the overall bounce rate, and when the user puts a stop to their search. This means that every single search made is giving Google information about the user experience.
To make the data collection more precise and effective, the platform conducts a micro survey to ask about the relevance of the search results that look something like this.

These kinds of general customer satisfaction surveys can be conducted by product companies when a person decides to leave the platform. One can use them as exit survey forms and gather crucial insights to know why customers are leaving and whether they found what they were looking for.
6. Asana
Asana is a task and Project Management Software that businesses use to organize work, manage projects, and facilitate seamless collaboration. Asana has made listening to the Voice of Customers one of its top priorities. They prepare their product roadmap which is influenced with Customer Feedback.
They collect Product Feedback through online surveys. By analyzing the feedback so collected, they identify customers' issues, needs, and ongoing market trends. Then they list out 10 features to add in their Product Roadmap. Then they decide which ones to prioritize as per market trends, customer' requirements, as well as their own vision and product goals.
7. Zapier
Zapier is a tool that helps users to integrate the various web applications and automate workflows. Zapier collects Product Feedback by sharing Product Feedback Surveys with the users at various touchpoints to understand how users perceive their experience with the tool.
To encourage the users to share their feedback, Zapier uses schemes like giving a chance to the users to win free vouchers and gift cards. This motivates the customers to share feedback .The aim of all this is to improve Customer Experience and make their product better for the users.
Collecting Product Feedback at Various Touchpoints
The ideal way to collect Product Feedback is to collect feedback through in-product surveys at various touchpoints of the customer journey. Doing this will help you get separate feedback about all the stages in customer journey and identify the strengths and weaknesses of your product. This will help you make the necessary improvements at the right touchpoint and make your product better for the customers. Let's learn about some crucial touchpoints at which you should collect feedback.
1. Free Trial
When the users are taking a free trial, you should collect their feedback about their experience with your product. The ideal time to send a free trial survey is after three to four days of the start of free trial. By this time, the users would have used your product and explored its different features and thus, will be in a position to provide you meaningful feedback.
2. Onboarding
Onboarding is a very important stage in the customer journey and it creates a lasting impression on the customers. So you must collect Onboarding Feedback to gauge the customers' onboarding experiences with your product. The idea is that customers must not feel that you don't care for them after you have got payment from them. So you should collect feedback to identify if your product users are facing any issues in the onboarding.
If they are, then take instant actions to improve their experience and make them realize that they have invested in the right product and company.
3. After Usage of Certain Features
You should present in-product surveys before the customers when they have used the primary features of the product. This will help you know how those features are working for the customers and identify if a certain feature is not working well.
Also, if you have added a new feature, you must collect feedback about that feature just after the customers have used it. This helps you know whether you are in the right direction or not.
4. Churn
You do everything to make your customers' experiences great, but still there can be some customers who will churn. Collect their feedback to know the reason behind their churn. If there is something that is not working for the customers, you can make improvements and improving it can prevent more existing customers from churning.
Conclusion
No matter how robust your product is or how feature-rich it is, as long as the customer experience is not good, you won't be able to go far with it. For a product-driven company, it is crucial to have a customer-centric approach by incorporating feedback and identifying the pain points of the customers.
Your users will only give you a better insight into your product and a fresh perspective that you can use in improving your product roadmap and creating something that your customers don't hate using. Hopefully, the above-mentioned product feedback examples will provide enough fuel to start your engines for a better customer feedback collection strategy.
The best way to collect Product Feedback is to use an effective Product Feedback Tool. Zonka Feedback is one of the best tools that not only help you create Product Feedback Surveys and share them with your customers, but also analyze the feedback received and work on it to improve Customer Experience.
Its advanced features like real-time feedback alerts notify you about every feedback received or the feedback that falls in the criteria set by you like a low rating or negative feedback. This helps you follow up with the customers and take actions to improve their experiences before its too late, and thus prevent customer churn.
It also offers a free trial. You can try Zonka Feedback for free for 7 days and see how it works for your product.