Are you a product-driven company trying to impress your customers? Are you struggling to retain valuable customers? And lastly, are you feeling stuck?
Well, the answer to these questions revolves around one thing - the customers. In order to create a product that your customers love, every strategy, every feature, and every development you make should be done while keeping your customers in mind.
The reality of the industry is that only 1 in 26 customers tend to inform a business of their negative experiences. The rest will leave without explanation.
The simplest way to do this is by incorporating product feedback into your current strategy using a product feedback tool. Feedback not only brings you closer to your customers but also helps you understand what they exactly need so that you can make further improvements to your product.
Now, collecting customer feedback on your product is not a piece of cake. You can't just send out a feedback survey to the customers via email and expect them to be at your service.
The smart thing to do would be to incorporate feedback at multiple touchpoints during the customer's journey. Only then does the real work start where you prioritize only those features and updates that bring value to your customer experience.
Getting Started with Product Feedback Examples
It goes without saying that Product Feedback surveys are tools incorporated by companies to gain valuable insights from the customers regarding their experience with the product.
It's a crucial aspect of building a customer-centric product and ensuring that it remains that way.
One can run product feedback surveys at any point of customer interaction from the development stage to post-release.

Product Feedback offers companies crucial customer insights into:

1. Overall customer satisfaction

2. Potential bugs in the product

3. Features customers expect and features customers don't need or understand

4. If the pricing goes with the current value delivery of the product and more

Product feedback surveys can take many forms. It could be a micro-survey, pop-up survey, feedback button, Smiley face survey, and more.
Before we proceed any further, one thing to remember is that not all feedback will be negative. There could be positive feedback as well. Managing every feedback and working on closing positive and negative feedback loops effectively is what will contribute to the improvement of your product as well as customer satisfaction in the long run.
Top 5 Product Feedback Examples
Here are some of the best examples to give you an idea of how to create and incorporate engaging surveys to collect product feedback:
1. Uber Real-Time Feedback
One of the best examples of product feedback is in-app surveys of Uber. Uber uses real-time surveys in its app where customers and drivers can rate each other.
With this unique ability to capture two-sided perspectives, the platform ensures that all the parties using this app for purpose of business remain fully engaged with the product. The added benefit of capturing real-time feedback is that it reduces the chances of survey fatigue.
Using these in-app surveys helps Uber improve its services using the ratings provided from both ends.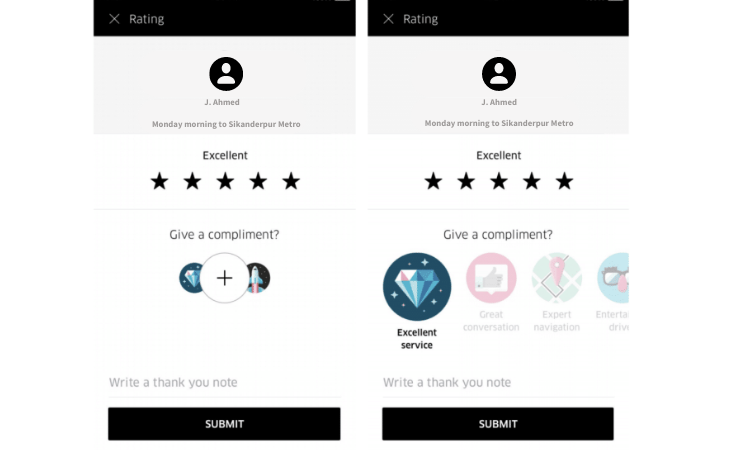 If you are a product-driven company that wants to conduct surveys similar to Uber and incorporate real-time feedback, you can use the product feedback form template embedded below.
2. YouTube
With over 122 million daily active users, YouTube's feedback mechanism is something to learn from. Unlike Google where the algorithm focuses more on providing the best possible search results to "end" the search of users, YouTube aims at improving the content consumption experience of its users.
The first example of its product feedback mechanism is micro surveys using the "Thumbs up" and "Thumbs down" buttons which help the platform track which content is being liked and disliked by its users.

Another great example would be the surveys appearing before starting of a video, encouraging users to rate their satisfaction level with the videos. This enables them to make improvements to their suggestion algorithm and offer tailor-made videos as per the interests of different users.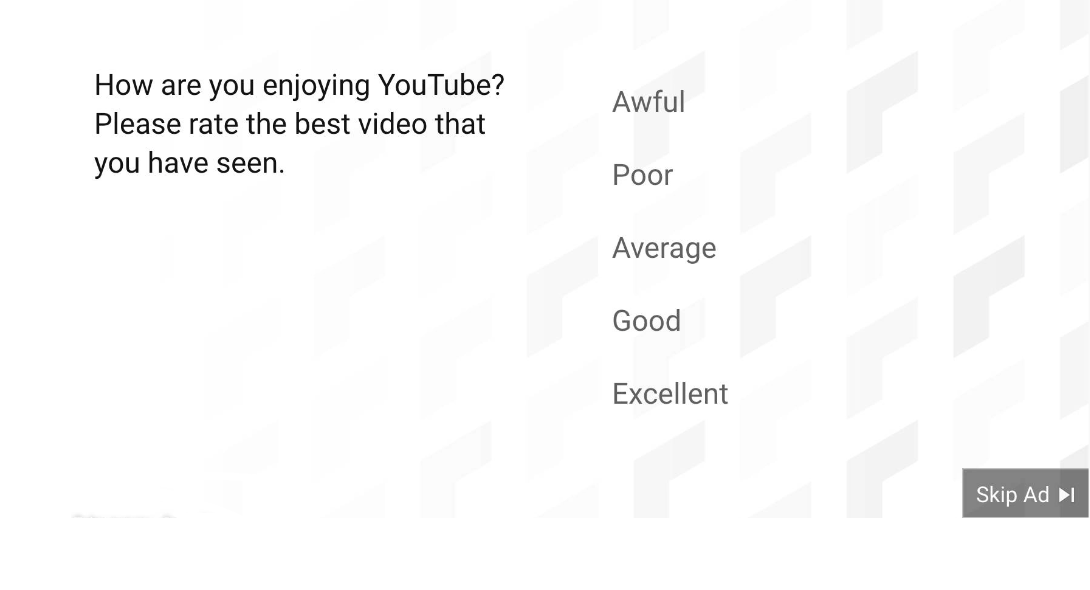 Taking user feedback and comparing it with other metrics like watch time, video views, and audience retention paves the way for faster feedback loop closure.

This type of product opinion survey template can help measure customer satisfaction with the platform and gives valuable insight into the user's perception of the brand.
3. Slack
Slack is another great example of a company successfully using in-app surveys to gain insights into its users without interrupting the overall product experience.
The platform incorporates micro surveys with multiple choice questions on the form to reduce the customer effort of filling the survey and track Customer Satisfaction with the product effectively.
If you take a look at the Slack survey, you'll notice that their tone is very conversational, making it easy for the users to understand the question as well as provide feedback.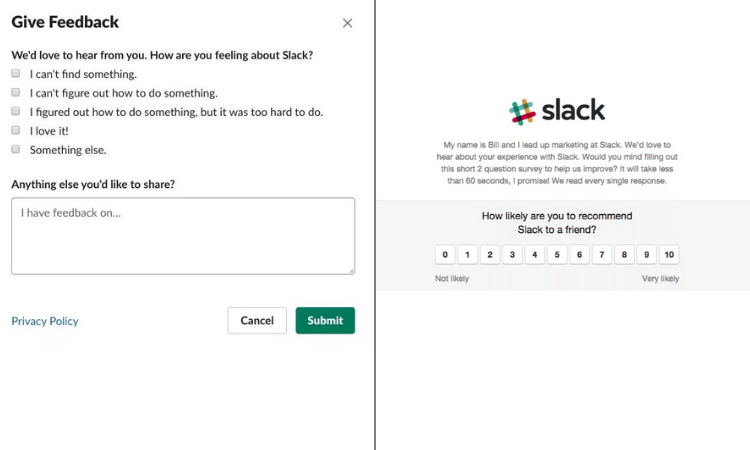 Another example of Slack product feedback is its NPS survey. Although the survey aims to track the loyalty of its users, it also wins at successfully engaging them with a personalized message, as you can see in the image.
4. Amazon
Another example of an effective feedback loop is Amazon's customer service feedback survey. The platform uses the survey to identify the satisfaction of its users with its customer service department. The survey asks simple multiple-choice questions, along with an open-text field for any additional feedback that users want to provide.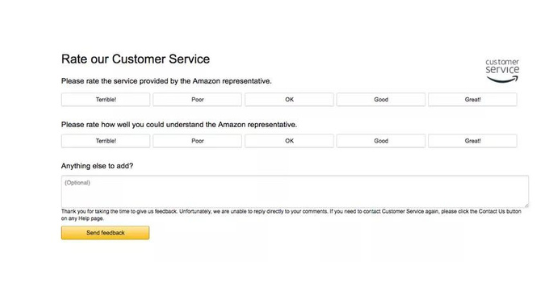 You can incorporate this kind of customer service survey while taking product feedback to find loopholes in your customer service and use the insights to improve the customer experience with your product.
Other than customer service feedback, Amazon also allows product companies to collect customer feedback upon purchase of a product. The buyers get 90 days to provide reviews and ratings for products. There are various parameters such as response speed, product quality, level of communication, etc. that customers can give their feedback on.
This helps amazon in improving the search quality and pushing products with high-quality ratings on top while the lower ones at the bottom. This product feedback strategy works in favor of Amazon since they don't have direct control over the quality of listed products.
5. Google
Google aims at providing its users with the best possible results for their queries. It lists those results in the order of their relevance. Once the users find the right link, they are taken off the platform.
Here the product that Google offers is its search algorithm. The platform strives to ensure that the users find what they are looking for in a single click.
Here, the quality of the product is measured by the results that are most clicked, the overall bounce rate, and when the user puts a stop to their search. This means that every single search made is giving Google information about the user experience.
To make the data collection more precise and effective, the platform conducts a micro survey to ask about the relevance of the search results that look something like this.

These kinds of general customer satisfaction surveys can be conducted by product companies when a person decides to leave the platform. One can use them as exit survey forms and gather crucial insights to know why customers are leaving and whether they found what they were looking for. Here's an example of an exit survey template that you can use to gather crucial product feedback.
Conclusion
No matter how robust your product is or how feature-rich it is, as long as the customer experience is not good, you won't be able to go far with it. For a product-driven company, it is crucial to have a customer-centric approach by incorporating feedback and identifying the pain points of the customers.
Your users will only give you a better insight into your product and a fresh perspective that you can use in improving your product roadmap and creating something that your customers don't hate using. Hopefully, the above-mentioned product feedback examples will provide enough fuel to start your engines for a better customer feedback collection strategy.