Survey apps are designed for the creation, distribution, collection, and analysis of surveys or questionnaires.
With so many survey apps available in the market, each catering to diverse needs, it could be overwhelming to choose 'the one'. You might want to leverage survey apps for conducting market research, getting product feature requests, analyzing the performance of new features, or just gauging customer satisfaction - the use of survey apps could be anything.
In this post, we will talk about the 15 best survey apps and help you find the one that can be easily integrated into your system.
TL;DR
Survey apps are applications where you can create your surveys, administer surveys at various touch-points using devices like Android tablets, iPads, iPhones, and smartphones, and get survey results instantly.

We have compiled a list of the top 15 best survey apps based on the user interface, templates, question types, integrations, distribution channel, survey reports & analytics, survey logic & branching, and pricing so that you can pick the one that suits your needs.

Some of the top survey apps from our list include Zonka Feedback, Jotform, Responsly, SurveyMonkey, Google Forms, QuestionPro, Hotjar, and many more.

To get hands on a survey app, you can sign up for a free trial with Zonka Feedback or schedule a demo to create beautiful and engaging surveys, share them with your users, analyze reports to gain actionable insights, and close the feedback loop.
Measure Product Feedback & User Insights 💻
With Product Feedback Surveys, understand what users need and learn ways to delight your customers.
Best Online Survey Apps at a Glance
Best Survey Apps for Beginners
The best survey app for beginners should have an intuitive and easy-to-understand user interface, offer templates to get started quickly, and have on-screen tooltips, help sections, and tutorials. Let us look at which survey apps qualify for the same.
With an Extensive List of Survey Templates
Having a lot of survey templates can be incredibly beneficial for beginners who are looking to get started with creating surveys. These templates serve as a great resource for generating ideas and inspiration for survey topics, question types, and overall survey design.
1. Zonka Feedback
Whether you want to create your first survey or are in search of a robust solution for diverse survey needs, Zonka Feedback is one of the most versatile user-friendly survey platforms that can create different types of surveys like customer feedback surveys, product surveys, lead generation surveys, market research surveys, etc., and easily make sophisticated surveys to capture feedback on different survey collection channels both online and offline across the customer journey.
It also digitally captures survey results and data, enabling the creation of workflows centered on valuable surveys. Moreover, the tool seamlessly integrates with other apps you might utilize throughout the surveying journey, streamlining the whole data point collection process and enhancing overall efficiency for all stakeholders involved making it one of the best all-round online survey tools for beginners.
Top Features
Easy-to-understand user interface with an expansive repository of comprehensive help articles and visual aids to navigate effortlessly and dedicated chat assistance to address issues.

Microsurveys on CX metrics like Net Promoter Score, Customer Effort Score, and Customer Satisfaction Score can be deployed in-app easily for real-time feedback collection.

100+ customizable ready-to-use survey templates such as customer satisfaction survey templates, mobile app survey templates, bug report form templates, product feedback form templates, beta testing survey templates, etc.

Feedback widgets such as feedback buttons, popover, popup, slide out, and bottom bar surveys.

Dynamic survey logic and branching for personalized user questioning.

Advanced reporting and analytics for top primary metrics and detailed response analysis.

User segmentation to target different customers and fetch feedback.

Workflow automation for automating processes like response tagging, location-based redirection, and auto-responding to feedback, that seamlessly integrate into existing tech stack.

Powerful integration with business tools like Salesforce, Zendesk, Freshdesk, Zapier, Slack, Google Analytics, Mailchimp, AirTable, Intercom, Zoom, Webex, and more.

Real-time feedback alerts and notifications for feedback based on set criteria.

Wider survey reach across the globe with multilingual surveys.
Pricing
Starts at $49/month

Free trial for 7 days available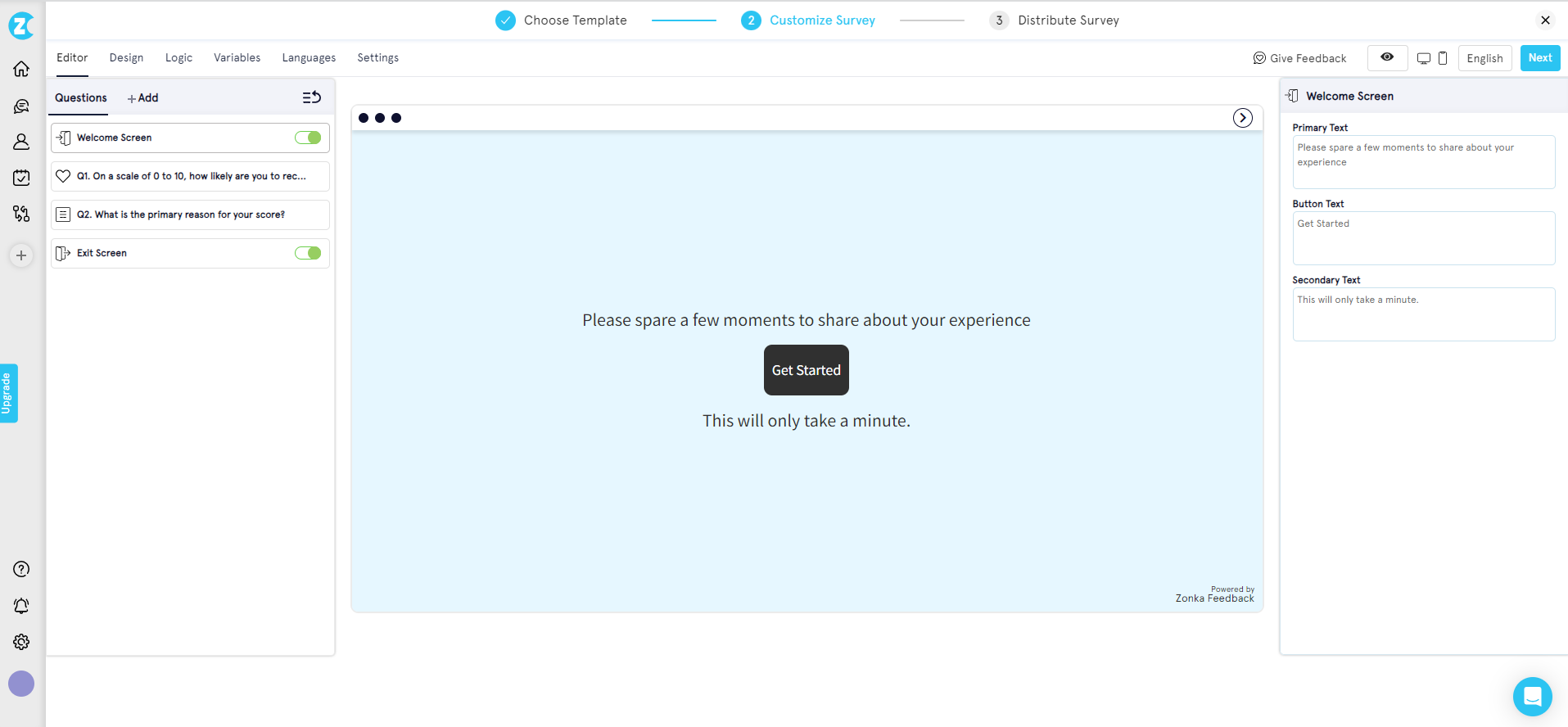 2. SurveyPlanet
SurveyPlanet is one the best survey apps if you are looking for a beginner app with lots of survey templates to choose from. It has an intuitive user interface that would best suit you if you have just started creating surveys.
Top Features
90+ survey templates with 9+ types of questions that you can use as-is or change as per your need.

Intuitive survey editor with a live copy of surveys displayed in the same window and a fast response addition option.

Survey logic option with visual map connecting questions.

Surveys that are compatible with various devices like mobile, tablets, and desktop computers.

30+ language support for creating surveys and user interface
Pricing
Basic plan is free with restricted features

Pro plan costs $20/month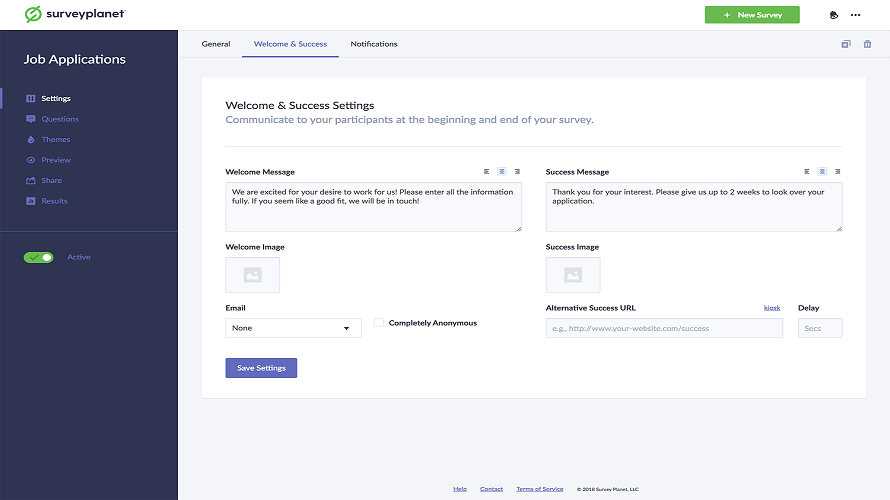 Survey Apps with Advanced Features
If you want a beginner-friendly survey app that has an intuitive user interface but is topped with cutting-edge capabilities and core features like varieties of survey designs, skip logic and branching, and built-in distribution capabilities, you can check out these survey apps.
Zonka Feedback offers these advanced features which can empower you to create engaging surveys, distribute surveys through different channels, and gather actionable insights within minutes.
3. Typeform
Typeform is an all-around intuitive survey builder app that offers user-friendly traditional surveys but with a hint of advanced features like embeddable chatbots, complex survey logic paths, and automated workflows. It harmonizes user-friendly simplicity with advanced attributes, making the survey experiences engaging and insightful.
Top Features
Visually engaging and interactive survey forms with a conversational format, enhancing user engagement and experience.

Choose from a wide range of visually appealing themes, ensuring your surveys are not only insightful but visually impressive.

Employ survey logic and branching to tailor respondent experiences, guiding them through dynamic paths.

Use Typeform's APIs and dev tools to build your survey system from scratch.

Enhance surveys by seamlessly incorporating royalty-free images or icons within the app itself, with the convenient preview feature.

Leverage AI integration to generate surveys based on your instructions, streamlining the survey creation process.

Share survey forms with links, emails, or embedded on the webpage.

Integrations with many tools like Google Sheets, Slack, Mailchimp, etc. are available.
Pricing
Free for up to three surveys with ten questions per survey

Paid plan starts from $25/month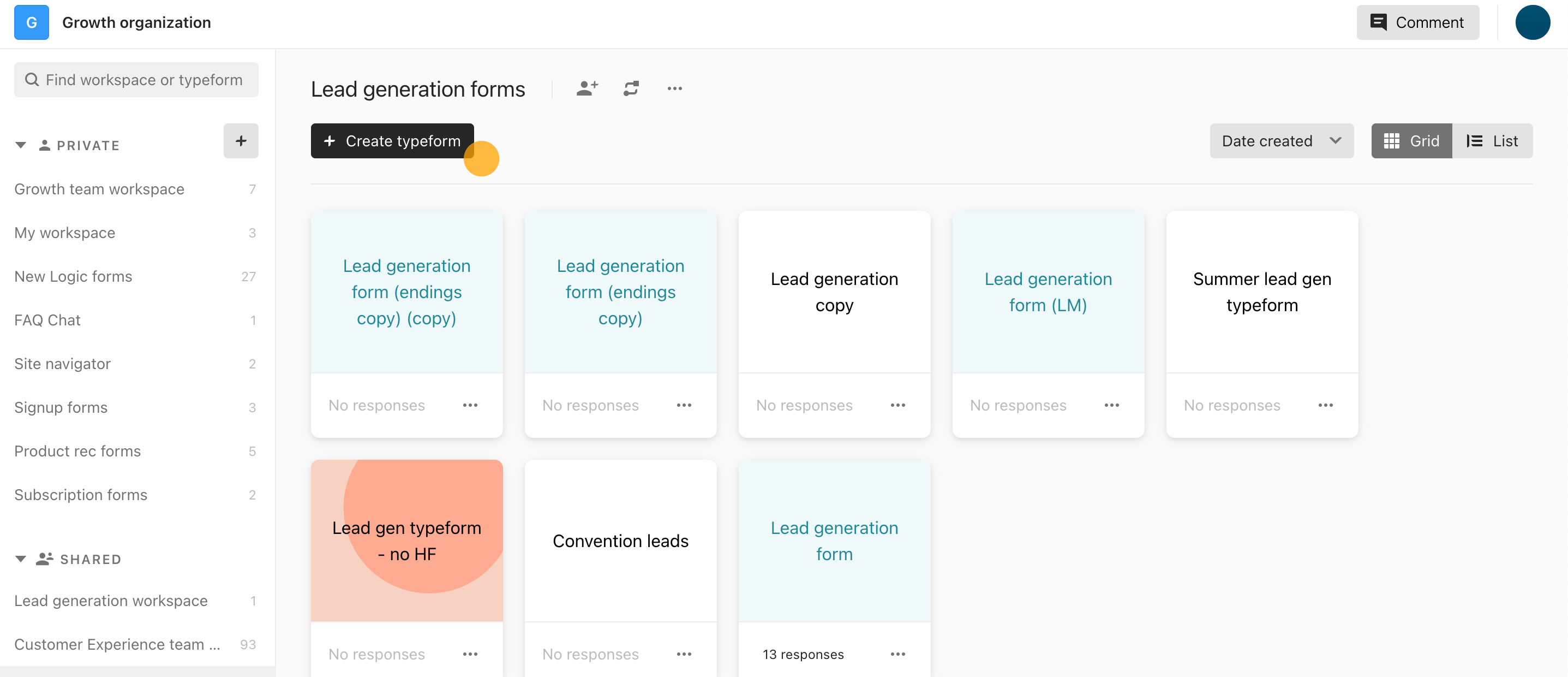 Typeform has limited customizations available within the app, therefore you can check out Typeform alternatives that can meet your needs.
4. JotForm
If you are looking for an intuitive and easy-to-use survey app, Jotform is your survey tool. It offers a lot of survey templates and engaging features like widgets and a progress bar.
You also get options in choosing the kind of reports you want: whether you want an extended report which is a single chart per page or compact reports which combine multiple charts onto a single page.
Top Features
Perform complex mathematical calculations within your forms. Calculate totals, scores, or discounts based on user inputs.

Create personalized PDF reports, certificates, invoices, or other documents dynamically, based on survey responses, for a tailored respondent experience.

Utilize the mobile app for direct form creation and management from your mobile devices.

Offers conditional logic for payments based on user selections or survey responses.
Pricing
Starter plan is free with 1 user account, 5 forms, and 100 responses per month

Bronze plan starts at $34 per month.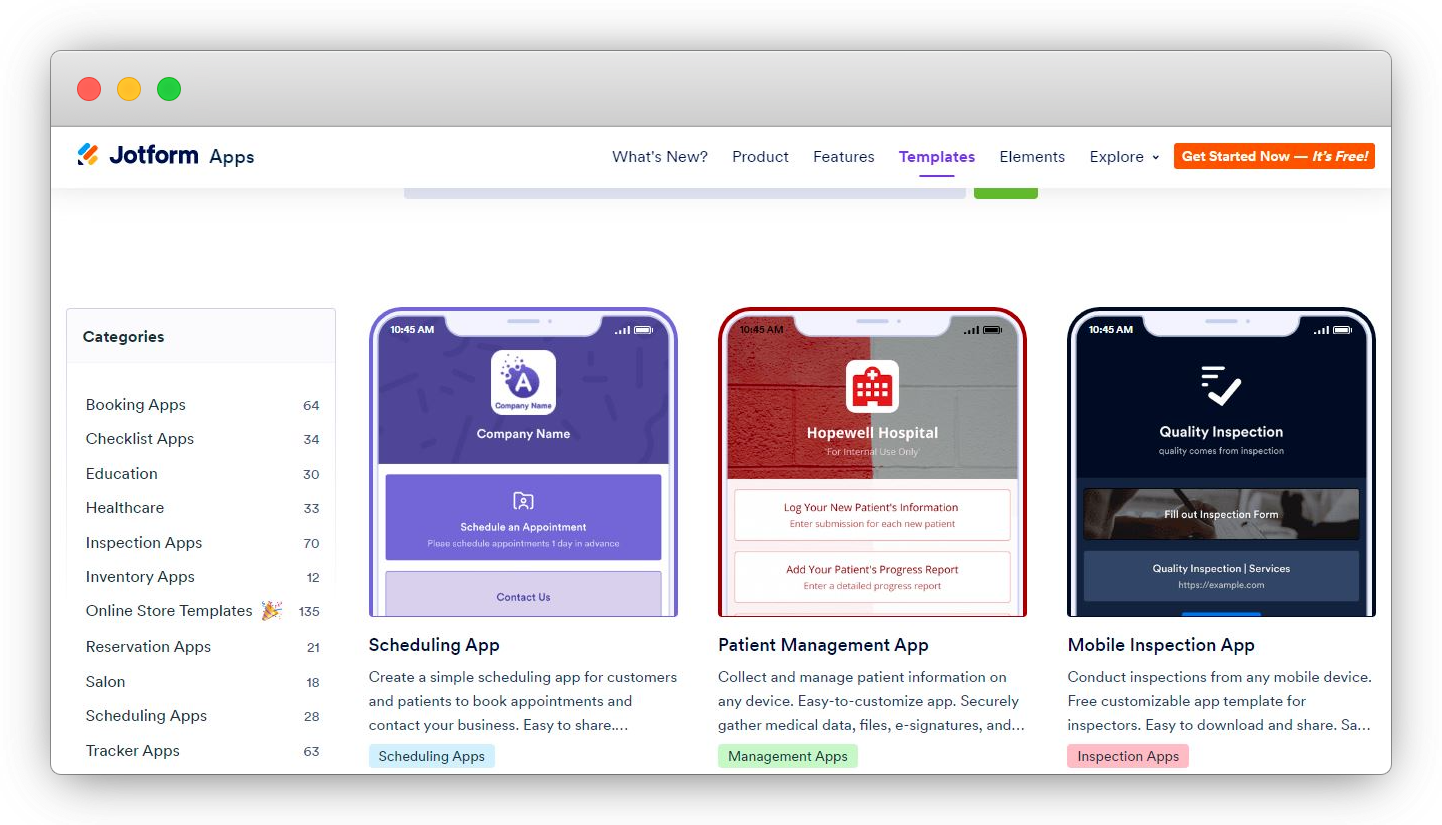 Jotform can be too limiting for businesses looking for advanced analytics and a comprehensive view of their customer journey. If you have a similar concern, here are the top Jotform alternatives that you can explore.
Survey Apps with AI Integration
AI integration in survey apps has revolutionized the way surveys are created. With the power of AI, creating surveys has become more efficient and accurate than ever before and has also enhanced the overall survey experience.
5. Fillout
Fillout is a survey app tool that lets you create online surveys using prompts suggested by its AI. All you need to do is give a short explanation of what you want to the AI and you can get the most accurate survey created on your screen.
Top Features
40+ question types to choose from including multiple-choice questions, checkbox type, picture choice, and ranking.

90 survey templates with customizable layouts for questions

Integration with apps like Google Sheets, Airtable, and Notion, and there are APIs for Mailchimp and Slack.

Analytics and reporting features to understand customer data in the form of customizable charts, graphs, etc.

Survey logic, multipage forms, and survey scheduling are available for an enhanced survey experience.

6 themes to choose from that are minimalistic yet relevant.

Powerful integrations with Airtable, Salesforce, Mailchimp, Notion, Stripe, etc.
Pricing
Free plan with 1000 responses/month

Starts at $15/month
6. Responsly
If you need a quick survey creation app that is easy to use and is packed with AI, Responly is your solution. You can create beautiful surveys and analyze them using advanced analytics to extract meaningful insights.
Top Features
Industry-specific templates like hotel feedback surveys, restaurant satisfaction surveys, salon evaluation surveys, etc. along with general templates for customer feedback, competitor research, and product surveys.

Generative AI to create a survey by using prompts.

20 simple yet trendy custom themes to choose from.

Share surveys through email, and links, and embed them in your survey apps as a widgets

Survey branching and logic options to tailor the user experience
Pricing
Starts at $49/month

Free trial for 7 days available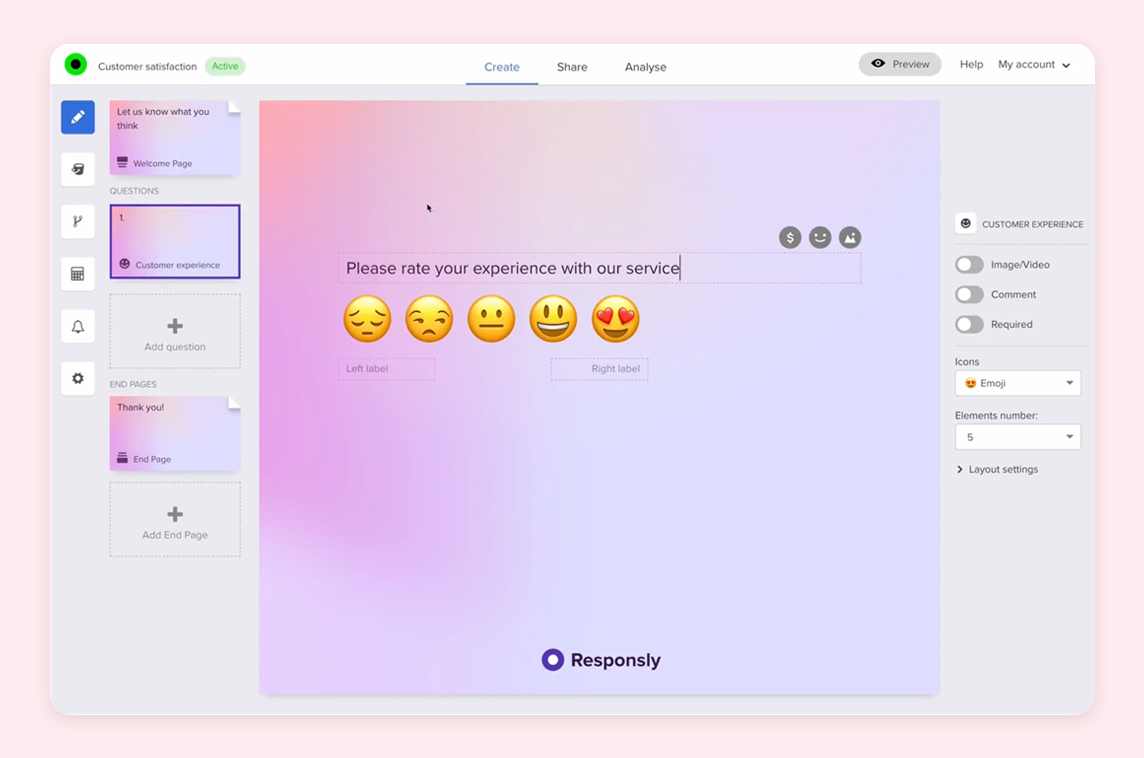 Best Survey App for Offline Collection - Tablet/iPhone/iPad
Surveys apps for offline surveys and collection of feedback let you gather valuable insights even in situations where internet connectivity may be limited or unreliable. These apps are particularly useful for industries such as hospitality, restaurants, and healthcare, where customer feedback plays a crucial role in improving service quality.
7. SurveyMonkey
SurveyMonkey, a leading online survey tool, offers 15 versatile question types like Likert scales, multiple-choice, open-ended, and rating scales. While most survey apps just let you gather responses, SurveyMonkey empowers you with full survey management on your iPad survey app or Android survey app right from creating, editing, gathering responses, and analyzing them. The data gets synced across all the devices.
Top Features
User-friendly interface for creating using customizable templates and a drag-and-drop editor to create professional-looking surveys.

Share surveys via email, social media, website embedding, and SMS. Collect responses in real time, track response rates, and set up automatic reminders.

Ability to collect responses outside your contacts by buying responses.

Generate real-time reports with charts and graphs, filter and segment responses, and export data in various formats. Text analysis tool to extract insights from open-ended responses.

Integrations with CRM systems, email marketing platforms, and data analysis software.
Pricing
Free for 10 questions per survey, no logic, and other limited features

Starts at $25/user/month for a Team Advantage plan or $39/month for individuals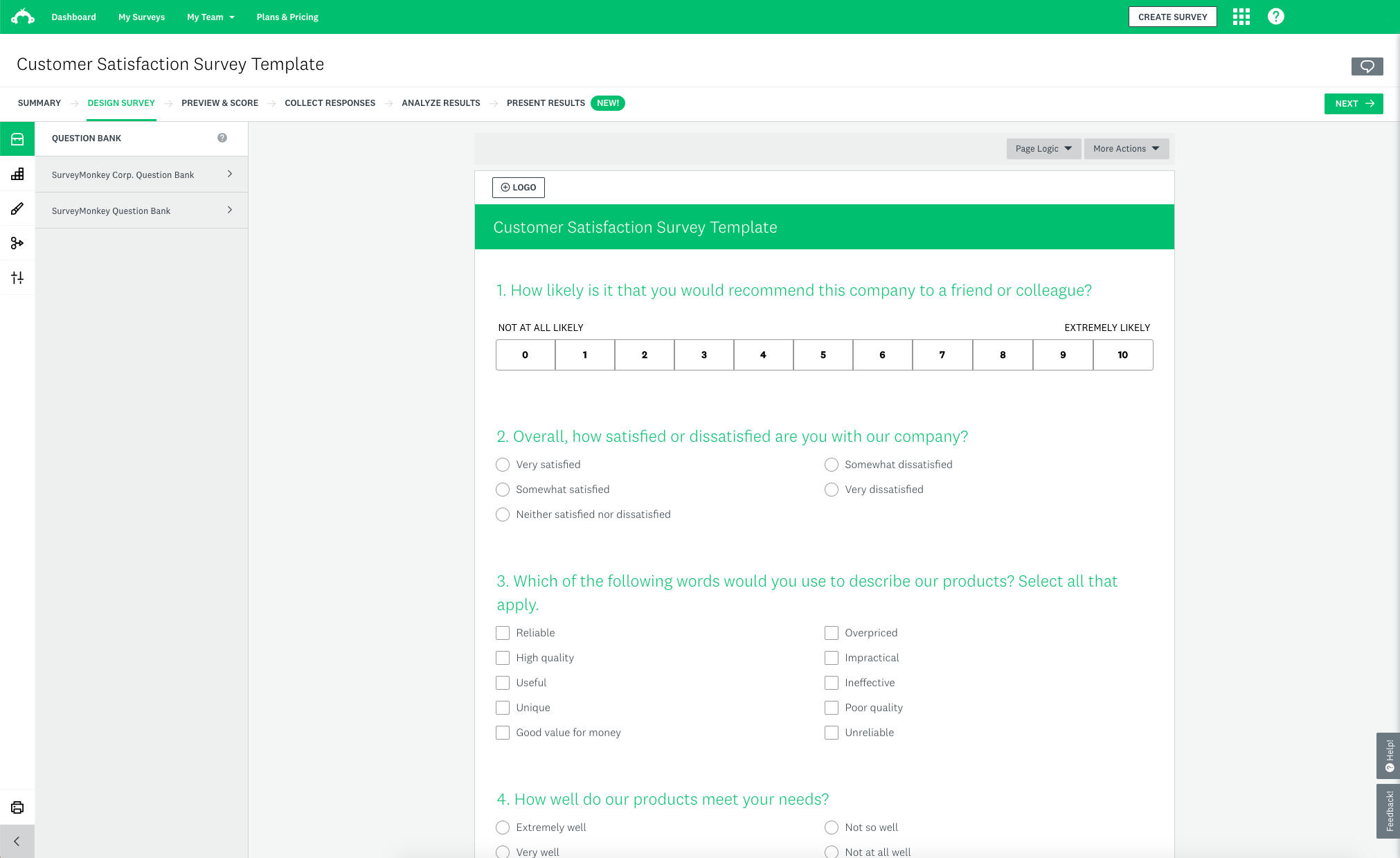 Since SurveyMonkey is a little restrictive on the free plan, how about looking at SurveyMonkey alternatives?
8. SurveySparrow
A top-tier free survey tool, SurveySparrow transforms boring surveys into enjoyable conversations through its Conversational User Interface (CUI) which resembles the respondent as a messaging app. You can create highly engaging short surveys, that offer a chat-like experience, all from your smartphone's convenience.
Top Features
Send white-label customer surveys or NPS surveys that are multi-device compatible.

Create chatbot-style surveys with custom CSS and 700+ vibrant survey templates.

Benchmark your NPS score to compare against the best companies in your sector.

Drive employee development with 360-degree feedback software

Gain rich insights into key metrics with a vibrant dashboard.

Set up fast and friendly customer care with conversational bots.

Integrate your surveys with hundreds of business tools for seamless experience management.

Save time with automated survey workflows, recurring surveys, and offline surveys.

Capture data from multiple touchpoints like email, QR code, website, and SMS
Pricing
Free for 3 surveys with 10 questions and 50 responses a month each.

Starts at $19/month for Basic with 5,000 responses per month.

Free trial available for 14 days.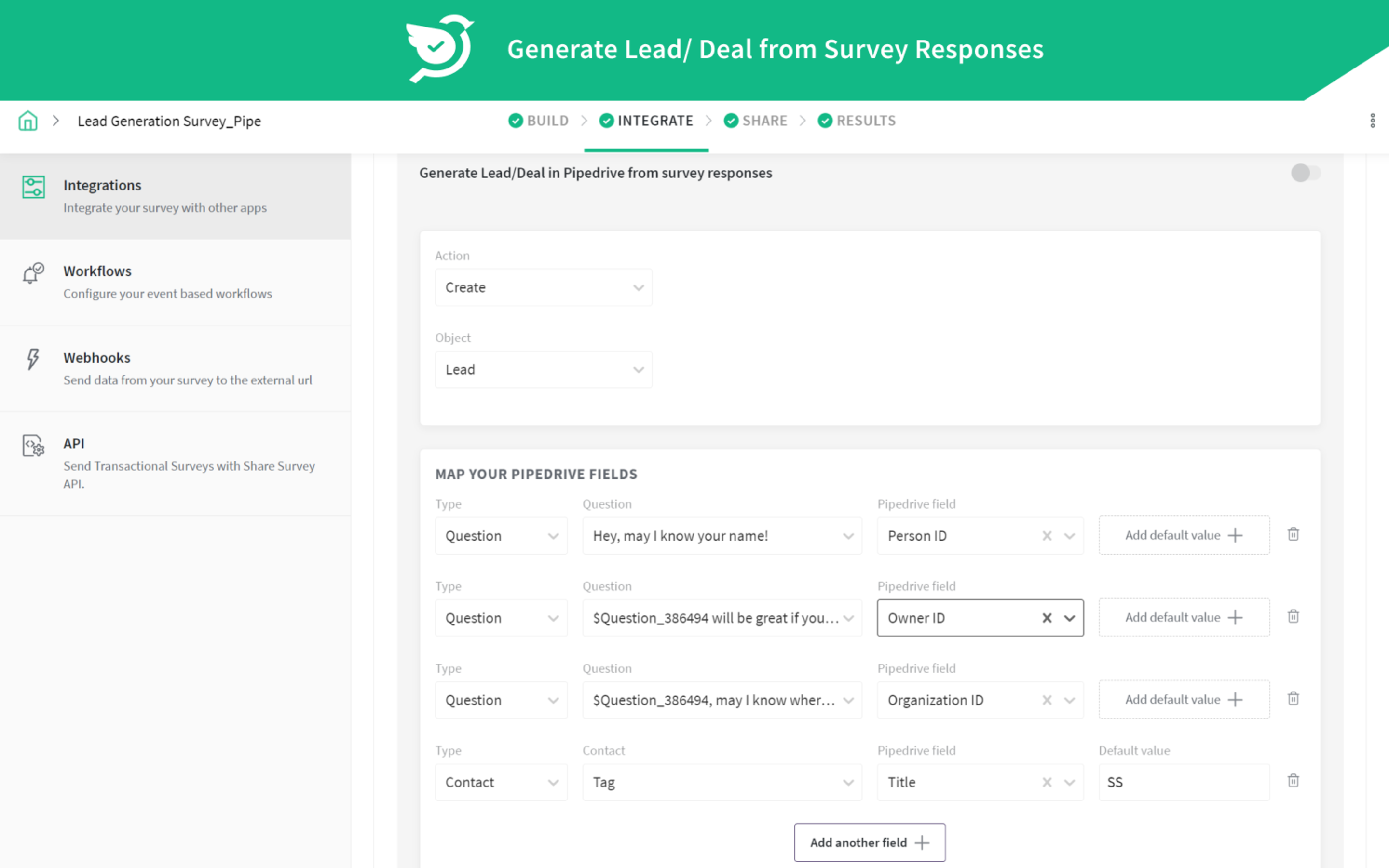 Since SurveySparrow requires distributing the surveys yourself, why not check out SurveySparrow alternatives?
9. QuickTap Survey
QuickTapSurvey is a good app for capturing data online, offline, and anywhere with devices like tablets and smartphones. You can capture unlimited survey questions, responses, research data, or leads at events. The app enables customization to design beautiful mobile-friendly surveys so that you can capture all the response data through mobile forms.
Top Features
Quick and easy setup without any technical expertise required

More than 35+ ready-to-use question types that can be included in your surveys.

Capture survey response data face-to-face by directly connecting with the customers with your Android or iOS device.

Can use this app to set up your smartphones or tablets as independent kiosk surveys at your premises.

Integrations like Zapier, Mailchimp, Salesforce, and more.

Automated alerts and notifications based on the survey responses received.
Pricing
Starts at $41 per month.

Free trial available for 14 days.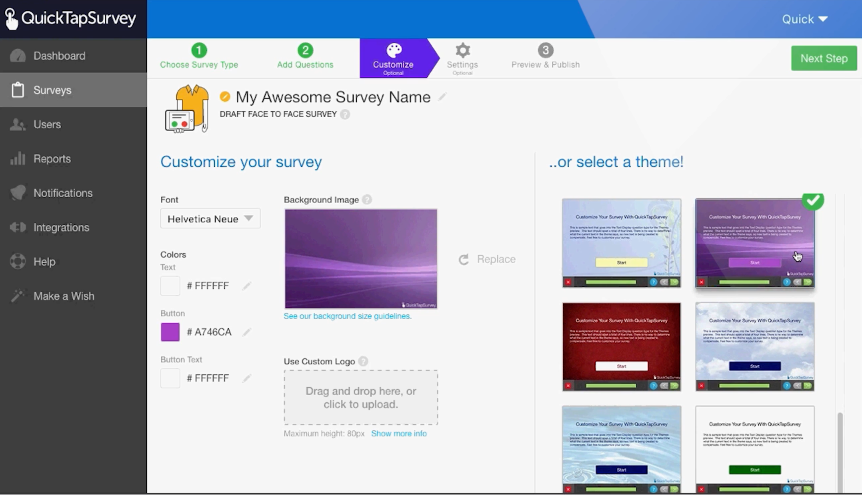 Top Survey Apps for Enterprises
To meet the needs of enterprises, the best online survey tools should have advanced customizations, multi-user collaboration, enterprise-level analytics, and scalability for growing enterprise's needs. Let us look at which survey tools fit into this category. These mentioned survey companies offer both free online surveys and have paid survey apps too.
10. QuestionPro
QuestionPro stands as a prominent online survey tool that can help you create effective surveys, polls, and quizzes. It is one the most popular enterprise-level in-app feedback tools that has a user-friendly interface and in-depth analytical reports.
Top Features
20+ professional survey themes, with options for creating branded surveys, survey logic, branching, and multilingual support.

More than 35 question types, including advanced ones, like dynamic lookup tables, semantic sliders, captcha verification, heatmap, etc.

In addition to basic survey logic, it offers custom scripting, providing enhanced flexibility for those with coding expertise.

Conjoint analysis to understand how different attributes or features of a product or service impact respondents' preferences.

MaxDiff analysis to identify the most and least preferred options within a set of items or features.

Offers a set of features like employee feedback surveys, pulse surveys, onboarding surveys, and 360-degree feedback assessments designed explicitly for workforce and employee engagement.
Pricing
Free plan available for up to 300 responses per survey for 30 question types.

Paid plan starts at $99/month.

Free trial for 10 days available.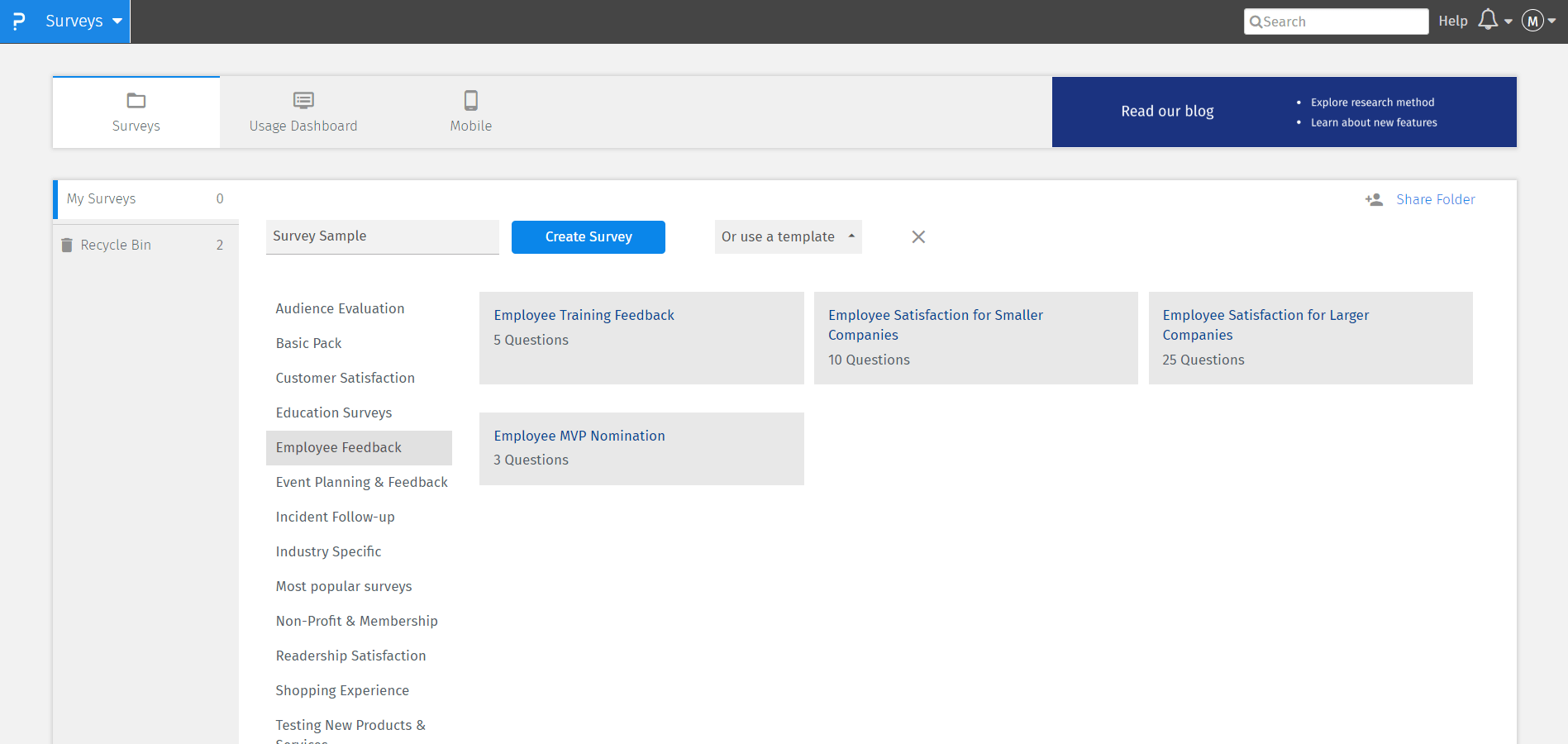 11. GetFeedback
Besides creating surveys, GetFeedback allows the creation of campaigns that target users based on usage behaviors. Users can provide feedback on specific parts of the web app or mobile app with a feedback button.
Top Features
Survey templates for surveys like NPS survey, CES survey, CSAT survey, digital and purchase experience, and more.

Collect feedback anywhere, on any device with mobile-optimized, fully branded surveys.

Close the loop faster with real-time alerts and automatically push feedback into the tools you already use

Share surveys via website, email, and SMS.

Seamless integration with Salesforce, as well as support for other integrations including Jira, Zendesk, Webhooks, and Zapier.

Build custom dashboards by brand, region, or channel and filter by any customer attribute.

Detailed, conditional surveys can be automated to respond to user actions

Customizable widgets blend into your mobile page or webpage, allowing survey respondents to provide feedback on specific parts of the landing page or on the general digital experience.
Pricing
Customized plans can be obtained by contacting the team.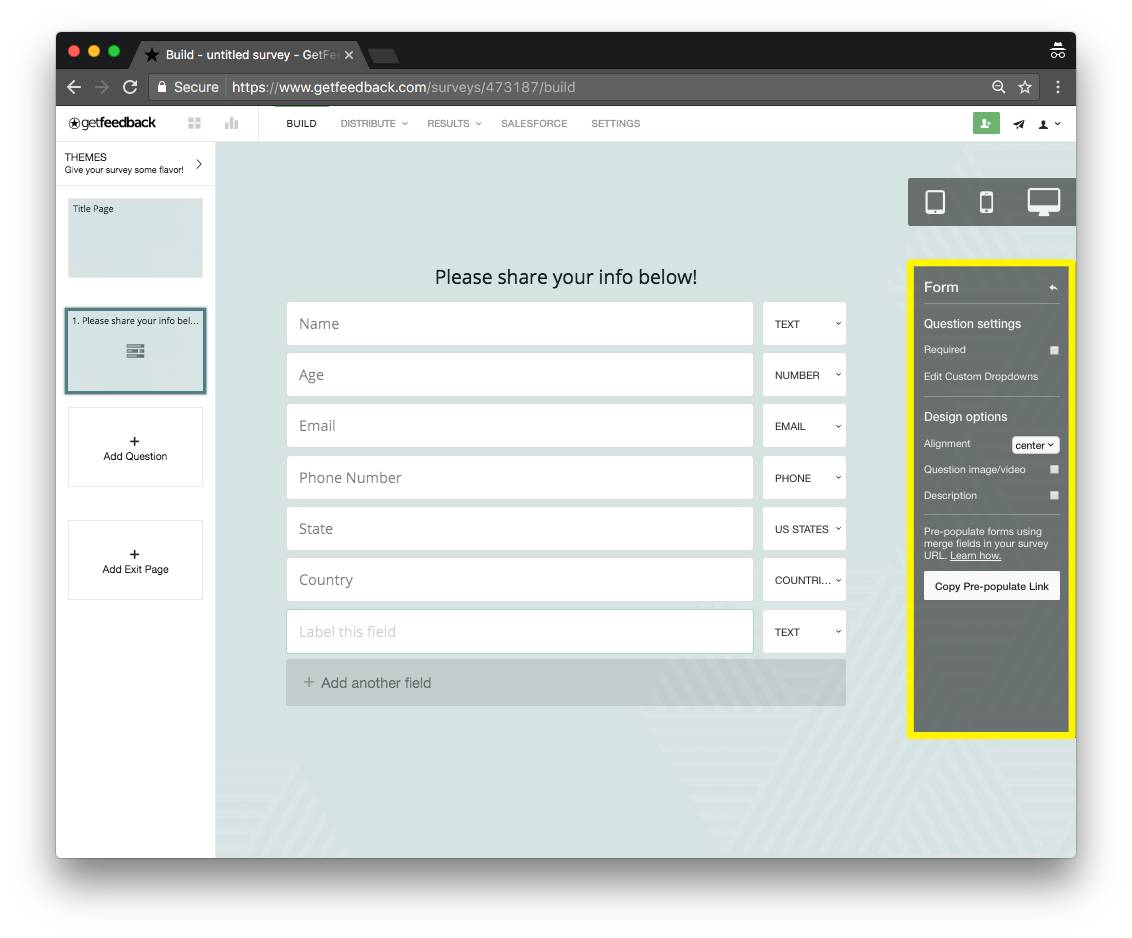 GetFeedback can be Salesforce-driven for organizations not using the CRM. Check out some of the best GetFeedback alternatives that offer a comprehensive solution for your survey and feedback management requirements.
12. Hotjar
If you want a little more than just a survey builder, Hotjar can be your pick. It offers multiple surveys, and features heatmaps, session recordings, and user feedback, providing a comprehensive view of user behavior and preferences.
Through this survey tool, you can collect visual feedback through heatmaps that visually represent where users click, move, and scroll on a webpage. This allows you to identify areas of high engagement, user drop-offs, and sections that may need improvement.
Top Features
30+ ready-to-go templates with various customizations of themes, and question types available.

Capture feedback on specific elements of a webpage through heatmaps and screen recordings.

Forward incoming responses to the support team via email

Receive comprehensive feedback with on-site surveys and feedback widgets

Create NPS, CSAT, and microsurveys using checkboxes, radio buttons, and text fields

Integrations with CRM systems and Google Analytics to consolidate data and gain deeper insights.

Advanced targeting based on user behavior, demographics, and device types to enhance collected data.
Pricing
Free plan includes up to 20 monthly responses

Paid plan starts at $128/month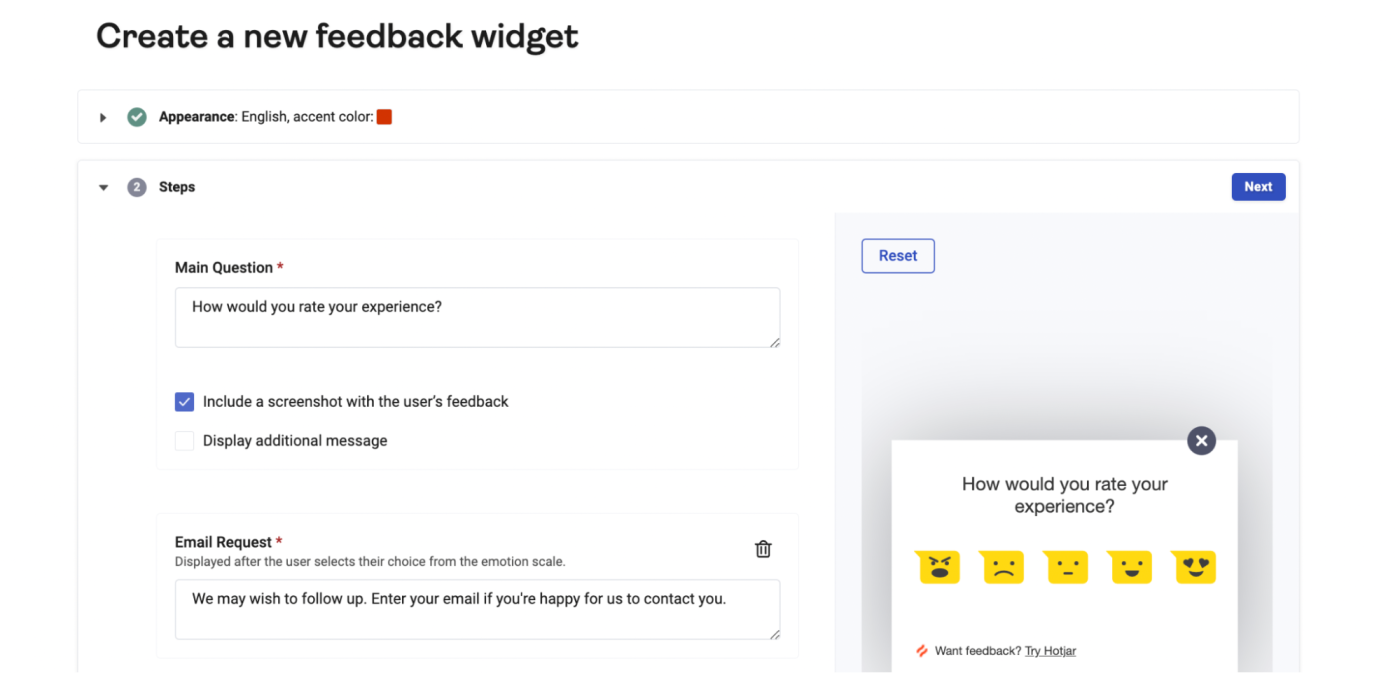 Since Hotjar is yet to implement a feature to automatically set up heatmaps on all of the pages, how about checking out Hotjar alternatives?
Best Free Survey Apps
Free survey apps offer a range of features and functionalities that allow you to create professional-looking surveys, collect responses, and analyze data, all without any cost.
13. Google Forms
Google Forms is an excellent choice if you want to explore survey apps without committing to paid platforms. To create a free online survey with this survey platform, all you need is a Google account.
Its intuitive interface allows for the effortless addition of survey questions, and the built-in prompts provided by Google further enhance the ease of survey survey-building process, ultimately saving you valuable time.
Top Features
Unlimited surveys with unlimited questions and collaboration.

Pre-designed templates for different purposes, such as event RSVPs, feedback forms, quizzes, and more.

Multiple question types, including multiple-choice, short answer, paragraph, etc. for various data collection needs.

Ability to track responses and export data in Google Sheets in real-time and visualize data in the form of charts, graphs, etc.
Pricing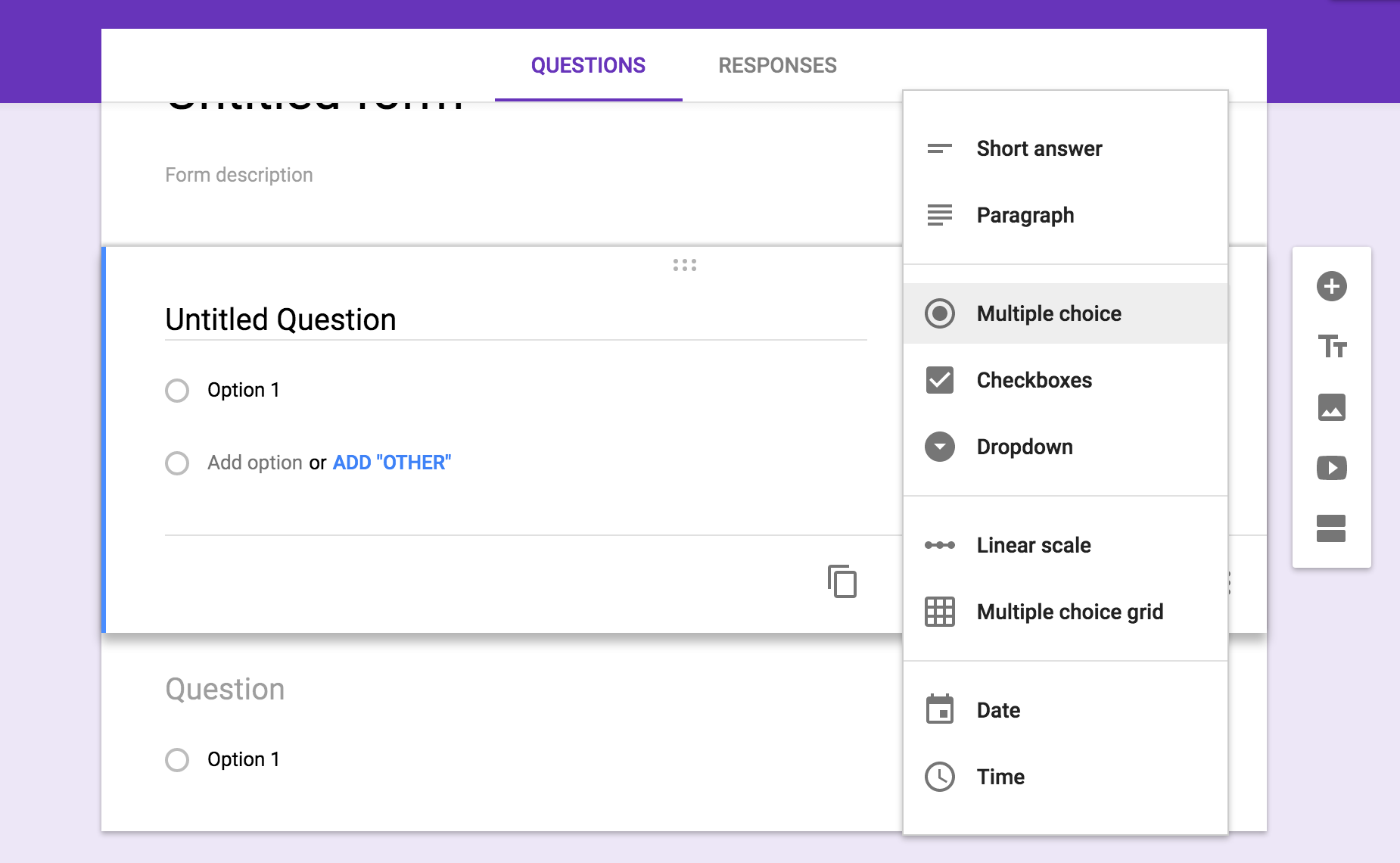 14. Microsoft Forms
Microsoft Forms is one of the most popular free survey tools and can be your go-to choice if you are a native of the Microsoft suite. All you need is to be logged in to your free Microsoft account when you visit the page. Its rich set of features, seamless integration with Microsoft's ecosystem, and user-friendly interface make it a compelling option for creating surveys that truly stand out.
Top Features
Unlimited surveys with unlimited questions that can be shared across users

Survey templates with aesthetic customizations, themes, and in-app survey progress bar

Multilingual access makes this product excellent for distributed teams who might work in different languages (one form can support up to 11 different languages).

Visual summaries and charts for survey data interpretations.

Integrations with Salesforce and all Microsoft products, including Excel for exporting survey data

Sharing of survey form via Outlook in beautifully formatted email for higher engagement.
Pricing
Absolutely free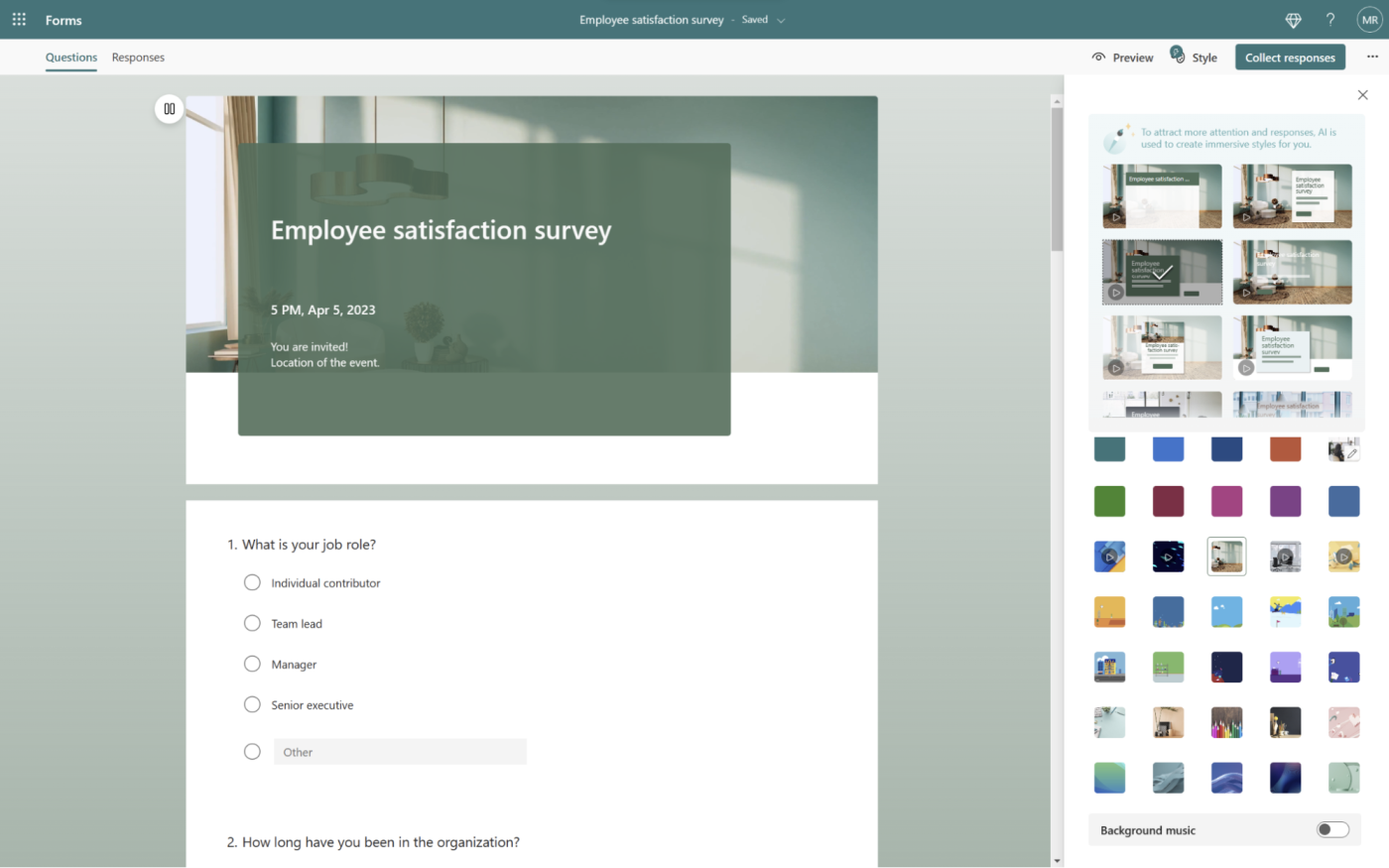 15. Zoho Survey
Zoho Survey stands tall as one of the best survey apps that seamlessly integrates into your workflow. Part of the Zoho suite of apps, it can be your go-to for short business-oriented survey creation.
Zoho Survey takes surveys to new heights with its comprehensive features and AI-infused innovations. From creative question types and unlimited responses to in-depth reporting and AI-powered insights, it's one of the best free online survey makers.
Top Features
Unlimited surveys with 10 questions each that can be leveraged to create different types of surveys.

Choose from an array of 30 form field types, including Net Promoter Score, image selection, signatures, and file uploads.

Access a deep question bank when inspiration for survey questions is needed, ensuring your survey is comprehensive.

Range of pre-designed templates with themes and progress bars that enhance survey aesthetics.

AI-driven data analysis and advanced report generation to uncover valuable insights from your target audience.

Automated actions such as triggering email notifications, updating CRM records, or sending follow-up surveys based on respondent behavior

Integration with Zoho CRM helps capture survey responses and map them to contacts in your CRM system.
Pricing
Free for 100 responses per survey and 10 questions per survey

Paid plan starts at $25/month per user
Best Practices for Choosing the Right Survey Apps
Before finalizing your choice of a survey app, it's essential to consider a few key aspects. Let's explore the best practices to keep in mind when selecting the ideal survey application for your needs.
1. Choose the Right Device for Conducting Surveys
Survey apps can be used with the help of multiple types of devices like iPads, Android tablets, and mobile phones. But you need to choose the device that best suits your requirements. Consider factors like the survey complexity, respondent demographic, and accessibility to devices.
For instance, if you want to take feedback at a dine-in restaurant, a 7-inch tablet (Android or iPad Mini) would be great. They're easy to hold and pass around. For market research and for feedback on the go, you can hand over mobile phones to your staff to get customer feedback. They're non-bulky, cheaper and won't be a lot of effort for your staff.
2. Make White-labeled and Aesthetic Surveys
Through white-labeled surveys, you can customize the look and feel of your survey along with your own brand logo. Using a Survey App with white-labeled surveys helps you present feedback forms that your customers and respondents can relate to and contributes to your brand marketing.
Look for an online survey tool that allows visual customization of colors, logos, and themes, enabling you to create appealing surveys that resonate with your target audience.
3. Pick the Survey App that Works both Online and Offline
A survey tool that supports both online and offline surveying is valuable, especially if you anticipate surveying in areas with limited or no internet connectivity. Offline functionality ensures that data is collected seamlessly and can be synchronized once the device is back online, preventing data loss and interruptions in data collection.
4. Choose a Survey App that Helps Create Anonymous Surveys
At times, you need to create anonymous surveys to get honest feedback and actual and more reliable survey response data.
For instance, you may need to capture employee feedback where the employees do not feel secure sharing feedback with their identities or you may want to collect patient feedback from the patients who want their information to be confidential.
To ensure confidentiality and encourage candid responses, select a top survey site or app with anonymous survey capabilities, allowing you to turn off respondent tracking as required.
5. Turn on One-app Mode on your Device
Both Android and iOS devices have one-app mode options, preventing respondents from exiting the app. On Android, use App Pinning, and on iOS, enable Guided Access. This ensures focus on the survey and simplifies app management for staff, avoiding constant reopening of the app.
6. Survey should Auto-restart after it Finishes
The survey software apps nowadays enable you to create surveys that auto-restart when one survey finishes. Especially in cases of unattended kiosk surveys, it is very important that you use this feature of your survey app so that when one person finishes his survey and submits it, the app automatically prepares it for the next person.
Our Criteria for Compiling this List of Top Survey Apps
The best survey software is one that can meet your business goals, budget, and target market. For instance, if you want to create basic surveys, Google Forms and SurveyPlanet will do the job but if you want a survey that unifies simplicity with advanced features from creation to distribution and analysis, Zonka Feedback should be your pick.
To compile this list of survey apps, we checked for those survey apps that have:
User-friendly interface

Diverse templates and question types

Multiple distribution channels

Comprehensive device support

Powerful reporting and analytics

Survey logic and branching

Transparent pricing information
And distributed the survey apps into various categories so that you can easily pick the one that serves your needs.
Ready to get started with your survey app?
Try Zonka Feedback for a 7-day free trial to see if it serves your purpose and create surveys right within the app without any installation or extensive setup.