In today's fast-paced, data-driven world, making business decisions based on gut feelings or guesswork can be compared to flying blind. Whether you're conducting market research, analyzing consumer behavior, or seeking to optimize your internal business operations, the fundamental bedrock of sound decision-making is rooted in data.
Accurate data collection is imperative to make business decisions, provide quality assurance, and get the right outcomes. This is when brands start searching for data collection tools to make a data-driven decision.
Luckily there are many data collection tools available today that can help you with a wide array of data collection techniques, methods, and data types. If you're also searching for the best tools to collect customer data then we have got you covered.
In this article, we have shared 10 examples of data collection tools that can unlock a world of quantitative data, qualitative data collection methods, and possibilities to enhance your own feedback collection process and glean invaluable insights to propel your success forward.
Let's get started.
TL;DR
Teams are looking for data collection tools to make informed decisions, integrate data, identify problems in the organization, analyze data to drive change within an organization, and more.

We have gathered a list of the top 10 Data collection tools with thorough market research, qualitative research, and set parameters.

Some of the popular alternatives are Zonka Feedback, SurveyMonkey, Jotform, Falcum, and more.

Apart from data collection tools, we have also shared a list of other platforms and their various alternatives like Medallia alternatives, SurveyMonkey alternatives, Hotjar alternatives, Typeform alternatives, GetFeedback alternatives, Cloudcherry alternatives, Jotform alternatives, AskNicely alternatives, InMoment alternatives, Forsta alternatives, Delighted alternatives, Survicate alternatives, Qualtrics alternatives, Uservoice alternatives, Canny alternatives, Nicereply alternatives, Satismeter alternatives, SurveySparrow alternatives, Google forms alternatives, Forms on fire alternatives, Paperform alternatives, Fulcrum alternatives, and GoCanvas alternatives

To see how Zonka Feedback can be your top choice as a perfect Data collection tool, sign up for a free 7-day trial or book a demo!
Measure Customer Feedback & User Insights
With Customer Feedback Surveys, understand what users need and learn ways to delight your customers.
#1. Zonka Feedback
Zonka Feedback is one of the best data collection tools, that enables businesses to capture feedback anywhere with beautiful surveys through offline surveys using iPads, Android Tablets, iPhones, Smartphones, Kiosks, and monitor the results in real-time.
The best part about the survey software is that it offers custom forms on any device on the go and at remote locations. Apart from creating contact forms and capturing leads, the platform is a go-to option for many world-class brands to collect customer feedback at events, exhibitions, conferences, and trade shows.
Using this top data collection platform, one can quickly ditch paper research and move to digital forms to get primary data, conduct field surveys, and market through qualitative research and qualitative methods only.
Using Zonka Feedback's no-code survey builder, users can create fully customized white-labeled surveys within minutes. The platform makes it absolutely effortless to take surveys on the go, even in remote locations.
You don't need any internet or Wi-Fi connection to take customer feedback as the offline survey software from this data collection software helps unattended feedback and syncs it back once connected to the wifi or the internet. Users can even create custom feedback forms to capture customer and employee feedback using different survey types like NPS surveys, CSAT surveys, CES surveys, and more.
Zonka Feedback also enables users to choose any question they want to take or edit the survey design as needed. The multiple languages feature is another cool feature you get with this data collection tool, enabling you to capture leads in your local or neighboring areas.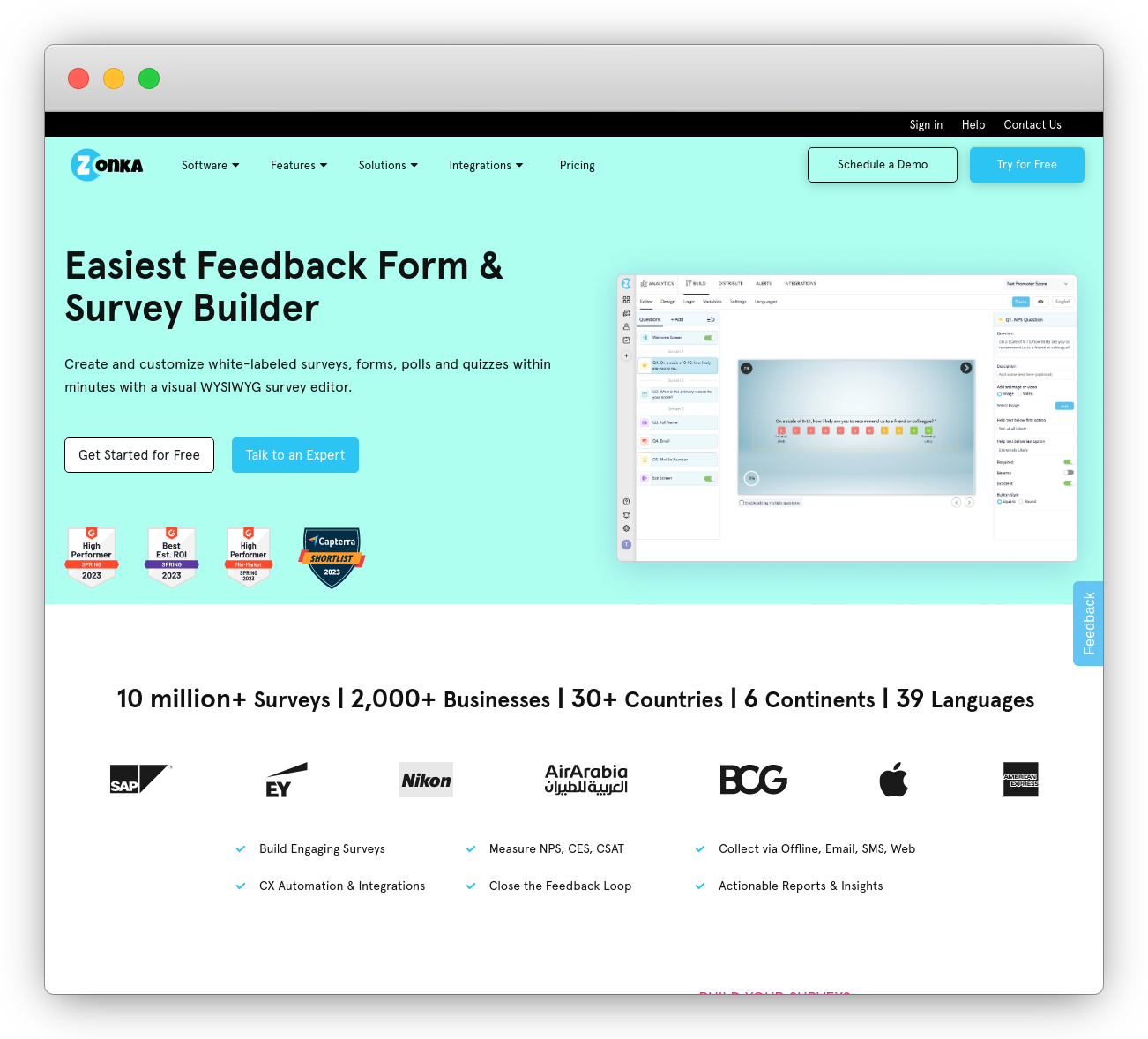 Zonka Feedback Features As A Data Collection Tool
Capture data on iPads, Android Tablets, iPhones, Smartphones, and Kiosks mode at any location with or without internet access

Use as a market research tool for offline survey platform

Survey builder to help create a survey from scratch or use templates

Choose from 30+ Question Types, add images, logo, edit surveys, etc.

Make surveys dynamic using skip logic, Hide Logic, Answer Piping

Access 100+ customizable survey templates, suitable for diverse industries and specific metrics like NPS, CSAT, and CES surveys.

Deploy data collection forms across various channels online (email, SMS, website, in-app) and offline like kiosk surveys at any location to assess customer loyalty and satisfaction flexibly.

Automate customized messages and emails with workflows to streamline survey response management and customer interactions.

Integrate with other software systems and export collected data for further analysis or use in other applications.

Collaborate with your large teams and engage with customers to address concerns, gather insights, and enhance your services.

Take customer feedback from multiple locations, and compare their responses

Integrate with your CRMs, Customer Support Tools, and Marketing Automation Software with native integrations
Pricing:
Offline surveys platform with Front starts from $15/month
Survey & CX platform with Front starts from $49/ month
Product Feedback platform with Front starts from $39/month
You can also try Zonka Feedback for free for 7 days or take a free monthly plan.
#2. Forms On Fire
One of the easiest and most effective ways to collect data is through the Forms on Fire software. This data collection software is a cloud-based digital tool that helps you streamline data collection forms. The drag-and-drop functionality makes it easy to collect data. Forms on Fire has more than 750 advanced integrations, thereby making it easy for different systems to share data efficiently. Integrations with popular systems like Zapier, Microsoft, Twilio, Amazon, Box, Google, and Dropbox allow you to send and receive data from your favorite platforms smoothly.
The cloud-based digital tool gives users easy ways for mobile data collection with aesthetically pleasing form designs. It's a blank canvas to whip up any form - including designing with everyday tools like Word and Excel. The "no-code cloud software" lets you drag and drop elements that you will find suitable for your forms. Forms On Fire also comes with GPS, connectors, and workflow features. You can also set it to send out alerts and real-time notifications.

Fire On Fire For Mobile Data Collection
Can recreate checklists, inspections, audits, and more with the designer

Drag and drop question fields to create your forms

See what mobile forms will look like on mobile devices with a quick sync

Modify your forms with hundreds of fields using all your favorite shortcut keys

Work offline with mobile forms software without any hassle

Create astonishingly beautiful reports using Microsoft Excel and word

Send your mobile forms data wherever you want

Connect with Zapier to further customize and get real-time instant notifications

Leverage its advanced and feature-rich mobile data collection capabilities to design and deploy highly customized mobile forms

Effortlessly perform data exchange between various systems with over 750 advanced integrations

Make use of a workflow management system, with pre-designed routing, rules-driven processes
Pricing:
The essential plan starts at $20/month.
You can also try its free plan.
#3.

Fulcrum

Fulcrum emerges as the top choice for businesses in search of a data collection tool. It offers a swift and user-friendly process for designing custom forms and dynamic surveys and conducting field data collection via its Android and iOS applications. Leveraging Google Maps as its foundation, Fulcrum supports various map types, including street, satellite, hybrid, and terrain views. It goes a step further by accommodating custom map layers from other data sources like Mapbox, Esri, OpenStreetMap, and others.

Fulcrum stands out as an inspection-oriented data collection app with advanced geolocation capabilities. It refers to its forms as "Apps," offering the flexibility to create forms from scratch using an intuitive drag-and-drop editor or choose from Fulcrum's templates. Moreover, the platform provides a helpful onboarding service, converting your initial paper forms or templates into Apps at no cost. Similar to the other data-gathering tools here on this list, this data collection app supports the same data collection technique for various data types, including audio clips, videos, signatures, and scanned barcodes.

When it comes to sharing form data online, Fulcrum offers multiple export options from its web application, including Excel, CSV, and Shapefile formats. Furthermore, users can generate PDF reports directly from their iOS or Android applications and share them via email, SMS, Dropbox, or other compatible apps on their devices.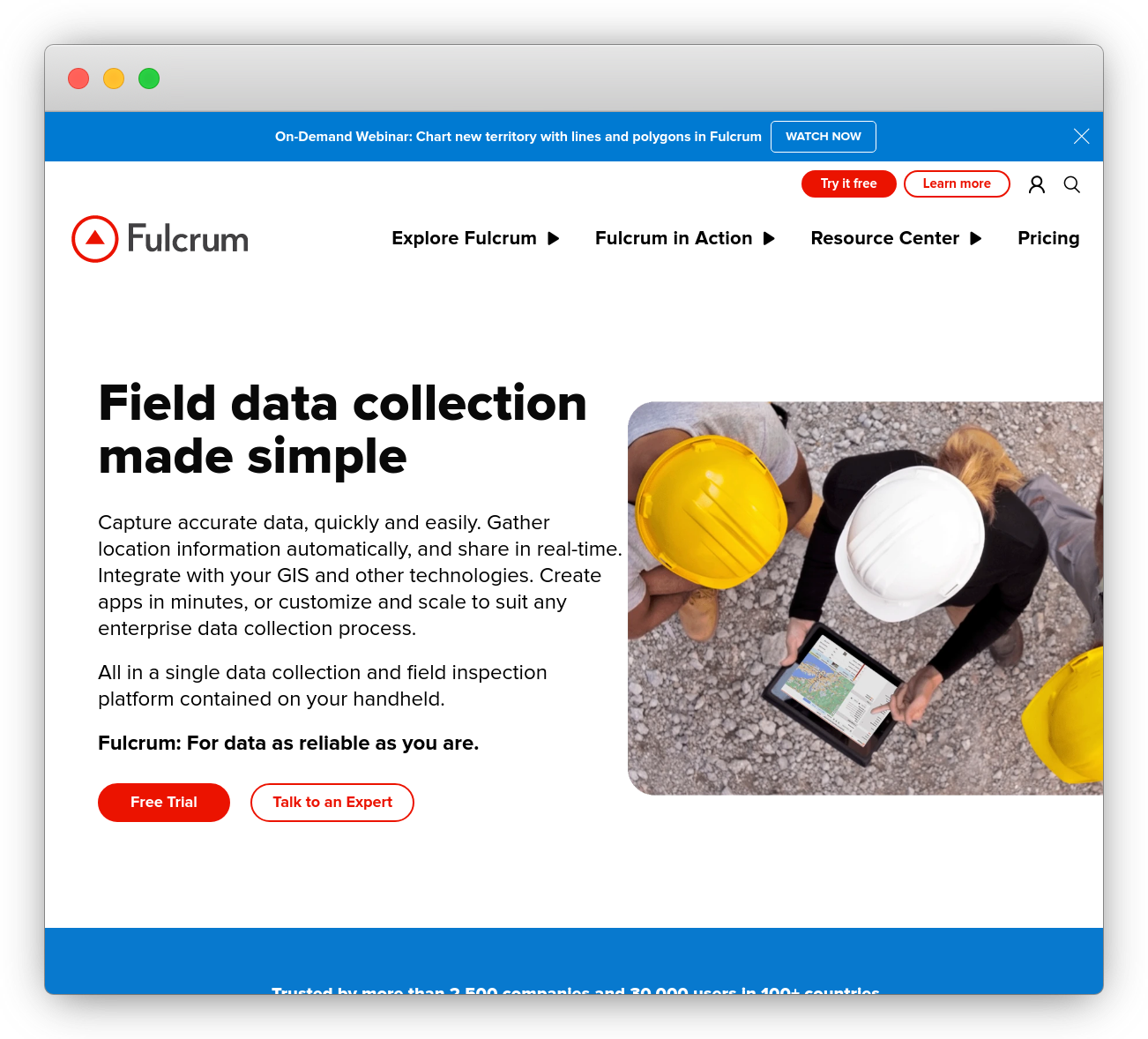 Fulcum Features As A Data Collection Software
Allows users to access street, satellite, and terrain base maps and custom map from various sources

Collect a wide range of data types, including audio clips, videos, signatures, and scanned barcodes

Create custom forms to collect data, referred to as "Apps," using an intuitive drag-and-drop editor

Effortlessly export collected data in multiple formats, including Excel, CSV, and Shapefile, and more

Capture electronic signatures to authenticate and verify data collected during inspections

Generate PDF reports from the iOS or Android app of submitted information

Efficiently scan barcodes using data collection forms

Requires zero training

Collects data both online and offline in real-time
Pricing:
The essential plan starts at $15/month for 5 users in a month.
You can also try its free plan.
#4. Jotform
JotForm stands out as a versatile online form-building tool, acclaimed for its effectiveness in crafting surveys, registrations, applications, and more. Known for its user-friendly interface and adaptability, it caters to both individuals and businesses seeking highly customizable forms. The platform offers an extensive and continually expanding selection of over 10,000 templates, making it a comprehensive choice for data collection forms.
JotForm is the ideal choice for users who wish to create personalized surveys and questionnaires. It provides an array of pre-built survey templates that offer a foundation and inspiration for crafting exceptional forms. In comparison to tools like Fulcrum and Survey Monkey, JotForm excels in offering greater customization. The template library covers an extensive range of forms commonly used by individuals and organizations in their daily operations, including job applications, event registrations, and business-specific order forms for ventures like bakeries or clothing stores.
A notable feature that sets JotForm apart is its payment forms, encompassing templates for invoices, charitable donations, subscriptions, and more. The platform seamlessly integrates with payment processing platforms such as PayPal, Square, and Stripe, facilitating the receipt of funds directly through the JotForm application and enhancing the customer experience.
Features of JotForm For Mobile Data Collection
Capture data on iPads, Android Tablets, iPhones, Smartphones, and Kiosks mode at any location with or without internet access

Offline submissions are saved to your device and will sync when you connect online

Use an offline feature on a smartphone or tablet

Connect JotForm with popular tools like Google Sheets, Dropbox, and PayPal

Enhance forms with a variety of feedback widgets, apps, and integrations

It offers HIPAA-compliant forms for secure healthcare data collection

Create forms effortlessly using a user-friendly, drag-and-drop interface

Build smart forms that change based on user responses, enhancing the user experience

Transform online forms into fillable PDFs that work offline

Kiosk mode with Screen Lock gives access only to a specific form

Easily and securely receive multiple form submissions through offline mode

Forms automatically return to the start page after each submission as data is saved and secured in a separate place
Pricing:
The starter plan is free; however, the essential plan starts at $34/month with an unlimited number of questions.
#5. Magpi
Magpi is a mobile-centric data collection application that empowers users to complete forms using any device. Notably, it prioritizes accessibility, catering to individuals with visual impairments and other challenges, enabling them to respond to queries verbally or via their touch-tone keypad.
The platform offers a broad spectrum of functionalities, enabling users to tag various data points, including images, signatures, barcodes, and geolocation information. What sets it apart is its remarkable customizability, as users have the ability to code it for their specific needs. This adaptability has led to diverse applications, ranging from election monitoring and data collection systems to energy production and wildlife tracking.
The standout feature of Magpi is its Interactive Voice Response (IVR), which allows users to input data through voice commands or by pressing corresponding keys on their phone, resembling the experience of interacting with a customer service hotline.
Primarily utilized by users across different sectors, particularly in health, agriculture, and environmental domains, Magpi facilitates user research and the creation of mobile forms for online and offline use. Businesses leverage Magpi's mobile data collection ability to conduct cost-effective and expedient surveys. The software supports mobile surveys, automatic updates, GPS tagging, and photo primary among other data collection methods too. Furthermore, it offers fully integrated workflows that enable the seamless incorporation of customer data into any web-accessible system.
Magpi Features As A Data Collection Tool
Simply use the online interface to develop any type of form

Deploy forms on any device such as Android, iOS, SMS, or IVR

Empower users to collect data and view it in real-time reporting

Get data analysis and decision-making with a comprehensive suite of data visualization tools

Optimize your team's productivity with our no-code integrations into thousands of online survey tools

Simply create forms using an easy web-based interface

Collect photos, GPS, multiple choice, NFC, barcodes, numbers, subforms, signatures and more

Automatically adjust to display perfectly on desktops, laptops, tablets, and phone

Flow your data instantly without any knowledge of programming language
Pricing: The basic plan starts at $250/month. You can also take its free trial.
#6. GoCanvas
GoCanvas is a robust and versatile data collection tool that simplifies the process of gathering, managing, and analyzing data for businesses across various industries. This mobile-centric data collection app offers an array of features designed to streamline data collection and improve efficiency.
It is optimized for mobile devices, allowing users to collect primary data collection in the field, even without an internet connection. This makes it ideal for industries like construction, healthcare, manufacturing, and more, where primary data collection needs to be collected on-site.
Users can create and customize digital forms tailored to their specific data collection needs. The drag-and-drop form builder makes it easy to design forms that suit various purposes, such as surveys, inspections, work orders, and more.
The platform offers a library of pre-built templates for common data-collecting use cases. These templates can be a time-saving starting point for businesses looking to expedite their existing data collection processes.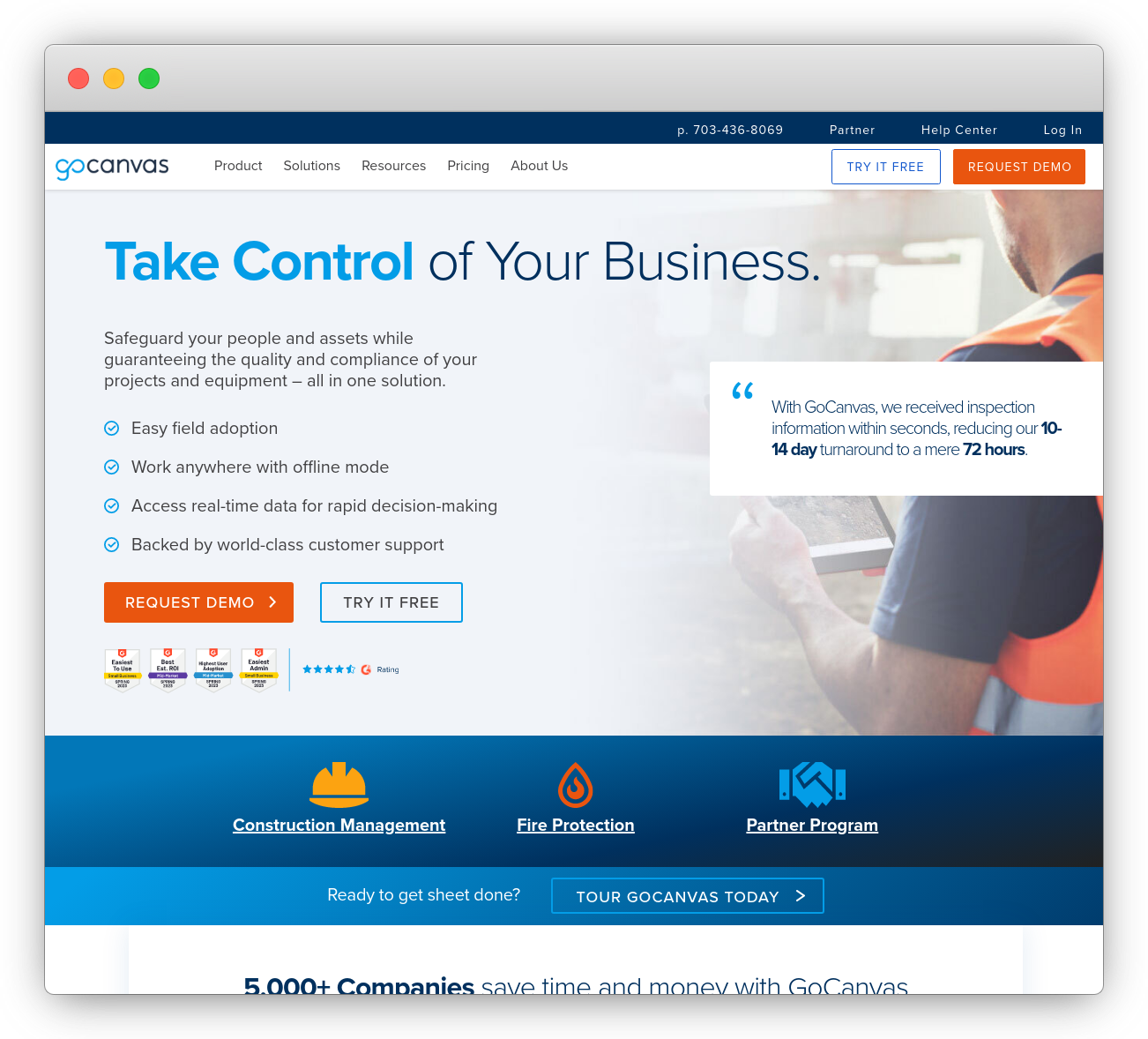 GoCanvas Features As A Data Collection App & Tool
Manage all facets of your business from the palms of your hands

Get a library of 30,000+ pre-built forms

Intuitive drag-and-drop feature to easily reconfigure existing templates

Match your brand. Include links and QR code surveys with a PDF designer

Easy field adoption

Work anywhere with offline mode

Access real-time data for rapid decision-making

Backed by world-class customer support

Capture GPS coordinates, time stamps, signatures, and media
Pricing: You need to get in touch with their sales team to learn about the pricing plan.
#7. Paperform
Paperform is a highly versatile data collection tool designed to simplify the process of gathering information, generating leads, and automating manual processes. It provides a wide range of features that make it suitable for various purposes, including feedback surveys, registrations, applications, order forms, and more.
It is a dependable data collection platform that empowers users to effortlessly gather relevant information to create forms and product pages. Using Paperform, you can gather a wide range of data types, including emails, text, addresses, images, files, eSignatures, and more. The question fields automatically format the collected data, simplifying the process of using relevant data, reviewing, exporting, and analyzing it.
The platform offers users a powerful editor that allows users to create forms that match their brand and specific requirements. With nearly unlimited customization options, you can design forms that meet your unique needs.
It also supports over 25 question fields, making it suitable for a broad range of different data collection tools and purposes. You can create text fields, multiple-choice questions, file uploads, and more.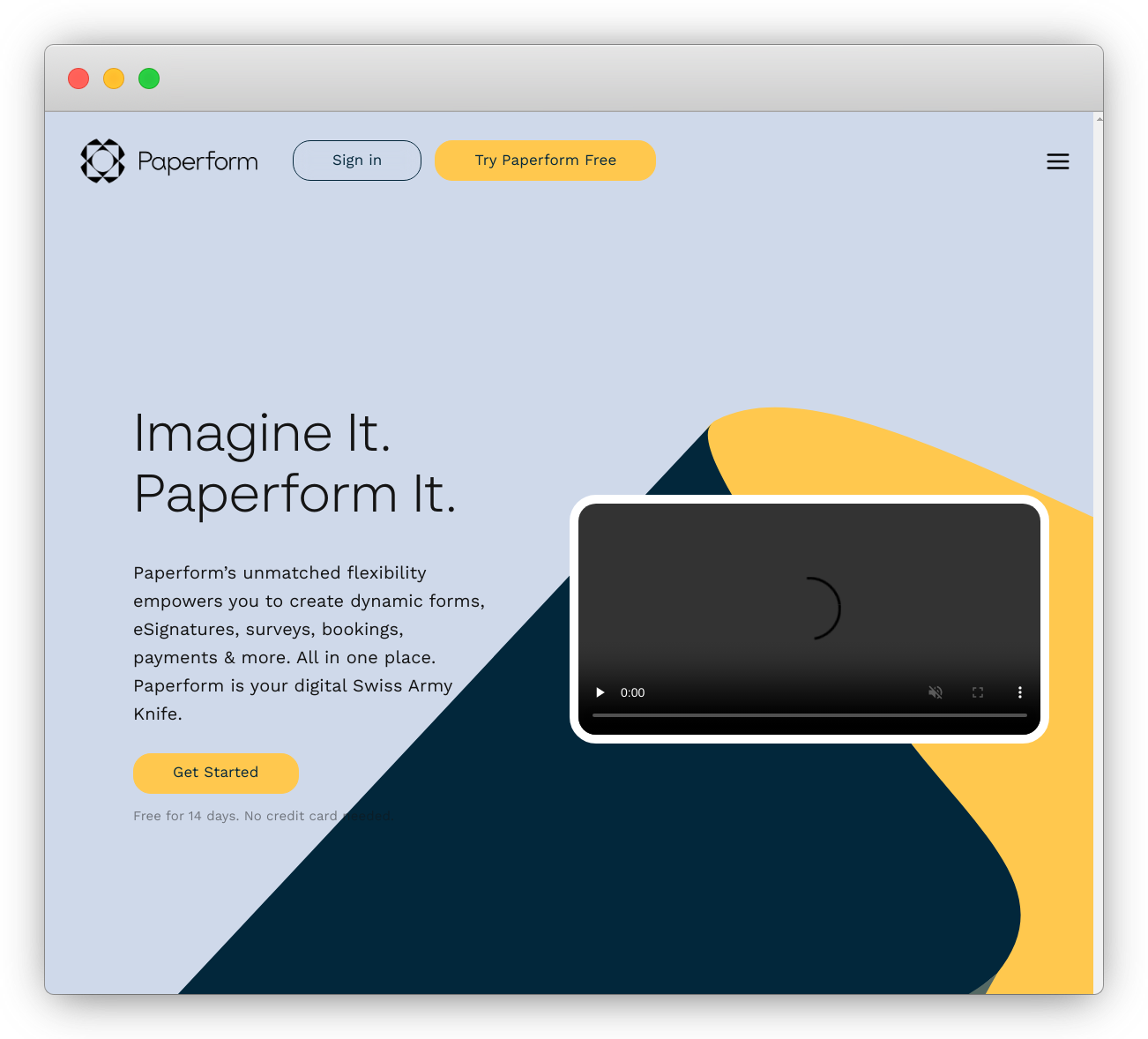 Paperform Features As A Data Collection Software
Zapier integration allows you to share information with different systems

Get a powerful built-in analytics to help improve conversions and collect more data

Data collected in Paperform is stored in the cloud and is protected by SSL

Quickly export your data anytime in PDF, CSV, or Word doc formats

Get more than 500+ templates for data collection

Empowers you to create dynamic forms, eSignatures, surveys, bookings, payments and more

Build beautiful solutions as unique as your brand

Get unique calculations function to transform text, calculate shipping rates and discounts based on real-time user input

Get flexible online forms that are easy to create
Pricing: The essential plan starts at $20/month.
#8. SurveyMonkey
SurveyMonkey is a widely recognized online survey platform that streamlines the data collection and research process. This free data collection tool is celebrated for its user-friendly design and comprehensive features, positioning it as a preferred option for collecting field data, for both businesses and individuals looking for a convenient way to create surveys and gather data effortlessly.
The platform provides a variety of question types, allowing users to design surveys tailored to their specific needs research objectives. From multiple-choice questions to open-ended responses, SurveyMonkey offers flexibility in survey design. You can also access its library of pre-designed survey templates for various purposes, saving time and effort when creating surveys. These templates can serve as starting points for users.
SurveyMonkey allows users to generate reports and visualize survey data in charts and graphs. These reports can be easily shared with stakeholders or team members. The platform prioritizes data security and offers features like SSL encryption and password protection for surveys.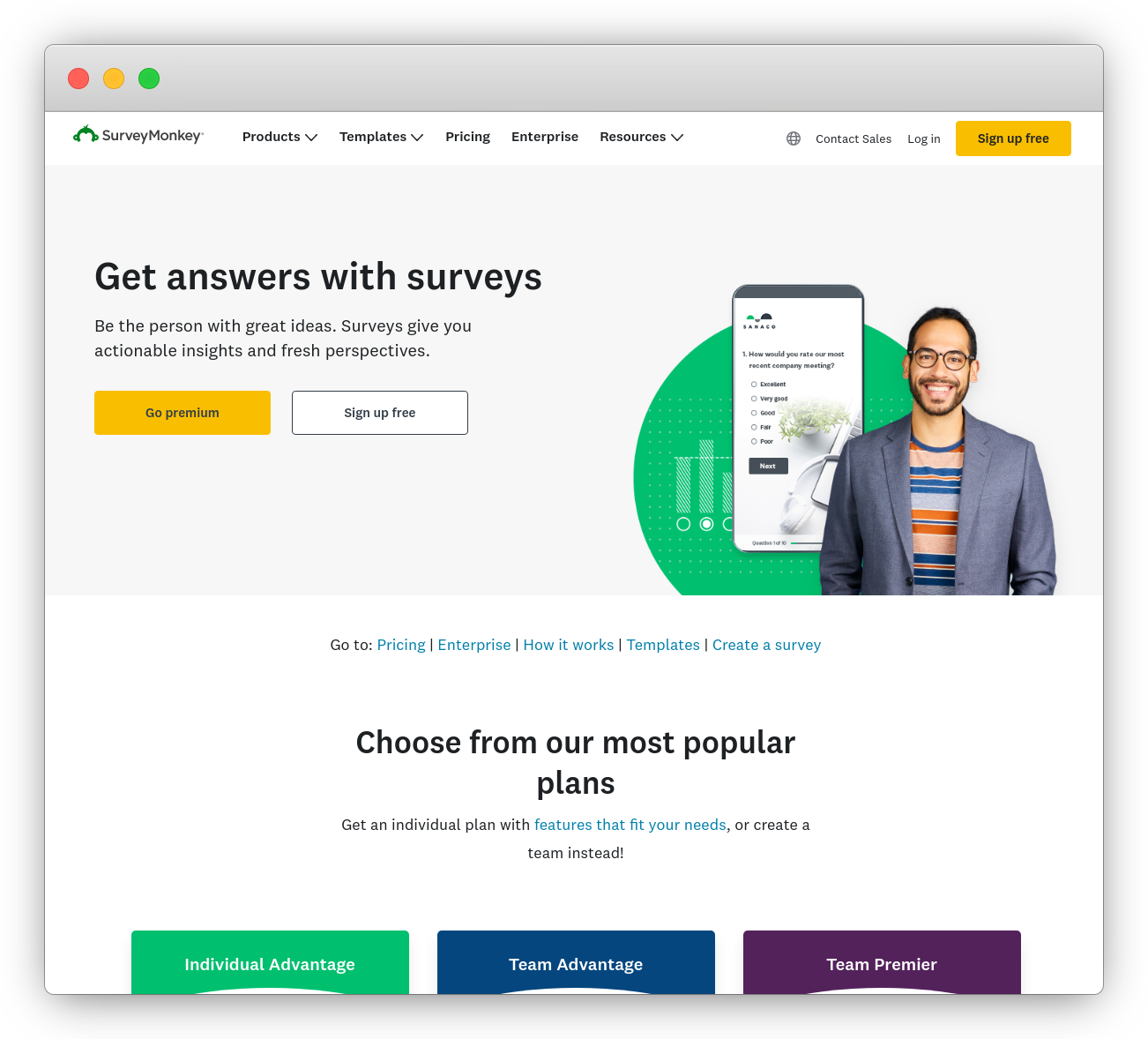 SurveyMonkey Features As A Data Collect App
Design offline and online surveys with conditional logic to personalize the user experience based on responses.

Use multiple channels, including email surveys, website surveys, and social media, to reach a broader audience.

Leverage advanced reporting features like data trend analysis and custom charting.

Choose from a variety of professionally designed templates to kickstart your survey creation.

Access a comprehensive library of pre-written questions and microsurveys, saving time in survey creation

Integrate with popular apps and platforms like Salesforce, Microsoft Teams, and Slack

Collect data in offline mode anywhere, even from a remote location

Quickly and securely collect data even when you don't have an internet

Use it for field surveys at trade shows, conferences, or retail stores

Gather in-person evaluations, and collect surveys from the field, retail stores, etc.

Turn a mobile device into a survey station

Go from the completed survey to the start page automatically and securely

Easy device management
Pricing: You need to contact the sales team to learn about their pricing plan.
#9. FastField
FastField is particularly well-suited for organizations that routinely deal with substantial volumes of data. While the app encompasses many of the data collection features found in similar tools, what sets FastField apart is its capacity to instantly translate extensive data sets or specific data types into comprehensible charts, graphs, or other report formats.
Typically, this task would involve manual data collection procedures, data entry, and analysis. Professionals often spend hours manually gathering data and populating report templates, but FastField automates this process. For instance, when creating a proposal or estimate for a specific project scope, FastField allows you to swiftly input details such as line items for products or services, along with their associated costs, and categorize them as needed.
The app can then promptly export this raw data back into personalized, branded templates that align with your preferences. Furthermore, you have the flexibility to export reports in various formats, including PDFs or Word documents, ensuring that you can provide clients or customers with precisely the documents they require.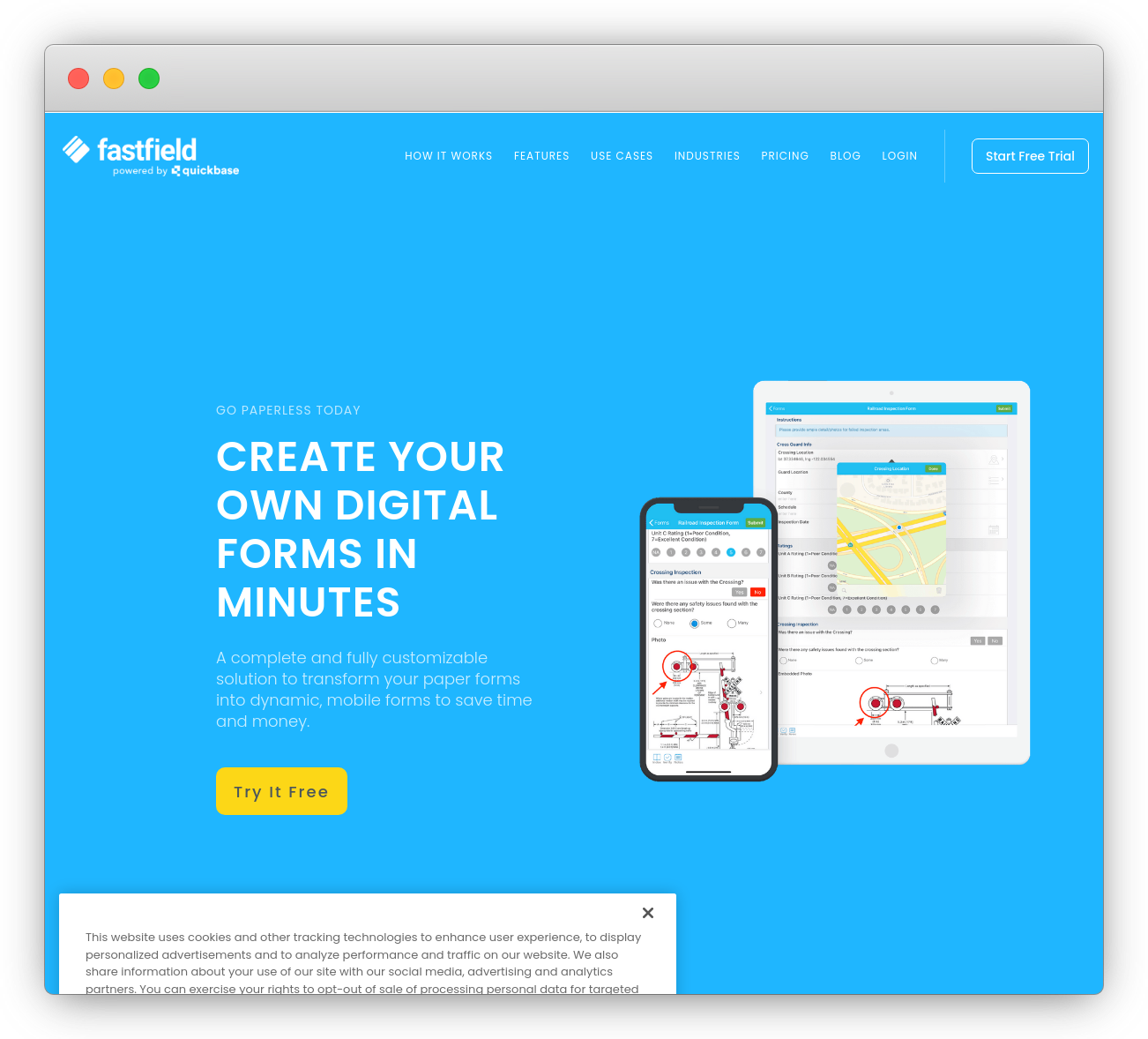 FastField Features As A Data Collection Tool
Create any inspection, checklist, survey or custom business form

Fully Responsive Native Mobile Forms Apps for iPhone, iPad, Android and Web

Highly intuitive User Interface making data collection in the field simpler and more accurate

Route forms, reports and data based on your own custom workflow

Collect data in the most remote locations even without an Internet

Map your existing PDF and Word templates directly to your FastField forms

Capture photos from your camera or photo library and auto-associate them to GPS locations

Configure your forms to automatically enforce compliance and safety checks

Quickly create and track key performance indicators, statistics, and trends
Pricing: The essential plan starts at $25/month.
#10. Fluix
Fluix is one of the most powerful data collection apps, mostly because its easy-to-use drag-and-drop form builder and modern no-code workflow builder make it easy to automate complex data collection tasks.
The platform integrates with apps like Salesforce, Asana, and Slack, and you can automatically trigger a Taskstream based on a webhook, so you could use Zapier to automatically assign an incident preparation plan when it's due to snow.
One of Fluix's standout features is its user-friendly interface, which enables users to design custom forms without the need for coding or technical expertise. These forms can be tailored to specific business needs, from surveys and inspections to compliance checklists and work orders.
The platform also offers advanced features such as digital signatures, GPS tagging, image and document annotations usage data mine, and integration with popular cloud storage services like Dropbox and Google Drive. This makes it easy to incorporate various primary and secondary data collection types and enhance the accuracy and completeness of collected information.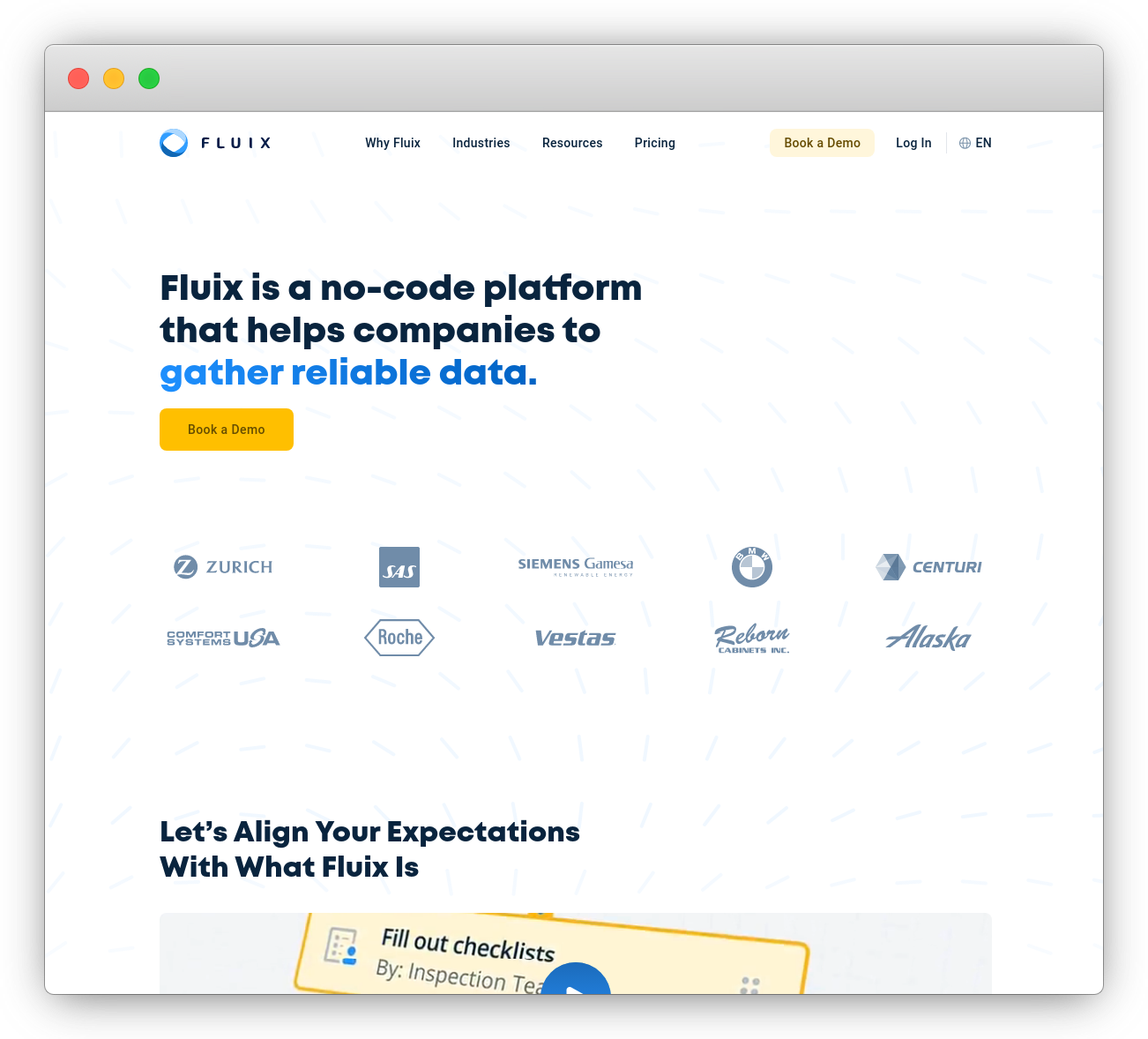 Fluix Features As A Data Collection App
Get a no-code, simple-to-use CX-automation platform

Quickly solve the pain-points of office and field teams

Benefit from lightning-fast deployment, increased productivity through a world-class Support team

Track and automate your routine tasks, giving more space to do meaningful things

Enables field and office teams to effortlessly collect reliable data, structure it, and analyze it

Use Fluix Reporting, or integrate your Fluix account with Microsoft Power BI or Tableau to find valuable data insights
Pricing: The essential plan starts at $30/month.
Wrapping Up
Data collection tools are essential for secure and reliable search. Therefore it is important that you choose a feature-rich data collection tool that gives you accurate reports and a comprehensive review.
It is better to consider using a data collection tool in your feedback and primary data collection methods, or strategy and start gathering primary data and valuable insights.
If you are looking for the right data collection tool or software, why choose a random one? Go for the best data collection tool in the market- Zonka Feedback. It is an all-in-one comprehensive customer feedback and survey platform that make it easy for businesses to reach customers across various touchpoints.
So what are you waiting for?
Try Zonka Feedback for a 7-day free trial or the free plan before going for a paid version.