Paperform stands out as a user-friendly offline software tailored for small businesses. It simplifies the form creation process, enabling even those without a tech background to design professional and polished forms using its customizable, form builder.
Despite its advantages, Paperform might not be the ideal tool for everyone. Its plans are relatively expensive, and they impose restrictions on the number of users and domains for embedding forms.
Thankfully there are a number of tools for offline surveys available in the market today. If you're searching for the best Paperform alternatives then we've got you covered. In this blog, we have listed 8 best Paperform competitors that can help you enhance your feedback collection process and glean invaluable insights.
TL;DR
Teams are looking for Paperform alternatives due to its steep learning curve, expensive pricing plan, intrusive UI, and more.
We have gathered a list of the top 8 Paperform alternatives with thorough market research, key features, and set parameters.
Some of the popular alternatives are Zonka Feedback, SurveyMonkey, Jotform, Falcum, and more.
Apart from Paperform alternative,

we have also shared a list of other platforms and their various alternatives like

Medallia alternatives

,

SurveyMonkey alternatives

,

Hotjar alternatives, Typeform alternatives, GetFeedback alternatives, Cloudcherry alternatives, Jotform alternatives, AskNicely alternatives, InMoment alternatives, Forsta alternatives, Delighted alternatives, Survicate alternatives, Qualtrics alternatives, Uservoice alternatives, Canny alternatives, Nicereply alternatives, Satismeter alternatives, SurveySparrow alternatives, Google forms alternatives, Data collection tools, Forms on fire alternatives, Fulcrum alternatives, and GoCanvas alternatives
To see how Zonka Feedback can be your top choice as a perfect Paperform, sign up for a free 7-day trial or book a demo!
Measure Customer Feedback & User Insights
With Customer Feedback Surveys, understand what users need and learn ways to delight your customers.
#1. Zonka Feedback
Zonka Feedback is one of the best Paperform alternatives that stands out for its unlimited features and ability to function as both online and offline survey software, catering to various businesses and industries. This unique feature sets it apart by allowing users to conduct surveys and collect feedback without a continuous internet connection, making it highly adaptable for various industries and scenarios.
The platform's offline survey functionality proves particularly valuable in locations with intermittent or no internet access, making it suitable for field surveys, events, and trade shows.
Zonka Feedback goes beyond basic data collection and form responses, providing users with a powerful tool to automate workflows, create digital forms, and more engaging surveys tailored to specific needs. The platform's intuitive online feedback form and survey builder also ensure the creation of engaging online forms and visually appealing mobile forms, enhancing the overall user experience for respondents.
Another noteworthy feature of Zonka Feedback is its white-labeling and branding capabilities, allowing users an easy-to-use interface and customized forms to align with their business plan and branding. Furthermore, it excels in analytics and reporting, offering robust tools and various features for businesses to derive actionable insights from the collected data.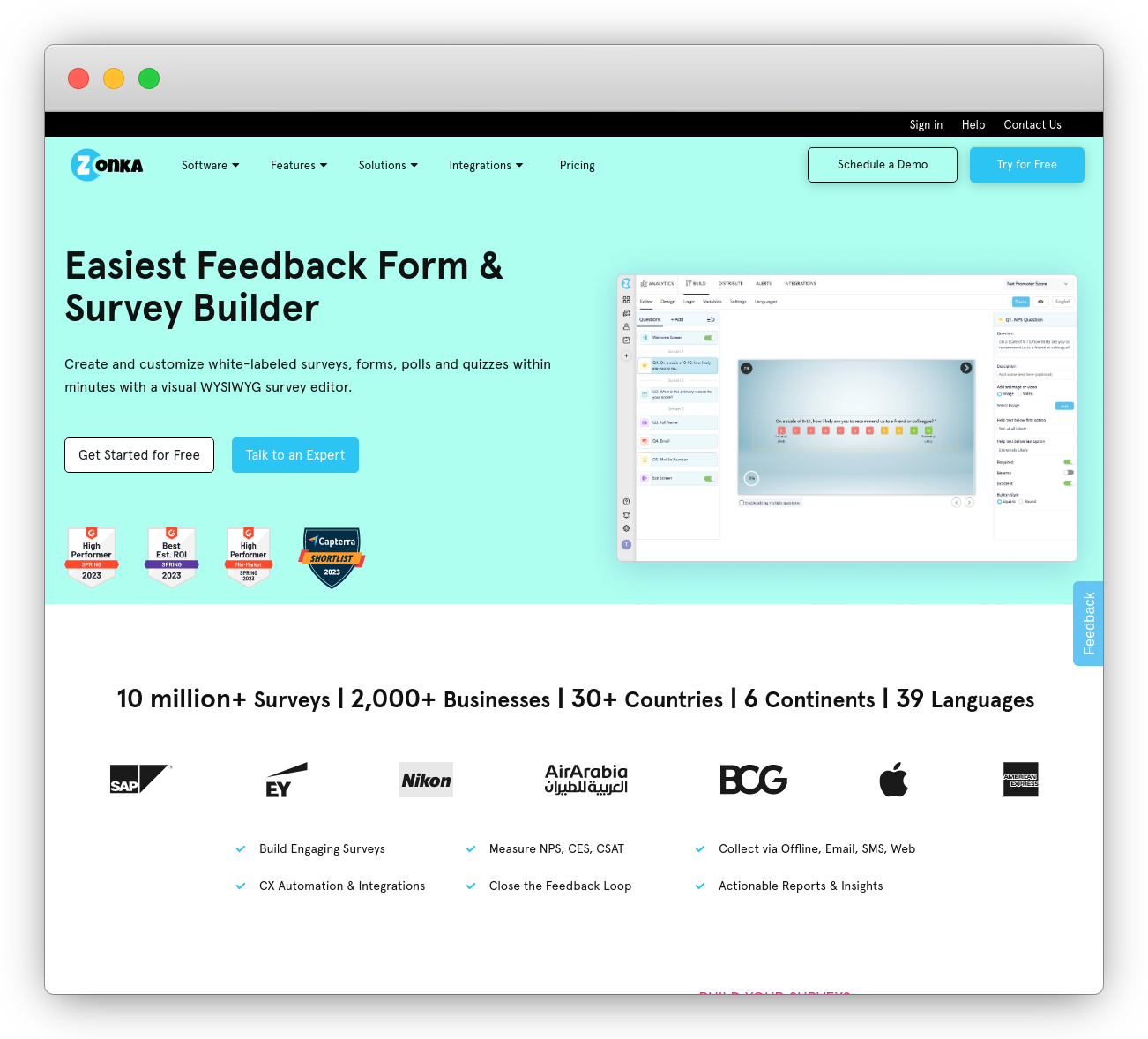 Zonka Feedback Features
Create custom feedback forms to capture customer and employee feedback on-premises

Capture leads using the Offline Survey App at events, exhibitions, conferences, and trade shows.

Create detailed research forms to conduct field surveys and do market research

Turn touchscreen tablets and iPads to Kiosk Feedback Devices to take unattended feedback

Make dynamic surveys engaging through survey logic and branching

View and analyze how Survey Responses and Metrics have changed over time

Analysis and comparison of team member performance on each question and metrics
Pricing:
Offline surveys platform with Front starts free, paid plans are from $15/month
Survey & CX platform with Front starts from $49/ month
Product Feedback platform with Front starts from $39/month
You can also try Zonka Feedback for free for 7 days or take a free plan.
#2. Forms On Fire
One of the notable Paperform alternatives is Forms on fire as the platform is known for its data collection and CX automation features. This offline software enables users to conduct surveys and collect valuable data even in environments with limited or no internet connectivity.
Forms on fire also provide a user-friendly interface for designing surveys tailored to specific needs. The platform prioritizes data security, and collected information is stored securely on the device until a connection is reestablished.
Once an internet connection is available, Forms on fire facilitates seamless data synchronization, ensuring that collected survey and analyze data, contact forms, online call form submissions, and user responses are transferred to the central database in real time.
Forms on fire Features
See what mobile forms will look like on mobile devices with a quick sync

Modify your forms with hundreds of fields using all your favorite shortcut keys

Work offline with mobile forms software without any hassle

Create astonishingly beautiful reports using Microsoft Excel and word

Send your mobile forms data wherever you want

Connect with Zapier to further customize and get real-time instant notifications

Effortlessly perform data exchange between various systems with over 750 advanced integrations

Make use of a workflow management system, with pre-designed routing, rules-driven processes
Pricing:
The essential plan starts at $20/month. You can also try its free plan.
#3. Fulcrum
Fulcrum is the preferred choice for businesses seeking a reliable Paperform alternative. It facilitates a quick and user-friendly process for crafting personalized forms and dynamic surveys, along with conducting on-field data collection through its Android and iOS applications. Fulcrum distinguishes itself as an app geared towards inspections, featuring advanced geolocation capabilities.
This offline software refers to its forms as "Apps," providing the flexibility to either create forms from scratch using an intuitive drag-and-drop form interface or opt for ready-made form templates elsewhere. Additionally, Fulcrum offers a valuable onboarding service, converting template form fields into Apps at no additional cost. Much like other data collection tools, Fulcrum's apps support the collection of various data types, including audio clips, videos, signatures, and scanned barcodes.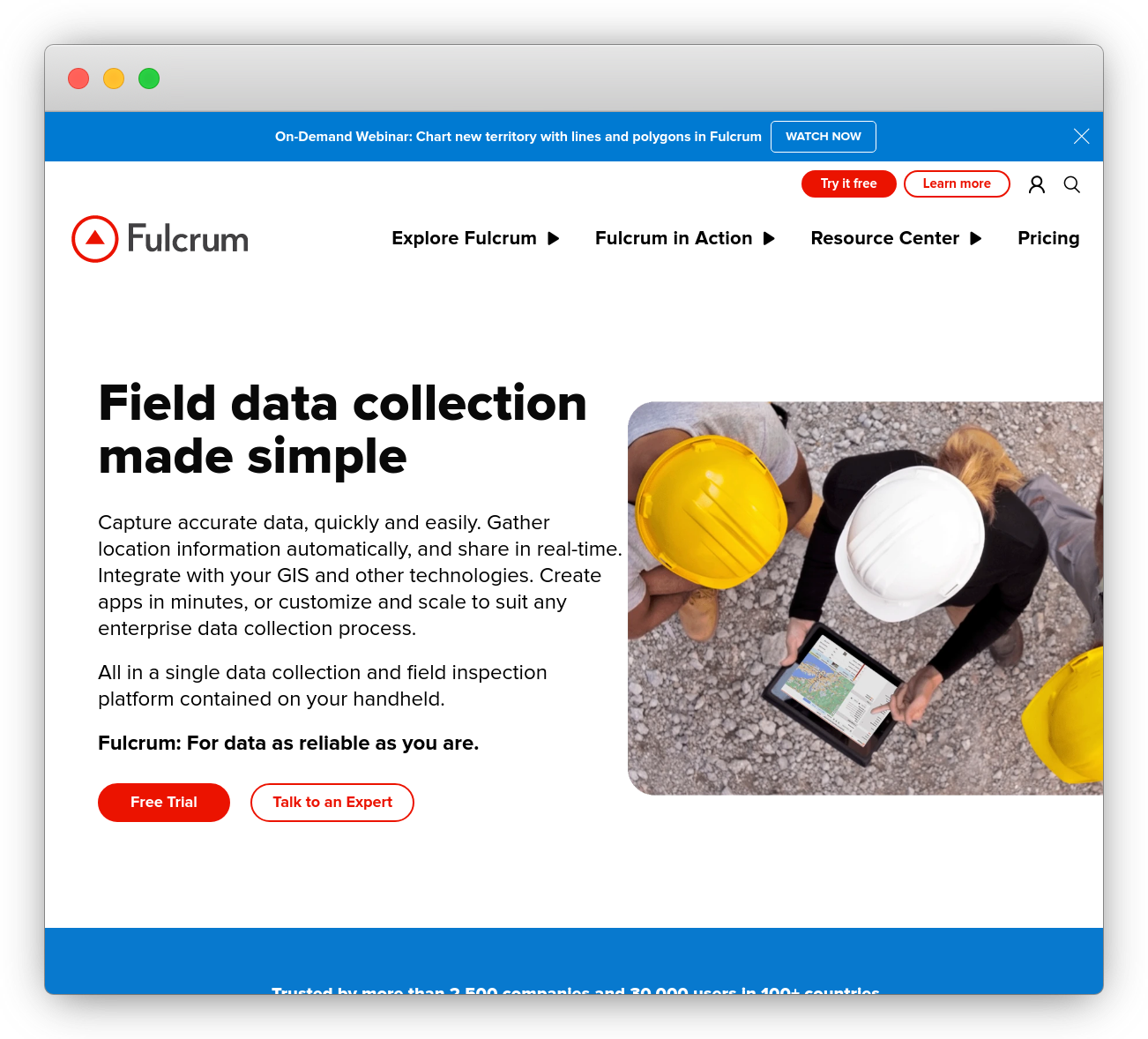 Fulcrum Features
Create custom forms to collect data, referred to as "Apps," using an intuitive drag-and-drop editor

Effortlessly export collected data in multiple formats, including Excel, CSV, and Shapefile, and more

Capture electronic signatures to authenticate and verify data collected during inspections

Generate PDF reports from the iOS or Android app of submitted information

Efficiently scan barcodes using data collection forms
Pricing:
The essential plan starts at $15/month for 5 users in a month. You can also try its free plan.
#4. Jotform
Jotform is the perfect Paperform alternative for individuals and businesses looking to create customized surveys, Google Forms, and questionnaires. With its diverse range of pre-built, form builder, and survey templates, JotForm provides users with a solid foundation and creative inspiration for developing exceptional and effective forms themselves.
Boasting an extensive library of over 10,000 templates that continues to grow, JotForm stands out as a comprehensive choice for various data collection forms. One distinctive feature that distinguishes JotForm is its incorporation of payment forms, offering templates for invoices, charitable donations, subscriptions, and more.
The platform seamlessly integrates with payment processing services like PayPal, Square, and Stripe, facilitating direct fund receipt online payments made through the JotForm application and other platforms, elevating the overall customer experience.
Jotform Features
You collect data offline with powerful survey apps from your phone or tablet

Collect different types of data, like recorded voice, scanned barcodes, geolocation, and more

Get instant push notifications on your mobile device

Automate tedious manual tasks with CX automation and workflows

Collaborate with your team, and get everyone on the same page

Stay notified about form and approval activity, and share feedback
Pricing: The essential plan starts at $34/month; however it also offers a free plan.
#5. Magpi
Magpi is a mobile data collection platform designed for creating and managing forms on mobile devices. This Paperform alternative caters to users, especially in sectors like health, agriculture, and the environment, providing an easy way to generate and administer online forms quickly, conduct surveys, capture GPS-stamped data, gather images, and receive automatic updates.
With its emphasis on mobile functionality, Magpi simplifies the process of creating and deploying smart online forms used for on-the-go data collection. The offline software offers robust features to facilitate personalized surveys, capture diverse data types, and streamline workflows through smart online form forms and online survey tools.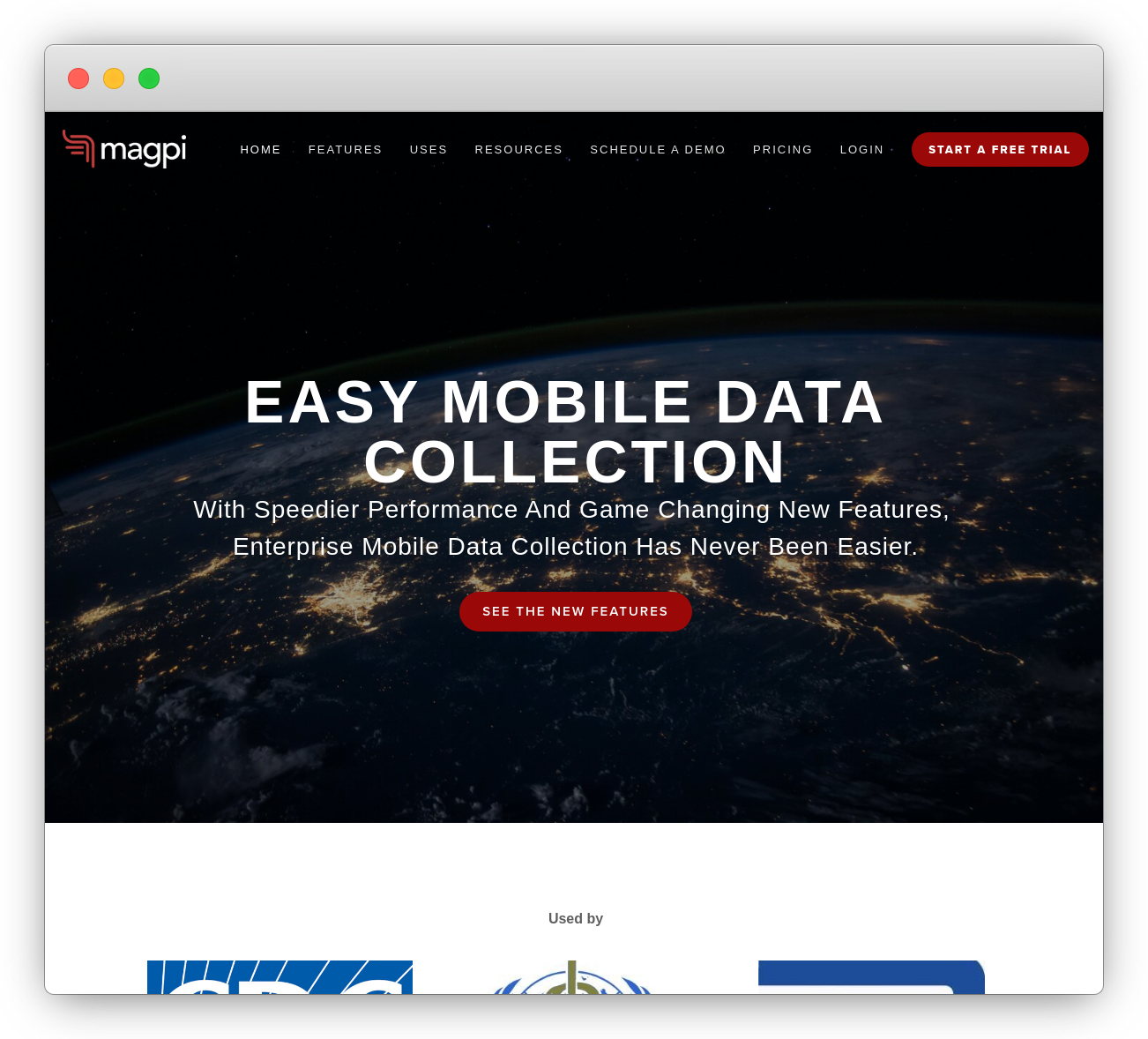 Magpi Features
Empower users to collect data and view it in real-time reporting

Get data analysis and decision-making with a comprehensive suite of data visualization tools

Optimize your team's productivity with our no-code integrations into thousands of online survey tools

Simply create forms using an easy web-based interface

Collect photos, GPS, multiple choice, NFC, barcodes, numbers, subforms, signatures and more

Automatically adjust to display perfectly on desktops, laptops, tablets, and phone
Pricing: The basic plan starts at $250/month. You can also take its free trial.
#6. Go Canvas
GoCanvas is a versatile offline software designed to simplify and streamline the process of gathering, managing, and analyzing data across various industries. With a focus on mobile usage, it is optimized for field data collection, making it particularly valuable for sectors like construction, healthcare, and manufacturing.
The software's mobile-centric approach allows users to effortlessly create custom digital forms using an intuitive, form interface. These mobile forms cover a wide range of business operations, including inspections, work orders, surveys, and more. This Paperform alternative further enhances user convenience by offering ready-to-use survey templates for common data collection needs, serving as a helpful starting point for businesses looking to expedite their data collection processes.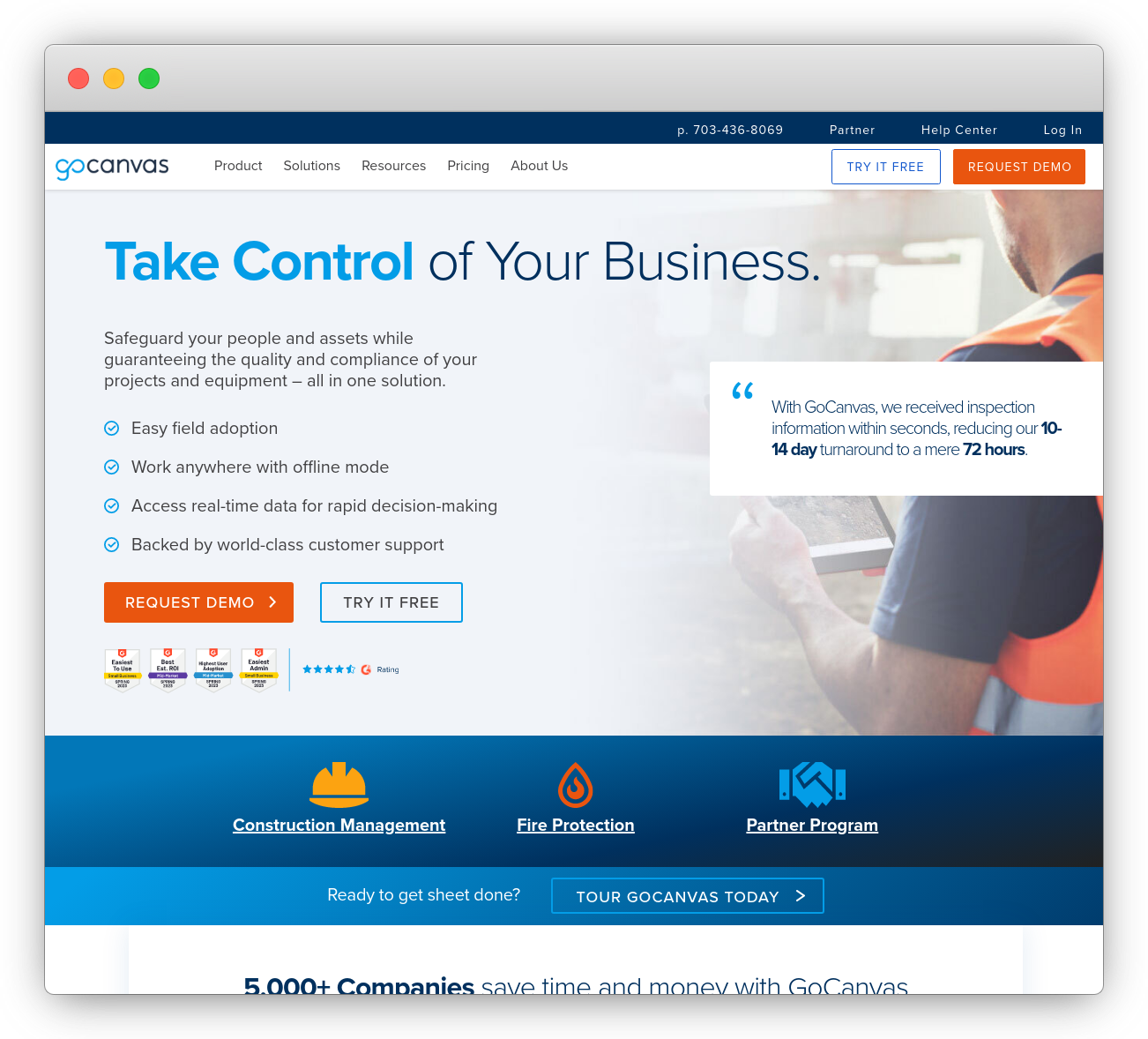 GoCanvas Features
Intuitive drag-and-drop feature to easily reconfigure existing templates

Match your brand. Include links and QR code surveys with a PDF designer

Easy field adoption

Work anywhere with offline mode

Access real-time data for rapid decision-making

Backed by world-class customer support

Manage all facets of your business from the palms of your hands
Pricing: You need to get in touch with their sales team to learn about the pricing plan.
#7. SurveyMonkey
SurveyMonkey is a widely recognized online survey platform that simplifies the process of data collection surveys, and research. This user-friendly tool is celebrated for its intuitive design and comprehensive features, positioning it as a preferred option for individuals and small businesses, seeking a convenient way to create surveys and collect field data.
Supporting unlimited forms and a variety of question types, SurveyMonkey allows users to tailor surveys to their specific research objectives, build forms and collect responses, create engaging surveys, and embed forms ranging from multiple-choice questions to open-ended queries. The platform's library of pre-built survey templates streamlines the survey creation process, with customizable form templates offering ready-to-use starting points for users.
SurveyMonkey Features
Choose from a variety of professionally designed templates to kickstart your survey creation.

Access a comprehensive library of pre-written questions and Microsurveys, saving time in survey creation

Integrate with popular apps and platforms like Salesforce, Microsoft Teams, and Slack

Collect data in offline mode anywhere, even from a remote location

Quickly and securely collect data even when you don't have an internet

Use it for field surveys at trade shows, conferences, or retail stores

Gather in-person evaluations, and collect surveys from the field, retail stores, etc.

Design offline and online surveys with conditional logic to personalize the user experience based on responses.

Use multiple channels, including email surveys, website surveys, and social media, to reach a broader audience.
Pricing: You need to contact the sales team to learn about their pricing plan.
#8. Prontoforms
ProntoForms is an application designed for field survey software, focusing on efficient field service management, on-site data collection, and workflow automation. Its user-friendly platform simplifies field operations and the management of data collection across diverse industries.
The app emphasizes a seamless user interface for effective data gathering in the field, incorporating more advanced features such as smart forms and other advanced data analysis features tailored to sectors such as construction, healthcare, utilities, and more. Users can create customized apps same features and forms to meet specific data collection requirements, promoting productivity and efficiency during remote work.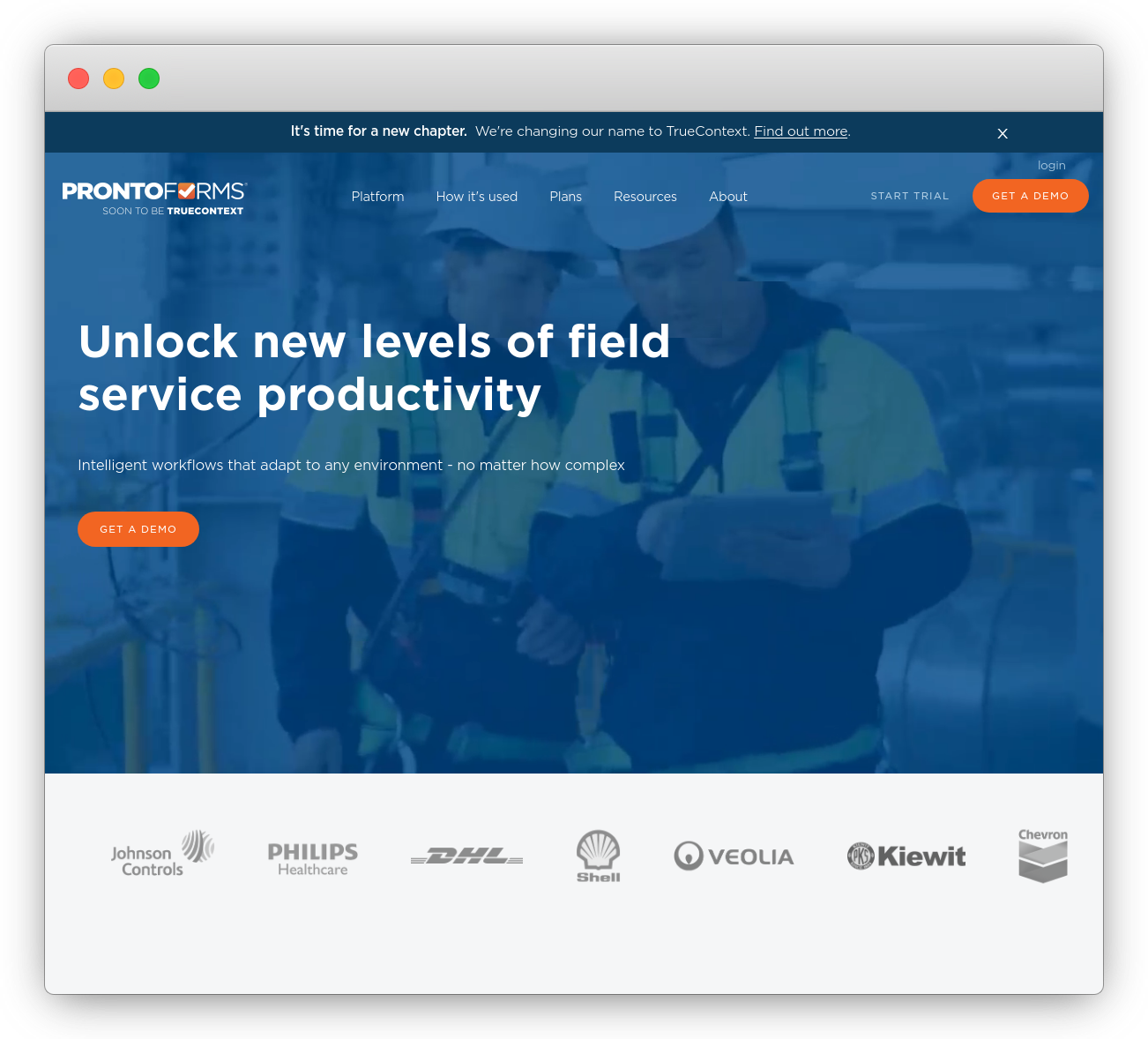 Prontoforms Features
Make data from your systems (FSM, EAM, EHS, CRM, ERP, etc.) available in an intelligent context

Build apps that work seamlessly to exchange data with other apps and business systems

Split your forms into multiple pages, create distinct sections on each page

Get advanced controls, questions, drop-down menus, color-coded button groups, photo/sketch

Create a universal approach to fieldwork with multilingual surveys

Keep pace with continuous feedback and ever-changing service requirements

Get enterprise-grade compliance, security, and scaling requirements

Capture in-the-moment insights on your critical assets
Pricing: You can request a demo to learn about their pricing plans.
Wrapping Up
All these offline software platforms are cost-effective and user-friendly. However, when selecting the most suitable one for your own form and survey building needs, consider the specific type of form builder you intend to create. Opt for the right offline software that not only supports your desired online form builder type but also provides the necessary widgets and functionalities required for business.
If you are still not sure which platform to choose, you can take Zonka Feedback's 7-day free trial. Take advantage of the key features of this cost-effective platform, gather feedback, and get started today!