Data collection is the most important aspect of running a successful business in current times. Accurate data can offer valuable insights, facilitate informed decision-making, and enable ongoing progress monitoring.
Take Amazon, for instance. By meticulously collecting and analyzing data, they've set the gold standard for using information to shape customer experiences.
One of the most important aspects of collecting data is using data collection forms. They are used by professionals across industries, from businesses and market researchers to government agencies and environmental researchers.
In this blog, we will delve into the world of data collection forms and explore their different types, share real-world examples, and introduce you to the tools that make data collection both accessible and powerful. So, let's get started!
TL;DR
Data collection forms are designed to systematically gather specific information for various purposes such as site inspection, auditing, incident reporting, market research, customer feedback, and scientific research, among others.

There are various types of collection forms for data including qualitative, quantitative, primary, and secondary data collection.

Data collection software is used by businesses, auditors, site inspectors, field workers, government agencies, environmental researchers, event organizers, and others.

Some of the best data collection software include Zonka Feedback, Fulcrum, FastField, QuickTap Survey, and Forms on Fire based on their features and pricing.

For accurate data collection and form creation, Zonka Feedback can come in handy with its extensive array of survey templates and powerful features like survey logic and branching, user segmentation, and automation for complex workflows. You can sign up for a 7-day free trial or schedule a demo with this survey data collection tool.
Collect & Measure Customer Feedback 🔥
With Data Collection Forms, understand what users need and learn ways to delight your customers.
What are Data Collection Forms?
Data collection forms are tools that help you gather data in an organized and efficient manner through predefined fields or questions. They are typically used to obtain information about specific topics, and they vary in complexity and purpose depending on the context.
Collected data through these data collection surveys can be used for analysis, decision-making, and various other applications, including the assessment of customer satisfaction and loyalty among users.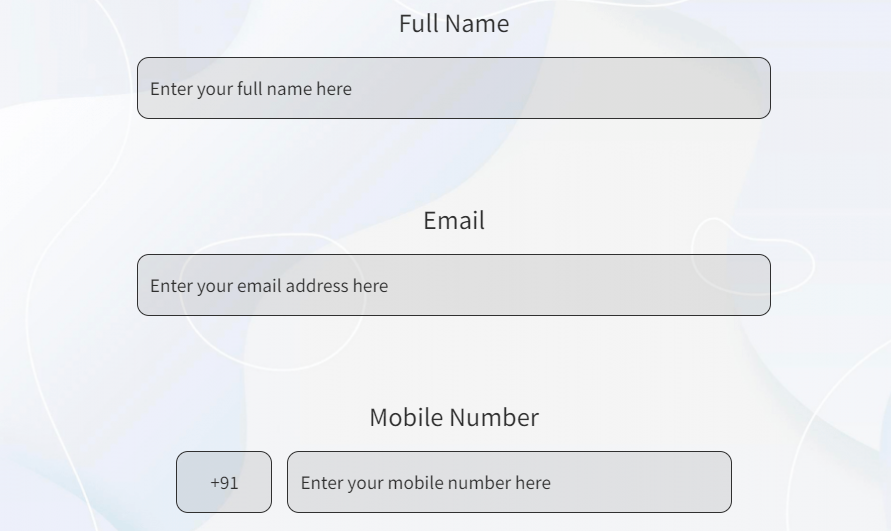 Data Collection Form Examples
Data gathering can be done by using various types of data collection surveys tailored to the specific needs and objectives of the data collection process. Here are some data collection form examples that you can utilize.
Site Inspection Forms: Site inspection forms are used by professionals in different industries such as construction, real estate, and safety compliance. These forms help inspectors gather site or location data and include fields for documenting safety concerns, structural integrity, compliance with regulations, and recommendations for improvements.

Auditing Forms: Auditing forms help auditors systematically review and assess an organization's financial records, internal controls, and adherence to regulatory standards. They include sections for documenting financial statements, identifying areas of concern, and providing recommendations for corrective actions to ensure legal and financial compliance.

Incident Reporting Forms: These forms are used to document and report unexpected events or accidents in various settings. They capture incident details, including date, time, location, involved parties, and descriptions.

Market Research Forms: Market research questions are used to get data on consumer preferences, market trends, and product feedback to make informed decisions.

Online Registration Forms: Online registration forms are used on websites to gather information from users when they sign up for accounts, newsletters, or events. They typically include fields for name, contact information, and sometimes payment details, depending on the registration purpose.

Customer Satisfaction Surveys: Customer satisfaction surveys are designed to collect feedback from customers about their experiences with a product or service. They ask questions related to satisfaction levels, product quality, and suggestions for improvement.

Net Promoter Score (NPS) Surveys: NPS surveys measure customer loyalty and the likelihood of customers recommending a product or service to others. Respondents are classified as promoters, passives, or detractors based on their responses.

Product Feedback Surveys: Product survey questions are used to gather feedback on specific products. They often include questions about product features, quality, and the overall user experience.

Website Feedback Forms: Website feedback forms are used to collect input from visitors about their experiences on a website. Visitors can report bugs, provide design suggestions, and offer insights for improving user experience (UX).

Census Questionnaire: Census questionnaires are used by government agencies to collect demographic and household information from residents. This data is essential for determining population and demographic statistics.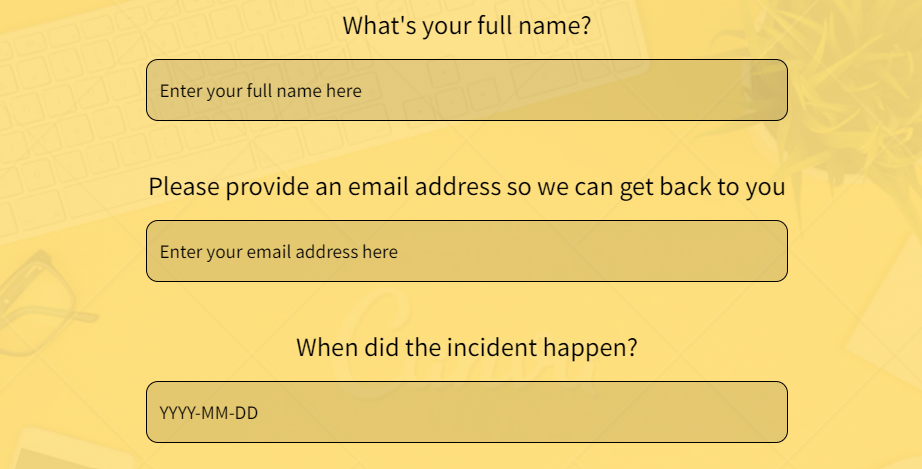 Types of Data Collection Surveys
Survey data collection forms can be categorized into various types based on the nature of the data and the data collection process. Here are its types.
Primary Data Collection Surveys: Primary data collection forms are created to gather original data directly from sources. They are tailored to the specific research objectives and may include questions, scales, or observation protocols. Common applications include surveys, interviews, and observational checklists.

Secondary Data Collection Surveys: Secondary data collection forms involve collecting data from existing sources, such as databases, reports, or previously conducted studies. Examples include data extraction forms for literature reviews and questionnaires for existing datasets.

Quantitative Data Collection Surveys: Quantitative data collection forms collect numerical data. They are used to facilitate statistical analysis and objective measurement. Examples include surveys with closed-ended questions and standardized tests.

Qualitative Data Collection Surveys: Qualitative forms are designed to capture non-numerical data, focusing on descriptive and interpretive information. They are commonly used where in-depth understanding and rich context are essential. Examples include open-ended questions for interview guides and content analysis matrices.
How Does a Data Collection Software Work?
Data collection software primarily follows collecting data from the target audience, storing it in a single place, performing comprehensive analysis, and then making data-driven decisions. It streamlines data entry and enhances data accuracy reducing the chances of errors. Let us look at how it is done.
Data Form/Survey Creation: The first step is to create customized data collection forms or surveys using the software. Specify questions, data types, and formatting based on their specific needs.

Data Entry: On-site personnel or respondents access data forms through web-based or mobile applications (iOS and Android) or even on-site in offline mode. They provide responses to the questions or complete the survey as required.

Centralized Data Storage: The data collected, whether on-site or through online surveys, is automatically centralized in a secure and structured database.

Data Validation: Office personnel, often at the backend, review and validate the collected data. The software may include validation rules to minimize errors in data recording.

Data Analysis: Through the data collection tool, you can perform analysis and generate marketing reports, charts, and visualizations based on the collected data.

Data-Driven Decisions: Insights drawn from the data support informed decision-making in various domains, including business, healthcare, research, and more.
The data gathering software is used mainly by various professionals across different industries. These include:
Businesses and Corporations: For customer feedback, market research, and process optimization.

Auditors: To streamline data collection and reporting during financial audits and compliance checks.

Site Inspectors: To facilitate on-site data collection for inspections, quality control, and compliance assessments.

Field Service Personnel: To collect field data through field surveys in remote locations and do tasks like repair and maintenance.

Environmental Researchers: Collect environmental data such as climate information, wildlife observations, and natural resource monitoring.

Event Organizers: Use data collection platforms for event registrations, attendee feedback, and participant data management.
Advantages of a Data Collection App & Software
The importance of software for data collection can't be emphasized enough in the current times. Here are some of the major advantages of using it.
Data collection tool streamlines the collection of data and entry processes, reducing manual effort.

It allows real-time access to data, enhancing decision-making speed.

It offers tailored forms and surveys for specific needs across various industries.

It supports data collection in remote or offline locations.

It ensures data is stored and transmitted securely.

Many software for data collection integrates with other apps for enhanced functionality.
Top 10 Best Data Collection Software
Let us look at the best data collection forms software that you can benefit from to efficiently gather, manage, and analyze information, streamlining your data-driven decision-making processes and enhancing your overall operations.
1. Zonka Feedback's Omni-Channel Survey Data Collection
Zonka Feedback is one of the best data collection tools tailored for discerning businesses. It has a multi-channel feedback system for real-time user insights, making it one of the best options for collecting data. With this data collection tool, you can say goodbye to traditional paper forms and switch to collecting and organizing data online.
The platform's user-friendly interface, advanced reporting, and collaborative inbox streamline the process of gathering and analyzing feedback data through different types of forms. Moreover, it specializes in mobile data collection and offers integration possibilities, customizable forms with an extensive template library, and offline data collection, providing a comprehensive solution for businesses committed to data-driven decision-making.
Key Features
Deploy our paperless data collection forms across various channels online (email, SMS, website, in-app) and offline like mobile forms and kiosk surveys at any location to collect data-on-the go.

Access 100+ customizable survey templates, suitable for diverse industries and specific CX metrics like NPS, CSAT, and CES.

Create data collection forms on mobile devices to facilitate data collection in the field for lead capture, incident reporting, inspection forms, etc., ensuring accessibility and ease of use at any hour.

Personalize the appearance of data collection forms to incorporate your brand's logo, theme, and images through its robust form builder.

Monitor and analyze real-time data via a dashboard, offering diverse response filtering options, theme tagging, name and comment searches, and more.

Create and customize feedback forms according to specific data requirements, including various field types (text, multiple-choice, dropdowns, etc.) and for various purposes.

Utilize multilanguage support to collect data from a diverse user base for improved inclusivity and enhanced data accuracy and accessibility across various demographics.

In-depth analytics and reporting for easy data analysis, visualization, and generation of reports.

Integrate with other software systems and export collected data for further analysis or use in other applications.
Pricing
Starts at $49/month

Free version is available

Free trial for all the features is available

2. Fulcrum's Field Data Collection & Inspection
Fulcrum is a mobile data collection app, primarily geared towards inspections and advanced geolocation capabilities. It is built on top of Esri, a business- and research-focused mapping service, providing access to advanced mapping capabilities for geospatial field data collection which makes it a valuable tool for businesses and researchers.
Key Features
Allows users to access street, satellite, and terrain base maps and custom map layers and overlays data from various sources, enhancing geospatial data collection.

Collect a wide range of data types, including audio clips, videos, signatures, and scanned barcodes, making it versatile for different data collection needs.

Create custom forms to collect data, referred to as "Apps," using an intuitive drag-and-drop editor.

Effortlessly export collected data in multiple formats, including Excel, CSV, and Shapefile, directly from the web application, simplifying data sharing and analysis.

Generate PDF reports from the iOS or Android app of submitted information and share them through email, SMS, Dropbox, or other compatible apps on their devices.

Capture electronic signatures to authenticate and verify data collected during inspections and data collection processes in the field.

Efficiently scan barcodes to streamline data collection and inventory management during field inspections and assessments.
Pricing
Starts at $15/5 users/month

Free trial is available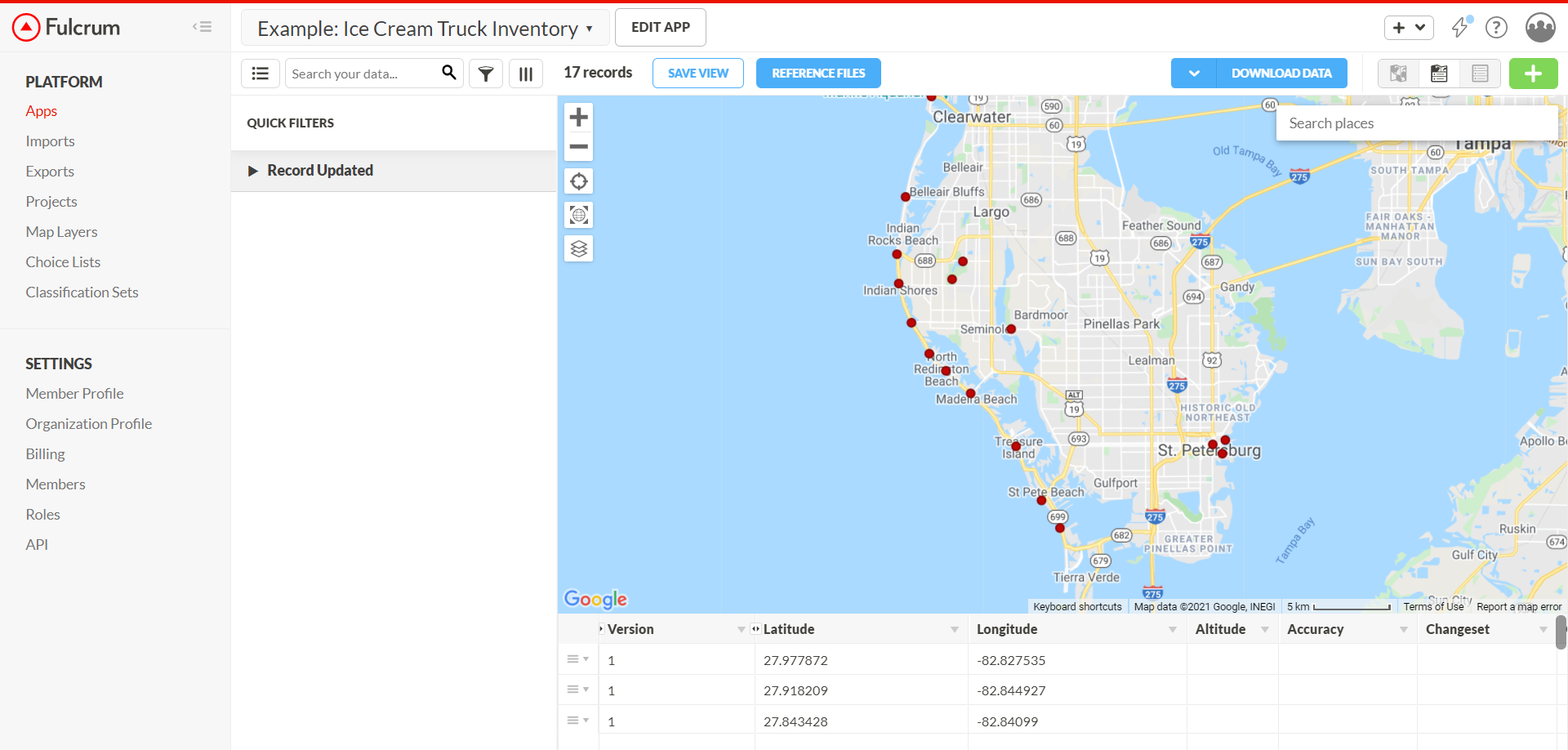 3. FastField's Mobile Data Collection & Analytics
FastField is one of the most popular mobile data collection apps designed to streamline and enhance the process of gathering and managing data in various fields and industries. It offers a versatile platform that allows users to build forms, collect data efficiently, and analyze results with ease.
FastField is known for its user-friendly interface and robust features, making it a valuable tool for organizations seeking to optimize their data collection processes.
Key Features
Create tailored mobile forms effortlessly, with features for adding various data types, including text, images, electronic signature, and GPS coordinates.

Collect data in environments with limited or no internet connectivity, ensuring that data collection remains uninterrupted even in remote locations.

Access the software through mobile device, allowing field teams to collect data on smartphones and tablets, for on-the-go data collection.

Integrate with other apps, enabling seamless data transfer and collaboration across various tools.

Capture GPS coordinates as part of their data collection for applications requiring geospatial information.

Utilize workflow automation to streamline data collection processes, data validation, and follow-up actions.
Pricing

4. QuickTapSurvey's Versatile Mobile Data Collection
QuickTapSurvey is a user-friendly field data collection app designed for businesses and organizations to easily collect, manage, and analyze data in various environments. With its focus on simplicity and efficiency, QuickTapSurvey empowers users to create customized surveys and forms, gather data from offline sources, and generate real-time insights, making it a versatile tool for on-the-go data collection.
Key Features
Design surveys and mobile forms using the intuitive drag-and-drop builder, tailoring them to specific data collection needs without the need for coding.

Use its mobile accessibility on various mobile devices, including smartphones and tablets, enabling users to collect data on the go.

Keep data information up-to-date and accessible for analysis through offline data collection that captures data and keeps it synced automatically for easy access when an internet connection is restored.

Use kiosk mode to transform tablets into interactive kiosks for self-service data collection in public spaces or events.

Export and share data in various formats and integrate with other software systems

Implement conditional logic within surveys, enabling dynamic survey paths based on respondents' previous answers.

Utilize its geospatial data collection to capture GPS coordinates and location-based information.
Pricing
Starts at $41/month

Free trial for 14 days is available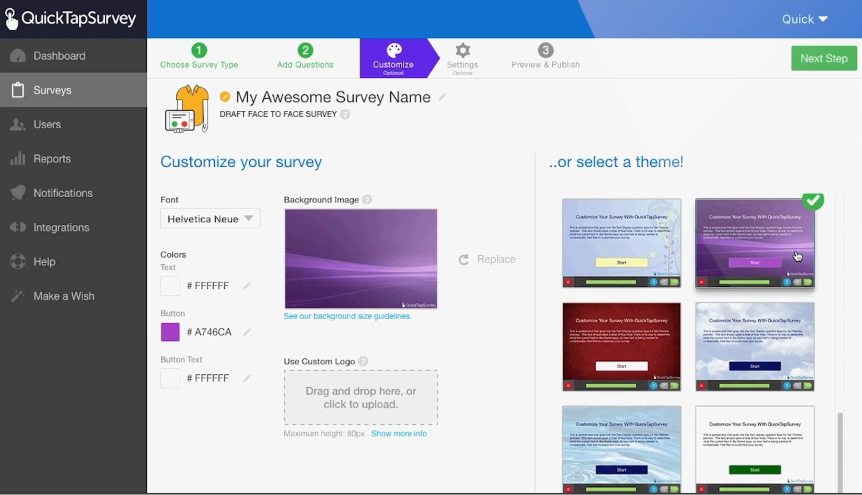 5. Forms on Fire's Mobile App Builder & Integrations
Forms on Fire is a popular mobile data collection app designed to empower businesses and organizations to create, deploy, and manage mobile forms and surveys for data collection in various industries. It offers advanced customization options, offline data collection capabilities without internet connection, and powerful integration features, making it a comprehensive solution for efficient data capture and analysis.
Key Features
Leverage its advanced and feature-rich mobile data collection capabilities to design and deploy highly customized mobile forms and surveys to gather diverse data types.

Collect data without interruption in offline environments, ensuring data integrity and flexibility, even in areas with limited or no internet connectivity.

Utilize its comprehensive reports for in-depth analysis of data and insights to make informed decisions based on the collected data.

Effortlessly perform data exchange between various systems with over 750 advanced integrations, including options like Zapier, Microsoft, Google, Amazon, Box, Dropbox, and Custom APIs.

Get real-time instant notifications, ensuring that they are promptly informed of important updates or data submissions, improving responsiveness and communication.

Make use of a workflow management system, with pre-designed routing, rules-driven processes, and user-defined workflows, streamlining everyday work and automating tasks effectively.
Pricing
Starts at $20/month

Free trial is available
6. Google Forms Free Data Collection Software
Google Forms is a free user-friendly data collection tool provided by Google's suite of productivity applications. It is designed to simplify the process of creating and distributing surveys, questionnaires, and forms for a variety of purposes, including data collection, feedback gathering, and event registration. Google Forms is known for its ease of use, versatility, and integration with other Google services.
Key Features
Leverage its intuitive and user-friendly interface for creating forms and surveys. Add questions, text form fields, multiple-choice options, and more without any programming knowledge.

Personalize your forms to collect data by adding themes, logos, and custom images, to easily align the design with your brand or specific event.

Collaborate in real-time, allowing multiple individuals to work on the same form simultaneously.

Execute response validation and branching logic, to set specific rules for responses, ensuring data accuracy.

Automatically collect responses and organize them in Google Sheets, for real-time access to collected data and the option to perform analysis.

Access the tool on both web browser and mobile device for respondents to complete forms from various platforms.

Forms seamlessly integrate with other Google Workspace tools such as Google Drive, Google Sheets, and Google Calendar, enhancing productivity and collaboration within the Google ecosystem.
Pricing
7. SurveyMonkey's Free Data Collection Surveys
SurveyMonkey is one of the well-established online survey tools that simplifies the process of gathering feedback and conducting research. This free data collection app is known for its user-friendly interface and robust features, making it a top choice for businesses and individuals seeking to create surveys and collect data with ease.
Key Features
Access a comprehensive library of pre-written questions and microsurveys, saving time in survey creation.

Design offline and online surveys with conditional logic to personalize the user experience based on responses.

Use multiple channels, including email surveys, website surveys, and social media, to reach a broader audience.

Leverage advanced reporting features like data trend analysis and custom charting.

Choose from a variety of professionally designed templates to kickstart your survey creation.

Integrate with popular apps and platforms like Salesforce, Microsoft Teams, and Slack.
Pricing
Starts from $18.60/month

Free basic plan is available

If you feel that this data collection software will not meet your requirements, you can check out SurveyMonkey alternatives that can offer distinct and more features.
8. Qualtrics Seamless Experience Management Tool
Qualtrics is a top-tier experience management platform and mobile data collection tool that excels in capturing, analyzing, and acting upon data derived from customer, employee, and product experiences. It's the go-to solution for organizations focused on enhancing service quality and product excellence.
Key Features
Specializes in collecting and analyzing data related to the customer, employee, and product experiences.

Offers advanced analysis tools for assessing product preferences and pricing strategies.

Utilizes text analytics and sentiment analysis to understand customer opinions and feedback.

Offers high-level security features to protect sensitive data.

Create customized dashboards with real-time analytics and visualization.

Collect feedback from multiple sources, including peers, managers, and subordinates.
Pricing
Starting from $1500/year

Free plan available

You can also check out Qualtrics alternatives with similar features if you think its pricing is on a higher end.
9. JotForm's Free Online Data Collection App
JotForm is a versatile online form builder and one of the best apps used for creating surveys, registrations, applications, and more. It's known for its simplicity and flexibility, making it an ideal choice for individuals and businesses requiring customizable forms.
Key Features
Create forms effortlessly using a user-friendly, drag-and-drop interface.

Build smart forms that change based on user responses, enhancing the user experience.

Connect JotForm with popular tools like Google Sheets, Dropbox, and PayPal.

Enhance forms with a variety of widgets, apps, and integrations.

It offers HIPAA-compliant forms for secure healthcare data collection.

Transform online forms into fillable PDFs that works offline.
Pricing
Starter plan is free

Rest other plan starts at $34/month with unlimited number of questions

If you think Jotform does not meet your needs and if you are looking for specialized features, then you can look for Jotform alternatives that can better cater to your specific data collection requirements
10. Zoho Forms User-Friendly Data Collection Surveys
Zoho Forms is an online form builder and mobile data software designed to simplify data collection and streamline existing workflows. It's an ideal choice for businesses looking to create custom forms and automate data collection procedures.
Key Features
Easily build and design forms that match your brand and specific requirements.

Automate tasks and processes with workflow rules and approval processes.

Seamlessly connect with other Zoho apps, such as Zoho CRM and Zoho Analytics.

Collect data offline through offline surveys, making it ideal for fieldwork and remote locations.

Generate insights through data analytics and custom reports.

Make forms in multiple languages for a global audience.
Pricing
How to Create and Use a Data Collection Form on Zonka Feedback?
Creating a customer data collection form with Zonka Feedback is super easy and requires minimal effort. By creating the form, you can collect data as per your survey goals across various industries whether it is to measure customer satisfaction, calculate Net Promoter Score, allow people to report an incident, or perform an audit. Let us look at the process of how you can do this.
Step 1: Log in to your Zonka Feedback Account
Register and login to your Zonka Feedback account and click on the 'Add Survey' option.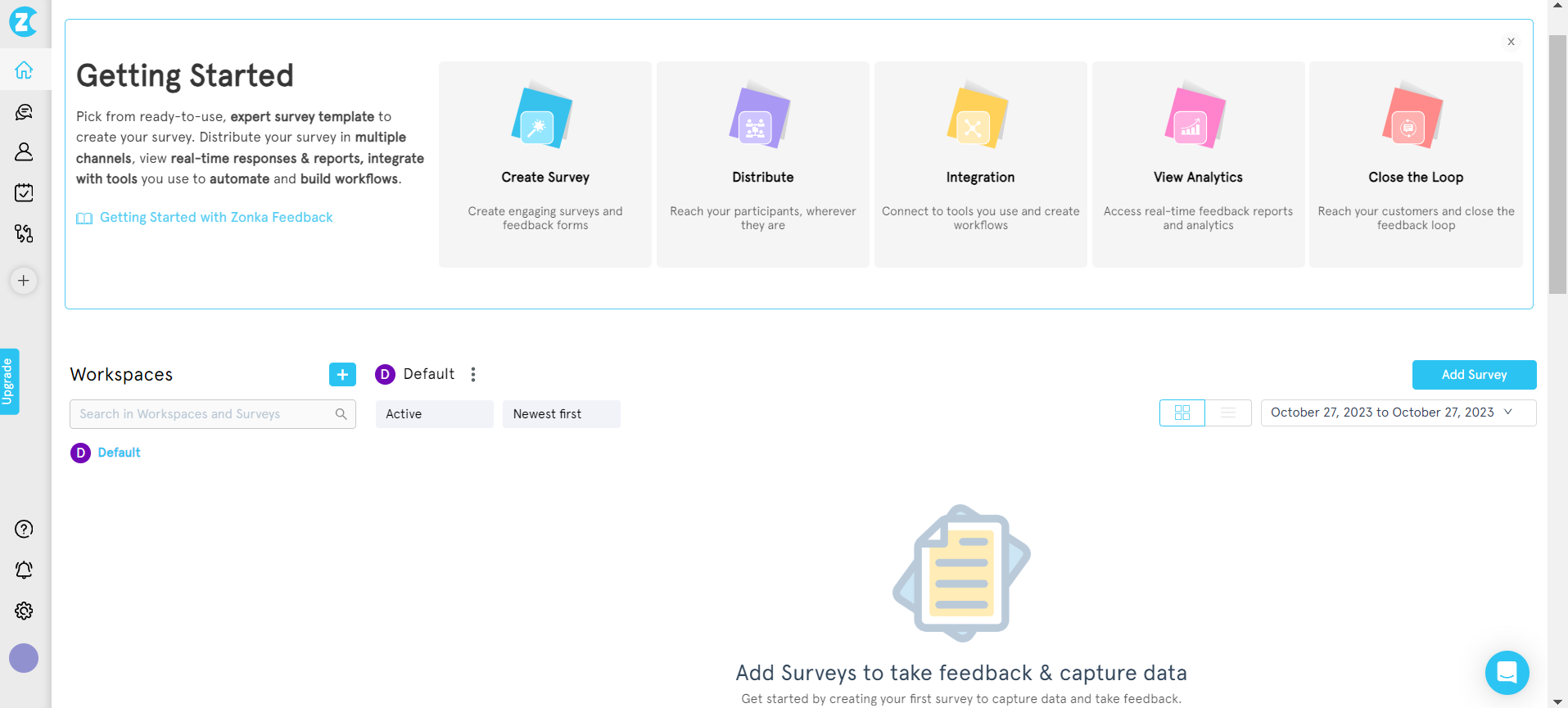 Step 2: Select the Data Collection Form Template
Select the template of your choice from the option provided or click on 'Start from Scratch' if you want to create your own survey.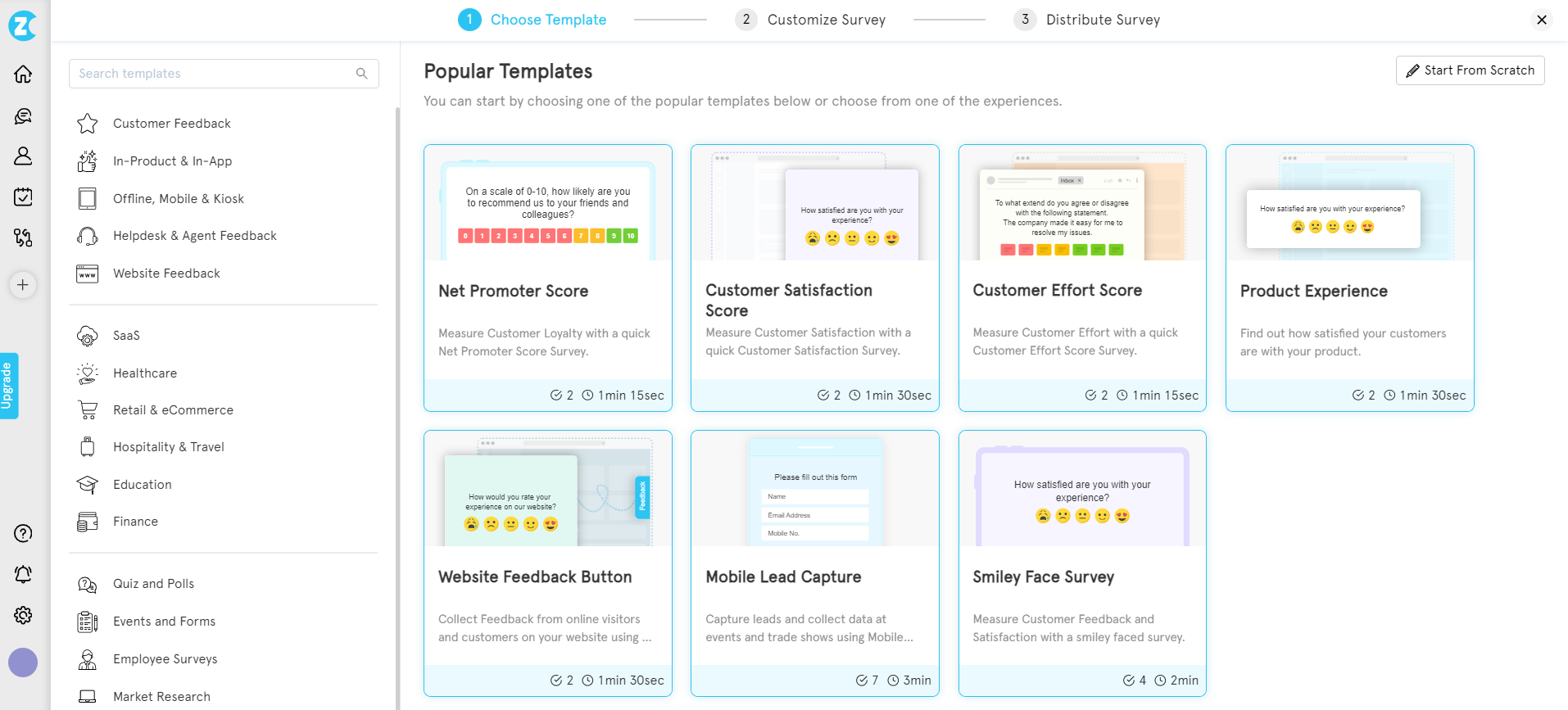 Step 3: Select the Distribution Option
A preview of the selected survey template will appear. Click on the survey collection channel on the left-hand side based on how you want to share forms (offline, website & in-product, email, SMS, in-app mobile SDK, Link & QR code).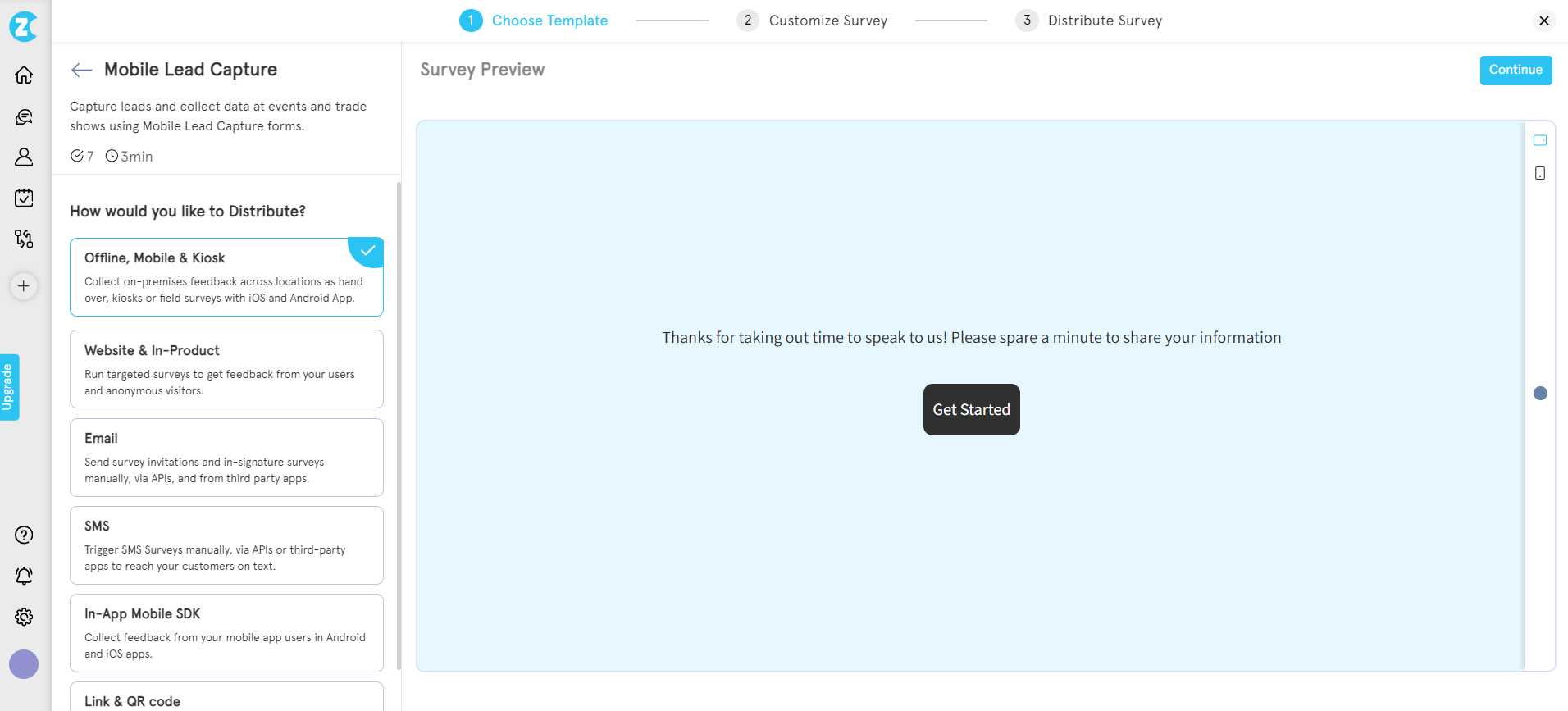 Step 4: Customize your Data Collection Form
Edit the survey and explore other functionalities like survey logic, design, variables, etc. You can also add a question, reposition it, choose rating and scales, and contact information to your survey here.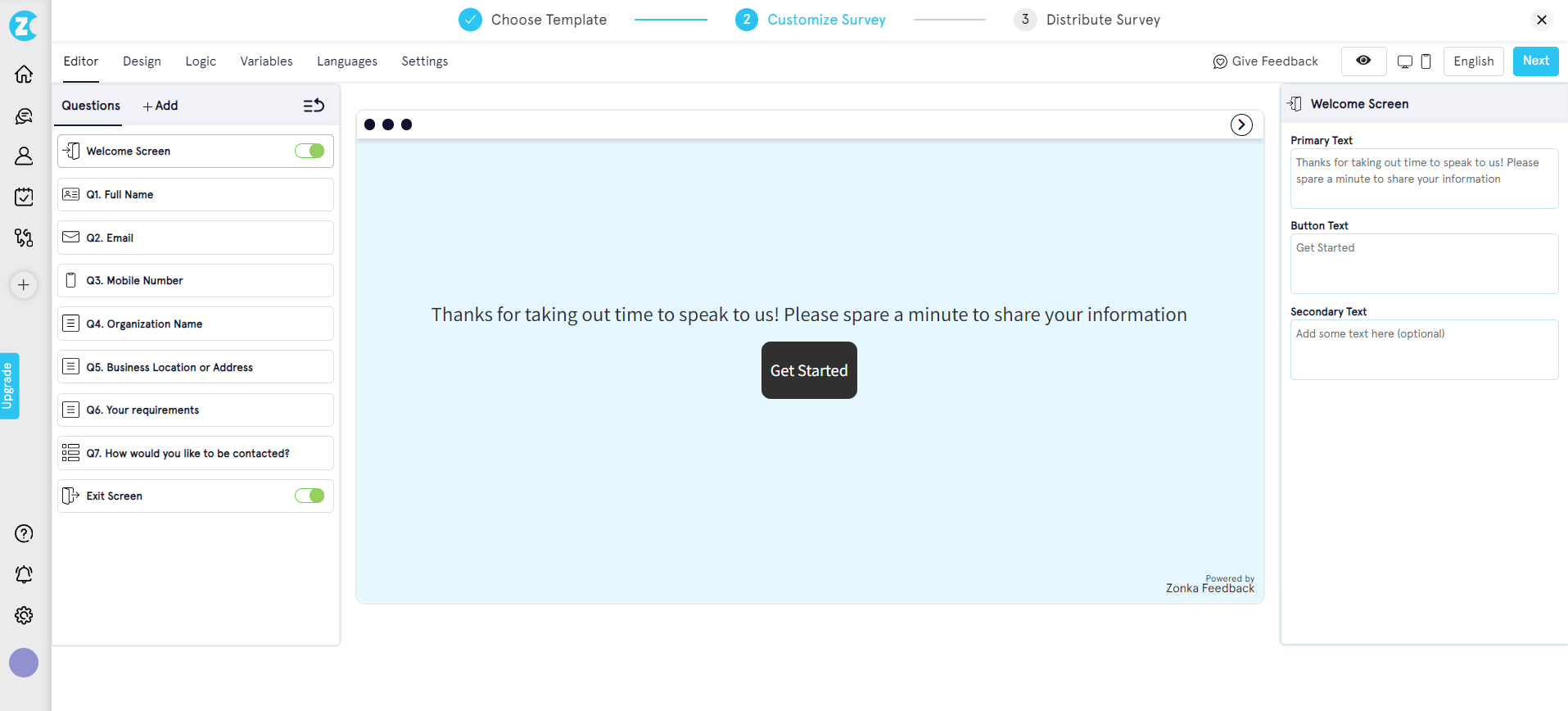 Step 5: Optimize Distribution Channel Selection
Whether you have chosen offline as your data collection form distribution or email or website or SMS, provide contact details like email or mobile number for offline, recipients for email and SMS, web widgets for website and in-product, configuration details for in-app SDK or link and QR codes.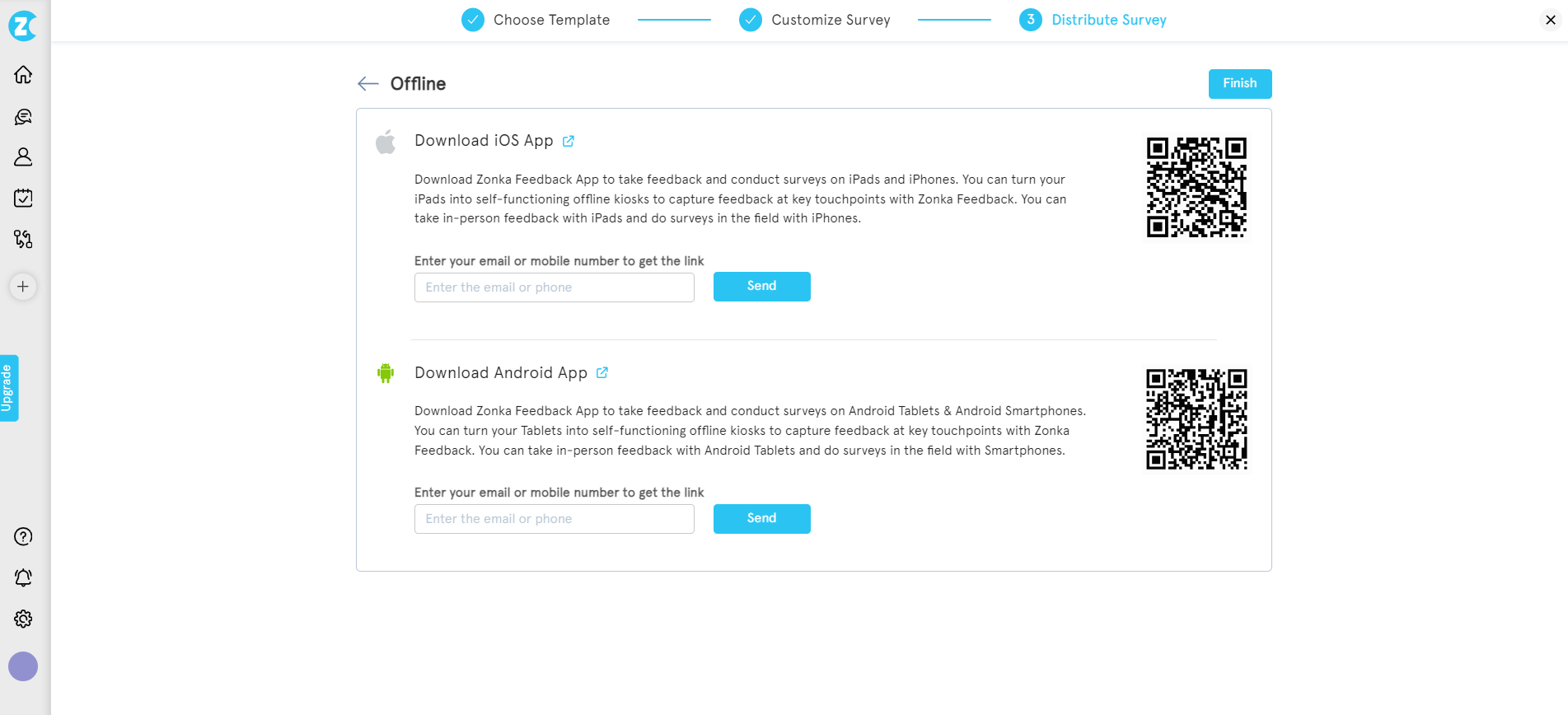 You can also perform user segmentation at this stage. For instance, if you want to display your customer data collection form on the website only to those customers who have not taken the survey in the last month, go to 'Contacts and Segment' on the left side, select 'Segments', and add a segment. Fill in the details and conditions as required.
Come back to your feedback form configuration page, select 'Segmenting', and choose the segment that you created from the drop-down menu.
By following the mentioned steps, your data collection form will be created and shared with your selected target audience.
Conclusion
Data collection forms play a pivotal role in modern information management. Whether you're gathering customer feedback, conducting research, or streamlining business processes, the right data collection form can make all the difference. These digital tools have revolutionized the way we collect, manage, and analyze data, offering efficiency, accuracy, and flexibility that paper forms simply can't match.
With the best data collection app and survey software like Zonka Feedback, you can easily create and share your data collection form. From on-site data recording to seamless synchronization with a central database, it streamlines the entire process of data collection, saving time and reducing the risk of errors. Moreover, you can analyze data in real-time, take action and close the feedback loop to make data-driven decisions.
If you are looking for software tools specialized in performing tasks other than just data collection, you can check out our articles on best survey apps, offline survey tools, NPS tools, customer satisfaction tools, market research tools, visual feedback tools, product feedback tools, in-app feedback tools, CSAT software, and website feedback tools.
Sign up for a 7-day free trial and see how our survey software works for your data collection goals!