Form building is an essential part of data collection, and Jotform is a top-rated tool in this domain. It is known for its easy-to-use custom online forms that don't require any coding knowledge.
But, no matter how popular Jotform is, not all businesses are satisfied with this online survey tool.
The online form-building platform has some downsides that many of the other form builders and tools in this list tend to overcome to provide a better experience.
If you're looking for the top Jotform alternatives that share a similar purpose but offer a distinct experience, here is the list for you.
TL;DR
Teams might look for an alternative to Jotform due to an unintuitive PDF builder, limitations in widget placement, form positioning issues, and a slightly complicated UI.

We have crafted a list of 14 top Jotform alternatives through set parameters based on an intuitive interface, design, customization, and price model.

Some of our top alternatives to Jotform are Zonka Feedback, Google Forms, Prontoforms, Zoho Forms, Paperforms, Typeform, and more.

Apart from that, we have also covered other platforms like Medallia alternatives, Hotjar alternatives, SurveyMonkey alternatives, Qualtrics alternatives, SurveySparrow alternatives, and Typeform alternatives.

As an alternative to Jotform,

Zonka Feedback provides you with comprehensive feedback solutions, omnichannel collection, enhanced security, and advanced analytics. S

ign up for its 7-day free trial or book a demo today!
Measure Customer Feedback & User Insights
Try the best Jotform Alternatives to understand what users need and learn ways to delight your customers.
Our list of Top Jotform Alternatives
There are tons of online form builders with paid plans available today that have the potential to make this list of Jotform competitors, but here are the 11 best options.
#1. Zonka Feedback Online Form & Survey Builder
Zonka Feedback online form builder and survey software allows you to create and customize forms, polls, quizzes, white labelling & branding for surveys all at the tip of your finger. It enables you to predict how happy your customers are with a recent experience they had with your brand.
Apart from choosing 30+ question types, you can also build forms from scratch or choose from 100+ templates. The best part is you can preview the form in real-time, as you build it. Customizing a theme or adding a logo is so simple with Zonka Feedback form builder.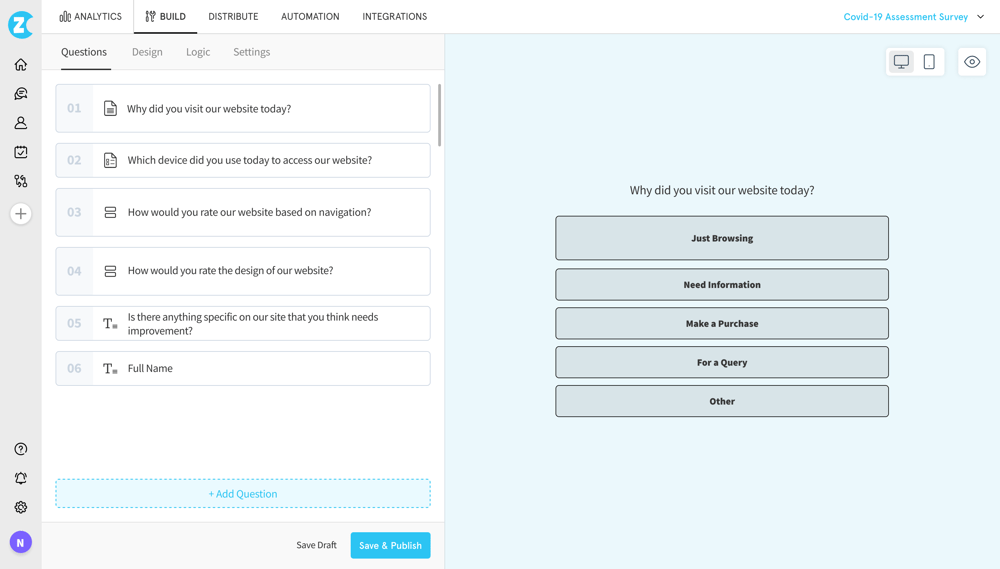 The tool also excels in multi-language forms that enable you to ask questions in the language your respondents speak. Its conditional logic feature is a game changer as it streamlines forms and makes the user experience smoother than ever. The platform's specialty in marking important questions in contrast to Jotform, and making smart & and interactive forms make it a versatile choice.
Zonka Feedback Vs Jotform
Zonka Feedback provides users with stand-out feature: the ability to white-label the forms and add their company branding. With Zonka Feedback, you can even pass hidden data and information with variables that users of Jotform have longed for.

A feature that Zonka Feedback and Jotform collide is the multiple feedback questions. With Jotform you can only add up to four questions at a time; in contrast, Zonka Feedback allows you to add as many questions as needed.
Both Zonka Feedback and Jotform provides online form builder; however, users can remove Jotform branding only in paid tires. The pre-fill data option helps respondents to have a personalized experience with a focus on submitting the needed data.
Zonka Feedback also gives you a website feedback button option to capture customer survey responses on the website itself.
Zonka Feedback Features
Create and customize forms, white-label forms, polls, and quizzes within minutes
Create forms and gather data without any technical knowledge or coding required
Choose from a range of 30+ question types available
Build forms from scratch or choose from 100+ form templates
Preview forms in real-time, as you build it
Add brand logo, colors, and theme as required
Add contact attributes as form questions to populate better contact profiles and a detailed report
Add conditional logic as required in the form
Display pre-filled survey fields to respondents while filling out forms
Pricing: The initial plan starts at $49, billed annually. You can also sign up for its 7-day free trial.
#2. Typeform
As one of the best alternatives to Jotform, Typeform helps users turn forms into a fun and friendly conversation platform. Whether for feedback, lead generation, surveys, or quizzes, Typeform focuses on providing visually appealing customized forms.
Typeform Vs Jotform
Typeform gives you unlimited forms in its paid version while Jotform only offers 25 forms in a $34 plan.
The platform also gives users a question-by-question drop-off analysis feature for a better view and insight into each form submission as compared to Jotform.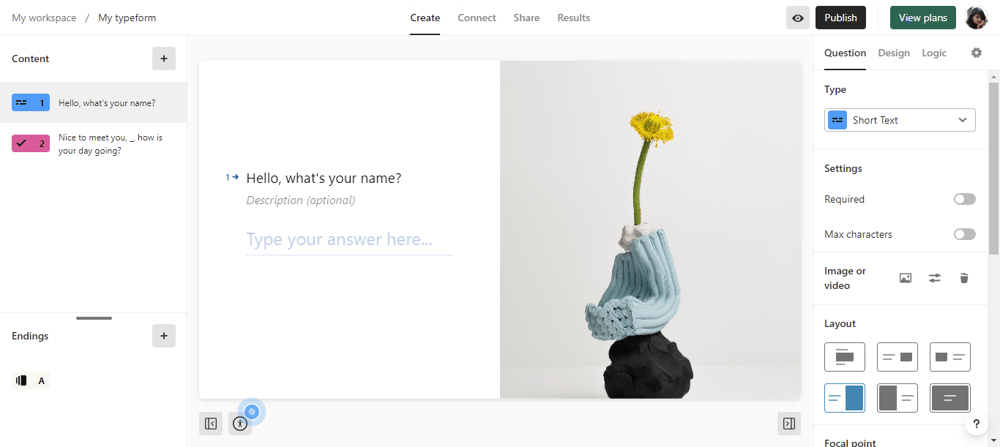 Typeform Features
Offers more conversational, engaging, and interactive forms
Create payment forms with logic branching, ensuring a personalized experience
Get advanced question types, multiple choice, dropdowns, ratings, and more
Offers a range of pre-designed templates for different use cases
Provides real-time reporting and analytics for better insights and informed decision
Check out our list of Typeform alternatives

if you are looking for more options
Pricing: The paid tiers in Typeform start at $25, billed annually.
#3. Formstack
Formstack is one of the top alternatives to Jotform that allows users to grow their organization with its user-friendly and advanced features. One can easily create forms, customize them, and go live within minutes.
Formstack Vs Jotform
Conditional logic is one of the common features that both Formstack and Jotform offer; however, with Formstack users can share collected data in all the plans.
Another feature that you get with Formstack is the Smart List option. The option is handy to use as it lets users manage multiple lists of information in a single location.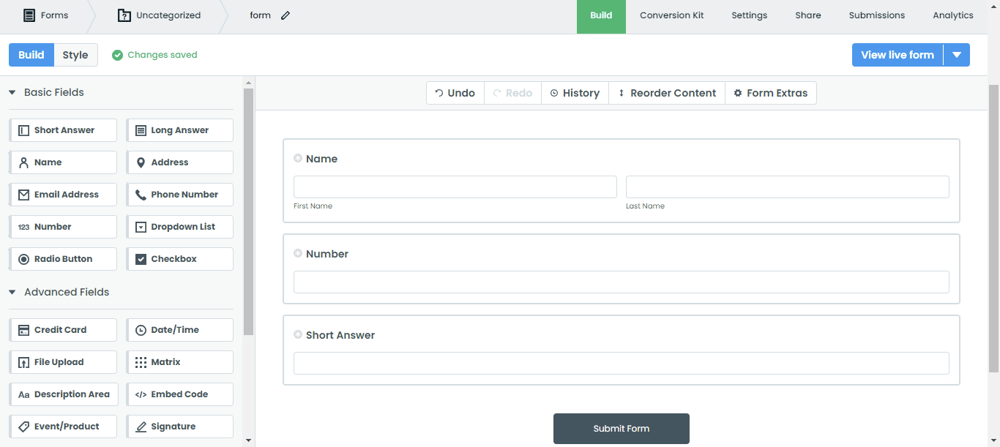 Formstack Features
Building forms, customizing the design, and going live in minutes
Import your traditional forms using Formstack's form builder
Display one question at a time for a better mobile experience
Use condition logic to create smart forms
Easily upload documents, files, photos, music, and more through forms
Pricing: The basic plan for Formstack starts at $50/ month, billed annually.
#4. GoCanvas
One of the top Jotform alternatives is GoCanvas if you aim to collect data mainly through mobile. The platform offers pre-built form templates, seamless integrations, and intuitive drag-and-drop workflows to fit your unique operational needs.
GoCanvas Vs Jotform
With GoCanvas you get 30,000+ forms as compared to 10,000+ forms with Jotform. GPS tracking is another standout feature you get with GoCanvas that enables users to keep a tab on all equipment.
While Jotform's advanced analytics feature is similar to GoCanvas, the later is a better option when you want to mitigate risks, increase revenue, and gain insights to make data-driven decisions.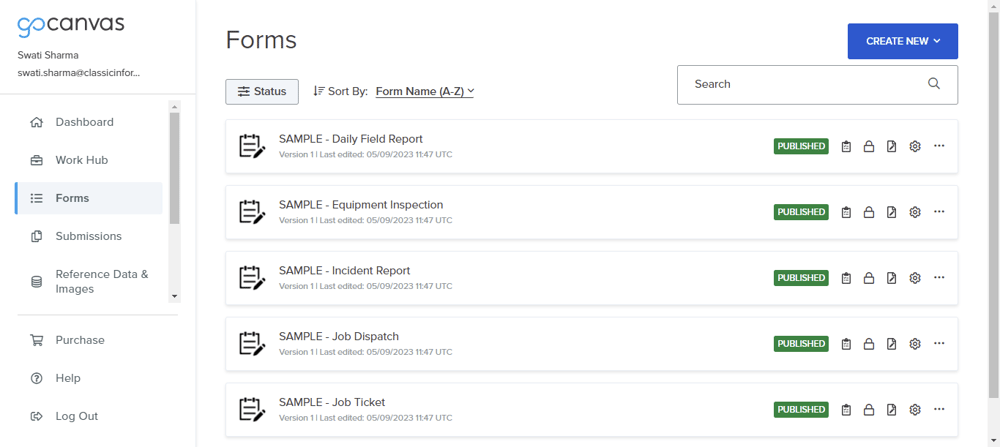 GoCanvas Features
Create and customize forms from a library of 30000+ pre-built forms
Get an intuitive drag-and-drop option to build forms from scratch
Pre-populate with known data to save time
Take, edit, and attach your photos as progress reports
Get a clear view of your organization and drive success with analytics
Pricing: You need to get in touch with an expert to know about the plan features. You can also try its free trial.
#5. Prontoforms
As one of the alternatives to Jotform, Prontoforms provides the best-in-class mobile forms option. The platform increases your visibility and lets you stay updated even on the fieldwork, compliance, and incidents.
Prontoforms Vs Jotform
Unlike Jotform, Prontoforms offers a multilanguage workflow creation feature with unlimited forms within a smart workflow. You can have multiple forms and also add a maximum of 250+ questions in a single form.
The platform also offers a "repeatable section" that enables users to capture data as multiple line items such as parts, numbers, costs, and more required for a job.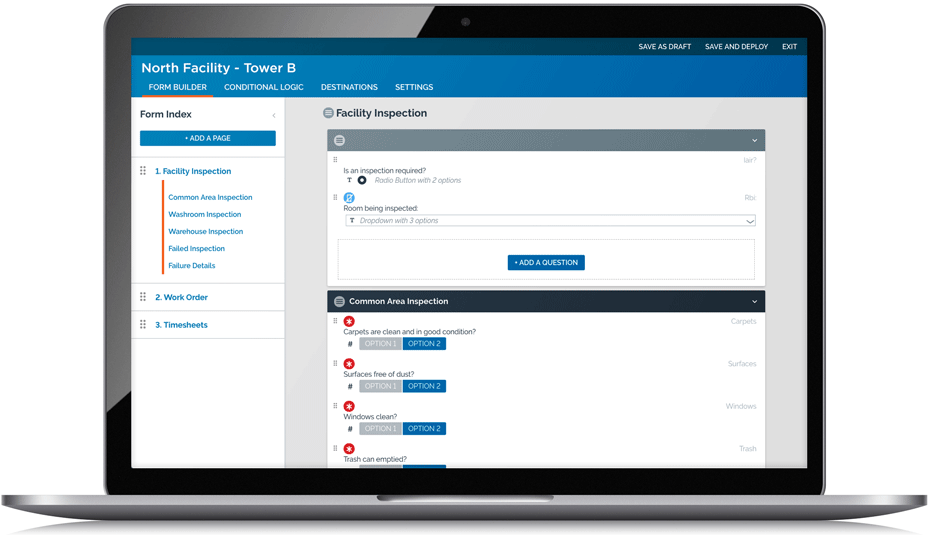 Protoforms Features:
Create a best-in-class field experience for complex workflows
Real-time decision-making across the service organization
Deploy your first workflow in hours and iterate in real-time
Split your forms into multiple pages, create distinct sections on each page
Pricing: You can request a demo or start with a trial period with Prontoforms.
#6. Forms On Fire
Forms On Fire is a powerful mobile data collection platform that enables businesses to create and deploy customizable feedback forms for various purposes such as ease of collecting data and improved workflow.
Forms On Fire Vs Jotform
In terms of similarity, both Forms on Fire and Jotform provide pre-built form templates to users. However, with Forms On Fire, the number of designs to choose from for different industries is more than Jotform.
You also get enterprise feedback management software like GPS, mapping, NFC, OCR, and more with all its plans. One can even private label the forms and change them as per needs without any mention of Forms On Fire.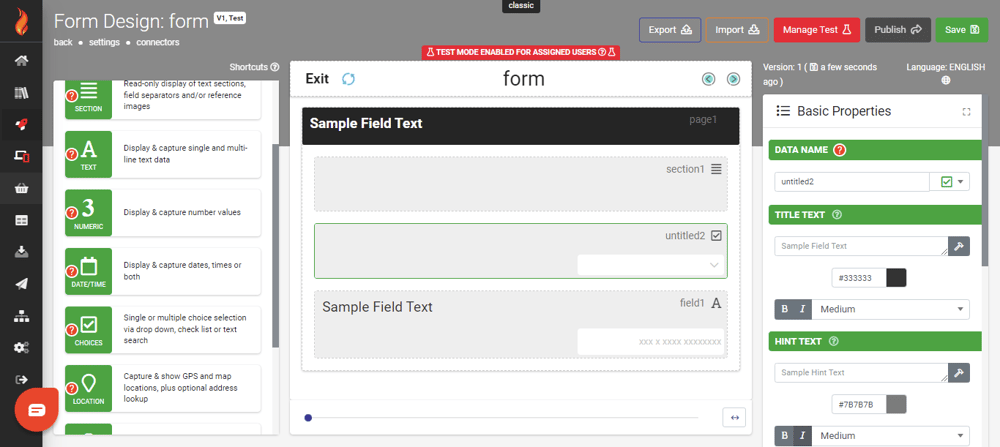 Forms on fire features
Get work done from anywhere, online or offline, with easy-to-learn native apps
Optimize in the field with barcode scanning, signature capture, GPS locations, and integration
Take advantage of the out-of-the-box form templates and personalize it
Work intelligently and continuously improve your business through performance analytics
Pricing: The initial plan starts at $20 per month, billed annually.
#7. Zoho Forms
Zoho Forms is part of the Zoho software suite, that helps users with customizable themes, situation-specific templates, and a simple user interface to create beautiful forms.
Zoho Forms Vs Jotform
As the best Jotform alternative, Zoho Forms allows you to collect data from social media, email campaigns, SMS, and more. It also allows you to trigger conditional email or SMS notifications from the forms whenever a new record is submitted or updated.
One of the key features is the field validation option that enables respondents to avoid duplicates or repetitions in their responses in the form.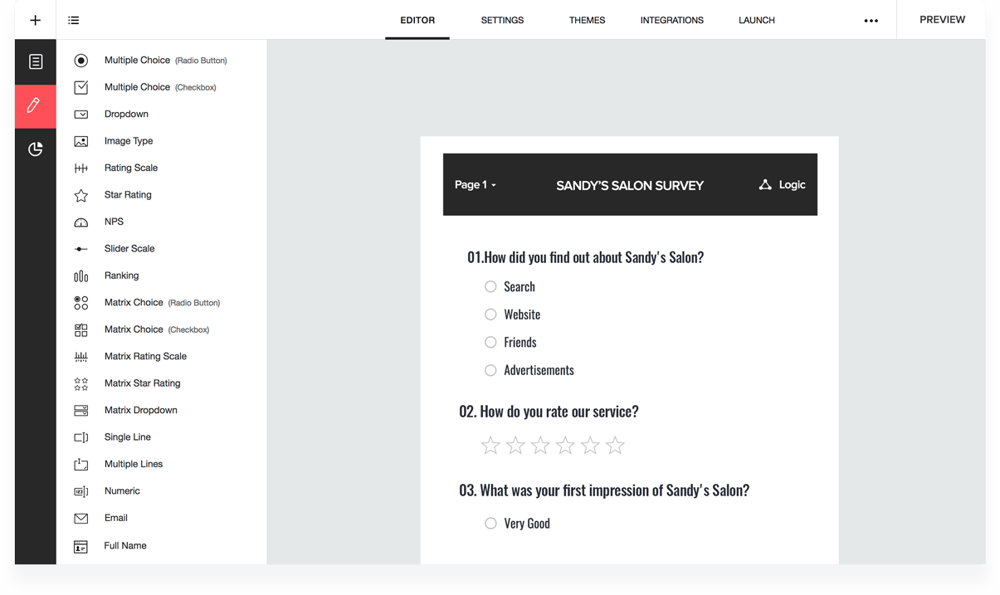 Zoho Forms Features
Create visually appealing conversational forms without any coding knowledge
Collect data from all corners such as social media, email campaigns, and more
Sort and view form entries, export them as spreadsheets or send the data to apps
Ask the right questions, with over 30 field types
Split a long form into multiple pages to make the process easier
Pricing: The initial plan for Zoho Forms starts at $18.
#8. SurveyMonkey
Like most form builders, SurveyMonkey provides an array of customizable form templates and question types, the platform is one of the best Jotform alternatives.
SurveyMonkey Vs Jotform
While SurveyMonkey is a famous tool for both online forms and surveys, Jotform on the other hand is mainly for forms. The platform offers the easiest way to create customized forms for registrations, applications, contacts, payments, and more.
In terms of questions, you can add up to 25 questions and collect feedback through email, social media, SMS, and more with SurveyMonkey.
SurveyMonkey Features
Create and customize forms in minutes
Use branching and logic for a seamless and personalized experience
Choose from dozens of pre-built templates
Get notified about every form submission in real-time
Check out our list of SurveyMonkey alternatives if you are looking for more options
Pricing: The initial plan for SurveyMonkey starts at $20 per month.
#9. SurveySparrow
SurveySparrow online form helps users to collect data and gain actionable and useful digital insights. The platform enables users to create smart forms with its drag-and-drop feature, design them, and share the form to get higher responses.
SurveySparrow Vs Jotform
With SurveySparrow you can share forms with your team members in any of the SurveySparrow plans.
As its key features, SurveySparrow also provides chatbots to manage website feedback or in-app product feedback.
SurveySparrow Features
Create smart web forms that pose relevant questions
Design and make web forms stunning to get higher responses
Use Question piping and custom params to create smart forms
Create mobile-friendly forms that are accessible across all devices
Check out our list of SurveySparrow alternatives if you are looking for more options
Pricing: You need to get in touch with the sales team.
#10. Paperform
Paperform is an online platform that lets users design visually appealing forms for diverse needs. It offers advanced features such as design customization, ready-made templates, and a range of intuitive form builder components for easy creation and personalized form layout.
Paperform Vs Jotform
With a 4.5 rating on G2, Paperform enables users to create fast and visually beautiful branded forms. Some of its key features are adding logos, images, and videos. You can insert more than 25 question fields with Paperforms. It is the one-stop shop for all your customization needs- coloring, logos, typography, buttons, and more.

Paperform Features
Build beautiful, intuitive, and customizable forms within minutes
Paperform's unique calculations function allows you to transform text to calculate shipping rates and discounts
Automate your schedule with Paperform.
Easy to get a custom storefront up and running in minutes
Pricing: The initial plan for Paperform starts at $20 per month.
#11. Form.io
Form.io is an enterprise-class combined form and API data management platform mainly for developers who want to build their form-based business process applications.
Form.io Vs Jotform
Form.io is a better choice if you want to build and manage complex feedback forms for SaaS and APIs using a simple drag-and-drop feature and form-building interface.
As one of its key features, the platform can quickly white-label your brand with its multi-tenanted platform. You can even collect offline surveys and use its conditional logic option for complex registration forms.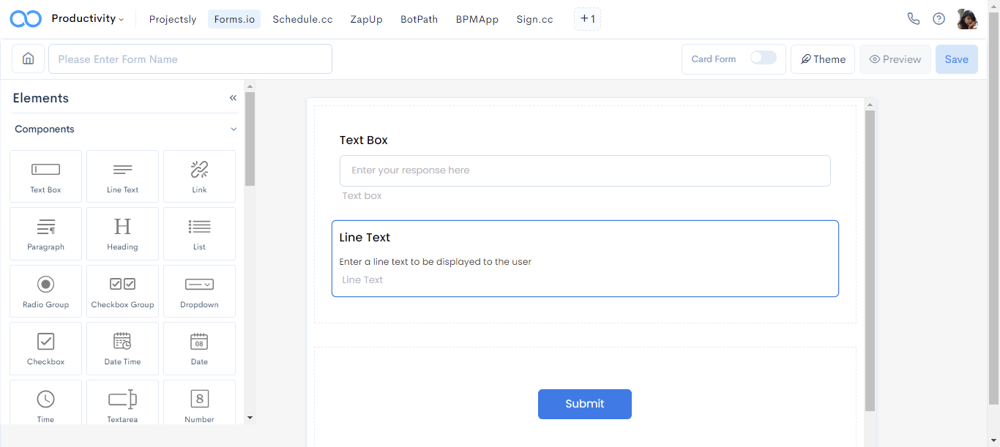 Form.io Features
Quickly build and manage complex forms and APIs
Build your own forms, white-labeled under your brand
Collect data offline and sync when back online
Get support for complex conditional logic and workflows
Pricing: The initial price is $300 per month
Top Free Jotform Alternatives
Here are some of the free alternatives to Jotform from our list.
#12. Forms.app
Forms.app enables users to create forms and automate workflows with its best free form builder. The platform helps users to customize the forms even to the tiniest detail and match the brand image.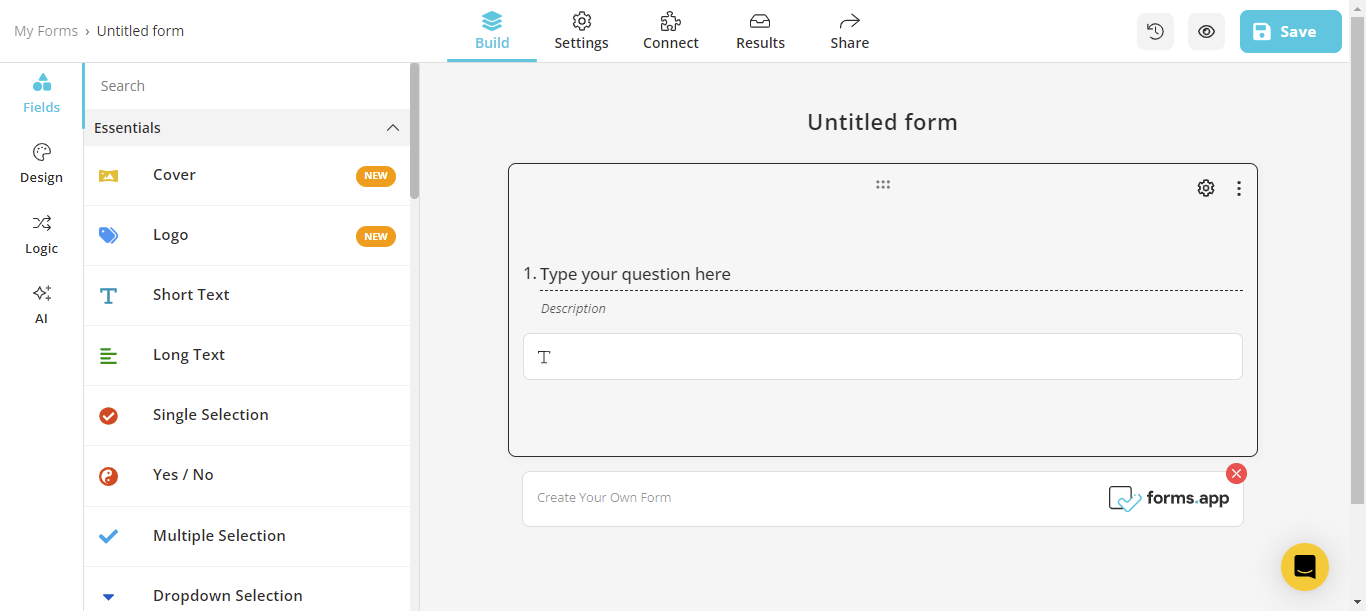 Forms.app Free Features
Number of forms- 5
Number of responses- 100
Storage Space- 10MB file storage
Email Notification- 10 per month
#13. Formaloo
Formaloo is a great Jotform alternative that enables users to build forms without any coding knowledge. Users can even collect documents, add images, and any files from respondents and organize them as per their needs. The platform lets you leverage powerful conditional logic along with customer experience automation and smart workflows to help you get the information you need from your audience.

Formaloo free features
Number of forms- unlimited
Number of responses- 500
Storage Space- 10MB file storage
Email Notification- 20 per month
#14. Google Forms
Google Forms is a versatile and user-friendly online form-building tool provided by Google as a part of its suite. It allows users to create customizable forms, questionnaires surveys, quizzes, and feedback forms easily.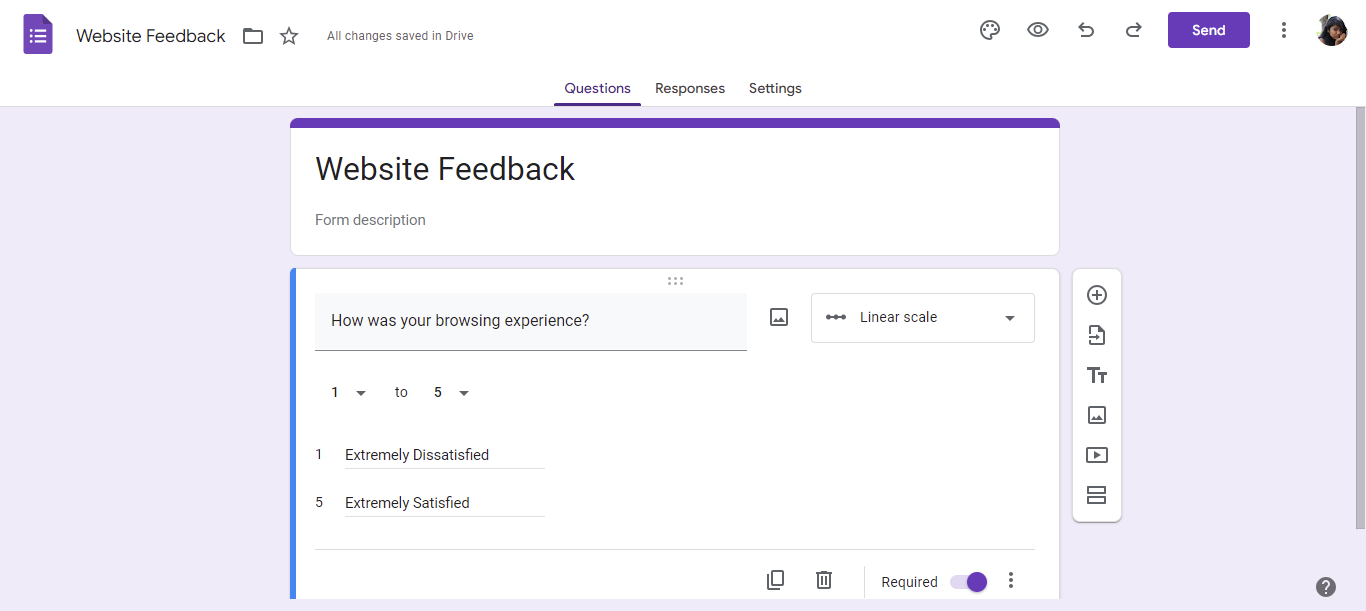 Google Forms Features
Number of forms- 20
Number of responses- 100
Storage Space- 15GB per user
Email Notification- Unlimited
Why Do People Search For Jotform Alternatives?
While Jotform may be a great platform known for its user-friendly interface and monthly subscription fees; however, the platform has its own setbacks.
Some users find its features less interesting, and others need a better user interface to handle complex forms. There are several reasons that are driving the shift towards alternatives to Jotform. Some of the common factors that could contribute to this trend include:
Users complained that they were unable to receive emails, as they were either rejected or went into the spam folder.

Selecting the right theme with the right template takes a lot of time.

Customers cannot rely on customer support as there is no live chatbot or phone line when they need a reply.

Compared to other form-builder software, Jotform is more expensive.
What Users Are Looking For In Jotform Alternatives?
Our extensive evaluation and assessment of each alternative and their respective offerings have led us to explore the most suitable competitor for Jotform.
The process involved thorough data analysis and market research questions, focusing on each Jotform alternative as we aim to identify the top Jotform alternatives that best suit your brand.
Intuitive interface: A user-friendly interface such as logically arranged elements, clearly structured toolbars, and tool menus are some of the factors that determine working efficiently with forms.

Design and customization: Whether you're looking for consistent branding across survey channels or a more creative solution to drive engagement, your forms app should give you the tools to do so.

Powerful analytics tools: Powerful data analytics can improve business performance by enhancing customer satisfaction and loyalty.
Conclusion
Jotform is a great tool for creating forms. But if it can't handle everything you throw at it, you'll have to look for other options.
As we always say, the best online form tool is the one that suits your needs. No tool would offer you a cherry on top if you don't pick the right one.
You can also choose Zonka Feedback since it specializes in online forms and surveys that allow businesses to tailor the look and feel of the feedback platform to match their brand.
So what are you waiting for?
Try Zonka Feedback for a 7-day free trial before going for a paid version.