Enterprise Feedback Management software provides accessible survey data, offering actionable insights across all levels of a company, from frontline to C-suite. It empowers leaders to understand, anticipate, and respond to the needs of a company while nurturing customer relationships.
The tool isn't just pieces of evaluation software—it's a way of doing business that goes hand-in-hand with a customer-centric culture.
Luckily there are too many options available in the market for businesses looking for top Enterprise Feedback Management tools.
In this blog, we have covered top Enterprise Feedback Software for those looking to close the feedback loop quicker than ever before.
TL;DR
Enterprise Feedback Management Software (EFM) is a tool for collecting, managing, and analyzing customer feedback within enterprise teams.
The tool helps to facilitate and enable transparent and effective communications to identify the areas of improvement and take action.
We have compiled a list of top EFM tools through set parameters including customization, scalability, predictive analytics, and support to better align with your enterprise.
Our top EFM tools are Zonka Feedback, Medallia, Qualtrics, GetFeedback, InMoment, AskNicely, and Cisco Webex (GetCloudy) Experience Management.
To see how Zonka Feedback can be your top choice as an Enterprise Feedback Management tool, sign up for a free 7-day trial or book a demo!
Measure Customer Feedback & User Insights
Try the best Enterprise Feedback Management Software to understand what users need and learn ways to delight your customers.
#1. Zonka Feedback
Zonka Feedback is a highly customizable Enterprise Feedback Management Software that has the potential to simplify your customer engagement strategy. You can collect customer feedback, get a 360-degree view, hear the Voice of Customer and apply customer segmentation to improve the latest trends and grow your business.
To see the whole picture and act swiftly, Zonka Feedback makes data readily accessible and gives actionable insights to the company's employees—from the front line to the C-suite.
Data security is another stand-out feature you get with Zonka Feedback enabling users to securely sync data between different devices within a centralized database. This EFM tool is built to grow as you scale thus enabling you to deliver tangible business impact. It allows users to fix lapses in customer service and makes survey creation easy.
The platform also focuses on approaches like case management and service recovery that help users retain customers and understand what keeps customers coming back.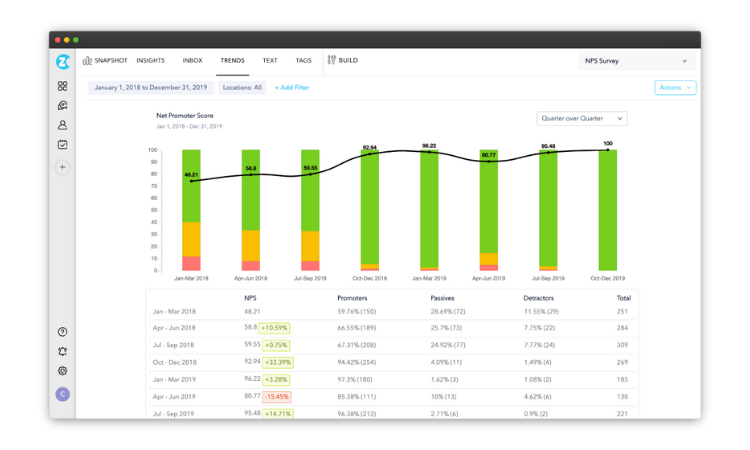 Zonka Feedback Features
Get real-time feedback alerts to quickly closing the customer feedback loop
Gain detailed insights from operational data and observed customer behavior
Omnichannel signal collection to get a 360-degree view of customers
Capture experience signals in real-time from direct and in-direct feedback
Setup your brand through multiple channels and manage feedback from a single platform
Get and create custom reports in a single click
Use customer segmentation tools to better target current and future customers
Track every log of your brand with a primary account or through multiple account option
Measure through the right feedback metric- Customer Satisfaction, Net Promoter Score, Customer Effort Score, and more
Get enhanced security features for enterprises
Integrate with popular CRMs POS, SMS Gateways, Email Gateways, and others
Get custom billing and payment options or choose your own billing cycle
Pricing

Custom plans for enterprise users with Growth Features+. Works on all survey channels - Website surveys, Email surveys, SMS survey, In-app surveys, mobile app surveys, and Offline surveys.

You can also try Zonka Feedback for free for 7 days.
#2. Medallia
Medallia is an Enterprise Feedback Management software that enables users to capture billions of experience signals across interactions including voice, video, digital, and in-app.
With its comprehensive Enterprise Feedback tool, you can get online reviews, collect customer feedback, and gain responses from audiences effortlessly.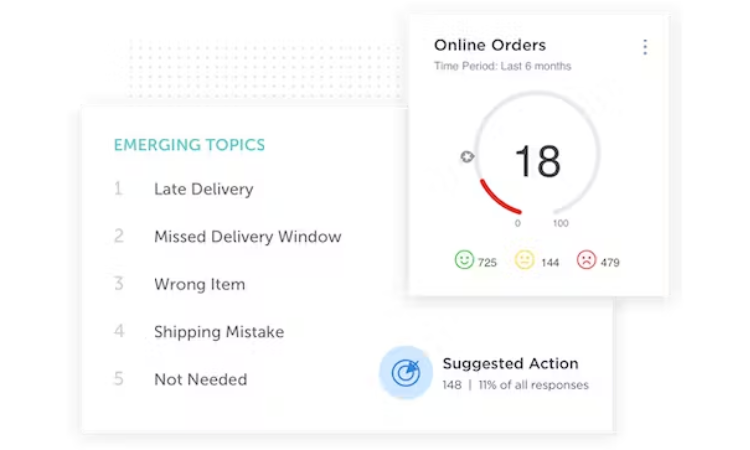 Medallia Features
Drive loyalty at every point of the customer's journey

Omni-channel data capture through advanced analyses and analytical reports

Capture VoC via frontline employees by providing them with ideas, and suggestions on CX

Create dynamic dashboards and gain visibility into the customer experience and sentiment

Check out our list of Medallia alternatives if you are looking for more options
Pricing

You need to schedule a consultation or demo to learn about pricing plans.
#3. Qualtrics
Trusted by some of the popular brands in the world, Qualtrics provides an Enterprise Feedback Management Solution for corporations that want to capture customer feedback and engage their brand in the EFM system.
With Qualtrics' powerful machine learning and advanced analytics, users get predictive insights, tailored for specific roles and departments.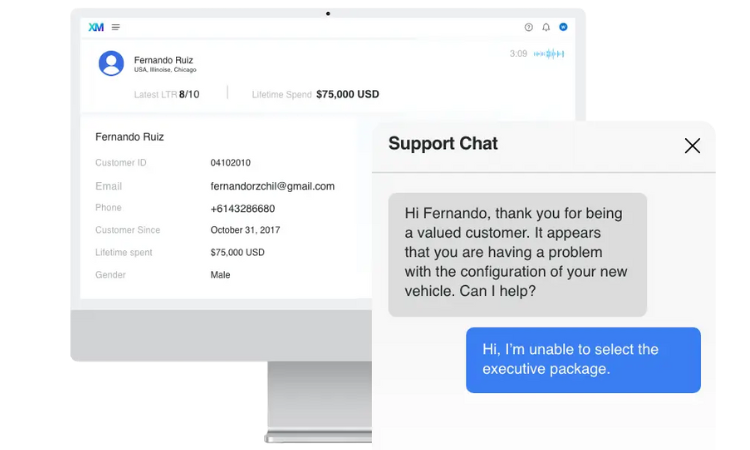 Qualtrics Features
Ask the right questions, listen to customers need, and respond with the right actions

Deliver better customer experiences across every digital touchpoint

Improve employee engagement and retention

Make business customer-centric and build enduring brands

Improve the cross-channel experience with all feedback data in one place

Use omnichannel experience analytics and AI-powered automation to understand customers better

Check out our list of top Qualtrics alternatives for more options
Pricing

You can request for demo to know about pricing plans.
#4. GetFeedback
GetFeedback is another Enterprise Feedback Management platform that enables users to quickly and easily build customer feedback surveys through its drag & drop option, and a number of different personalized features and sentiment analysis.
The platform helps users update the business by providing customer data, timely information, and insightful analytical reports gathered from the various feedback forms and surveys.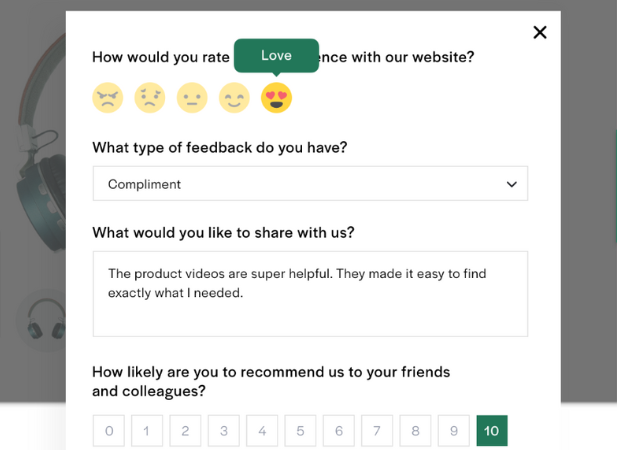 GetFedback Features
Quickly pivot based on customers' feedback and drive more value
Collect data through customer feedback management and quickly iterate digital experiences
Increase adoption of products or services through the CX program
Reduce churn rates into winbacks by bringing more value
Win loyalty by actively listening to customers
Pricing

You need to connect with their product management and sales team
#5. InMoment
As a leader in Enterprise Feedback Management software, InMoment enables users to make data-driven business decisions. Its EFM software is powered by business intelligence features to deliver a comprehensive solution for the clients.
Thanks to its insightful dashboard segment user accounts and an excellent suite of advanced features that makes the platform is one of the attractive choices for Enterprise Feedback Management Systems.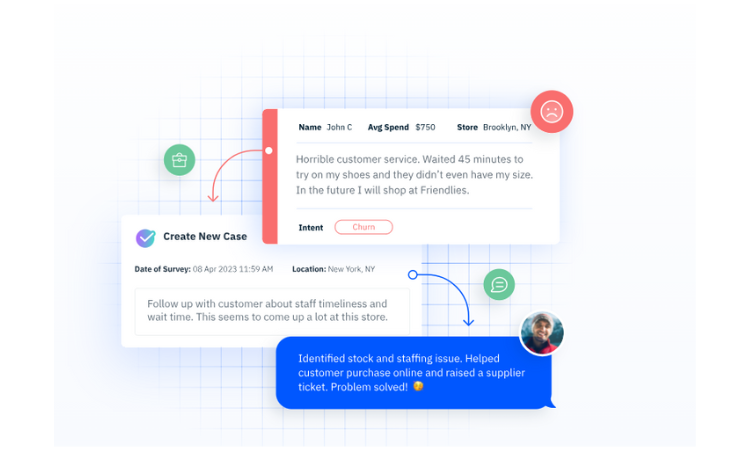 InMoment Features
Enabling real-time, customer-driven response
Enable understanding key drivers to keep customers returning
Ensuring service-lapse recovery – fixing problems so they don't recur
Providing integrated reporting of all feedback on website
Compensating employees based on customer measurements
Driving consistency across the organization by sharing results in multiple languages.
Pricing

You need to schedule a demo to learn about the feedback management software pricing plans.
#6. SurveyMonkey Enterprises
SurveyMonkey Enterprises also offers Enterprise Feedback Software, which allows users to conduct surveys and collect both quantitative and qualitative information in order to assess customer needs at every touchpoint.
You can even leverage transaction-triggered surveys at major milestones or after specific events, and automatically respond to the in-app user feedback with a relevant response.

SurveyMonkey Features
Increase contextual feedback through a better understanding of the customer's journey
Reduce negative feedback by implementing an EFM program
Full understanding of customers, and continue to sharpen ideal customer profiles
Uncover customer insights using AI
Secure sensitive data collection with SSO, data encryption, and governance capabilities
Conduct market research to receive insightful analytical reports identify new areas of growth, and track brand performance
Check out list of best SurveyMonkey Alternatives for more options
Pricing:

You need to contact their sales and customer experience team.
#7. AskNicely
Another top player for Enterprise Feedback Management is AskNicely. The platform mainly aims to measure customer loyalty through a website feedback widget NPS for data collection.
It also enables users to configure feedback forms, send surveys, and study customer perception through actionable data. If you're looking for a more affordable CX platform with fantastic feature requests as a part of the EFM solution, AskNicely is the best choice.

AskNicely Features
Collect customer feedback, measure NPS and leverage workflows
Share customer feedback across your organization in real-time
Share out-of-the-box reports to the CEO
Integrate feedback data into the CRM and business intelligence tools
Close the loop with every customer effortlessly
Pricing:

You need to contact the sales team or book a demo for their business plan.
#8. Cisco Webex Experience Management (formerly CloudCherry)
Cisco Webex Experience Management helps its users understand Voice of Customer surveys and capture omnichannel feedback across the customer's journey.
It aims to empower every single person within the organization by providing them with data-driven insights and real-time actionability as a key driver of growth and profitability.
Cisco Webex Experience Management Features
Make informed decisions through data capture feedback on customer experience
Understand the full customer journey by breaking down data silos
Empower your contact center agents with full visibility of customer journey experiences
Untangle the attributes that impact customer experience and financial metrics
Advanced text analytics using artificial intelligence (AI) and machine learning (ML)
Close the feedback loop with real-time alerts to notify frontline employees and stakeholders
Pricing:

You need to contact the sales team for an enterprise plan.
How To Choose the Best Feedback Management Software For Your Company?
Enterprise Feedback Management (EFM) is a well-designed tool that helps enterprise-class large companies to understand their relationships with customers, employees, and partners regarding key issues and concerns.
Therefore it is necessary to invest in Feedback Management Software and select the most suitable one for your company . Here are a few steps to help you make an informed decision:
Data Analysis and Reporting: The software should offer robust survey data and reporting features for meaningful insights from the product feedback collected.
Customization: Look for software that allows you to customize and share surveys, and forms, and collect feedback to align with your brand's tone and style.
Scalability: Consider the software's scalability to accommodate your company's growth to handle increasing volumes of feedback as your business expands.
Security and Privacy: Ensure the software complies with data protection regulations and offers strong security measures to keep data safe.
Integration: Check if the software can integrate with your existing tools and systems, such as CRM software, helpdesk systems, or analytics platforms.
Automation: You can streamline the collection for feedback & experience management processes using automation features.
Benefits Of Enterprise Feedback Management Software
Enterprise feedback management systems provide several benefits which has made it a popular choice among enterprises. The tool enables organizations to understand customers' expectations, improve customer relationships at scale, and keep them coming back for years to come.
Here are a few well-known benefits of EFM software that you should learn before investing in the software.
Establish dialogue with employees, customers, and partners: The tool facilitates two-way engagement for insights from customers, employees, and partners, enhancing the overall experience.
Centralized data collection: It centralizes data and other tools, enabling organization-wide access and utilization.
Combine insights from customers, employees, and market research: It integrates customer, employee, and research data, offering a unified view for holistic understanding and informed action.
Improve customer loyalty: The tool can help you stay on top by enhancing customer loyalty by identifying text analysis and the factors that are keeping customers from staying loyal.
Reduce customer churn: Bad experiences may lead to retention rates. EFM enables personalized interventions by swiftly addressing issues.
Conclusion
By now, you should have a better understanding of all the options that enterprise survey software can offer. Thus, in a landscape where customer expectations are ever-evolving, the adoption of top-tier EFM software equips enterprises with all the features and tools needed to stay attuned to their audience.
They can also make informed decisions, increase response rates, take customer satisfaction surveys, and foster lasting relationships.
Thus, the judicious selection and implementation of their EFM systems and software emerge as an indispensable asset on the journey to success.