Canny stands out as a widely embraced application for managing product roadmaps and handling customer feedback. The platform is great for collecting customer feedback, analyzing it, prioritizing new features, and then publishing them into a roadmap.
Although these basic features are useful for building great software and keeping customers happy, Canny isn't the only option. There are plenty of alternatives that offer more advanced features, better customization options, customer support, and more affordable and reasonable pricing too.
So, if you are looking for top Canny alternatives, look no further because we've compiled a list of 18 best Canny alternatives with their unique key features and, pricing plans to help you choose one.
TL;DR
Teams are looking for alternatives to Canny due to its expensive pricing plans, lack of customization, and limited integrations.
We have gathered a list of the top 18 Canny alternatives with thorough market research, and set parameters.
Some of the popular alternatives are Zonka Feedback, Refiner, Usersnap, Userback, Uservoice, Delighted, Survicate, and more.
Apart from Canny alternatives, we have also shared a list of other platforms and their various alternatives like Medallia alternatives, SurveyMonkey alternatives, Hotjar alternatives, Typeform alternatives, GetFeedback alternatives, Cloudcherry alternatives, Jotform alternatives, AskNicely alternatives, InMoment alternatives, Forsta alternatives, Delighted alternatives, Survicate alternatives, Qualtrics alternatives, Uservoice alternatives, Canny alternatives, Nicereply alternatives, Satismeter alternatives, SurveySparrow alternatives, Google forms alternatives, Data collection tools, Forms on fire alternatives, Paperform alternatives, Fulcrum alternatives, and GoCanvas alternatives
To see how Zonka Feedback can be your top choice as a Canny alternative, sign up for a free 7-day trial or book a demo!
#1. Zonka Feedback
As the best Canny alternative, Zonka Feedback is a customer feedback and experience management tool that effortlessly enables businesses to measure feedback from customers, users, visitors, patients, and employees. It empowers businesses to transform customer feedback into actionable insights.
The best part about the feedback tool is it helps users fine-tune the strategies based on real-time, data-driven feedback from the customers. What makes Zonka the Feedback tool a top contender for Canny alternatives is white-labeled surveys, adding advanced survey logic and branching, and customizing them to suit the business requirements.
As a Canny alternative, it lets you capture multichannel feedback on the website, in-product/in-app, through emails, SMS, QR codes, in-app SDK, kiosks, offline survey apps, and more. Users can also integrate this survey software into their CRM, helpdesk, and other business applications to view the data alongside the contacts.
One can give customers feedback and even measure and manage feedback through different CX metrics like CSAT, NPS, and CES using this feedback and experience management tool. Its advanced reporting and analytics capabilities enable businesses to capture customer feedback and make data-driven decisions.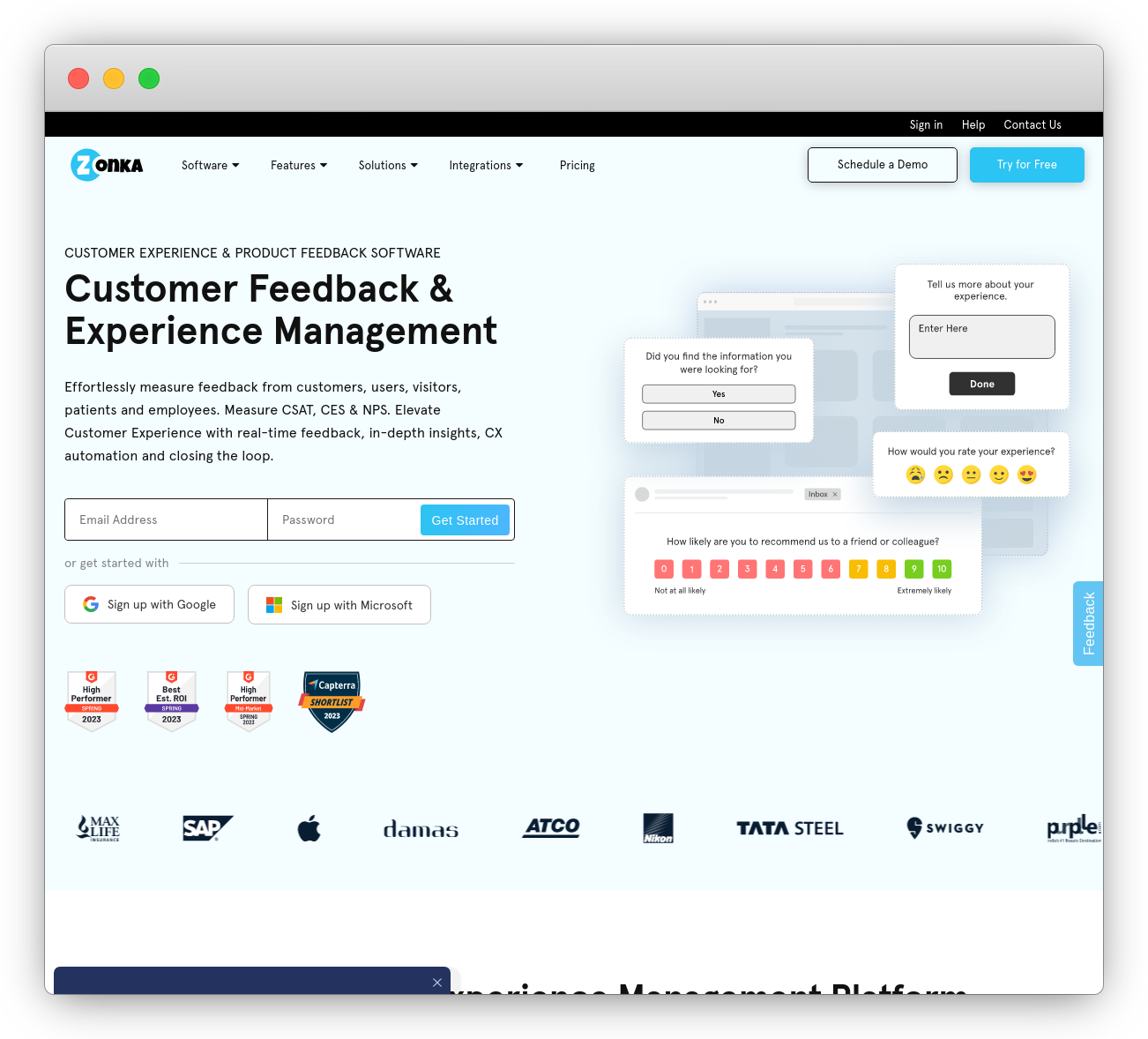 Zonka Feedback Features
Easy-to-use survey builder with 100+ templates and complete customization

Create segments to take targeted actions on your feedback

Get insights into the customer journey, pain points, behavior trends, and more

Add workflows and automate actions to close the feedback loop

Prioritize improvements that matter most to your customers, ultimately leading to higher engagement and conversions.

Create Microsurveys as well as long surveys

Distribute surveys across multiple channels like website, in-app, in-product, email, SMS, survey apps, and more.

Advanced survey reports and analytics to take required action and CX automation

Real-time alerts for poor scores or bad reviews to follow up, take action

User-friendly dashboard to easily create, send, and measure customer satisfaction and experience

Complete white-labeling of surveys to resonate with your brand
Pricing:
Zonka Feedback offers both Free and Paid plans. The paid plan (Starter) starts at $49 per month and offers advanced features, like CX, project management and automation feature request tracking, white-labeling, offline surveys, custom domain and survey logic, location-based surveys, randomization, and more.
#2. Refiner
Another Canny alternative is Refiner which is a survey software for SaaS and digital products. The platform is best known for its highly customization in-product surveys, and forms that yield a higher response rate.
The customer and product feedback platform is mainly designed for web and mobile for product management software companies. One of the best parts about this platform is it goes beyond the basic surveys like NPS, CSAT, and more for all your business needs. One can also get beautiful-looking surveys for better-capturing customer and product feedback responses through the web as well as apps.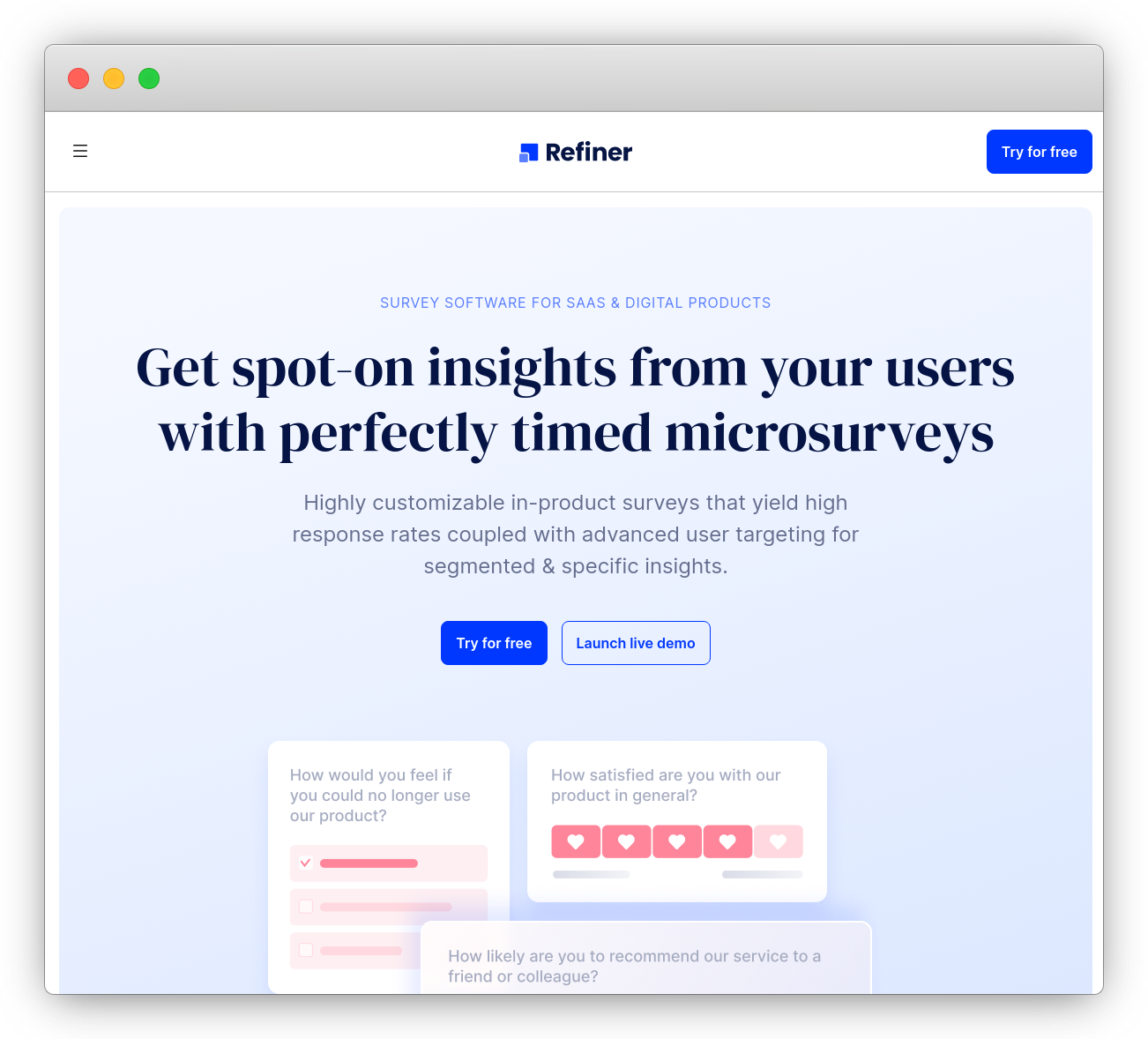 Refiner Features
Collect customer insights in minutes with ready-to-use survey templates

Design templates as per your brand to gain better value

Get all used cases to collect feedback through NPS, CSAT, CES, Product-Market fit survey, and more

Get Microsurveys to gather quick and specific feedback from customers

Get 12+ question types including NPS, CSAT, CES, rating matrix, CTAs, and more

Branching and logic jumps to display the most relevant questions based on previous answers

Create personalized surveys by using users' names and information

Ask better questions and make users more likely to provide answers

Speed up data analysis with easy-to-use dashboards

User segmentation for accurate targeting and data analysis
Pricing: The essential plan starts at $79/month, billed annually.
#3. Usersnap
Another Canny alternative is Usersnap which enables businesses to capture, organize, respond, and scale user feedback all in one place. Trusted by some of the biggest brands in the world, the platform allows users to send screen captures, target Microsurveys, and track feedback activities and segments within a fraction of the time.
An interesting part of this customer feedback platform is that businesses can quickly streamline issues, and feature requests, suggestions, feature requests, and product survey responses to capture and prioritize the most impactful surveys.
As a top alternative to Canny, the platform empowers users to share feedback anytime on the product with screen capturing and annotation tools. One can engage with users on the go to make new features and get feedback boards to measure the sentiment at specific moments.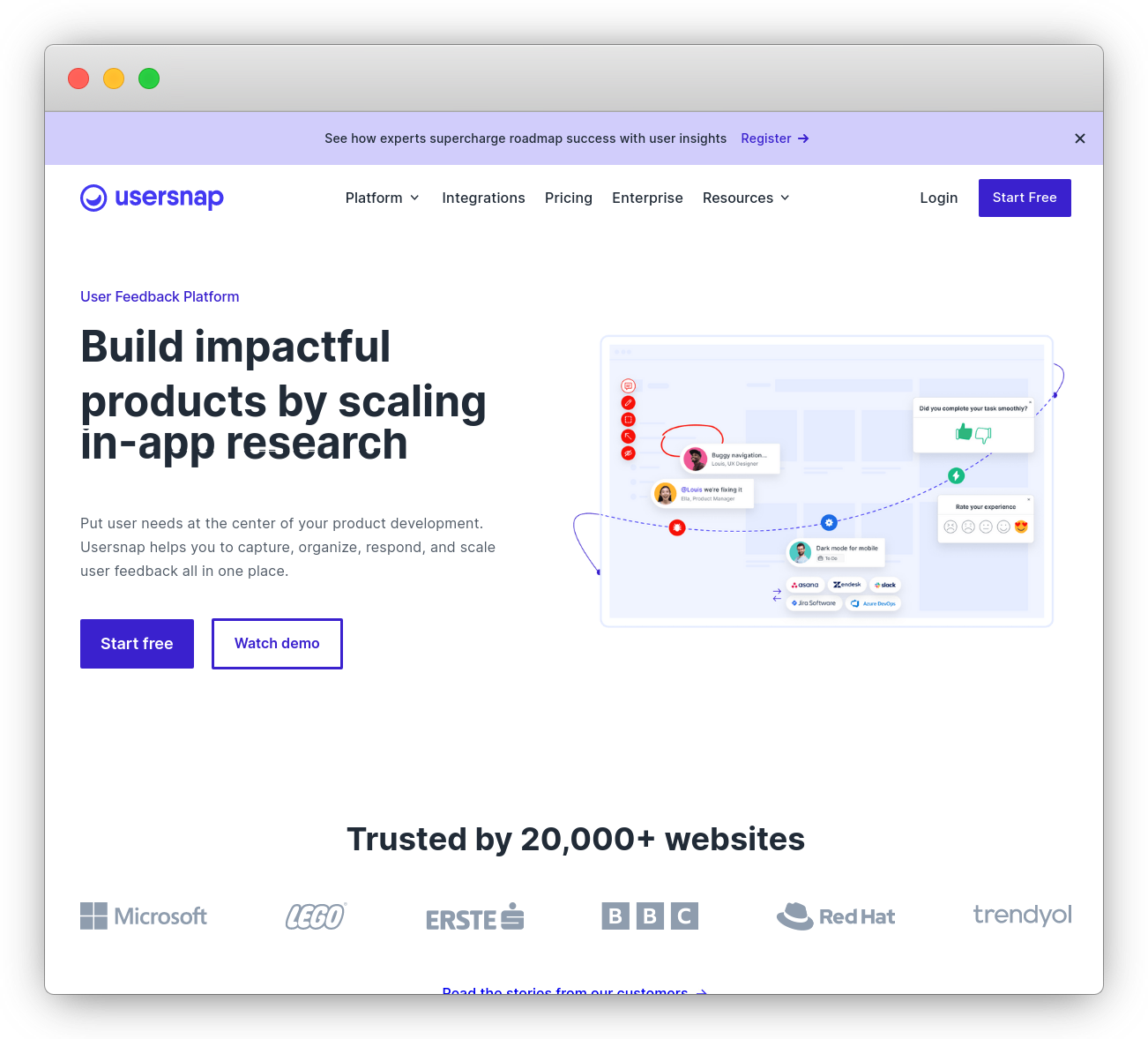 Usersnap Features
Build impactful products by scaling issue tracking, user testing, in-app research

Put user needs at the center of your product development

Allow users to send screen captures, target Microsurveys, track feedback activities, and more

Categorize feedback with labels into important topics

Connect with 50+ integrations, and also 2-way integration with Jira, Azure DevOps

Actionable feedback to make quick improvements

Involve customers in the growth of your product

Allow users to draw and pin comments directly on their screens with the in-app feedback tools
Pricing: The startup pricing plan starts at $69/month. However, the company plan starts at $129/month.
#4. Userback
As one of the top contenders for Canny alternatives, Userback enables businesses to make iteration easier with contextual user feedback tools, precise bug and issue tracking, and feature validation. The best part of Userback is that it allows you to ditch manual processes and put everything in one place to streamline internal and external collaboration.
The tool also allows you to start collecting user feedback in minutes, while designing, doing user onboarding, and building every opportunity using the no-code Browser Extension. You can quickly add context with Screen Annotations, trigger behavior-based Micro-Surveys, and deliver the information to your teams instantly.
Userback's bug and issue tracking is another cool feature you can use to give your testers and developers everything they need to develop surveys. You can even launch Microsurveys to extend idea testing and fill your roadmap or project management tool with winning ideas.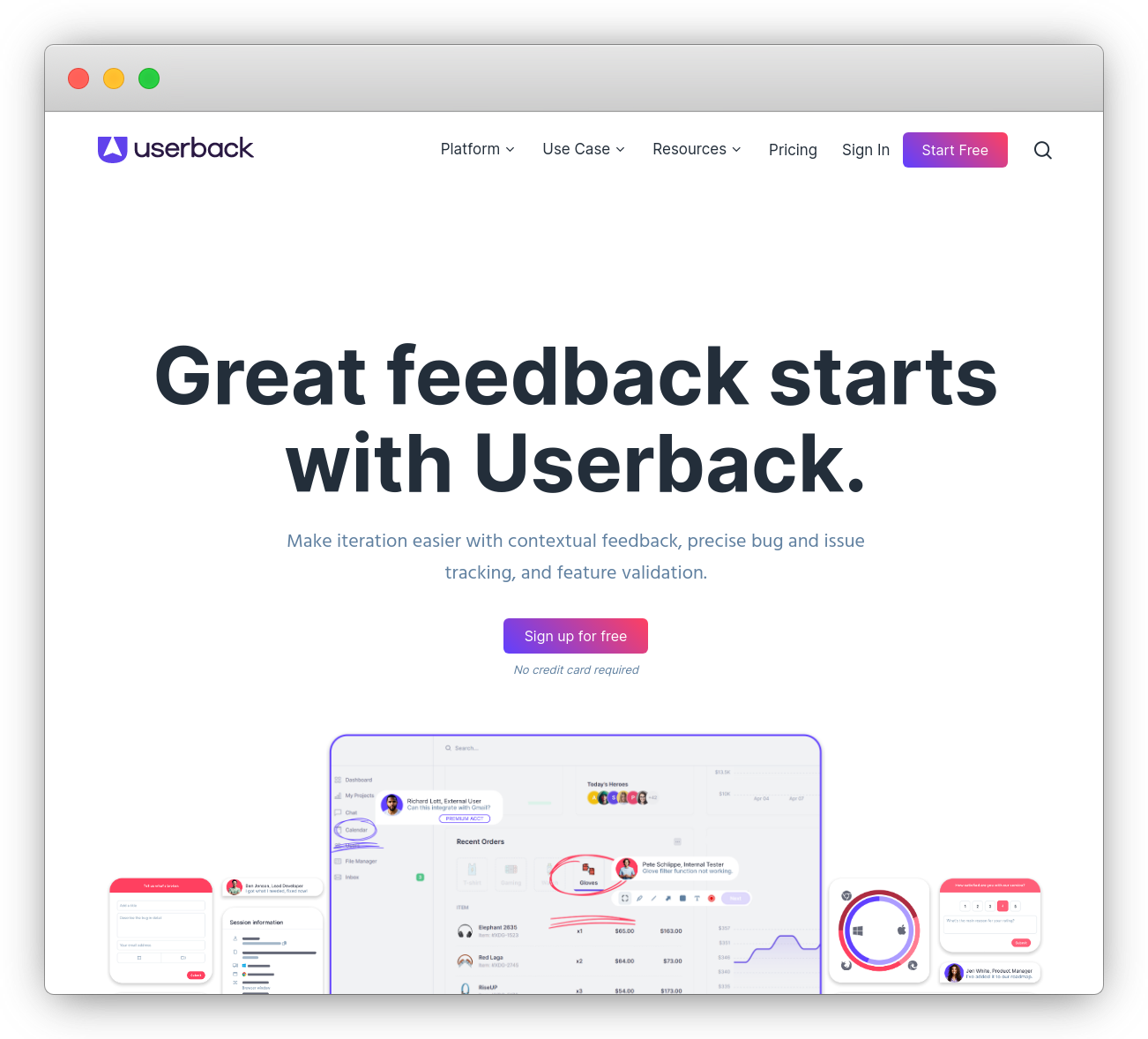 Userback Features
Ditch the email, spreadsheet, and manual process and get everything in one place

Collect more of what counts through in-app or onsite visual feedback, Microsurveys, and community portal

Push bug and issue tracking directly to the developer workflow

Collect new product ideas, and validate existing ones quickly

Start collecting in minutes with ready-to-use templates

Add context with Screen Annotations, trigger behavior-based Micro-Surveys

Speed release cycles and bug fixes by enriching every piece of feedback

Combine Session Replay, console logs, and error logs with session information

Create public Feature Portals and let users create, vote, and comment on winning ideas
Pricing: The essential plan starts at $59/month.
#5. Uservoice
Usevoice is another top Canny alternative that helps users transform their products' future through real user feedback while quickly closing the customer feedback loop. The platform enables you to embrace continuous product discovery and transform user feedback into actionable insights to help you foster ongoing innovation.
Businesses using Uservoice can prioritize opportunities through insightful customer feedback, focusing on problem spaces to driving impactful solutions in the product discovery journey. Also, it allows you to take action and address the low-effort scores with real-time, and scalable tools.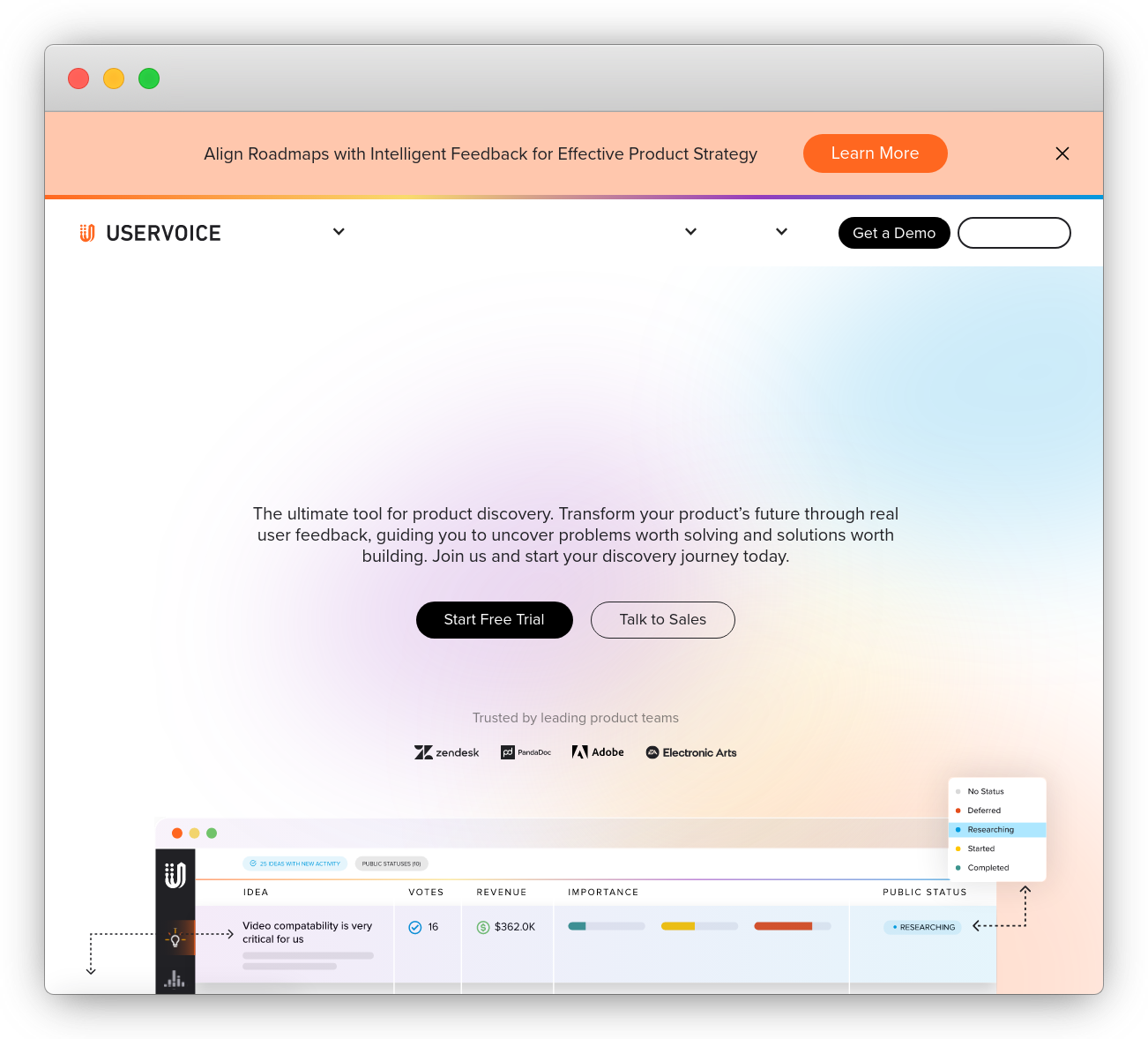 Uservoice Features
Transform your product's future through real user feedback

Embrace continuous product discovery, transforming user feedback into actionable insights

Prioritize opportunities through insightful user feedback, focusing on impactful solutions

Address and respond to feedback with low-effort, real-time, scalable tools

Discover real product opportunities to address user needs quickly

Leverage user insights gathered through UserVoice to fuel product discovery

Explore and understand your users' pain points, providing clarity and direction
Pricing: The essential plan starts at $699/month, billed annually.
#6. Satismeter
The online customer feedback portal and product management tool used, Satismeter is a top choice for Canny alternatives as the platform allows users to gain an in-depth understanding of products/services, customers, and businesses. The platform comes in handy when used for collecting product feedback as it makes integrating customer insights into the tech stack a breeze.
Trusted by some of the best customer-centric companies, Satismeter lets you ask the right question at the right time, and let you watch your business grow. Its customer journey surveys allow users to keep an eye on customer satisfaction through various touch points.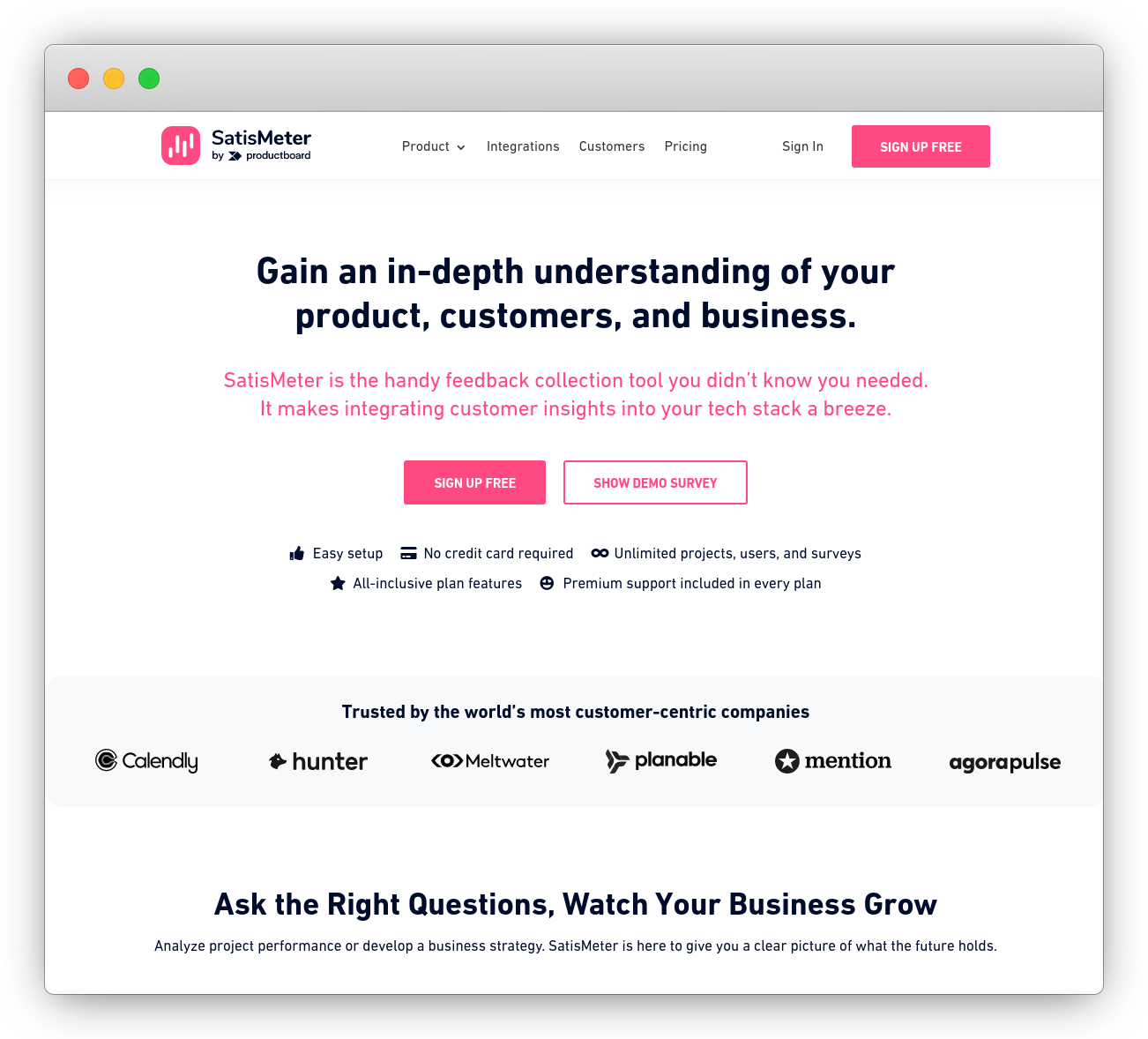 Satismeter Features
Analyze project performance or develop a business strategy quickly

Get a clear picture of what the future holds

Keep an eye on customer satisfaction and monitor the results

Handle all the questions keeping you from growing your business

Run Microsurveys, make pricing adjustments, look into your product-market fit, and more

Use customizable templates to quickly build all the surveys you need in a pinch

Measure long-term customer satisfaction and loyal through CX metrics

See responses in the PM tool to prioritize feedback
Pricing: The starter plan is $199/month; however, you can even start using the tool for free for 25 responses per month.
#7. Marker.io
Marker.io enables users to collect feedback, and bug reports without leaving the website. The customer feedback platform is best known for collecting live websites from teams, clients, and users.
One of the coolest features, you get with Maker.io is reporting issues on your website using the feedback widgets. It makes it easy for users to get visual markups and high-fidelity screen capture for easy feedback collection.
The tool enables users to produce bug reports easily as needed by the developers. Also, you can even check customer's status and watch what clients did before feedback submission.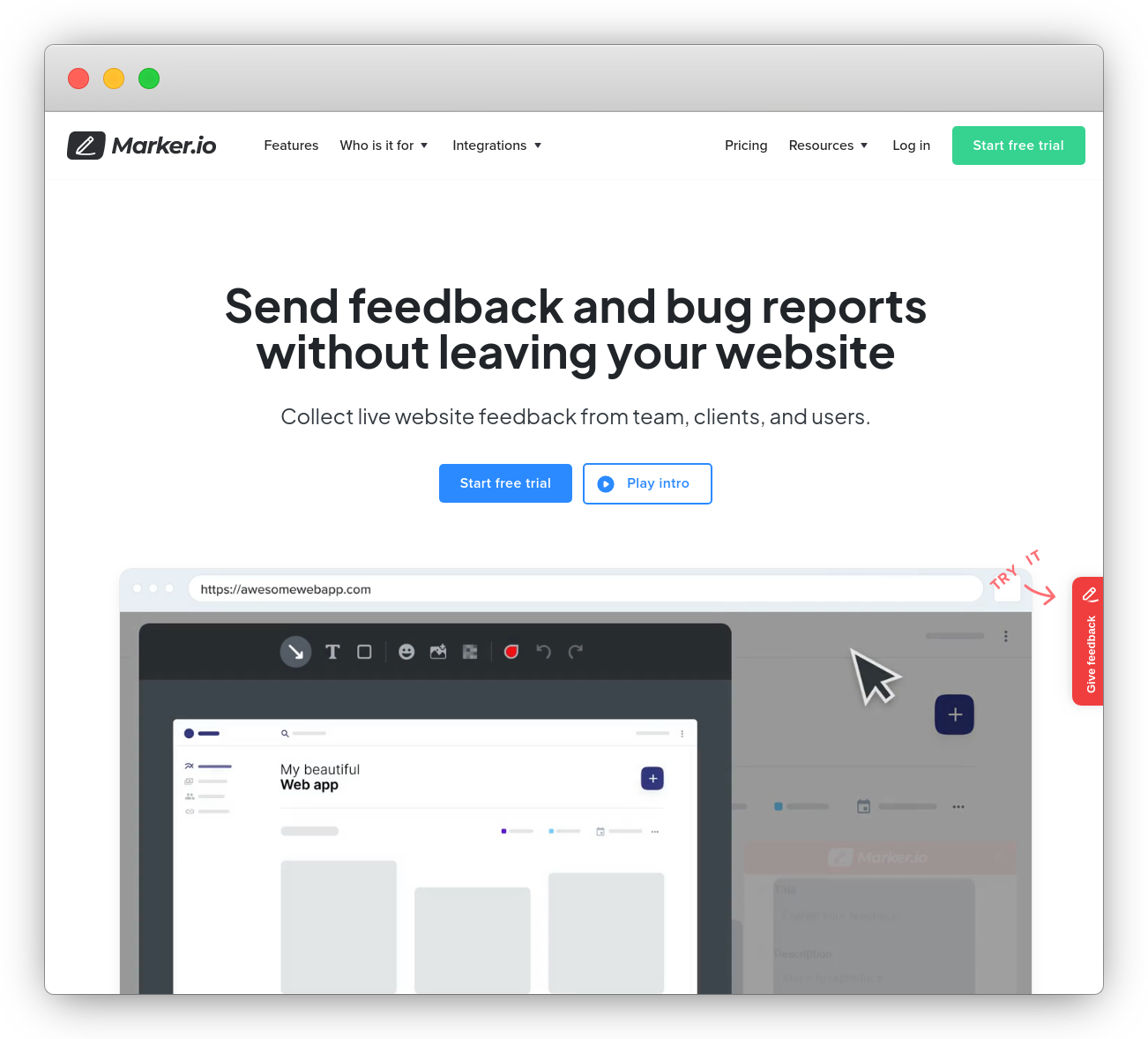 Marker.io Features
Collect feedback and bug reports that developers understand

Report issues on your website with the feedback widget

Get your point across with visual markups and a high-fidelity screen capture

Make the widget your own with custom color and branding

Get all the technical data your developers need, automatically added to your favorite tools

Rewind and watch what clients did before submitting feedback

Take control of the widget via JavaScript SDK and pass custom metadata about your users or technical environment
Pricing: The starter plan starts at $39/month, billed annually.
#8. Maze.co
As one of the top alternatives to Canny, Maze enables users to get feedback portals making customer feedback the foundation of product management and decision making for enterprise companies. The platform quickly enables you to collect feedback and gauge the sentiments of your customers to keep a pulse on the entire customer cycle.
It allows businesses to create and share dynamic surveys that transform responses into quantitative results. The automated Maze Report is a standout feature that allows you to scale a polished research standard across your whole company. You can even customize, collaborate, and share findings with every stakeholder.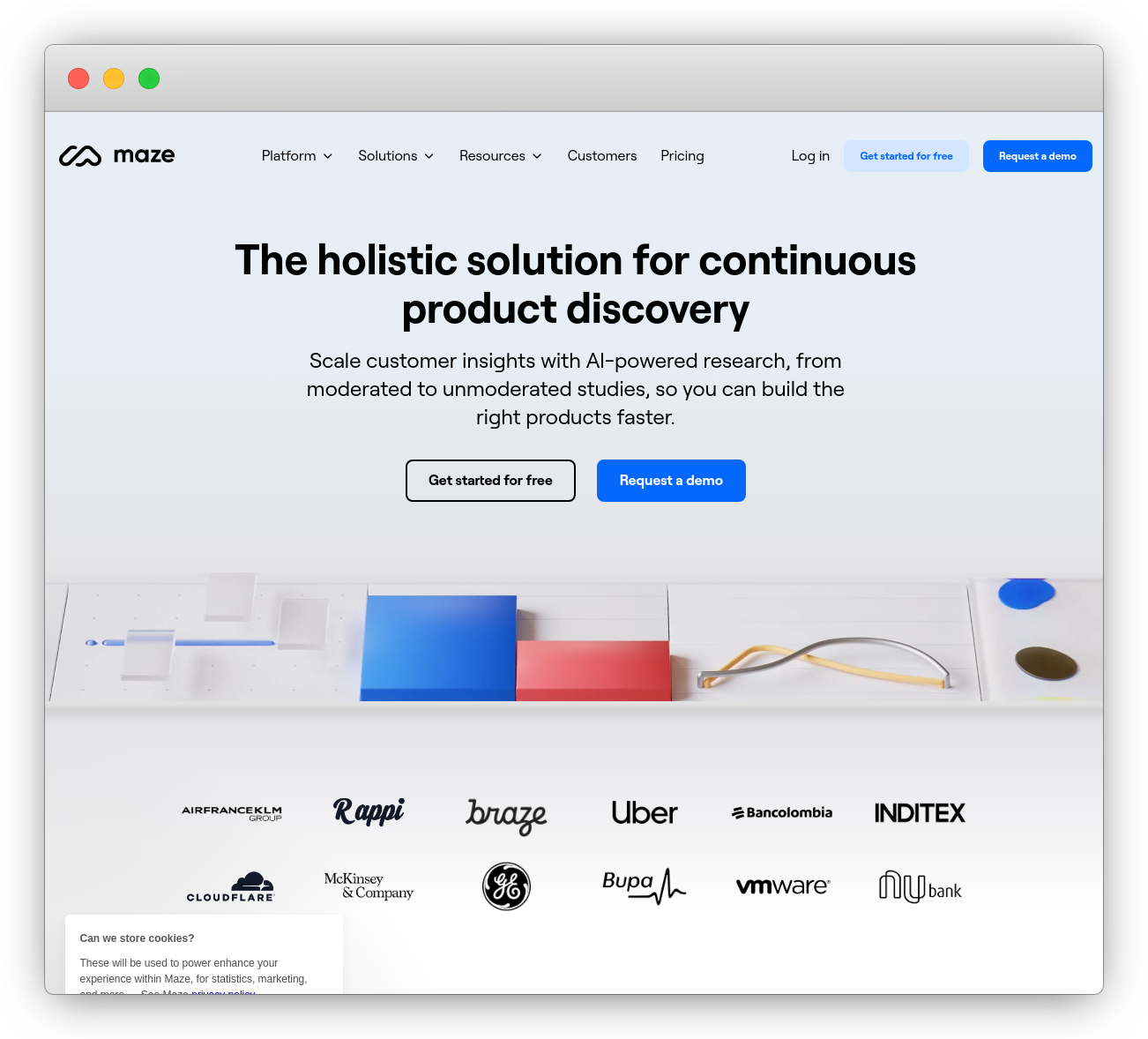 Maze.co Features
Scale customer insights with AI-powered research

Get holistic solutions for continuous product discovery

Scale customer insights with the intuitive builder

Get fast access to a global panel or target your own pool

Build better products with data-informed decisions

Set Multiple Choice Questions

Get a pulse on sentiment and easily identify key trends
Pricing: The starter plan starts at $99; however, it also offers a free plan.
#9. MoEngage
MoEngage is a customer engagement platform that is backed by the most comprehensive AI engine. Since its inception in 2014, the platform has been providing customer engagement strategies, propelled by both customer obsession at scale and continuous product innovation.
The platform empowers marketers product managers and other product managers and owners with AI-driven insights to create omnichannel experiences that consumers love. You can even leverage the power of personalization with MoEngage on every customer's journey to gain better customer insights.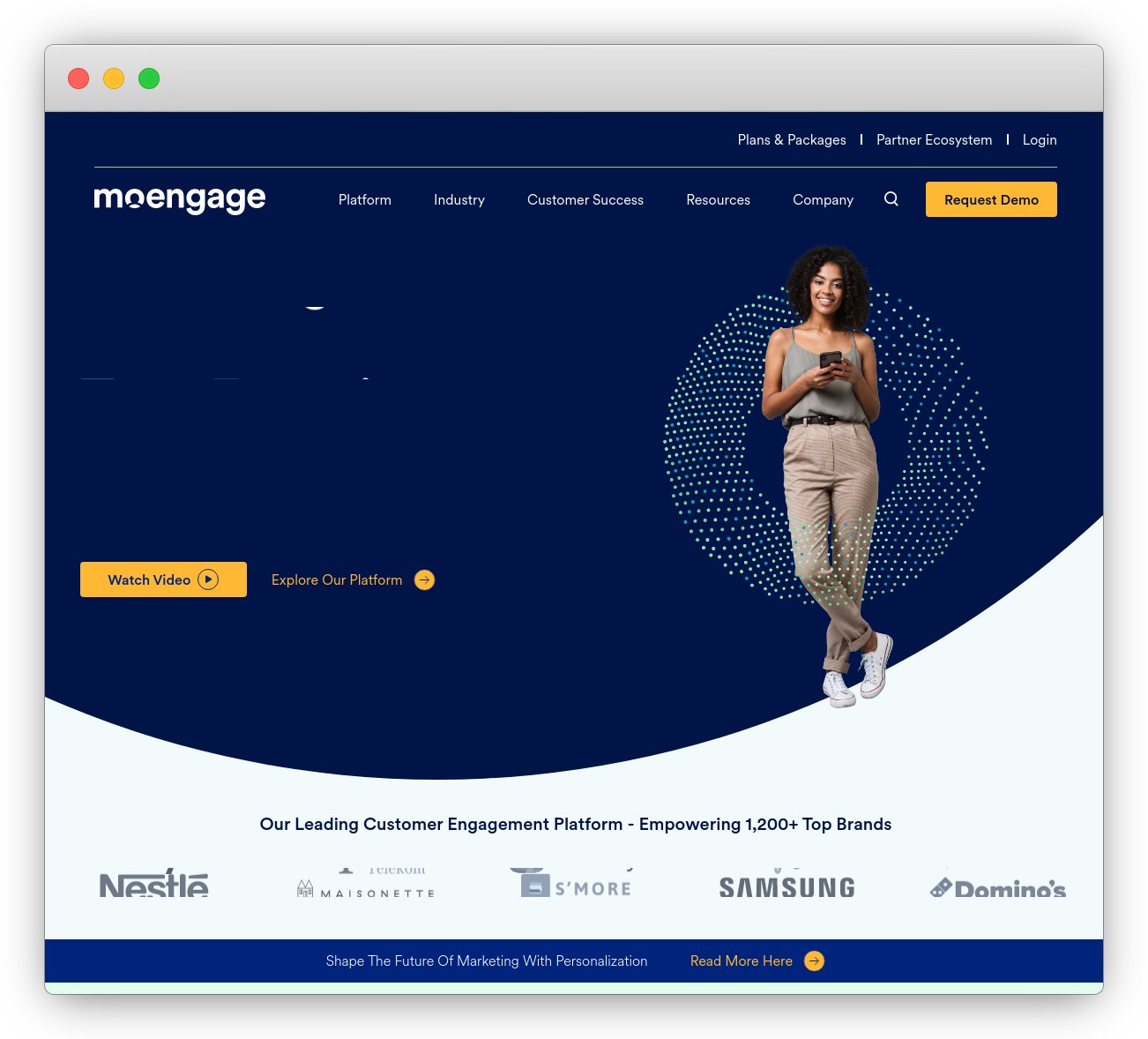 MoEngage Features
Empower marketers and product owners with AI-driven insights to create omnichannel experiences

Go beyond campaign and product analytics with AI-driven capabilities

Prevent customer churn and empower marketers with actionable consumer insights

Proactively identify and remove bottlenecks to optimize your customers' journeys

Compare, analyze, and track campaign performance with behavioral analytics

Personalize and connect on the most impactful channels

Build relevant customer experiences at every stage

Build, manage, and send transactional alerts through a single API
Pricing: You can request a demo to learn about their pricing plans.
#10. Instabug
Instabug is one of the top canny.io alternatives that enables brands to get valuable insights with user feedback. The platform provides a channel for businesses to hear from customers so as to make data-driven decisions and improve their app performances.
Instabug is a customer feedback platform that mainly focuses on collecting user feedback on mobile apps. It enables brands to get feedback from stakeholders and see user behavior so as to avoid surprises and have a full picture of how your product management app is doing. The unlimited feedback platform makes it easy for people to share feedback right from inside the idea management app.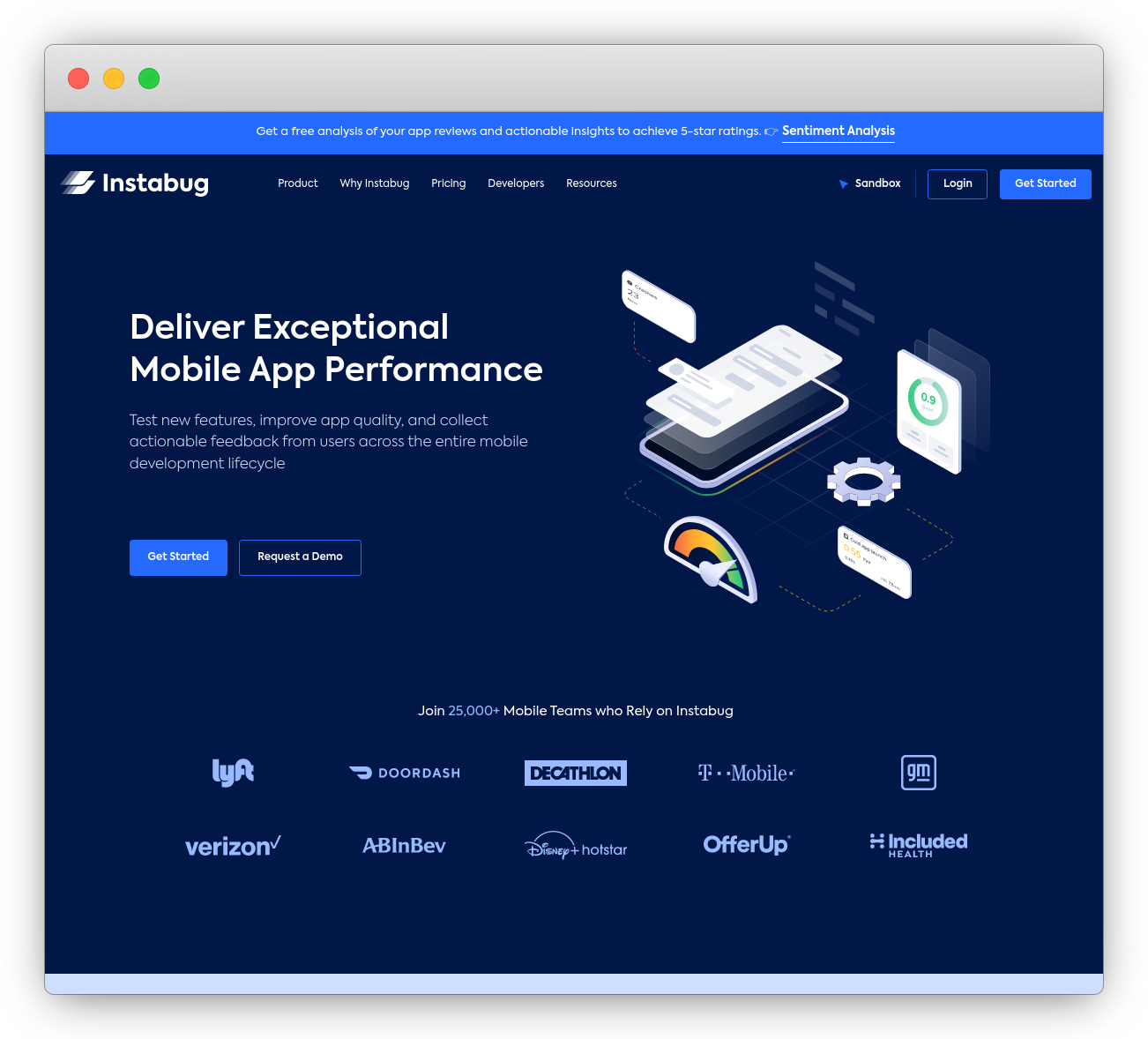 Instabug Features
Get Valuable Insights With User Feedback

Provide a channel to hear from your users to make data-driven decision

Receive feedback quickly, early, and often

Collect feedback proactively with user surveys

Analyze the feedback you get to make data-driven decisions and prioritize fixes
Pricing: The basic plan starts at $249/month, billed annually.
#11. Delighted
As a top Canny alternative, Delighted as the platform enables users to collect a website feedback form, email surveys, in-app feedback forms, customer surveys, and more in the fastest and easiest way. Using its easy-to-use website feedback survey software, brands can quickly trigger a survey on just any website page.
The best part about this Canny alternative is it enables users to set up automated surveys up and running in minutes, not days. It also allows you to ask the right in-app questions at the right time. Adding a logo, custom domain, and customizing in-app surveys just take a fraction of a second.
One can even customize and translate surveys in 30+ languages and also fine-tune survey timing. Another added feature you get with Delighted is the built-in survey throttling to prevent over-surveying.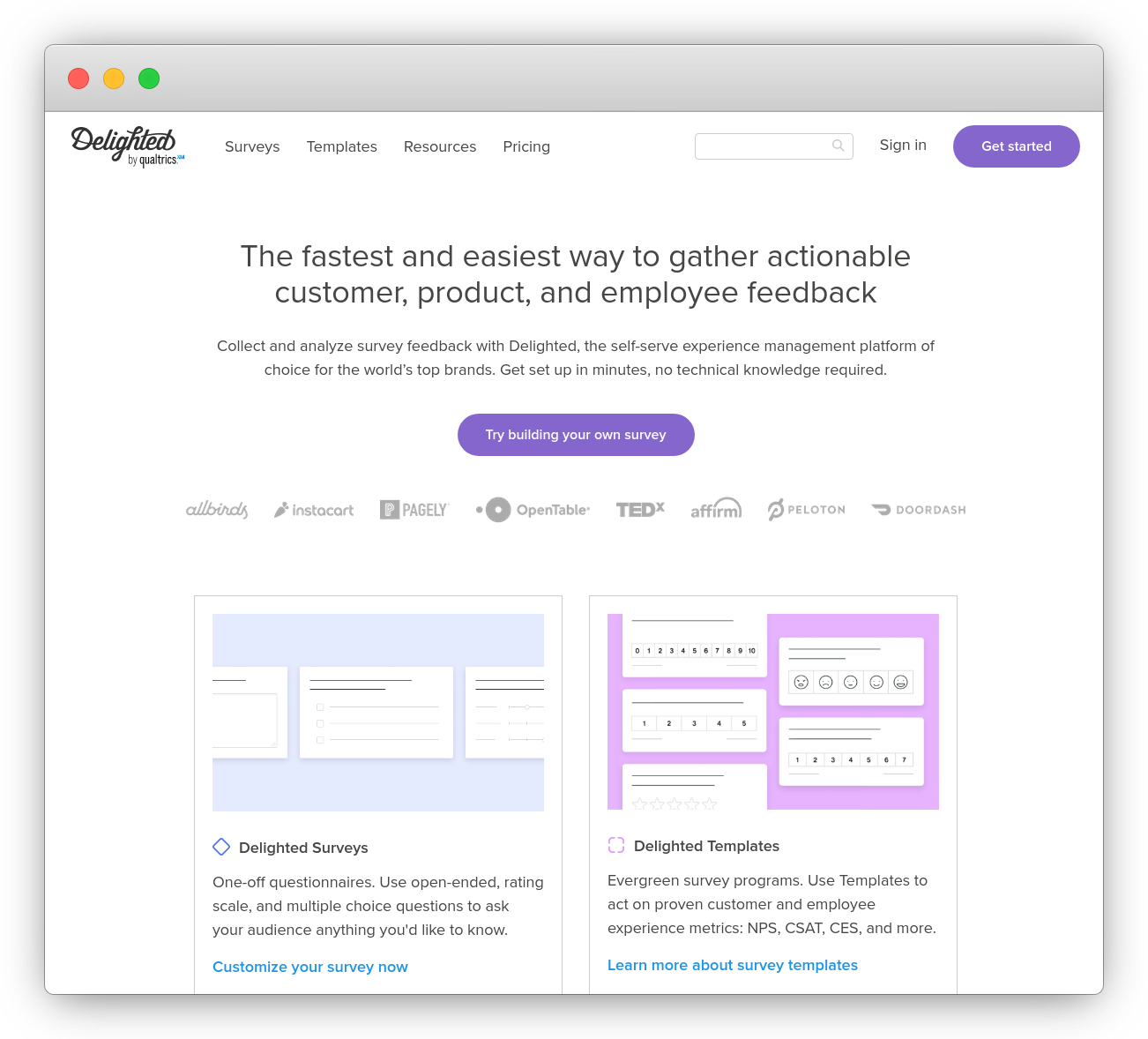 Delighted Features
Easy setup needs as minimal technical knowledge required

Customize and translate your survey to 30+ languages

Send your website feedback surveys to users once, on a recurring basis, or after an interaction

Test your survey before it's live

Ask open-ended questions to uncover crucial insight into customer satisfaction

Customize a Thank You message based on the survey response

Use in combination with other survey methods such as Email, In-app, QR code, and Link surveys
Pricing: You can create a free account to get the pricing details.
#12. SurveyMonkey
Another popular Canny alternative is SurveyMonkey as the platform offers robust features for collecting customer feedback and analyzing it to yield actionable business insights. This cloud-based tool offers real-time insights and advanced analytics features that can empower the development team to boost the company's effectiveness online.
Its website feedback portal and survey software enable users to distribute surveys and get feedback about customers' preferences, and needs. The platform integrates surveys right into your mobile app surveys and web forms so as to get more responses by simplifying the experience.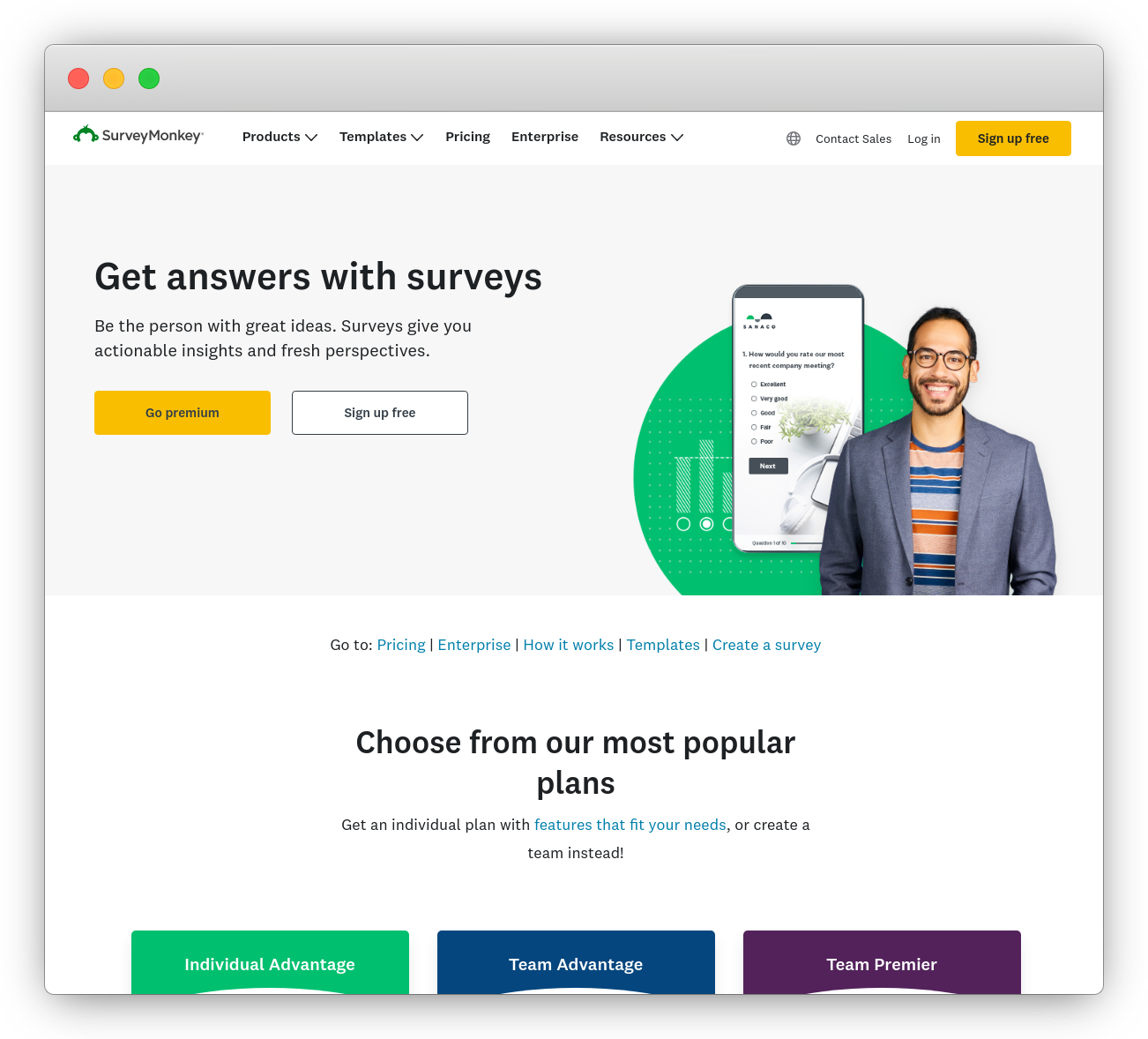 SurveyMonkey Features
Advanced survey creation with AI guidance for creating better questions

250+ survey templates for various use cases

Manage multiple users and gain visibility through data collected across locations

Make feedback automated and actionable by connecting to key business systems

Choose from expert-written sample questions to include in your surveys

Capture feedback when the experience is fresh

Gather real-time data to quickly identify opportunities and make improvements
Pricing: The essential plan starts at $55/month, billed annually.
#13. SurveySparrow
When it comes to Canny alternatives, SurveySparrow is another best-known platform. The tool enables you to take targeted online conversations and surveys to collect customer attributes, and feedback from website visitors, understand their needs, and improve customer experience.
This Canny alternative elevates data and feedback collection at every step. Using its in-app surveys you can collect feedback on the go with ease. The best part is that SurveySparrow surveys instantly capture raw from data collection and store it in its dashboard for detailed analysis and yields rich insights.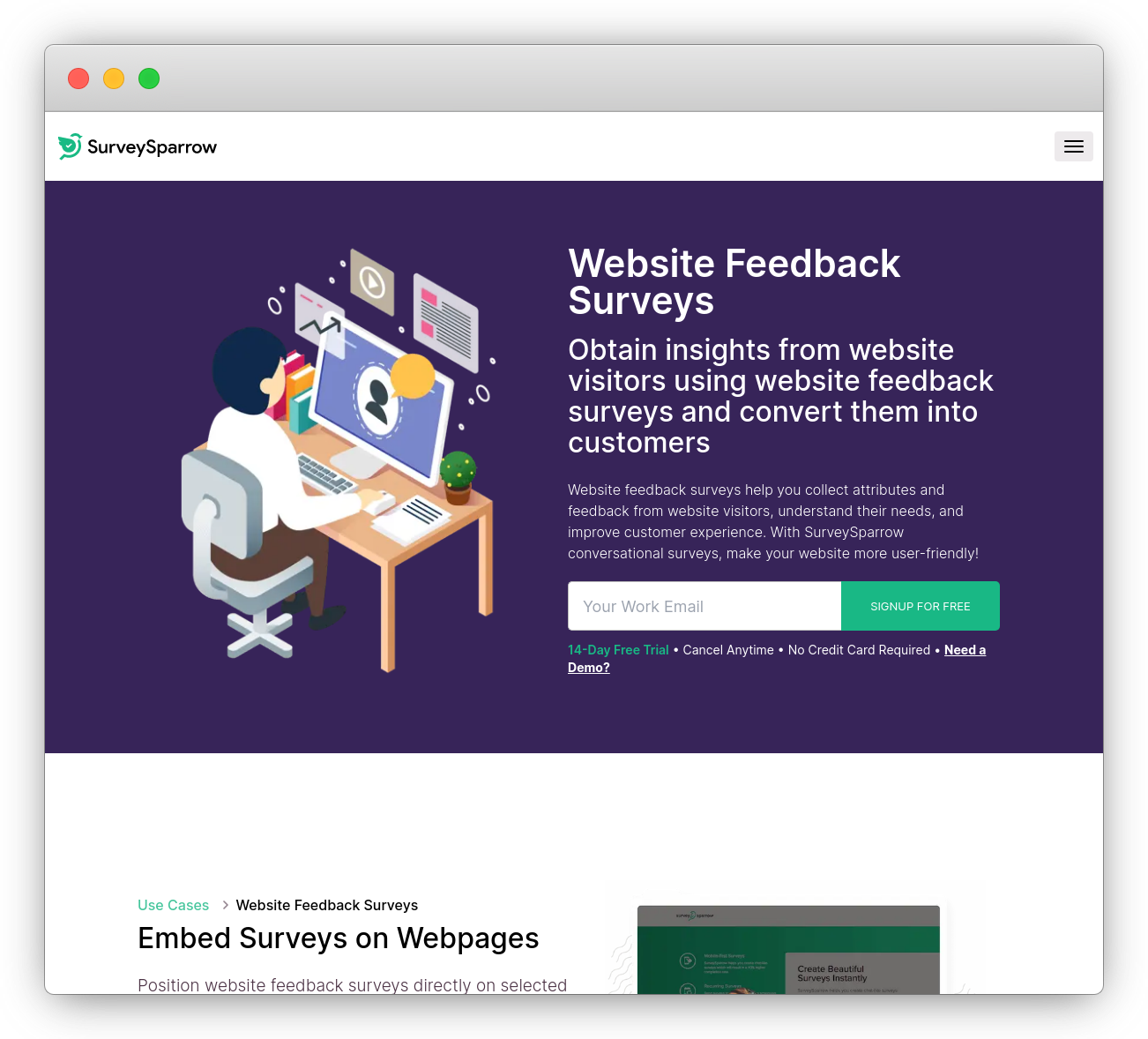 SurveySparrow Features
Get valuable information from the website visitors with chat-like website feedback surveys

Acquire data-driven feedback from your website visitors

Get appealing UI to engage the audience better

Multi-device compatibility for in-app surveys

Instantly captures data and stores it in the dashboard

Position website feedback surveys directly on selected web pages
Pricing: You can connect with the sales team to learn about their custom pricing plans.
#14. Hotjar
As one of the known Canny alternatives, Hotjar allows users to collect data on customer experiences through website surveys. One of the best parts about Hotjar is that you can place the survey across an entire website or trigger it so it only pops up on specific pages and/or after the user requests specific actions.
The tool helps you to understand your customers better, and what they are looking for in your product or services. It also enables users to customize the brand style and track the progress in a single dashboard.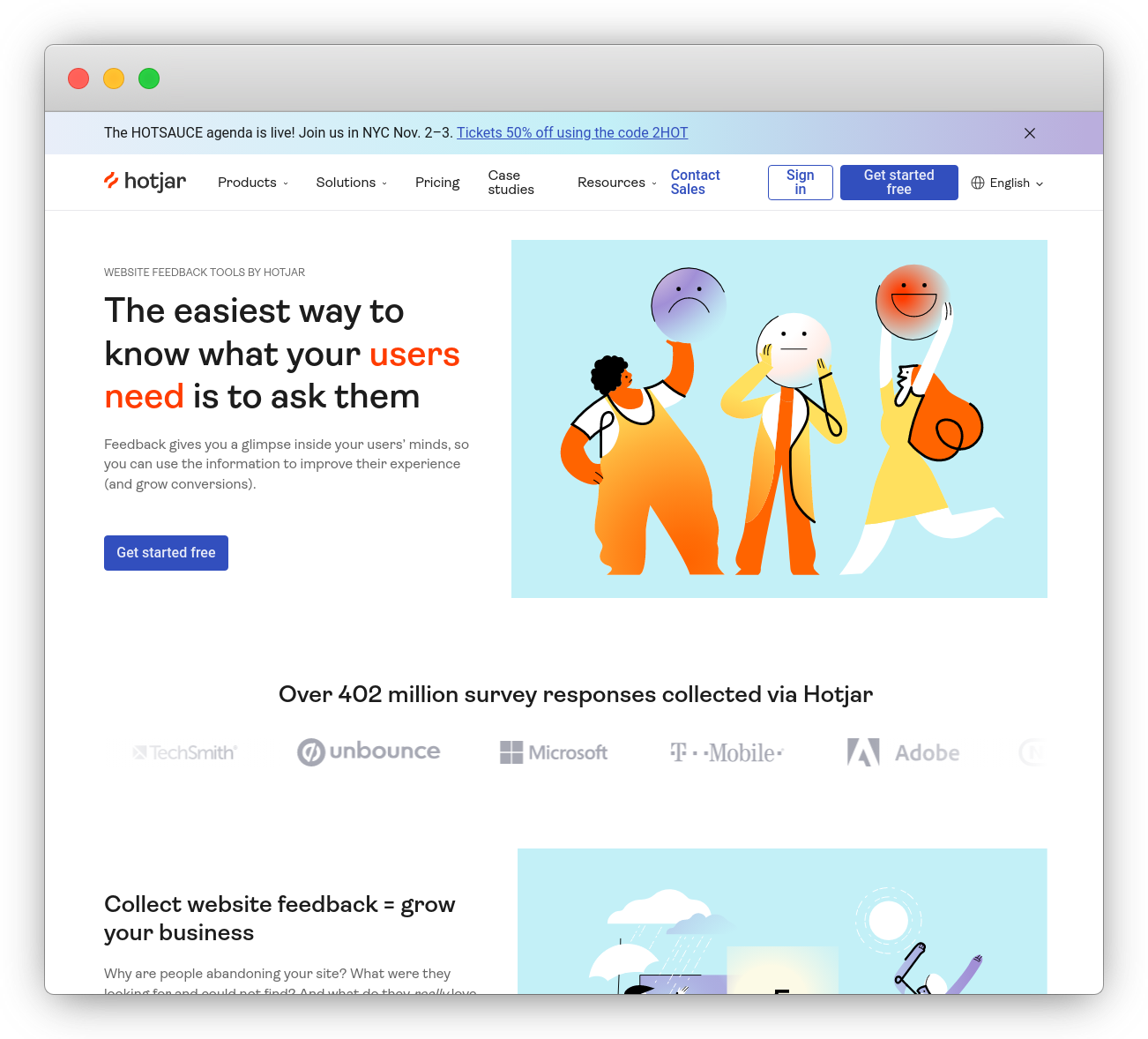 Hotjar Features
Place survey across your entire website or trigger website popup surveys on specific pages

Quickly understand your visitors and measure the satisfaction of your customers

Customize Feedback, and Surveys to match the style and personality of your brand

Get all feedback displayed through graphs and bar charts in dashboards

Quickly check what grabs users' attention or frustrates them

Watch the full customer journey to find and fix issues
Pricing: The essential plan starts at $32/month. You may also go for its free plan.
#15. Typeform
Typeform is another best Canny alternative that helps users create forms and promotes survey collection into a fun and friendly conversation platform. The best part about this platform is that it quickly allows you to create personalized surveys by using its intuitive survey builder and creator.
One can quickly create standout surveys for websites and apps in minutes. It also allows you to choose question types to send surveys to help you listen to your customers and take relevant answers.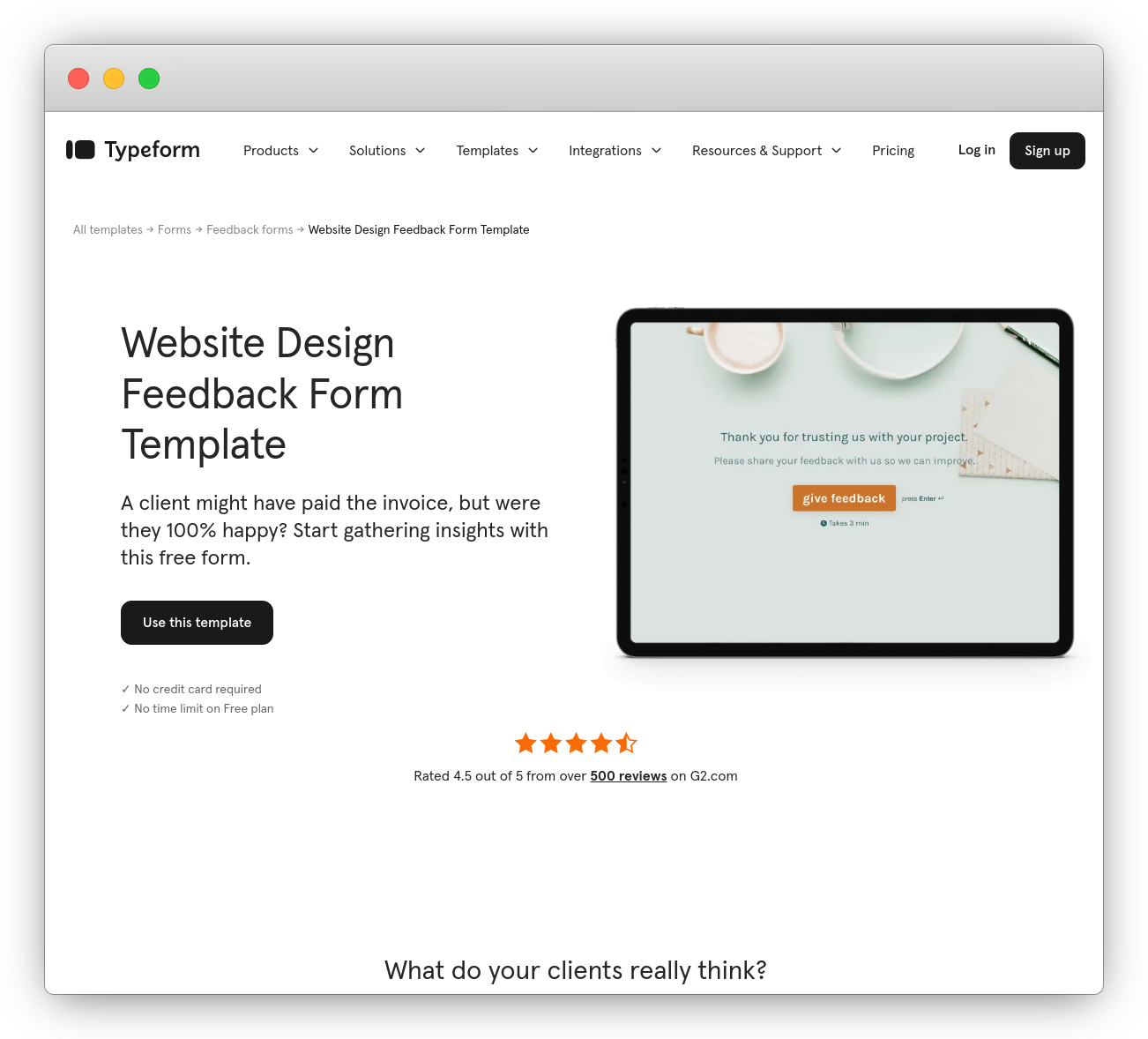 Typeform Features
Get advanced question types, multiple choice, dropdowns, ratings, and more

Offers a range of pre-designed templates for different use cases

Provides real-time reporting and analytics for better insights and informed decision

Get high-quality feedback on the websites

Add a range of questions, one at a time to keep the audience engaged

Quickly embed surveys into the website either as a popup or a standard embed
Pricing: The initial plan starts at $25/month, billed annually.
#16. Survicate
Survicate stands out as one of the leading Canny alternatives, offering robust capabilities for feedback collection and analysis. It excels in providing a diverse range of survey formats, enabling users to gather both qualitative and quantitative feedback from customers.
With a wide selection of 125+ pre-built survey templates, users have the flexibility to create polls from scratch while enjoying full customization options to align with their brand's style guide. The platform's drag-and-drop survey builder simplifies the survey creation process, making it accessible to users with varying technical expertise.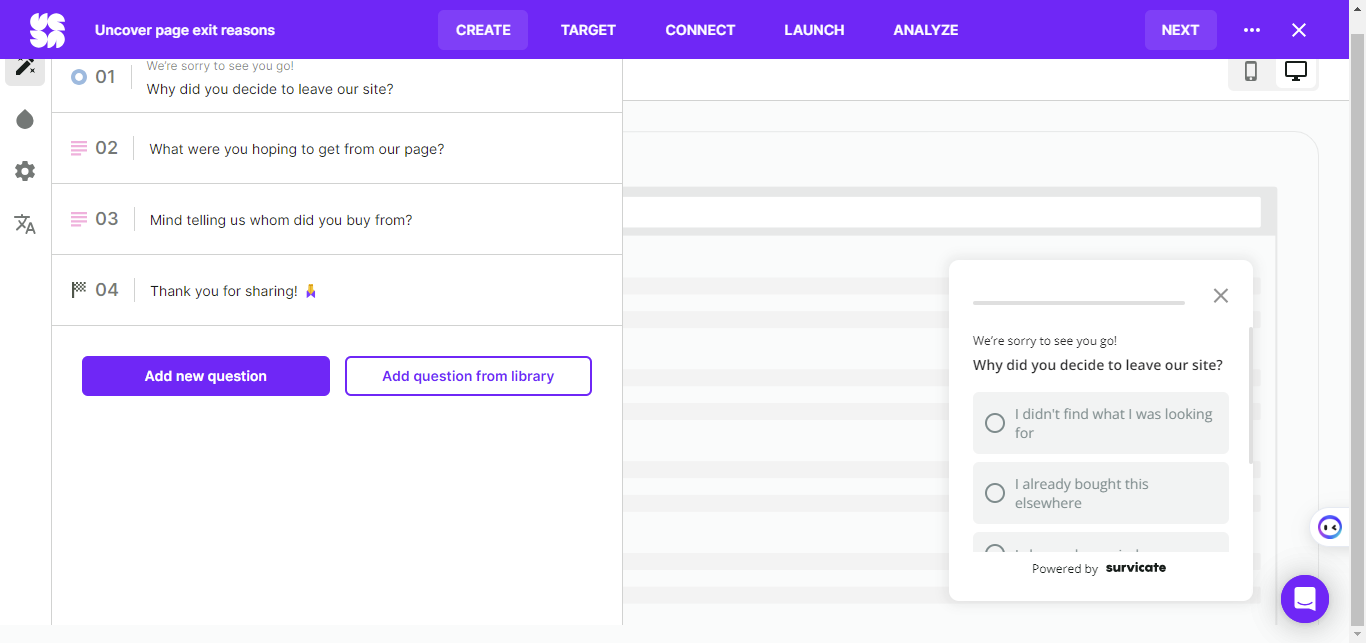 Survicate Features
Build any survey in minutes using an intuitive drag-and-drop creator

Automate data collection with recurring surveys for valuable insights

Integrate with your favorite tools in a single click

Collect customer feedback at scale in minutes, not weeks

Highly rated for effortless setup, customization, and integrations

Because customer feedback shouldn't be that complicated

Build any survey in minutes using an intuitive drag-and-drop creation

Automate feedback collection with recurring surveys

Send the survey data to all your tools with 1-click native integrations
Pricing: The initial plan starts at $99 per month, billed annually.
#17. Proprofs Survey Maker
ProProfs Survey Maker is a popular choice when it comes to choosing an online form builder and one of the top Canny alternatives. Proprofs survey maker is a perfect fit for those looking to gather information in the simplest way. You can even create beautiful online surveys with the easiest online survey software, and customize it with your brand and logo.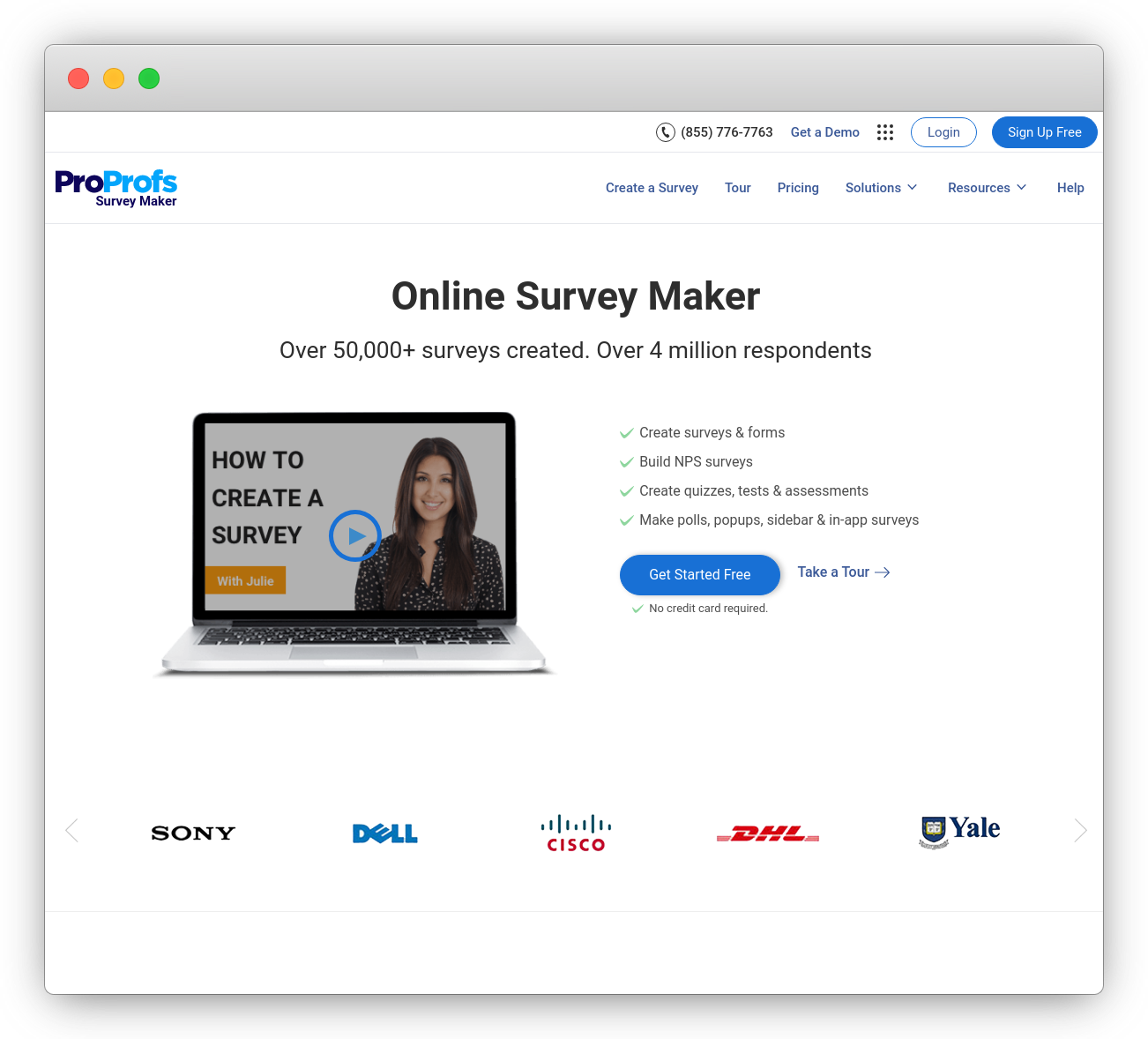 ProProfs Survey Maker Features
Create a survey in under 60 seconds

Pick from 100+ ready-to-use templates

Ask visitors questions without even leaving your website

Easily create beautiful surveys with a free survey maker tool

Customize surveys as per your brand colors and logo, add survey logic and branching, and scores
Pricing: The initial plan starts at $19/month. You can also try it free for 15 days.
#18. SurveySensum
SurveySensum is an AI-powered customer feedback tool that allows teams to collect feedback from digital channels across various touchpoints in the customer journey. One of its stand-out features is its in-app feedback which offers a comprehensive set of features enabling teams to conduct surveys and gather insights effortlessly.
Additionally, the feedback tool also enables teams to share feedback from internal teams across multiple channels and other feedback tools such as collected in real-time from internal teams.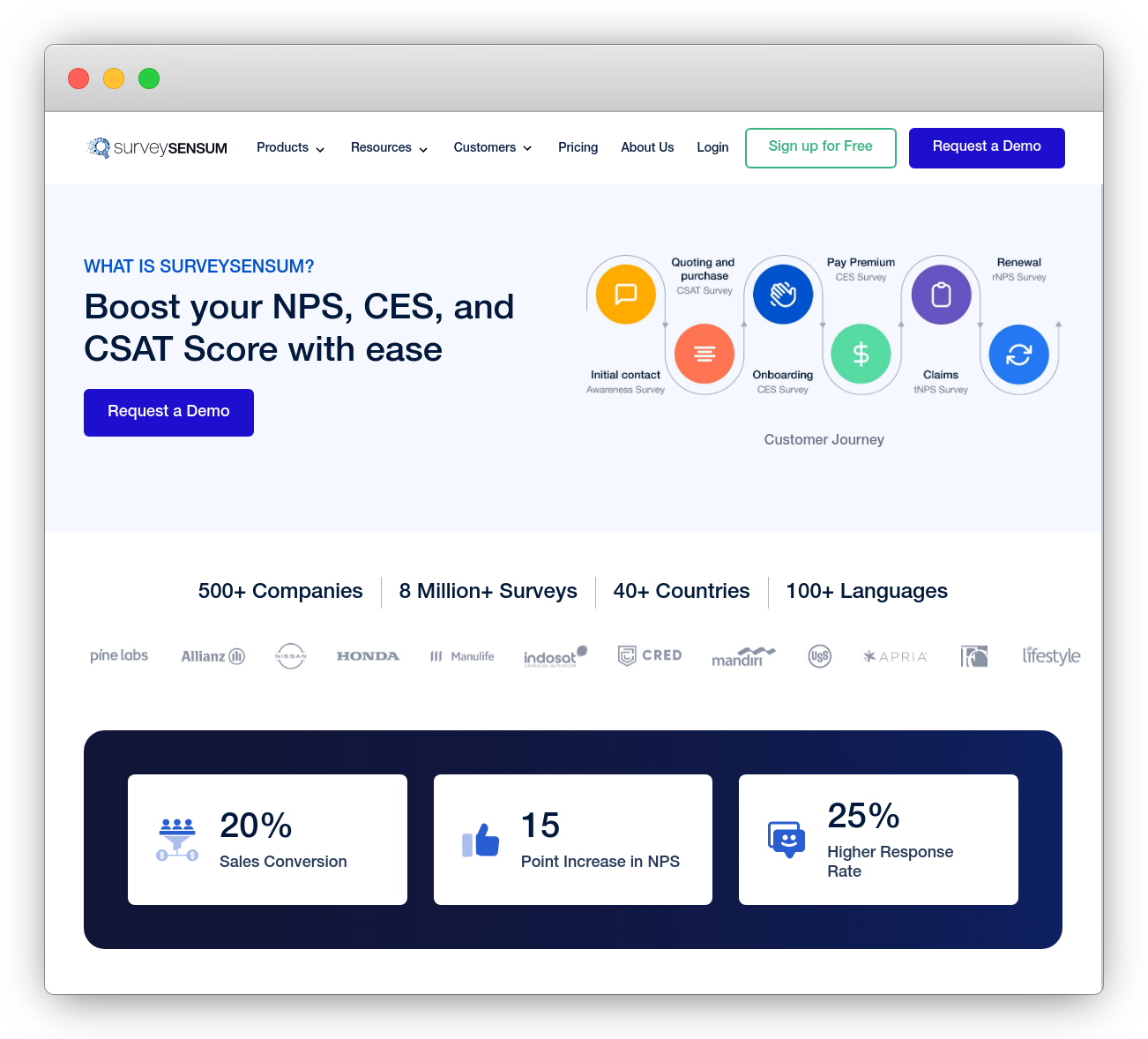 SurveySenum Features
Helps to choose the right survey for the right audience and touchpoints

Get in-built survey templates, and add custom questions depending on the objective

Gather feedback, take action, and close the loop with the help of the CX team

Effortlessly create in-app surveys, ensuring a seamless feedback experience
Pricing: You need to connect with their sales team to learn about the pricing plans.
Wrapping Up
As a customer feedback management company, you need to decide on a tool to make your user and feedback management process a piece of cake. In this article, we have shared 18 best Canny alternatives that best suit the needs of your business in terms of survey, collecting feedback types, data required, budget, and more.
Each of these alternatives highlighted has its own strength, and unique key features too. However, if you're still not sure which platform to choose, you can take Zonka Feedback's 7-day free trial. You can take advantage of this cost-effective platform to get started today.