Google Forms is known as a user-friendly form creator that helps businesses build online surveys, quizzes, and polls quickly. However, its simplicity comes at the cost of functionality as the platform can't handle most of the advanced form-building needs that we need today.
But don't worry.
If you are someone who is looking for the best Google Forms alternatives then you are in the right place. In this article, we'll look at some significant limitations of Google Forms, then cover 14 best Google Forms alternatives, and explore their key features, and pricing.
Let's get started.
TL;DR
Teams are looking for alternatives to Google Forms as the platform can't upload files without logging in to Google, lacks advanced features, like interactive Conversational forms, and more.
We have gathered a list of the top 14 Google Forms alternatives, with thorough market research, and set parameters.
Some of the popular alternatives are Zonka Feedback, Typeform, Formstack, GoCanvas, Prontoforms, SurveyMonkey, and more.
Apart from Google Forms alternative,

we have also shared a list of other platforms and their various alternatives like

Medallia alternatives

,

SurveyMonkey alternatives

,

Hotjar alternatives, Typeform alternatives, GetFeedback alternatives, Cloudcherry alternatives, Jotform alternatives, AskNicely alternatives, InMoment alternatives, Forsta alternatives, Delighted alternatives, Survicate alternatives, Qualtrics alternatives, Uservoice alternatives, Canny alternatives, Nicereply alternatives, Satismeter alternatives, SurveySparrow alternatives, Data collection tools, Forms on fire alternatives, Paperform alternatives, Fulcrum alternatives, and Gocanvas alternatives
To see how Zonka Feedback can be your top choice as a perfect Google Forms alternative, sign up for a free 7-day trial or book a demo!
Measure Customer Feedback & User Insights
With Customer Feedback Surveys, understand what users need and learn ways to delight your customers.
#1. Zonka Feedback
Zonka Feedback Form Builder is one of the best-known Google form alternatives as the platform enables users to create and customize a form and create a survey almost effortlessly. What makes Zonka Feedback the best competitor for Google Forms is its modern and intuitive interface with a focus on multilocation feedback collection, making it easy for businesses to reach customers across various touchpoints.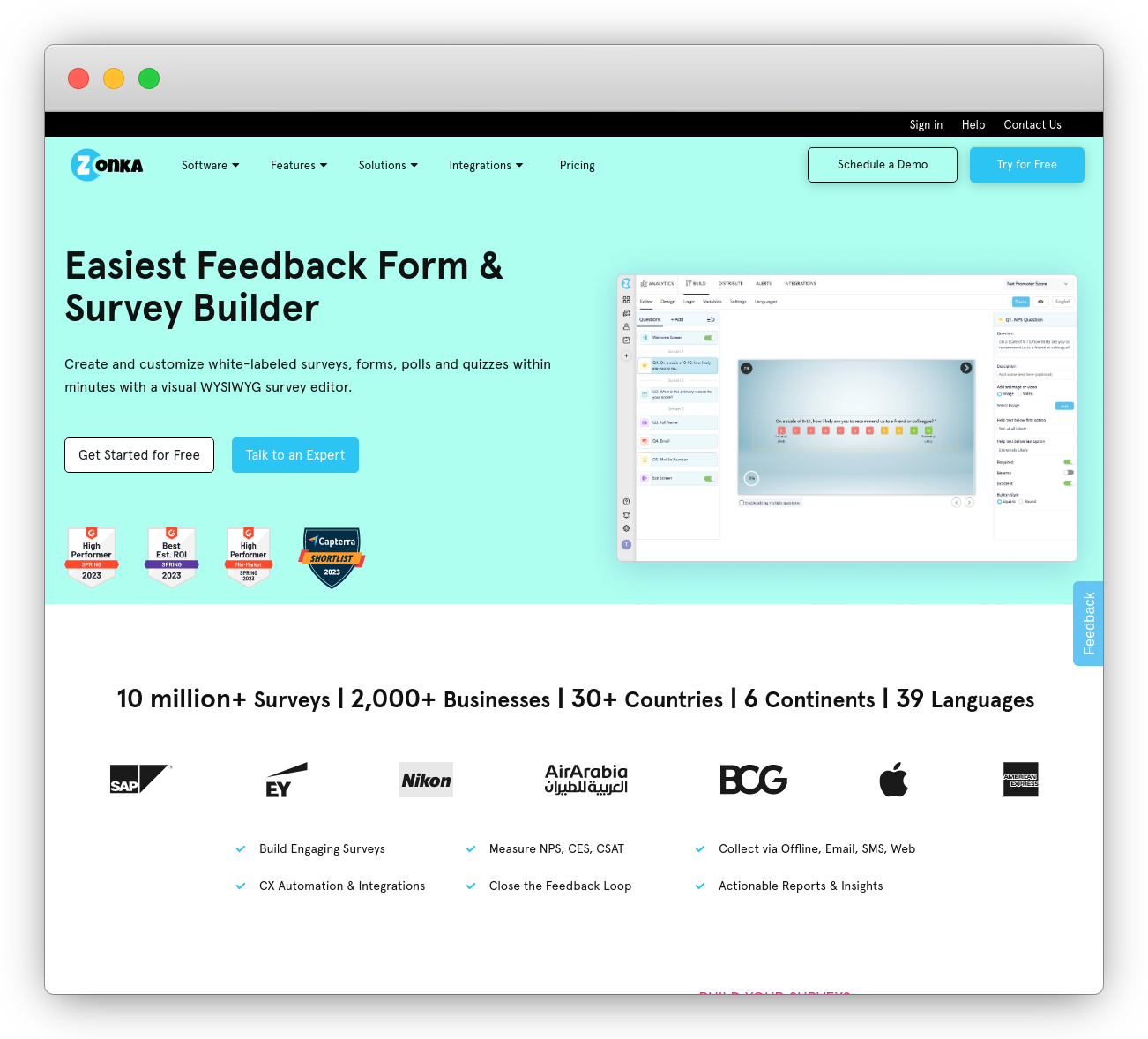 Zonka Feedback Vs Google Forms
With its CX automation capabilities, Zonka Feedback provides versatile various survey forms and types, including NPS surveys, CSAT surveys, CES surveys, offline surveys, kiosks surveys, and more. A standout feature that Zonka Feedback provides is the multi-language option that allows users to ask the right question at the right right.
Although Google Forms also offers multiple question types to gather insights from responses, the platform lacks CX automation capabilities like Zonka Feedback. Moreover, Google Forms can work on customizable questions, and mark important questions as mandatory to ensure responses for those questions.
An added feature that users get with Zonka Feedback is white-labeling surveys and forms, that enable them to design forms that align with their branding. One of the features that make Zonka Feedback a top contender for Google Forms is its robust integration, including some of the popular CRM systems like Salesforce, HubSpot, Zendesk, Freshdesk, and more, enabling seamless data synchronization.
Zonka Feedback Features
Workflow and CX automation to automatically close the feedback loop

Easy to customize surveys as per your needs

More website feedback widget options to choose from

Out-of-the-box reporting features like snapshot reports, response inboxes, trends reports, text analytics reports, and other survey reports

Choose from 30+ survey question types

Advanced user segmentation and targeting

Quick access to Microsurveys

Advanced interface with pre-built survey templates

Multi-linguistic and 50+ integration
Pricing
The Essential plan for creating offline surveys starts at $15 per device/month, while the free version of the Starter plan starts at $49 per month. You can either opt for a free plan or try the free version of the Zonka Feedback platform for a free trial for 7 days.
#2. Typeform
Typeform is a widely used online survey software that empowers businesses to create captivating and visually appealing surveys. While it's renowned for its unique approach of presenting 'one question per page' in surveys, there are other advantages to utilizing Typeform.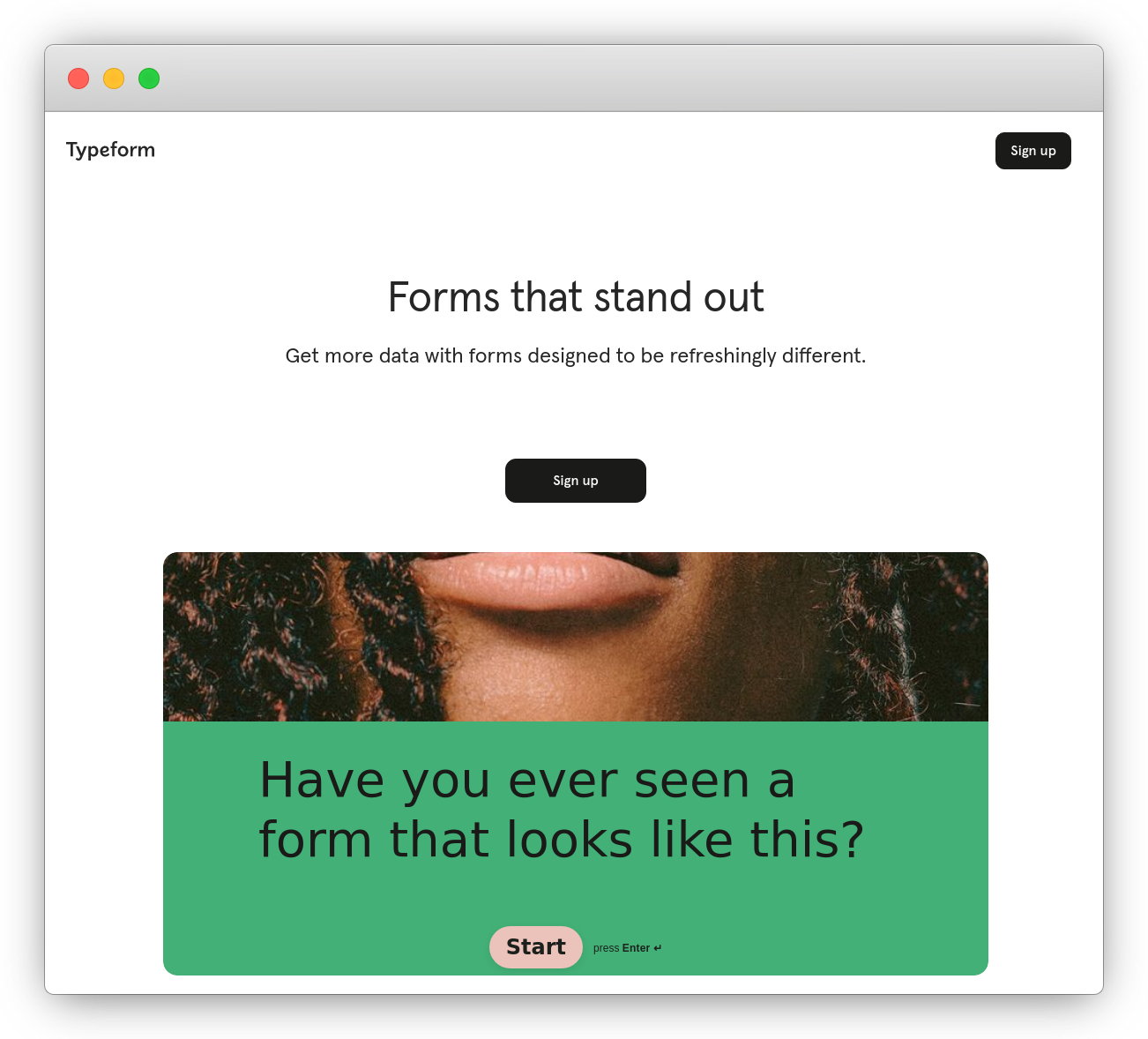 Typeform Vs Google Forms
When it comes to comparing the designing process for Typeform in compare to Google Forms, Typeform offers more options and unlimited logic jumps required to add elements to the forms. The platform also lets you create different paths to tailor a form template according to your audience.
Typeform's drag-and-drop interface makes it easy for those without coding experience whereas Google Forms' design options are extremely limited, limiting users' ability to create advanced forms with many variations.
Typeform Features
Make form-filling feel effortless by replacing a long list of questions

Get deeper insights by encouraging people to elaborate

Grow your audience with striking forms designed to help you stand out

Build any form with AI with its click publish button
Pricing: The basic plan starts at $25
#3. Formstack
With team collaboration tools, workflow automation, advanced features, and a native Salesforce app, Formstack stands out as one of the top Google Forms alternatives. With easy-to-use integrations and a variety of other smart features, the platform offers limitless options for smarter form building.
Formstack Vs Google Forms
With more than 200+ integrations, Formstack offers subdomains that allow you to customize your form submission URLs for better brand recognition and a more secure customer experience. The various form data importers in Formstack make it possible for users to fill out InfoPath forms by using data from files in other formats.
A standout feature that sets Formstack apart from Google Forms is the Email logic as it allows users to send custom emails based on the answers submitted by form users.
Formstack Features
Collect valuable information in a variety of formats with over 15 field types

Use powerful optimization tools to collect insightful information

Eliminate the hassle of CSS coding with advanced editing capabilities

Connect your forms to over 100 of your favorite apps
Pricing: The initial plan starts at $50/month.
#4. GoCanvas
GoCanvas enables users to manage all facets of their business from the palm of their hand. The platform easily maintains complete control of all the operations across your worksites.
GoCanvas Vs Google Forms
In terms of pre-built forms, GoCanvas provides 30,000+ forms as compared to Google Forms. One of the cool features is its intuitive drag-and-drop feature that allows techies to easily reconfigure the existing templates and use them directly as they need.
As a top alternative to Google Forms, you also get a form builder that allows you to capture GPS coordinates, time stamps, signatures, media, and more. What differentiates GoCanavas from Google Forms is its Smart fields that enable users with pre-filled survey data to help them save time while collecting customer feedback.
GoCanvas Smart Features
Manage all facets of your business from the palms of your hands

Get a library of 30,000+ pre-built forms

Intuitive drag-and-drop feature to easily reconfigure existing templates

Match your brand. Include links and QR code surveys with a PDF designer
Pricing: You need to request a demo to learn about their pricing plan.
#5. ProntoForms
ProntoForms is a versatile and comprehensive mobile forms solution designed to streamline data collection and field operations for businesses across various industries. This powerful platform enables organizations to create, deploy, and manage digital forms, transforming traditional paper-based processes into efficient, digital workflows.
ProntoForms Vs Google forms
Prontoforms drag and drop form builder helps you leverage your field support staff's knowledge to rapidly build, deploy, and iterate solutions. One thing that sets Prontoforms apart from Google Forms is its multilanguage workflows.
Being one of the best Google Forms alternatives, Prontoforms allows you to create a variety of smart forms based on your context- from PDFs, event invitations, contact forms, and structured data formats for integration, each with its own unique appearance and format.
Prontoforms Features
Make data from your systems (FSM, EAM, EHS, CRM, ERP, etc.) available in an intelligent context

Build apps that work seamlessly to exchange data with other apps and business systems

Split your forms into multiple pages, create distinct sections on each page

Get advanced controls, questions, drop-down menus, color-coded button groups, photo/sketch

Create a universal approach to fieldwork with multiple language options
Pricing: You can request a demo to learn about their pricing plans.
#6. Forms on fire
As one of the top Google Forms alternatives, Forms on fire is a robust and adaptable mobile forms and data collection platform designed to streamline business processes and empower field operations.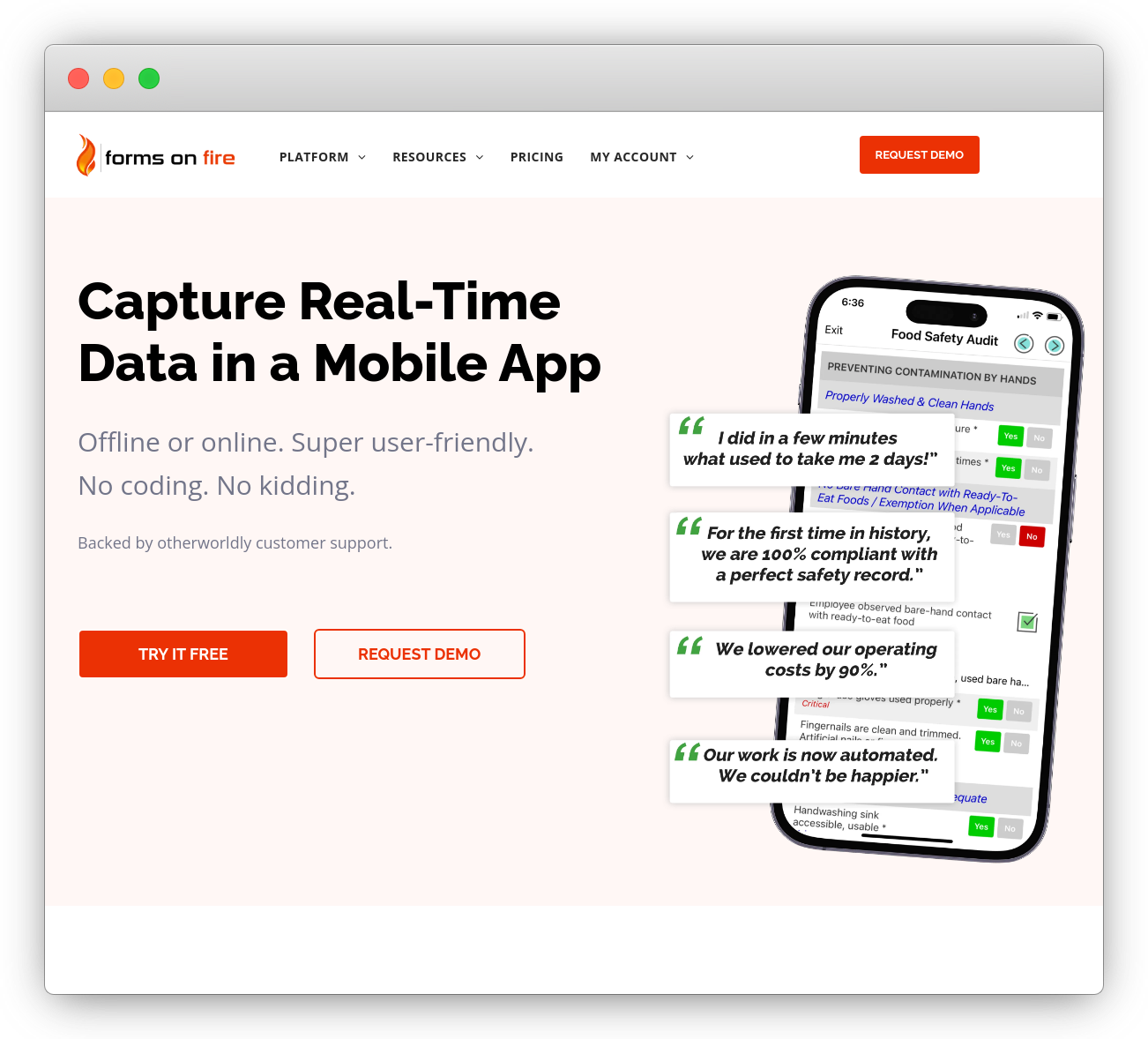 Formsonfire Vs Google Forms
When it comes to capturing real-time form data, especially through mobile app surveys, Forms on fire is the best known as compared to Google Forms. You can enjoy enterprise-grade speed and power through fully native apps on iOS, Android, and Windows with Forms on fire.
The platform enables users to collect data and feedback offline as well as online. Labeling is another feature you get with Forms on fire that allows users to private label the products and services and sell them without mentioning Forms on fire.
Formsonfire Features
Enjoy enterprise-grade speed and power through fully native apps

Access powerful device capabilities like GPS, mapping, NFC, OCR, contactless signatures, and more

Continues working even when connectivity isn't

Private Label products and sell them as your own

Empower everyone to get work done from anywhere, online or offline
Pricing: The standard plan starts at $20/month.
#7. Zoho Forms
Zoho Forms is a compelling option for creating forms, especially for businesses that are already using the Zoho Office Suite. The form builder is rich in features and offers users a variety of unlimited forms, 30 field types, and the ability to personalize form entries, themes, and templates tailored to specific situations.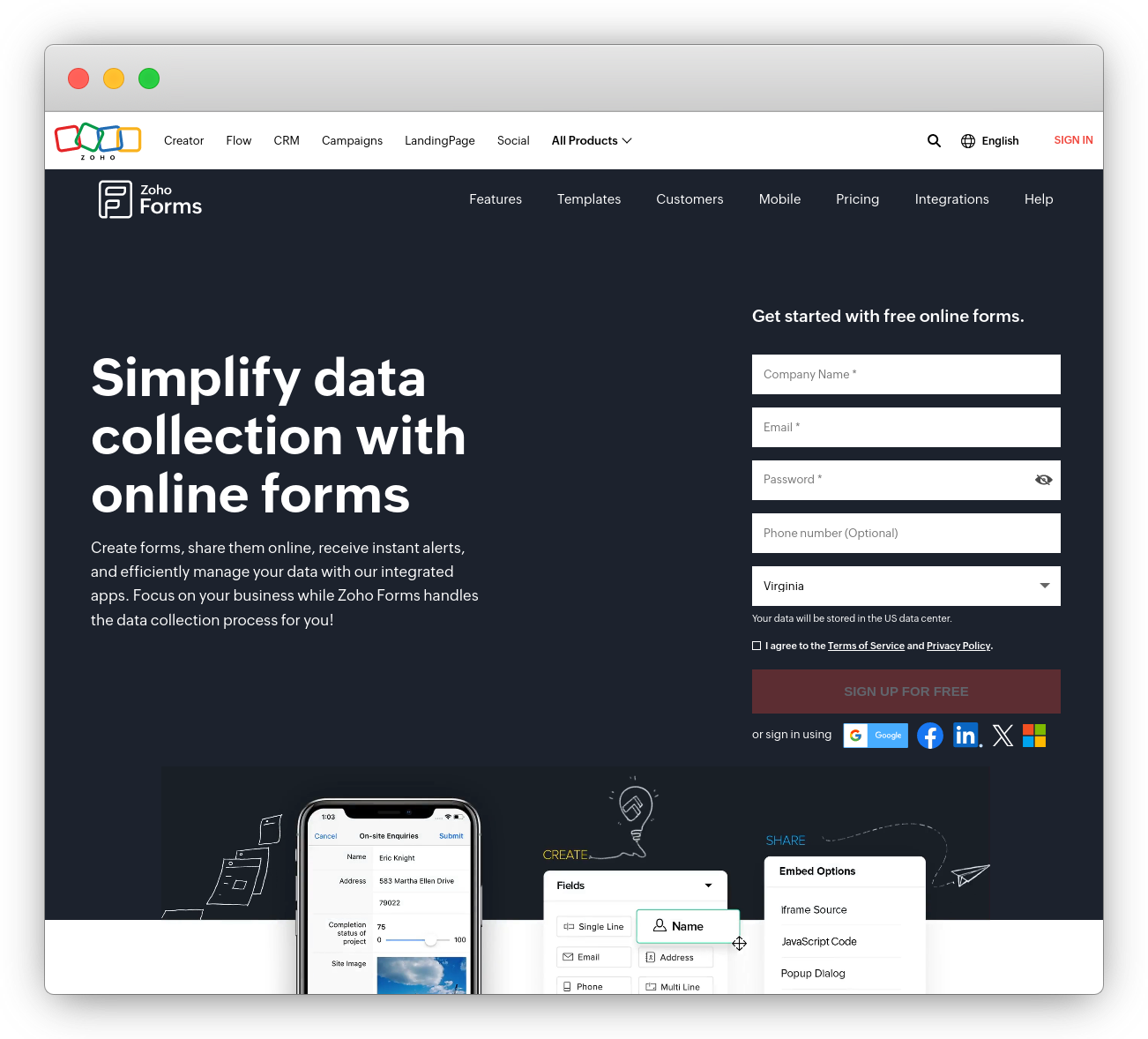 Zoho Forms Vs Google Forms
Zoho Forms provides a range of collaboration tools that promote effective teamwork and streamline the form-building process. In contrast, Google Forms offers more basic form-building features than collaboration features and doesn't offer the same extensive level of collaboration.
One notable feature offered by Zoho Forms is its "form analytics," enabling users to track the performance of their web forms. The platform also grants users the flexibility to embed their customized web forms directly into their websites.
Zoho Form Features
Build powerful forms for free, and share them online

Focus on your business while Zoho Forms handles the data collection

Create visually appealing forms with a no-code online form builder

Embed secure online forms in webpages for enhanced engagement with your website visitors
Pricing: The basic plan starts at $18/month.
#8. SurveyMonkey
SurveyMonkey Forms is a versatile and user-friendly online form-building platform that empowers individuals and businesses to create a wide array of surveys and forms and questionnaires with ease.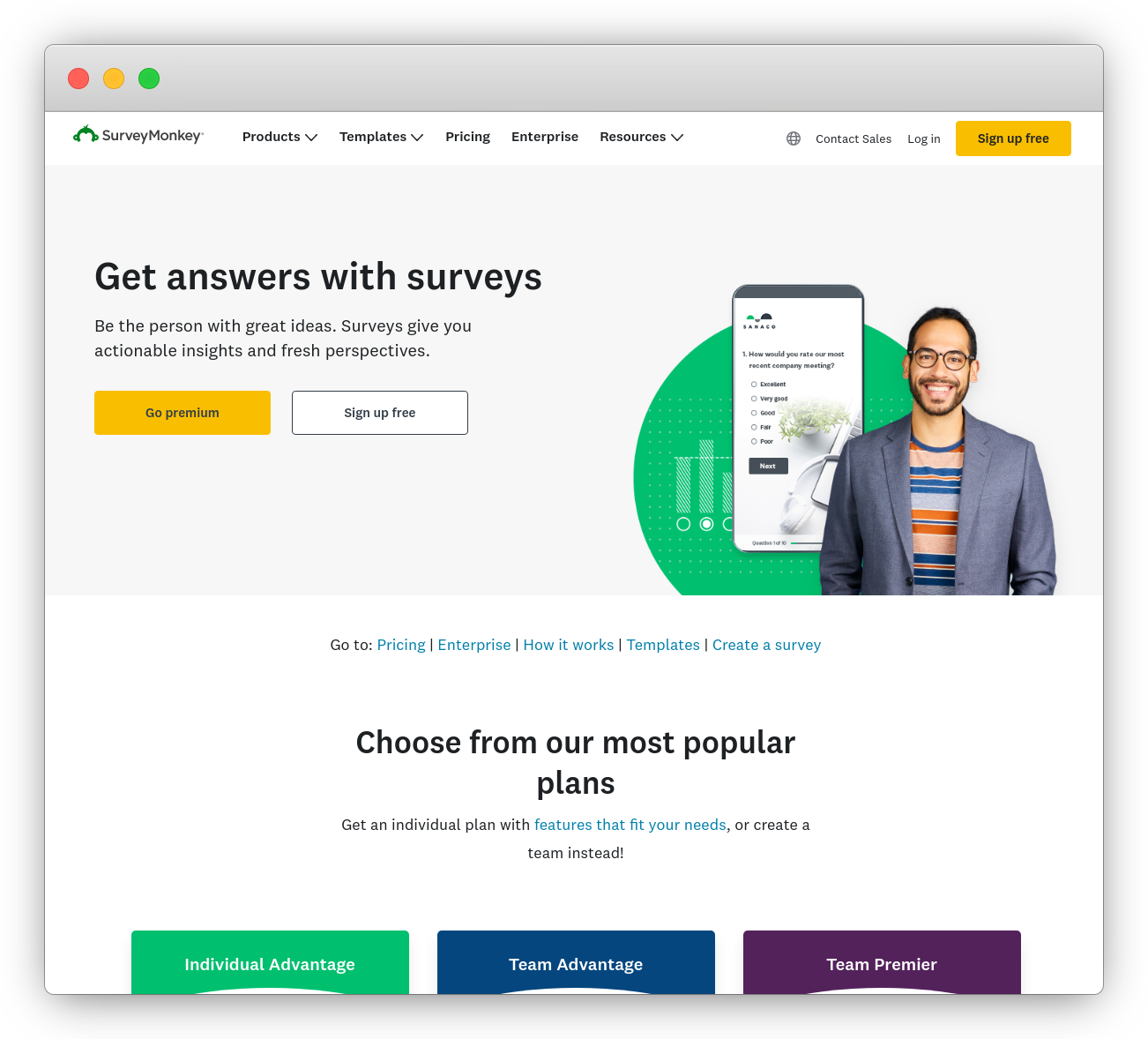 SurveyMonkey Vs Google Forms
Both SurveyMonkey and Google Forms have their own challenges when it comes to usability. Google Forms is easier to use on desktops than mobile devices and comes with limited functionality compared to SurveyMonkey.
Although both SurveyMonkey and Google Forms offer various integrations, the only disadvantage for Google Forms is that many of its plug-ins are developed by third parties and aren't regularly maintained to guarantee performance.
SurveyMonkey Features
Get advanced data-export capabilities

Quickly use survey logic & branching and A/B testing

Team collaboration features are available

Get customer experience and feedback solutions

SurveyMonkey offers enterprise-level admin options
Pricing: The initial plan starts at $55/month for 3 users.
#9. SurveySparrow
SurveySparrow Forms is a user-friendly online, form design and creation platform that streamlines the process of generating surveys and forms for various business and organizational purposes.
SurveySparrow Vs Google Forms
As one of the best Google Forms alternatives, SurveySparrow holds a conversational tone in forms and surveys and helps engage with your respondents. Its advanced survey reports and analysis features enable users to grasp insightful conclusions that throw light on several problem points in business.
This Google alternative helps you to ask the right question at the right time with display logic and skip logic.
SurveySparrow Features
Bring at-a-glance visibility with dashboard reporting

Avoid the hassle of accessing multiple surveys with all-in-one instant surveying

Visualize all your customer metrics and initiatives in one place

Get engaging forms with an easy-to-use form builder
Pricing: You can get in touch with their sales team to learn about pricing.
#10. Paperform
Paperform is a versatile online form-creation tool that allows you to manage sales, schedule appointments, collect payments, interact with clients, and automate manual tasks. Its robust editor provides extensive customization options, over 25 question fields, and advanced workflow capabilities, enabling you to design the tailored solutions you require.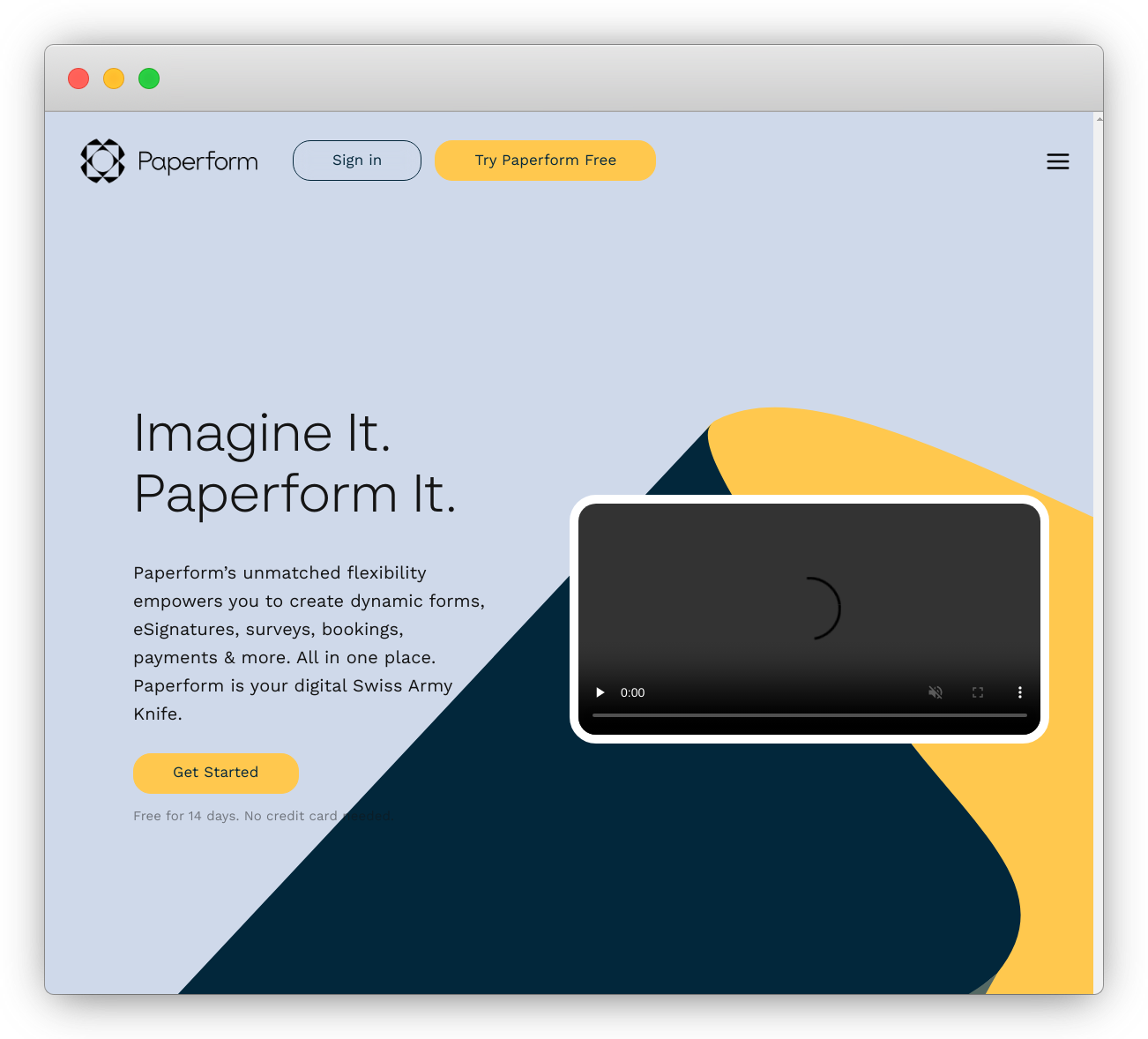 Paperform Vs Google Forms
Paperform's minimalist no-code interface makes it easy for anyone to create beautiful forms and surveys. Whereas Google Forms has a clean layout and is simple to use, the user experience is fluid. There are limited question types available with very few advanced options.
Google Forms only has 17 form templates as compared to Paperforms with 750+ pre-built templates that cover every possible need.
Paperform Features
Empowers you to create dynamic forms, eSignatures, surveys, bookings, payments and more

Build beautiful solutions as unique as your brand

Get unique calculations function to transform text, calculate shipping rates and discounts based on real-time user input

Get flexible online forms that are easy to create
Pricing: The essential plan starts at $20/month.
#11. Forms.io
Forms.io by 500apps is an online form builder that lets you create engaging forms that customers will like to fill out and get responses, collect payments and accept payments, generate leads, and much more. Whereas Google Forms is free online form builders software that allows you to create unlimited forms, surveys, quizzes, and more.
Forms.io Vs Google Forms
As an alternative to Google Forms, Forms.io provides many options and adds advantages to companies that focus on form creation. Its full drag-and-drop editor, customizable options, simple features, and advanced animation effects, make the platform the best Google Form alternatives. The platform enables users to create multiple forms effortlessly with just a few clicks.
Forms.io Features
Choose from a variety of built-in templates to quickly design forms

Get straightforward UI to improve the front-end user experience

Create the form as per your look by using different design options

Use the form embed code - one page or several pages - and paste it anywhere
Pricing: The essential plan starts at $12/month.
Free Google Forms Alternatives
If you are looking for a free version of Google Forms alternatives with advanced features and better options then we have got that list for you. Here are some of the best Free Google Forms alternatives.
#1. forms.app
forms.app is a powerful form builder with many templates and different features for customization. The platform is easy enough for anyone to use and doesn't require any programming knowledge to create complex forms. You can create custom landing pages and forms alternative and also set animated backgrounds for a more attractive form.
Forms.app Vs Google Forms
Although both Forms.app and Google Forms offer pre-built templates, the number of templates is more than Google Forms as the platform offers 315+ templates. Also, submissions are 150+ when compared to Google Forms.
Free Forms.app Features
Get 5 forms per month

100 responses /month

10 MB file storage

10 email notifications /month
Pricing: It offers a free plan; however the paid version starts at $12.5/month.
#2. Formaloo
As one of the best free Google Forms alternatives, Formaloo is a popular option for building forms, surveys, and questionnaires. While Google Forms is a simple and cost-effective way to create forms, and collect feedback, Formaloo is a database app builder with powerful data management and automation features.
Formaloo Vs Google Forms
Compared to Formaloo, Google Forms offers limited analytics and reporting options and lacks powerful data management and automation features. One of the best features of Formaloo is its intuitive drag-and-drop interface, which allows users to add and rearrange questions easily.
Free Formaloo Features
Unlimited apps, databases & forms

Unlimited pages, fields & blocks, pages, fields & blocks

30+ Dynamic Blocks & Fields, 2000 records per base, 100 external members/app

1 Admin, Logic, Variables & Calculator, GDPR Compliant
Pricing: It offers a free plan; however the paid plan starts at $12/month.
#3. Jotform
Jotform is a well-known online form builder that is both powerful and feature-heavy but also fairly simple to use. This free alternative to Google Forms also integrates with a huge number of business tools, which makes it easy for businesses to quickly transfer the data they collect with Jotform.
Jotforms Vs Google Forms
While both are excellent form creation tools, however, with Jotform you get advanced features and robust UI. Although Google Forms is completely free, it's not as robust and requires payment for a premium account.
Free Jotform Features
5 Forms

100+ month submissions

100 MB space, 1000 monthly form views

100 Fields per form, 10 monthly payment submissions, 10 monthly signed documents
Pricing: It offers a free plan; however, the paid version starts at $34/month.
Wrapping Up
Through our in-depth evaluation, it is clear that Google Forms shines with simple, elegant questionnaires. However, you can't ignore some glaring Google Forms limitations like limited templates and a complicated user interface.
Fortunately, Zonka Feedback is a great Google Forms alternative since it specializes in online surveys and forms. It is an all-in-one comprehensive customer feedback and survey platform.
So what are you waiting for?
Try Zonka Feedback for a 7-day free trial or the free plan before going for a paid version.