The success of your business depends on the number of customers you have. But merely increasing the number of customers will not serve your purpose, you also need to serve them in such a way that the acquired customers go a long way with you. In order to retain your customers, you need to satisfy them to the best extent. If you keep on acquiring more customers but do not care for them, they would churn. If your customers churn more rapidly than you acquire the new ones, your business can never have the taste of success.
So you must work on increasing customer satisfaction and retaining the existing customers along with trying to acquire new ones.
And that's way easier!
Research suggests that acquiring a new customer is almost 5 times costlier than retaining the existing one. And if you are able to increase customer retention even by 5%, your profits can automatically increase from 25-95%.
This makes it mandatory that you take such actions which enhance customer satisfaction and build a long-term relationship with almost every customer who chooses you for the first time. For this, you must ensure that you provide a great customer experience to them. A great customer experience has the capability to yield big success for your business. Research suggests that 86% of buyers are willing to pay a higher price for a great customer experience.
This is why approximately two-thirds of marketers prioritize customer experience as their main competitive strategy. It is undeniable that a positive customer experience greatly contributes to customer satisfaction, which in turn leads to better business outcomes. Therefore, if you want to enhance customer satisfaction, it is crucial to prioritize delivering exceptional experiences to your customers.
Measure Customer Satisfaction and Improve Customer Experience🔥
Create customized surveys and feedback forms and take real-time feedback from your customers at all touchpoints.
In this guide, we will help you with what actually customer satisfaction means, why it is important, how it is measured and how you can enhance it and attain success in achieving your business goals.
chapter1
What Is Customer Satisfaction?
Customer Satisfaction is defined as the degree of customers' happiness and fulfilment with the products and services provided by an organization and their overall experience with the organization or brand. It is the extent to which a seller with its products and services is able to meet the expectations of the customers.
It is the measure of how content and pleased customers are with a product, service, or overall experience provided by a business. It's like the emotional and practical thumbs-up from customers, indicating that their expectations have been met or exceeded. High customer satisfaction is often associated with loyalty, positive word-of-mouth, and repeat business, making it a key metric for businesses aiming to thrive in the long run.
While Customer Satisfaction is necessary for a business to survive, the term is somewhat confusing. It actually means customer happiness with a product, service, or brand but a product or service is often rated as 'Satisfactory' when it is a not-so-good one.
Here, you need to understand that focusing on customer satisfaction doesn't mean to just provide an average experience, but to make the customers happy and delighted by fulfilling all their needs and expectations and even exceeding them to the next level by giving them more than expected.
While buying a product or a service, customers always have some expectations and requirements that are needed to be fulfilled. When these expectations are fulfilled or exceeded, the customers feel happy and satisfied. They provide good Customer Feedback in the form of positive reviews and good word-of-mouth and ultimately help your business to grow, knowingly or unknowingly.
But what happens when you are not able to satisfy them? When a product or service is not able to live up to the customers' expectations, the customers feel dissatisfied and annoyed. They feel that the money they invested in the product is wasted, especially when they have high expectations in their mind, it feels them like cheated.
Customer Expectations are not just because of their own thoughts. Rather, there are a number of factors responsible for the expectations of the customers. Let's explore some common factors that affect the expectations of the customers.
Factors Affecting Customers' Expectations
Previous Experience of the customer with the product or brand - When the customers have used a product or a similar product in the past, or have a good experience with the brand in the past, it will rise customers' expectations. Therefore, you should never compromise on product quality and always try to improve it in order to meet and exceed customer expectations.

Customer Reviews and word of mouth in the market - Around 95% of people prefer to read reviews of the product while making the final decision to purchase. If they are able to read only positive reviews, they will set high expectations. Therefore, never hide or delete customers' negative comments or reviews from your shopping platform or social media. Rather, work on them to improve customer experience.

Price of the product - Higher the price of the product, higher the customers' expectations with it. So always decide on the price of the products as per the quality of your products and the prevailing prices of the similar products in the market.

Expectations built or Promises made by the Seller - Seller also plays an important role in setting the customers' expectations. When you make promises to the customers of delivering the best product or quality of the product, the customer expectations are automatically raised. And when the customers do not get the promised quality, they feel very bad about it. They feel like getting cheated or betrayed. In such a case, they not only churn but also spread bad word-of-mouth about your business in the market.

So never make any fake commitments to your customers and promise only what you can deliver. This will not only satisfy the customers with your products and services, but also help to build trust for you and your business and increase Customer Loyalty.

Culture and Location - Customers' expectations are also influenced by factors like culture and location. Cultures vary from country to country and place to place. In some countries, there is a formal culture and people do not like over-friendly customer care executives, whereas in some other countries, people are very friendly and expect a similar gesture from the other side rather than a serious and formal treatment.

Similarly, in some places, people do not buy products frequently and expect good durability of the products they buy. Whereas, in some cultures, people buy and change products frequently and do not keep any such expectation. So it is always a better idea to deliver the quality of products and services keeping in mind the variation of cultures at different locations.
When we talk about fulfilling customer expectations, the idea is not only to meet the expectations but to exceed them. When you work on delivering such an experience that increases the levels of customer satisfaction, you should aim for Customer Delight i.e. the happiness which customers get when they receive more than expected. So we should always aim for surpassing customers' expectations and ensure Customer Delight.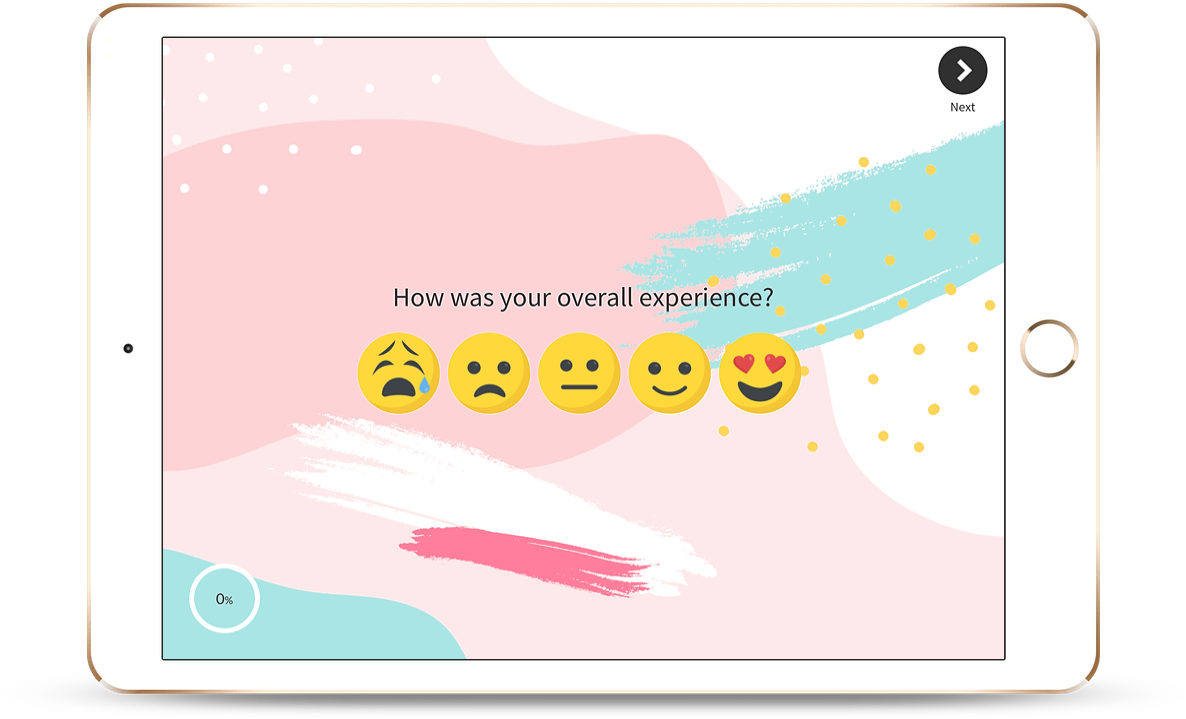 Chapter 2
Why Measure Customer Satisfaction?
Are your customers happy with your products and services? If yes, how much? Do all the customers feel the same or there is a variation in customers' perceptions? The answer to all these questions is important for a business to make the right business decisions and strategies.
Did you know that only 1 out of 26 customers directly complain to you about their dissatisfaction with the experience you provide them, the rest all churn. And you don't even get to know what happened with those customers, why they stopped choosing you for doing business. But by measuring Customer Satisfaction, you get information about the feelings and perceptions of the customers before it's too late.
The information you get by measuring Customer Satisfaction helps you identify the satisfied and dissatisfied customers and the reason for them being satisfied or dissatisfied. Measuring Customer Satisfaction after every touchpoint is an essential step for knowing the strengths and weaknesses of your business so that you can empower the strengths and work on the weakness to improve Customer Experience.
When you measure Customer Satisfaction, strive to improve it and are able to provide a great Customer Experience, the customers not only do repurchases from your business but also attract other new customers with their positive reviews and word-of-mouth recommendations. Researches suggest that 77% of the customers tend to recommend a brand to their known ones by going through just a single instance of good experience from that business.
So why not take the benefit of such recommendations by doing some effort to measure Customer Satisfaction? After all, measuring satisfaction will enable you to improve it. Without measuring it, it's difficult to decide whether you need to improve it or continue with your same strategies to keep on delivering the same level of satisfaction to your customers.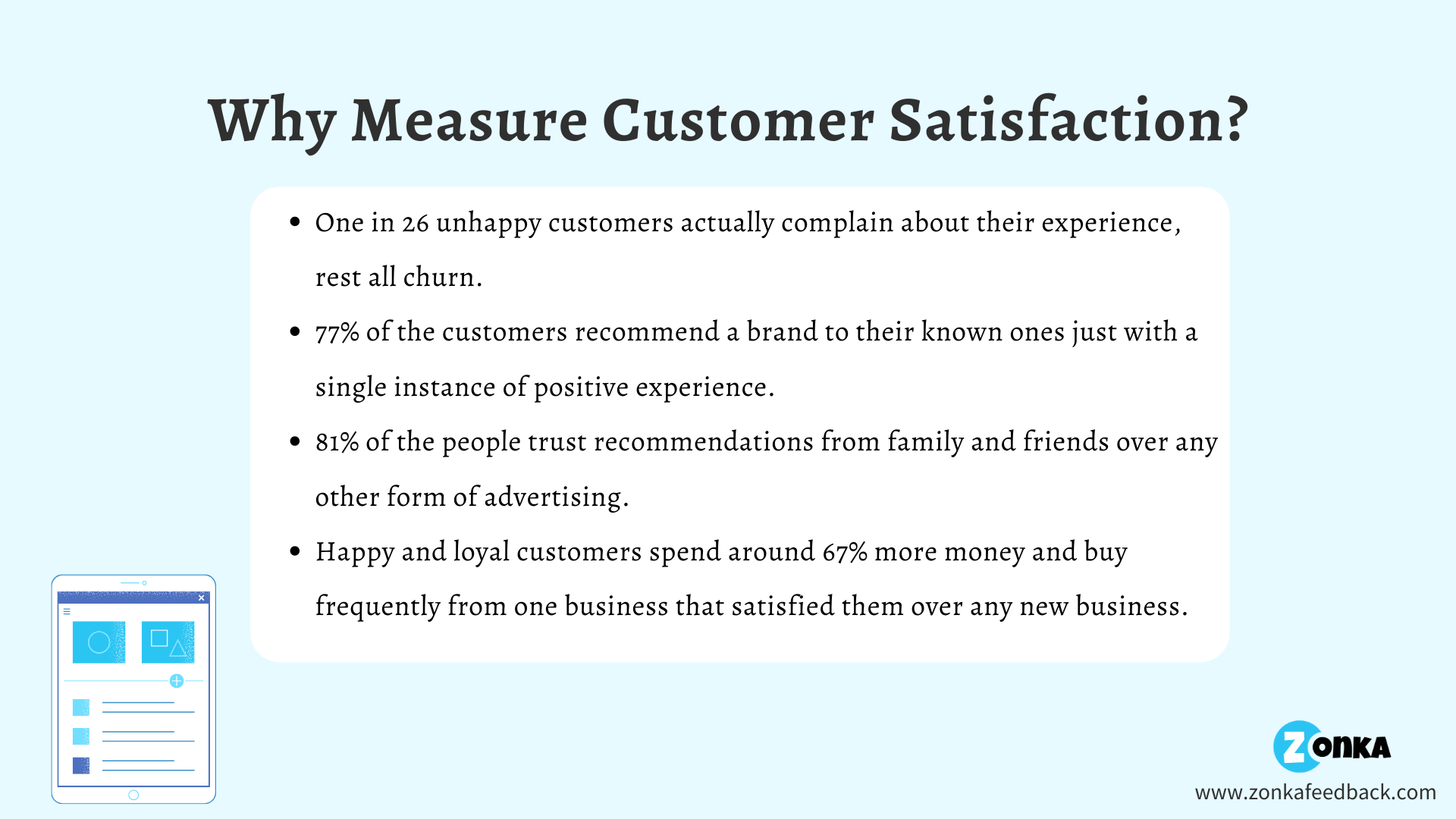 Chapter 3
Benefits of Measuring Customer Satisfaction
Customer Satisfaction has numerous benefits. Without ensuring Customer Satisfaction, its hard for any business to survive, let alone growing and attaining great success.
Let's explore some benefits of Customer Satisfaction that makes it more important to measure and enhance it:
1. It helps in Increasing Revenue
90% of the customers make more purchases from the same business when they are satisfied with their previous experience with the brand. Satisfied customers often become repeat customers who bring more revenue to your business by investing more in your products and services.
When you measure Customer Satisfaction, you are able to take the required actions to maintain a good experience or improve a bad experience. This helps to better satisfy the customers and attract repurchases.
2. It helps in Retaining the Customers
Measuring Customer Satisfaction enables you to know your churning customers beforehand and take appropriate actions to bring them back before it's too long. When you get to know that the level of satisfaction of certain customers is very low, you strive to work on it and improve their experience. When you take action on their feedback and resolve their issues, it changes their negative experience into a positive one which helps in retaining them.
3. It helps in Reducing Negative Word of Mouth
Do you know 81% of people trust suggestions from family and friends more as compared to all other forms of advertising. And when people go through a good or bad experience, they do share it with their friends and family and also post reviews on social media which directly affects the reputation of your business. When you measure customer satisfaction and work on it to improve it, it creates good word of mouth and saves your reputation.
4. It helps in Building Customer Loyalty
When you take Customer Feedback, measure Customer Satisfaction and work on fulfilling all the requirements of your customers and give importance to their preferences, then they become loyal to you. And it's really beneficial for your business because happy and loyal customers will spend 67% more money and buy more frequently from your business than the new ones.
5. It helps in beating the Competition
Measuring Customer Satisfaction is the first step to enhance it. When you are able to enhance customer satisfaction, you will be able to make a strong position in the competitive market. If you don't satisfy your customers, they will go to your competitors. 73% of companies with above-average customer experience perform better financially than their competitors.
Chapter 4
How to Measure Customer Satisfaction?
When we talk about measuring Customer Satisfaction, the first thing that comes to our mind is to take Customer Feedback. Customer Feedback is all about the feelings and perceptions of the customers about the products, services and experience they get from your organization. The way to gather Customer Feedback is to organize Customer Surveys and ask for feedback through them.
But when we specifically want to 'measure' the amount of Customer Satisfaction, we need something that actually measures the level of satisfaction of the customers in quantitative terms. For this purpose, we have some popular metrics to measure Customer Satisfaction.
The 3 most crucial CX metrics you should use to measure Customer Satisfaction are: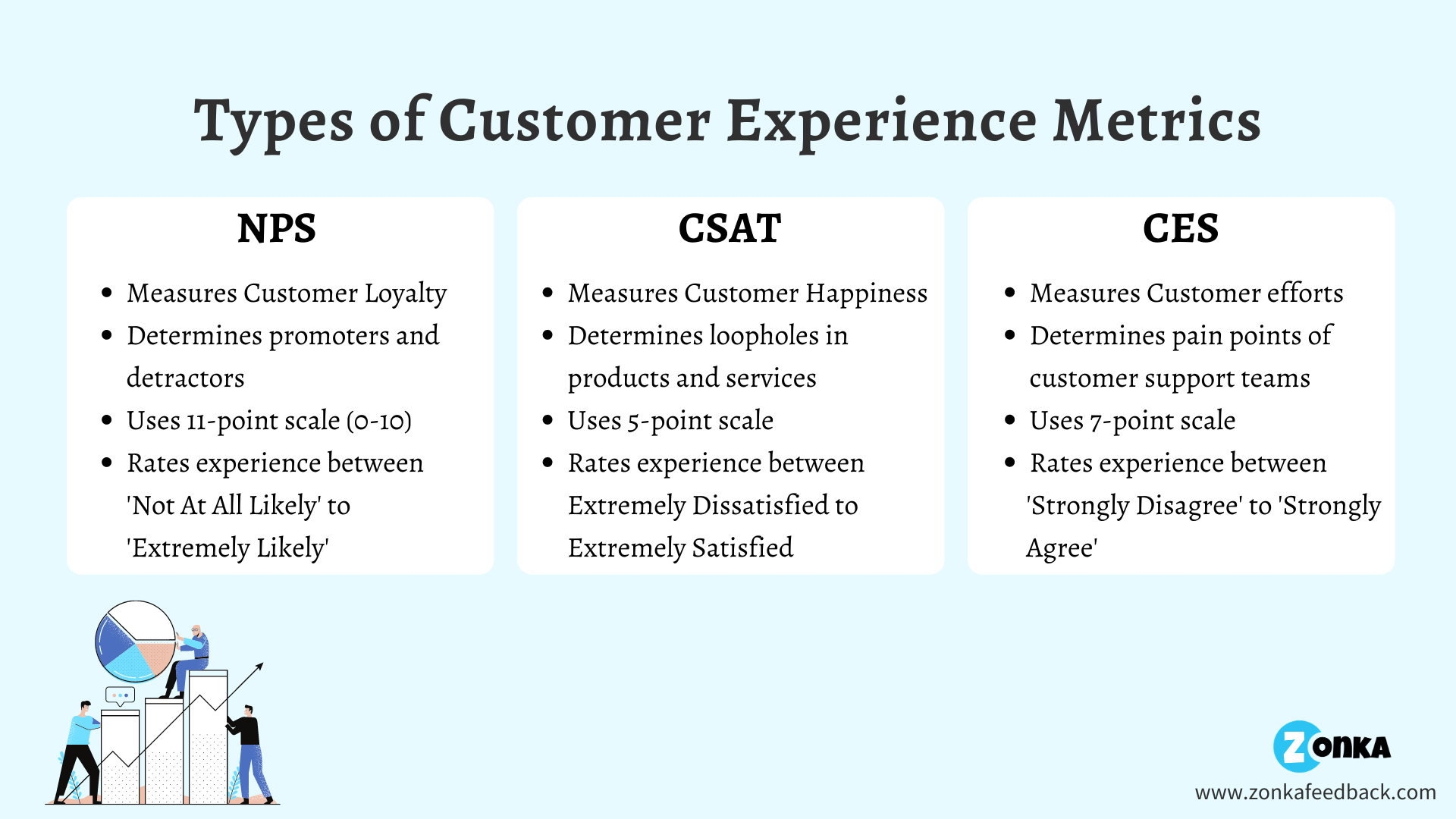 1. CSAT (Customer Satisfaction)
Customer Satisfaction (CSAT) Score is the most important metric to find Customer Satisfaction and overall experience. It gauges whether the products & services meet or surpass your customers' expectations. A CSAT survey simply asks the customers to rate their experience with a product, service, interaction or anything or the overall experience on a rating scale of usually 1 to 5 and then asking the reason for their rating.
The answer options can be expressed in different ways. They may be adjectives ranging from awesome to poor or self-explanatory smileys, hearts etc. The Customer Satisfaction Score can fall anywhere between 0-100%.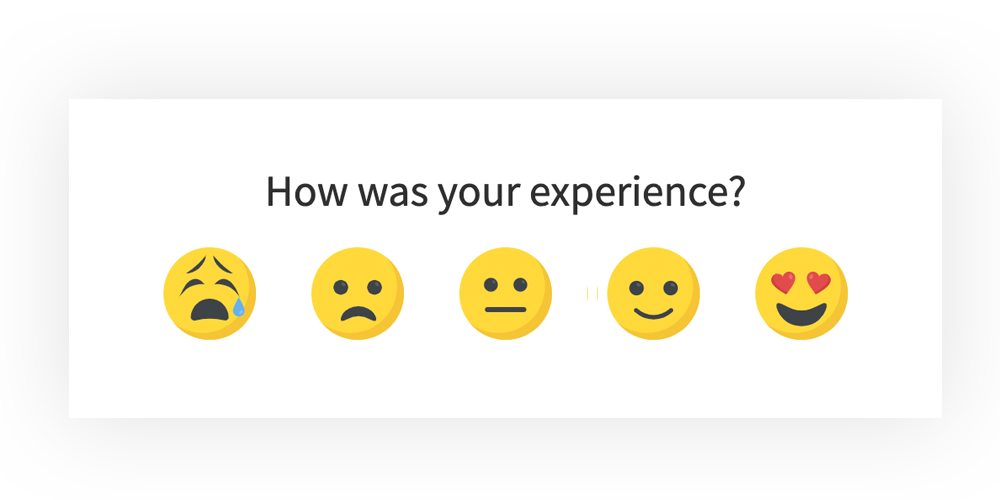 Standard Customer Satisfaction Survey Question
How was your experience with our products/services?
Poor

Bad

Average

Good

Awesome
This question can be modified as per your requirements like:
How was your experience with our product?

How was your experience with our delivery service?

How was your interaction with our support team?

How was our overall experience with our company?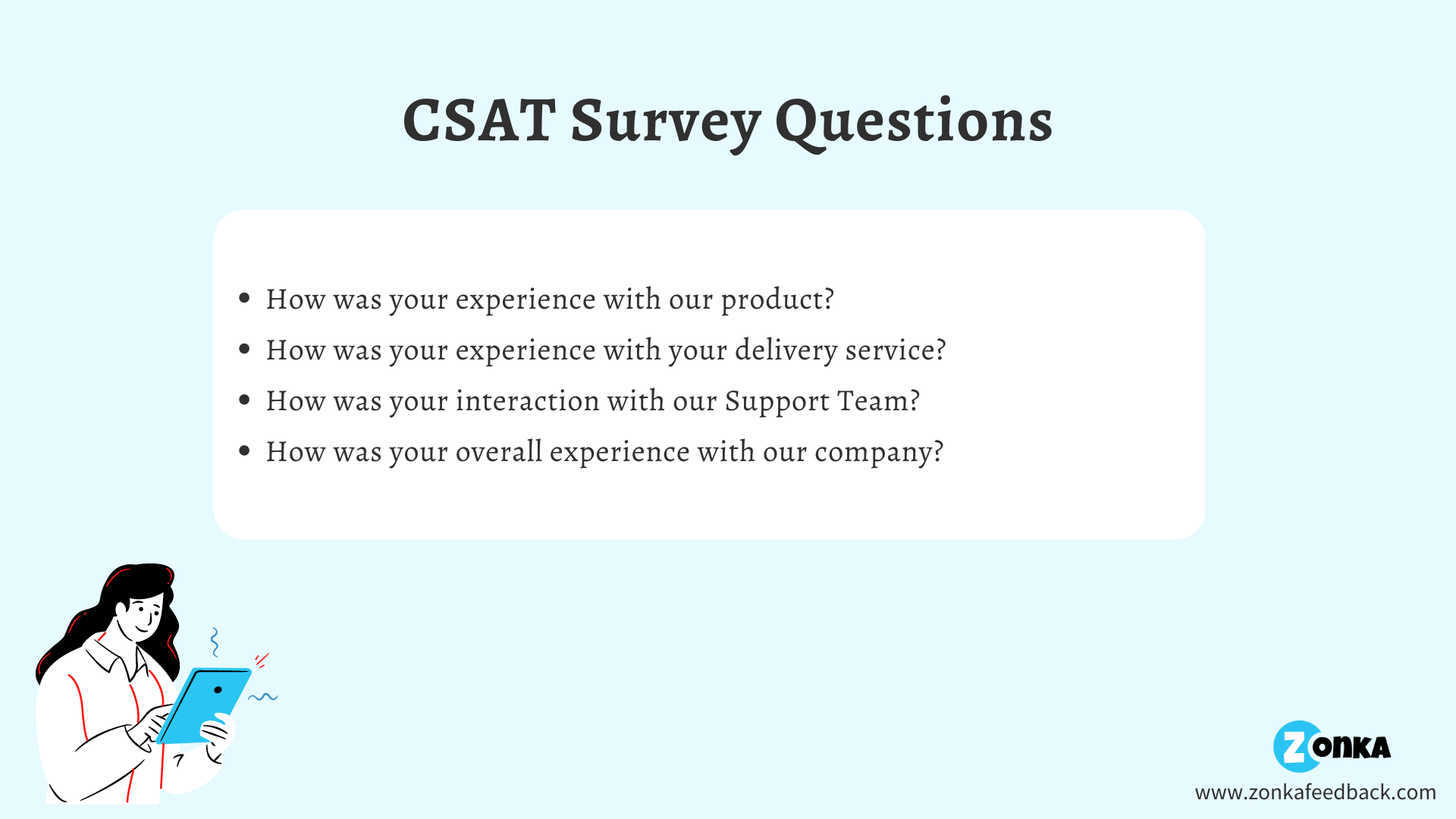 Formula to Calculate CSAT
CSAT (%) = No. of positive responses / Total No. of Responses x 100
Let's try to understand this with the help of an example:
Suppose, if you receive 40 positive responses from a total of 80 responses, then
CSAT = 40/80 x100 = 50%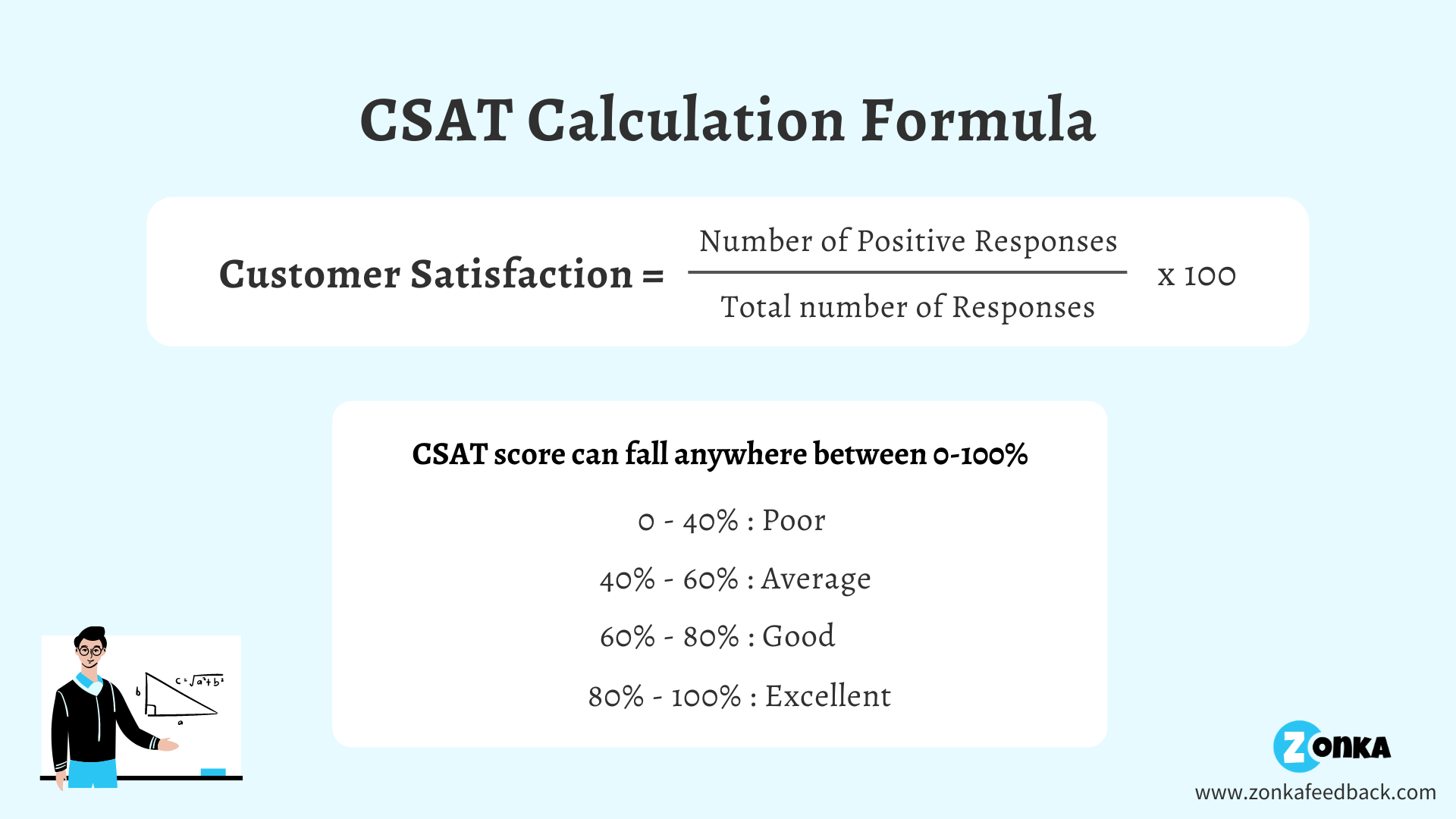 While you measure CSAT with the help of CSAT questions and formula, it is also important to know the 'why' behind the ratings given by the customers. For this purpose, you need to ask the CSAT follow up questions like:
What is the main reason for your score?

What do you dislike the most about our product/service/company?

How can we improve your overall experience with us?

What did you like the most about our product/service/company?

What would you like to change in our product/service/company?

What should we do to make you feel awesome?

How would you feel if you couldn't use our products and services anymore?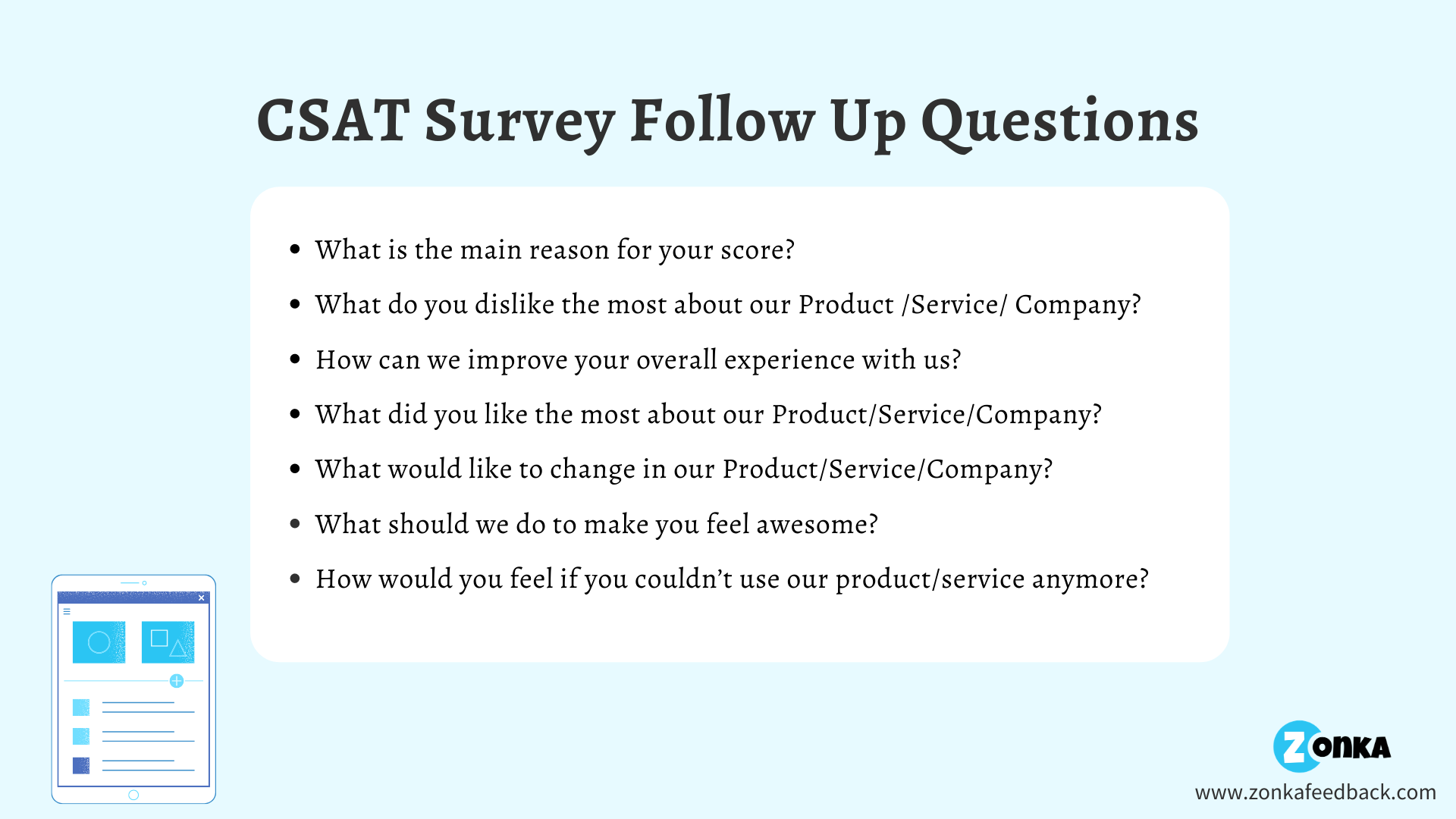 2. Net Promoter Score
®
NPS® or Net Promoter Score is one of the commonly used and most popular metrics to measure Customer Loyalty. The metric was created in 2003 by Fred Reichheld, Bain & Company, and Satmetrix. It basically involves one question which asks the customers their likeliness to refer the brand or organization to others followed by an open-ended question to determine the exact reasons behind your customer's dissatisfaction or satisfaction.
Based on their responses, the customers are classified into three categories viz., Promoters (score of 9 or 10), Passives (score of 7 or 8), and Detractors (score between 0-6). NPS score lies between -100 to100.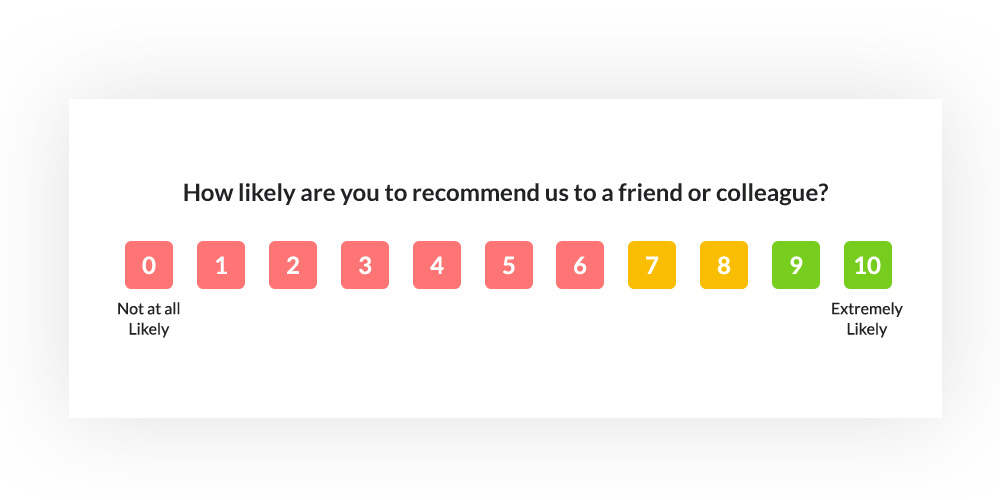 Standard NPS Question
On a scale from 0-10, how likely are you to recommend us to your friends and colleagues?
Formula to Calculate NPS
Net Promoter Score = % Promoters – % Detractors
Let's try to understand this formula with the help of an example:
Suppose there are 200 respondents.
50 respondents rated in the range of 0 to 6 (Detractors)
50 respondents rated 7 or 8 (Passives)
100 responses rated 9 or 10 (Promoters)
NPS = Percentage of Promoters - Percentage of Detractors
=[(100/200) x 100] – [(50/200) x100]= 25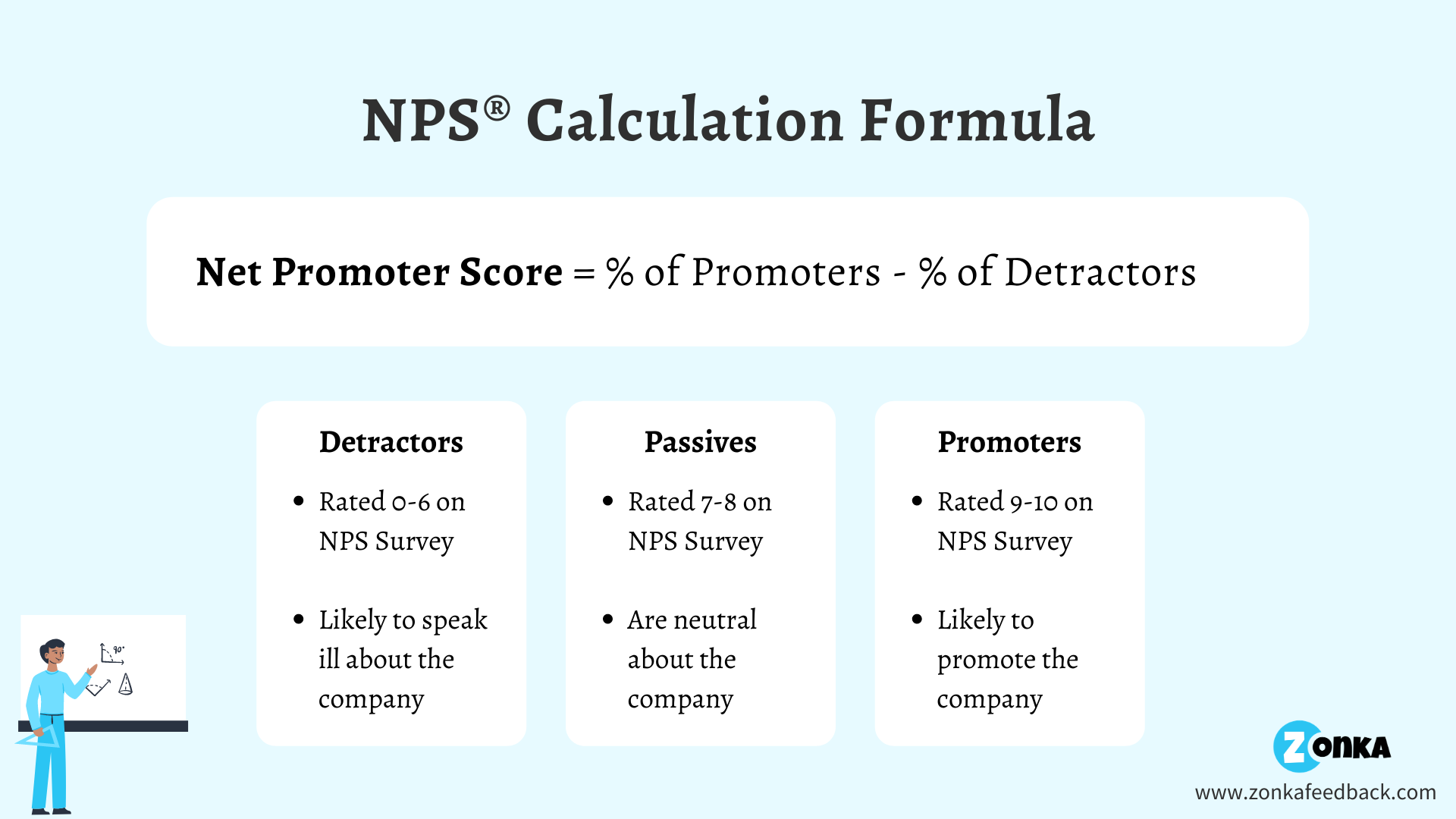 3. Customer Effort Score
CES or Customer Effort Score is another important CX metric that measures how much effort your customers have to put in for resolving their issues and getting their work done. The metric was created in 2010 by the Corporate Executive Board (CEB Global, now Gartner).
The main question involved in this survey asks the customers to rate the support provided by the company to get the customers' work done with the help of the following question with a statement.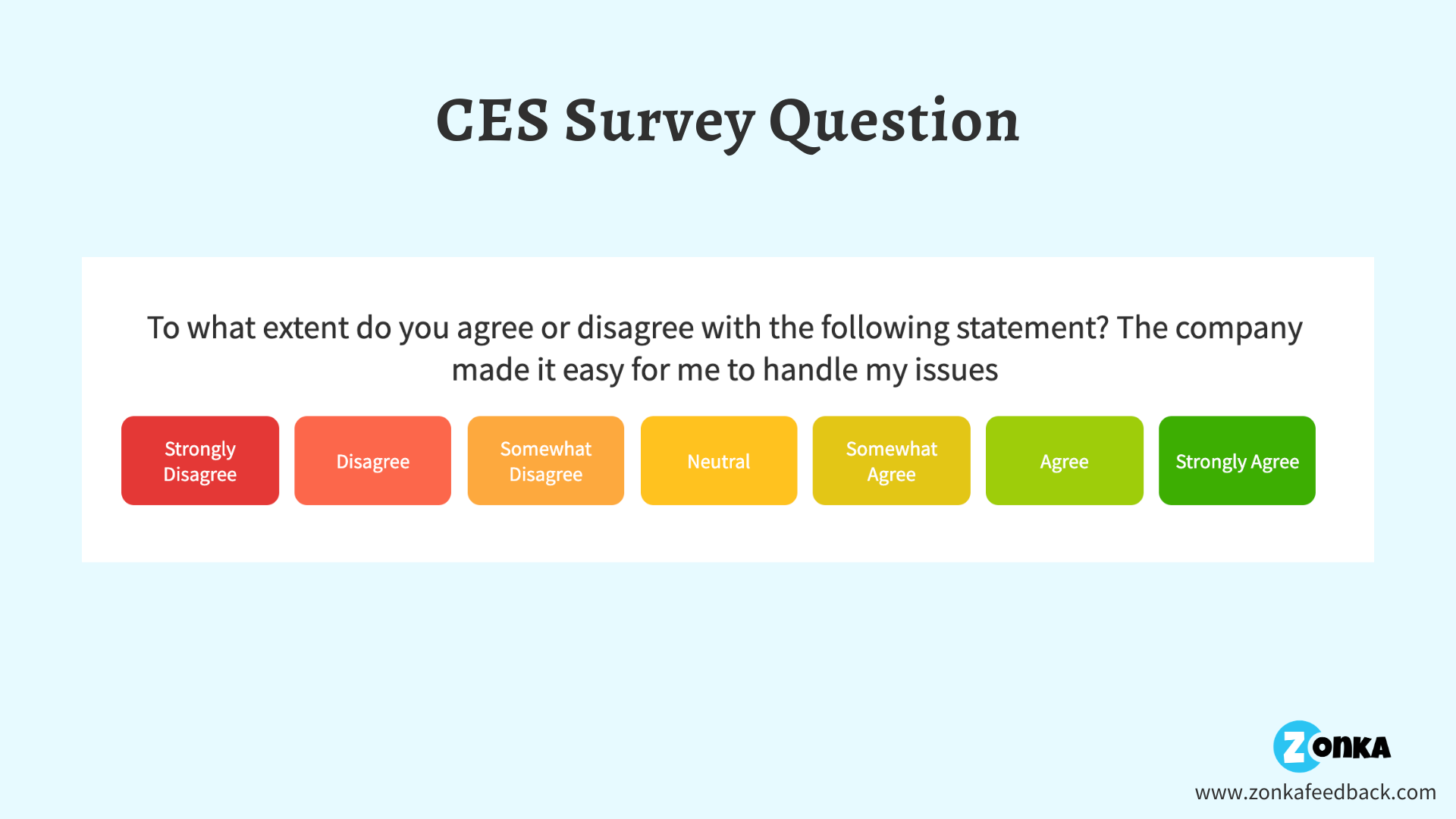 Standard CES Question
To what extent do you agree with the statement: The company made it easy for me to handle my issue?
Strongly Disagree

Disagree

Somewhat Disagree

Neither Agree Nor Disagree

Somewhat Agree

Agree

Strongly Agree
Formula to Calculate CES
CES = Sum of all customer effort scores /Total number of responses
Let's try to understand this with the help of an example:
Suppose, if 100 customers responded to a Customer Effort Score survey and the sum of their CES scores are 800, then
CES = 800/100 = 8 (out of 10)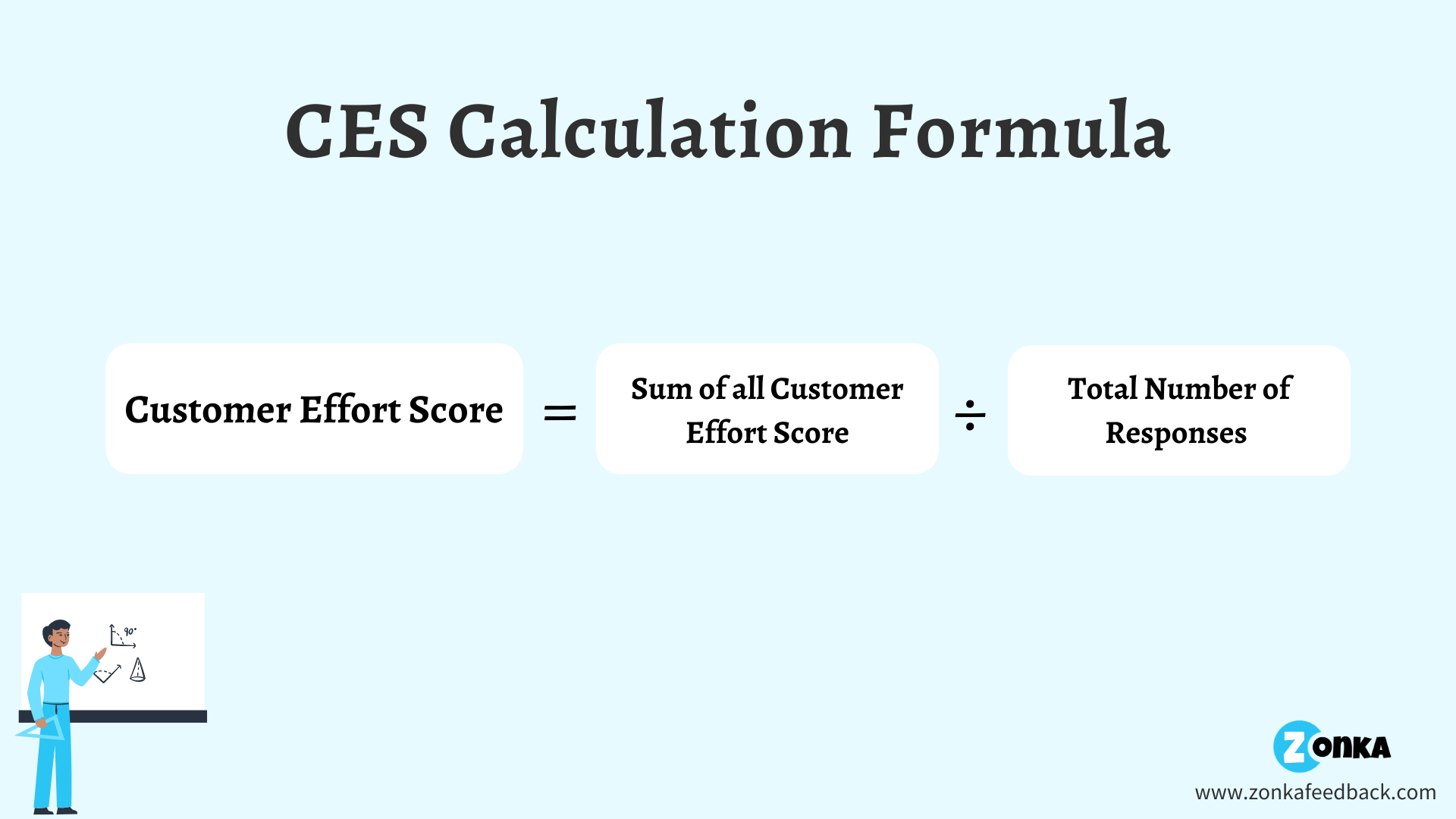 Chapter 5
When and where to Measure Customer Satisfaction?
Now the question arises as to what is the right time and place to survey your customers and measure Customer Satisfaction. Well, the ideal way is to use multiple channels for this purpose so that you can cover maximum customers and get the maximum number of responses. However, it depends on the nature of your business and the accessibility of your customers as to what channel will suit your business the most.
Focusing on the right channels will result in better response rates and help you gather maximum customer insights. Here are some ways and channels to gather customer survey responses.
1. On-Premises Surveys
If you want to capture in-person or real-time feedback from your customers when they visit your store, then you can make use of iPad/Kiosk/Android surveys.
On-Premises on an in-store survey is ideal for businesses where the customers come and buy the products and services like a shopping mall, a showroom, a restaurant, a hotel, or a hospital. For this purpose, you can use devices like iPhones, iPads, Android tablets, and smartphones. You can collect survey responses in two ways:
By handing over your device to the customers for some time to get the survey responses.

By setting up your iPad, iPhone or Android devices as independent kiosks at various touchpoints of your store where the customers can themselves take the survey free and easily provide the feedback data.
2. Website Surveys
You can also measure Customer Satisfaction through your website. In fact, you must make your website available for your customers to share their feedback. If you do not do so, they may use social media to share their experiences especially bad experiences with other people which can harm your reputation badly.
Website Surveys are ideal for eCommerce and Online shopping websites, SaaS Companies, and other online businesses. On your website, you can take Customer Feedback to measure satisfaction in different forms:
a. Feedback Button on your Website
With the help of good Survey Software, you can make available a feedback button on your website, clicking which takes the visitors to the survey page. There, they can easily fill the survey responses and submit them to share their feedback on the website.
b. Website Feedback Popup
Pop-ups are a good way to prompt your customers to do something. You can trigger survey pop-ups to appear on the visitors' screens requesting the customers to share their feedback. Clicking on the pop-up will open the survey for them and they can share their feedback there.
c. Website Feedback Slideout Surveys
You can use Slideout surveys on your website to measure Customer Satisfaction. These surveys slide subtly on the website appearing continuously on the visitors' screen and prompting them to take the survey. The customers can select the slide-out and take the survey.
d. Web Embedded Surveys
Web Embedded Surveys are also a great way of asking for feedback and measuring Customer Satisfaction. In this type of survey, the first question of the survey is embedded and displayed on the website page. The customers can see the survey question and easily answer it. As soon as the customers answer the first question, it redirects them to the full survey where the customers can easily fill in the answers and submit them.
Embedded Surveys are ideal for short surveys like CSAT, NPS or CES surveys where there is usually one main question followed by another follow-up question.
3. Remote Surveys
If you want to engage with your remote customers and wish to know whether they are happy or unhappy with you, then you can use remote channels like Email, SMS, and website forms to take customer survey responses.
Using automated feedback software, you can trigger surveys either as Transactional Surveys that are sent just after a transaction or interaction or as Relationship Surveys that are sent to the customers at regular intervals like quarterly surveys, half-yearly surveys, or annual surveys. These are some cost-effective and quickest ways to reach out to your targeted audience and capture remote feedback.
a. Email Surveys
You can send email surveys to the customers to capture feedback and measure satisfaction just after a purchase, an interaction, a dine at a restaurant, a stay at a hotel, and so on; or you can send these surveys at regular intervals as Relationship Surveys. Email surveys can be sent in two ways viz., Embedded Email Survey and Email with Survey Link.
Embedded Survey Emails are those in which the first question of the survey is embedded and displayed in the email body itself. As the customers answer the first question, it redirects them to the full survey where the customers can answer the next questions and submit the responses. This method is ideal for short surveys.
In the Email with the survey link, a survey invitation is sent through an email to the customer along with a clickable survey link. As the customers click on the link, the survey opens and the customers can take it.
b. SMS Surveys
Like Email Surveys, you can also send SMS Surveys after specific events or at regular intervals to capture Customer Feedback and measure their level of satisfaction with their experience. In the SMS Surveys also, a survey invitation message is sent to the customers as an SMS along with a clickable survey link in the SMS itself. When the customers select the link, the survey opens within seconds and the customers can respond to the survey questions and submit.
c. Link-Based Surveys
These are the surveys that run through links but the links are not sent through bulk SMS or emails. Rather, the links and QR codes are printed on the bills, delivery boxes, or on posters in public places. When you use these links and QR codes, make sure that they are clearly and easily visible so that the customers can use them to share feedback.
Links are to be typed by the customers and opened through web devices to share feedback, whereas to make it easier for the customers, you can use QR codes. These are the codes that the customers can scan and the survey will open where the customers can answer the questions and submit the responses.
Chapter 6
How to Improve Customer Satisfaction?
Measuring Customer Satisfaction is useful only when you take appropriate actions to improve it. When you get to know about the low levels of satisfaction of your customers or a group of customers, it becomes your duty to use Customer Satisfaction Survey Results to work harder and enhance their satisfaction, otherwise, you may lose your customers.
No business wants to lose its customers as it can have a direct impact on your growth and revenue. Moreover, acquiring new customers can cost a lot as compared to retaining the existing ones. So you must make constant efforts to delight your customers and make them happy and satisfied so they become your loyal customers and go a long way with you.
Let's explore some of the ways to improve Customer Satisfaction.
1. Take Customer Feedback and Measure Customer Satisfaction
The first step is of course to measure Customer Satisfaction as you can't improve it till the time you don't measure it. You can use a variety of channels, surveys and metrics as discussed above to take Customer Feedback and measure Customer Satisfaction.
The most straightforward way to get Customer Feedback is by conducting CSAT Surveys. With Zonka Feedback, you can customize in-built templates or create enticing CSAT surveys from scratch as per your needs. The platform helps you get real-time feedback from your customers and understand how they perceive your products, services, and business. Based on the feedback, it measures and calculates the CSAT score.
JetBlue preferred sending Customer Survey Emails to the customers asking them for feedback over plain promotional emails and was able to receive 1640% of higher revenue.
2. Acknowledge Customer Feedback
It's a good practice to acknowledge your customers once you receive feedback from them. Sending auto-response emails or SMS to customers will let them know that their feedback has been heard and will be addressed soon. But sending the same reply to every customer will not serve your purpose. You have to send different responses for satisfied customers and dissatisfied customers.
You can set up automated responses based on the ratings given by the customers. For satisfied customers, you can send a response thanking them and promising the same support for the future. Whereas, for dissatisfied customers, you can send a response apologizing for the bad experience and asking what you can do for them.
3. Involve your Staff
Measuring Customer Feedback is something not to be done in isolation and practically, it is also not possible to address all the customer issues by a single person. So always keep your employees and concerned teams in the loop so they are well informed about the feedback received regarding their performance. This will enable them to know their shortcomings and strong points and they will be able to deliver a better Customer Experience each time.
There will be times where you have to assign the issues to your team members. For instance, in a SaaS-based product company, customers might face issues related to product features, customer support, subscription, etc. For a quick resolution, you can assign them to the respective teams instead of handling everything on your own.
Zonka Feedback allows you to add your team members to the survey platform. Additionally, you can set up real-time Email alerts and notifications for different types of feedback, so that teams get updated on time and reach out to your customers immediately.
4. Close the Feedback Loop
Closing the Customer Feedback Loop is the process of responding to the customers regarding their feedback, taking the required and most appropriate actions on it to improve their experience and enhance Customer Satisfaction, and then informing the customers what you have done for them. It is necessary to close the feedback loop to improve Customer Satisfaction.
When you do this, customers feel valued and they realize that you value your customers and their voice is heard. This immediately affects the customers' perceptions in a very positive way and even negative feedback can turn into a positive one by doing this. Making customers happy and satisfied can result in a 30% increased profitability for a business as they are 80% more likely to renew the products and services.
For instance - Grohe, a European manufacturer of premium kitchen and bathroom fixtures was able to turn down a decline in market share and use its salesforce effectively was following the practice of Closing the Feedback loop.
5. Take Suggestions from Customers
Every customer is different and has a different set of expectations. You need to listen to the voice of your customers and understand their needs and preferences. It will show that you care about them and truly value their opinion. Taking customers' suggestions instills a feeling in them that their opinion matters to you.
When you take their suggestions and make business decisions accordingly and inform them about this, this gives a feeling of being an owner of the business. This increases their loyalty to a large extent. In this way, you can also deliver personalized experiences that can strengthen your relationships with them.
6. Use a Multi-Channel Approach
Customers nowadays prefer to use more than one channel. A study by Harvard Business Review shows that Omnichannel customers spend 4% more in-store and 10% more online than single-channel customers. Therefore, you need to ensure that you are providing quality and consistent support across all the channels where your customers are present.
In 2012, Argos, a popular catalog retailer operating in the UK faced a setback due to competitive pressures. A new Managing Director was appointed to transform the business who adopted the multichannel approach of marketing, interacting with customers and measuring Customer Satisfaction. This multichannel approach and digital transformation helped Argos to increase its profits by 32%. This is the power of the multichannel approach.
Whether it is capturing feedback or providing support, being present at multiple channels makes it easy for the customers to contact you, purchase from you, discuss and get their issues resolved from you. Not doing this may result in shifting of customers to your competitors who offer them support on the channels your customers want.
Chapter 7
Measure Customer Satisfaction with CSAT Survey Software
Most businesses thrive for establishing a healthy and balanced relationship with their customers. All they want is to satisfy their customers by delivering a seamless customer experience. As rightly said by the famous author of CRM at the Speed of Light and President of the 56 Group, Paul Greenberg, "if a customer likes you and continues to like you, they will do business with you. If they don't, they won't."
The best way to capture Customer Feedback and measure Customer Satisfaction in a way that is easy and seamless for both you and the customers is to use an effective CSAT Survey Software. It allows you to easily create customized and engaging surveys as per your requirements and share them with your customers. It's a perfect way to keep a pulse on your customers.
With an automated tool, you can gather real-time feedback, get notifications for different types of responses, keep track of all the responses, analyze them to determine the loopholes, assess satisfaction scores, view reports, and take relevant action to close the feedback loop. It's not possible to perform all these functionalities manually.