Customer Experience drives the success of any business. To provide a good experience to the customers, you need to fulfill demands of your customers and serve them in the best possible way.
But will merely serving the demands of the customers do all that is required to make the customers satisfied enough to choose your brand every time? Shouldn't you think of doing something which enhances their satisfaction and reach the level of Customer Delight!
Fuel Business Growth with Customer Feedback 🔥
Collect real-time, in-moment feedback at all touchpoints in customer journey and leverage feedback insights to transform customer experience.
Customer Delight is all about surprising your customers by doing more than what customer expect from you thereby creating a positive emotional reaction. Only meeting the needs of the customers will not take you to the heights of success. For this, you need to take a step ahead and exceed your customers' expectations.
Why Customer Delight is so important?
All businesses try to satisfy their customers to the maximum extent but if you want to grow outstandingly, you must take a step ahead of your customers and make them feel delighted. When we talk about Customer Delight, it means surprisingly providing your customers more then they expect and preparing in advance what customers may require in future.
We all know that the competition in the market is increasing day by day in almost every industry. Businesses enhance Customer Satisfaction by finding new and innovative ways to fulfill customers' expectations.
Moreover, the customers' knowledge and awareness has also increased to a large extent in the recent decades and they prefer to go for those brands who give them maximum satisfaction and take care of their needs and expectations. So there is an increasing need of going an extra mile in order to take your business to a higher level.
Now the question arises how to do it? Let's explore some great ways to ensure Customer Delight.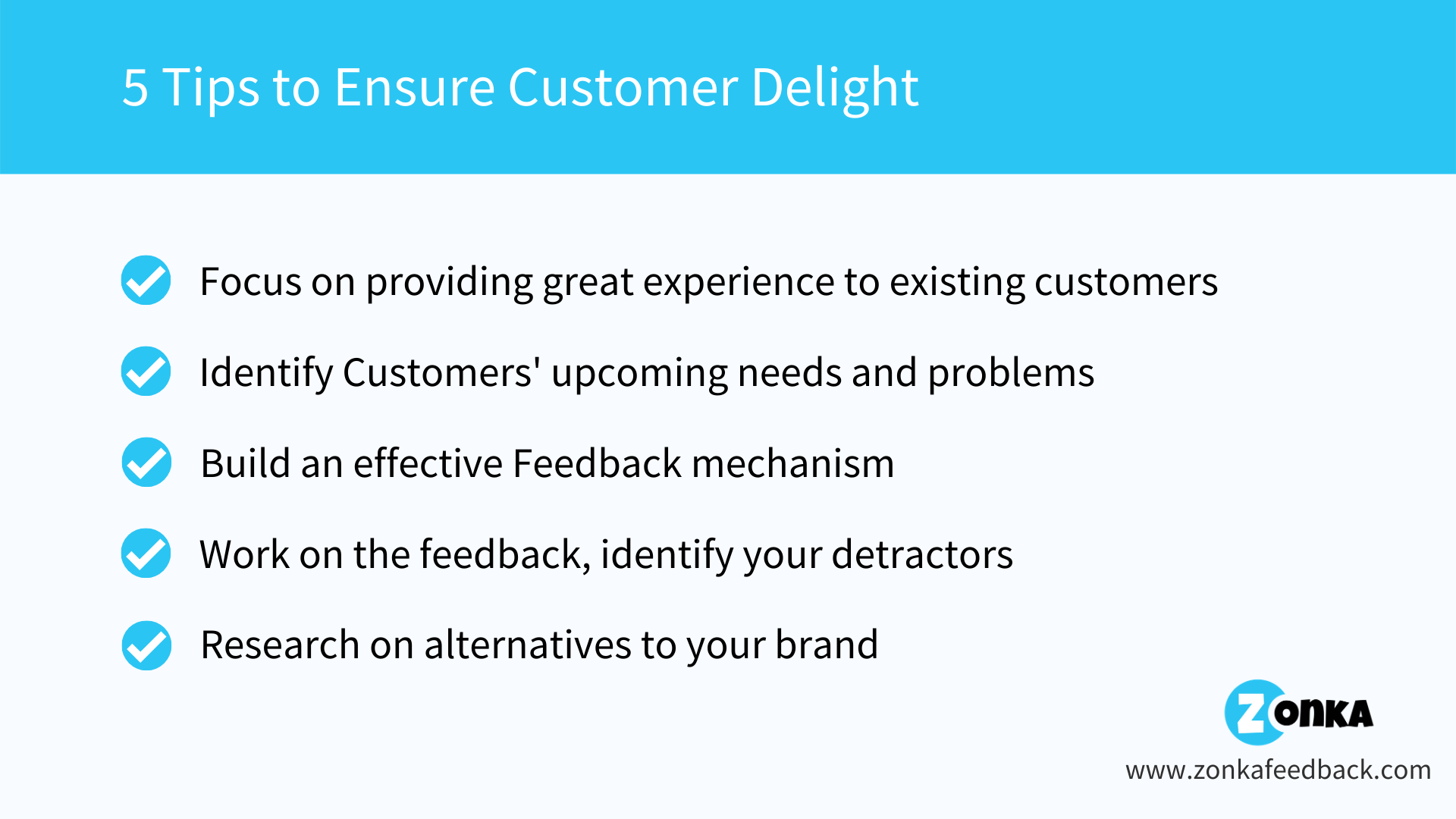 Let's review how you can follow these steps to stay one step to ensure Customer Delight.
1. Focus on providing great experience to existing customers
The first and the foremost thing is to provide an awesome experience to your existing customers. Some businesses focus more on acquiring new customers, which is actually not bad. New customers are a new opportunity, but you cannot ignore your existing customers.
If you are not able to satisfy your existing customers, how will you attract new customers into your business? Always work to enhance Customer Satisfaction of those who already trust your brand. They will be able to provide real insights of your business and the delighted existing customers will be more loyal in terms of attracting other customers also.
2. Identify Customers' upcoming needs and problems
This is the most important and effective way to ensure Customer Delight. Before the customers approach you, it is even better to identify their needs and expectations and reach them to satisfy them. You need to observe and listen to the unmet needs of the customers, resolve the unresolved issues of the customers and exceed their expectations.
For instance, you are selling a machine to the customers. You know about some regular minor issues which may occur while the regular running of the machine but do not require a major resolution. You should inform your customers about those issues right at the time of selling and the educate them to resolve those minor issues by training them. You can also provide them a machine manual with the adequate information of such common issues and their resolutions.
3. Employ an effective Feedback mechanism
Customer Feedback is crucial for any business to know what customers feel about the brand. And when we talk about ensuring Customer Delight, it becomes even more important to capture Customer Feedback in order to identify their problems and upcoming requirements.
You should employ an effective feedback tool to hear the voice of the customers. With a good Customer Feedback Software, you can easily seek active feedback from your customers and know what they exactly want and how you can exceed their expectations and make them feel delighted.
4. Identify your detractors and work on your feedback
When you capture Customer Feedback, it becomes very important to work on it. Merely obtaining feedback will not help unless you take necessary actions on it. There may be your detractors on whom you need to focus on.
Detractors are the unhappy and unsatisfied customers who give a very bad rating to your brand on the basis of their overall Customer Experience with your organization. They would not only avoid your brand on their next purchase, but can even spread a negative word of mouth in the market about you and your organization.
With the help of Customer Feedback, you must identify your detractors, analyze their issues which took them into the list of detractors and then work on them to improve their experience. Collecting Customers' Feedback and suggestions, taking appropriate actions and informing the customers can not only solve the problems of your customers, but can ensure Customer Delight to the extent that it can also convert your detractors into promoters.
5. Research on alternatives to your brand
It may seem strange to research for your own alternatives, but if you want to go an extra mile, it is really helpful. Try to do a good market research on the alternatives customers may choose to go to, if in case not satisfied with your products or services. You can also ask your customers in the survey about the other alternatives they would like to choose in case of unavailability of a service with you.
This will help you know your competitors and try to find what they are doing better. This will enable you to retain your customers. You can even attract new customers by doing more than your competitors are doing to satisfy the customers.
These are some simple ways which can really help you to ensure Customer Delight and become an outstanding brand providing them ultimate Customer Experience!