Ensuring an exceptional customer experience is paramount to the success of any business. One of the best ways to improve CX is through customer feedback.
Although there are several ways to understand the level of loyalty your customers feel towards your business, the best way to gauge customer loyalty is with Net Promoter Score (NPS) tools. These tools enable you to send surveys and collect responses on a single platform.
A big part of doing this right is choosing reliable NPS software. Picking just one from a plethora of NPS tools can be daunting. Therefore we have compiled a list of the top 32 NPS tools that can help you make the right decision.
Let's get started.
TL;DR
Businesses are looking for NPS software as it enables you to quickly set up your surveys, distribute them to your customers and employees, integrate them with your business tools, and give you responses and reports in real time.
We have gathered a list of the best NPS tools to help you gain critical information in terms of loyalty, challenges preventing it, the effectiveness of referral programs, and more.
Some of our top CES tools are Zonka Feedback, Delighted, SurveyMonkey, Hotjar, InMoment, and more.
Apart from this, we have also covered a few platforms and alternatives like Medallia alternatives, GetFeedback alternatives, AskNicely alternatives, Forsta alternatives, Cloudcherry alternatives, InMoment alternatives, and more.
Zonka Feedback is a powerful NPS survey software that helps you engage with customers, measure their loyalty and likelihood to recommend and identify ways to prevent churn. To see how Zonka Feedback can be your top choice as the best NPS tool, sign up for a free 7-day trial or book a demo!
Measure Customer Loyalty with NPS
Create NPS surveys, measure customer loyalty, and close the feedback loop with Zonka Feedback.
1. Zonka Feedback
Zonka Feedback offers robust NPS software that can easily measure your customer loyalty and their willingness to recommend your brand or services. The software not only enables businesses to measure customer loyalty across multiple channels and all touchpoints but also helps brands capture customers' sentiments after every transaction.
While the platform offers both paid and free versions, it also focuses on the effortless creation and distribution of NPS surveys. You can quickly customize surveys, add follow-up questions to seek the 'why' behind the feedback, set up automated messages for the customers based on their score, and alert your team to update them about NPS detractors.
It also enables businesses in different industries to see customer behavior across segments, capitalize on factors that contribute to customer loyalty, and eliminate challenges causing customer churn. Using Zonka Feedback NPS software you can effectively transform feedback into business intelligence that drives growth and innovation.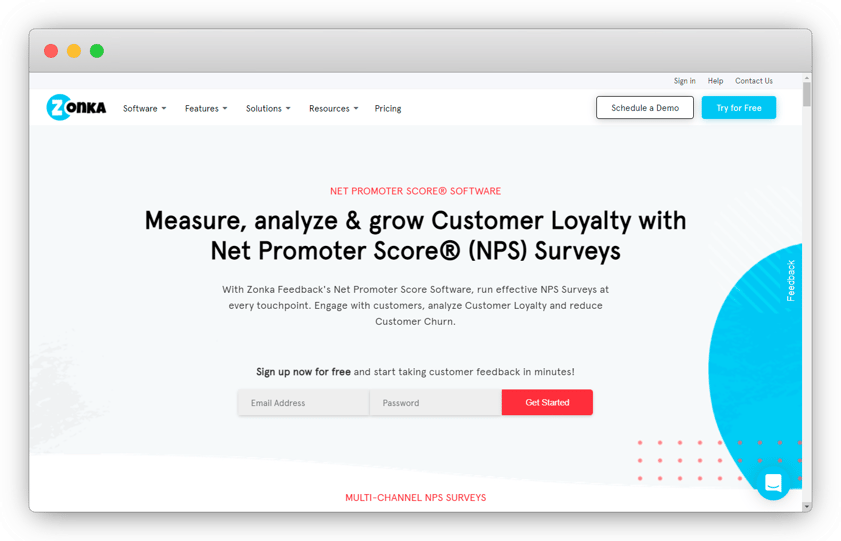 Zonka Feedback Paid Features

Conduct and collect NPS effortlessly

Run effective Net Promoter Score surveys at all touchpoints

Engage with customers, and analyze customer loyalty with the NPS survey question

Prevent customer churn and create brand advocates with the NPS Survey Tool

Track Detractors quickly and win them back

Measure employee and customer loyalty using NPS tools

Prevent over-surveying with Throttling

Send on-time NPS surveys, and analyze survey responses

Manage all things together in one place

Personalize and white-label your NPS surveys with the company's brand name

Follow-up questions to seek the reason behind the score

Identify key drivers for the Net Promoter Score

Schedule your NPS surveys from within the platform to automatically send the survey

Create and automate NPS-based workflows

View and track responses in real-time on NPS tools

Features For Free Plan

3 Users, 3 Active Surveys, and 10 Questions per Survey

Measure NPS, CES & CSAT , and get basic analytics & reports

Get a simple website intercept

Ready-to-use Integration with Zapier, Integrately, Make, Slack, Microsoft Teams

Get static segments, and response notifications easily

Pricing:

Free plan is available.

Paid plan starts at $49/month.

It also offers a free trial for 7 days for its paid plans.
#2. Qualaroo
Qualaroo is a feedback and research tool that allows SaaS companies to capture different types of feedback such as Website & App, Product, and UX by surveying customers with Qualaroo-Nudges. The NPS platform helps designers, developers, and project managers quickly conduct NPS Surveys at a transactional level to gauge real-time customer experience and take the customer satisfaction metrics from surveys.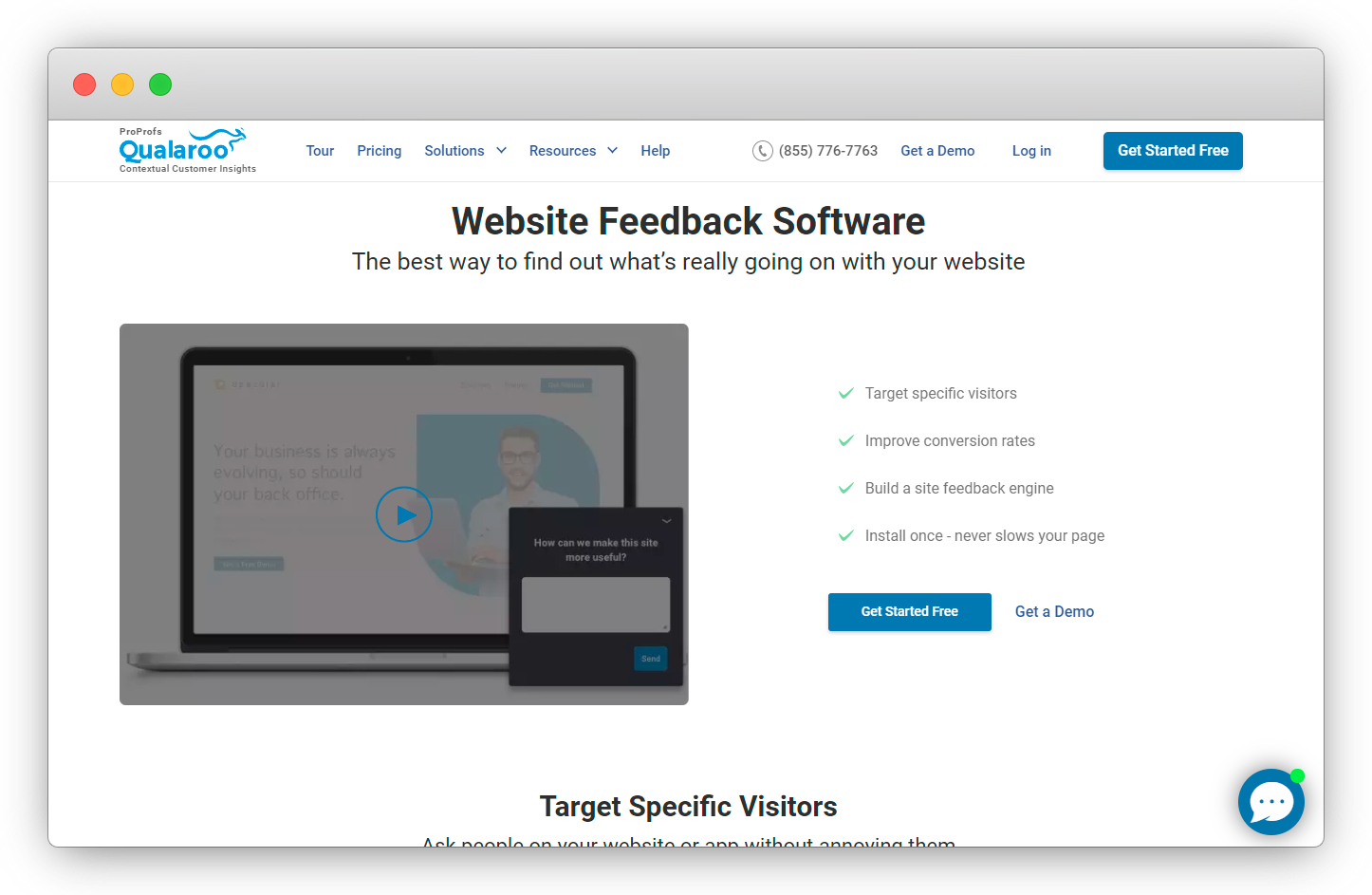 Qualaroo Features

Get Nudges™ pop-up survey to quickly embed on websites

Generate a unique survey link to share on any platform of your choice

Take survey campaigns on mobile and embed Nudges™ NPS surveys for insights

Get segmented mobile feedback in real-time on a native Android or iOS app

Validate ideas by embedding NPS surveys right into your dynamic prototypes

Get real-time actionable reports & analytics

Pricing: Starts at $69/month. No free plan is available; however, you can try for free for 15 days.
Read Also: 10 NPS Tools for Salesforce To Measure Your Customer Loyalty
#3. Delighted
Delighted's net promoter score tool enables you to improve customer experience and understand their needs. It collects real-time NPS scores and feedback via email, SMS, or survey URLs from customers and employees. Delighted enables you to customize your NPS surveys by adding questions in the form of 5-star surveys, smiley surveys, and thumbs-up surveys. It also offers detailed analytics, real-time survey reports, and free NPS tools.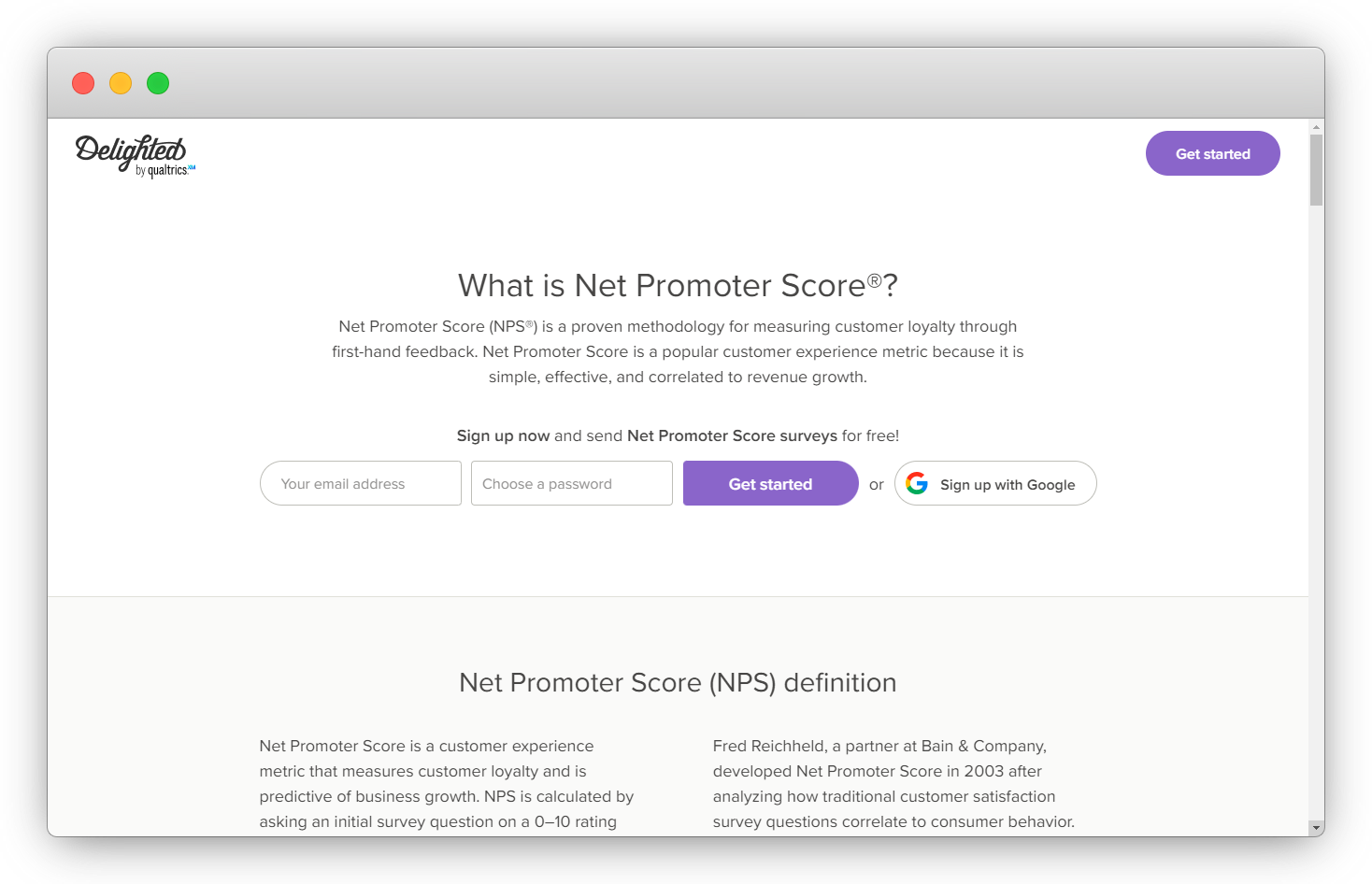 Delighted Features

Provides Mobile optimized surveys

Offers support in 37 different languages

Ensures custom options - button style, colors, subject line, logo, etc

Provides automation to set up email alerts for responses

Offers visualize survey results with graphs

Free Plan Features

50 responses/month and only 1 user

Branding customization (logo, colors), 1 Templates Project

Unlimited Surveys and 35+ Free integrations

Pricing: Starts at $224/month.
Although it's a brilliant tool to collect customer feedback, Delighted isn't the only option. If you're looking for Delighted competitors then read this blog on Delighted alternatives.
#4. SatisMeter
SatisMeter net promoter score software is an in-app customer feedback software that focuses solely on capturing the NPS based on specific usage patterns. SatisMeter makes it easy for you to understand real-time customers' perceptions with the best NPS survey software conducted through web apps, mobile apps, and email. The free NPS software tool provides real-time analytics that enables your team to see and collect customer feedback responses and collaboratively resolve the issues instantly.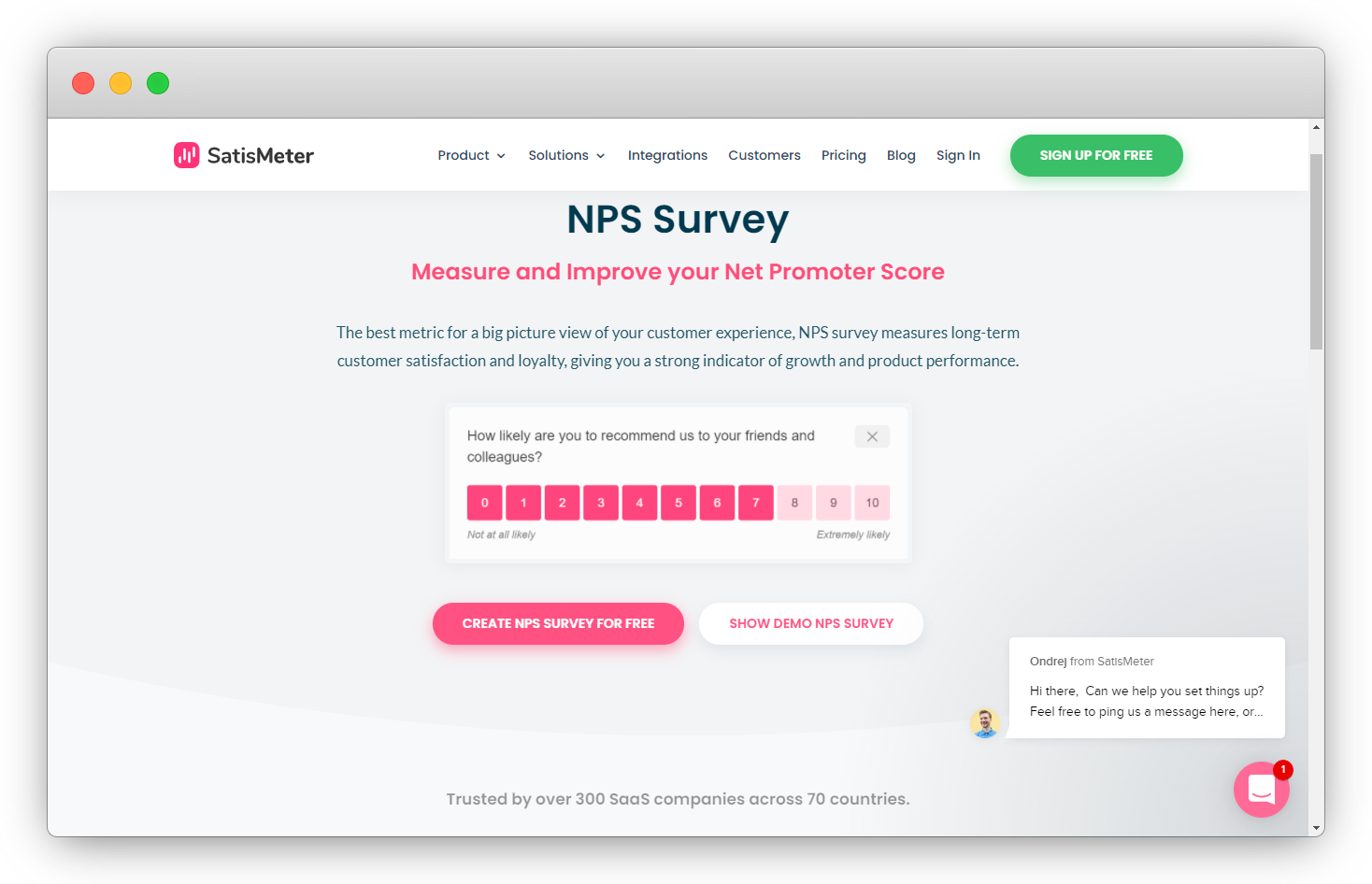 Satismeter Features

Enables you to do customer segmentation

Offers customizable forms

Ensures data import/export without any loss of data

Enables you to negative feedback management

Satismeter Free Plan Features

25 Responses / month

250 Active users

Pricing: Starts at $199/month
#5. InMoment (Wootric)
InMoment, earlier known as Wootric, allows you to create and conduct a Microsurvey to collect NPS feedback. The platform is renowned for providing an advanced NPS data analytics system. It not only collects NPS data but also automates the process of data analysis and gives actionable insights from feedback and insights through AI-driven and sentiment analytics. The platform is supported with other features like custom filters, response alerts, and real-time reports.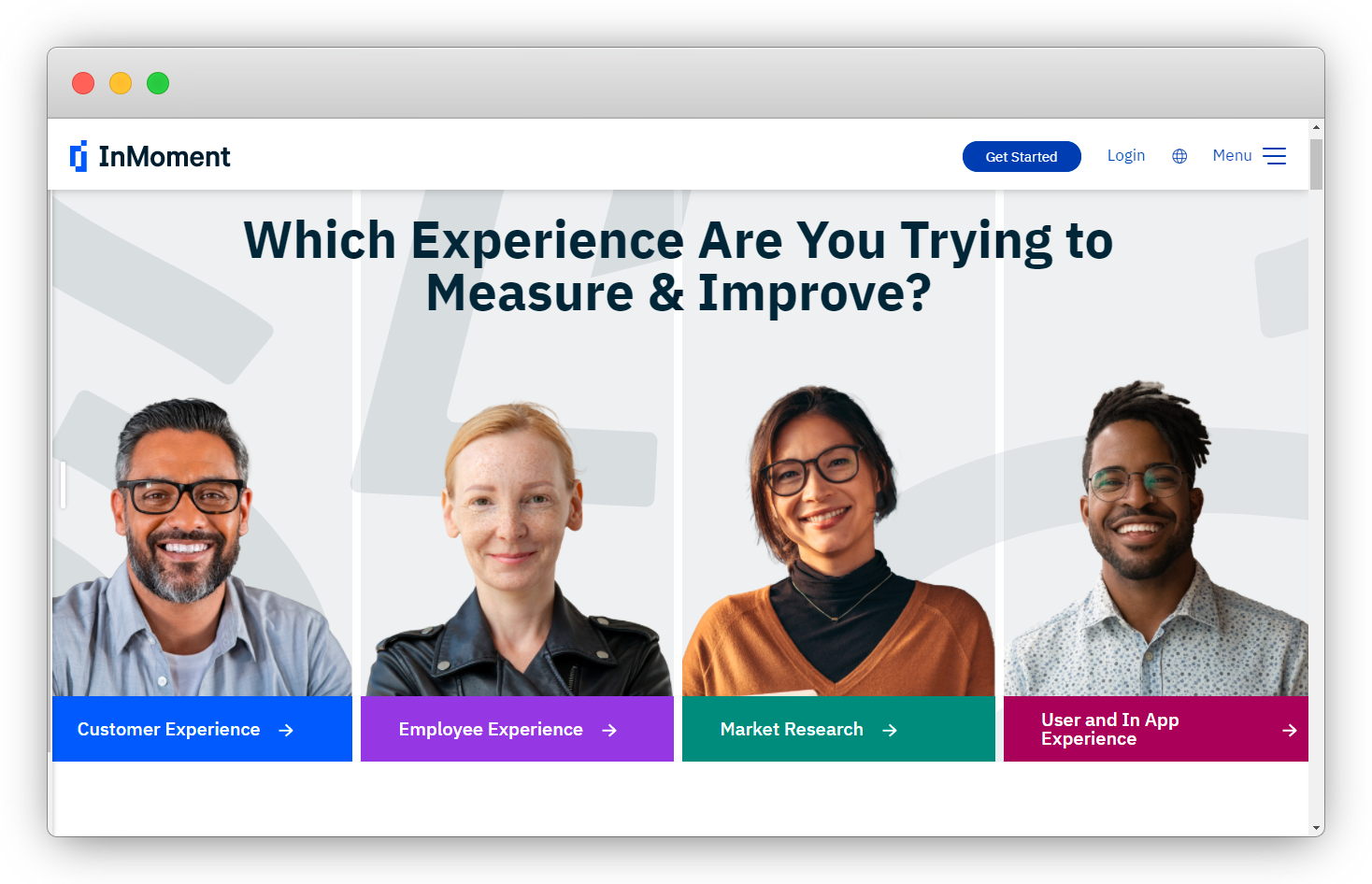 InMoment Features

Offers multi-channel and multi-lingual platform

Provides 9 font styles

Enables you to trigger surveys based on events, set custom parameters for surveys

Provides segments and filter options to compare metrics

Pricing: You can get in touch with their sales team to learn about the pricing plan.
#6. Medallia
From handling high-volume NPS surveys to analyzing and monitoring NPS data, Medallia operationalizes and streamlines your efforts and drives improvement. With Medallia, you can understand and analyze the very best NPS survey tools and platforms, score and easily segregate based on respondents. It uses machine and human learning to automatically analyze the right NPS tool, and feedback and collaborate with team members to take action and resolve issues.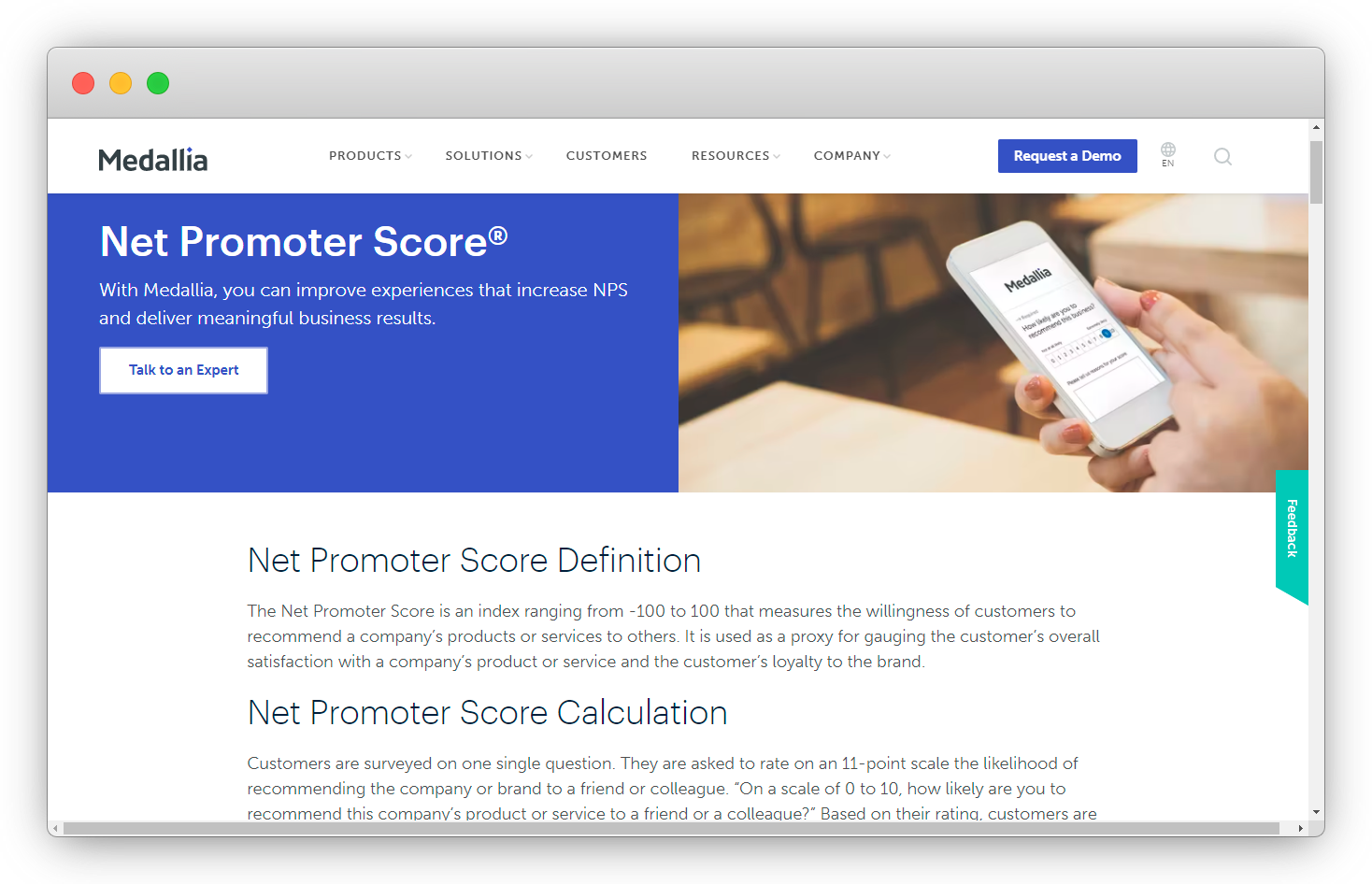 Medallia Features

Capture the Voice of the customer and capture suggestions on the customer experience

Quickly capture and analyze user feedback, predict behavior, and create experiences

Create a rich experience profile for every customer to gain a 360° view

Apply AI and machine learning to predict customer behavior

Capture systemic root cause issues across different channels

Pricing: You can either request for demo or connect with the sales team to learn about their pricing.
#7.GetFeedback
GetFeedback net promoter score tool facilitates you to quickly set up mobile-friendly, and responsive NPS surveys to gather accurate NPS scores and feedback. The tool consists of numerous inbuilt survey templates like Employee Experience, Net Promoter Score, Customer Satisfaction, Customer Effort Score, Product Experience, Lead Form, Customer Experience Survey, Deal Lost Feedback, etc.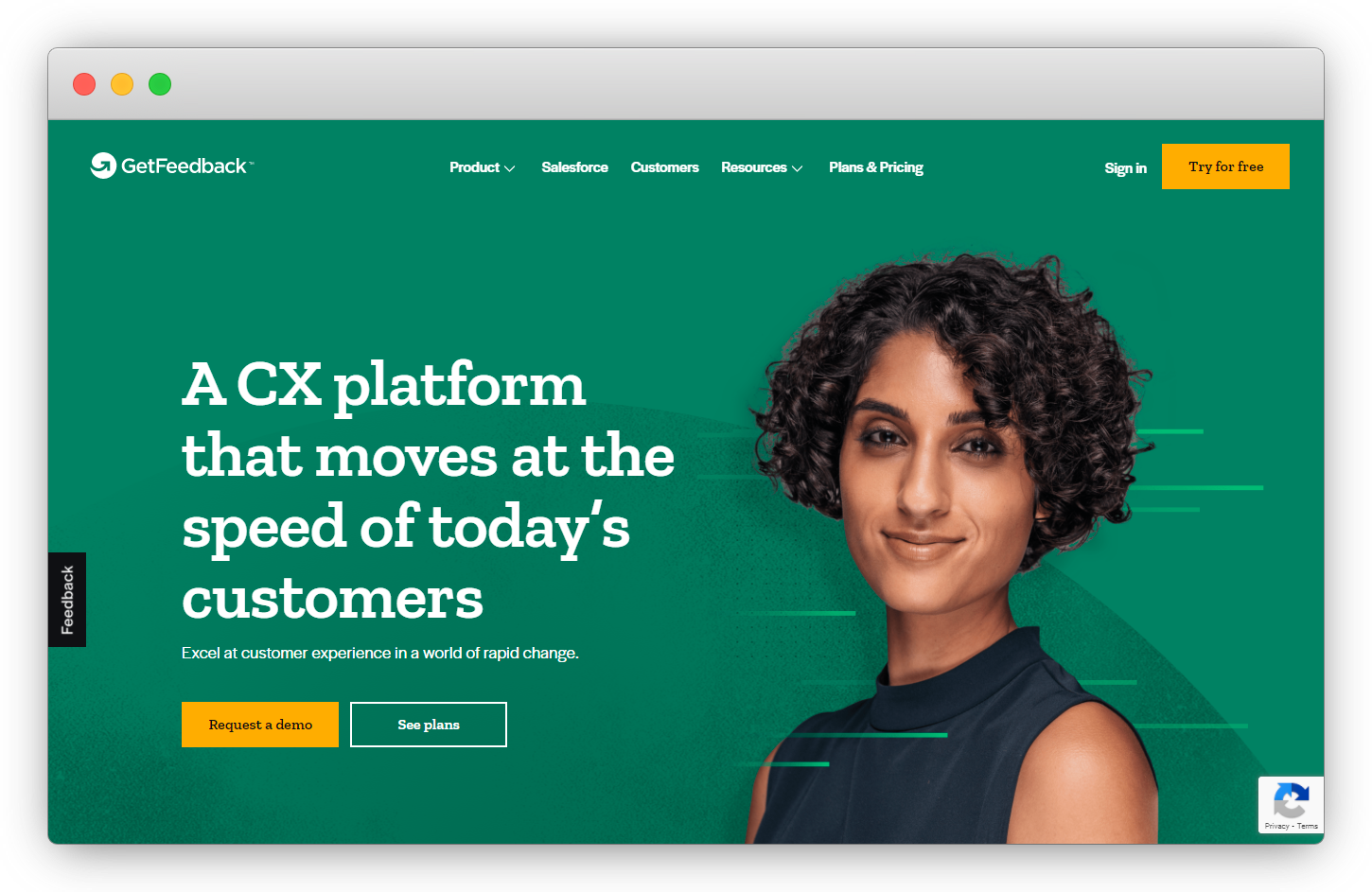 GetFeedback Features

Provide Intuitive interface

Offers white-label surveys

Provides trends to identify areas of improvement

Ensures customer sentiments with Text Analytics

Pricing: You can sign in and then connect with the sales team to learn about pricing.
GetFeedback is a well-known customer experience management platform but has a complicated UI, limited integration options, steeper learning curve. If you're also looking for GetFeedback competitors then here is a blog on GetFeedback alternatives.
#8. Survicate
Survicate net promoter score software can be popularly used to capture NPS responses through feedback Buttons or widgets. It also tracks NPS Feedback from various sources. Users can create and edit NPS Surveys and distribute them via various channels. Apart from website and mobile surveys, it also creates chat surveys and gathers real-time insights from customers while talking to them on chat.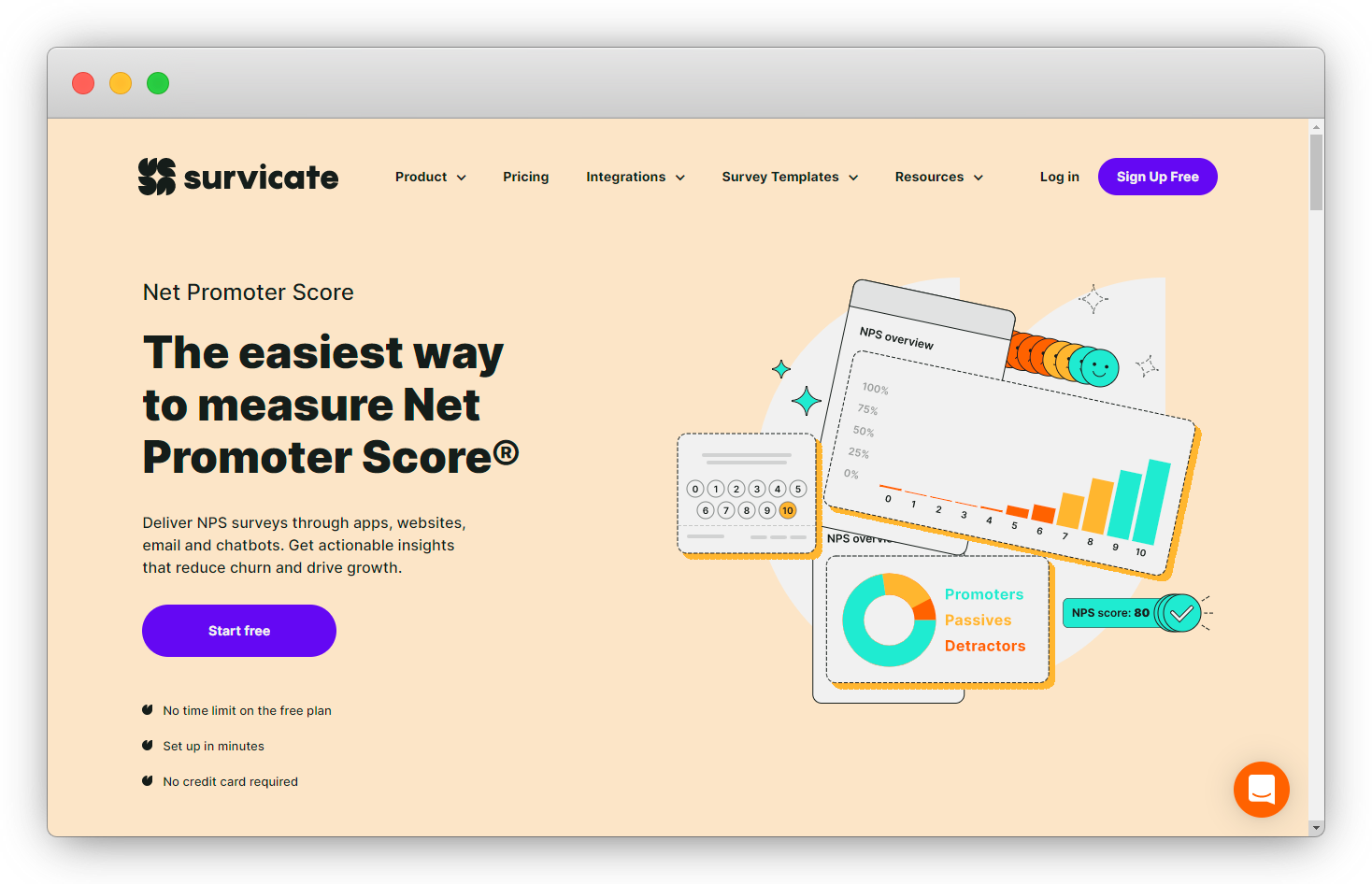 Survicate Features

Ensures customized mobile responsive surveys

Provides custom CSS, 50+ survey templates

Provides conditional logic system

Easily tap into customer insights

Integrate with your favorite tools in a single click

Pricing: Starts at $53/month. Survicate also offers 10 days free trial.
#9.SurveyMonkey
SurveyMonkey captures real-time feedback with the help of polls, quizzes, and mobile-responsive surveys. The platform offers free NPS tools that have an extensive "question bank" of survey questions that allow users to customize NPS surveys that suit their brand. SurveyMonkey also offers various features like filters, tags, and data trend reports to turn your survey response into insightful data.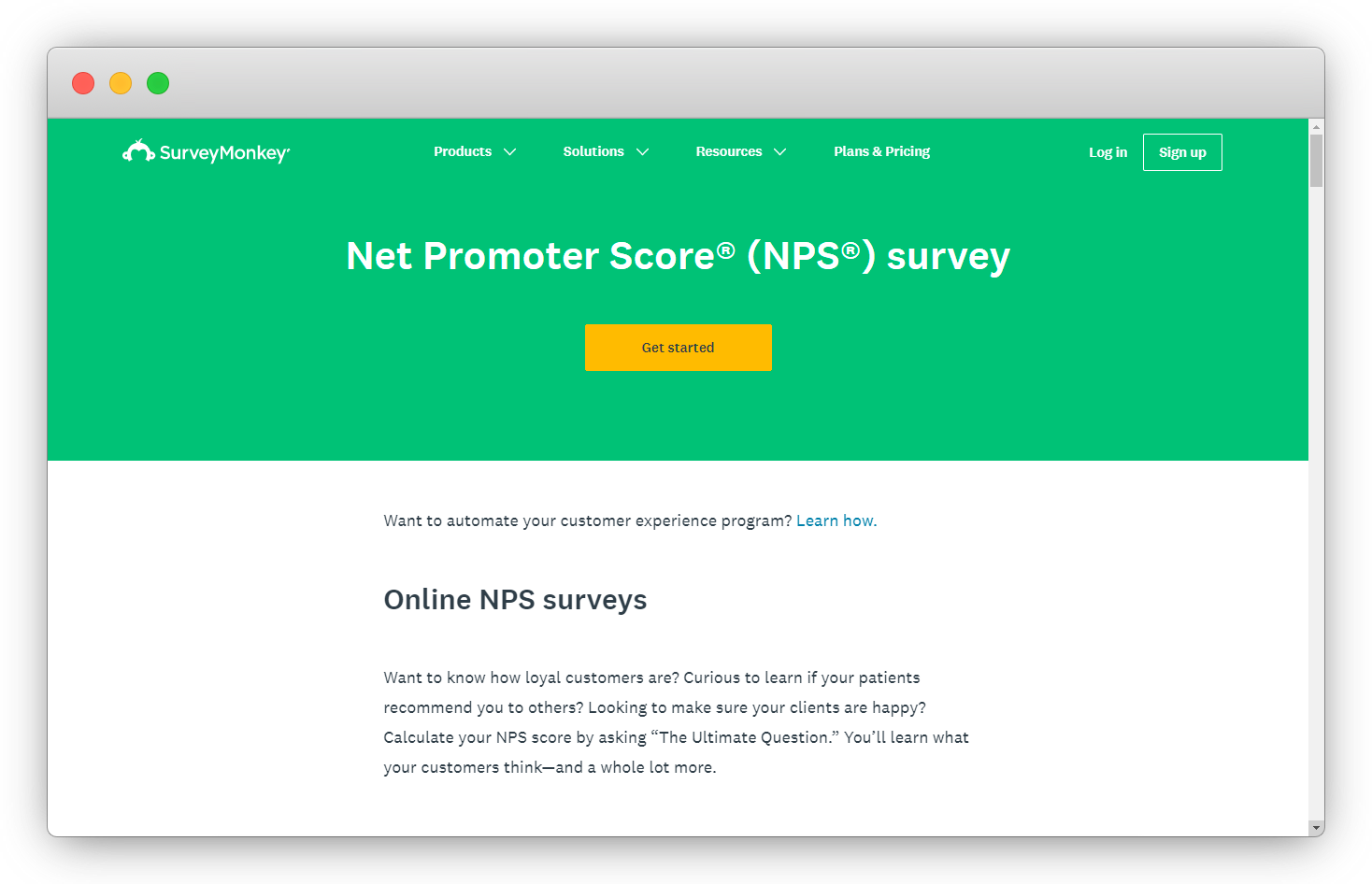 SurveyMonkey Features

Provides a platform for single and multiple users

Offers pre-built 200 survey templates

Provides a secure platform to perform A/B tests

Offers different versions of surveys, a snapshot of responses with charts and summary reports

SurveyMonkey Free Plan Features

NPS survey free templates for customers, employees, and other target audiences

Survey success rate estimation

Multichannel feedback

Pricing: Starts at $55/month
SurveyMonkey has gained immense popularity when it comes to collecting feedback; however, businesses may look for alternatives due to its higher cost, few question types, and limitations in customization. Here is a blog on SurveyMonkey alternatives if you are looking for its competitors.
#10. Qualtrics
Qualtrics is a cloud-based NPS survey software that assists you in improving customer experience and loyalty. It enables you to create, distribute, and analyze web-based NPS surveys. It provides 50+ ready-made survey templates and pre-designed 100+ types of questions like MCQs, text, sliders, and more that make your survey responsive. You can send multilingual surveys through its free NPS software and make them intuitive with logic. In addition, you can also set up your response rates, and alerts for responses, and access pre-configured NPS reports.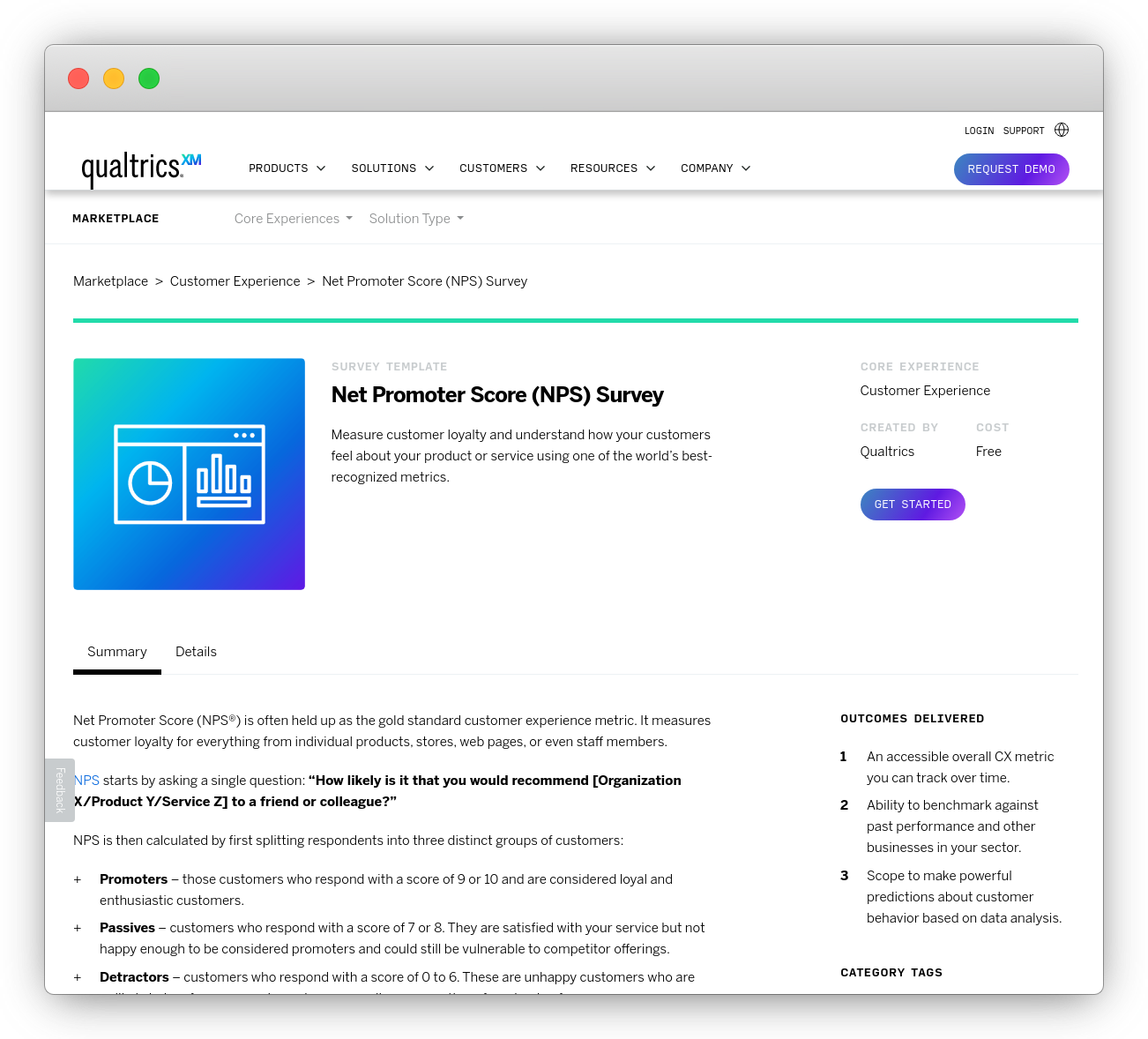 Qualtrics Features

Provide customized surveys with 20+ variables

Creates & tests online and offline surveys

Provides visual data with 30+ different graph types

Improves survey quality & boosts responses with AI tool

Qualtrics Free Plan Features

Role-based dashboard

Multi-channel data collection

Mobile surveys

Issue tracking

Pricing: You can request to learn more about their pricing plan.
Finding Qualtrics too expensive and complex for your customer experience strategy? Read our blog on Qualtrics alternatives for cost-effective solution
#11. AskNicely
AskNicely enables you to measure various NPS survey tools, create surveys, and gather valuable feedback through emails, websites, and mobile apps. You can easily white-label surveys or add logic-based survey questions to personalize the survey experience. Besides creating surveys, AskNicely offers leaderboards to analyze the best NPS survey tool tools and scores, determine the loopholes, and, identify necessary actions to enhance customer experience.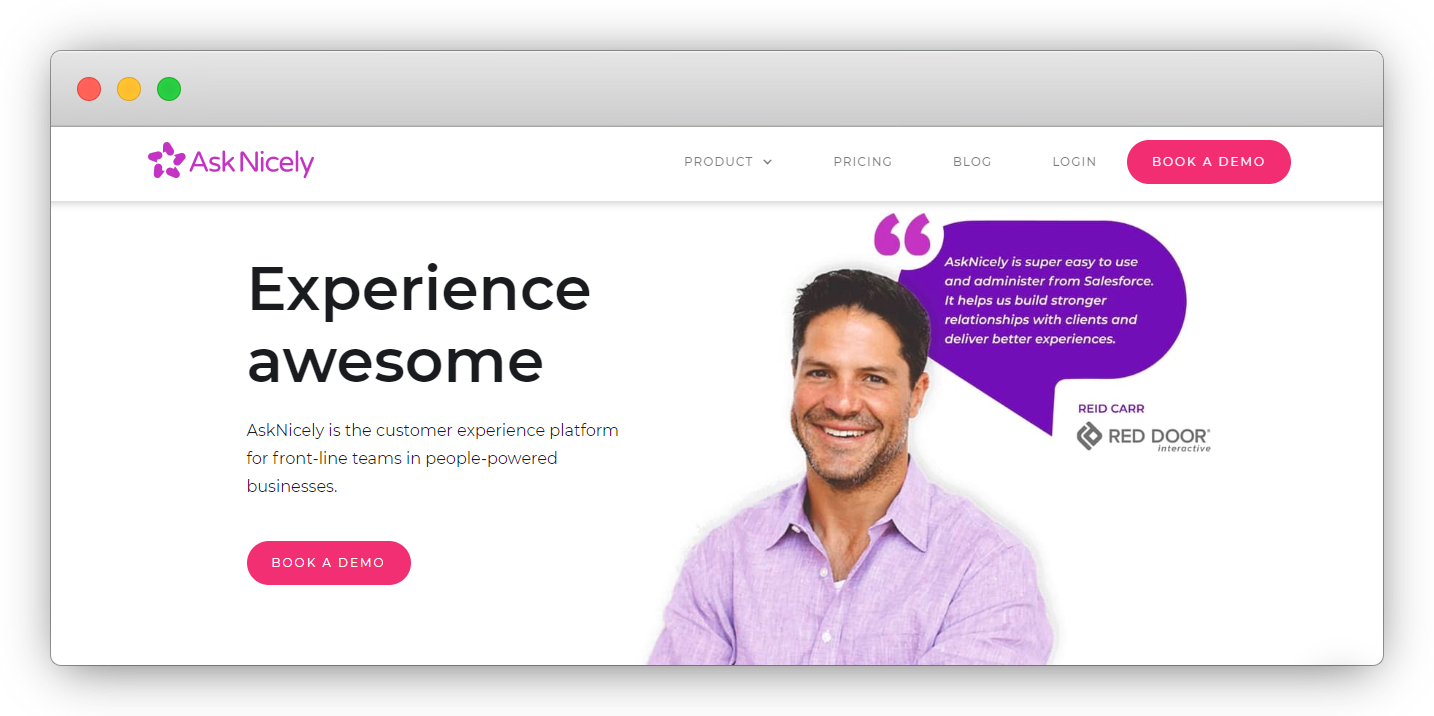 AskNicely Features

Enables you to create customized conversational follow-up questions

Facilitates you to share critical updates, tips, and answers with teams

Provides automated workflows & push notifications to respond instantly

Pricing: You can get in touch with the sales team even to learn about their basic plan.
AskNicely is popular for motivating the frontline team but mostly popular for NPS tools. If you are looking for AskNicely competitors to collect data using other CX metrics then here is a blog on AskNicely alternatives.
#12. Nicereply
Nicereply's NPS tool helps you conduct, distribute, manage, and track the Net Promoter Score. Besides all of this, you can also closely monitor feedback spot dissatisfied and satisfied customers, and view reports with charts, time filters, and comparisons.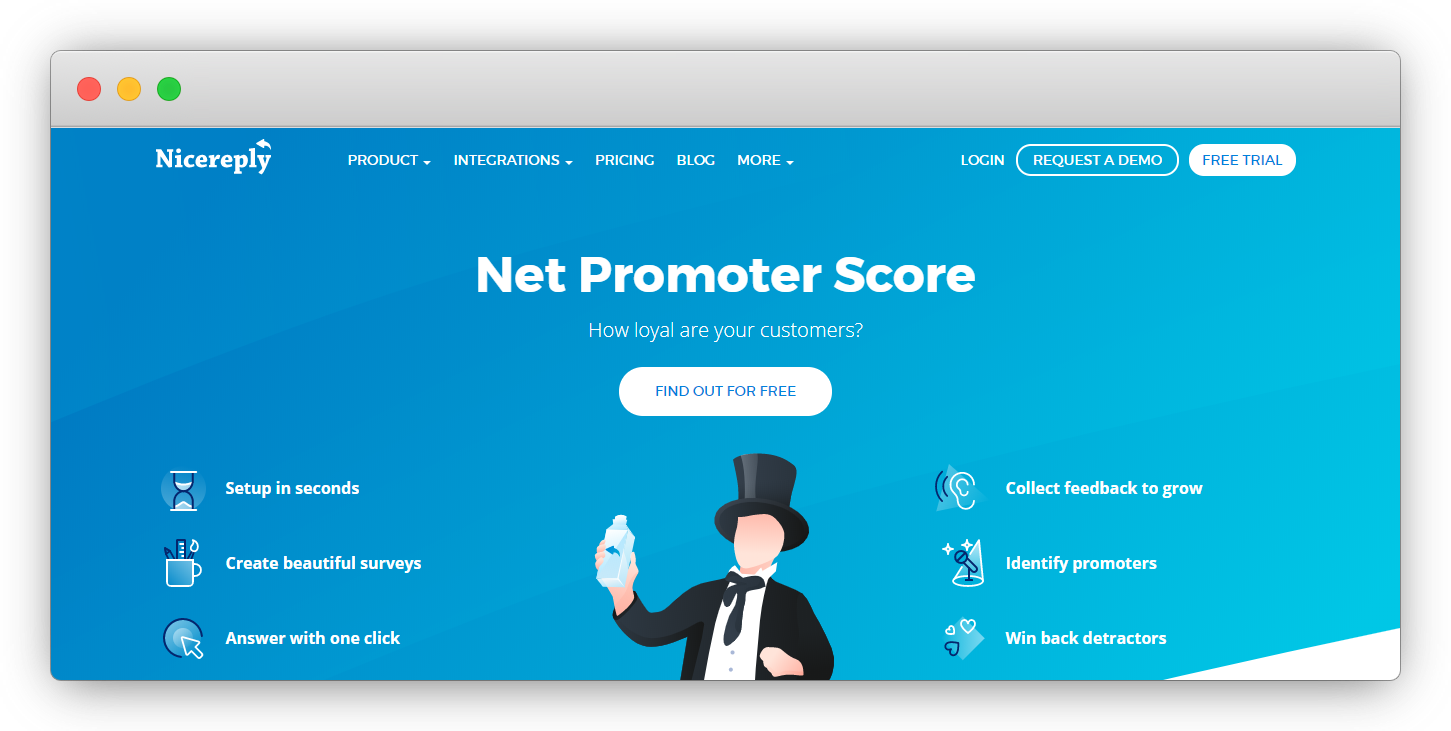 NiceReply Features

Provides Complaint Monitoring

Facilitates you to track your customer engagement

Provides automated workflows & push notifications to manage negative feedback.

NiceReply Free Plan Features

In-signature surveys

Survey customization

Integration with multiple business tools

Unlimited number of surveys

Pricing: Starts at $50/month. You also get 14-days free trial.
#13. SurveySparrow
SurveySparrow is an omnichannel experience management survey tool that captures the quality and quantitative NPS feedback from your customers and employees at all touchpoints. It provides a conversational interface that creates and shares mobile-first surveys that provide a chat-like experience. It also automates the schedule of the follow-up NPS surveys by integrating it with the apps you already use.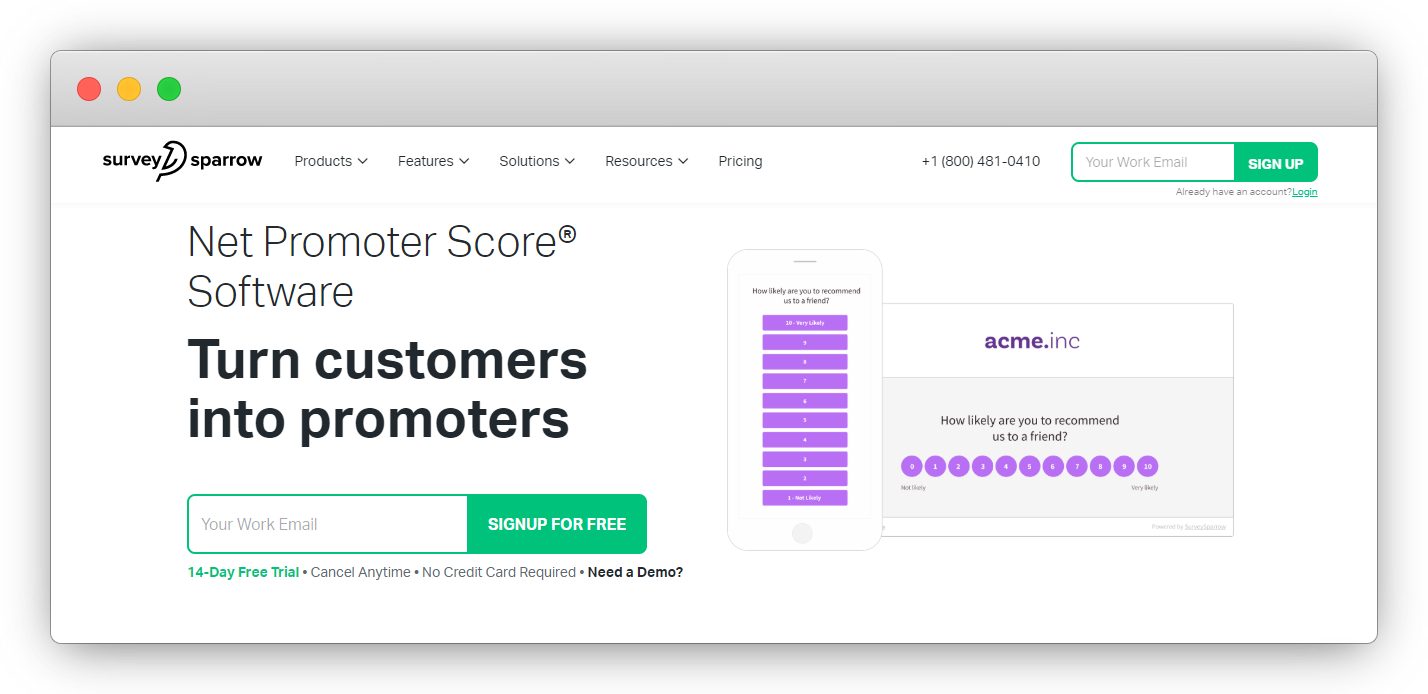 SurveySparrow Features

Create dynamic lists and segment your respondents easily

Add follow-up questions to know the 'Why' behind everything

Automate net promoter score surveys based on preference

Embed an NPS survey in your app

Monitor Net Promoter Score with time

Decode customer sentiments easily with sentiment analysis

SurveySparrow Free Plan Features

NPS trend tracking through the dashboard

Workflow automation with webhooks and alerts

Custom fields for audience segmentation

Easy integration with day-to-day apps

Pricing: You can connect with their sales team to learn about their basic plan.
Looking for easy-to-use and cost-effective alternatives to SurveySparrow? Read this blog on SurveySparrow alternatives.
#14. QueationPro
QuestionPro's best NPS software system helps you create efficient surveys, polls, and quizzes within a span of a few minutes. It consists of numerous tools that enable you to perform analysis of NPS data. The unique report module and robust analytics help you understand your loyal customers'' sentiments and experiences in an enhanced way. QuestionPro's free NPS software also enables you to secure customer data by following privacy and regulatory standards such as ISO, GDPR, HIPAA, FERPA, and PCI/DSS compliance.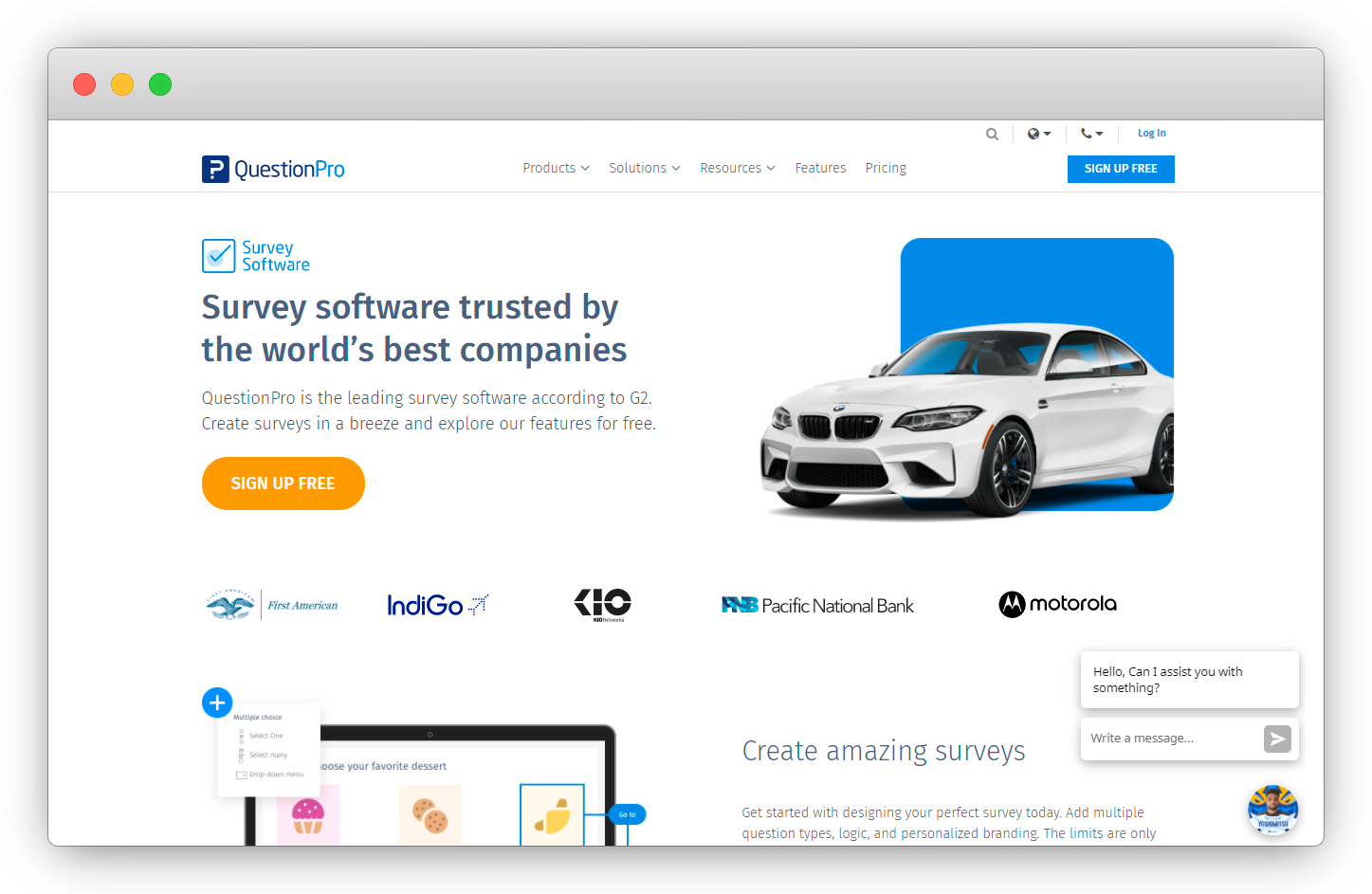 QuestionPro Features

Enables you to create multilingual online and offline surveys

Offers 250+ customized survey templates

Provides pre-built 30+ question types and 95+ languages

22+ million double opt-in and mobile-ready panelists.

Pricing: Starts at $99/month. A free plan is also available.
#15.Retently
Retently is an effective business tool that enables you to conduct and send NPS surveys via email. It offers features like audience segmentation, a real-time customer feedback loop, automatic scheduling, multilingual surveys, top response rates, alerts, instant analytics, and close feedback loop management.
The tool also enables you to conduct and send NPS surveys via email and offers features like audience segmentation, real-time feedback, automatic scheduling, multilingual surveys, response alerts, instant analytics, an optional feedback box, and close feedback loop management.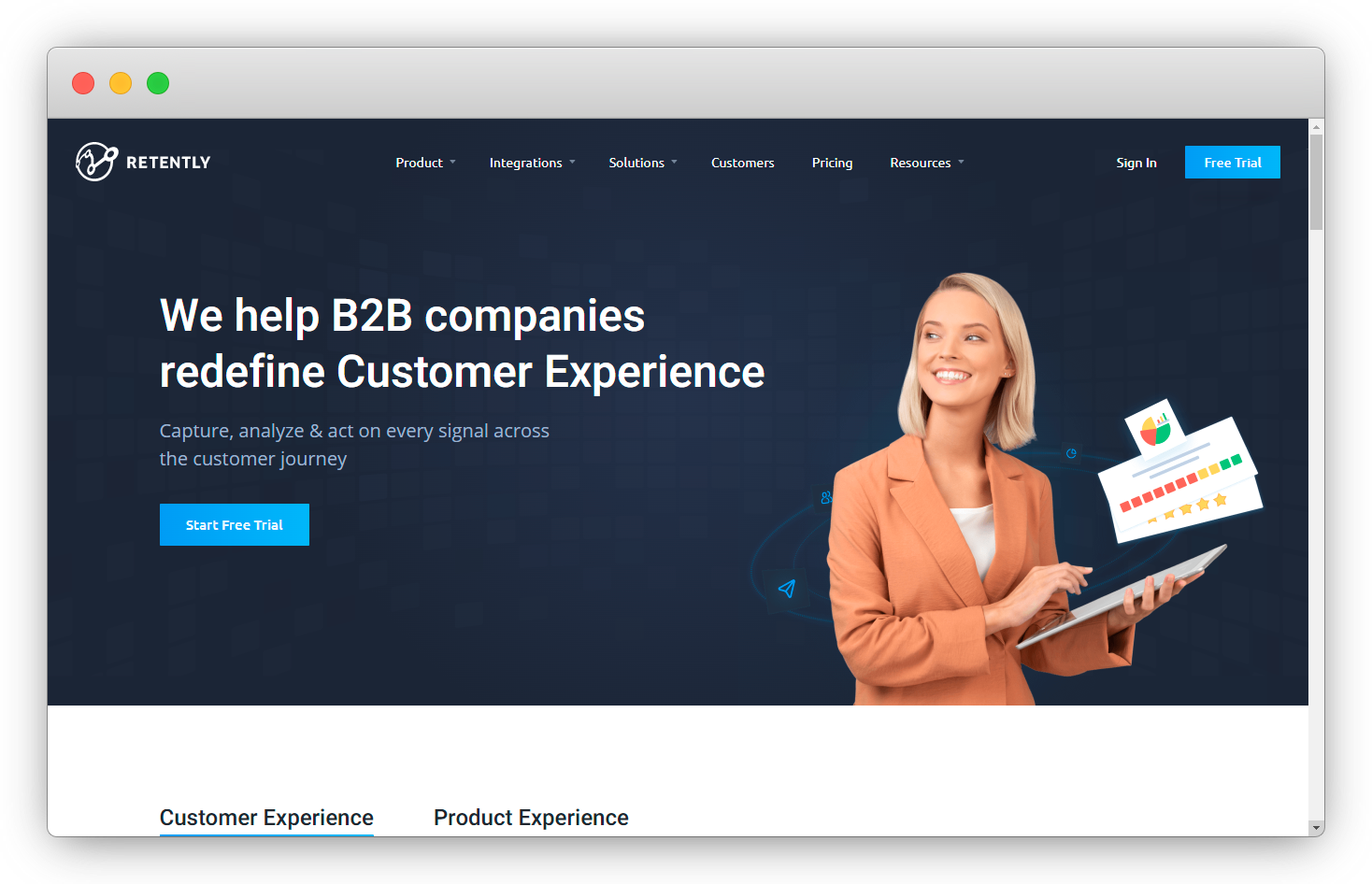 Retently Features

Creates Customize survey template's styling and language

Ensures A/B testing of subject lines

Keeps track of survey statuses

Creates custom workflows

Provides options to set and receive notifications on Email and Slack channels.

Pricing: Starts at $25/month. You can also access it for 7-days free trial.
#16. Hubspot
HubSpot offers a set of feedback tools that allow you to create and conduct NPS, CSAT, and CES surveys. It provides professional pre-built Net Promoter Score (NPS) surveys to gauge customer satisfaction and loyalty and capture qualitative and quantitative feedback at every touchpoint. If you want to send NPS surveys via email or trigger the NPS survey tools and responses through survey questions on your website, then HubSpot is a good-to-go option. Besides feedback management, HubSpot keeps track of all the feedback data in one single dashboard through a responsive inbox.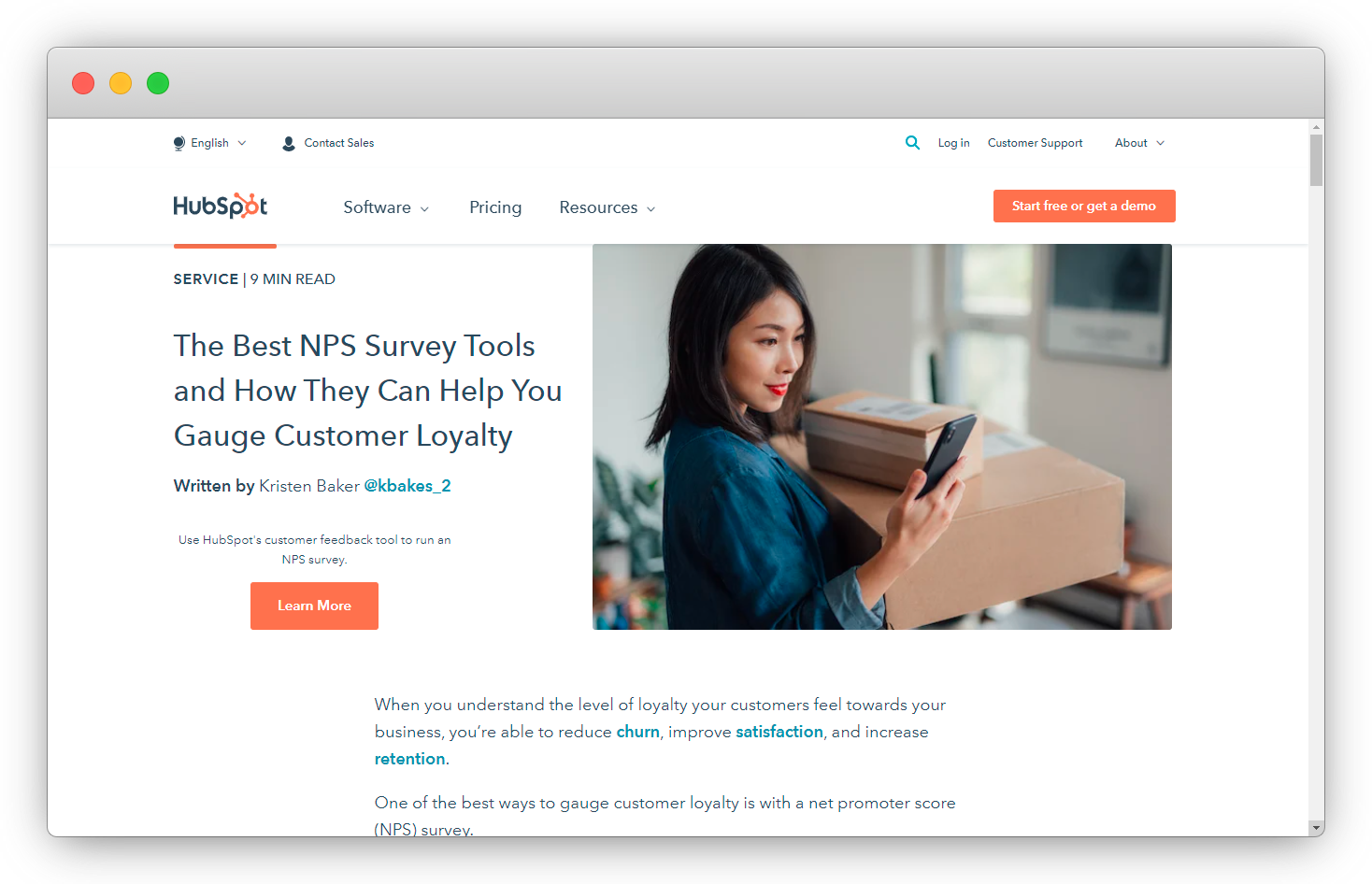 Hubspot Features

Ensures user-friendly customizable NPS platform

Provides bots to manage 1-1 customer communications

Ensures panel that automates customer service issues

Pricing: Stats at $18/month
#17. ProProfs Survey Maker
ProProfs Survey Maker measures customer satisfaction through NPS surveys and is popularly used by different B2B & and B2C companies, event management firms, universities, and trainers. ProProfs Survey Maker offers 100+ professionally built, ready-to-use, customizable NPS surveys, survey tools, and templates to make your survey audience appealing. Additionally, you can use 1,000,000+ questions and 15+ question types to create beautiful and engaging customer satisfaction surveys. Besides, creating surveys facilitates you to schedule your survey for automatic distribution.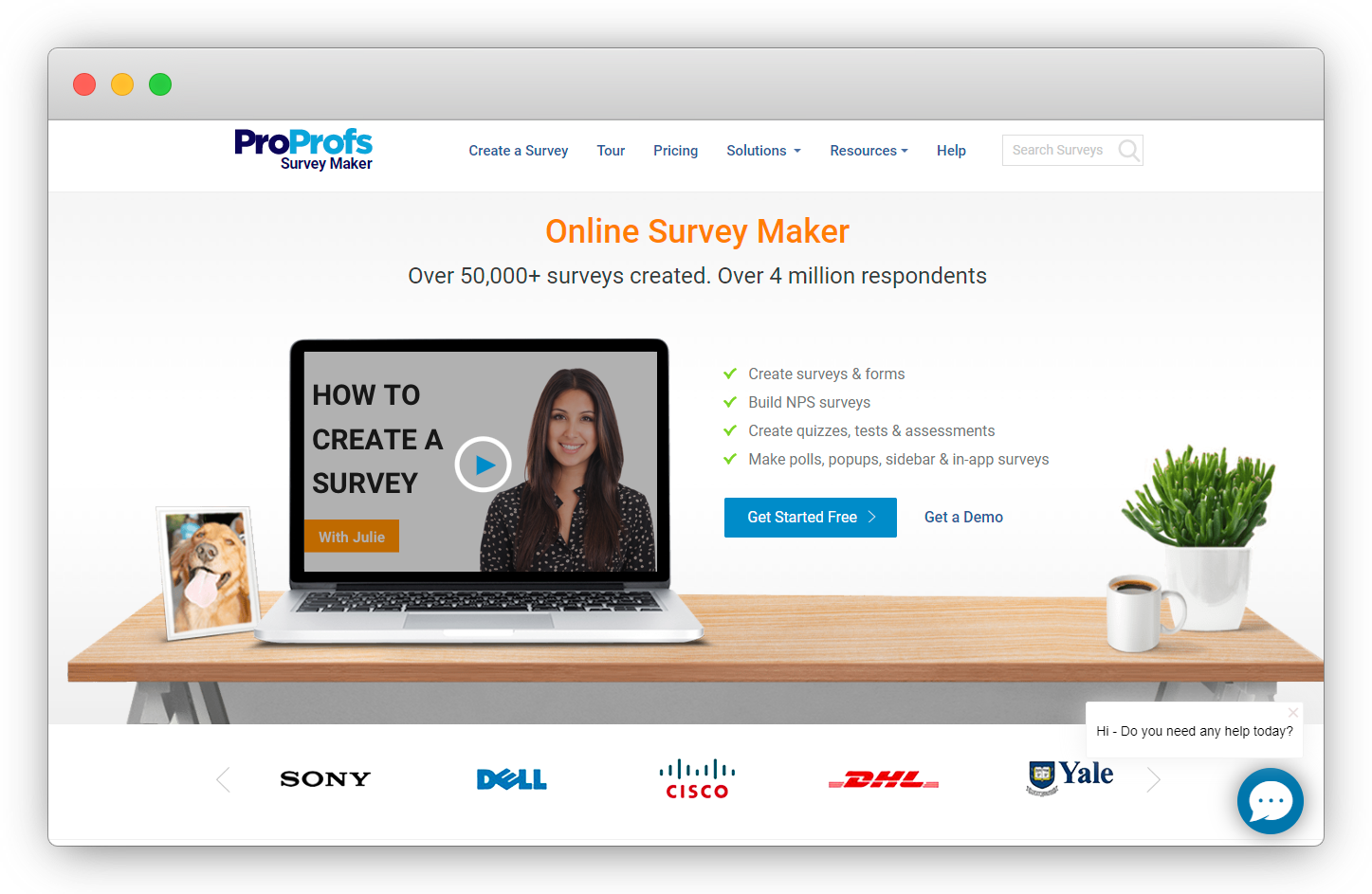 ProProfs Survey Maker Features

Provides expert templates available for Customer and User Experience

Provides 10+ question types

Enables you to create unique CTA

Pricing: Starts at $19/month. You can also try it for 15 days free trial.
#18. Alchemer (Survey Gizmo)
Alchemer (Survey Gizmo) is an enterprise-grade NPS survey tool used by startups and Fortune 500 companies. Alchemer is also known for its automation capabilities, like sending emails/notifications based on numerous responses from survey respondents. With Alchemer, it's easy to improve the customer experience at every touchpoint and reduce customer churn.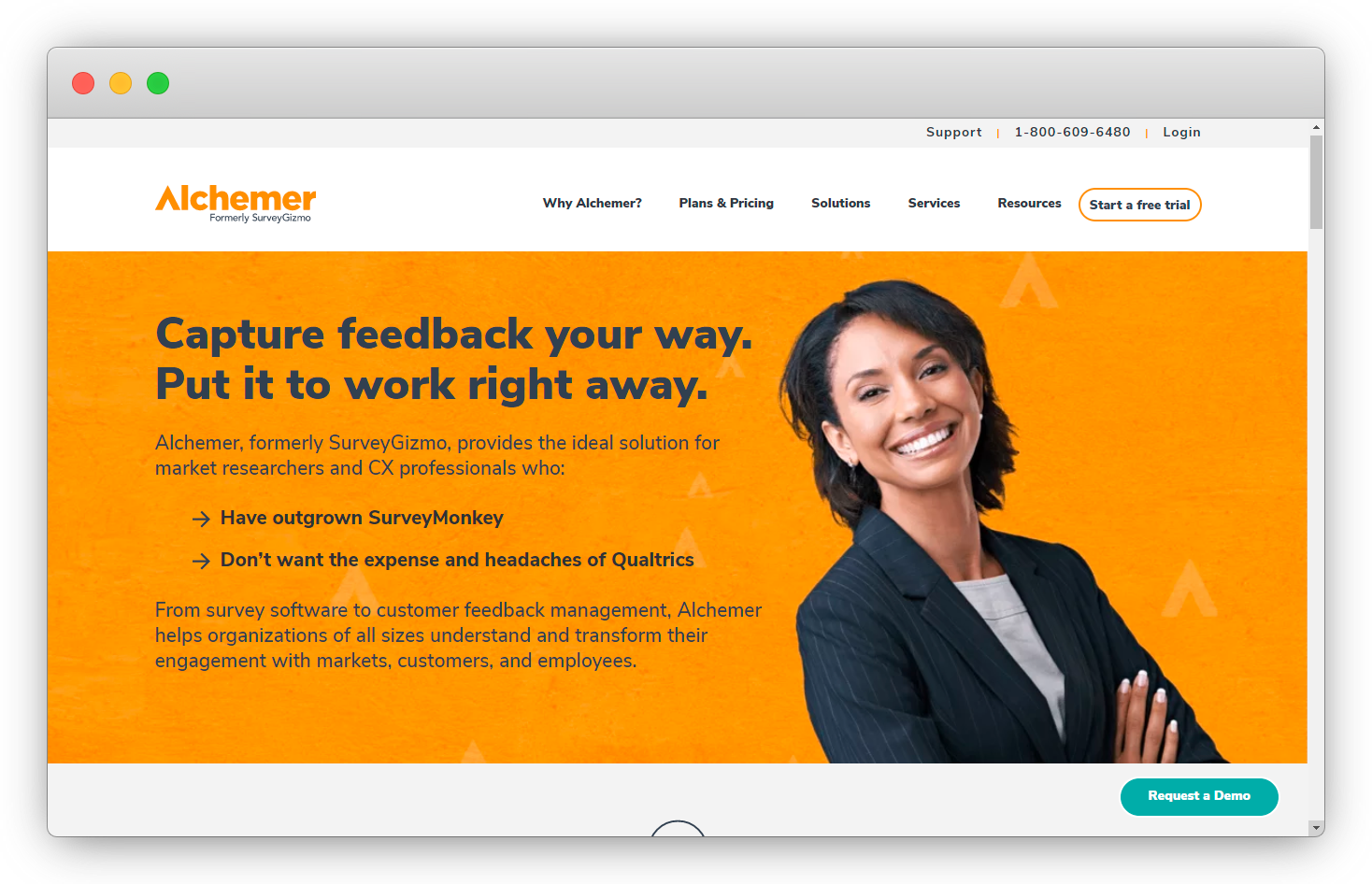 Alchemer Features

Provides 40+ Built-in Question Types

Enables you to set up email alerts

Provides security standards such as HIPAA, GDPR, PCI, etc.

Provides custom workflows to assign issues and take an instant action

Pricing: You can connect with the sales team for pricing plans.
#19. Hotjar
Hotjar primarily works both as an a NPS tool for feedback and NPS analysis tool. It provides instant feedback from various channels like Web, Email, and SMS. With the Hotjar and NPS software tools, you can use various advanced features like interactive heatmaps, conversion funnels, form analytics, and visitor recording to uncover your customers' online behavior and make you listen to your users' voices effectively.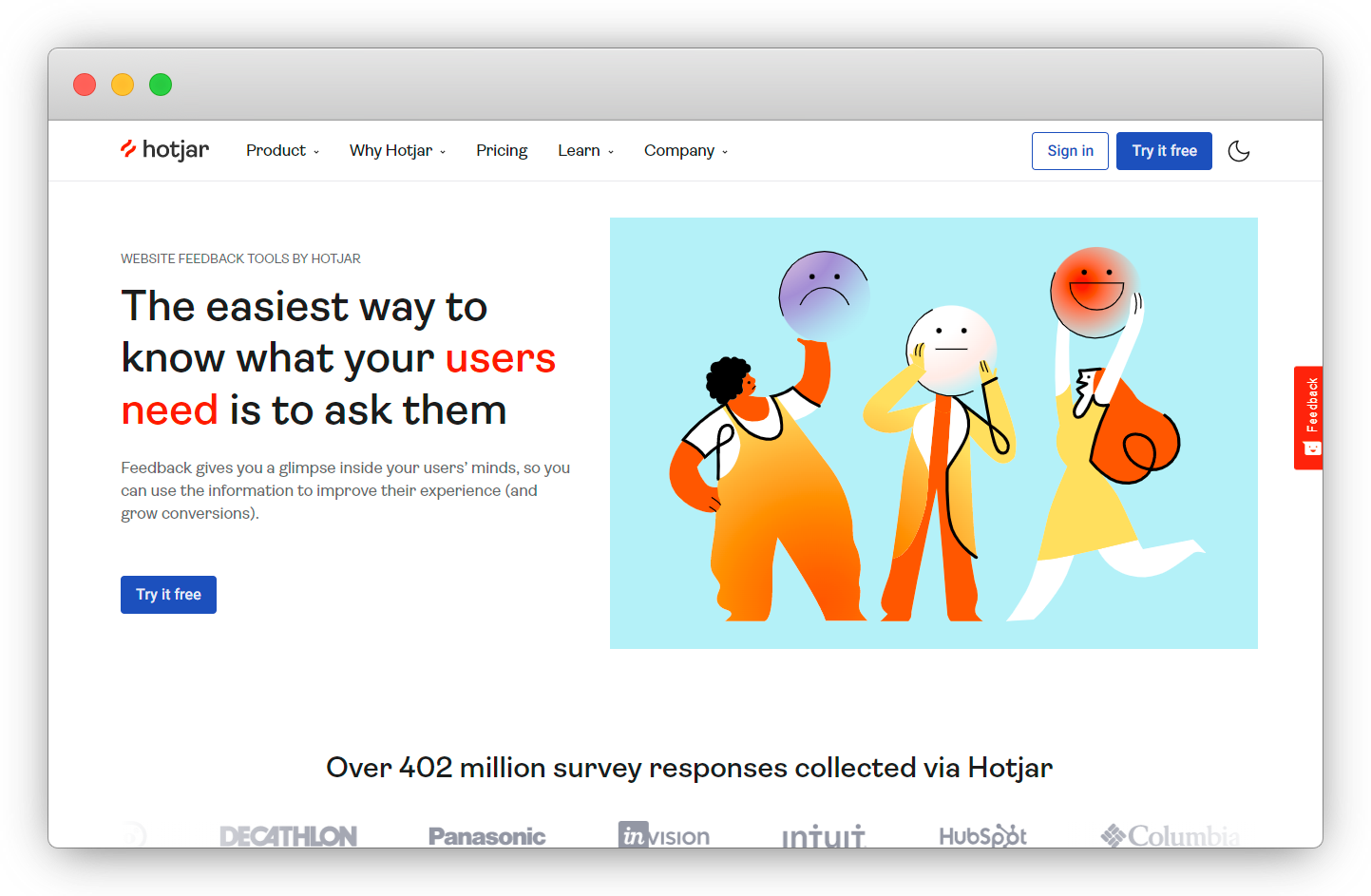 Hotjar Features

Provides a platform for single and multiple users

Offers pre-built 200 survey templates

Provides a secure platform to perform A/B tests

Offers different versions of surveys, a snapshot of responses with charts and summary reports

Hotjar Free Plan Features

Tracked session/ day- 35

Response per month- 20

Unlimited heatmaps

Recordings of user sessions on your site

Create and store 3 surveys and 3 feedback widgets with unlimited questions

Over 40 survey templates

1 free interview from the Hotjar participant pool

Up to 60 interviews/year from your own network

Pricing: It has a free plan option.

Starts at $32/month
Looking for an alternative to Hotjar? Here is a blog on Hotjar alternatives you can think to switch to.
#20. Typeform
A drag-and-drop interface feature makes Typeform a hassle-free NPS survey tool that enables you to create white-label customized surveys and quizzes. Typeform helps you to distribute surveys via online survey links. Typeform dashboard provides simple analytics and survey reporting.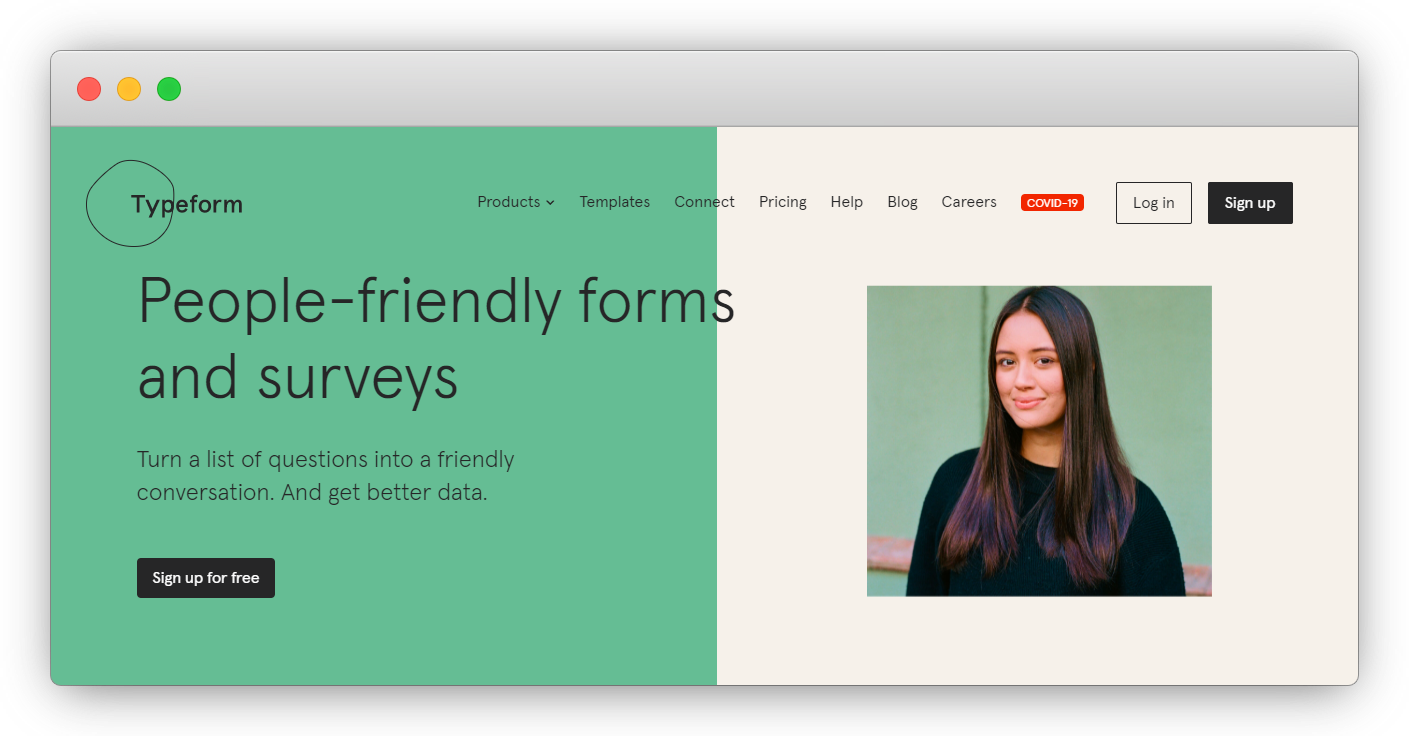 Typeform Features

Creates mobile-optimized surveys

Offers 500+ integrations with web apps

Pricing: Starts at $17/month

It also offers a free plan; however, you need to connect with its sales team to learn about the free features.
Typeform helps brands treat people with thoughtfully designed tools like online forms and online surveys; however, the platform lacks better pricing, and ease of use. Read this blog on Typeform alternatives to help you choose the top competitors.
#21. piHappiness
piHappiness imbibes thoughtful strategies to create customer satisfaction. The platform enables teams to monitor and measure customer satisfaction and the whole customer journey to happiness through NPS surveys while receiving instant notifications on their devices. You can even check the dashboards and reports whenever and wherever, so you can explore the data to its maximum potential.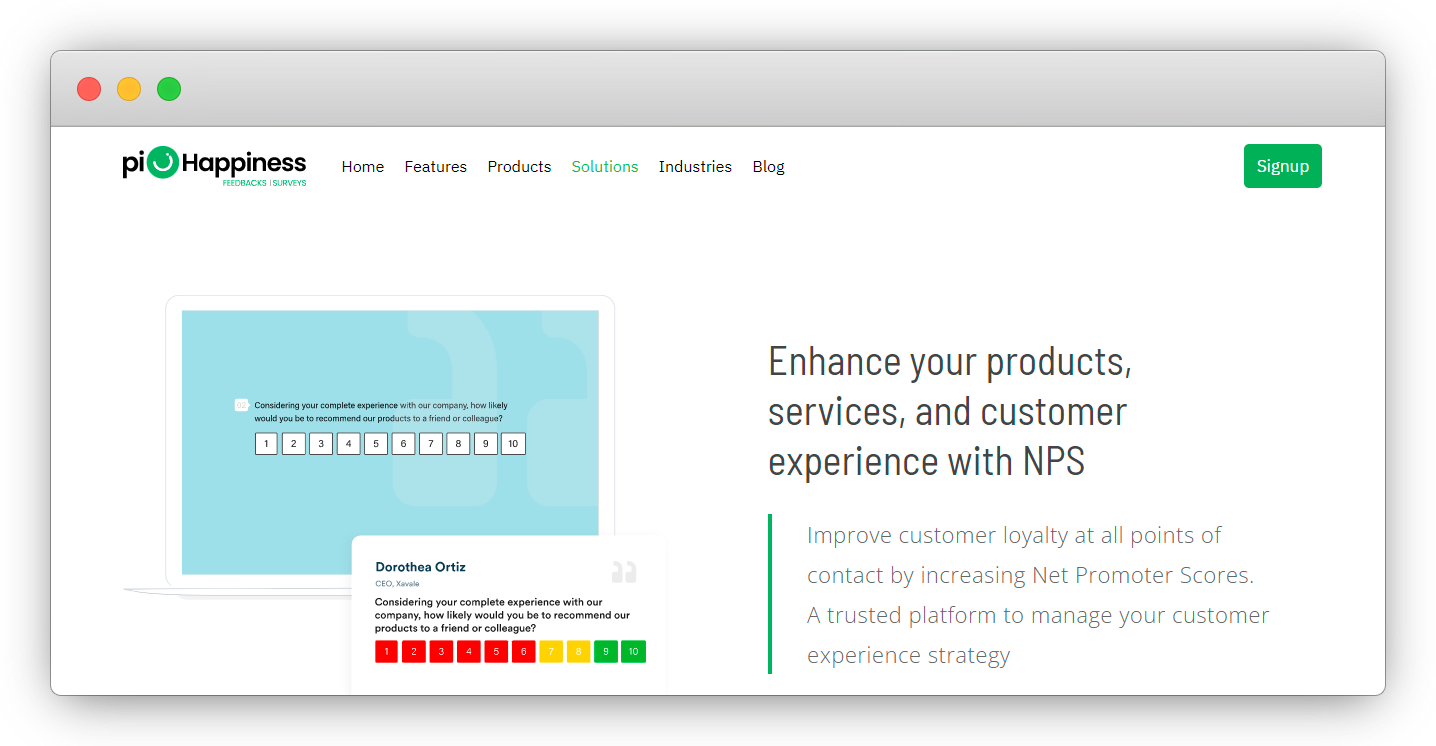 piHappiness Features

Get custom domain emails

Get custom domain SMS ID's

Swift Email & SMS Alerts in Real

Get negative score indicators

Quickly integrate with piHappiness API's

Pricing: You need to connect with their sales team to learn about their pricing plans.
#22. Usabilla
Usabilla is now a part of the GetFeedback platform that provides a feedback button to collect NPS feedback effectively. You can easily customize your surveys by adding logos or using white-labeled surveys, skip-logic surveys, etc. It further personalizes the experience of the survey and drives maximum responses.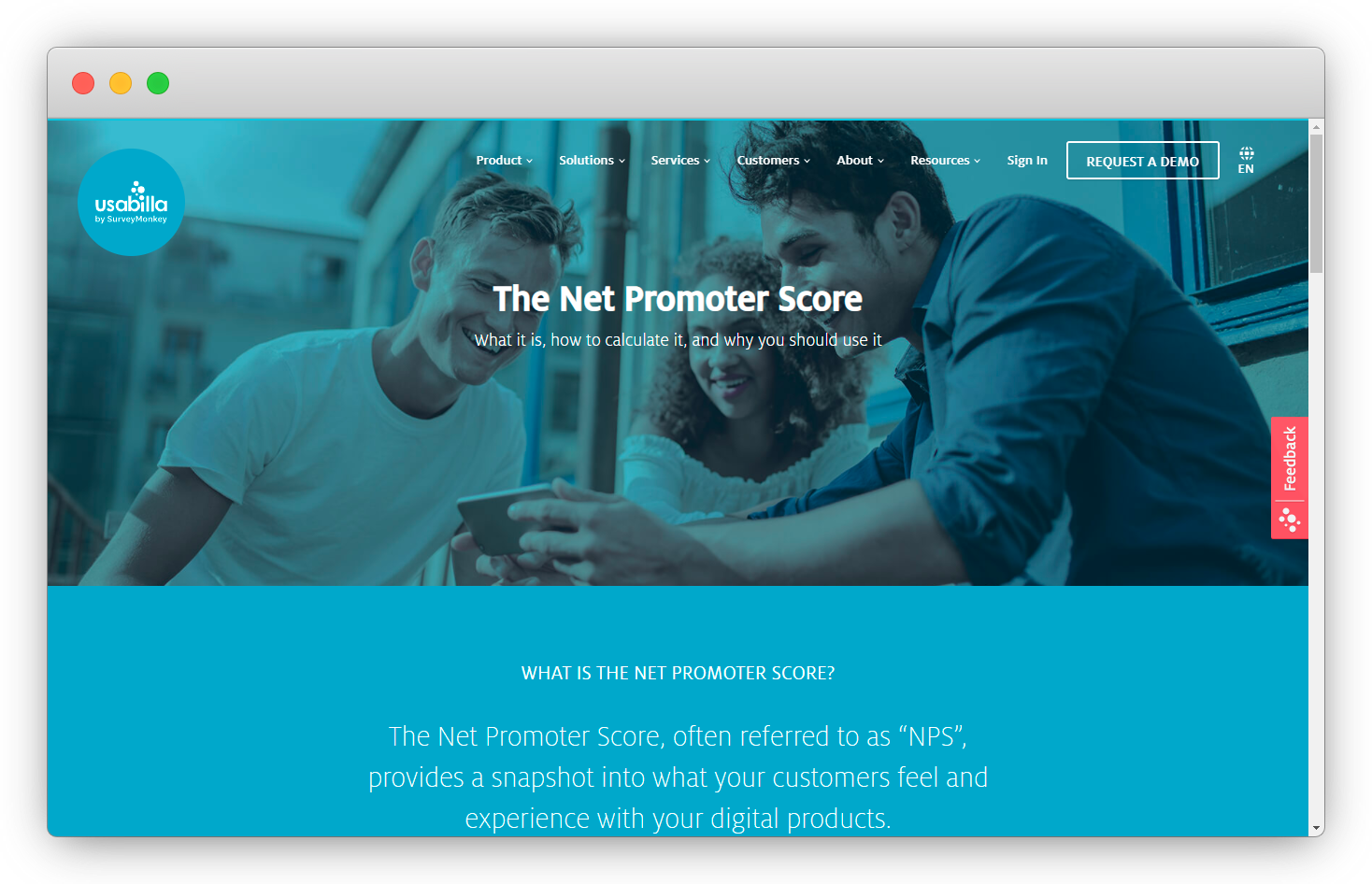 Usabilla Features

Launch website surveys fast, without engineering

Allow users to provide feedback on specific parts of your website

Design the feedback buttons and surveys to fit your brand

Collect feedback anywhere

Improve digital experiences by using real-time customer feedback

Get your customer experience program up and running in days, not months

Pricing: You need to connect with their sales team for pricing plans.
#23. YesInsight
YesInsight is known for its easy administration and various personalized features like data charts, email marketing service, real-time and best NPS survey responses, and "one-question" automated surveys with the one-click installation that effectively automates the NPS survey management.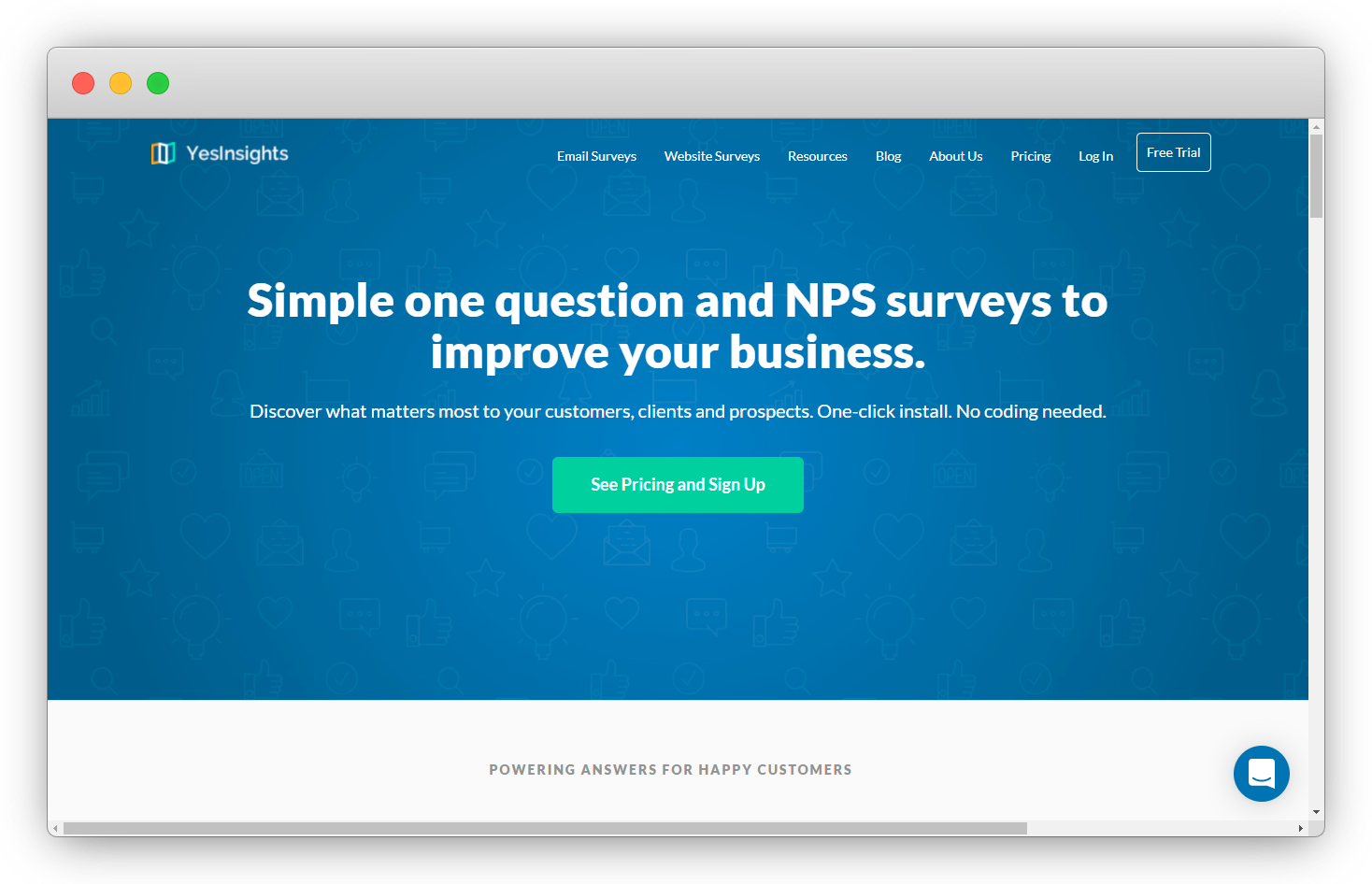 YesInsights Features

Provides a platform for single and multiple users

Offers pre-built 200 survey templates

Provides a secure platform to perform A/B tests

Offers different versions of surveys, a snapshot of responses with charts and summary reports

Pricing: Starts at $20/month. You can also try it for 7 days free trial.
#24. LiveChat
LiveChat is a Help Desk Software where you can trigger Surveys post-chat to get feedback from customers about the agent. Once a ticket or chat is closed, an NPS Survey is automatically sent for feedback. It helps you gauge customer loyalty and the performance of your customer service team.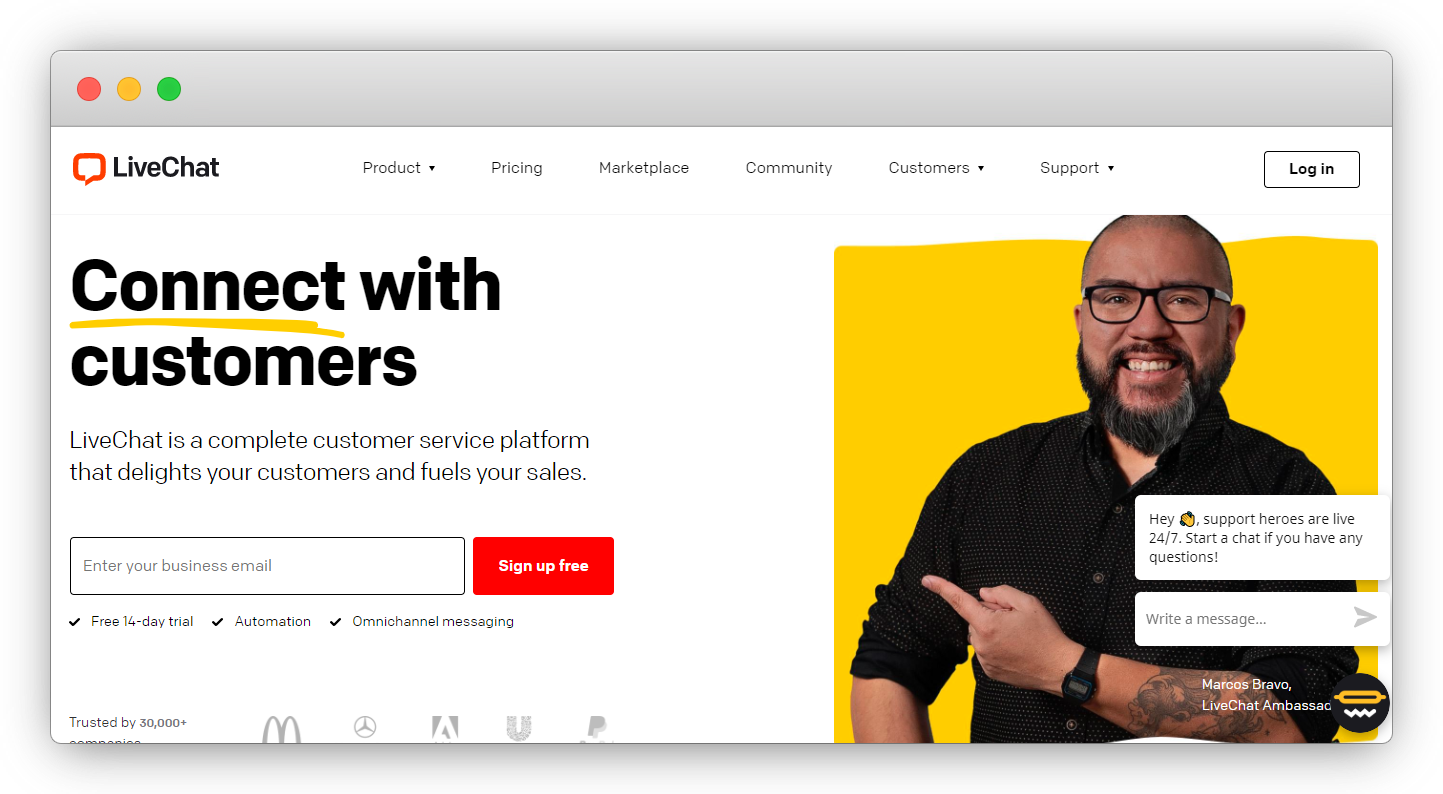 LiveChat Features

Provides Chat widget customization option

Provides advanced reports & analytics

Provides Livechat APIs

Pricing: Starts at $20/month. You can also try it for 14 days free trial.
#25. Crowdsignal
Crowdsignal offers a drag-and-drop feature to create polls, quizzes, and surveys in a few minutes. It's easy to customize and create NPS surveys, and give them a look and feel as per the brand image. The tool allows deploying surveys and polls on all the customers' channels on WordPress, Twitter, Facebook, or even their emails.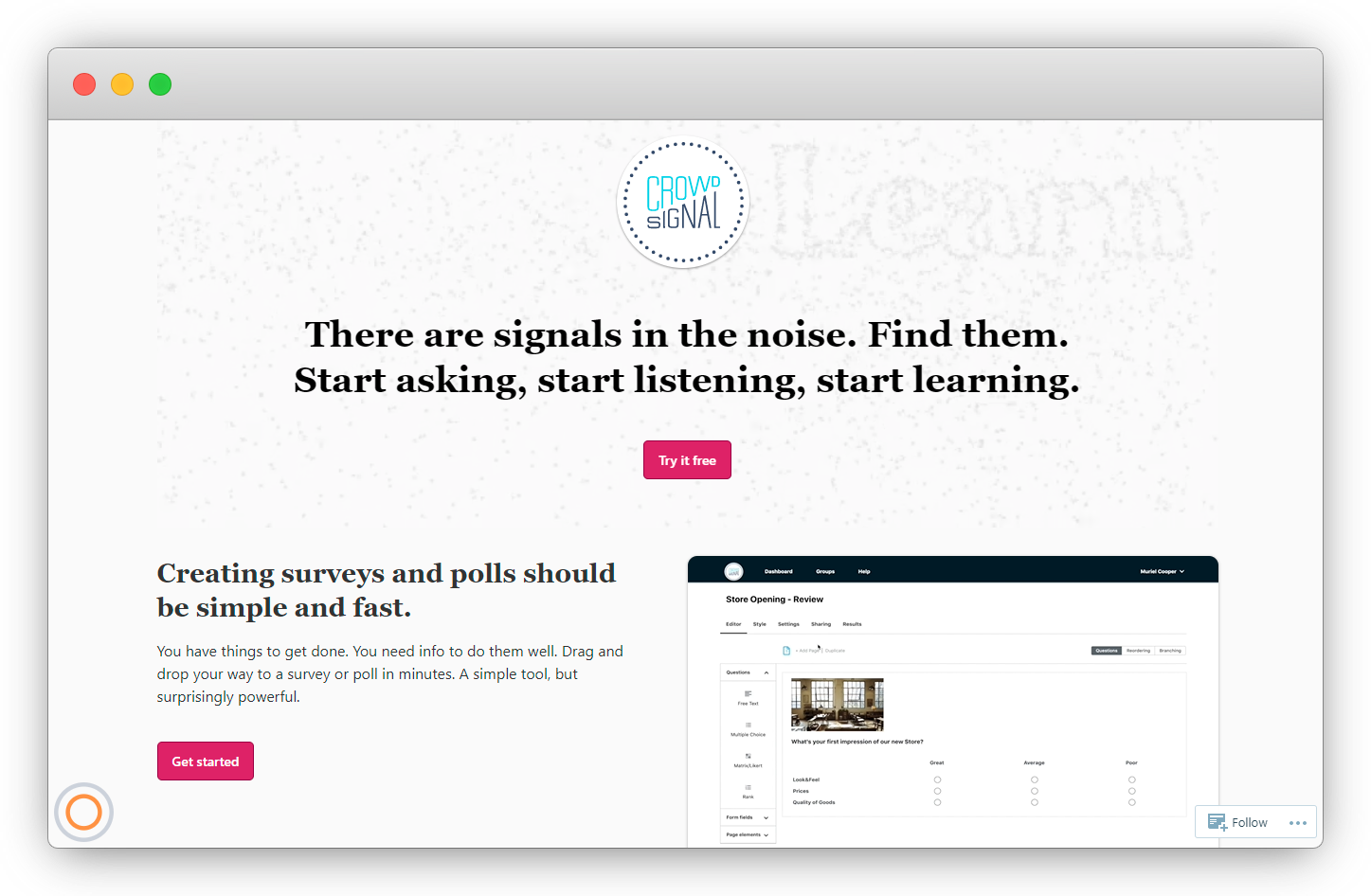 Crowdsignal Features

Enables you to create multilingual surveys

Allows you to create custom survey styles with CSS editor

Provides pre-built 14 question types, option to add a brand name in URL

Provide reCaptcha verification

Crowdsingnal Free Plan Features

Unlimited Questions, Surveys, Polls and Ratings

Collect up to 2,500 signals

Includes Crowdsignal branding

Limited data export

Embed your polls

Media embeds

Max file size of uploads: 1MB

Pricing: Starts at $15/month
#26. Promoter.io
Promoter.io is an intuitive customer intelligence platform that lets you either capture customer feedback or employee and NPS score and feedback. It offers you the option to segment your campaigns and view separate employee NPS scores.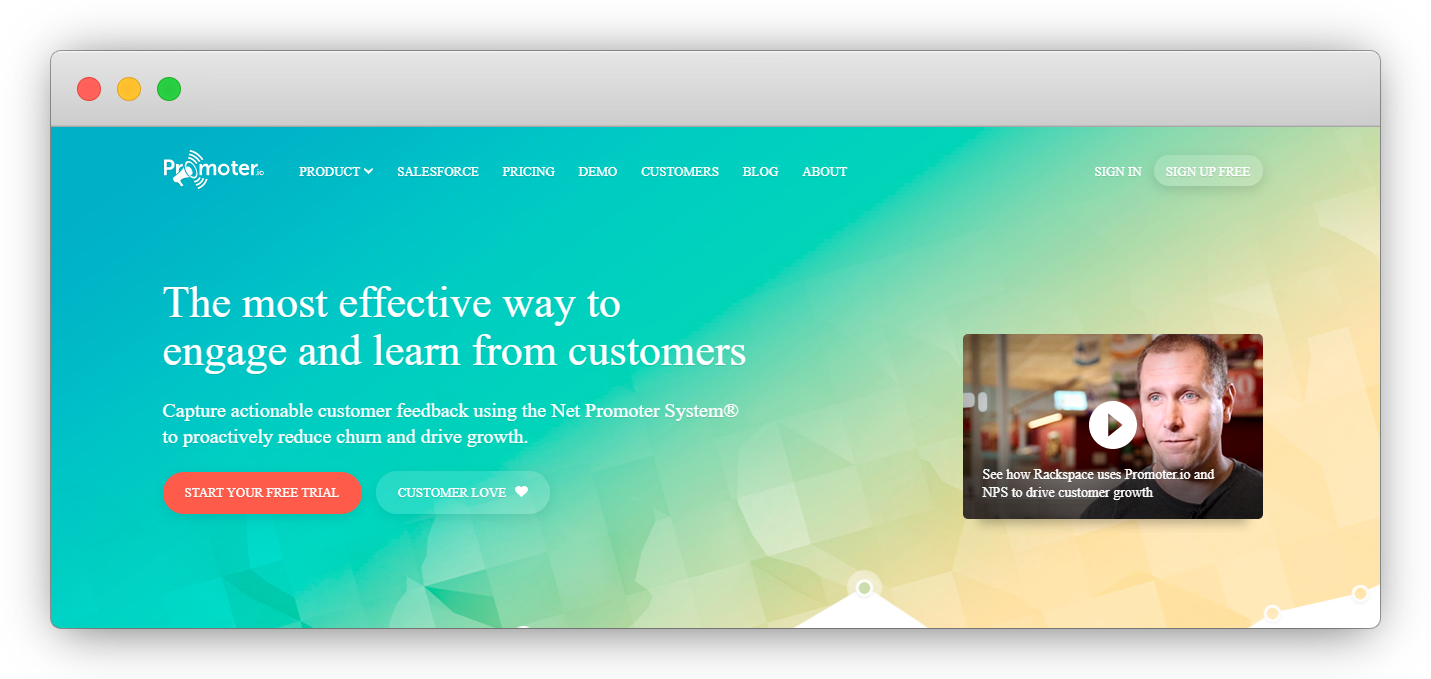 Promoter.io Features

Easily customizable for any business model

Provides powerful survey logic

Tracks historical customer sentiments

Provides attribute filters like customer demographics, revenue, etc.

Pricing: Starts at $25/month
#27. TextLine
A business texting service-based software, TextLine is not a dedicated NPS Software but can be considered to run NPS Surveys through SMS. It forwards each response to customer support for quick actions and allows you to 'tag' significant and common responses to the survey customers take action on it to identify at-risk customers and resolve recurring issues.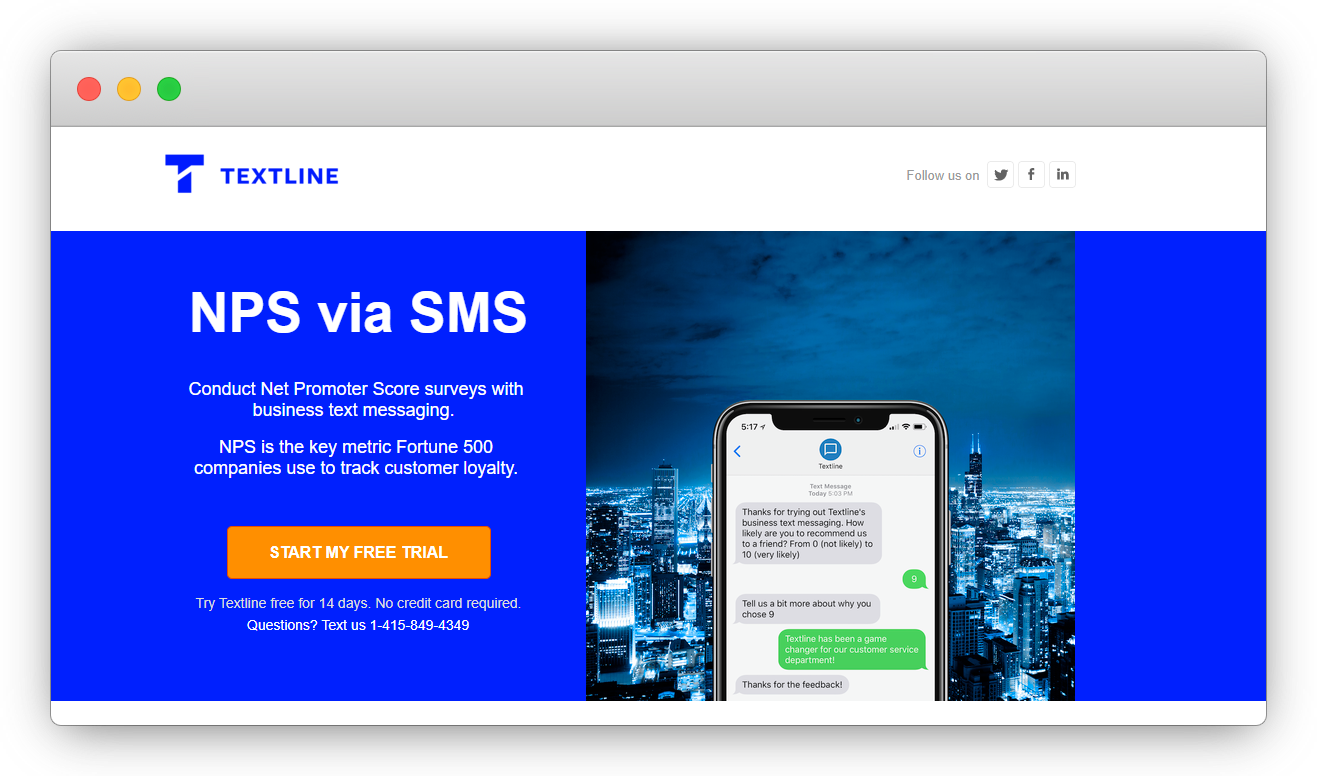 TextLine Features

Choose to send your survey manually on the build screen or automatically with our Automations tool

Connect SMS survey software with the tools quickly

Get helpful stats and feedback data for analyzing customer responses

Pricing: Starts at $59.97/month
#28. Fynzo Survey
Fynzo Survey is the one-stop solution for all your surveys. With well-designed templates and more than enough integrations, users face no trouble doing surveys. It has a free trial version before the subscription.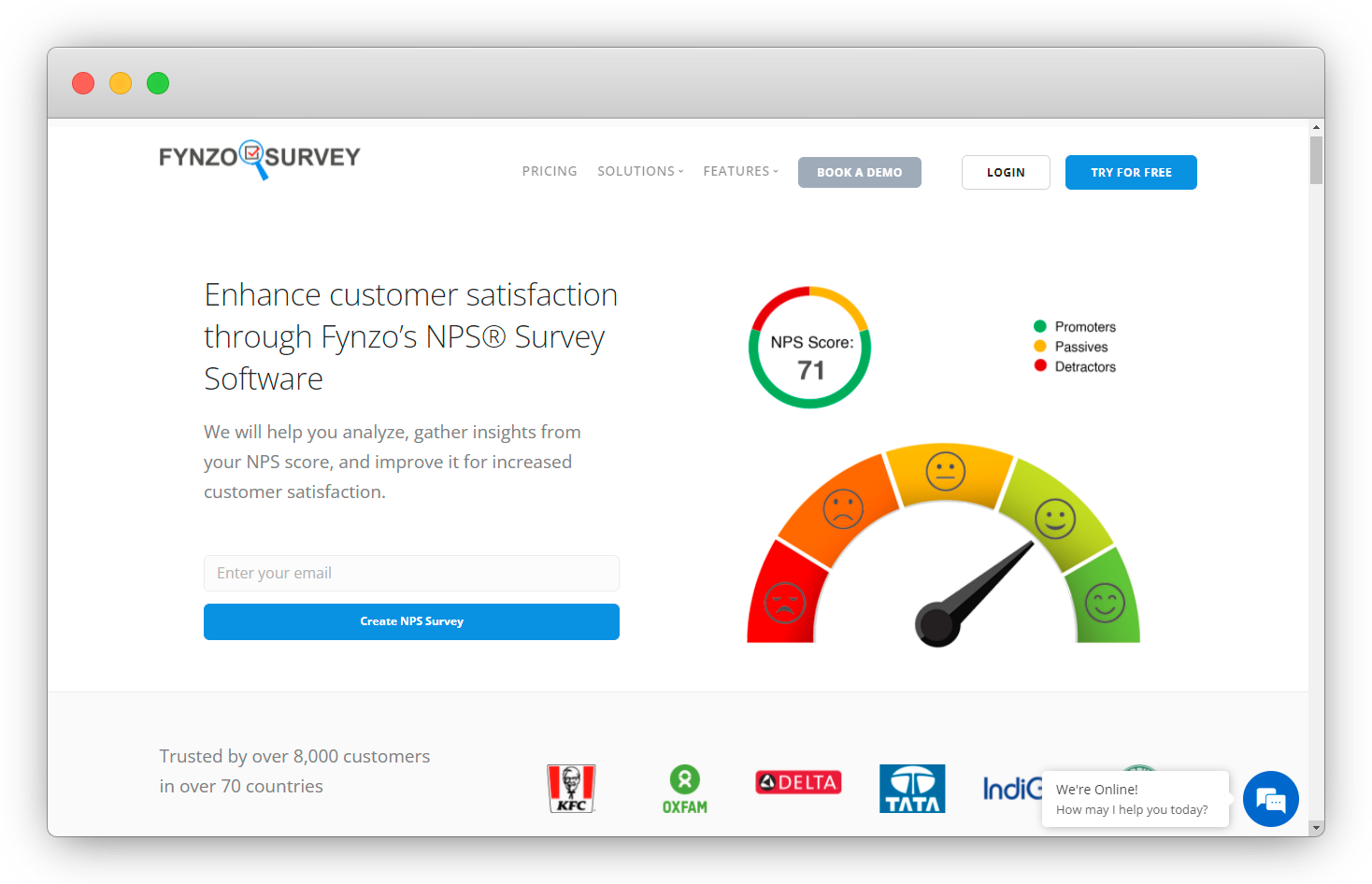 Fynzo Survey Features

Enables you to create multilingual online and offline surveys

Offers 250+ customized survey templates

Provides pre-built 30+ question types and 95+ languages

22+ million double opt-in and mobile-ready panelists

Pricing: Starts at $20/month. You can even try it for 14 days free trial.
#29. WebEngage
WebEngage helps businesses engage with their customers by creating personalized and cross-channel surveys. It allows streamlining customer journey and experience workflows based on different scenarios with the help of a highly intuitive drag-and-drop interface- Journey Designer.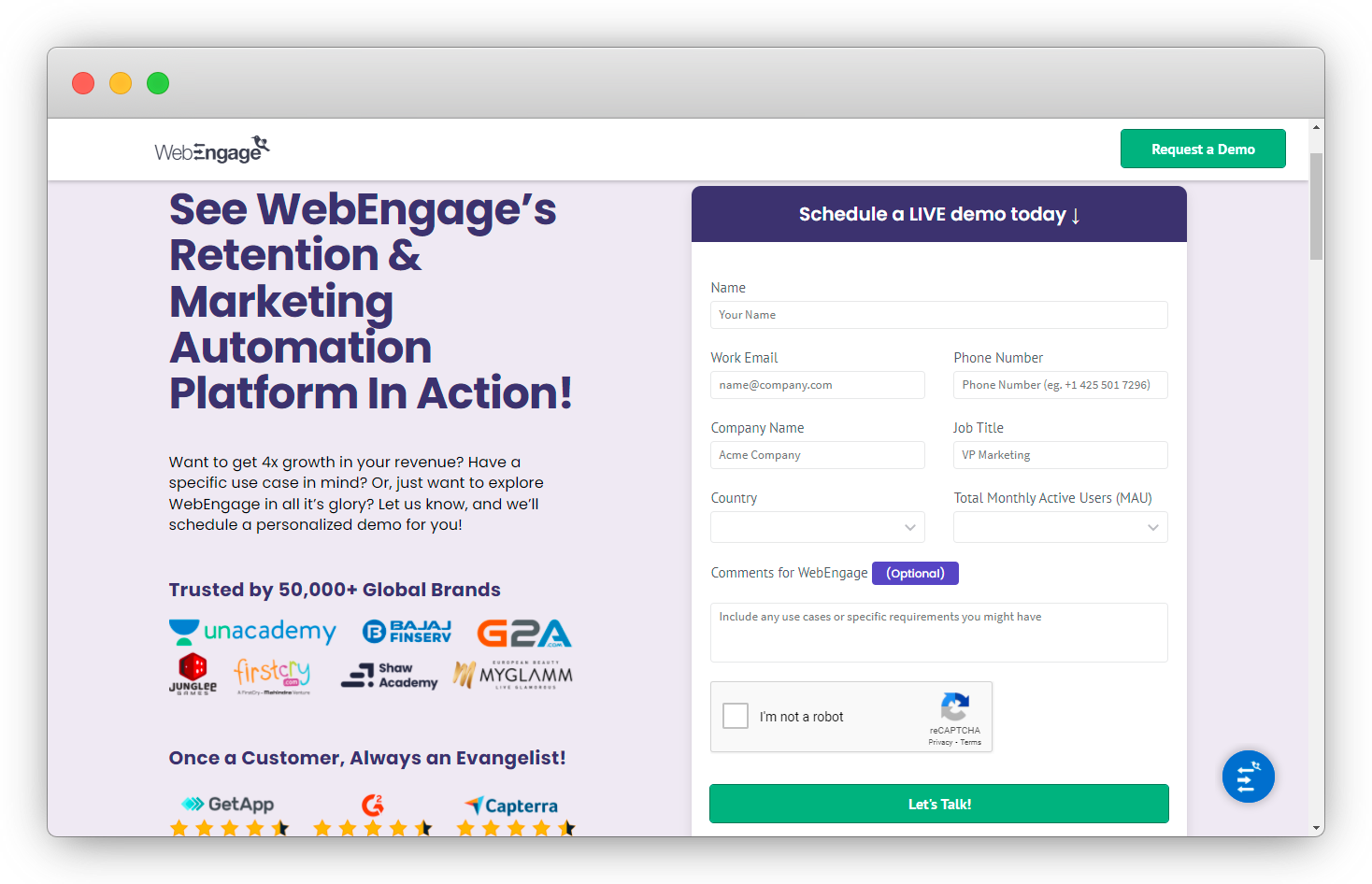 WebEngage Features

Tracks real-time performance of campaigns

creates personalized messages and suggestions using CRM

Enables you to view trends for uninstalled apps

Pricing: You can either request a demo or connect with the sales team to learn more about the pricing plan.
#30. Kwik Surveys
Kwik Surveys offers different types of surveys consisting of 360-degree feedback, CSAT, NPS, Employee Satisfaction, Education, Event, and Market Research questions that cater to different business needs. With this really great NPS survey tool and survey tool, you can create stunning forms and quizzes. The platform is GDPR compliant to ensure data protection and security.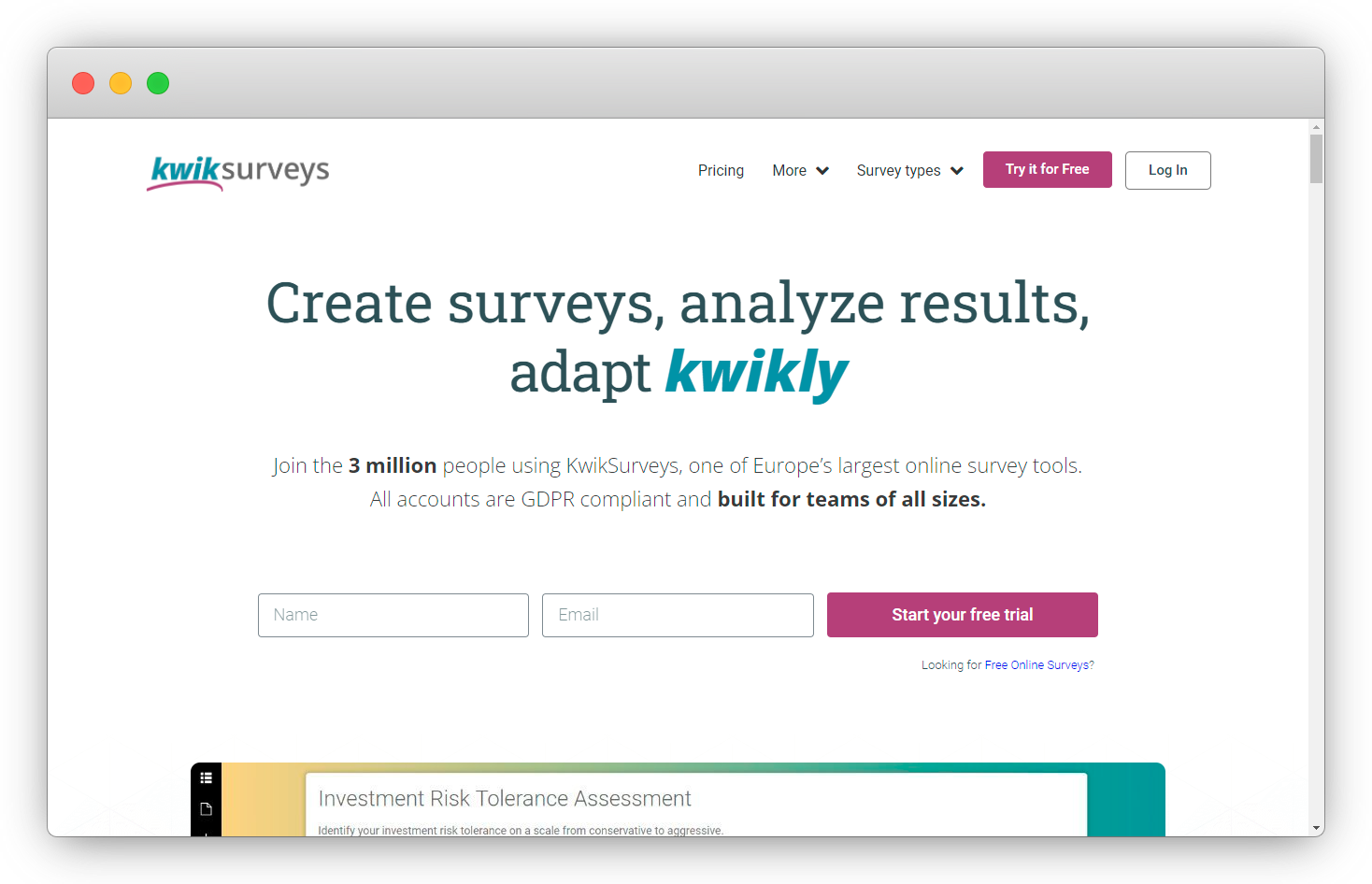 Kwik Surveys Features

Provides drag-and-drop editor to build branded and mobile responsive surveys

Provides advanced question logic and text piping

Provides A/B testing for images, content, and videos

Pricing: Starts at $12.99/month. It also offers 14 days free trial.
#31. SurveyNuts
Survey Nuts is a questionnaire maker and survey builder that generates quizzes, forms, and creates NPS surveys, and collects NPS data. It has a unique feature where quizzes can be created out of surveys. This comprehensive tool gives different options such as dynamic bar charts, percentages, donut charts, word clouds, etc. to display survey data graphically to get a comprehensive analysis of the survey results that are easy to interpret.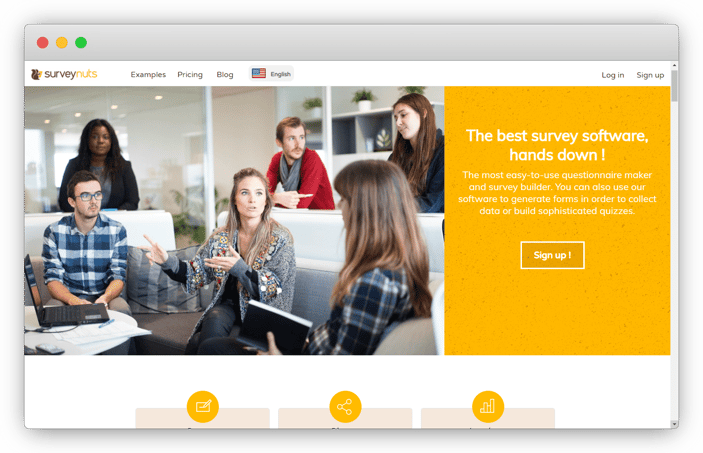 SurveyNuts Features

Provides a super intuitive interface

Supports integration with 2000+ apps

Provides in-built design themes with different color combinations

Pricing: Starts at $17/month
#32. SoGOSurvey
SoGoSurvey offers a secure NPS platform to measure customer and employee experience via SoGoCX and SoGoEX respectively. SoGoSurvey offers engaging survey templates, multiple survey distribution channels, secure data management, and advanced analytics & and reporting tools. It also incorporates powerful features such as a diverse set of question types, branded URLs, user segmentation and sentiment analysis, and much more.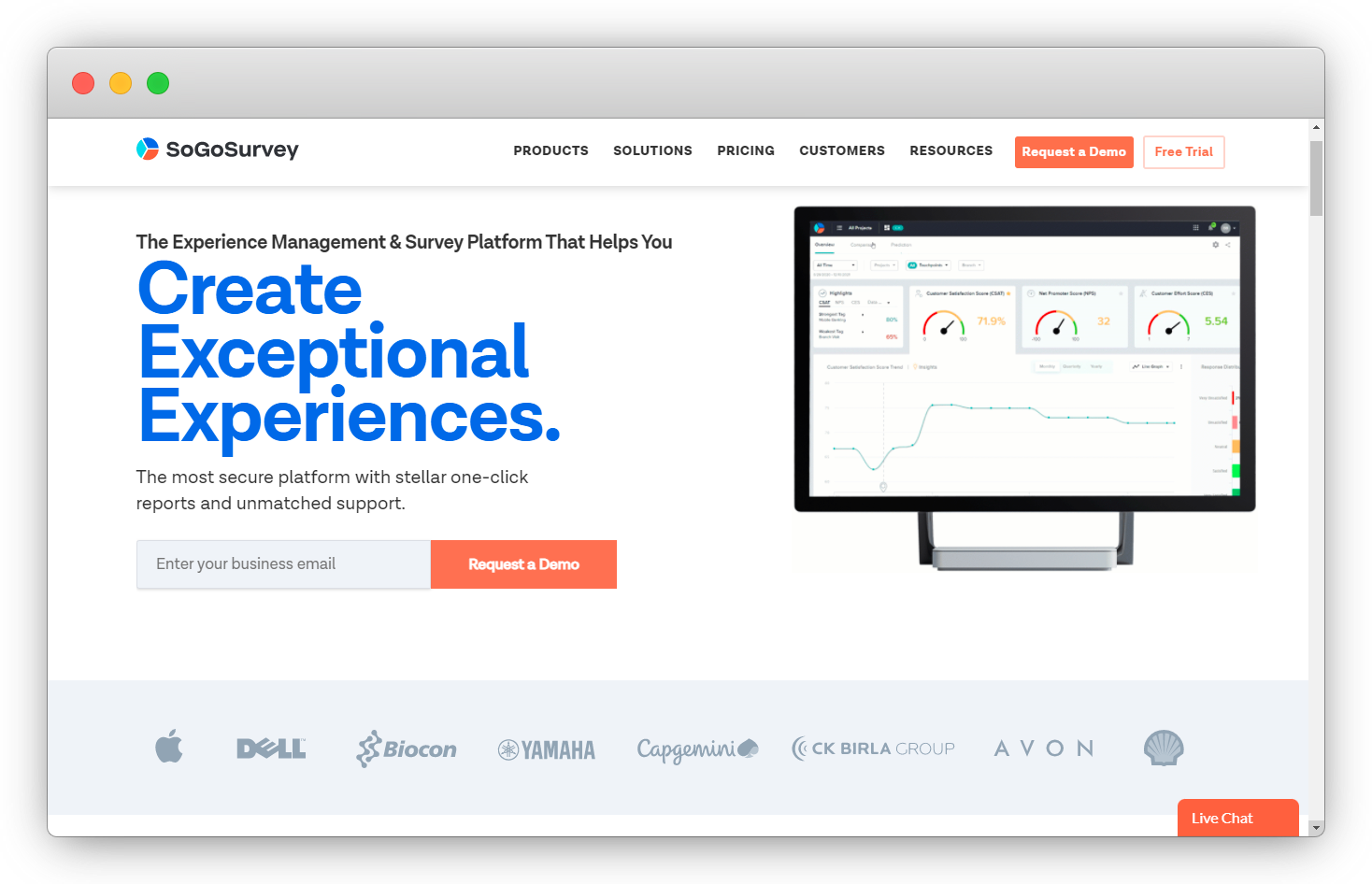 SoGoSurvey Features

Enables you to create multi-lingual surveys and forms

Offers white-label surveys

Provides advanced design options - skip logic & branching

Pricing: Starts at $24/month. It also offers 10 days free trail.
FAQs on NPS Software and Tools
1. What is an NPS tool?
An NPS tool or software is a platform that can gauge and record the net promoter score for any business.
2. How to choose the best NPS company?
Choosing the best NPS company depends on your needs and the type of service you are providing to your customers. You can also try their free plan before choosing the best fit for your business.
3. How much does NPS software cost?
NPS software costs depend on the features, packages, and customer support you need.
Wrapping Up
By now you must have a clear idea about what NPS tools are and how can they help you measure customer loyalty. Whatever NPS Tool you choose, make sure to start with a thorough analysis of your requirements — the features, integrations, and ease of use you're looking for.
You can choose one of the NPS survey tools listed here to start measuring NPS on your own. If you're still confused about which NPS software can be the best fit, then why not try Zonka Feedback?
Apart from sending NPS surveys on time and analyzing survey responses, Zonka Feedback enables users to personalized and white-label NPS surveys to help them improve customer experience while closing the customer feedback loop.
So what are you waiting for?
Try Zonka Feedback for the 7-day free trial and get started today!