When we're really excited about something, what is the first thing we want to do? Tell someone, of course! Spread the word, share our excitement and see it grow! So when it comes to your business, are your customers excited enough to tell their friends about it? If yes, you're obviously doing something right, and are reaping the benefits of customer referrals. If not, well, it's time for a change.
To know whether your customers like you enough to be your advocates, you need to ask them one simple question: How Likely Are You to Recommend Us to Your Friends & Family.
This customer survey question, that was the brainchild of Fred Reichheld and Bain & Company, will give you an insight into your customer's loyalty towards you and help you calculate your business's Net Promoter Score (NPS). NPS is a metric to predict customer purchase and referral behavior and it is different from other metrics because instead of measuring a customer's satisfaction regarding a specific event or interaction, it is designed to measure a customer's overall loyalty to a brand.
Measure Customer Loyalty with NPS ❤️
Create NPS surveys, measure customer loyalty, and close the feedback loop with Zonka Feedback.
How is the NPS score calculated? The question when asked provides the customer with a scale of 1-10, wherein if they choose a 9 or a 10, it signifies they are your promoters. A 7 or an 8 usually indicates that they are passive and are basically on the fence about your business. Anything lower than 6 signifies they're detractors, and will not be helping your business in any way. So, the formula to get your score is: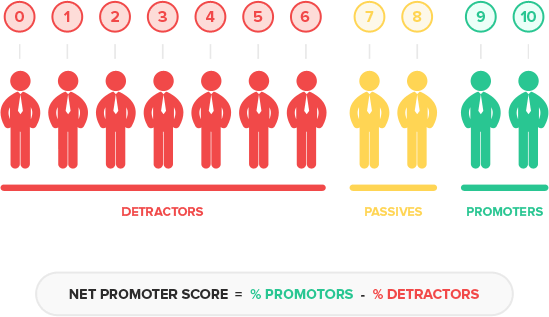 This score will help companies to indicate their potential for real, sustainable growth through customer retention and word of mouth referrals. Also, by associating responses with the amount of business a customer brings in, the NPS feedback can be used to identify how much business revenue comes from healthy, sustainable relationships, and how much revenue is at risk of churning. This granular insight into the health of customer relationships can enable enterprises to strategize on how to create real growth based on the loyalty of various customer demographics.
Why is NPS Important?
According to Forrester, the revenue impact from a 10% improvement in a company's customer experience score can translate into more than $1 billion. [Source: https://www.glance.cx/blog/scoring-the-customer-experience-nps-vs-csat-vs-ces] Any metric that provides insight into customer behavior is important for a business. The NPS, however, is crucial because it:
Provides a better understanding of how customers see your business when analyzed with other common denominators that underlie their experiences with your company
Helps your employees get a background on the customer by displaying the customer's NPS rating and feedback onto their user profiles
Drives change within the organization with support teams empathizing with your customer & building better relationships for the future.
But in the age of social media and in-your-face advertising, why is customer referral so important? What could a customer possibly say or do that will promote your business better than your existing marketing plan? Turns out, a lot, because:
Experiences matter: No matter how many new-fangled marketing techniques your business dabbles in, do not underestimate the power of word-of-mouth promotion. Because even the best strategies for generating interest in your product will never, ever be a match for someone you trust telling you they like and use your product. Similarly, one bad review, and you'll almost instantly notice a drop in consumer interest.
Goodwill matters: The great thing about the NPS is that it tells you exactly which customer thinks you've screwed up, and requires a boost. And thankfully, customers can be very forgiving if their issues are resolved quickly and effectively. This is a great opportunity for companies to build goodwill amongst their customers – even the not-so-happy ones - by delivering positive outcomes, stellar customer service, and meeting, even exceeding their expectations.
Loyalty matters: As your business grows, so should your customer base. And do you know what the most economical way is to acquire new customers? Let your existing ones do it for you since the cost to acquire a new customer is a lot higher than the cost to upsell or cross-sell an existing customer. The more loyal your customers are to you the more willingly they will spread the word about how good your company is, and the more consumers they will influence to try you out!
What's Different about NPS?
The most obvious positive of the NPS compared to other metrics like CSAT or CES is that it's short and sweet – just one question, as opposed to a lengthy survey. It's a humble starting point of a more complex conversation about the relationship between businesses and their customers.
Moreover, unlike CSAT where the survey focuses on specific interaction instead of a wider relationship with the company, and CES where the measurement is limited to service, the NPS enables businesses to measure the customer's opinion across channels, contact moments and experiences.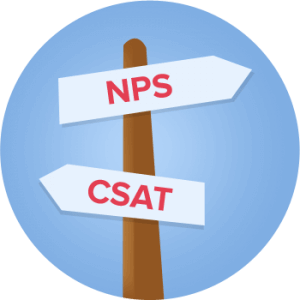 How to Build an NPS Survey
Though there the NPS score is calculated on the basis of one question, you need to put in some research so as to build it in the right way. It's important to use the NPS question in the right place, at the right time and for the right reason. Zonka, for instance, acts as a successful net promoter score software when it comes to calculating customer satisfaction, by asking a follow-up question, that asks the customer for their reasoning. This allows respondents to specify the context for their chosen score, which in turn, helps business owners in listening to valuable feedback from their customers in their own words.
To conclude, the NPS gives you a number, but how you choose to act on it as a business is entirely your prerogative. Just remember, to focus on the 'Why' behind the 'What' for both promoters and detractors, in order to engage the organization in uplifting discussions.