It is true that the success of every product or service you are creating is determined by Customer Satisfaction. That's why all the leading video streaming service providers like Netflix focus on creating audience-appealing content that brings positive experience and yields more satisfaction to the viewers.
Measure Customer Satisfaction and Improve Customer Experience🔥
Create customized surveys and feedback forms and take real-time feedback from your customers at all touchpoints.
Regardless of what business you run, you need to continuously do significant efforts to provide your customers with a positive experience and satisfaction throughout their journey. Focus on delivering high customer satisfaction along with exceptional customer experience to your customers to achieve milestone business growth.
How? Whether you have a small, medium, or large business, a Customer Satisfaction Survey (CSAT) is the best way to find out what your customers really feel about your products, services, and brand experience. Are they satisfied, happy with your products, services, and customer experience?
What is Customer Satisfaction Survey or CSAT?
Customer Satisfaction or CSAT is the Customer Feedback Metric that enables you to gauge the satisfaction level of your customers. In this mechanism, you can effortlessly track and monitor your customers' experiences after a particular transaction or at touchpoints like post-purchase, post-delivery or post a meal.
Customer Satisfaction is calculated from the simple CSAT question - "How satisfied were you with your experience?" Through this metric customers range their satisfaction level either on the scale ranges 1 – 3, 1 – 5, or 1 – 10 or on the scale of agree/disagree scales, stars or smileys. CSAT cannot only boost the customer satisfaction rate but also provides an opportunity to improve the organizations' products and services.
Customer Satisfaction Surveys offer you a good blend of Open-Ended Questions and Close-Ended Questions that make your survey response-friendly. Close-ended questions bring customer-powered data and open-ended questions help you to know the reason for your CSAT score.
Remember one thing, the significance of conducting the CSAT survey is zero, until and unless it is not being converted into a proactive and the customer-driven approach. So, if you want to levitate the conversion rate of your business, then start deploying your Customer Satisfaction Survey (CSAT) Results effectively.
Now, most of the entrepreneurs like you have a question in your mind that despite conducting CSAT surveys why am I not getting appropriate results?
No doubt that you are effectively using CSAT surveys in your business but are you deploying its results in the right direction that helps you to achieve better results?
No, many times it happens that companies instead of using CSAT survey result data to identify the areas and scopes of improvement, they are majorly using it as a key indicator to measure the performance of their customer service team.
Again!! CSAT survey data give you a clear understanding of the satisfaction level your customers have received after using your products or services or after specific interaction with you as a brand. This will help you to know the strengths, weaknesses, opportunities, and threats associated with your business. It has no direct relationship with your employees' performance.
The only relation that exists between CSAT results and your employees is that they can use it effectively to drive better results and improve business growth.
So, look through 5 effective ways to use Customer Satisfaction survey results to amplify the growth of your business.
4 Effective Ways to Use Customer Satisfaction Survey Results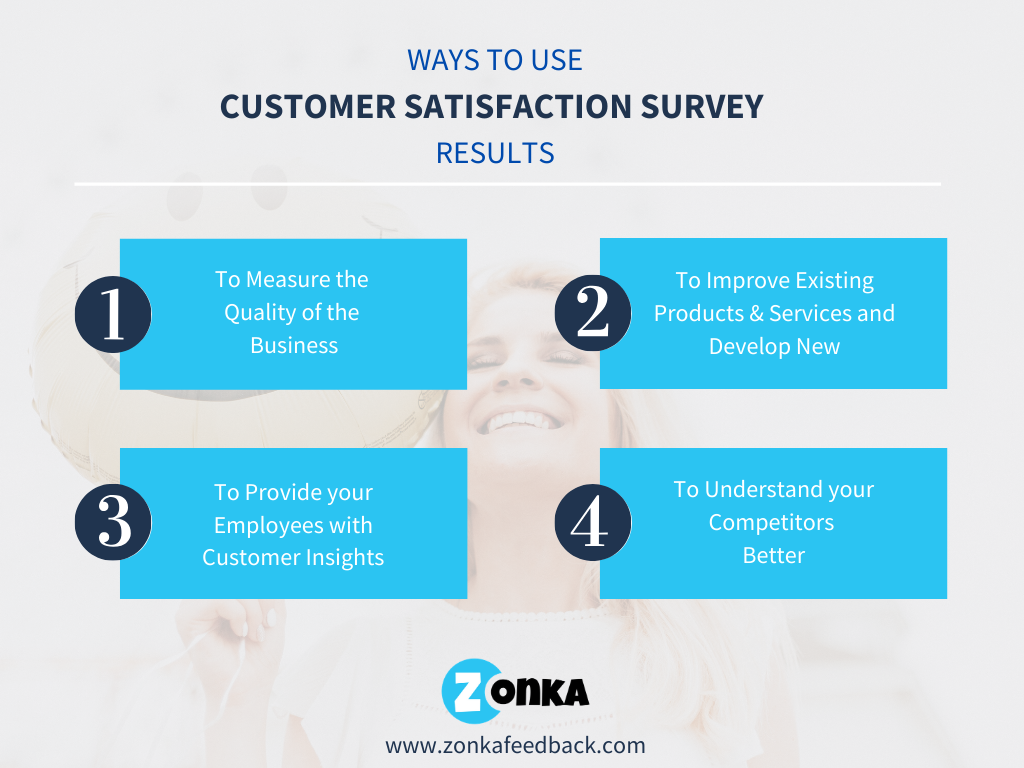 1. To Measure the Quality of your Business
You can conduct transactional CSAT surveys that help you to gauge the real-time satisfaction level of your customers after specific interactions like post-purchase, post-call or ticket raised, post-order confirmation, etc. These survey data provide deep insights into every nook and cranny of your business efforts. Once you get the results for your products, services, and customer experience (no matter good or bad) do a quick review of your results.
Immediately note down the concerns and issues of customers from different customer interaction touchpoints. Segregate all customer issues into Recurring (common and general issues) and Personal (issues based on the personal opinion of the customers). Now, immediately distribute these segregated concern lists among your team members and tell them to quickly follow up with the unsatisfied customers either through email or phone call and resolve their issues before they churned out of the business.
You can also use Customer Satisfaction Software to streamline your survey management efforts. Right from creating CSAT surveys to distributing to monitoring to analyzing results, CSAT software automates and manages everything efficiently.
2. To Improve Existing Products & Services and Develop New
Product & service quality has always been the first most priority of customers while choosing any brand. If your product or service is quality-grade, then your customers can pay you high and likely to remain loyal to your brand. If you want to lure customers to your conventional shop or online business, you need to make your product or service more customer-oriented. How?
For this, you need to ask your customers, ask them to give feedback on your products and services. This practice of taking feedback may provide you with some negative feedback but it will work as constructive criticism for you that helps you to improve your products and services. You can also engage your customers by posing different relationship surveys questions like How likely are you to continue to choose/repurchase/repeat or How likely are you to recommend us to a friend/associate?
You can deploy both positive and negative survey results to identify both strengths and weaknesses associated with your products or services. And when you follow up with your customers, you get a deep insight into their preferences and buying behaviour. This further helps you to improve existing products and services and develop new products and services that are strong enough to entice your customers.
You can automate the trigger of the Customer Satisfaction Survey at various touchpoints including post-purchase, post-delivery, and post-transaction using custom APIs and Webhooks to integrate your survey tool with your system.
Also Read: 5 Simple Steps To Measure Customer Satisfaction
3. To Provide your Employees with Customer Insights
Measuring employee performance on the basis of the customer satisfaction survey results is not the right practice. But customer satisfaction results are highly beneficial for your employees if it is deployed in the right way. CSAT results not only provide your employee with a large platform to understand and engage with your business but also enable them to:
Get deeper insights into customers issues and their behaviour
Understand the marketing and customers trends
Plan and strategize the closing of the negative feedback loop
When you share the CSAT scores, responses (positive & negative) of your customers with your product development, marketing analysts, and customer support team, they will collaboratively work to quickly identify the pain points of customers and find some solutions to fix their issues. This will further help you to improve the customer satisfaction and experience of your unhappy customers and turn them into happy and satisfied customers before they churned from your business.
When it comes to managing CSAT surveys among your employees, various Customer Feedback Survey Tools that are incorporated with the smart response Inbox enables you to view each feedback, add tags, convert them into tasks and work closely with your team to take actions. It also provides your team members with real-time reporting & analysis capabilities to monitor every feedback closely and take some corrective measures.
4. To Understand your Competitors Better
To survive in a competitive market, it is important for a business to keep an eye on their competitors. Competitor Analysis is another great source to do SWOT (Strengths, Weaknesses, Opportunities, and Threats) analyses of your business. Thus, it can be done easily by surveying customer sentiment.
When you ask any survey questions based on customer sentiments including experience, or satisfaction from those customers who prefer other brands, they will provide you with the strong points and features of your competitive brand. Based on the analysis, your product development team can make necessary adjustments in the products and services to make it better.
Customer Satisfaction Survey results will not only help you to learn about product & service enhancement or improving employee engagement but also help you to understand the deployment of those important business-related dynamics that will help you to take your business to the next level.
Learn more about Customer Satisfaction (CSAT)