"Every answer is an invitation to a new question." - Elie Wiesel
In the realm of surveys, questions hold the key to unlocking a treasure trove of insights. As businesses strive to gather valuable customer feedback data, the choice between open-ended and closed-ended survey questions becomes a pivotal moment.
While closed-ended survey questions increase the chances of getting a response and offer quantifiable data, open-ended questions compel respondents to give voice to their thoughts and share their perspectives and experiences in their own words.
Unrestricted, detailed, and qualitative, open-ended questions offer an in-depth insight into the mind of the respondent, allowing businesses to capture their experience more effectively.
In this blog post, we understand what open-ended questions are, their examples, samples based on different use cases, and ways to use them more effectively. We have also covered the advantages and disadvantages of open-ended survey questions towards the end to help you make a more informed decision.
TL;DR
Delving into the benefits and drawbacks of open-ended survey questions, this blog post highlights their remarkable knack for capturing intricate and qualitative insights.
It presents an array of examples showcasing how open-ended questions can serve diverse purposes, including gathering customer feedback, employee feedback, patient feedback, student feedback, and lead generation.
The advantages are manifold, ranging from unearthing detailed information and genuine customer insights to obtaining demographic data and enriching customer satisfaction.
However, it also acknowledges the downsides, such as the time-consuming nature of analyzing data, the challenge of obtaining a high response rate, the limitations in finding quantitative statistics, and the potential for collecting irrelevant information.
To maximize the efficacy of surveys, the blog suggests striking a balance by incorporating a combination of open-ended and closed-ended questions.
Zonka Feedback is a powerful survey software that allows you to create amazing surveys with open-ended questions. You can sign up for a free 7-day trial and create surveys with subjective questions or schedule a demo to know more about the product.
Build and send a survey today 🔥
Choose from over 30+ question types, add your own themes, and create amazing surveys that people love answering.
What are Open-Ended Survey Questions
An open-ended question refers to a question in which options are not provided to your customers to choose their answers. Rather, it is informative in nature and enables your customers to express their viewpoints through freestyle answers which may be in the form of sentences, records, and stories.
As the name suggests, customers while filling out the open-ended survey questions are open to giving any feedback in their own words.
You can choose different types of survey questions while designing your feedback form. You can choose open-ended as well as closed-ended questions considering the advantages and disadvantages of both. Let us review here about open-ended questions.
Open-Ended Questions Examples for Survey Research & Feedback Form
If you're looking to gather valuable insights and feedback from your audience, open-ended survey questions are a powerful tool to include in your questionnaires.
These questions allow respondents to provide detailed and personalized responses, giving you a deeper understanding of their experiences and opinions. Whether you're conducting customer feedback surveys, employee surveys, patient surveys, or student surveys, here are some of the most effective open-ended questions that you can incorporate:
#1. What were the challenges you faced with us?
This is a perfect way to let customers, attendees, or employees (depending on the purpose of your survey) talk directly to you about the challenges they experienced. And the advantage of this open-ended question is that encourages people to vent before you instead of writing a negative review online that thousands of other people can see.
Moreover, it is a great way to communicate that you are focused on solving every challenge, no matter how trivial or huge it is.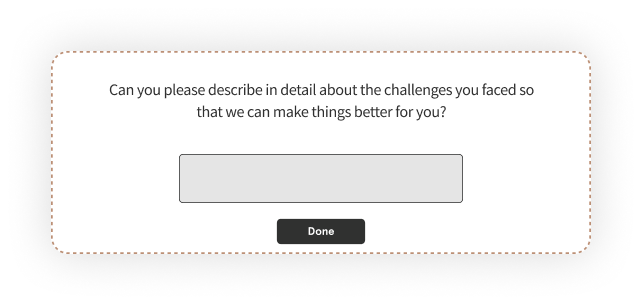 #2. What did you like the most about us?
When you ask respondents what they like the most about your organization or the brand, they are very likely to recall positive experiences. And these positive experiences can sometimes even outweigh negative experiences and create a good impression in customers' or people's minds.
Moreover, simple answers to this question will help you understand what's working in your favor and help you capitalize on it further.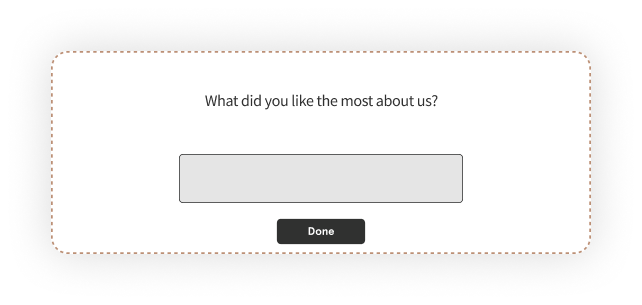 #3. Is there anything else we should know?
One of the biggest advantages of an open-ended question is that it allows you to highlight challenges that you may have completely missed. since it enables customers or respondents to consciously think about what would improve your brand. People who are invested in your brand would reflect on their experiences and recollect challenges they have faced subconsciously before writing an answer.
This information can help you tremendously in finding out challenges that may have gone unnoticed for a long time.
This comes in handy when you are conducting healthcare surveys. By asking open-ended health survey questions about things that the patients or guardians would like to let the healthcare practitioners know, one can offer better care and work on improving overall patient satisfaction.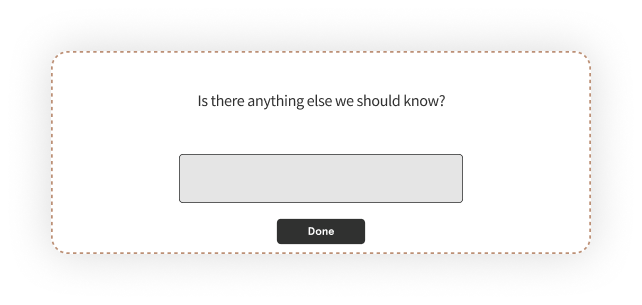 #4. How would you describe your experience with us?
This open-ended question allows people to share the summary of their experience with you. As a result, you, as a brand, can get an insight into different experiences that may be a mix of both good and bad, which will help you understand what's working and what's preventing you from reaching your goals.
For example, in a retail store, the customers may express how they would like to avail of the discount on-premises instead of just on the web. This information can help you refine your offerings and eliminate challenges.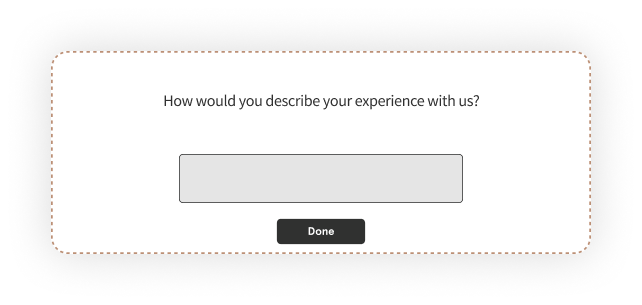 #5. What can we do better to improve your experience with us?
An open-ended question where you are not necessarily asking the respondent to share their challenges, you can dig for an opportunity to make improvements even if it isn't the need of the hour. But thinking ahead will help you separate yourself from the crowd. This question will encourage your respondents or customers to think as a stakeholder and help you with innovation.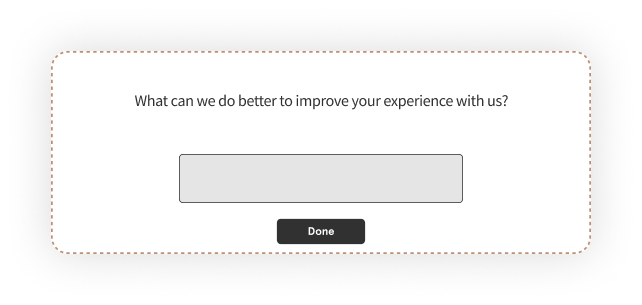 #6. What is the primary reason for your score?
This is usually a follow-up question in NPS, CES, and CSAT surveys. It prompts customers to share in their own words the reason for the score they chose to give you. For example, the NPS survey question 'How willing would you be to promote our brand to others on a scale of 0 to 10' can have this follow-up question. The purpose is to let customers share in their own words the reason for the score they chose to give you.
This question helps brands pinpoint challenges or experiences and enables them to make improvement efforts in the right direction and improve the quality of feedback.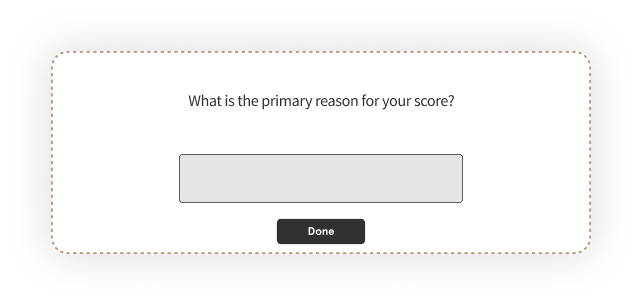 #7. Would you recommend us to others? Please share the reason.
People willingly recommending you to others is a major indicator of the success of your relationship with them. So, make sure to ask them if they would recommend you and why. This would also help you find out what are the things stopping your respondents/customers from recommending you to others.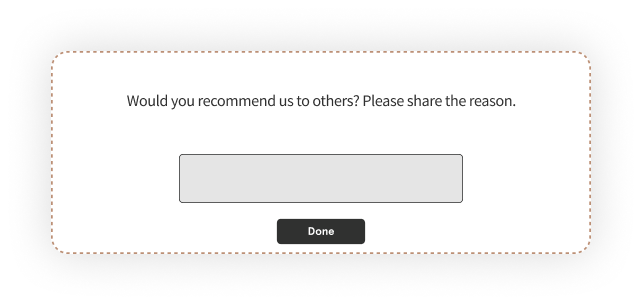 #8. What was missing in the experience you had with us?
When you ask your customers this question, you are basically putting them in the role of your brand's stakeholders, enabling them to think from a business perspective. And this can uncover crucial information that you may have never given any thought to.
For example, the customers in a restaurant may share that they would like to make reservations beforehand through a mobile application. Now, even though this feedback may not be very popular, it could certainly improve customer experience to a great extent.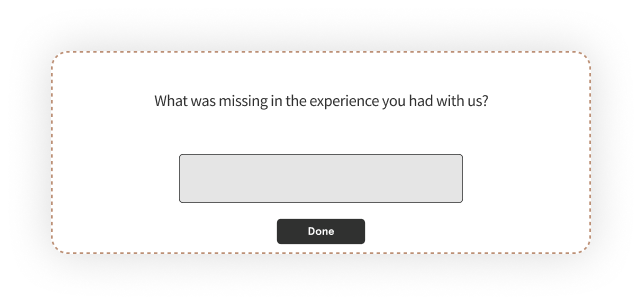 #9. What are the factors that usually influence your purchase?
This open-ended question is a great example of a Research Survey. It is aimed at uncovering factors that may influence the purchase decisions of customers. It is an important one since brands sometimes may not be able to predict everything that customers may be expecting. The answers may not only help you improve on certain factors but also introduce new practices to attract and retain customers.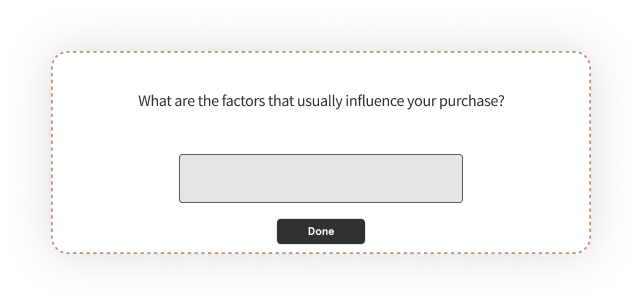 #10. What are one or more things that may stop you from making a purchase with us?
Often, customers may continue doing business with you until they experience something that may be a deal breaker. For example, having to wait for a long time before getting to speak to a support agent for an issue can drive customers away. Responses to this research question help in identifying potential problems before they arise. This can help brands make the right decisions to prevent customer churn.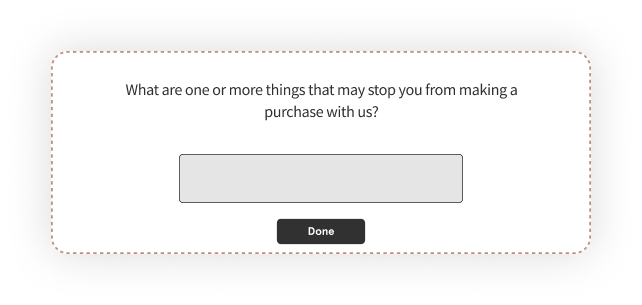 Examples of Open-Ended Questions Based on Use Cases
Open-ended questions are a valuable tool for gathering feedback and insights from customers in various industries. By asking open-ended questions, businesses can gain a deeper understanding of their customers' needs, preferences, and concerns.
Here are some examples of open-ended questions based on popular use cases.
1. Open-ended Questions for Customer Feedback
Open-ended questions to capture customer feedback are aimed at understanding the purchase intent of customers. The responses help brands make decisions aligned with customers' interests to be able to increase conversions/sales. Here are some open-ended survey questions examples you can use:
What influenced your purchase and why?
How would you describe our customer service?
What can we do to help you find what you're looking for?
How would you like us to improve our website/store?
Do you want any design changes in the look and feel of the website?
What is stopping you from purchasing from/doing business with us?
What are your main concerns about our product/service/brand?
What did you enjoy the most about our service/store?
What is something that would prevent you from making a purchase with us?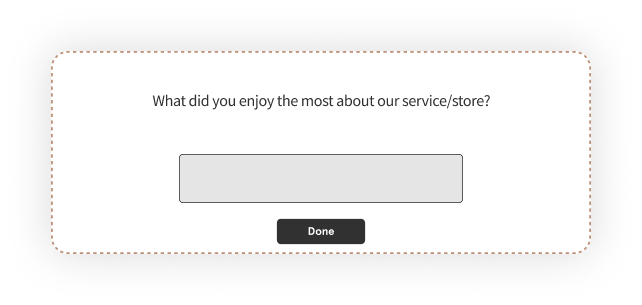 2. Open-ended Questions for Employee Feedback
There may be several workplace challenges that employers may not have anticipated. Therefore, it's best to let employees share feedback through open-ended survey questions. Here are some questions that you can add to your employee surveys:
What is the best/worst thing you have experienced working here?
How can we make the workplace better and more positive for our employees?
How would you describe the growth opportunities in our organization?
What would be the reason you chose to end this relationship with us?
What are the things you would change in this company as the CEO?
What are the obstacles preventing you from achieving success at the workplace?
Do you prefer working from home or in the office? Please share the reason.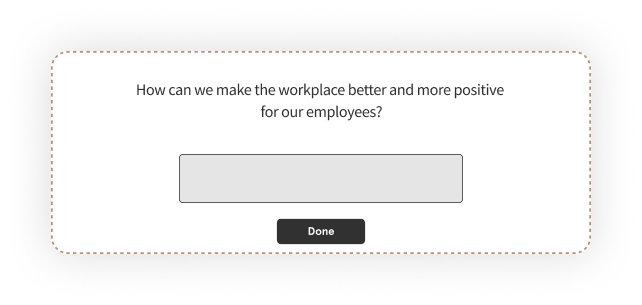 3. Open-ended Questions for Retail
When it comes to the retail survey questions, understanding customer preferences and improving the overall shopping experience is crucial for success. Open-ended questions provide an opportunity to gather valuable insights from customers and make informed decisions to enhance their retail experience.
What factors influenced your decision to purchase from our store?"
How would you describe your overall shopping experience with us?
What improvements would you like to see in our product selection or store layout?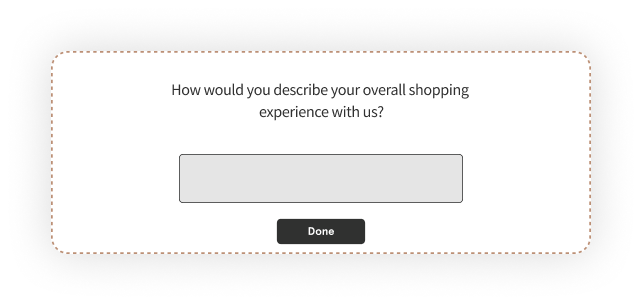 4. Open-ended Question Examples for Hospitality
When it comes to the hospitality industry, understanding the needs and preferences of guests is crucial for providing exceptional service.
By incorporating these hotel survey questions into your surveys, hotels can gather valuable insights and make data-driven decisions to improve their services and exceed guest expectations. This customer-centric approach can lead to increased guest satisfaction, positive reviews, and repeat business, ultimately contributing to the success of the hotel. You can add open-ended questions to your surveys
What are the main factors that influenced your decision to stay at our hotel?
How would you rate the quality of our customer service?
What can we do to enhance your experience during your stay?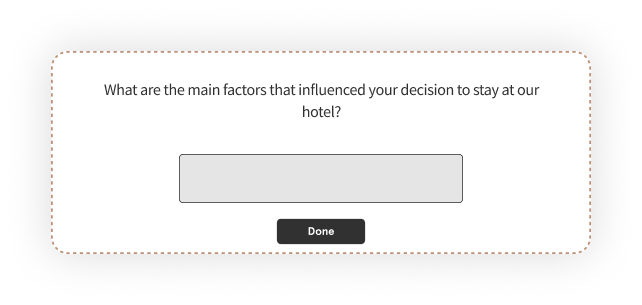 5. Open-ended Questions for eCommerce Surveys
eCommerce survey questions help businesses gather important data from customers regarding their experience with the online store. These can be asked post any event like a purchase, order delivery, cart abandonment, etc. You can actually find the reason behind a great or bad experience, work on the issues highlighted, and improve customer experience to boost your sales.
What are the main factors that influenced your decision to purchase from our website?
How would you rate the ease of navigation and user-friendliness of our online store?
What improvements would you suggest to make your online shopping experience better?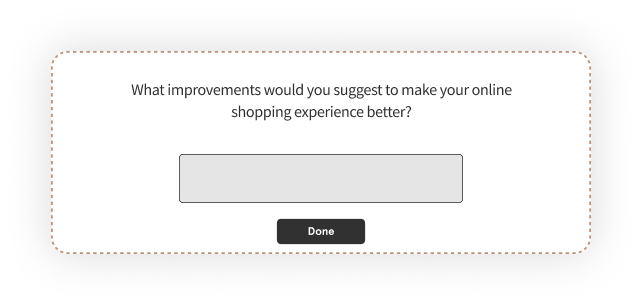 6. Open-ended Survey Questions for Patient Feedback
When answering health survey questions, 76% of the patients chose to add one or more comments to their questionnaires. There are several factors in healthcare that affect the quality of medical care. Each patient may have a unique experience. Therefore, it is important to ask them open-ended questions in patient surveys to bring forth challenges that may go unnoticed.
How could we do better to make healthcare more accessible to our patients?
What were the primary challenges you faced in seeking healthcare with us?
What could we do better to improve medical outcomes at our facility?
What are the major concerns you had during your treatment?
How would you describe our facility and healthcare?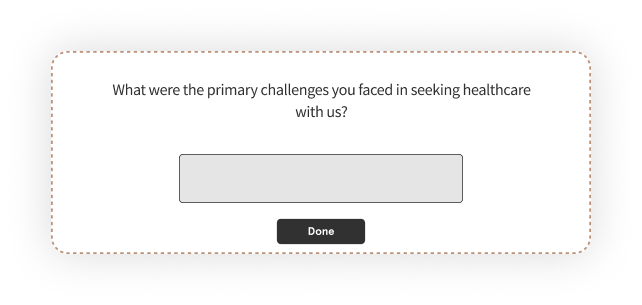 7. Open-ended Survey Questions for Student Feedback
Most students in colleges and universities may not only have feedback on the course, faculty, campus, scholarships or Pell Grants, etc. but may also have suggestions to improve academic standards and the campus environment. So, here are a few questions you can ask students to welcome honest student feedback:
What are the factors that contribute to your learning and growth?
What are the challenges stopping you from achieving excellent performance records?
What could we do better to make learning more fun and effective on-premises?
What would you change about the teaching style?
What would you do better as the head of management in our institution?
How can we create a more positive environment for our students?
What are some changes you would make to the class/course?
Describe how this course/institution helped you in achieving success.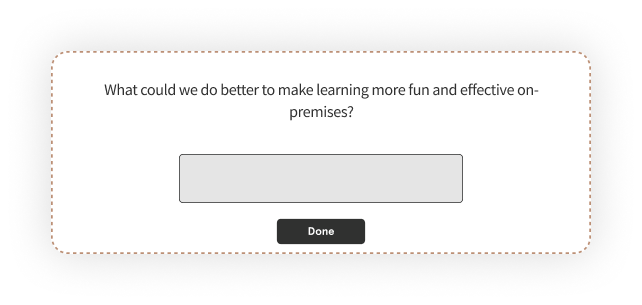 8. Open-ended Questions for Lead Generation
Asking open-ended questions in lead generation surveys is important since it can help brands understand more about potential leads and create an effective strategy to retarget them later if not converted immediately. Here are some examples of open-ended questions for lead-generation survey:
How did you find us?
What motivated you to visit our website/contact us?
What is it that we have not covered and you would like to know more about?
What's stopping you from doing business with us?
When do you plan/expect to shop with us?
What would help us build a professional relationship with you?
Is there an urgent problem you encountered that our business can solve?
What are your current expectations from us?
What do you think about our offer so far?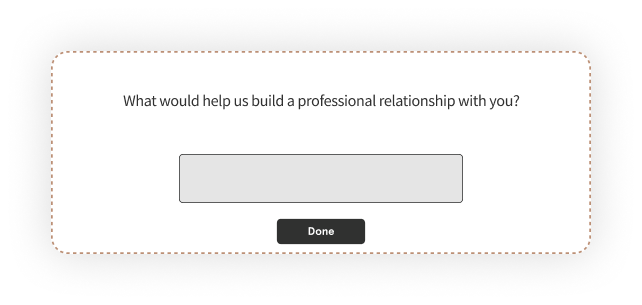 Why Should You Use Open-ended Questions in Your Survey?
Here are some of the reasons you might want to include an open-ended question in your feedback surveys:
1. Get Detailed Information
Sometimes, your respondents' answers may not be enough to help you reach a conclusion. For example, if a customer gives your brand a poor rating, you cannot tell the reason for the same unless you ask them directly. This problem can be solved with an open-ended question.
Moreover, an open-ended question allows you to get detailed answers on certain aspects, for example, your customer's experience with your new product or service.
2. Empower Respondents
As a product or service provider, you may only be interested in quantitative data to draw analysis. But, you may not be able to convey that your customers' opinions matter. An open-ended question will help customers freely express their opinions, putting emphasis on their experiences instead of just data. And this can really empower them and make them feel heard.
3. Obtain Qualitative Data
A survey with closed-ended question offers quantitative results, whereas open-ended questions allow for collecting qualitative data. This means that you can not only measure your respondents' satisfaction or loyalty to your brand, but you can also capture their viewpoints, varied perceptions, and honest opinions. And this can help you uncover truths to make bigger positive changes.

For example, a patient who is satisfied with the care offered at a hospital but is not able to make an appointment online can share this problem through an open-ended question. As a result, the healthcare facility may develop a website to increase patients' ease of booking appointments.
4. Capture Infinite Range of Answers
Unlike closed-ended questions, open-ended questions do not put a limit on answers. This means your customers or respondents may surprise you with answers you did not expect. For example, a retail store survey may capture customers' sentiments about the quality of products, customer service, and return policy. But with one open-ended question, customers can highlight issues that may usually go unnoticed, for example, poor parking or unavailability of self-service.
5. Improve Customer Satisfaction
Sometimes, quantitative data may not be fully effective in helping you make important decisions. But with the help of open-ended questions in your customer satisfaction surveys, you can understand what your customers like, need, and prefer. And this can allow you to innovate and improve to be directly aligned with their expectations. If used correctly, open-ended questions can help in improving customer satisfaction dramatically.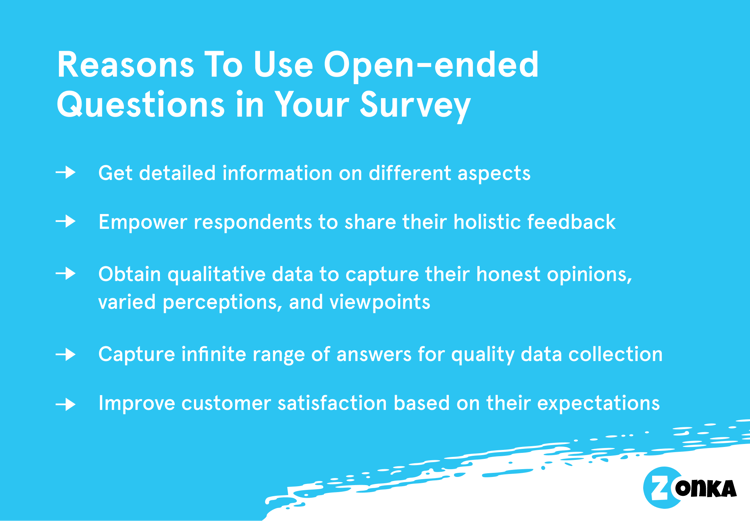 What to Remember When Using Open-ended Questions?
Though the value of open-ended question responses is pretty high, there are a few things you must keep in mind in order to ensure that you are encouraging your respondents. Here are some points:
Open-ended questions can make taking the survey a time-consuming process. So, do not go overboard with them.
Open-ended questions provide rich data, but it can be challenging to interpret and make meaningful reports.
Too many open-ended questions can decrease the rate of receiving survey responses.
Sometimes, you may capture irrelevant data through Open-Ended Questions.
Tips & Best Practices to Use Open-ended Survey Questions More Effectively
Believe it or not, asking only open-ended questions can negatively affect your survey response rates. What you need to do is make taking the survey easier for your respondents while also focusing on the quality of responses. And the best way to do that is by combining closed-ended questions and open-ended survey questions.
Try to segregate all the possible answers into categories that respondents can select from.
And, to let them talk particularly about their experiences with your brand, add an open-ended question towards the end of the survey.
Repeat or paraphrase their response to show that you're engaged and to seek confirmation that you understood correctly. This can encourage further elaboration.
Balance open-ended questions with closed-ended ones. This provides a structured framework while allowing participants to share their thoughts in their own words.
Consider the placement of open-ended questions. Starting with them can encourage participants to think more deeply about the topic from the beginning.
While open-ended questions are valuable, too many can be overwhelming for respondents. Use them strategically and focus on the most critical aspects.
If your survey is broad, consider segmenting open-ended responses based on demographics or other relevant factors. This allows for more nuanced analysis.
Prepare for the qualitative data analysis and sentiment analysis process. Coding or categorizing responses can help identify patterns and themes.
Advantages of Open-ended Questions
Like every coin, open-ended survey questions also come with two sides- a set of advantages and challenges for businesses to navigate cautiously to make the most of open-ended surveys.
Here are some of the advantages that you can enjoy by using these subjective questions in your surveys.
Can provide detailed information: Open-ended questions help a lot in providing a piece of more detailed and valuable information. Whenever you want to gather details of any aspect, for instance, the experience of any particular service provided by the company; open-ended survey questions are the best ones to have in your feedback form.
Give real customer insights: Open-ended questions enable you to get real customer insights regarding your products/services and their experience in their own words. You get to know their perceptions, opinions, and attitudes towards your brand.
Allows an infinite range of answers: Unlike closed-ended questions, open-ended questions have no limit to answers. Customers are free to write what they feel and you get to have rich data with some unexpected aspects of your products and services.

Enables to obtain demographic information:

Open-ended questions help you to obtain demographic and personal information of the customers like name, age, gender, phone number etc. which you can use to segment your products

and target a particular demographic group. It also helps you to contact your customers for sales and marketing purposes whenever needed.

Provide rich qualitative data: Open-ended questions provide you with rich data from diverse customers. It enables you to gather viewpoints, opinions and customer perspectives about your organization.
Enhanced customer satisfaction: When you get to know how your customers actually feel about you and what they want from your products and services, you make better decisions regarding your product and marketing thus enhancing customer satisfaction.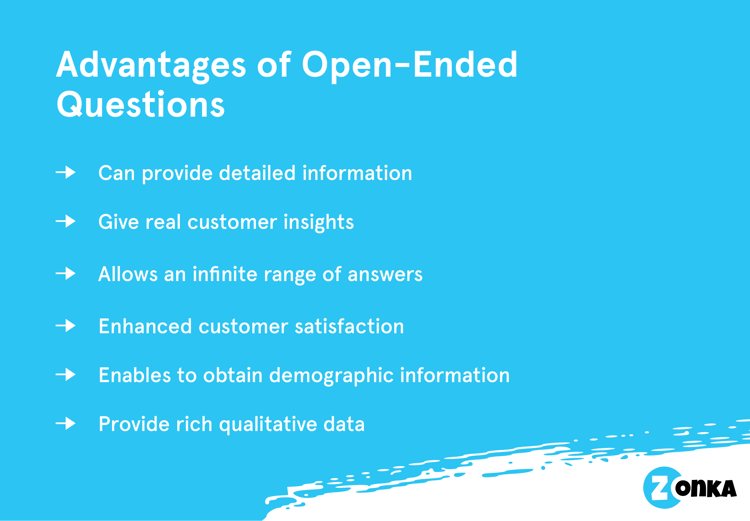 Disadvantages of Open-ended Questions
Despite being a good source for collecting real customer insights, open-ended questions hold some major drawbacks. Let's review some of the common disadvantages of open-ended questions here.
Time-consuming: One of the main disadvantages of open-ended questions is that it takes time for the customers to write feedback in their own words. Due to this, the whole process becomes lengthy and time-consuming.
Low response rate: As you know, everybody is busy with his own stuff and nobody prefers to spend much time writing and filling out the feedback forms. Therefore, the response rate of surveys with open-ended questions is low as compared to the surveys with closed-ended questions.
Difficult to analyze and interpret data: Another one of the disadvantages of open-ended questions that several businesses face is when they try to analyze the data. Although the customer feedback data received through open-ended questions is rich, it would be difficult for you to analyze and interpret all the data because customers would have diverse thoughts and would provide the feedback in their own way. So it will be obviously challenging to interpret all the data and make meaningful reports.
Not a good way to find out quantitative statistics: You cannot categorize with ease the data generated through open-ended questions to find out quantitative information. So, open-ended questions are not a good option if you want to ascertain quantitative statistics through customer feedback.
Can gather a lot of irrelevant data: Open-ended questions enable the customers to provide freestyle answers in their own words and every person has his own way of expressing his/her feelings. So, there is always a higher possibility of capturing irrelevant data which may not be useful for the business.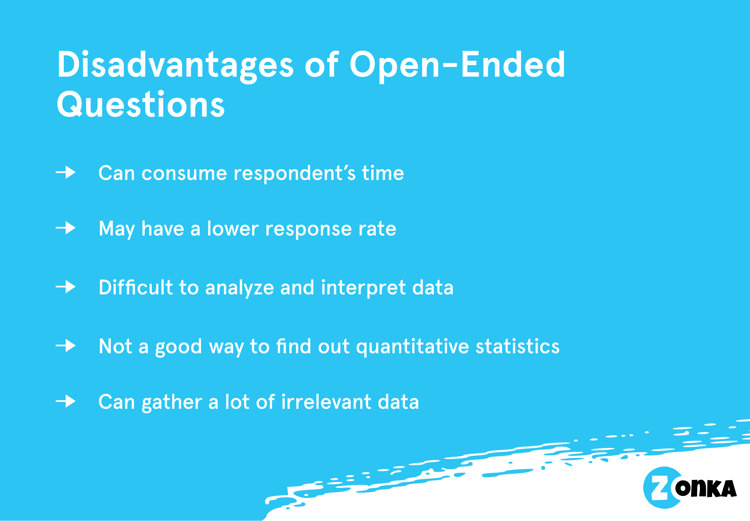 Conclusion
To sum up, we can say that if you want to have exact customer insights about their feelings, attitudes and their own perspective towards your products, services, and the organization, open-ended questions can serve the purpose just as line managers are taught to use open questions to encourage their team members to open up. But if you want to quickly obtain quantitative statistics of your customer feedback, open-ended questions are not a good choice. An ideal survey would have a mix of both open-ended and close-ended questions.
With Zonka Feedback, you can fully customize your feedback form using an online survey builder and choose from over 30+ feedback question types.
To start creating your surveys, sign up for a 7-day free trial or schedule a demo.